10 Times David Bowie Was the Most Creative, Magical Unicorn Alive
Jan 11, 2016
Today marks a sad, sad day for music and art, fashion and film — for pop culture as we know it. The world woke up to the news that David Bowie has passed away after an 18-month struggle with cancer on Sunday, January 10 at the age of 69. According to his official Facebook page, he "died peacefully today surrounded by his family." The Internet has exploded with an outpouring of grief from fans all over the world. David Bowie is a legend — a colorful chameleon who constantly reinvented himself and blurred the lines of media with creativity and brilliance. San Francisco-based writer Shawn Wen says it best: "God, didn't he make us all a little more ourselves, and also a little more like him?" In honor of the icon, we thought we'd take a look back at his illustrious life and remember some of the highlights.
---
1. His alter ego Ziggy Stardust: David Bowie shot to rock stardom with the introduction of his alien alter ego Ziggy Stardust. The Rise and Fall of Ziggy Stardust and the Spiders from Mars was Bowie's fifth studio album, and it's said the inspo behind Ziggy came from Iggy Pop and the music of Lou Reed, plus a lot of other influences. Basically, all those factors went into David Bowie's brain and Ziggy Stardust was what emerged. (Photo via Debi Doss/Getty)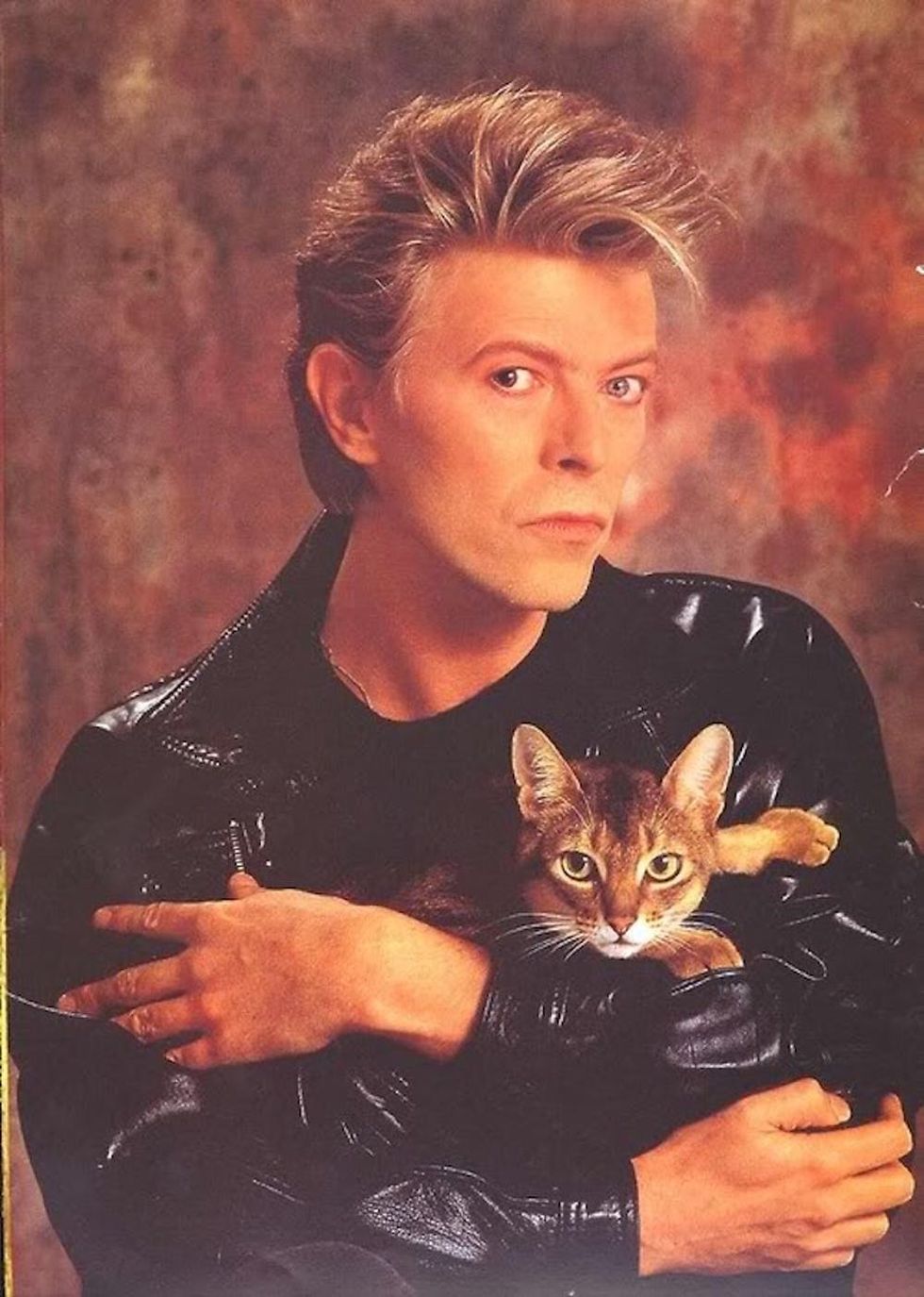 2. This incredible portrait with a cat: We have Tumblr to thank for keeping this portrait of David Bowie with a cat in circulation. Clearly David loved his felines. He also has a song called "Cat People (Putting Out the Fire)" for a 1982 film of the same name. (Photo via Tumblr)
3. "Space Oddity": This song was from David Bowie's second studio album and was his first hit. The timing of the song kind of contributed to why the song catapulted up the UK charts: It came out after the crew of Apollo 11 safely returned home. But we think it would have been a hit anyway. It's just a darn good song. (Video via YouTube)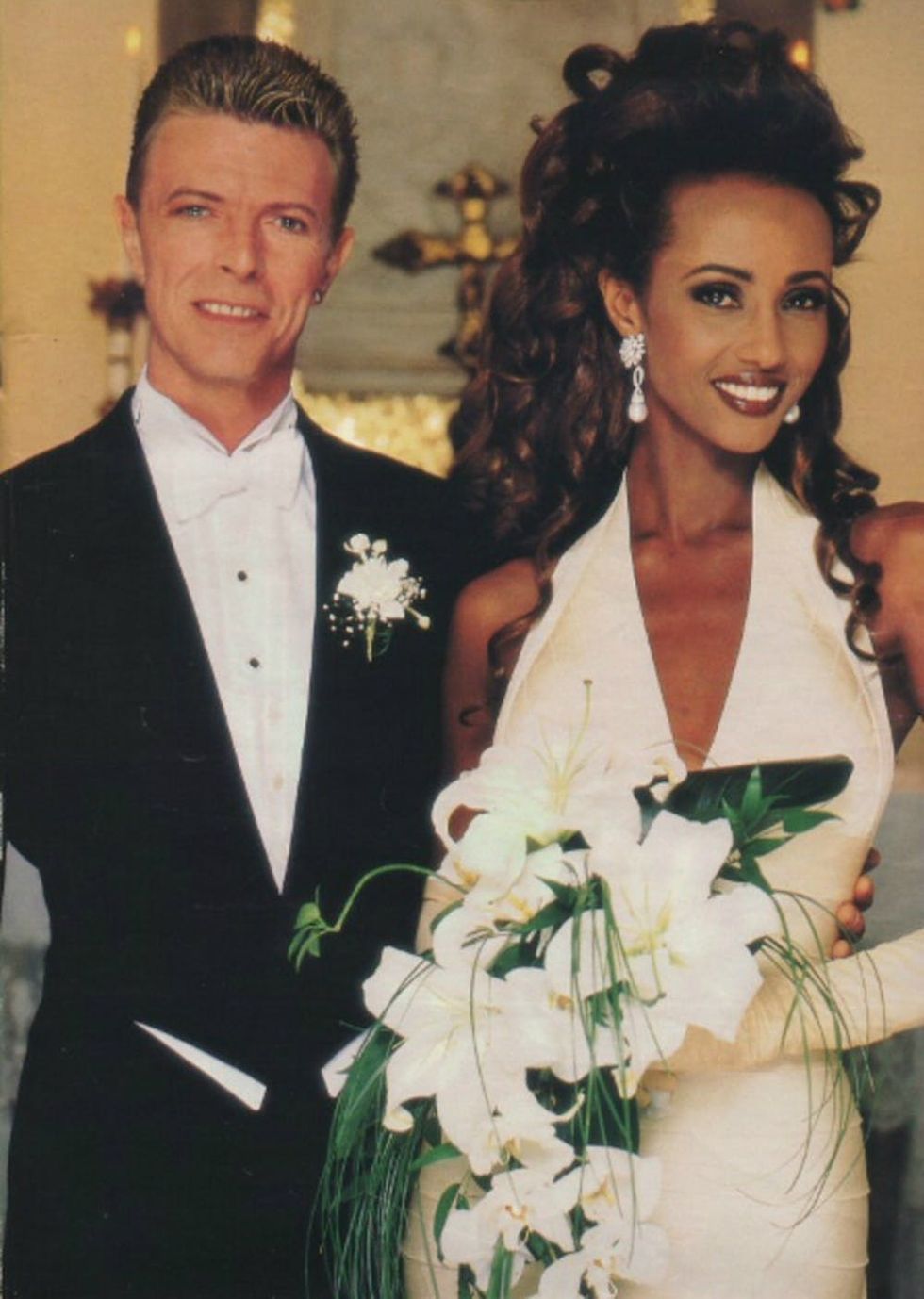 4. His '92 wedding to Iman: Perhaps the only person David Bowie could play second fiddle to was his Somali-American wife Iman. He married the supermodel in 1992 in a classic tux while Iman was the epitome of 1980's glam with a waterfall of coppery curls and elbow-length white gloves. (Photo via Hello Magazine)
5. His "Little Drummer Boy" duet with Bing Crosby: Back in 1977, Bing Crosby featured David Bowie on his holiday special Bing Crosby's Merrie Olde Christmas where they recorded this ephemeral version of the Christmas standard "Little Drummer Boy" duet that featured Bowie's original song "Peace on Earth." Bing Crosby passed away just a little over a month after this recording.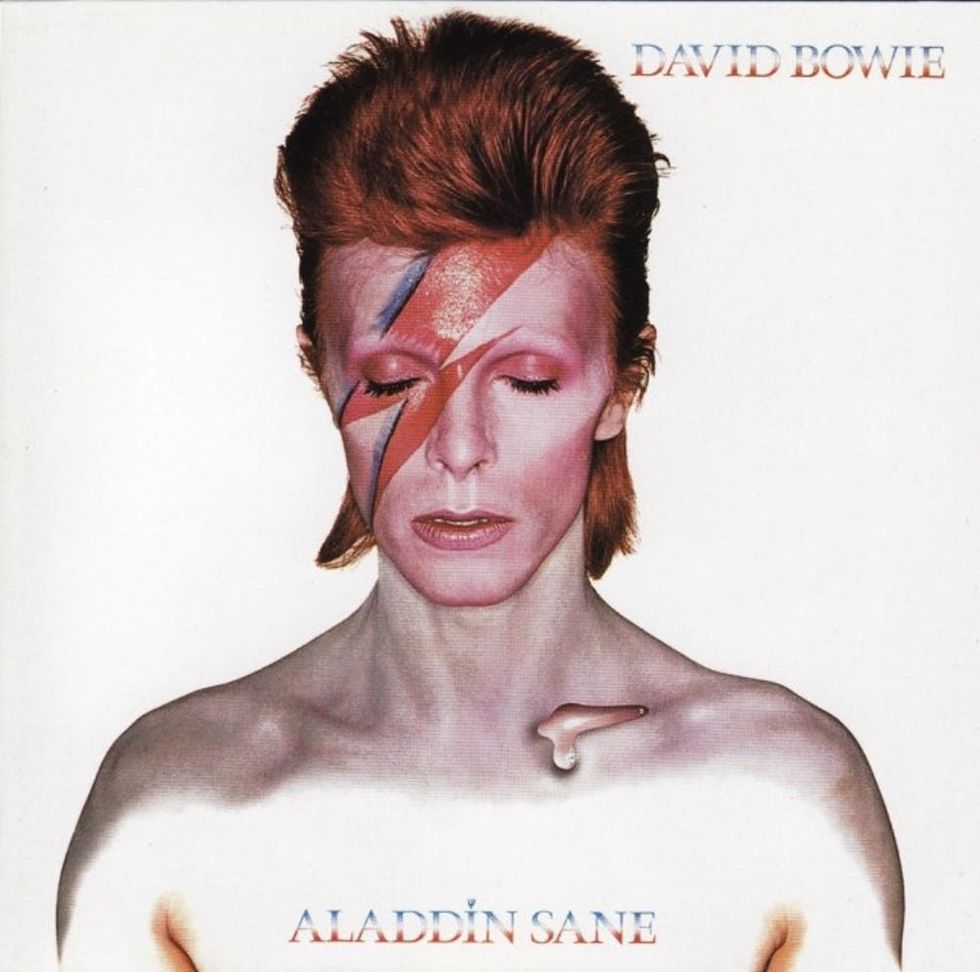 6. The entire Aladdin Sane album: The cover of Bowie's 1973 Aladdin Sane album is probably his most iconic look — and it's spawned thousands of different makeup tutorials, Halloween costumes and copycats. The title of the album is a play on the words "a lad insane" (so clever) and most of the tracks were inspired by Bowie's US leg of his Ziggy tour. According to Nicolas Pegg's biography on the artist, The Complete David Bowie, the thunderbolt painted on his face was a representation of the duality he felt during most of the tour, when he was "wanting to be up on the stage performing [his] songs, but on the other hand not really wanting to be on those buses with all those strange people."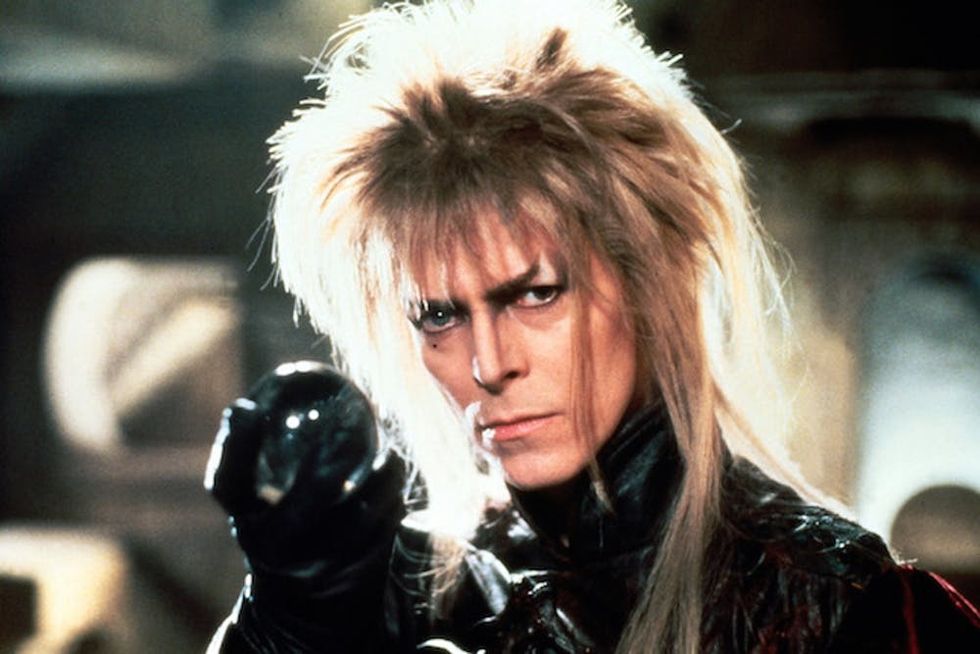 7. His turn as the Jareth, the Goblin King in Labyrinth: David Bowie's villainous portrayal of Jareth the Goblin King from the cult classic Labyrinth where he terrorizes a young Jennifer Connelly is absolutely unforgettable. The '80s glam rock hair is on point here, along with all the black leather and ruffles. We hope that casting director got a medal for this spot-on casting job.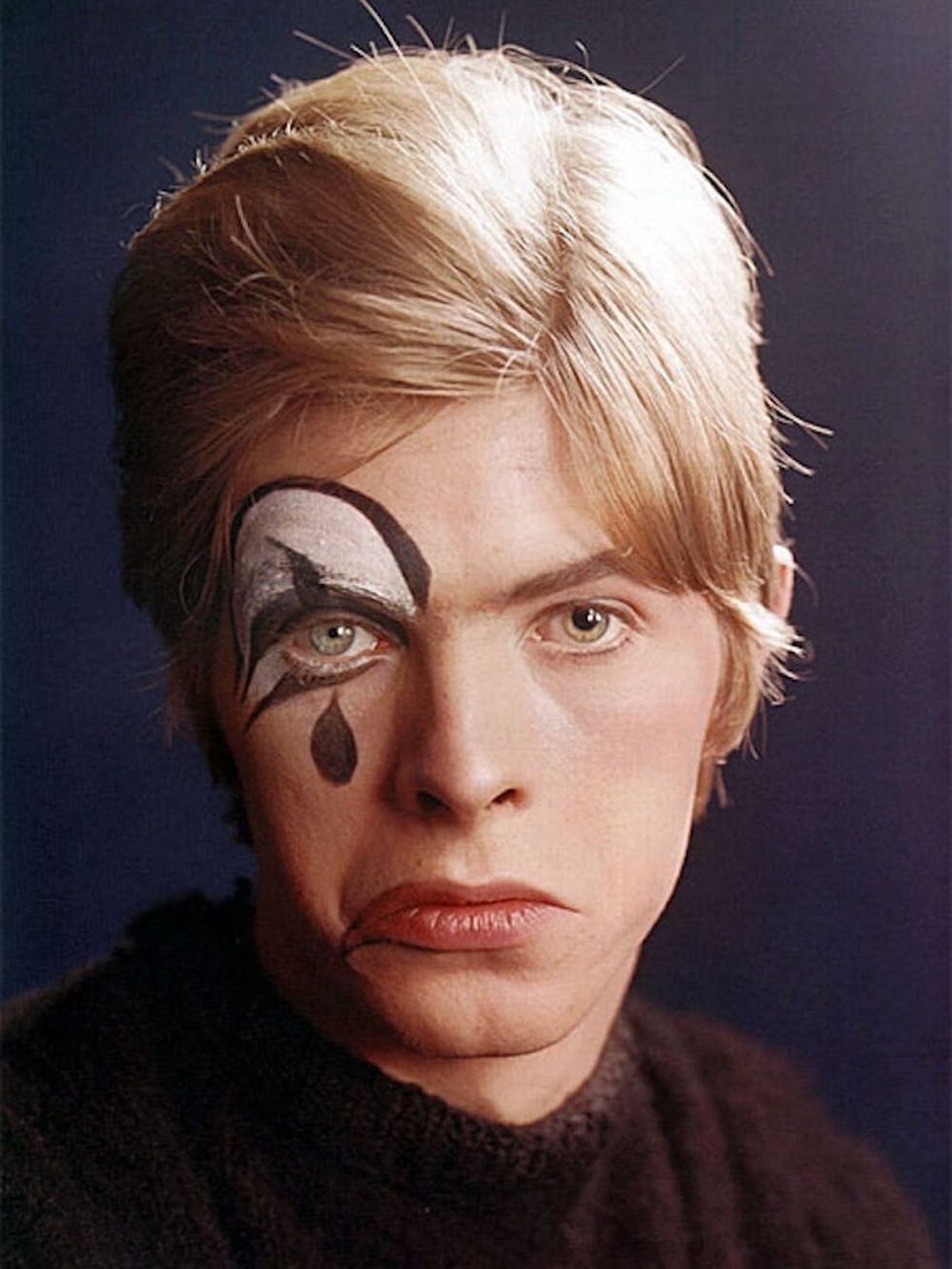 8. His mime skills: Before he was David Bowie, rockstar and magical alien, he was actually David Bowie, mime. After several disappointing attempts to break into the music biz, David Bowie actually declared that he was going to quit music and go study mime at a theater in London. He ended up meeting and training under dancer Lindsay Wells, who was also a master of mime, and crediting Lindsay for inspiring his interest in personas. (Photo via DavidBowie.com)
9. Poking fun at Ricky Gervais on Extras: Aside from dominating the art, fashion, music and film worlds, David Bowie could've also had a career as a comedian. Here's a clip from his cameo on Ricky Gervais's series Extras, where he plays himself. Inspired by Ricky's character Andy Millman's lack of success and general "pathetic-ness," Bowie breaks into song and gets everyone to sing along.
I just lost a hero. RIP David Bowie.

— Ricky Gervais (@rickygervais) January 11, 2016
Ricky tweeted this after hearing about David's passing. :'(
10. His final music vid for the song "Lazarus" : David Bowie released Blackstar, his 25th and final album on January 8, his 69th birthday, just two days before his death. The single "Lazarus" was released on December 15 along with a haunting music video which can be interpreted as Bowie, knowing his illness was terminal, saying goodbye. The last lines in the song are, "Oh I'll be free/Just like that bluebird/Oh I'll be free/Ain't that just like me." Rest in peace, David Bowie. You'll be missed.
Have you seen any awesome tributes to the music legend? Tweet us @BritandCo!
(Photo via Andrew H. Walker/Getty)