DIY Low-Cal Vodka Popsicles Recipe (for When You Can't Make a Costco Run)
Jul 11, 2018
Ah, summer. It's that time of year that boozy popsicles have taken over our social media feeds. From the 100-calorie Costco version to Instagram-worthy push pops, spiked popsicles are everywhere this sweltering season. Luckily for you, we've come up with an easy DIY version that uses vodka (but really any clear spirit will do!) and a bottled mixer. Freeze these up for your next summer party, and watch them fly out of the cooler. The best part? If you use a sugar-free, zero-calorie drink, these pops can be as low as 50 calories a piece.
---
One shot of vodka contains one and a half ounces, and each pop has just under one ounce of vodka. That low amount is intentional, because, as you might know, vodka doesn't freeze. If you use too much, the pops will remain liquid-y — and we don't want that.
Vodka Popsicles RECIPE
Recipe Notes: We tested this recipe with a few different mixer options and found Sparkling ICE to be the best-tasting zero-calorie, no-sugar option. Use these proportions and experiment with your favorite juices and/or clear spirits.
(Makes 5 [4-ounce] popsicles)
Equipment:
Instructions:
1. Mix ingredients together in a cocktail shaker.
2. Distribute mixture into zip-top disposable ice molds with the help of a funnel or liquid measuring cup. Securely close each bag.
3. Place in the freezer for about 12 hours or until frozen.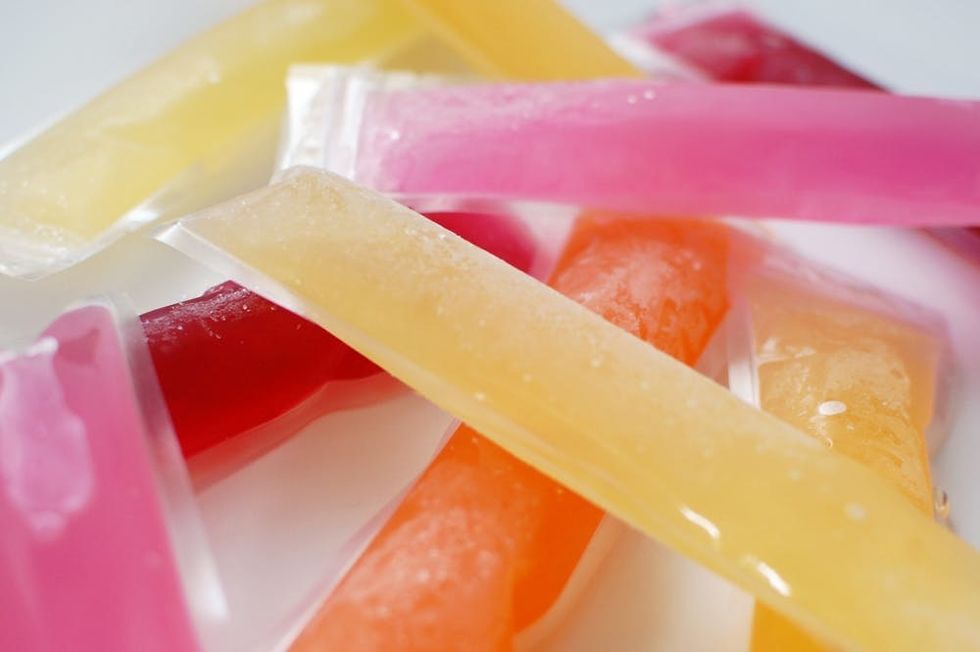 For more summer-ready recipes, check out Brit + Co on Pinterest!
Brit + Co may at times use affiliate links to promote products sold by others, but always offers genuine editorial recommendations.
(Photos and recipe via Rachel Bshero/Brit + Co)