5 Garlands You Can Make in Under 15 Minutes
Feb 26, 2015
We pride ourselves on being able to put together a party in minutes, from signature cocktails to the perfect playlist for the occasion. And there is one very important detail that every party we throw has in common (besides a photo booth): DIY garlands! As simple as they are, they instantly add a festive vibe to any room, office or outdoor space. Today, we're pleased to show you five garlands you can make in under 15 minutes — you can even make some of them in under five! :)
---
<b><br/></b>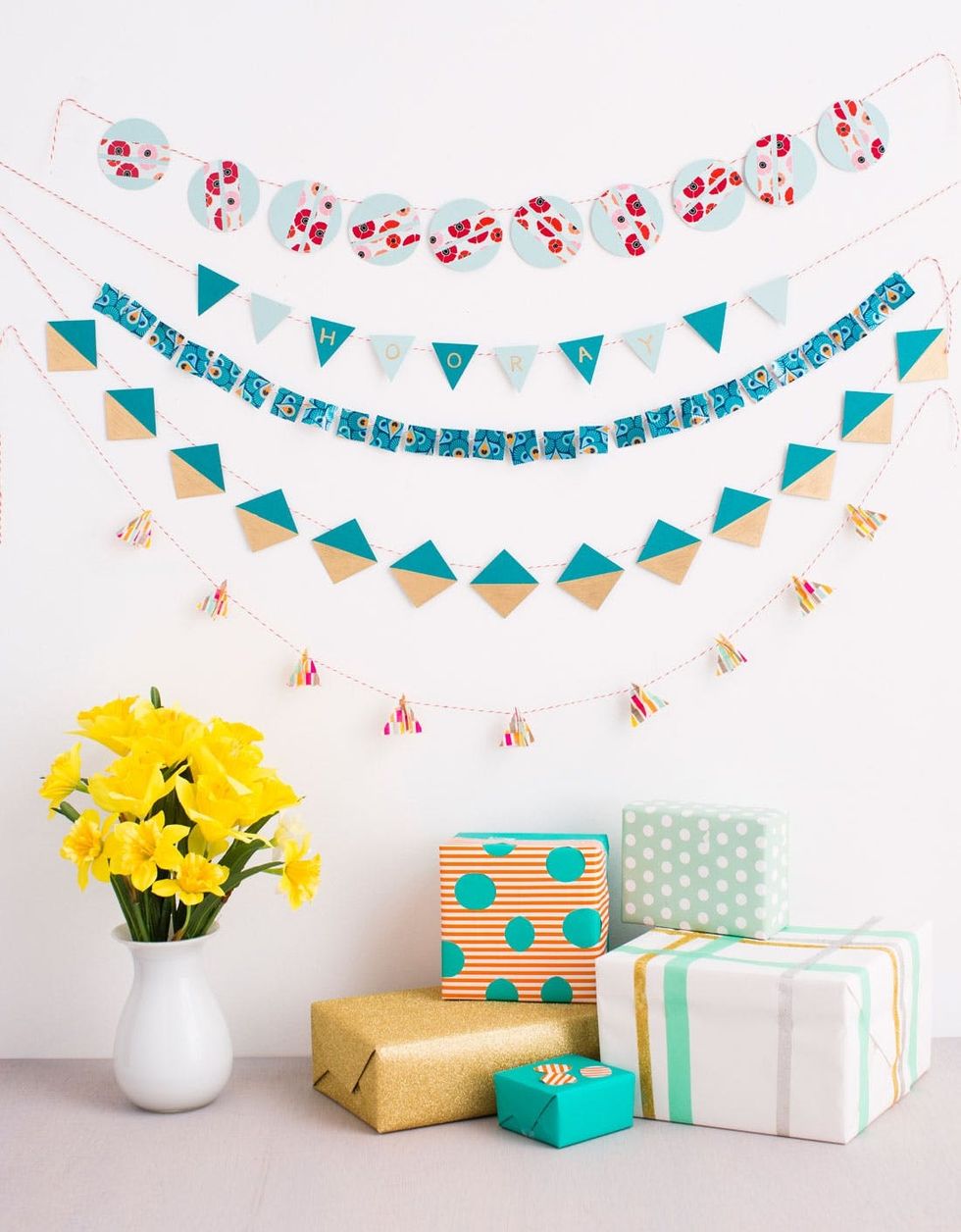 – card stock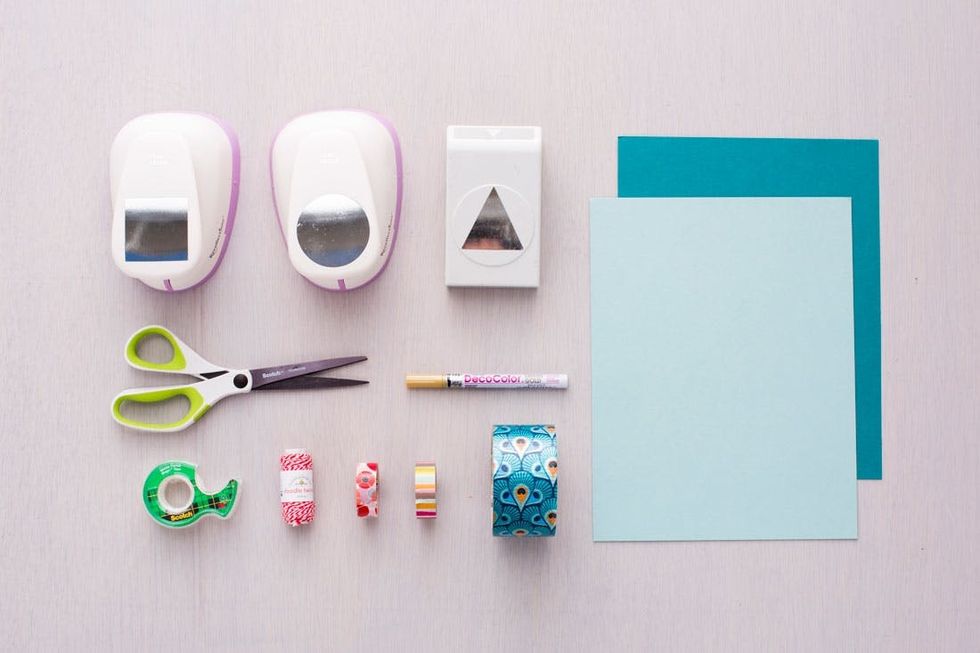 – Scotch™ Scissors
– gold paint pen
– Scotch® Magic™ Tape
– baker's twine
– Scotch® Expressions Washi Tape
– Scotch® Patterned Duct Tape
– optional: circle, triangle, and square hole punch
As masters of the paper arts, we have a ton of fun-shaped hole punches lying around. If you don't have these in your arsenal, you can use scissors or a utility knife to cut them out by hand.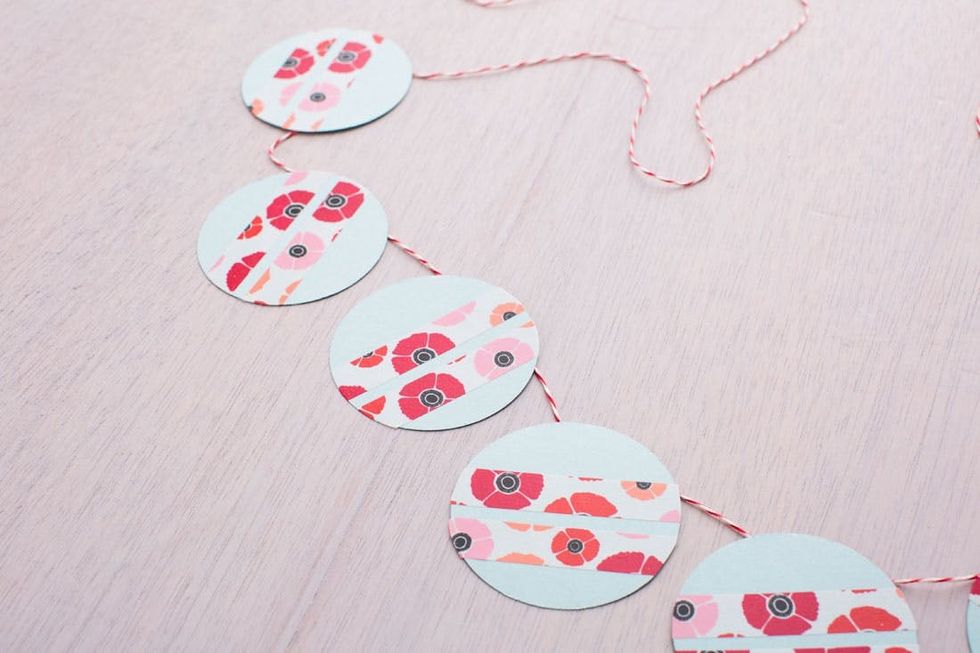 We'll start with these festive striped circles. The floral Scotch® Expressions Washi Tape adds a springy vibe to this garland.
Striped Circles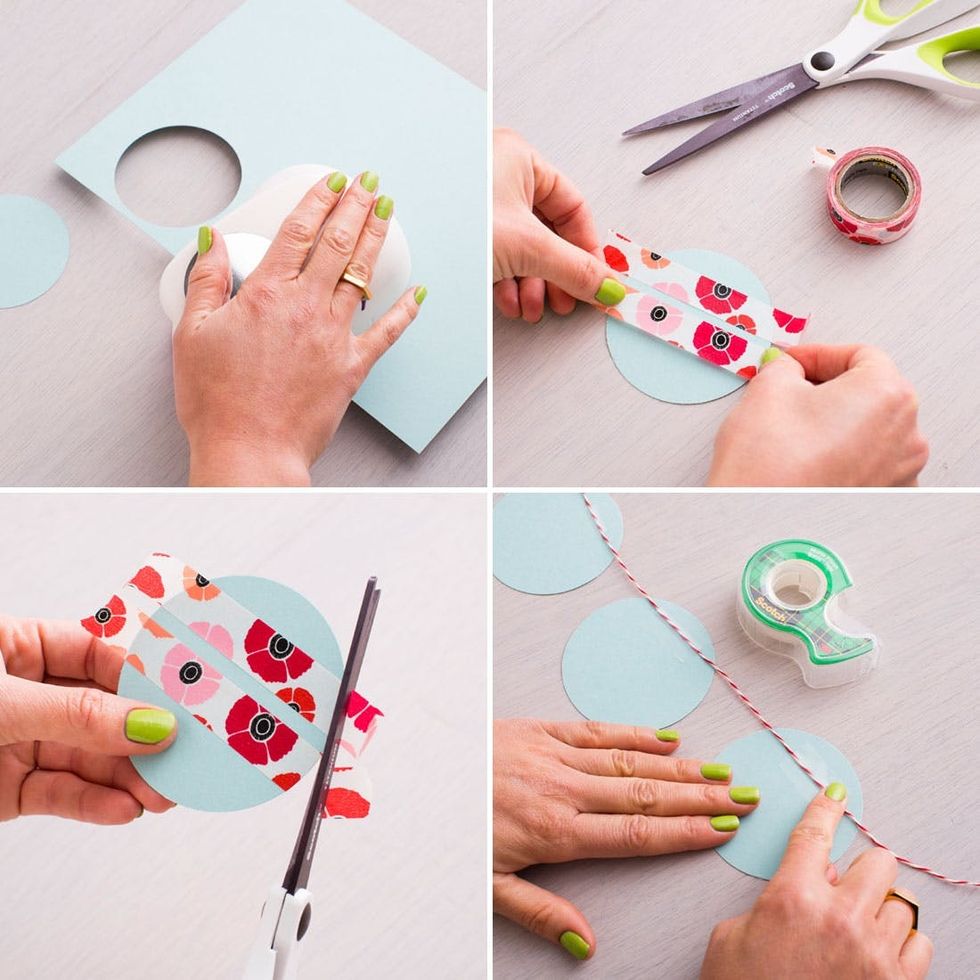 Punch or cut out circles. Attach two stripes of Scotch® Expressions Washi Tape to your circle, then trim off the excess. Use Scotch® Magic™ Tape to attach your circles to baker's twine and you're as good as done.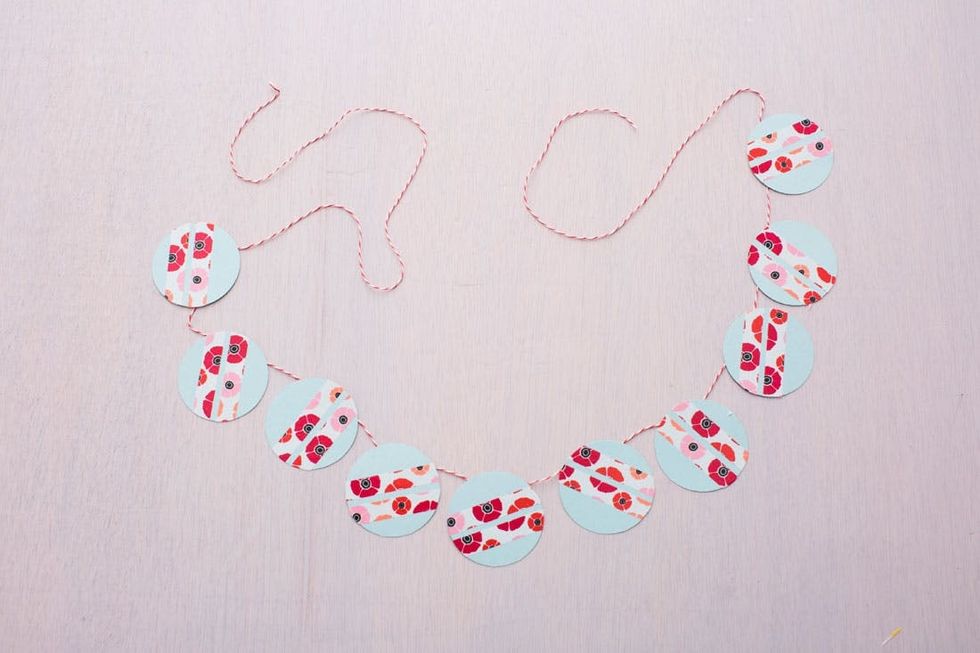 You can also switch up the patterns and colors if you're going for a more playful look.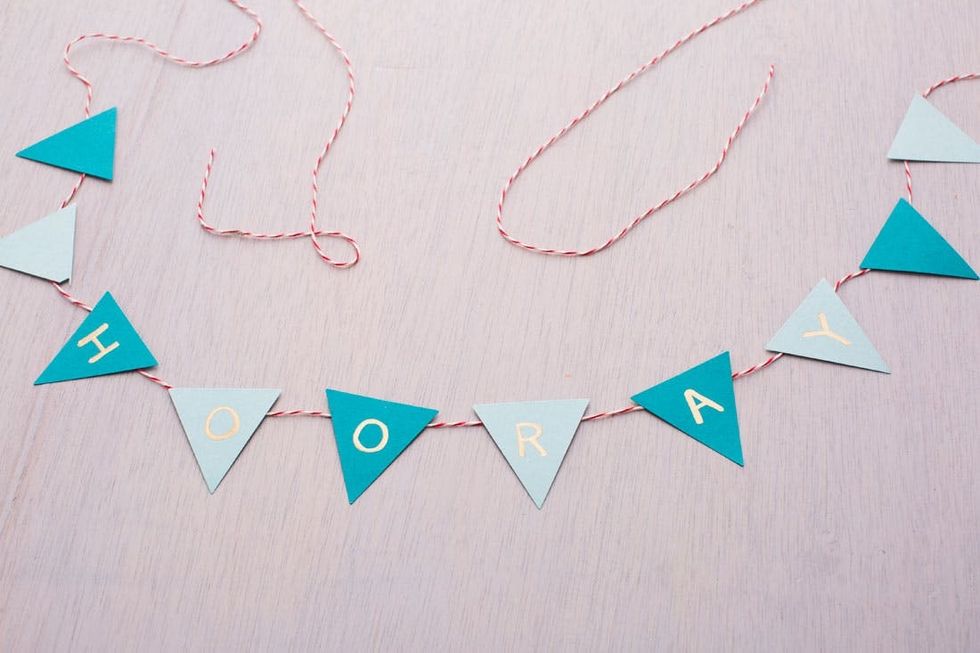 Next up, we're taking the traditional pennant banner and going mini with it.
Hooray Pennants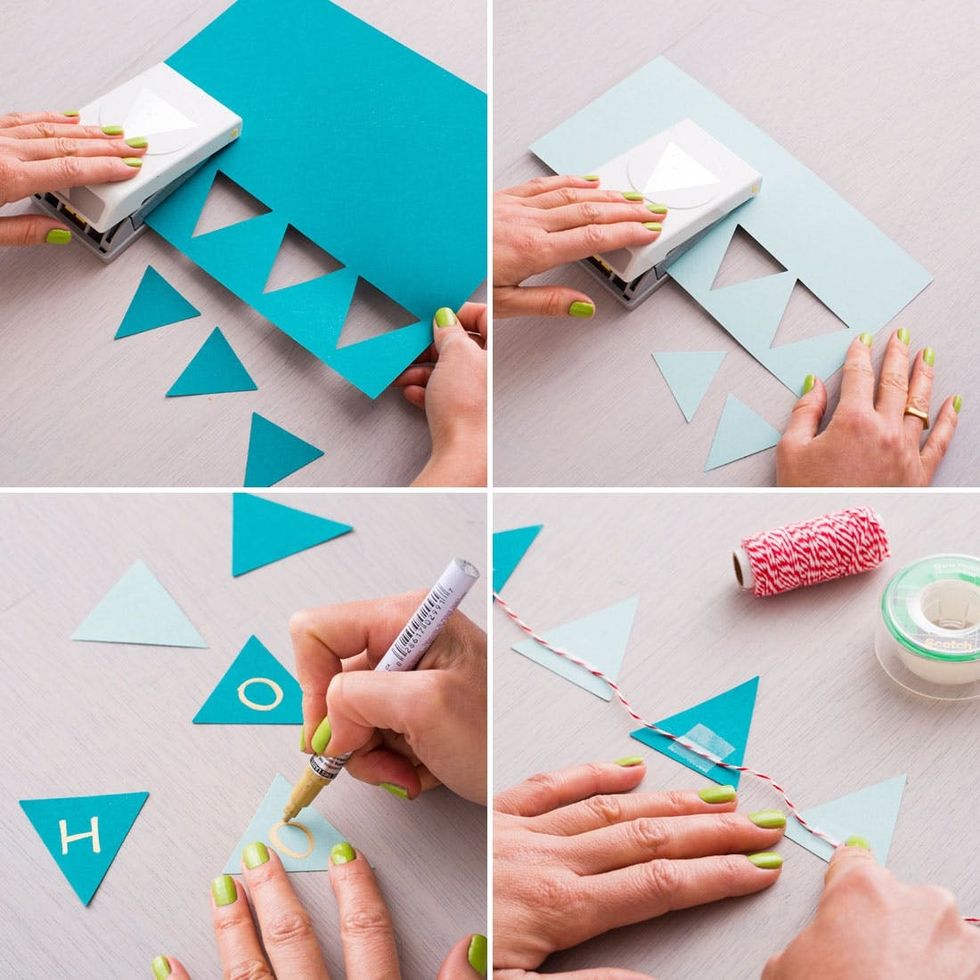 Punch or cut out triangles in two different colors. Depending on your event and the theme, you can use as many or as few colors as you like. Write your message on the triangles, then use Scotch® Magic™ Tape to attach them to baker's twine.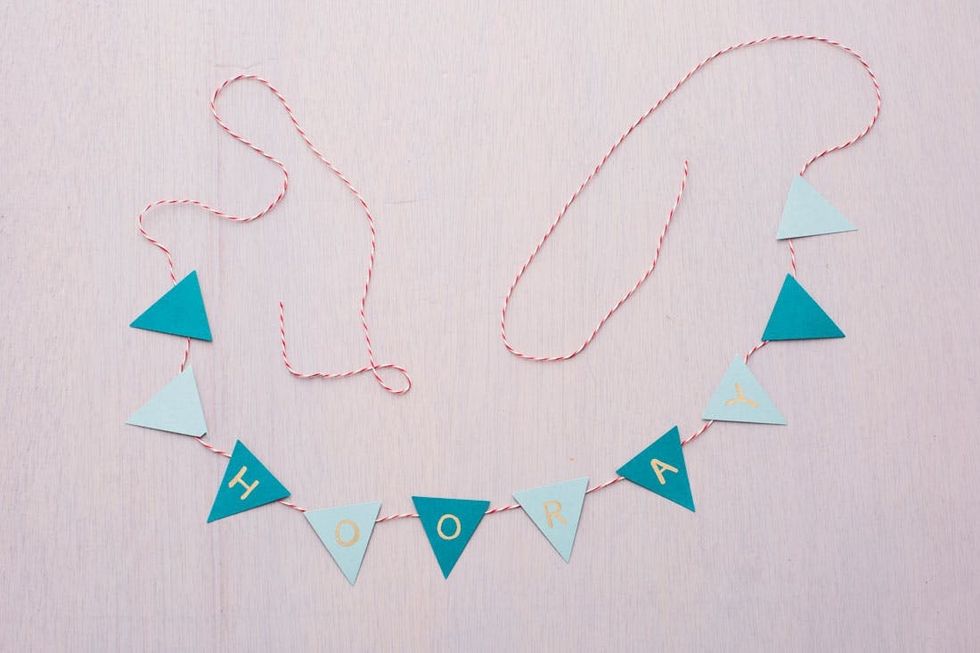 Hooray!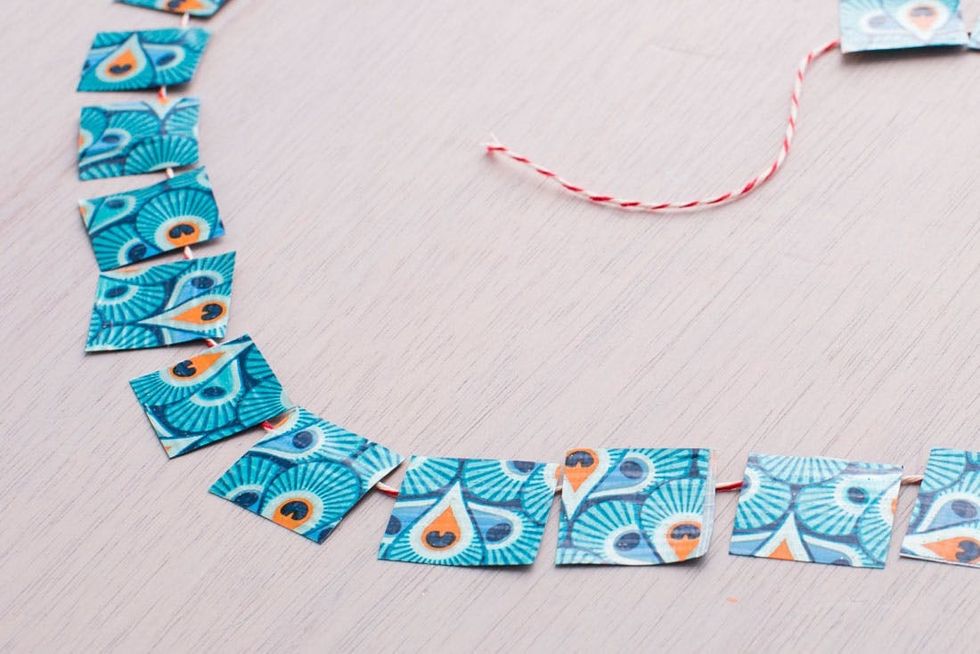 This garland is all about pattern, pattern and more pattern.
Peacock Print Squares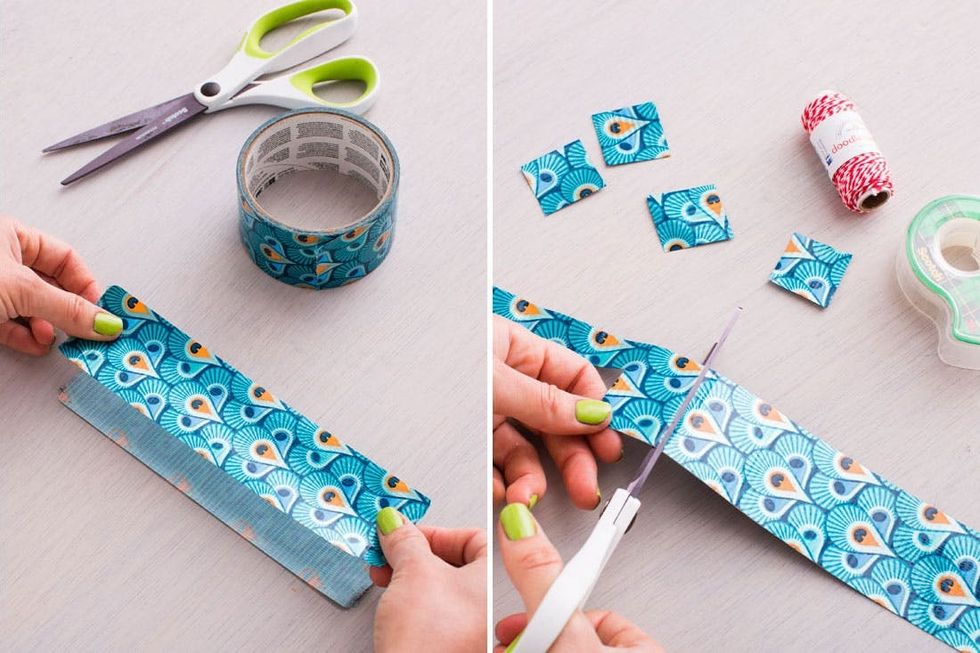 Create a sheet of Scotch® Patterned Duct Tape by sticking two pieces together, sticky side in. Then cut your sheet into smaller squares. Like our previous three garlands, the last step is to use Scotch® Magic™ Tape to attach your pieces to baker's twine.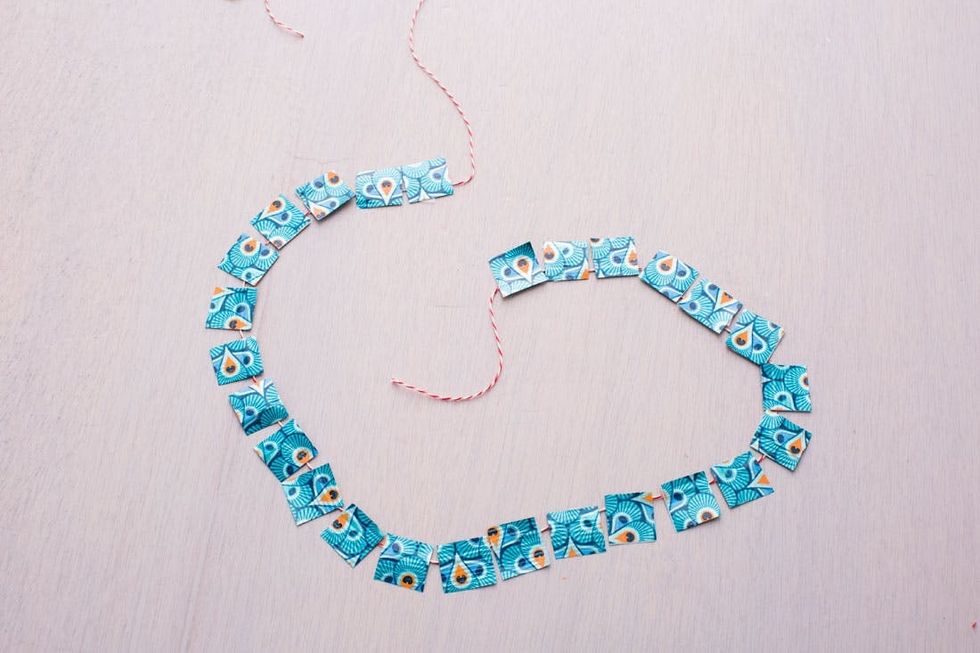 It's like a little pixelated peacock snake!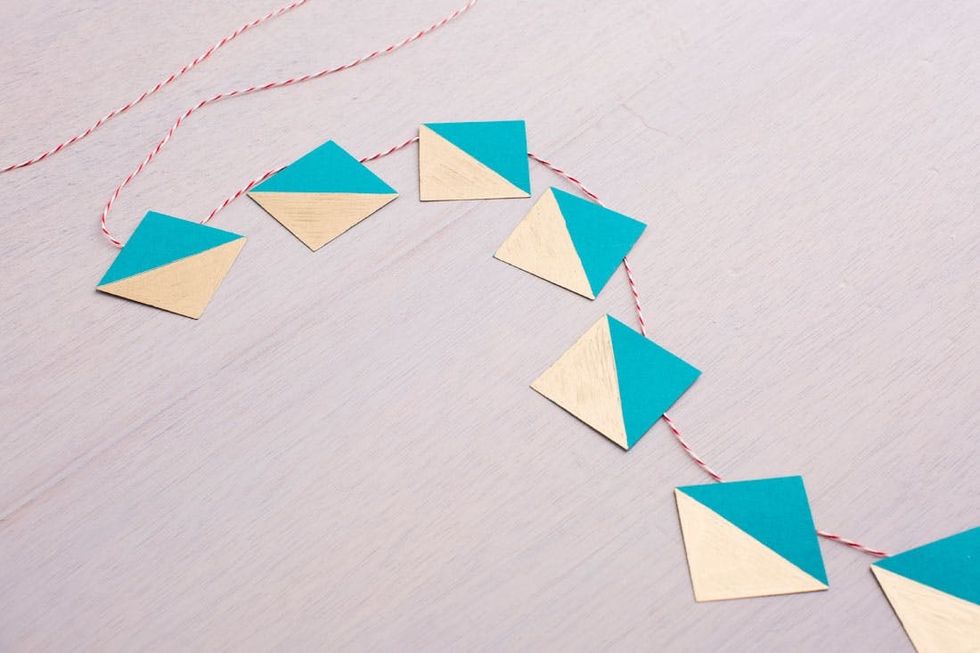 If you gild it… it will be festive.
Gold-Dipped Diamonds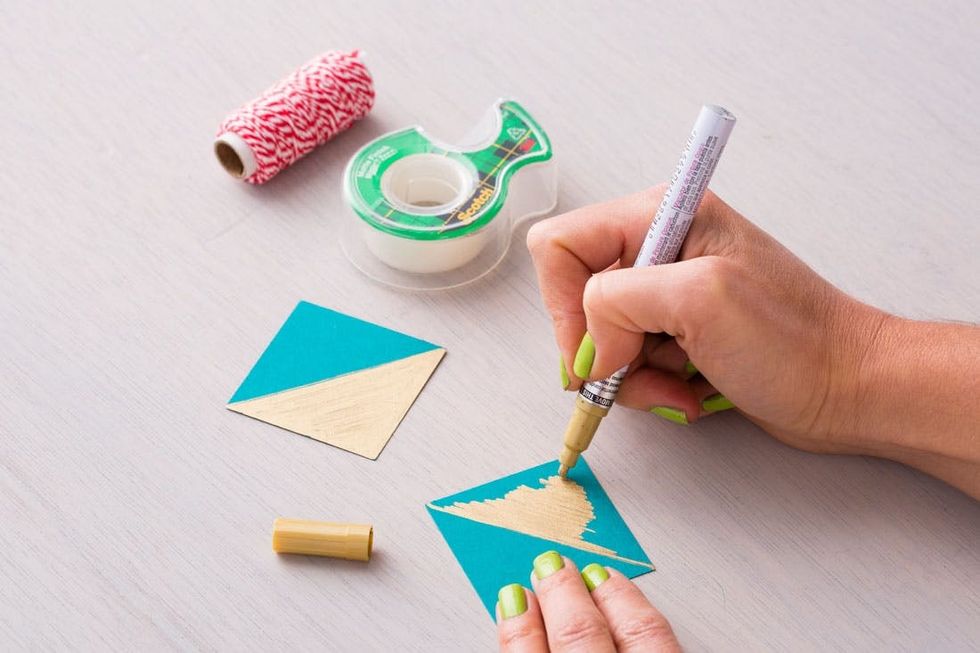 This one is easy as pie. Cut out a bunch of squares, then color half of them in with a gold paint pen. Attach them to baker's twine and hang!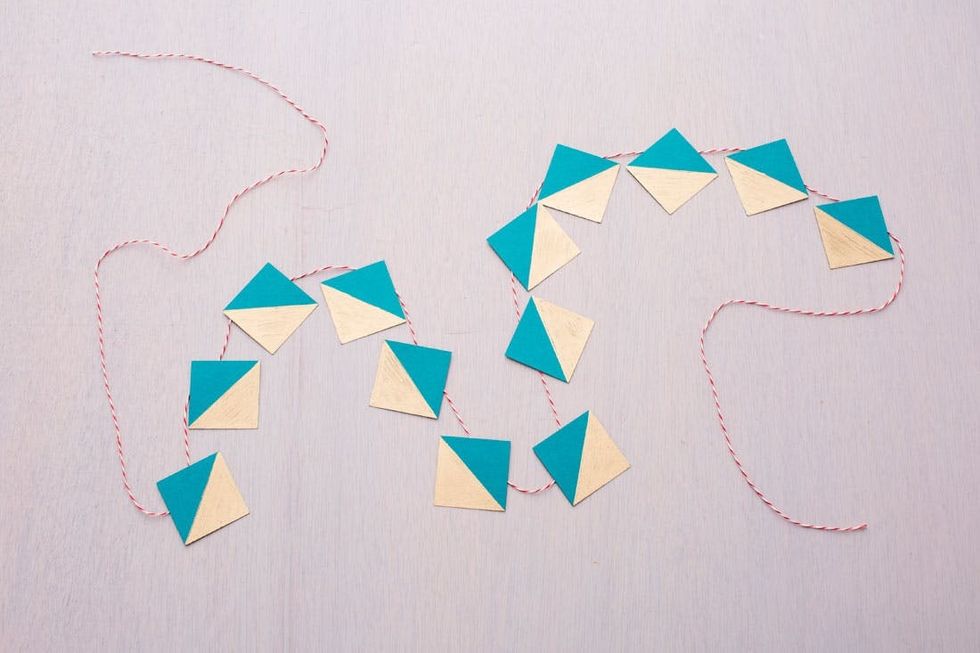 How fun is that?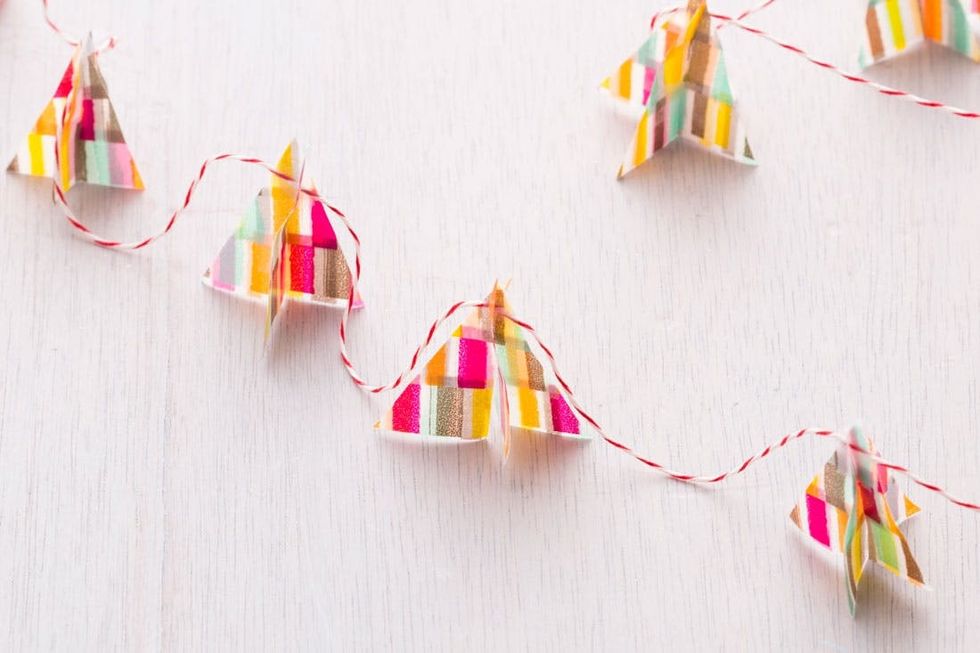 Finally, we're adding a little dimension to our garland scene with these 3D washi triangles made from Scotch® Expressions Washi Tape.
3D Triangles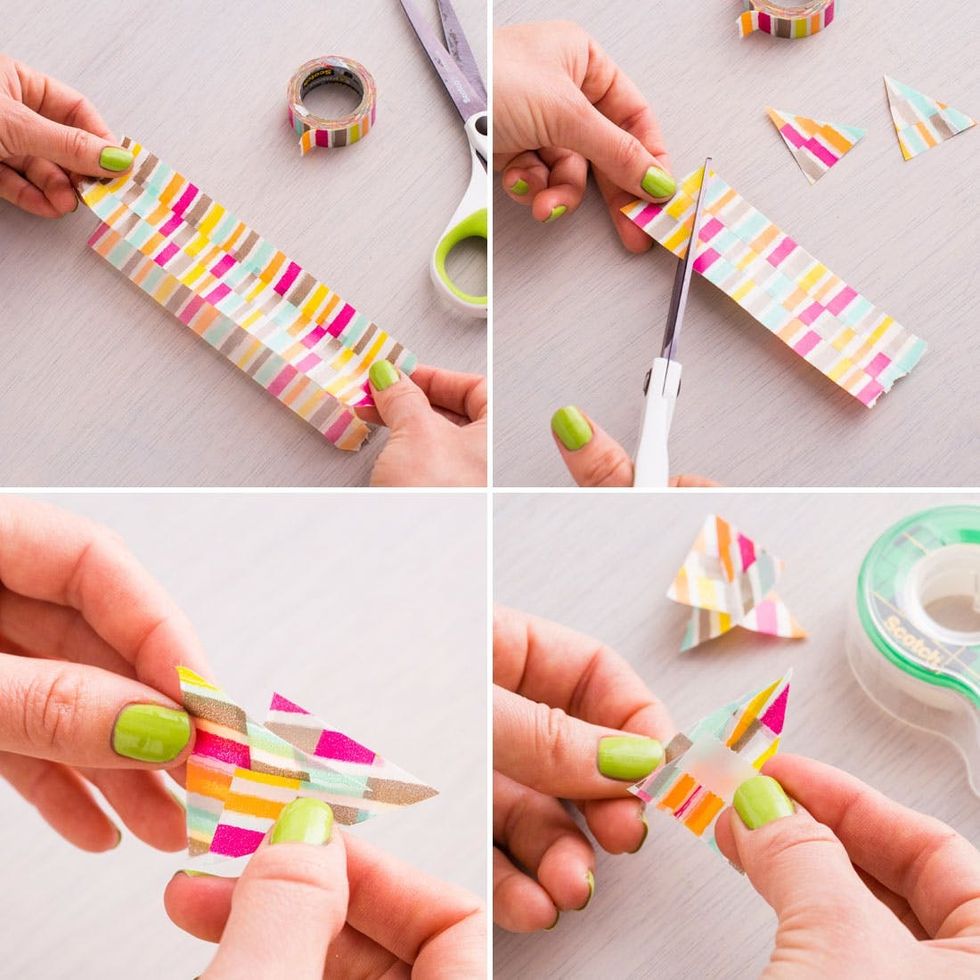 Like you did with the duct tape, attach Scotch® Expressions Washi Tape to itself to create sheets. Cut out triangles in pairs. In each pair, cut one triangle partway down the middle and slide the other triangle into it. Use Scotch® Magic™ Tape to adhere the two pieces, creating a mini pyramid.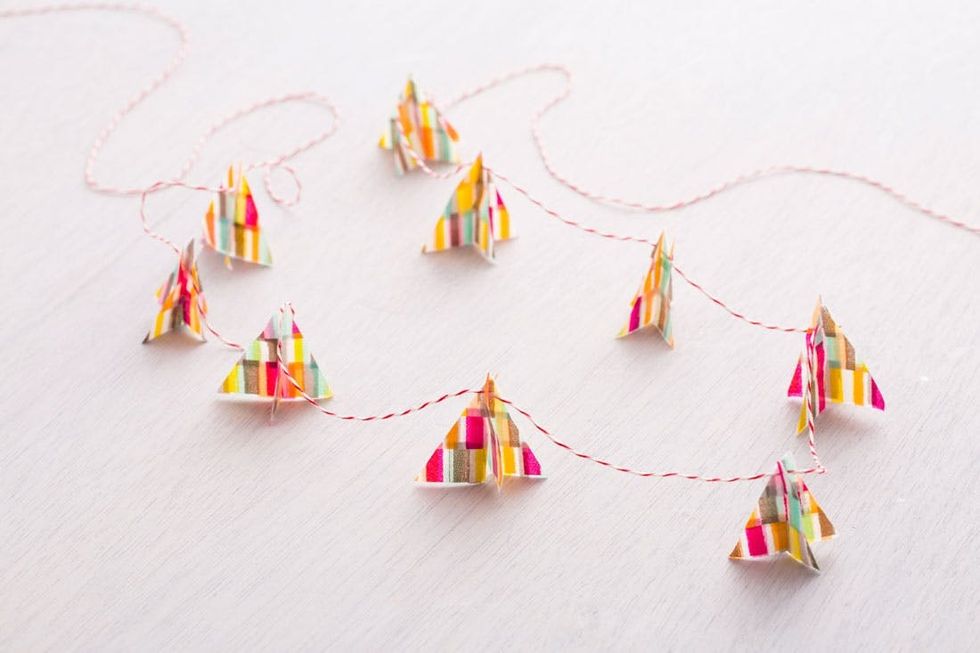 These would also make for a cool mobile in a kids' room!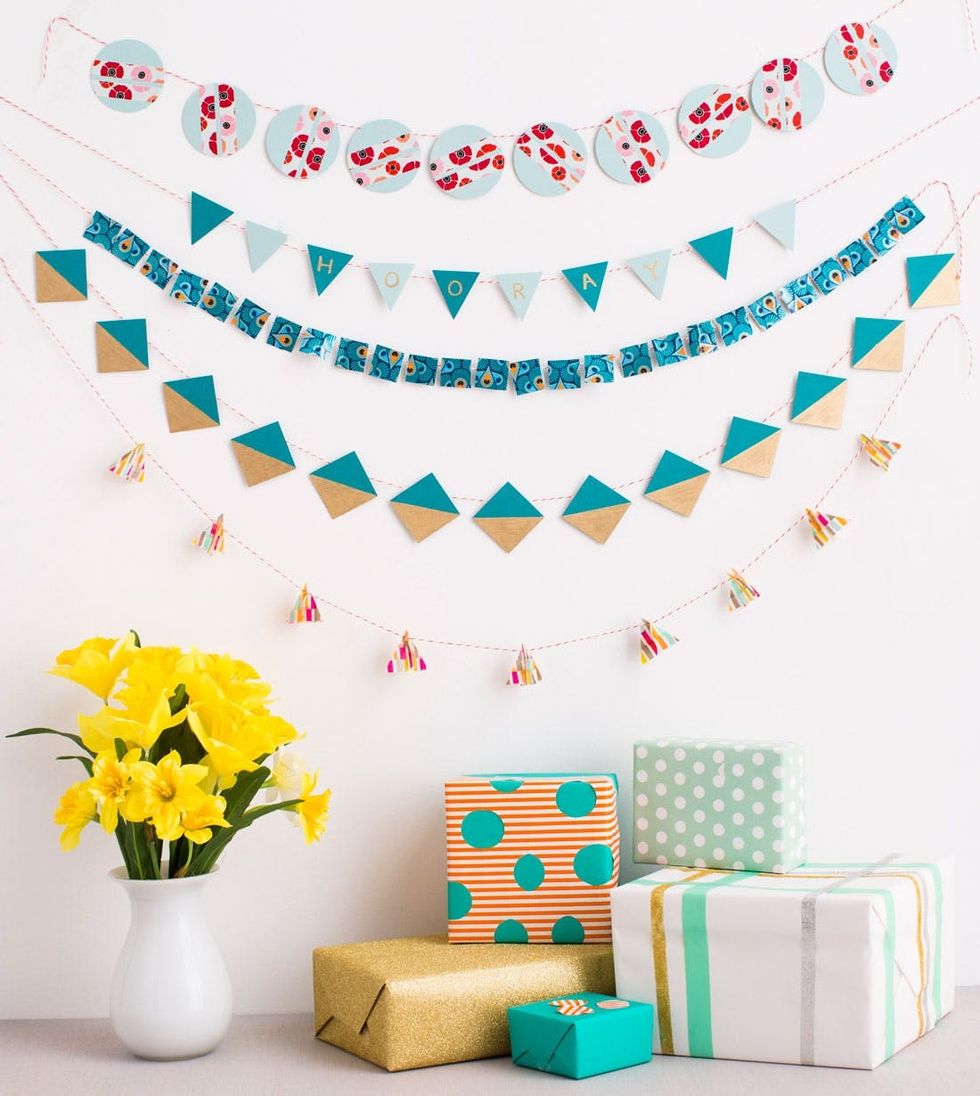 Don't they look lovely together?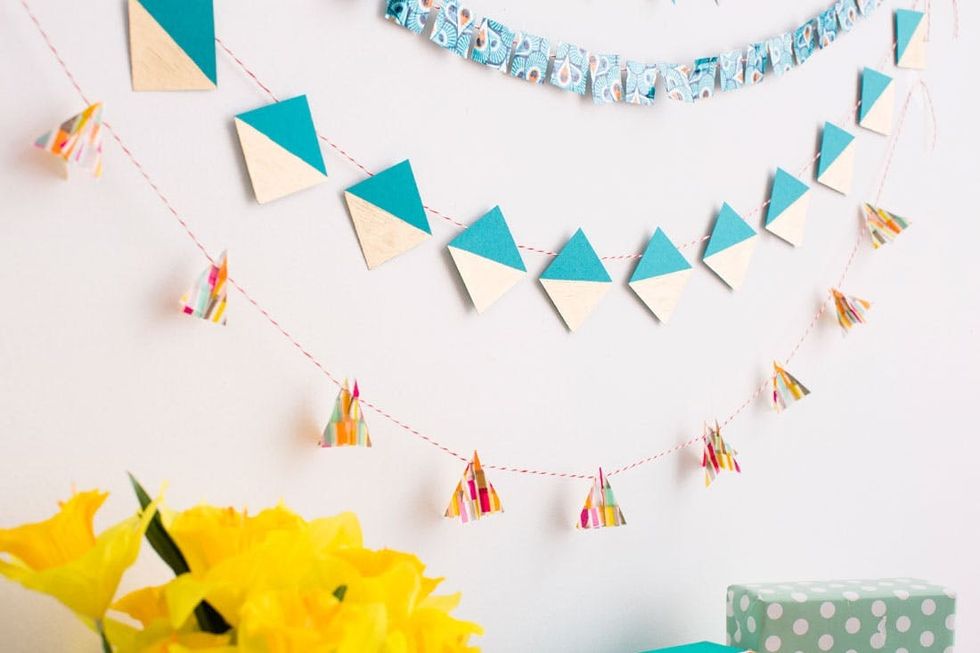 What are your last minute party tricks? Talk to us in the comments below.
Anjelika Temple
As Co-Founder and Chief Creative Officer of Brit + Co, Anjelika Temple brings her voracious consumption of all things creative and colorful to DIY projects, geeky gadgetry finds and more. When she's not DIY-ing her heart out, you'll find her throwing dinner parties with friends or adventuring with her husband David, their daughters Anokhi and Indira, and their silly dog Turkey.
Party
Social media is an amazing free marketing tool that didn't exist 15 years ago. Particularly with Instagram, you can use a few images and words to tell followers who you are in an instant. While we can't share *all* the things we covered in this week's Selfmade master session on social media and brand voice, as part of our collaboration with Office Depot we're sharing a few key takeaways.
Finding Your Social Media Voice
<p>A great exercise to try before digging into your brand's DNA is to think about the six images you would share with someone to tell them who YOU are. Then you can extend this to your brand.</p><p>Once you start to think about your brand as a living, breathing entity influenced by its surrounding environment, personal histories, cultural happenings, and more, your brand's voice will come more into focus. And just like a person, the way you express your brand's voice will change depending on the audience, the objective, the time of year, and your subject matter. </p><p>Your brand isn't simply you, or your co-founder, your manager, or your customer, it's a dynamic combo of all of these things, with the brand's mission at the forefront of her mind and voice. </p>
Put It to Practice
<img lazy-loadable="true" src="https://www.brit.co/media-library/eyJhbGciOiJIUzI1NiIsInR5cCI6IkpXVCJ9.eyJpbWFnZSI6Imh0dHBzOi8vYXNzZXRzLnJibC5tcy8yNDc5NTQ4MS9vcmlnaW4uanBnIiwiZXhwaXJlc19hdCI6MTYyNzcwMjQzOH0.1hWPc57vTXBLFXHZ9JWBYxABoMCbcx1X6EJCnW3S9wA/image.jpg?width=980" id="16f14" class="rm-shortcode" data-rm-shortcode-id="8badc3867dc15d97f8607eb8acf66dd5" data-rm-shortcode-name="rebelmouse-image" /><p>Create a moodboard, be it digital or physical (<a href="https://www.pinterest.com/britandco" target="_blank">Pinterest</a> even works!), to explore and define your voice. You can print stuff out, gather postcards, magazine cuttings, construction paper in colors you like, and anything else that you might be drawn to. Using words, images, colors, and patterns are all fair game. Once you've assembled everything, you can pick out trends to discover what's on-brand and what's clearly off-brand. For instance, your imagery might be positive, empowering, authentic, informative, playful, inclusive, etc. and you'll notice your brand isn't snarky, cheesy, exclusive, and more.</p>

<div class="htl-ad" data-unit="contentbanner" data-sizes="0x0:1x1,1x2,4x4,320x100,300x250|970x0:1x1,1x2,4x4,300x250,728x90" data-prebid="0x0:contentbanner_mobile|970x0:pagebreak_desktop" data-refresh="viewable" data-refresh-secs="30" data-targeting='{"pos":"1","post_id": "{{post.id}}"}' ></div> <div id="teads-ad"></div>
The Art Of Content Creation
<p>Your followers want to feel like they're in the world your brand's created. Your social platform's job is to portray your brand's POV and story. Here are content best practices when you're thinking about your brand's social media presence:<strong></strong></p><p><strong>Photo:</strong> Traditional portraits can feel stiff and inauthentic, so it's best to capture candid moments with movement, especially if your photography is subject-based. Fill the frame but leave room to breathe. Negative space is a key part of any composition. Adjust the cropping until you get the perfect frame. And remember that light and bright is always best. Sunlight is the best flash you could ever hope for, so set up flatlays outside on the sidewalk or over a piece of fabric to take advantage of natural light. Also be mindful of the color palette you've chosen for your brand so that there's consistency across your posts.</p><p><strong>Captions:</strong> Speak to your followers like you're texting with a close friend. This will help humanize your brand and remind your audience there's a human behind each post. Liven up your copy by choosing 10-20 emojis you plan to use regularly and stick with those. </p><p><strong>Regrams and Takeovers:</strong> One of the best ways to double your content is by regramming customers, fans, local businesses, and so on. You can also do takeovers with influencers on the feed and in stories. Fold these into your content calendar so you don't rely too heavily on them and make sure they contribute to cultivating your community — not just bring you the likes.</p><p>Color palettes, copywriting, and content calendars -- this week definitely covered A LOT. But don't fret, Office Depot OfficeMax is all about helping you<a href="https://www.officedepot.com/cm/marketing/save-time-and-organize?cm_mmc=bl-_-aq-_-url-_-bc&amp;cm_mmca1=internal&amp;cm_mmca2=uf&amp;utm_source=blog&amp;utm_medium=social&amp;utm_campaign=bc_na_url_internal_uf_aq&amp;utm_content=tea_na&amp;utm_term=tea" target="_blank"> organize &amp; save time</a> with suite of<a href="https://www.officedepot.com/cm/services/office-depot-services?cm_mmc=bl-_-aq-_-url-_-bc&amp;cm_mmca1=internal&amp;cm_mmca2=uf&amp;utm_source=blog&amp;utm_medium=social&amp;utm_campaign=bc_na_url_internal_uf_aq&amp;utm_content=tea_na&amp;utm_term=tea" target="_blank"> business services</a> to help you accomplish more - from<a href="https://www.officedepot.com/a/browse/large-format-printing/N=5+1212308/?cm_mmc=bl-_-aq-_-url-_-bc&amp;cm_mmca1=internal&amp;cm_mmca2=uf&amp;utm_source=blog&amp;utm_medium=social&amp;utm_campaign=bc_na_url_internal_uf_aq&amp;utm_content=tea_na&amp;utm_term=tea" target="_blank"> signs, posters &amp; banners</a> to get your business noticed to<a href="https://www.officedepot.com/a/browse/marketing-materials/N=5+1212313/?cm_mmc=bl-_-aq-_-url-_-bc&amp;cm_mmca1=internal&amp;cm_mmca2=uf&amp;utm_source=blog&amp;utm_medium=social&amp;utm_campaign=bc_na_url_internal_uf_aq&amp;utm_content=tea_na&amp;utm_term=tea" target="_blank"> marketing materials</a> to help your brand vision to life. With Office Depot OfficeMax by your side, we know you can tackle it all.<br></p> <p>Head to<a href="https://www.officedepot.com/cm/marketing/selfmade-promo?cm_mmc=bl-_-aq-_-url-_-bc&amp;cm_mmca1=internal&amp;cm_mmca2=lf&amp;utm_source=blog&amp;utm_medium=social&amp;utm_campaign=bc_na_url_internal_lf_aq&amp;utm_content=tea_na&amp;utm_term=tea" target="_blank"> Office Depot's Selfmade page</a> to check out even more amazing business resources (and discounts!) to help you accomplish more on your entrepreneurial journey. These offers are available for a limited time only, so be sure to take advantage of all this goodness while supplies last.</p>
Money