5-Minute Rainy Day Hairstyles For All Hair Lengths
Mar 23, 2015
April showers bring… us an excuse to whip up a round of way-cute, way-easy rainy day hairstyles. What's a rainy day hairstyle, you ask? Think of it as the epitome of messy cute hair. We're DIY-ing a done-in-five-minutes style for every hair length. For long-haired girls, we're tossing up an effortless pony made for binge-watching Netflix with your roomies (it's all Unbreakable Kimmy Schmidt at our pads!). Were' giving medium-haired ladies a stay-put updo that will let you get your mask on with spa-level ease. And for our shorties out there, a spring cleaning-friendly — and totally fun — way to tie up your chopped tresses with a lightweight scarf. 'Cause remember, your hair doesn't have to suffer just because you're stuck inside.
Long-Haired Girls: The Perfect Tousled Ponytail
---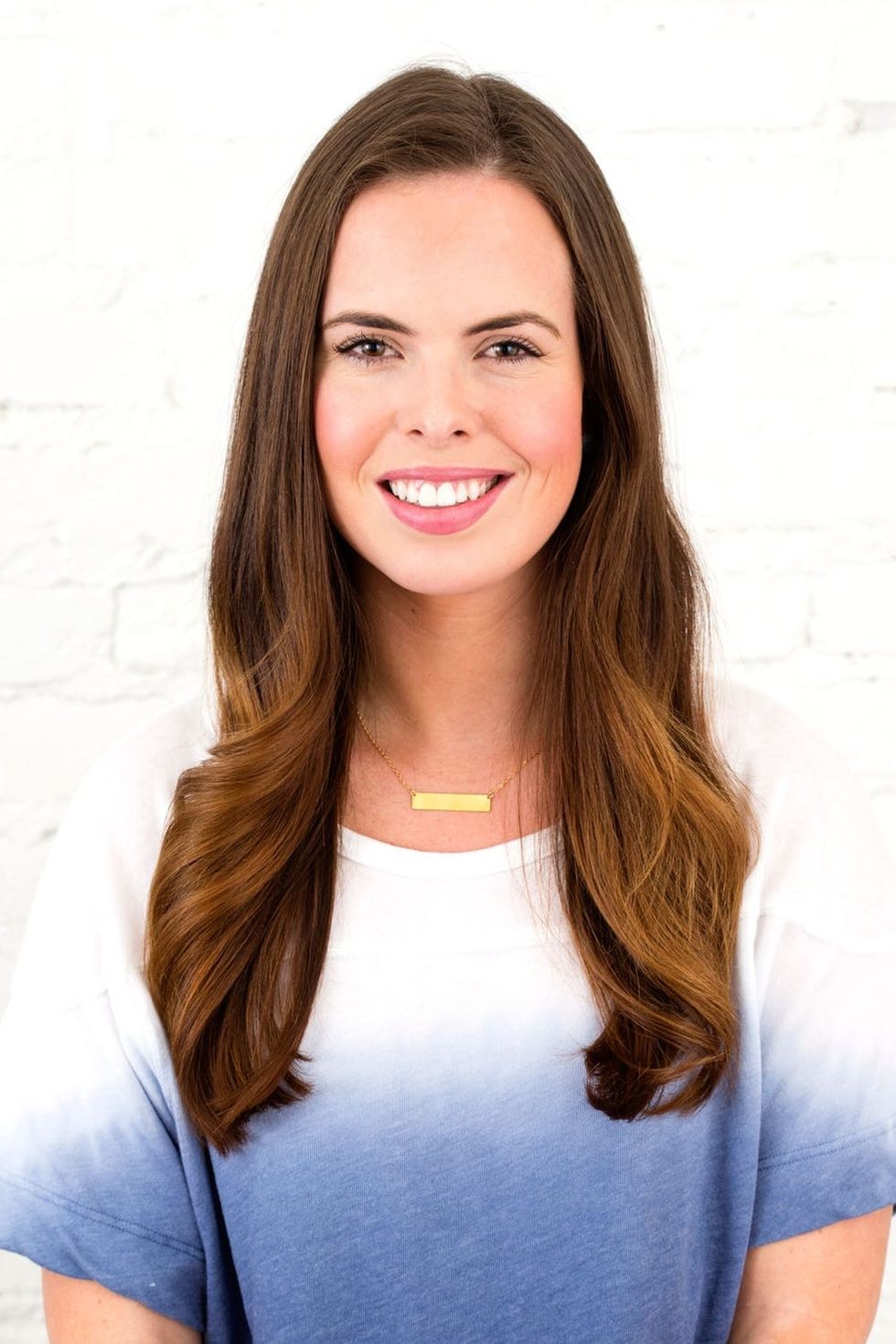 This delicately disheveled high pony screams#wokeuplikethis. Although that might not be technically true with this style, you can get this enviably imperfect look in five minutes flat!
Step 1: Back Comb Your Roots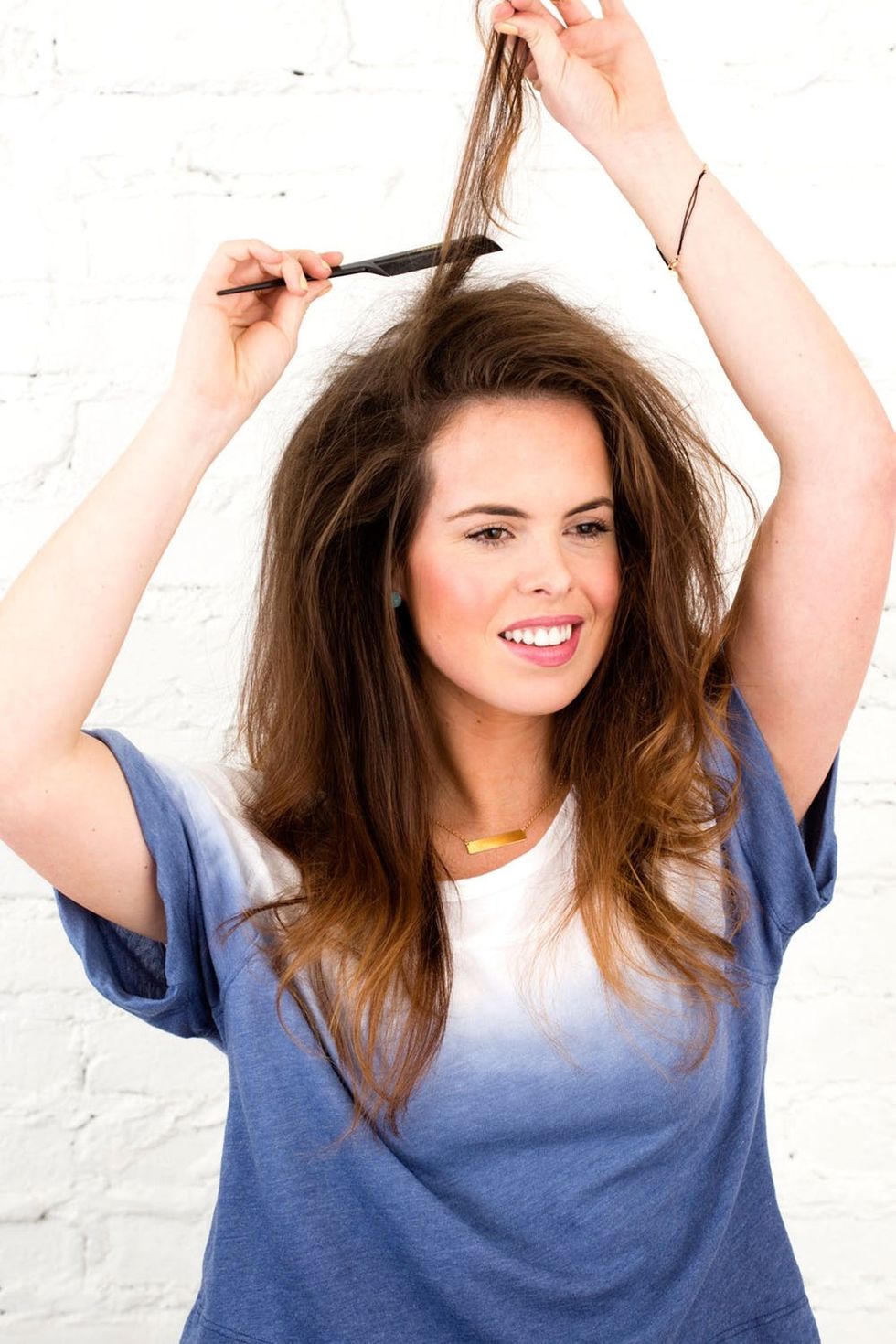 Use a rat tail comb to backcomb your entire hair from the root to around the mid shaft of your hair. The secret to doing this well is to pick up very, very thin sections. The thinner the sections, the easier it will be to get big, long-lasting volume.
Step 2: Loosen With Fingers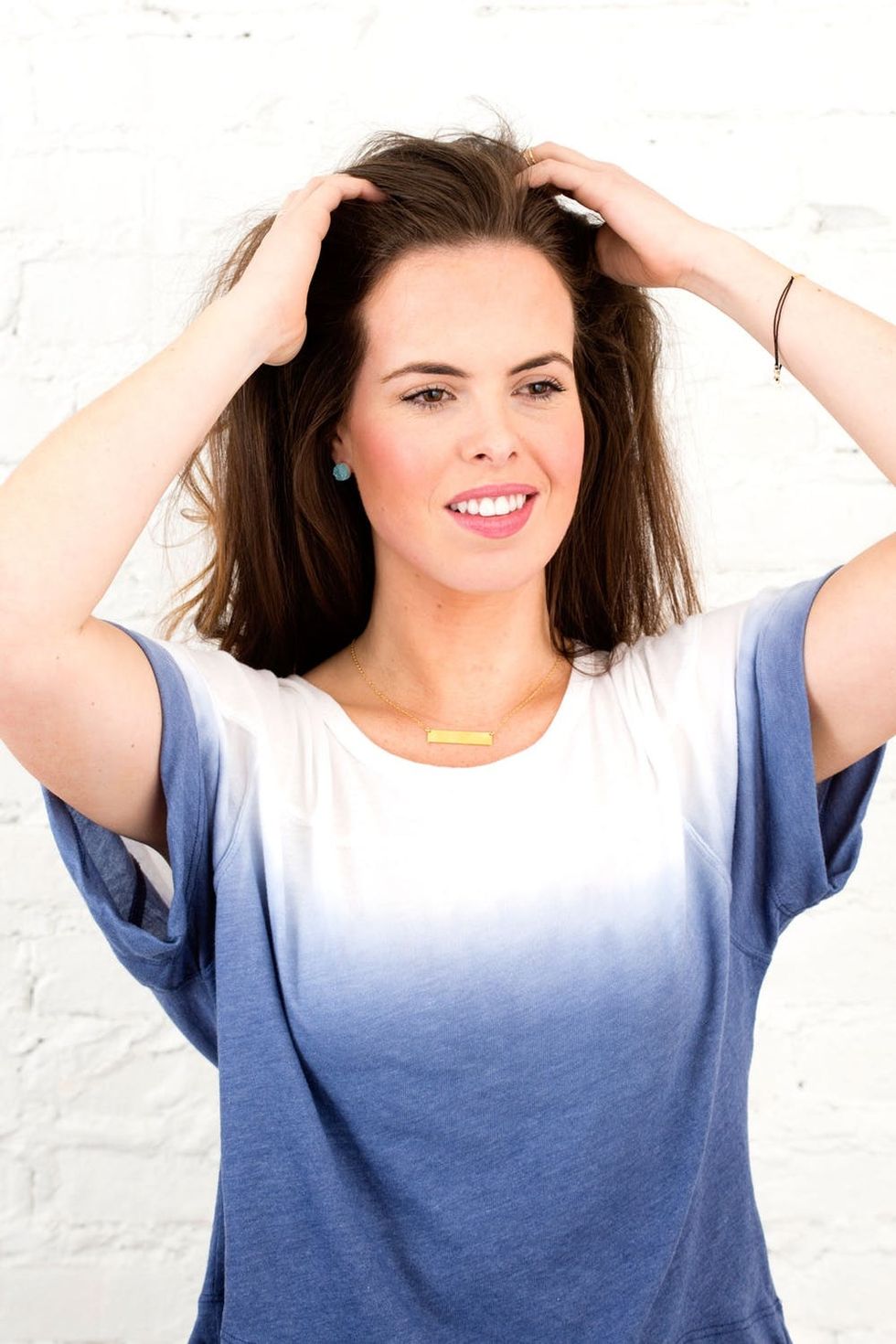 Use your fingers to shake through and tousle your hair. Don't run your fingers through your hair — that will flatten it down. Rather, put your fingers at your roots and shake them back and forth as if you are scratching your head to keep that height.
Step 3: Pull Hair Into High Pony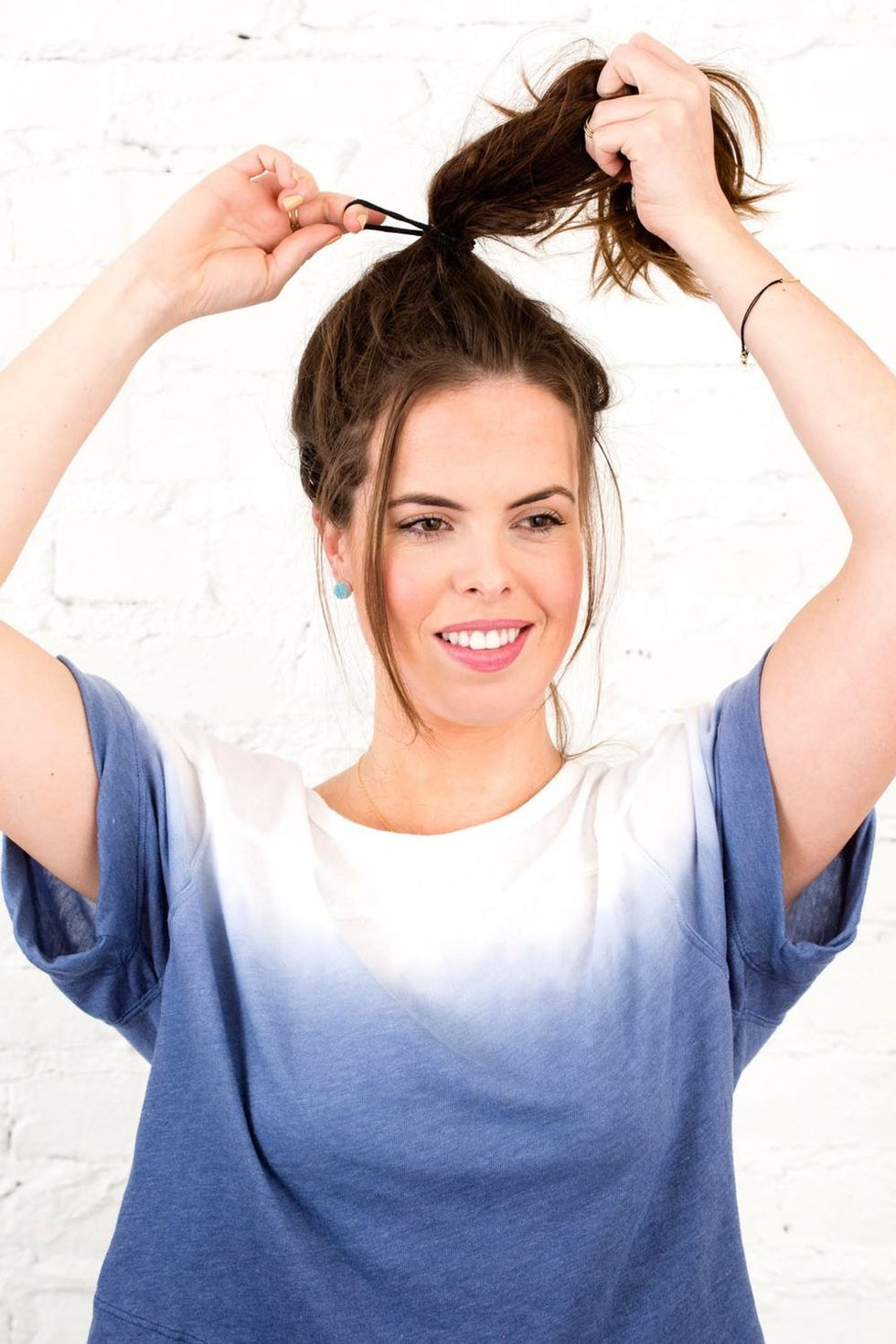 No need for a brush here. Simply pull all of your hair up into a high pony, letting any strays fall out. You can even pull out a couple strands of hair around the perimeter of your face if your layers are short enough. Once your hair is in place, tie it off with a thick elastic. Don't worry about the silhouette of the overall ponytail just yet.
Step 4: Loosen And Shape Hair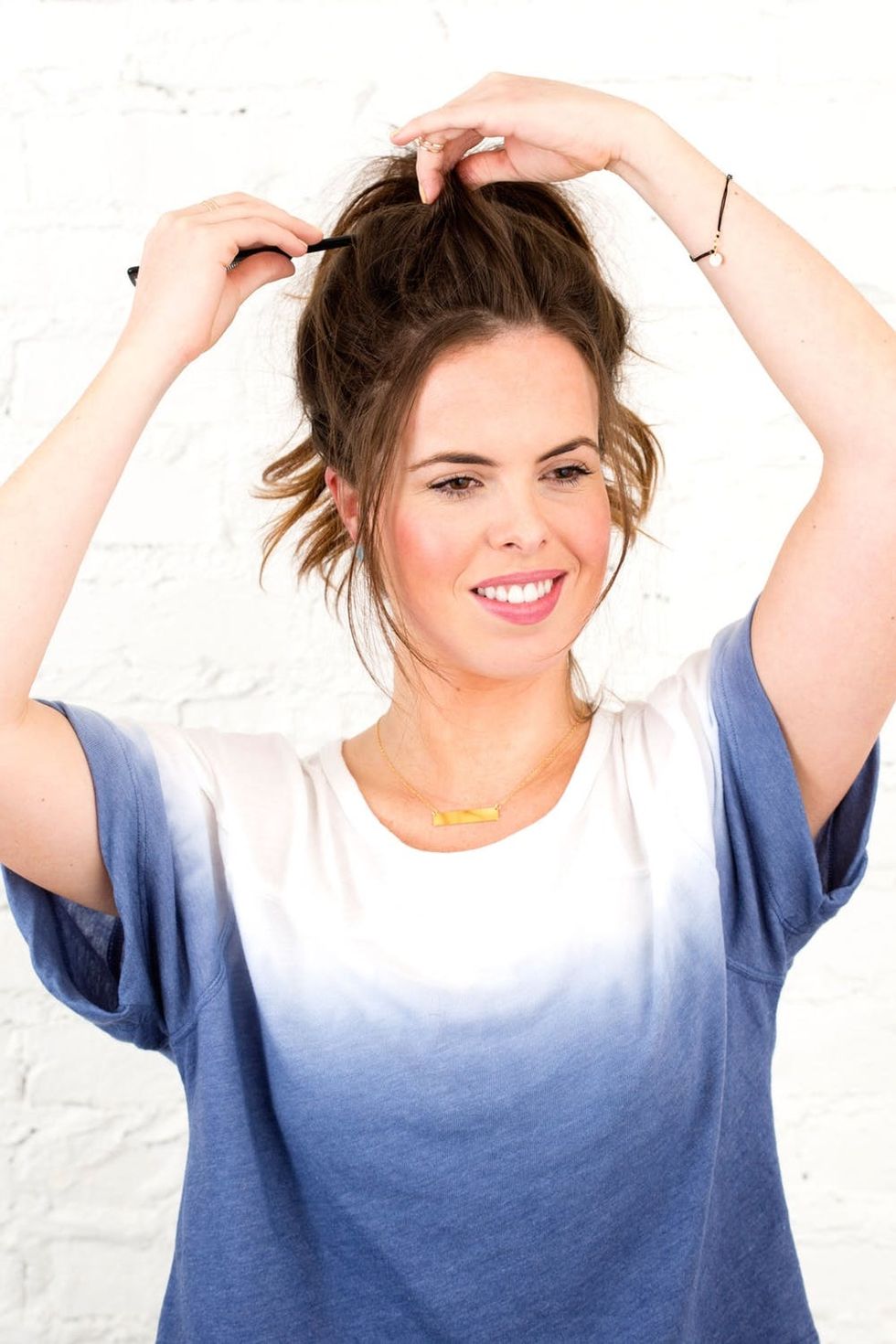 To refine this look, use the pointy end of your rat tail comb and your fingers to loosen up the hair pulled back into the pony. Gently put the end of the comb under your hairs and wiggle and lift up with your fingers to loosen up and shape the messiness.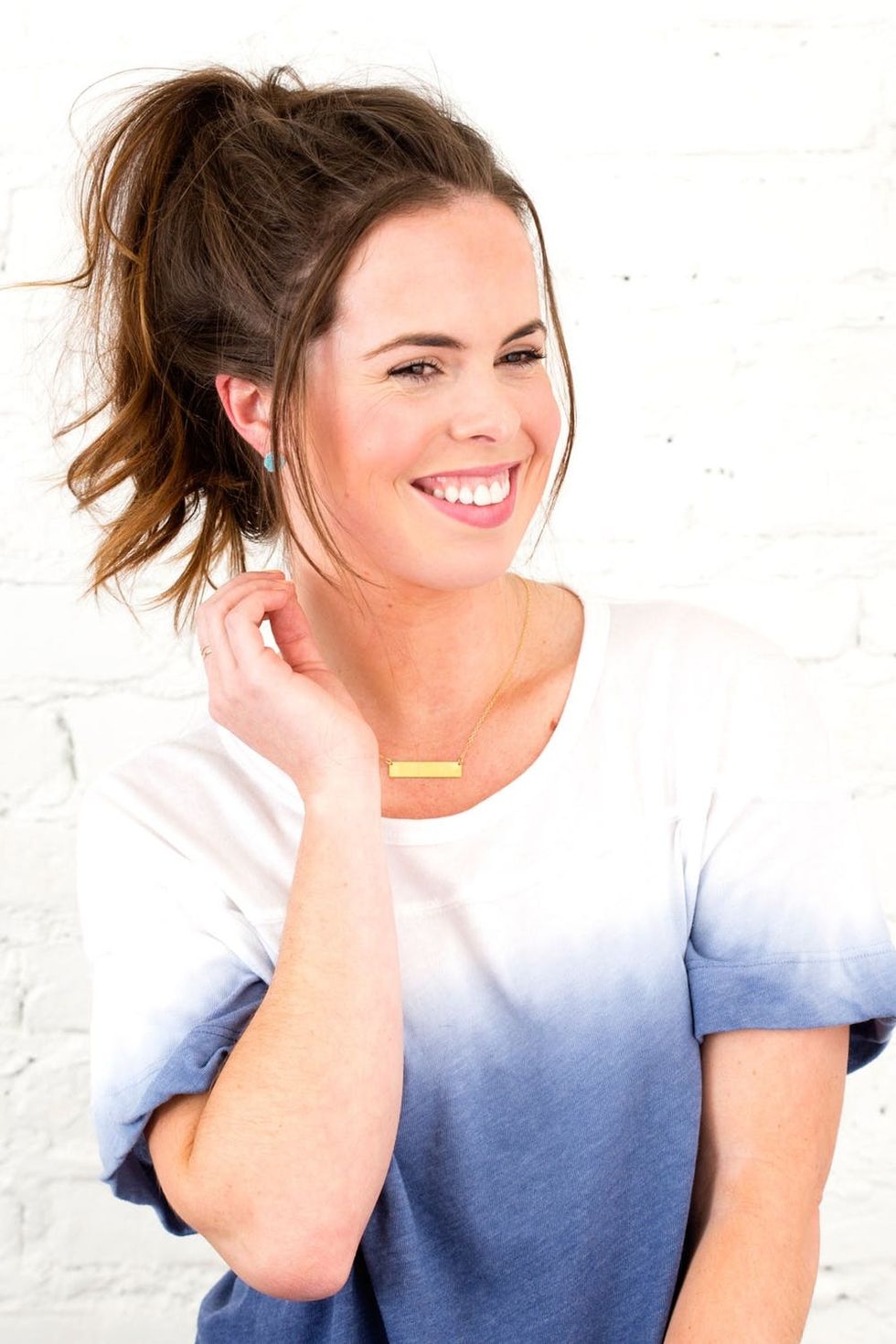 We might steal this style for our next date night!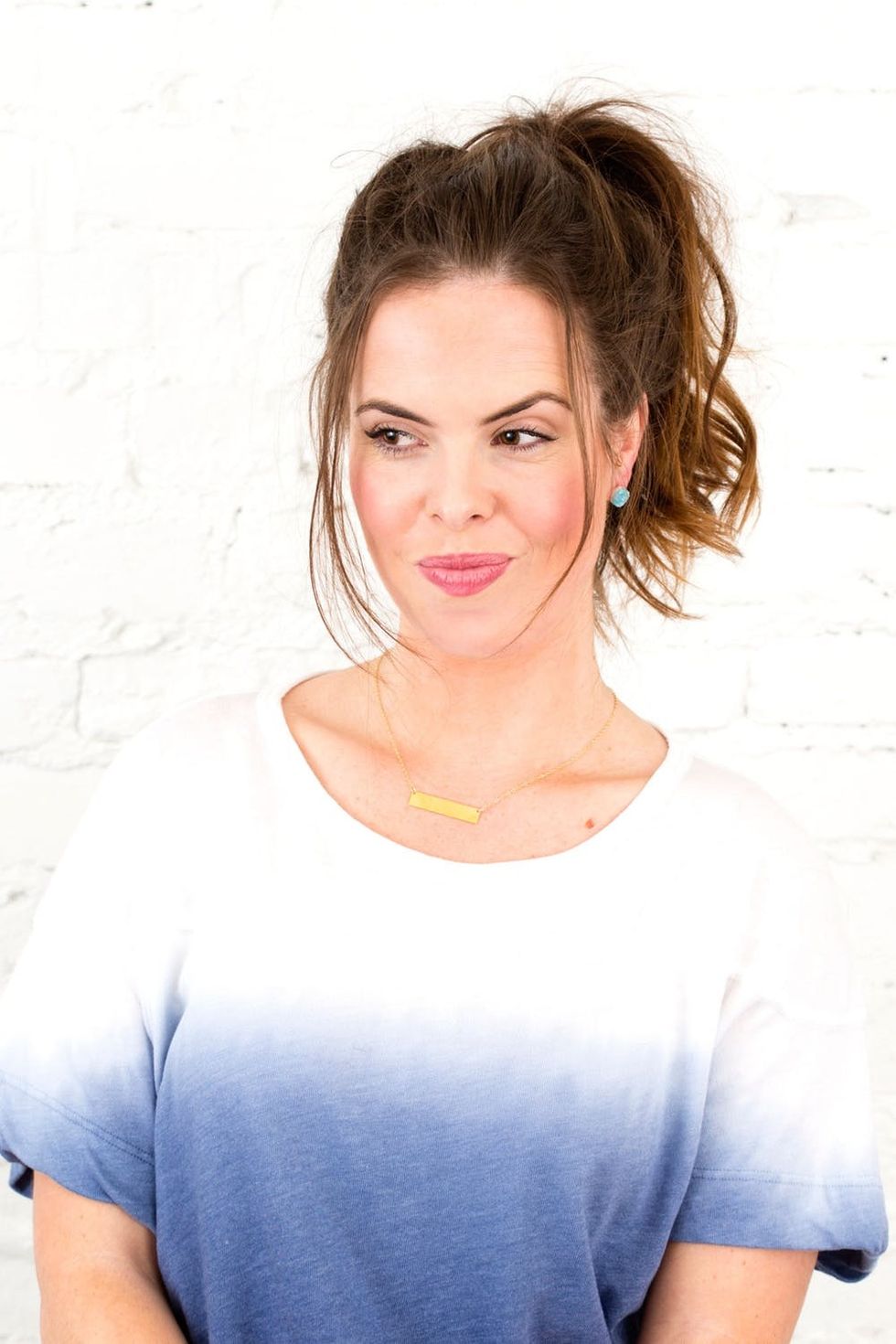 Medium-Haired Girls: A Brand-New Off-the-Face Updo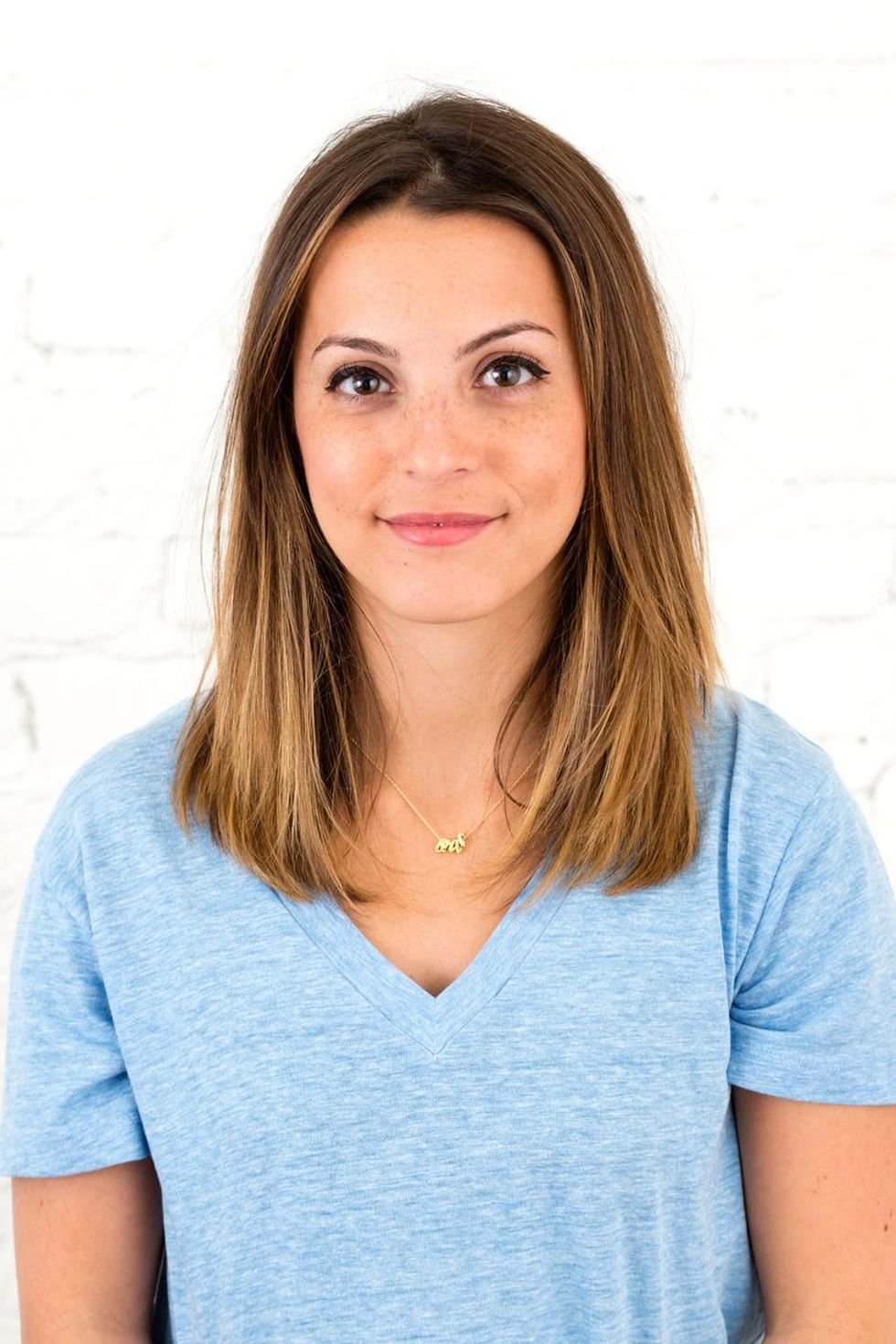 If you hair is medium length, a high ponytail sounds more like a chore than a shortcut. But don't worry, you'll have better luck with a quick updo to keep your hair from looking wet and stringy from the weather. Try this topsy tail-meets-Gibson Roll, twisted into one five-minute hairstyle that will only look better if it gets a little rain!
Step 1: Tease Your Roots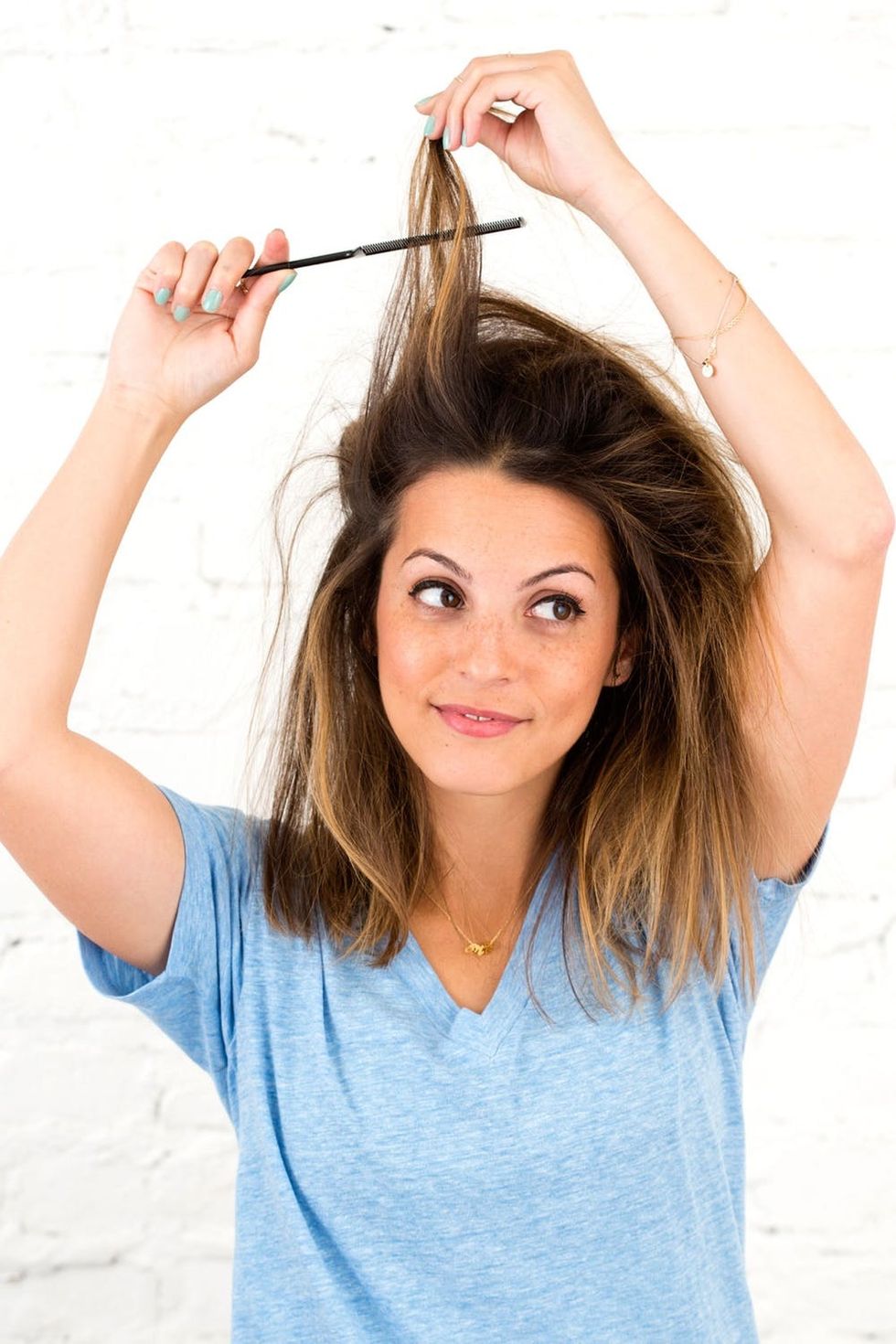 Back comb all around your roots for a more textured base to work with. Again, you want to pick up very thin sections of hair for the best effect.
Step 2: Smooth Hair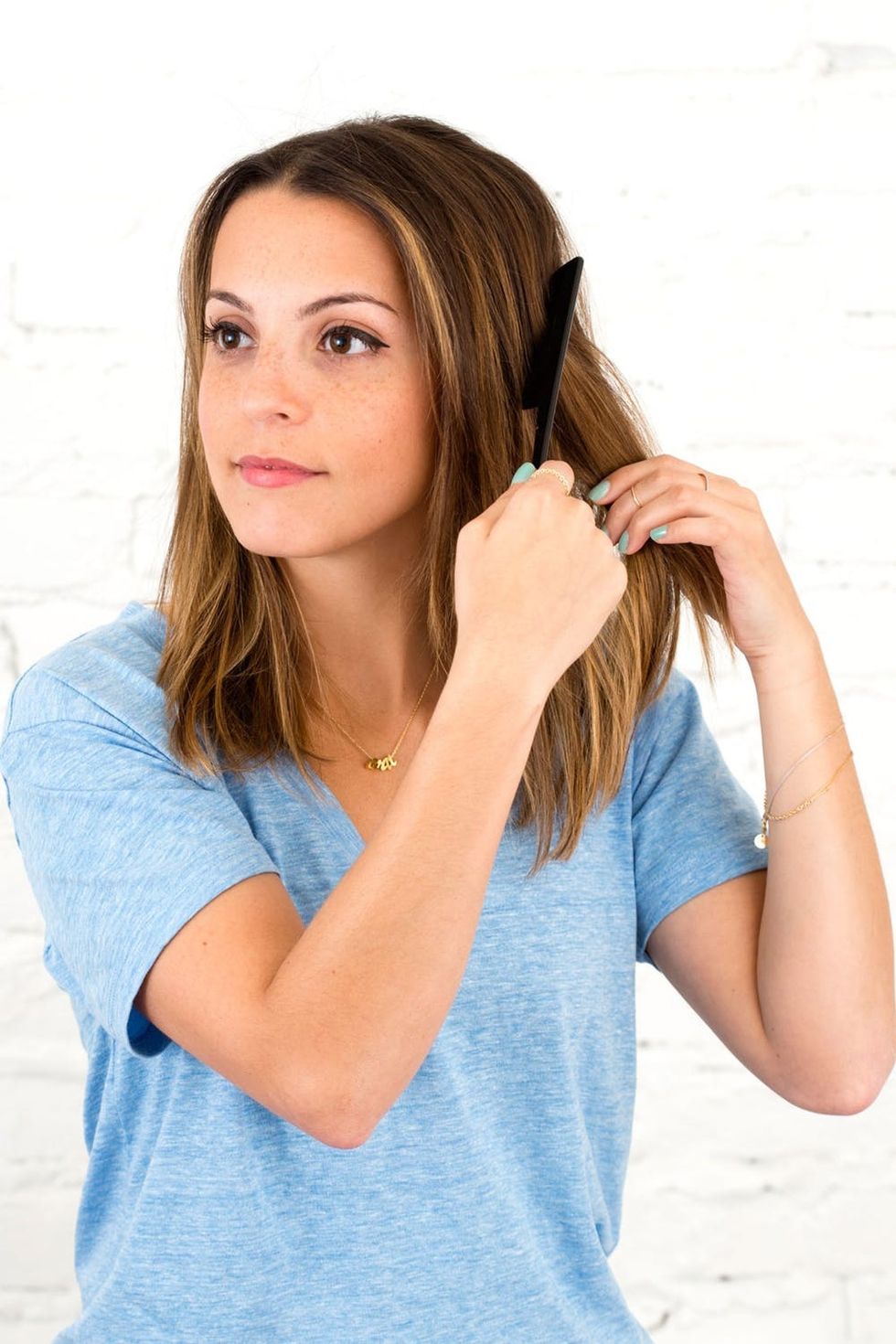 Using your comb, gently smooth down your hair without combing too deeply — you want to retain that backcombed volume.
Step 3: Pull Half Back + Topsy Tail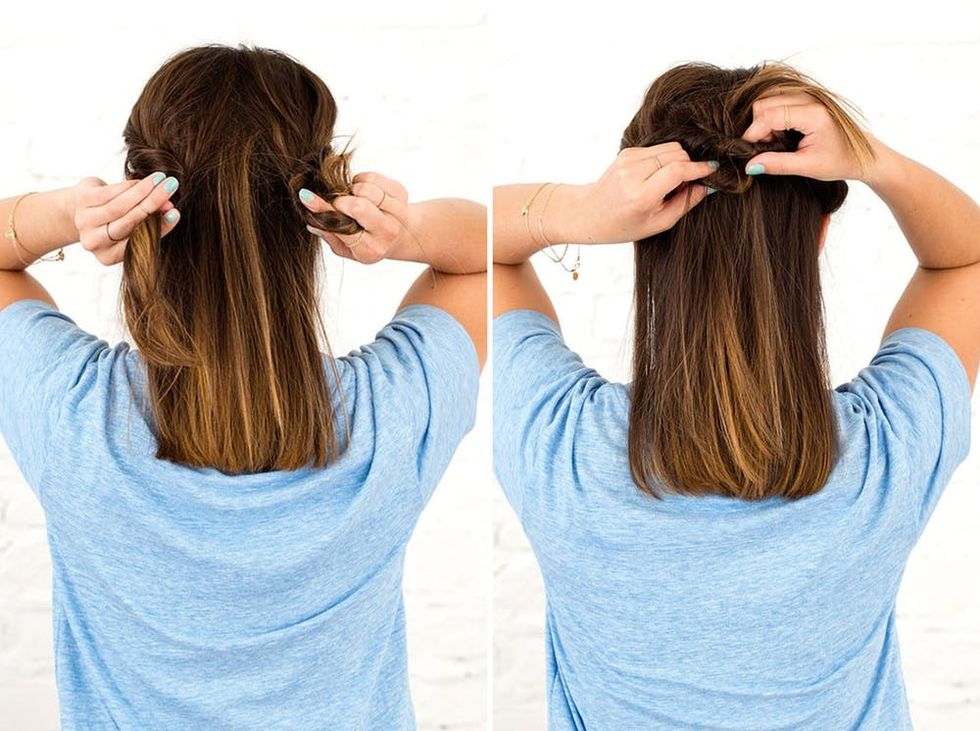 Use your fingers to separate out the top half of your hair into two sections, and twist each side back toward the back of your head. When the twisted sections meet in the back of your head, tie off with a small elastic. Then turn that ponytail into a topsy tail.
Step 4: Texturize + Section Off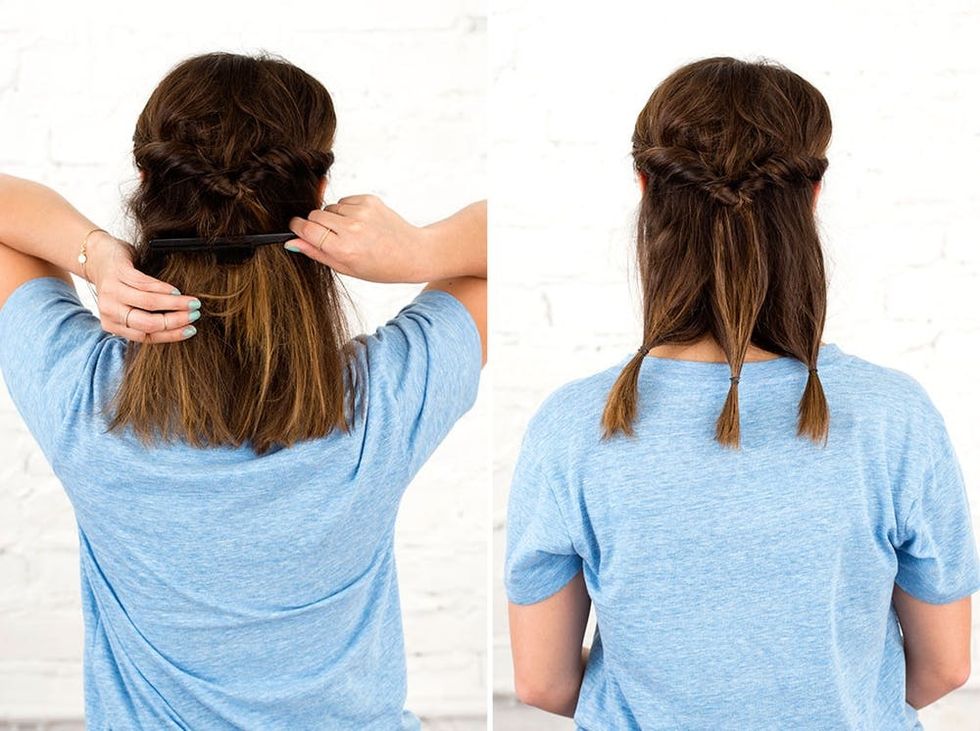 Use your rat tail comb to tease the bottom half of your hair, then split your hair into three sections by adding small elastics about 1 1/2-in to 2-in up from the ends of your hair.
Step 5: Hack a Gibson Roll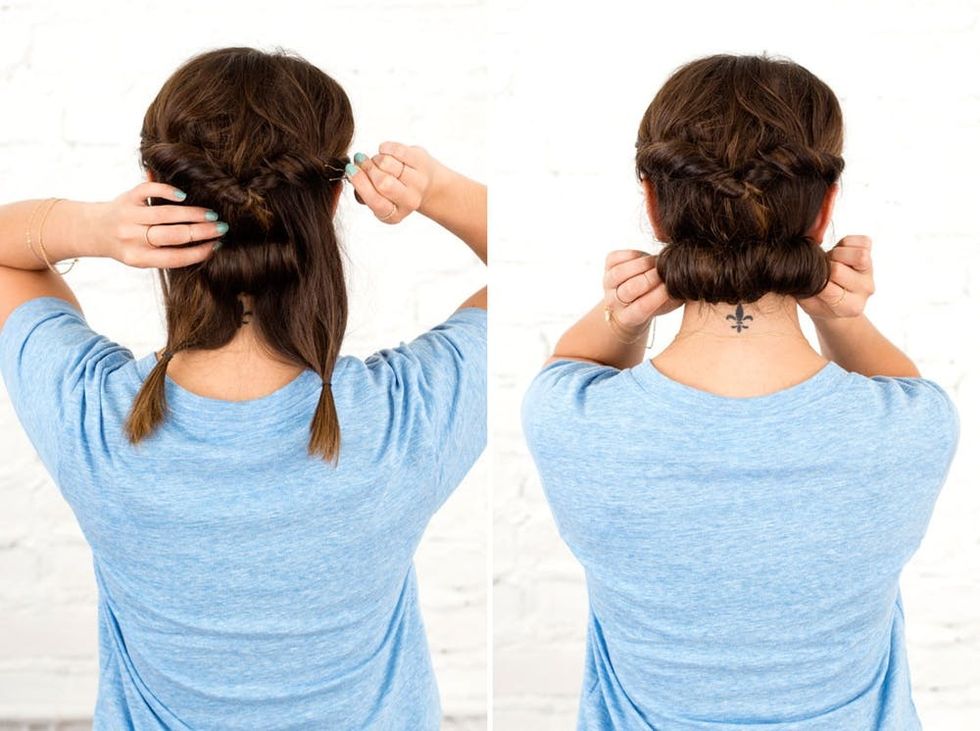 A Gibson Roll is a classic vintage hairstyle that involved the hair being rolled up into a crown onto the lower nape of her neck (can you say bombshell?). This can be really difficult to execute with your hair all in one section, so here is a way to cheat through it: begin by rolling the middle section of hair upwards until it meets just below the topsy tail and pin in place. Do this to the outer sections so that they line up and balance each other out on either side of the middle roll.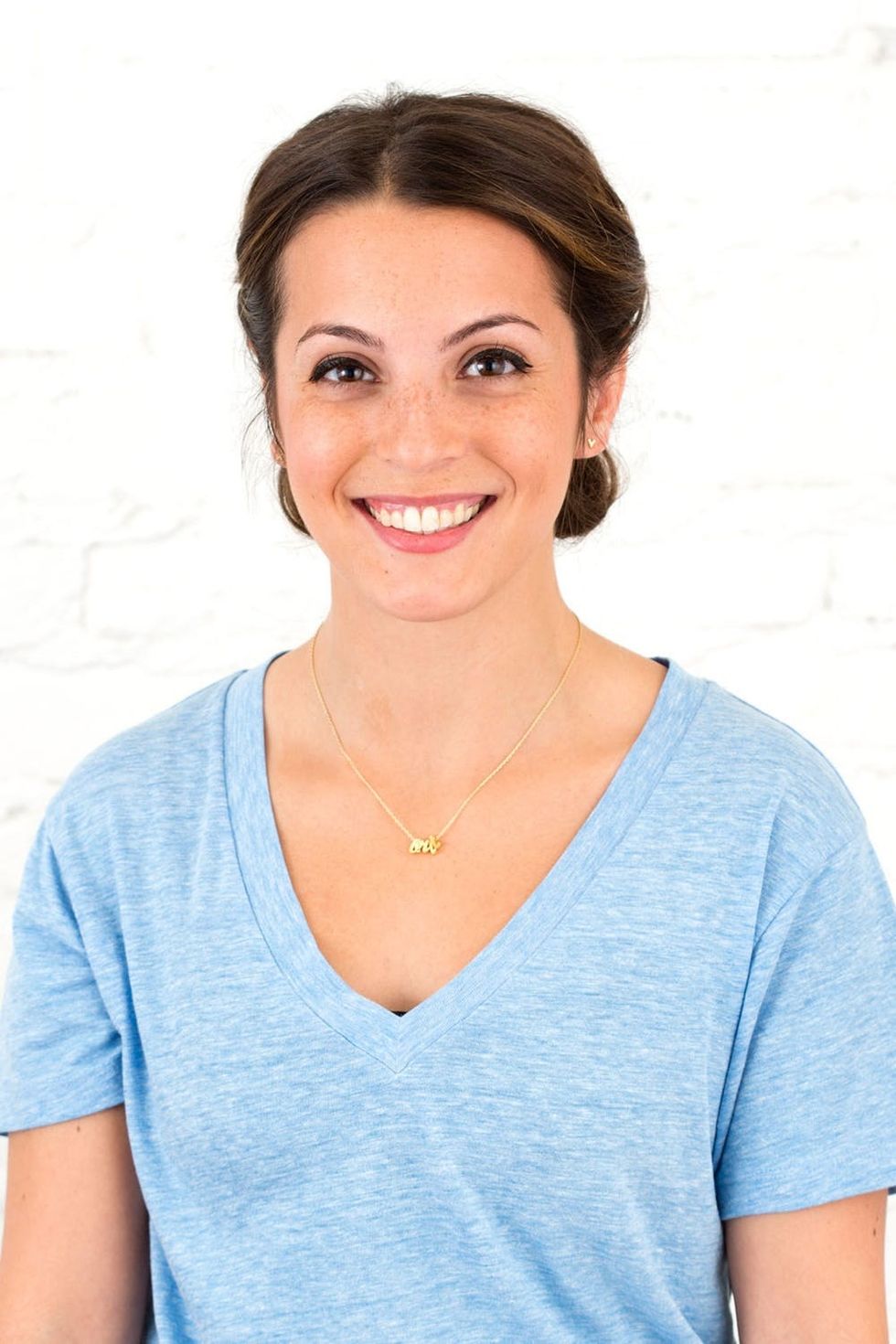 File under "rainy morning work looks," too.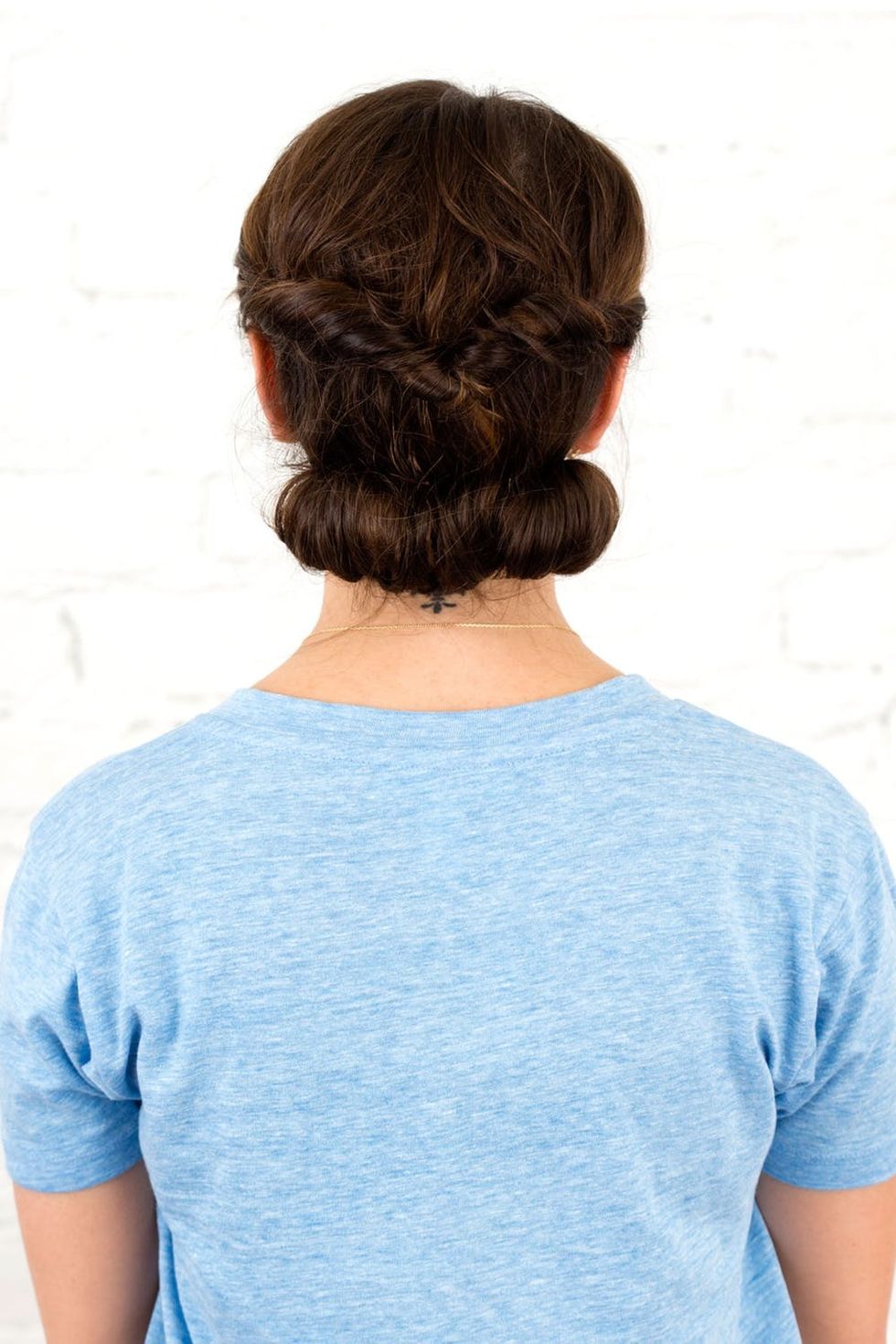 Short-Haired Girls: Twisted Scarf Cover-Up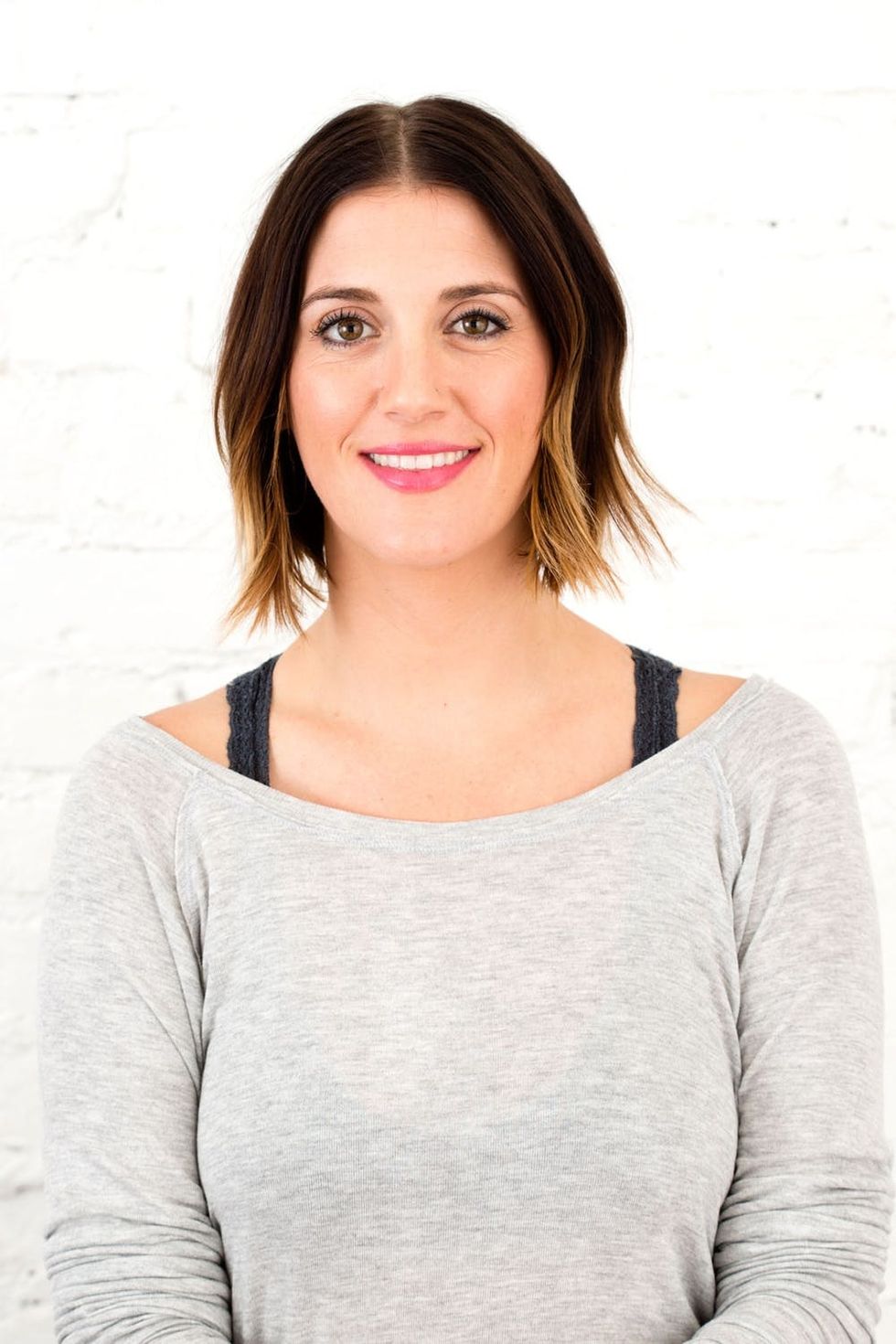 Ok, for us short-haired gals, a) a high ponytail is never an option and b) an updo can also be more of a task than a proper rainy day survival move! In this case, sometimes it's best to bring in backup and opt for a playful head scarf.
Step 1: Pick Your Pattern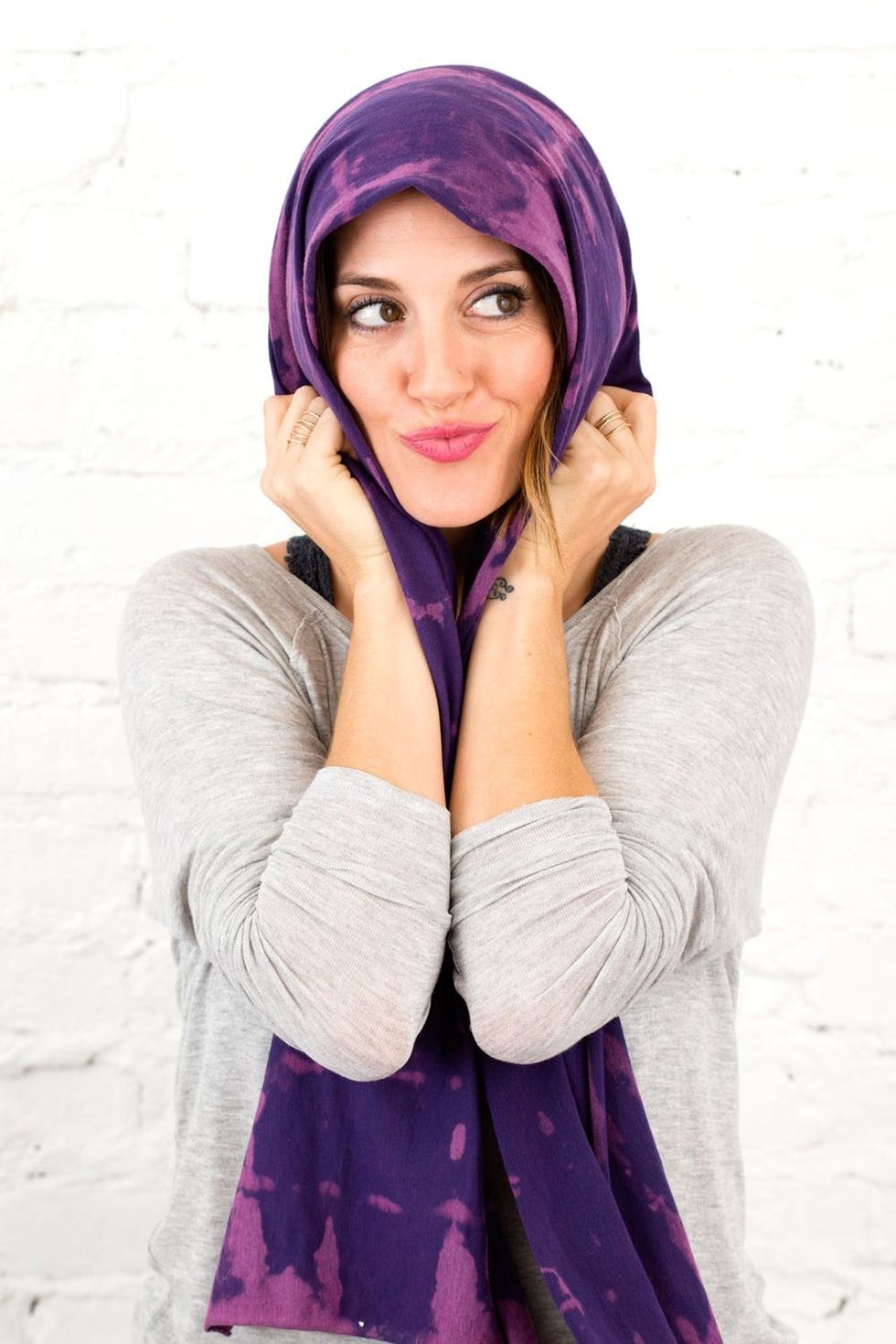 Pull out your favorite scarf, head wrap or even better, make this reversed tie die scarf I am rocking!
Step 2: Place Scarf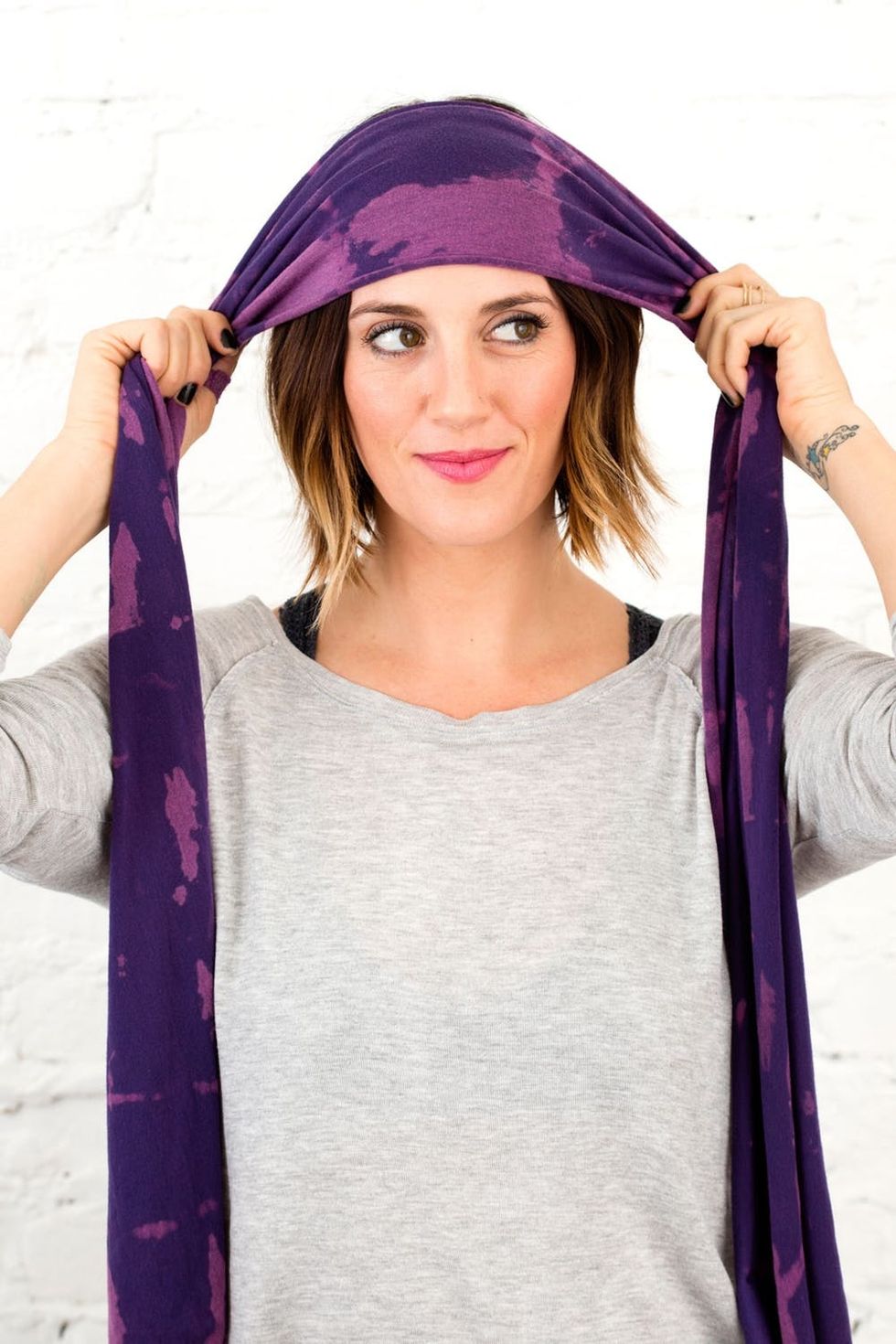 Center the scarf so that the ends on either side of your face are even.
Step 3: Wrap Scarf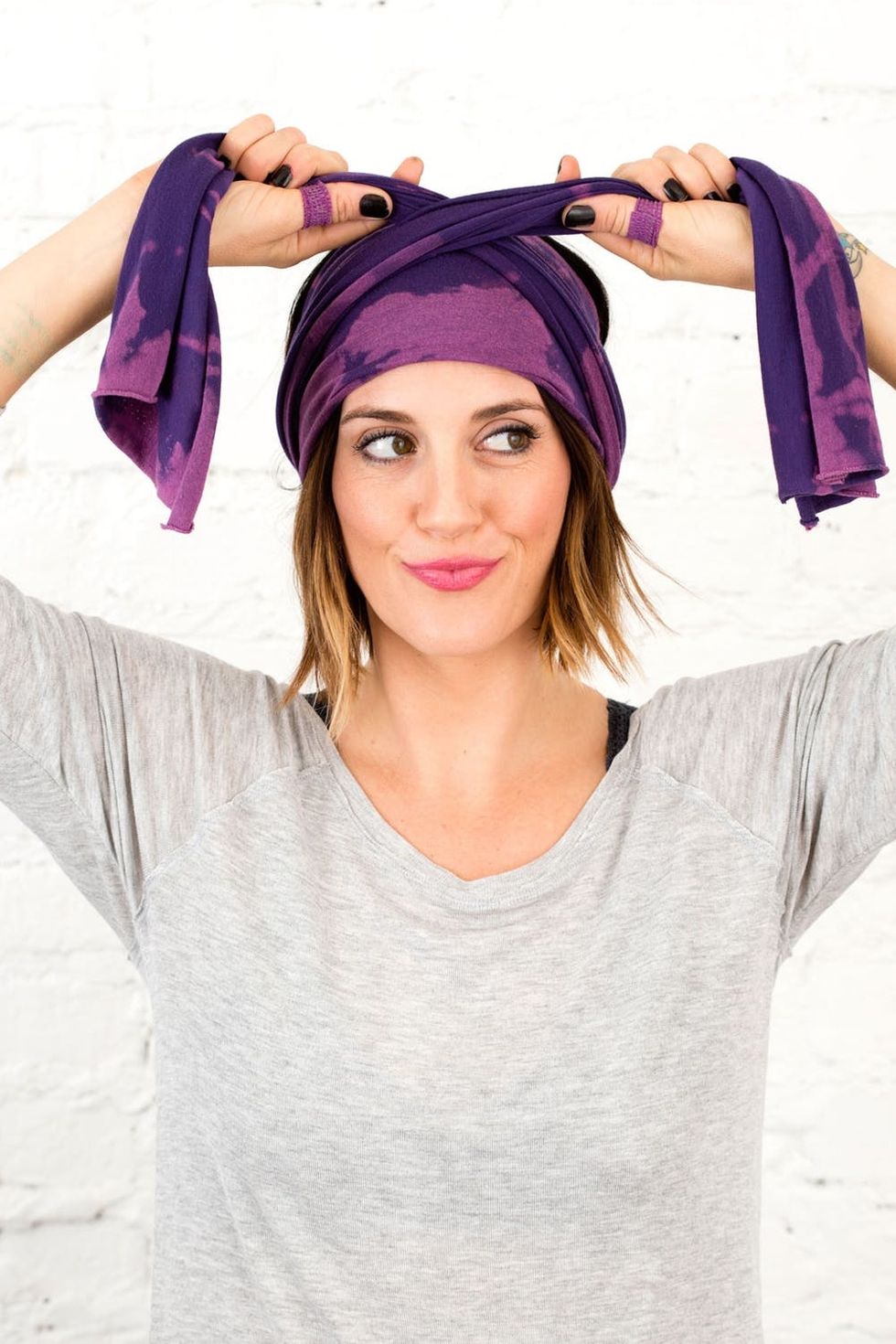 Depending on the length of your scarf, you will wrap it around your head until you get to a point where the ends are approximately 6 inches long.
Step 4: Twist  + Tuck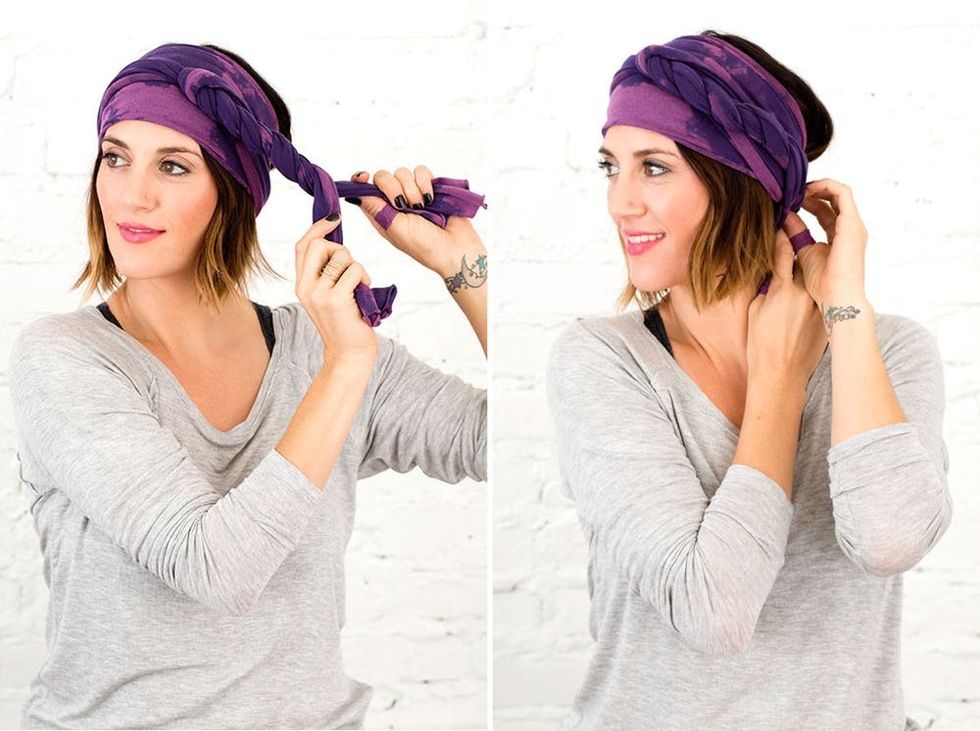 Take the remaining ends of the scarf and twist them together. Then pull the ends over to one side of your head and tuck into the back of the headscarf to keep in place.
Step 5: Position + Shape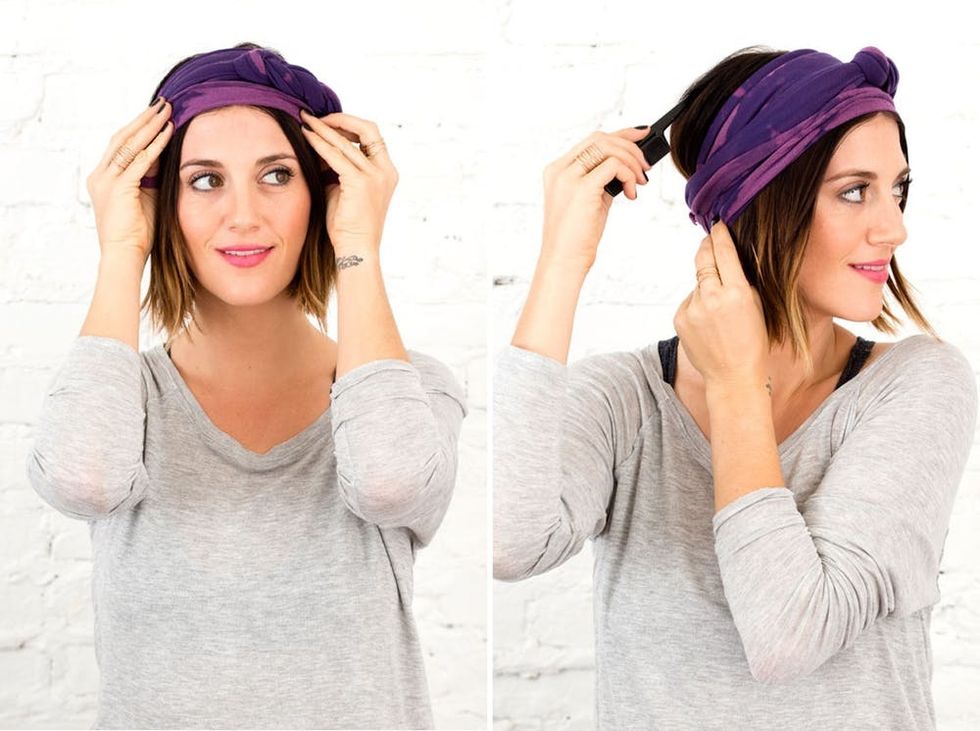 You can leave the front of the scarf on your forehead to cover your hairline, or you can pull it back a little to show off more hair, which makes it feel more like a hairstyle versus a hair cover.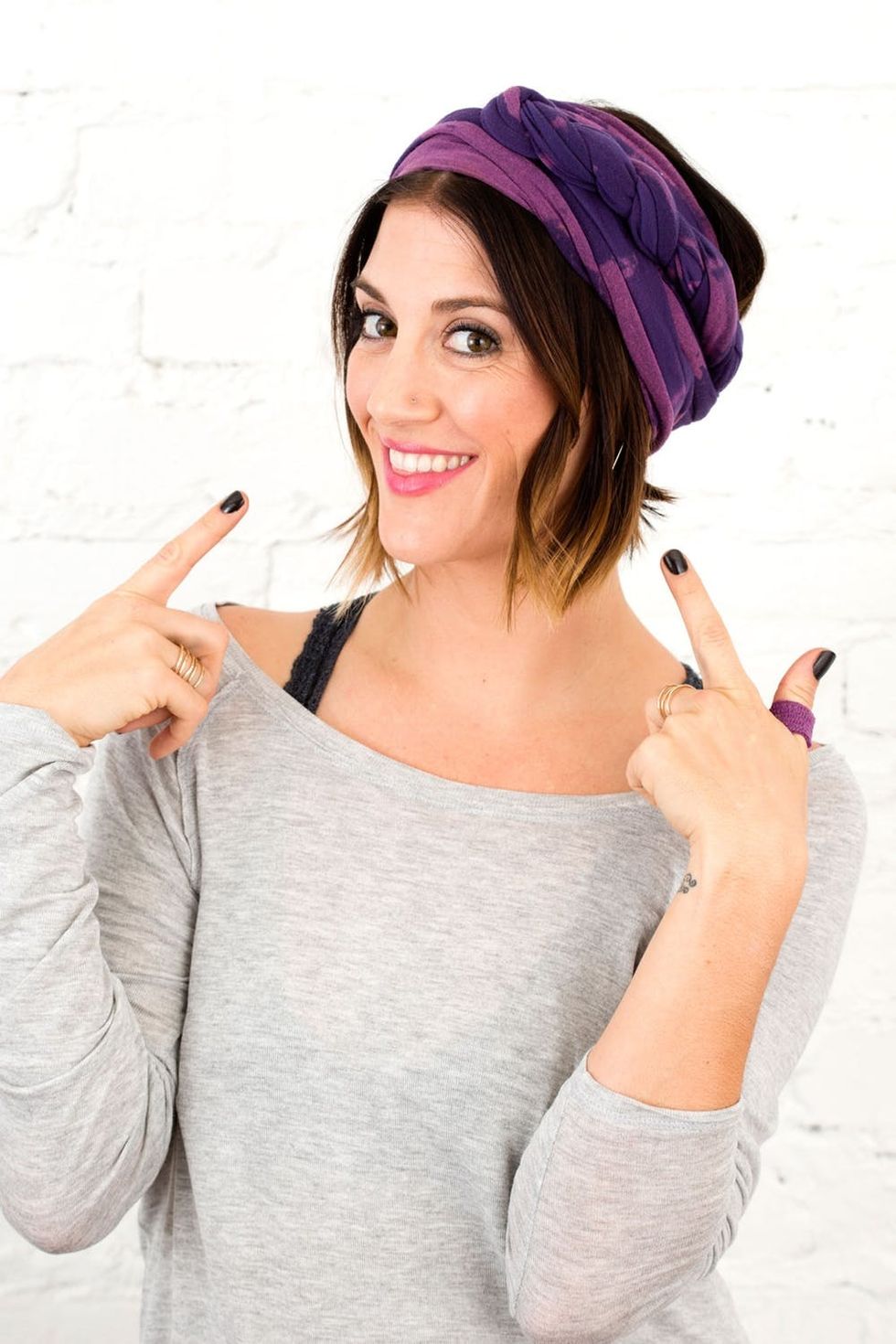 Rainy day chores seem like a bit more fun when you look this fly.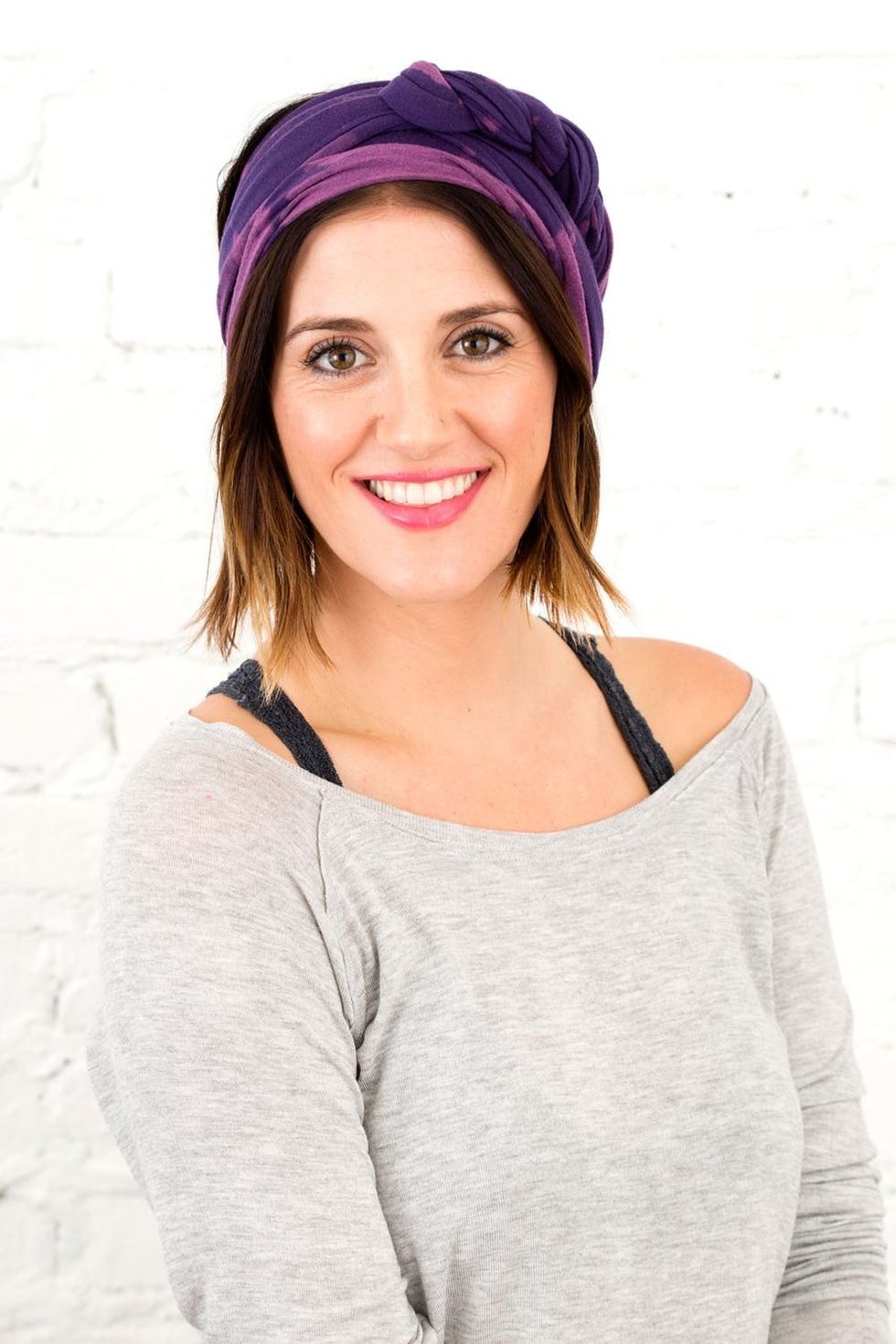 Regardless of your hair length, you are now equipped with a go-to style that you can bang out in five minutes. Truth: you can totally rock these looks any way, any day. The best part about all three of these 'dos is that if you do decide to brave the weather, a little water will only add to the trendy "meh hair" look. So go throw on your favorite rain boots and let the puddle-jumping selfies begin!
What are your tricks to saving your hair on a rainy day? Tell us in the comments below!
Misty Spinney
Misty Spinney is a hair stylist, makeup artist, and fashion stylist with a strong background in design and deep passion for creativity.