This Wedding Planning App Helps You Check Off the List Without Blowing Your Budget
Mar 27, 2017
Making your wedding dreams come true is easier said than done, especially if you're on a budget and without a professional planner. There's a million things to think about and keep track of: all your DIY to-dos, vendors, and, of course, communicating with your bridal party (oy vey!). What if we said you can manage all of that craziness within one *free* app designed specifically for brides-to-be? Hold onto your veil, because that's exactly what we're here to talk about! Check out all the tasks you can accomplish with the simplifying aid of our new favorite wedding app, LadyMarry.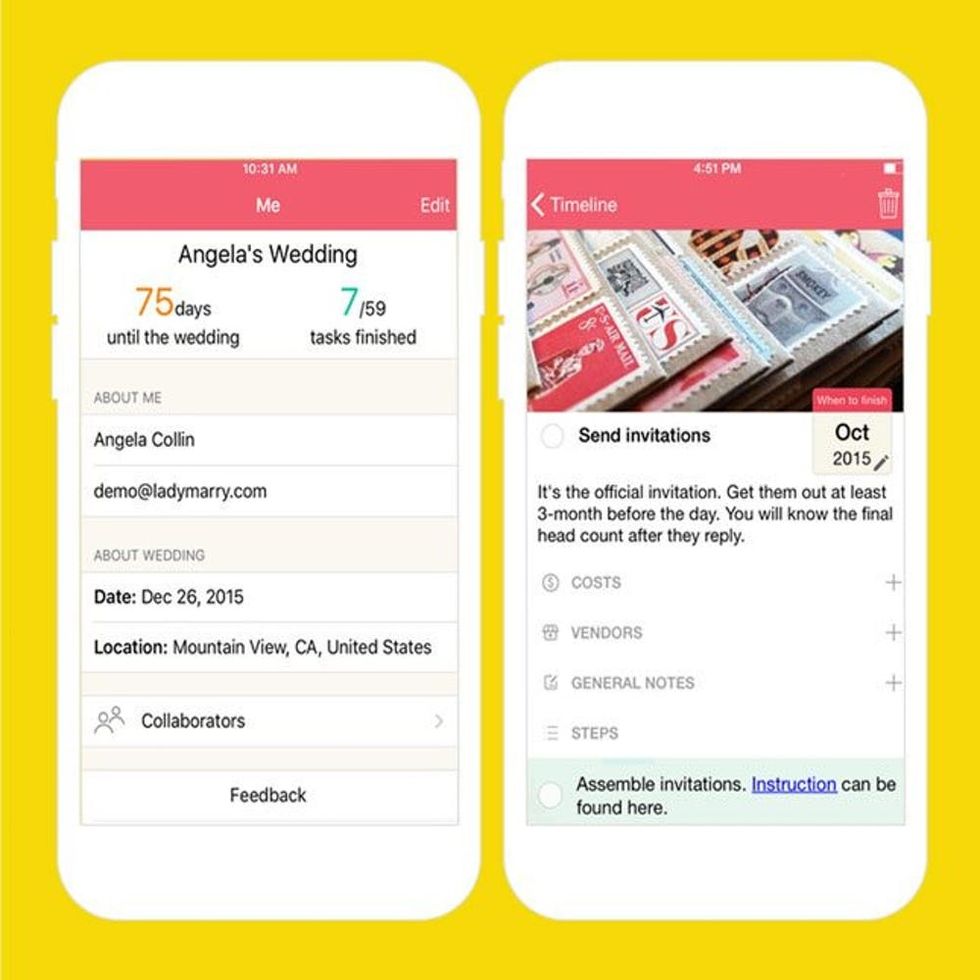 ---
1. Customize your checklist. Instead of carrying around that 10-pound binder full of loose papers, simply tote around your phone (as if you weren't already going to) and have the LadyMarry app handy 24/7. It takes your tasks and turns them into one digital checklist that you'll never lose track of and can update instantly as you knock out all of your big-day to-dos.
2. Invite vendors and book bundles. Dominating the wedding checklist game isn't all you'll be doing. LadyMarry boasts a three-step process to aid in nailing down your theme, finding your vendors, and booking the date for your big day (eeeek!). If you're just starting out and totally clueless, no worries! Check out this handy chart from the app that breaks down everything you'll need to plan.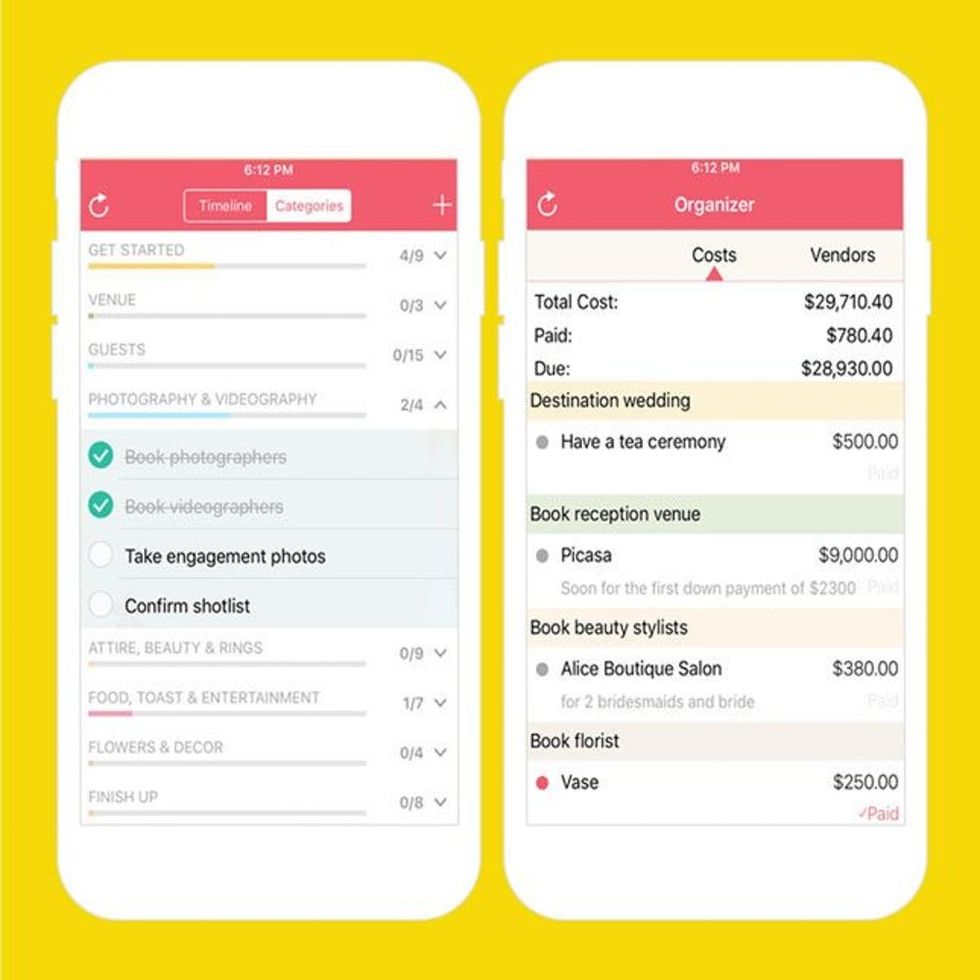 3. Organize and track. Once you've got all your vendors booked and your to-dos written, it's time to go to work. Track every expense and see the progress you're making on a daily basis as you count down to your nuptials. The colored progress bars make it a cinch to see what's remaining and add a colorful dash of fun to the process.
4. Collaborate. Here's the feature that pushes this app to over-the-top amazing. Sometimes the most stressful part of wedding prep (even with all the resources, apps, and planners in the world) is keeping friends, family, and your spouse-to-be on the same page. LadyMarry encourages you to connect, connect, connect! You can even add your vendors to the in-app conversations so the flow of communication is continual and stress-free.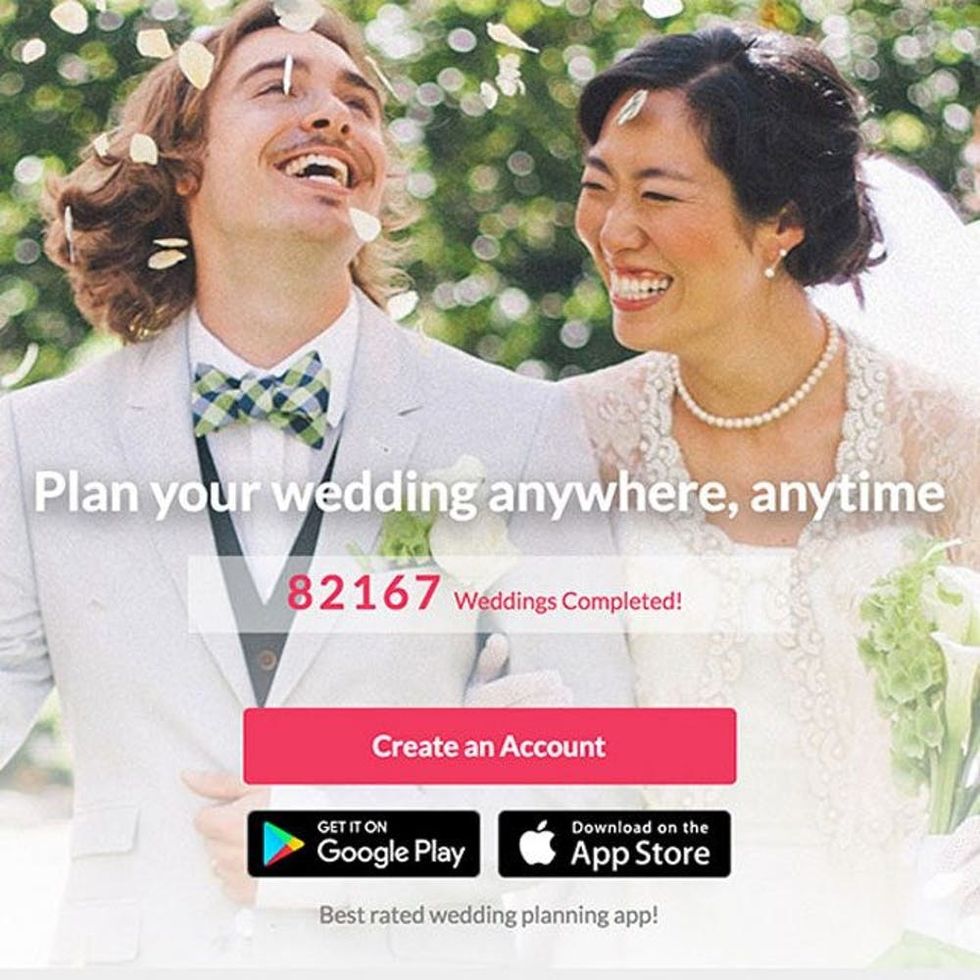 Now that's more than just your average wedding app! It's a whole slew of services that will make all of the prep and to-dos as relaxed as possible. Check out more of the app's wedding services here, then start focusing on the wonder of the day, instead of the stresses of planning.
Are you getting ready for your dream wedding? Tweet us @BritandCo and let us know how LadyMarry is helping you prep for your special day!
Chloe Gibson
Chloe loves watching Sex and the City reruns and eating. If she's not mixing something up in the kitchen, she's probably day dreaming about her next home renovation project. Along with TV and food, she loves trying fitness crazes to see if they're really worth the effort. Chloe lives and breathes lifestyle writing, but always makes time to post beautiful pictures of her cat, Susan, on Instagram.
Wedding Planning and Decor