11 Bachelorette Games That Don't Suck
Apr 11, 2016
Aside from hitting the club or chilling by the pool, there are tons of fun ways to spend your bachelorette party. If your #squad doesn't quite know each other yet, it's super important to have some sort of ice breaker, and a fun activity to help keep the party going during your downtime will do just that. Whether you're spending your bachelorette at a yoga retreat or keeping it low-key, the 11 bachelorette games below will work for any get-together. From adult mad libs to scavenger hunts, these bangin' bachelorette games go way beyond the usual bachelorette quizzes. Happy gaming!
---
1. Before She Says I Do Bachelorette Game Libs ($6): Get the whole girl gang involved with a classic game of mad libs, bachelorette edition. Because it's an instant digital download, you won't have to wait or pay for shipping. Once you've submitted your order, all you have to do is print. Opt for a commercial or professional printing on card stock, to make it look super swank.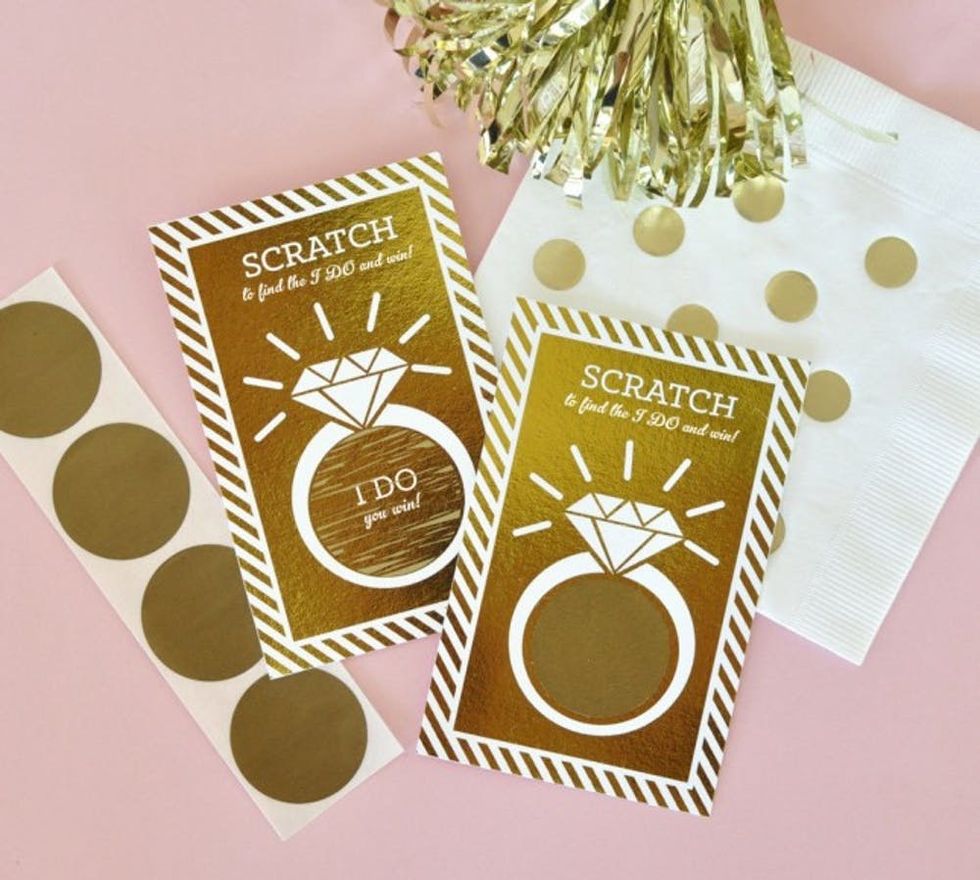 2. Mod Party Bachelorette Scratch Off Cards ($11, set of 16): Let your friends engage in a game of chance with these fun and fab scratch off cards. Made of gold metallic foil and card stock, each card will reveal either a winning or losing center when the gold coating is scratched off. Whether you have a prize or penalty for the winner and loser, that'll be left up to you!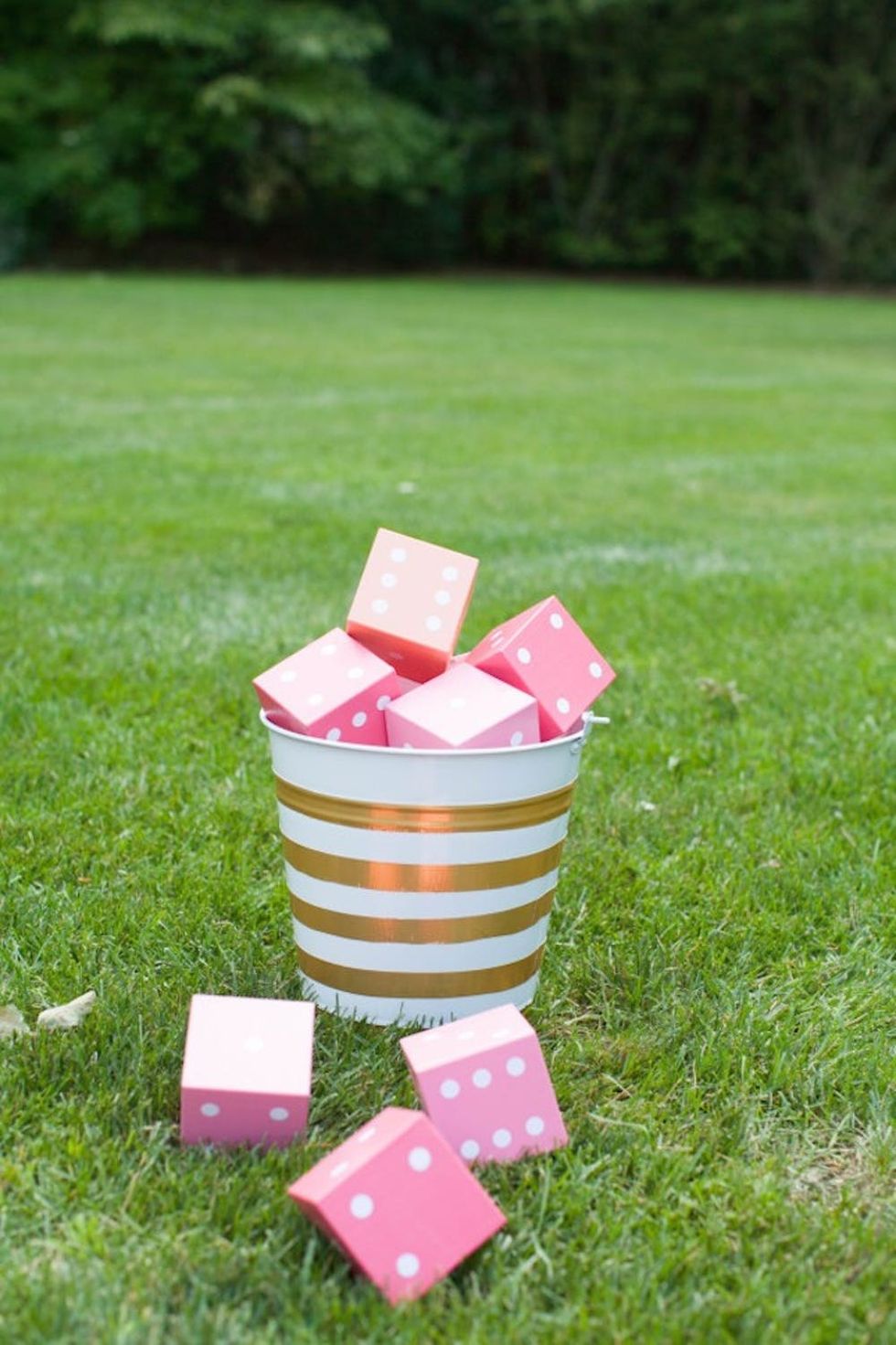 3. DIY Yard Yahtzee: Make your own set of GIANT dice for a larger than life game of yard Yahtzee. You'll need wooden cubes, paint and weather sealant to keep your dice looking their best for years to come. (via Style Me Pretty Living)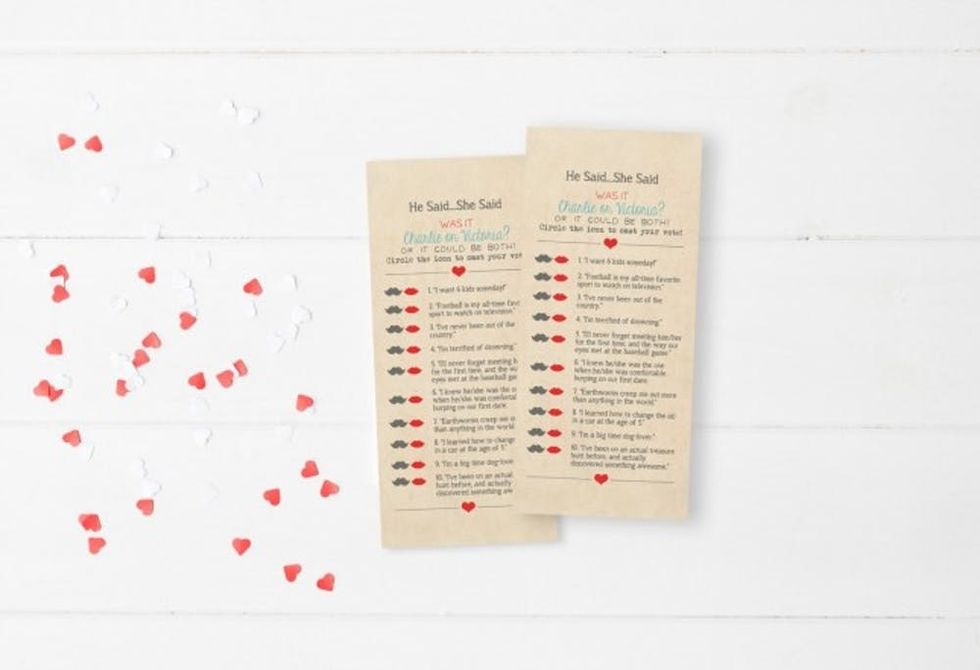 4. Splash of Silver He Said, She Said Trivia Game ($14+): Challenge your gal pals to a game of "who said it" with this printable set of trivia questions. Customize your questions down to the color of your card stock and any embellishments you'd like to add.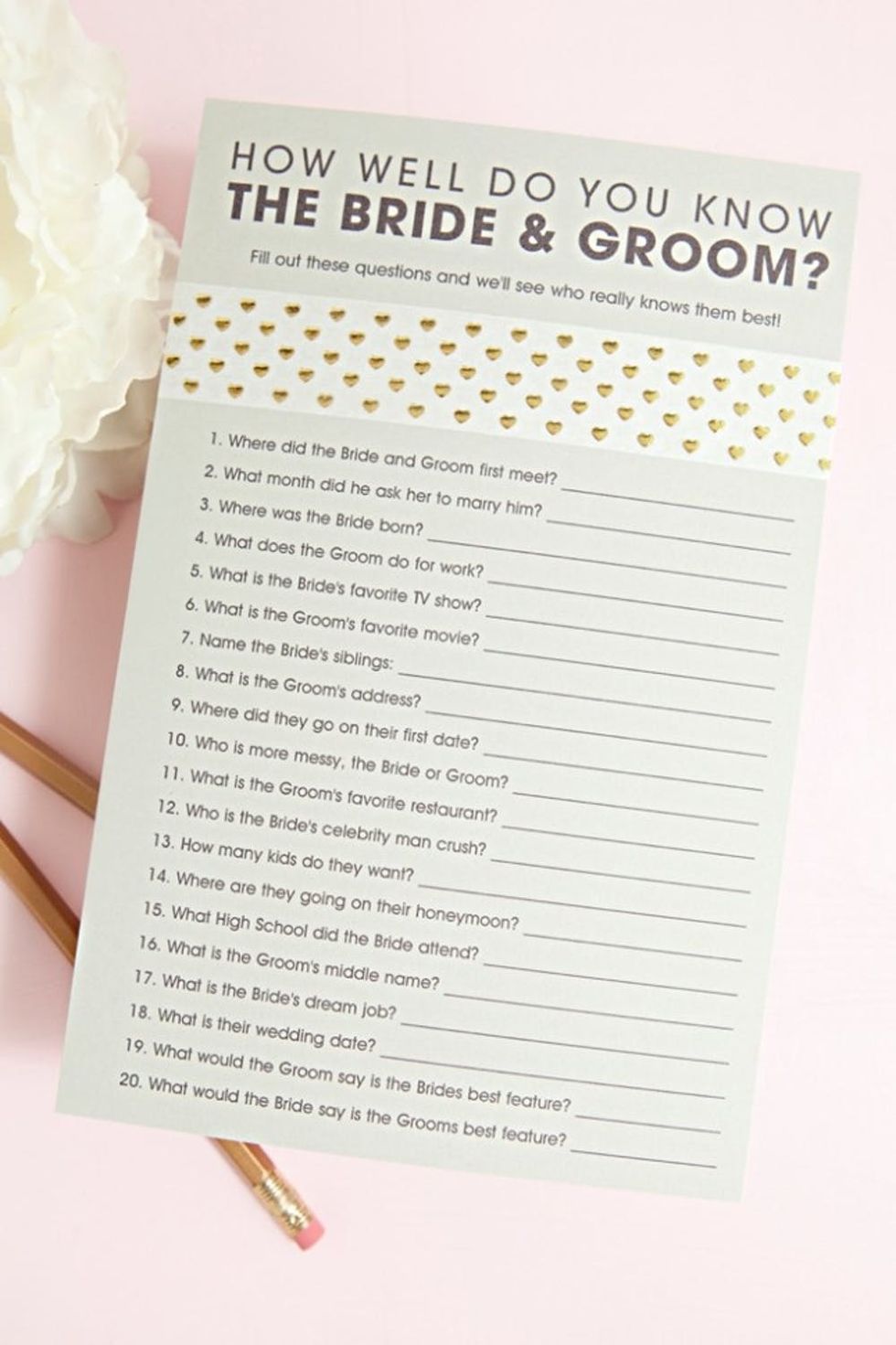 5. Something Turquoise How Well Do You Know the Bride + Groom Game: Test your friends to see how well they know you and your beloved with this game. Personalize your own set of questions with patterned washi tape and colored card stock. For a more customized version, DIY your own list to include names and specific details. (via Something Turquoise)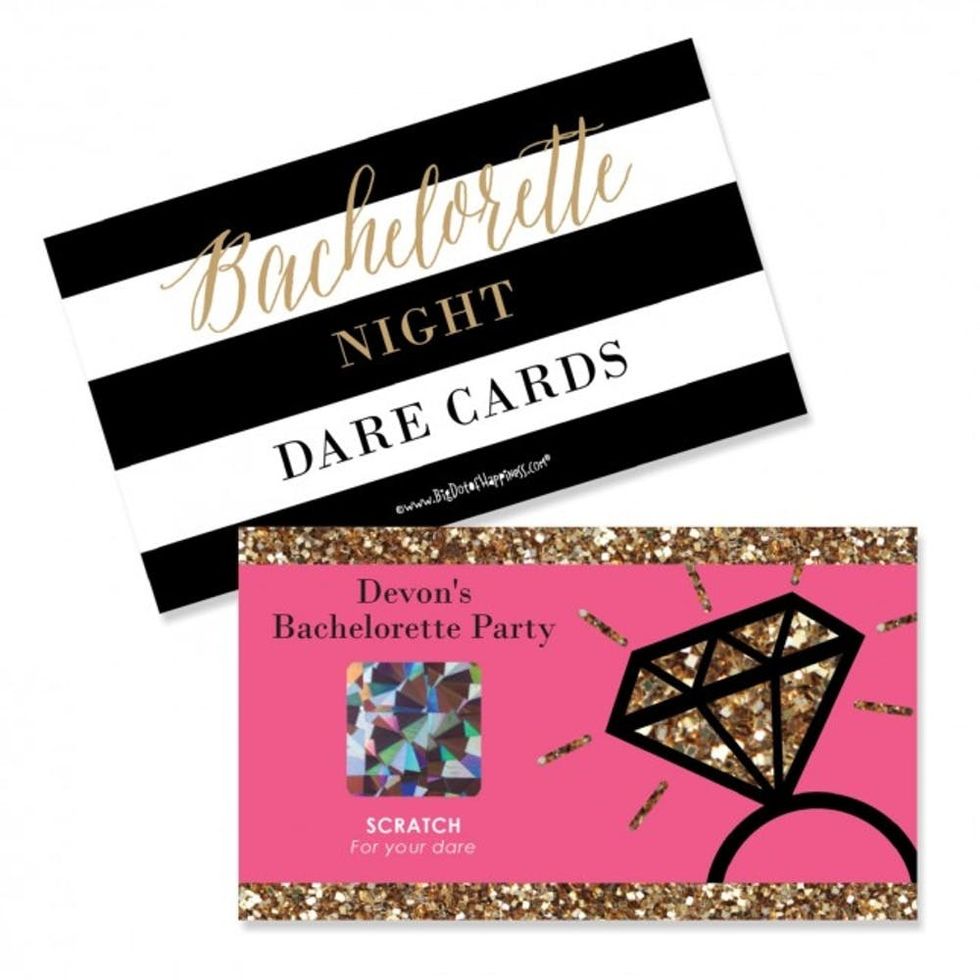 6. Big Dot of Happiness Personalized Bachelorette Scratch Off Dare Cards ($10, set of 22): There's nothing like good old-fashioned dares to get the party started. Choose from a list of dares that range from kissing a bartender on the cheek to getting the DJ to play "Single Ladies," for an ultimate night of fun. Throw in a twist like offering the option to get out of a dare by buying the bride-to-be a drink.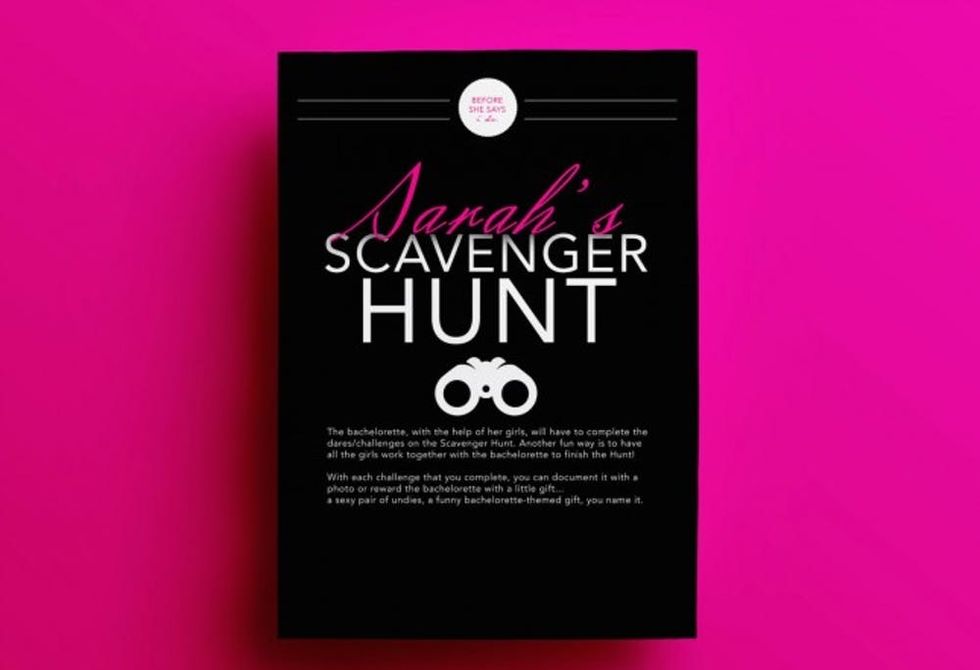 7. Before She Says I Do Personalized Bachelorette Scavenger Hunt ($8): Found: best bachelorette ever. This downloadable print isn't just loads of fun — its design *defines* ultra chic. Either split up into two groups or team up together to smash all 20 different challenges.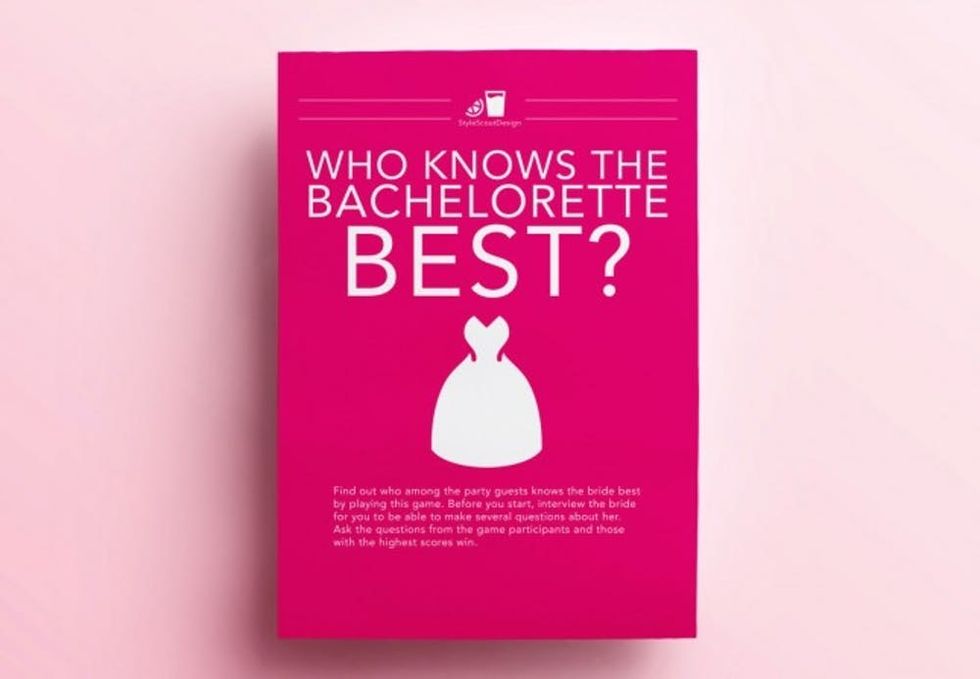 8. Style Scout Design Who Knows the Bachelorette Best ($6): Find out who your ultimate BFF is with a game of "who knows you best." Ask your friends to write down an answer for each question, even if they may not know it (creativity encouraged!). When all questions are said and done, gather round and read each person's answers aloud for a night full of laughs.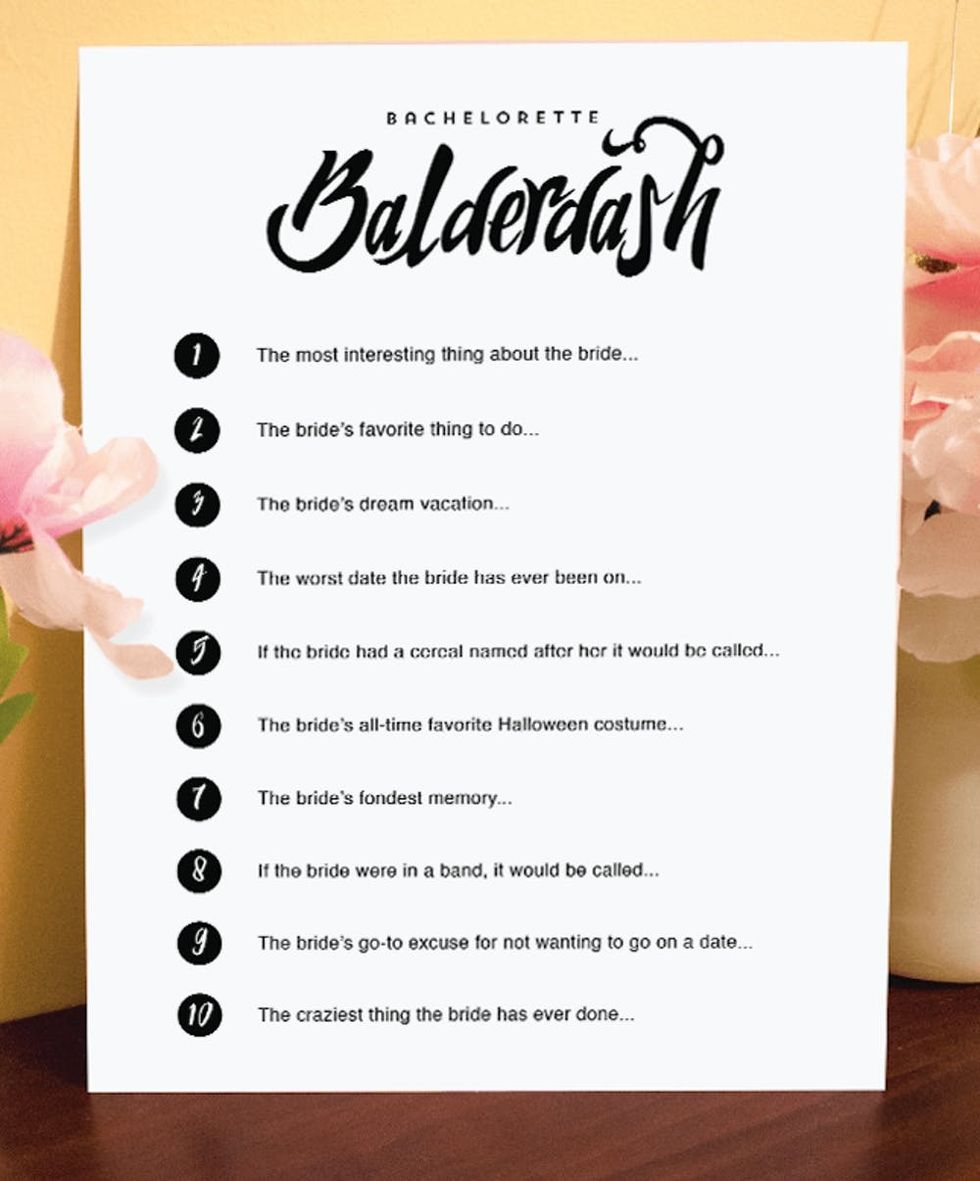 9. Designs by Miss Mandee Bachelorette Balderdash: If you're familiar with the game Balderdash, you'll love this version. Your friends will try to guess what your response to each of the prompts will be, or they'll get creative and make up their own silly answers. (via Designs By Miss Mandee)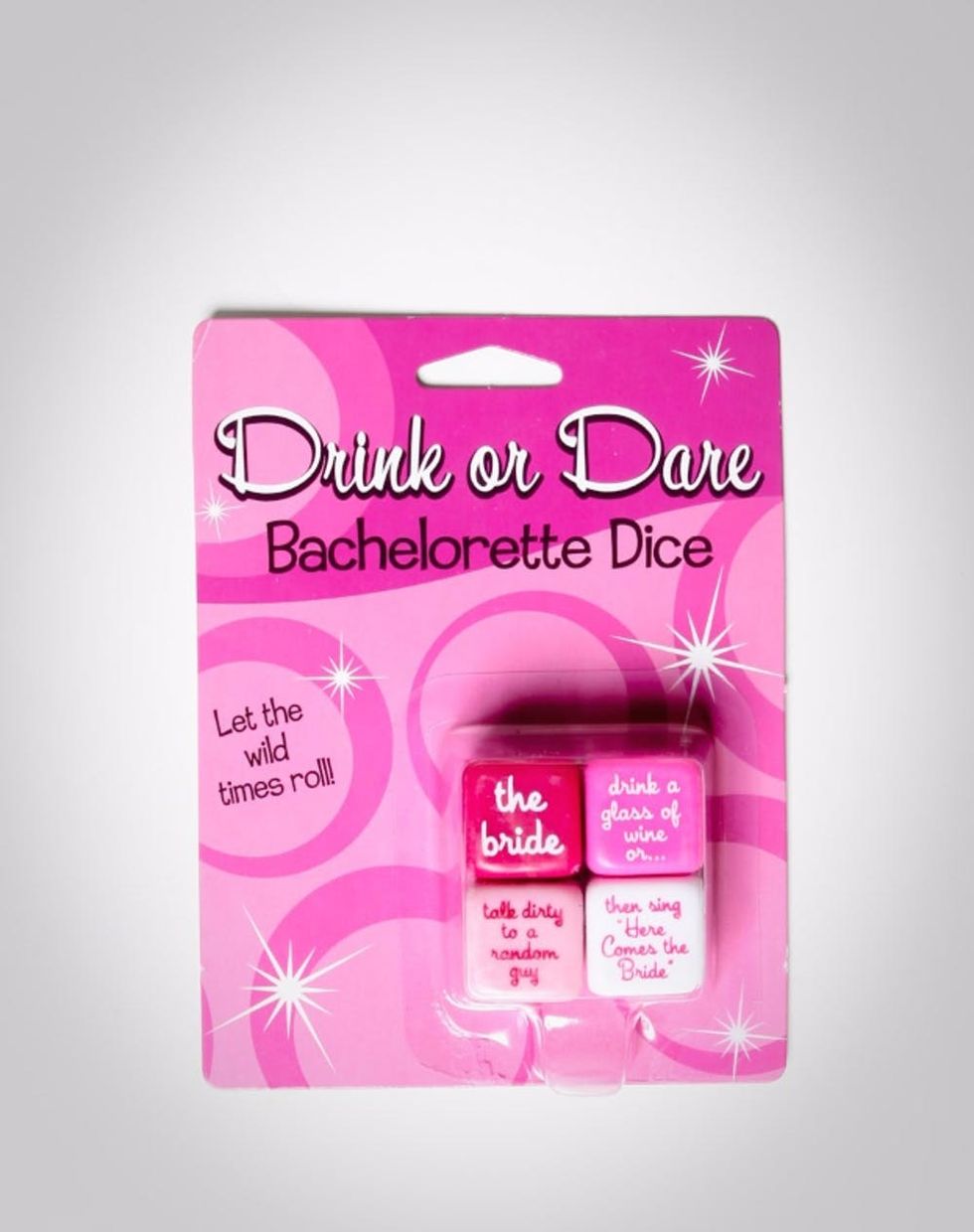 10. Spencer's Bachelorette Drink or Dare Dice Game ($7): Let each of your bachelorette friends try their luck with a roll of the dice. Each bachelorette will have to read the directions in order from darkest to lightest die and can choose to take the drink or take on the dare.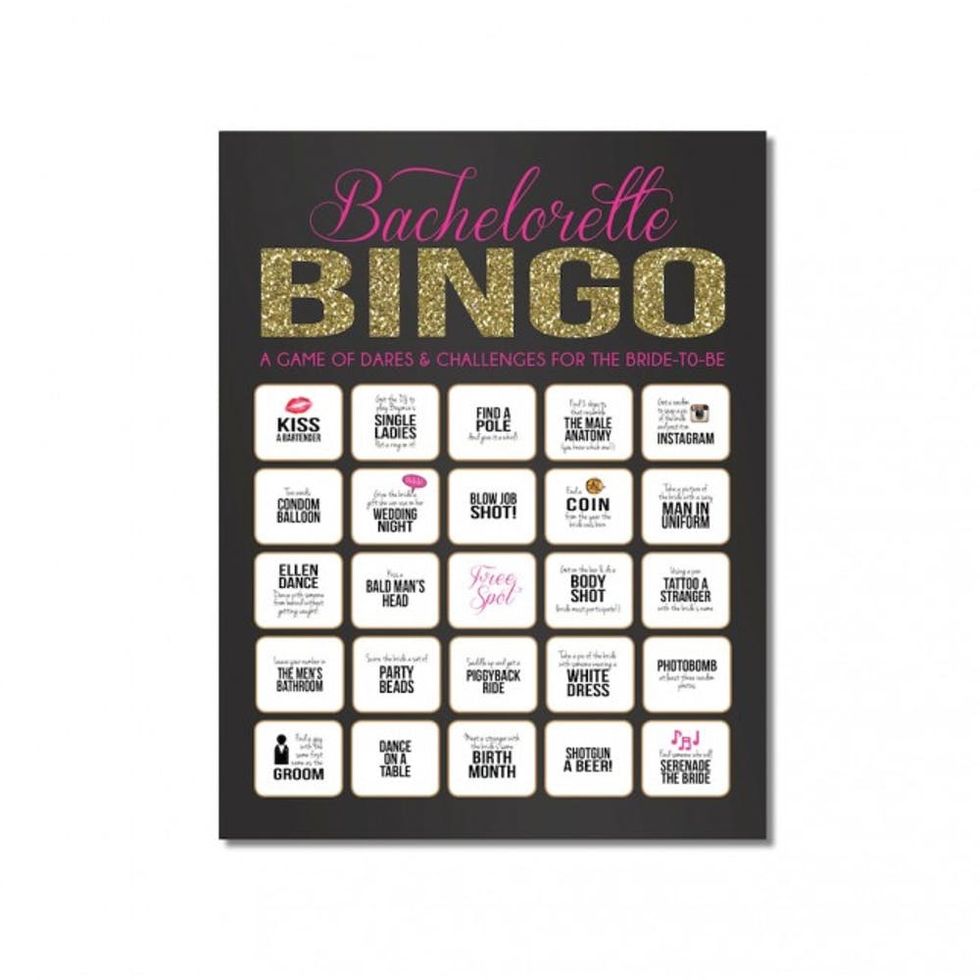 11. Sweet Bee Shoppe Bachelorette Bingo Dare Sheet ($6): Skip the wait and opt for an instant digital download of this childhood favorite game. To play, you and your squad will have to complete the dares on the card. Whenever anyone gets a BINGO, take a photo of the dare or give the winner a fun bachelorette-themed favor.
What are some bachelorette activities you have planned? Follow us on Pinterest for more Bachelorette party inspo.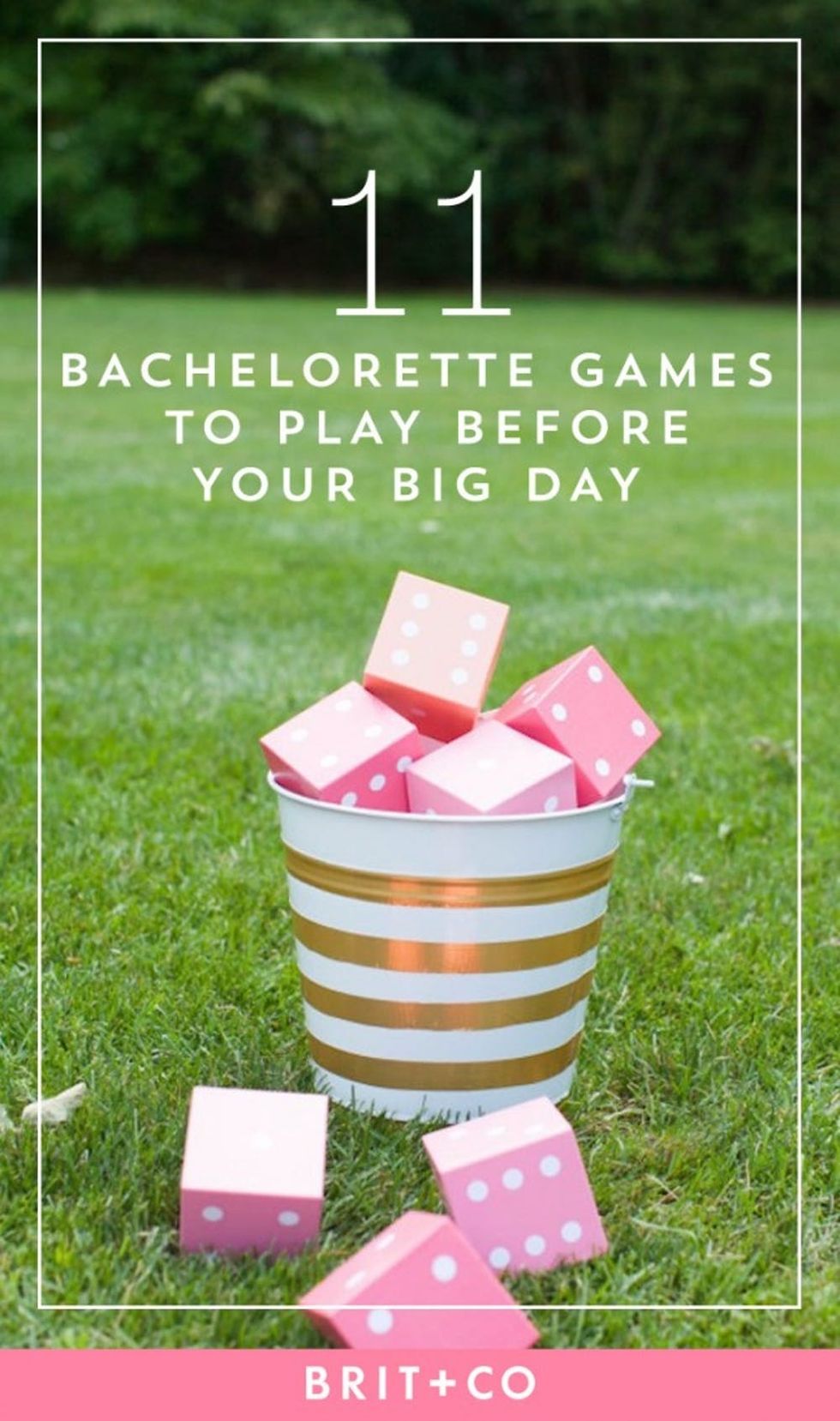 Brit + Co may at times use affiliate links to promote products sold by others, but always offers genuine editorial recommendations."