Gabby Giffords' Anti-Gun Violence Organization Is Endorsing Four Women in Upcoming Elections
Nov 16, 2017
Six years ago, in 2011, Arizona congresswoman Gabby Giffords survived an assassination attempt outside a Safeway in Phoenix. Jared Lee Loughner, her shooter, was reportedly resentful of women in positions of power and disagreed with her politics. Although Giffords survived, she suffered a serious brain injury, and six other people died. The tragedy led Giffords to step down from her role in Congress in order to focus on her recovery. Since then, she has gone on to be a proponent for better gun legislation, forming Giffords: Courage to Fight Gun Violence, which has endorsed several women running in the 2018 primaries.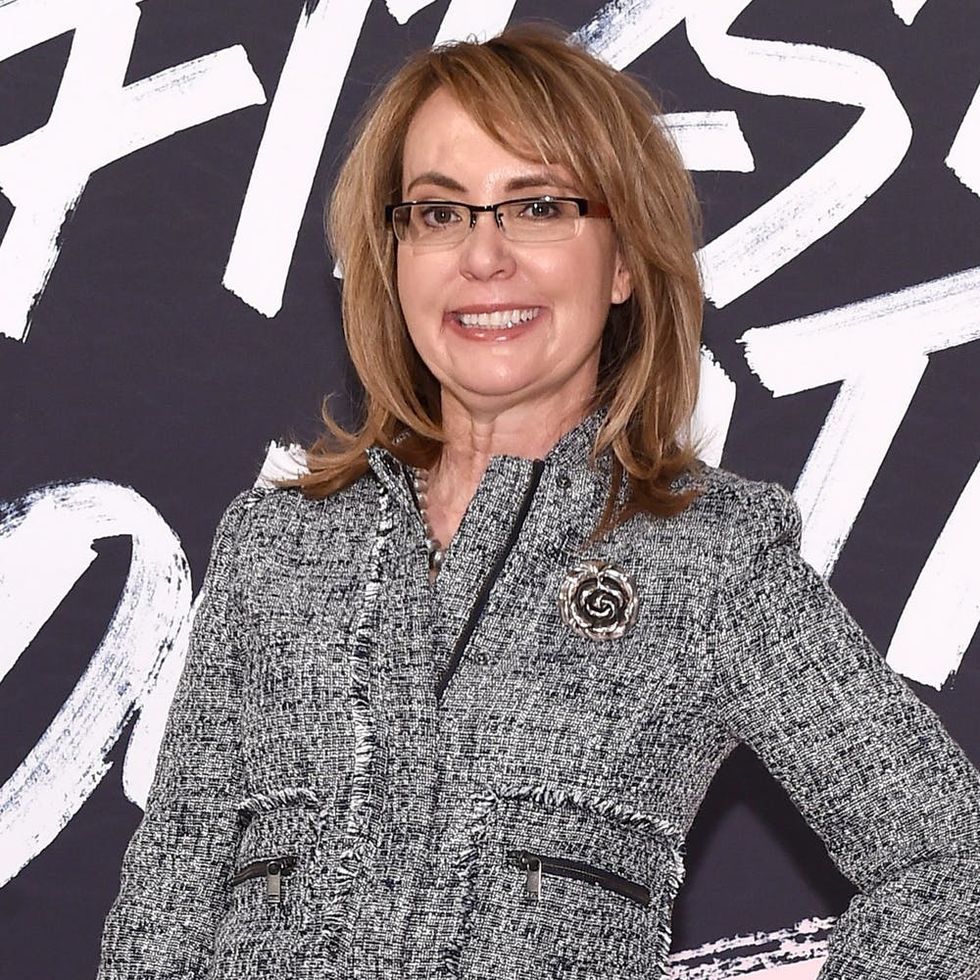 ---
"Building a safer future for our families and our communities requires electing leaders with the courage and commitment to solving the gun violence epidemic that is damaging our country," Giffords said in a statement to Refinery29. "These women come from a variety of backgrounds that give them the experience to understand the challenge we face."
Giffords' organization is supporting Ann Kirkpatrick in Arizona's 2nd district, Angie Craig in Minnesota's 2nd district, Susie Lee in Nevada's 3rd district, and Veronica Escobar in Texas' 16th district. All of the women are Democratic candidates.
Earlier this week, the Giffords organization, co-founded by Capt. Mark Kelley (a retired NASA astronaut and Giffords' husband), endorsed four military veterans who will be running in 2018 as well. Isabelle James, political director at Giffords, told R29, "When it comes to gun violence, there are certain things we can all agree on. We can all agree that dangerous people like domestic abusers should never be able to get their hands on a gun."
She added, "We can all agree that families shouldn't be afraid to go to church or go to a concert. Certainly, kids should never be afraid to go to school."
Giffords hopes that with their endorsements, more folks interested in changing gun laws will run and win their seats, which the organization thinks is key to bringing about real changes to current practices.
"Bottom line, these are candidates who have gotten things done and will get things done [in Congress]," James told R29. "We believe that these are candidates that will win their races. They've chosen to embrace gun safety and they're going to show that gun safety is a winning political issue for candidates in 2018."
What do you think of Gabby Giffords' endorsements? Tell us @BritandCo.
(photo via Ilya S. Savenok/Getty Images for Glamour)
Kat Armstrong
Kat has been a writer, social media maven and mom for longer than she's willing to admit. She's also spent time in front of and behind the camera, interviewing celebs, politicians and acting as a producer for fashion and artistic photography shoots. When she isn't writing for various orgs and publications, she's hanging with her kids, husband and French Bulldog, Peter, in Toronto, Canada.
Current Events
If you lack a certain way with words, then perhaps you can rely on showing how you feel this holiday season with an artful greeting card you can make at home! Brit dropped by our crafting studio where we teamed with Camp by Walmart to create a choose-your-own-adventure holiday card tutorial. In the interactive video, it's up to you to decide what type of card you want to make — sentimental, or stylish? Three-dimensional, or keep it simple? After you've selected your design vibe, Brit helps you assemble it all together so your last-min card is ready to send. Get ready to pick up a few new DIY tricks when you watch the video now!
Holidays