Since holiday style is all about glitz and glamour, there's no reason why you shouldn't go all out with an epic holiday get up (you bet that includes a fabulous pair of heels!). And what's more luxe than a floor-length gown? That's right, we're getting down with 16 show-stopping maxis that are nothing less than perfect for a dashing holiday ball!
---
1. Coast Sheena Maxi Dress in Dip Dye ($347): The elegance of this ombre is undeniable. The fade from navy to white combined with the classy sweetheart neckline makes this dress seem timeless.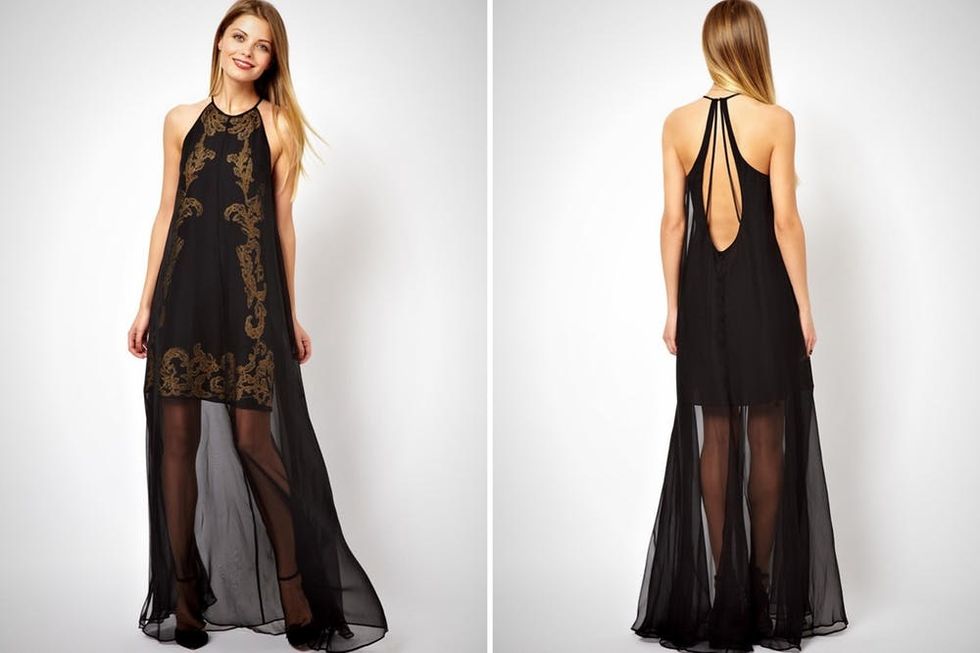 2. Asos Baroque Embroidered Maxi Dress ($134): We're obsessed with this boho-chic meets baroque maxi. The long, sheer overlay is guaranteed to turn heads as it floats behind you whenever you walk.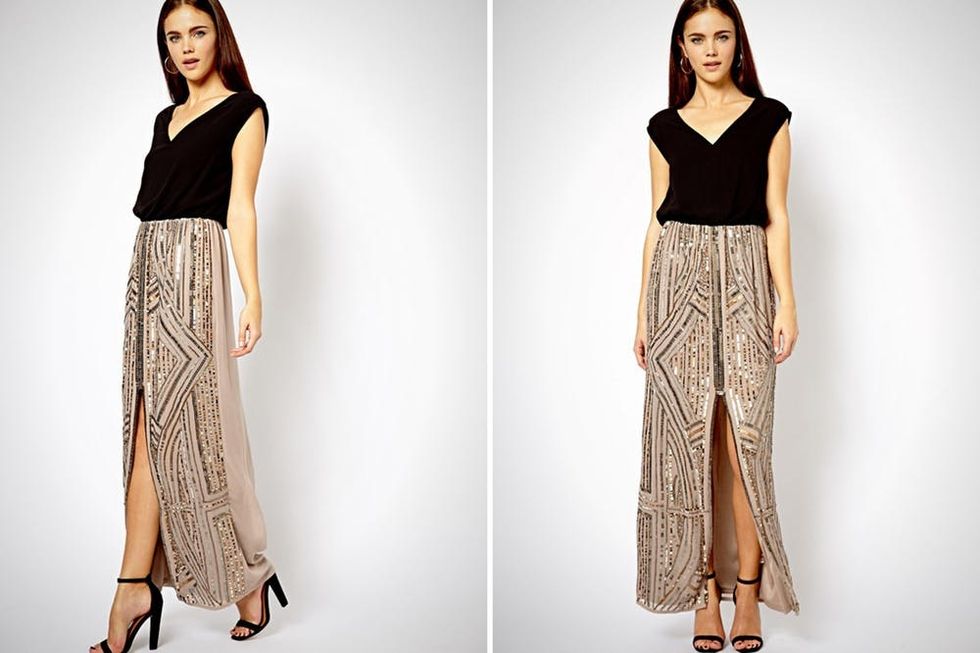 3. River Island Plunge Maxi Dress Embellished Skirt ($125): An Art Deco-inspired pattern takes this sequined skirt to new glamorous heights. The plain black top creates a chic balance.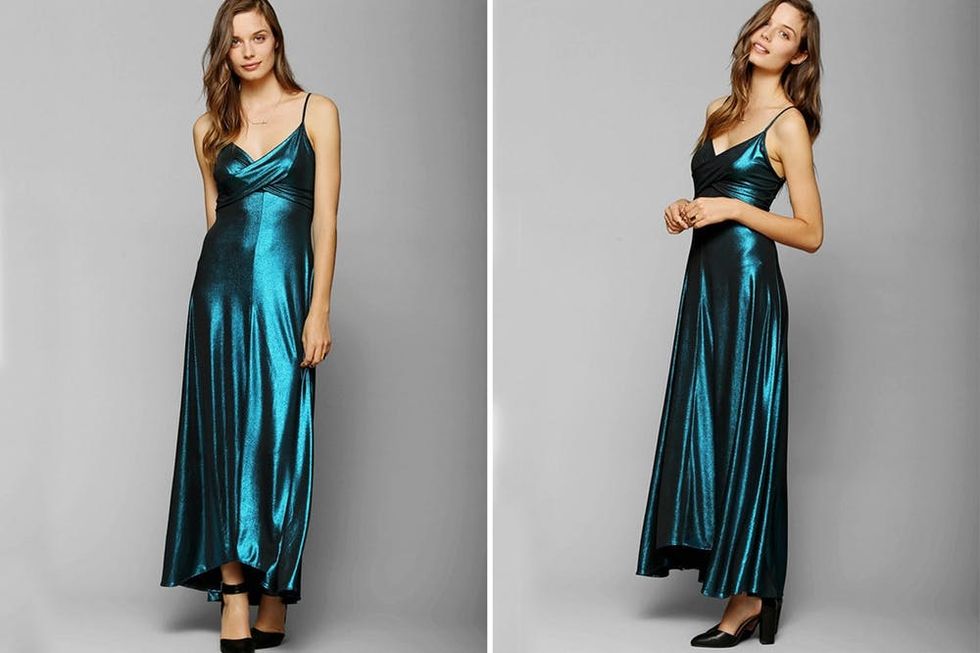 4. Naven Marilyne Metallic Maxi Dress ($98): While most of the time we recommend you either go super sparkly or wear a bright, bold color, this dress is an instance in which we're loving both in one head-turning maxi. The holidays might be the only time when you can get away with this ferociously glamorous look, so if you're feelin' it—take the risk!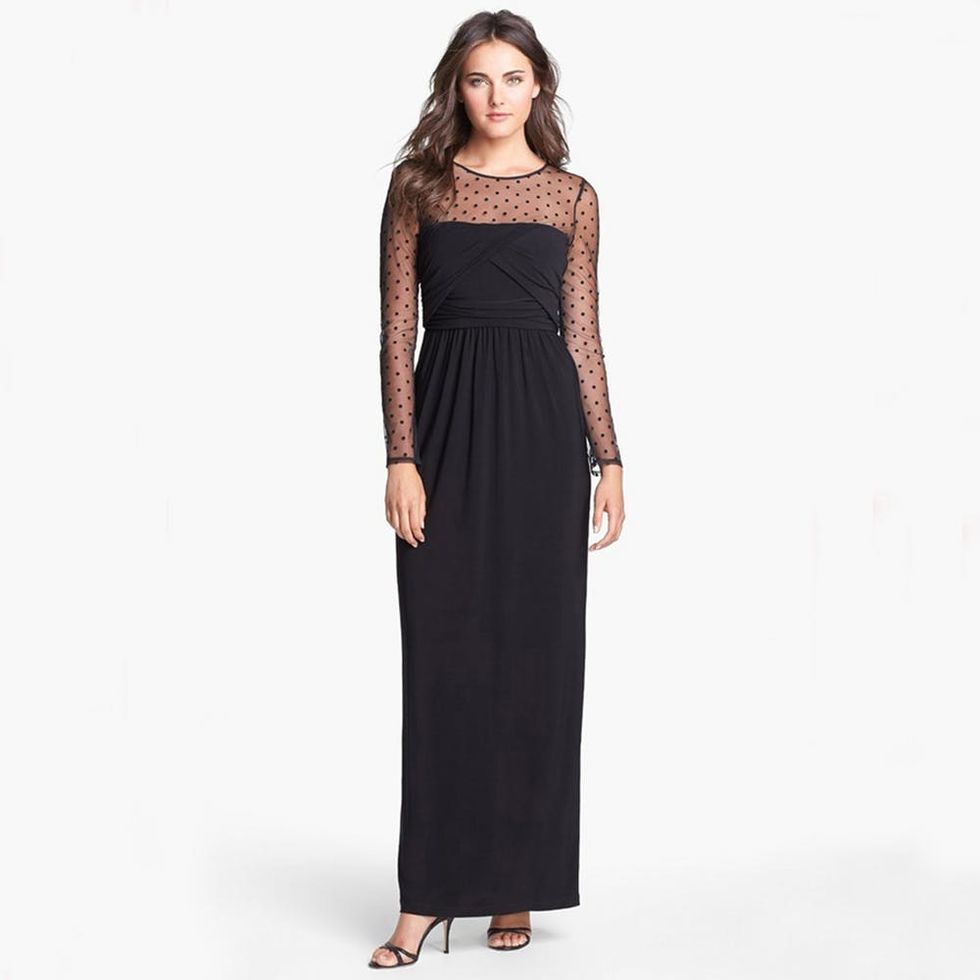 5. Illusion Yoke Jersey Maxi Dress ($188): We're so happy that this structured, long-sleeved maxi doesn't leave every little bit to the imagination! Polka dot mesh adds just the right amount of pizazz to this sophisticated black number.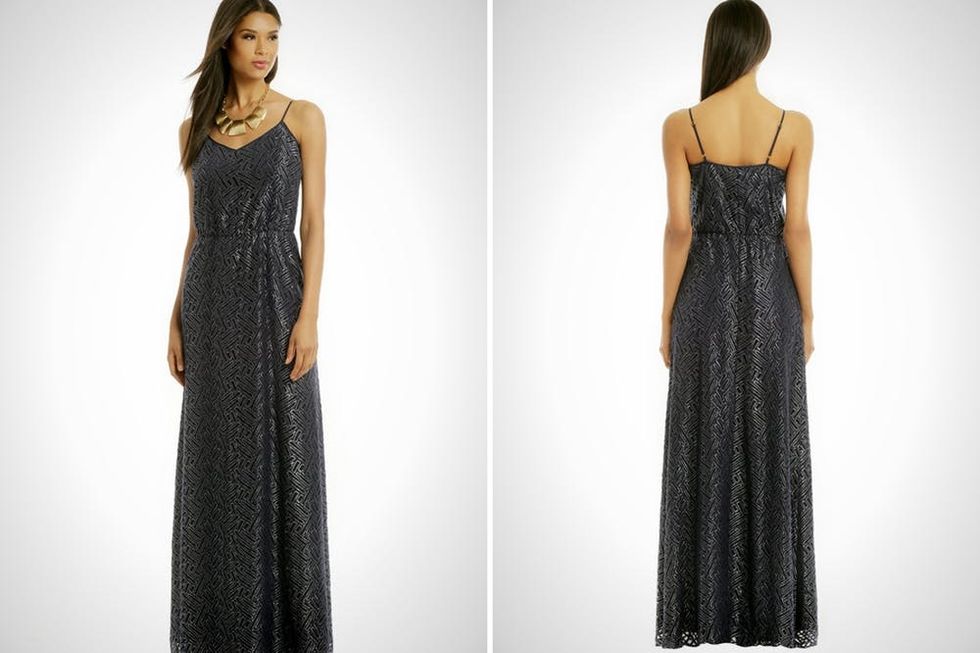 6. Arabian Night Sandstorm Dress ($70): This shimmering maxi might be the most easy-to-wear dress on this roundup. Not only does its cut and color flatter most figures and skin tones, but its embellished, abstract pattern has a modest shine that will compliment any chunky statement necklace.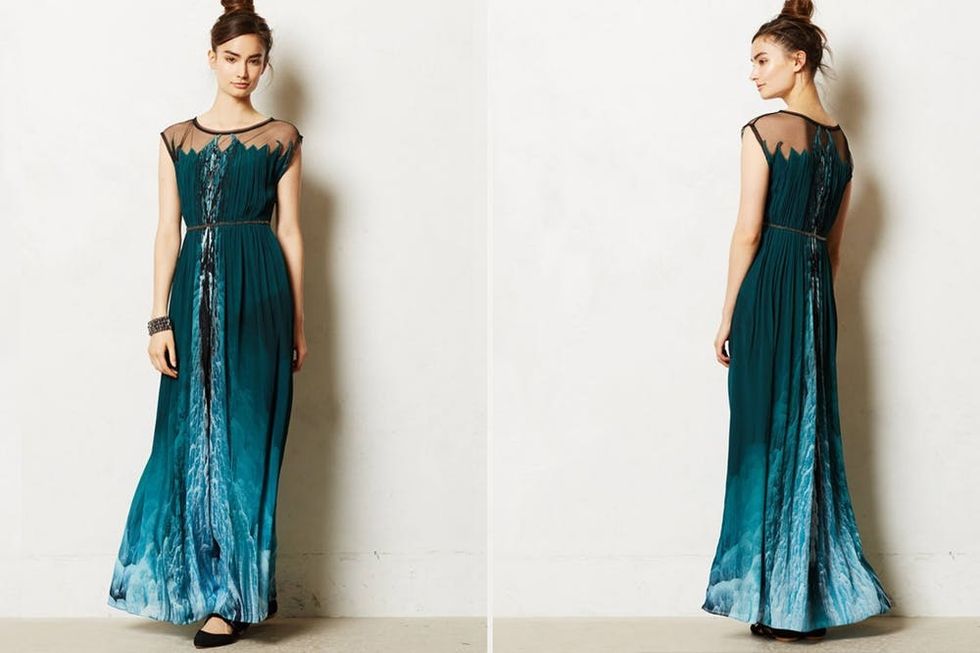 7. Icefall Maxi Dress ($278): Indulge in the fantasy of the holidays with this breathtaking maxi. We can't decide what's more intriguing: its spiked neckline or the graphic glacier gradient that splits the teal dress down the center.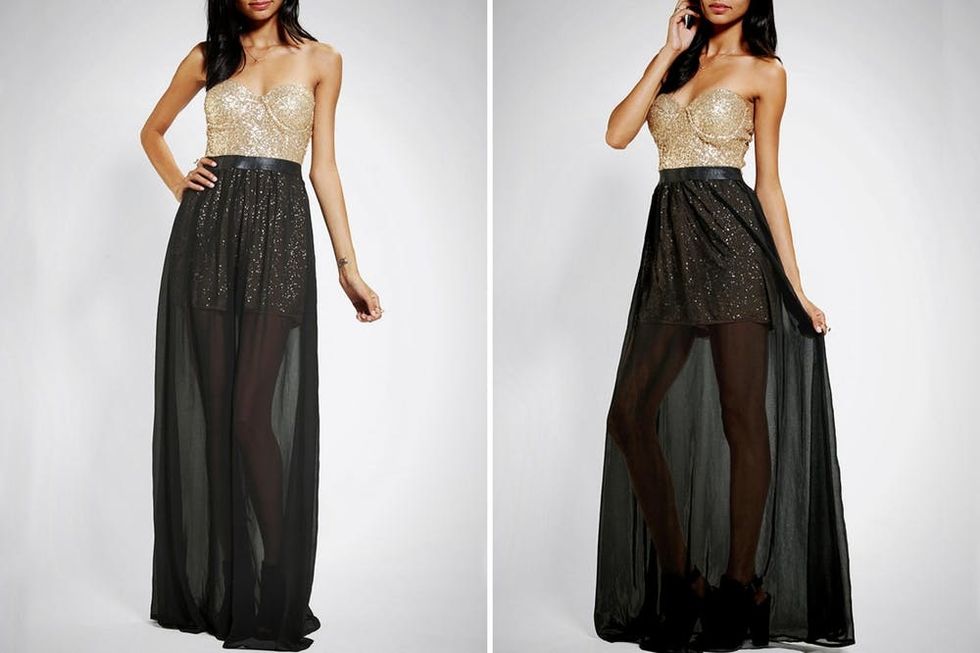 8. Reverse Sequins Bustier Maxi Dress ($75): If you're waiting for the perfect moment to go all out in glitter, now's the time! We love how it sparkles through the floor-length mesh overlay like stars in the night sky.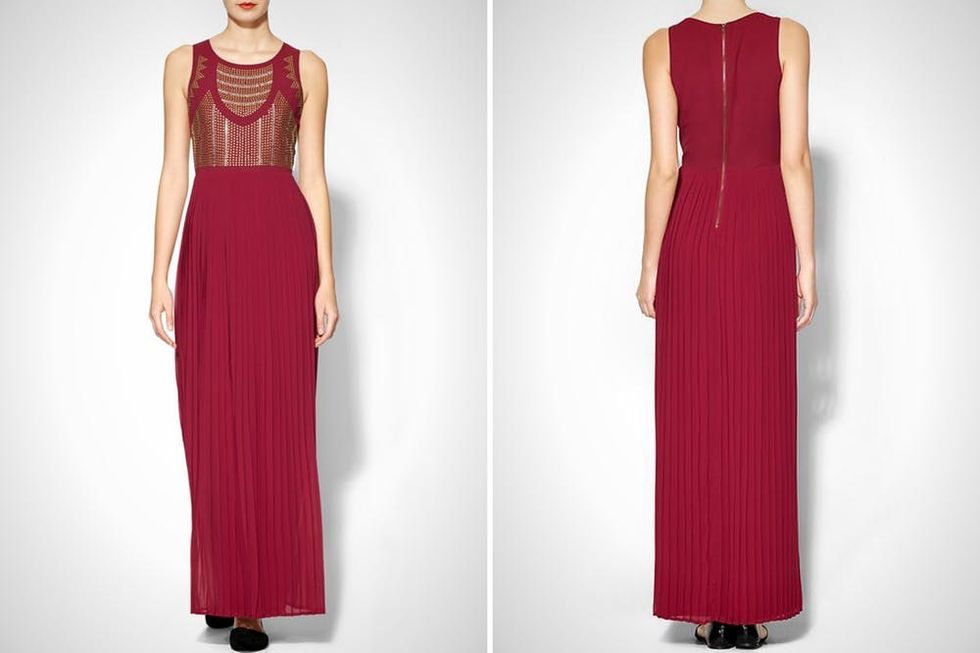 9. Sabine Madison Studded Maxi ($119): While this wine colored maxi dress boasts a classic cut, we're digging the modern studded embellishments. The metallic hardware and pleated skirt give it a modern kick.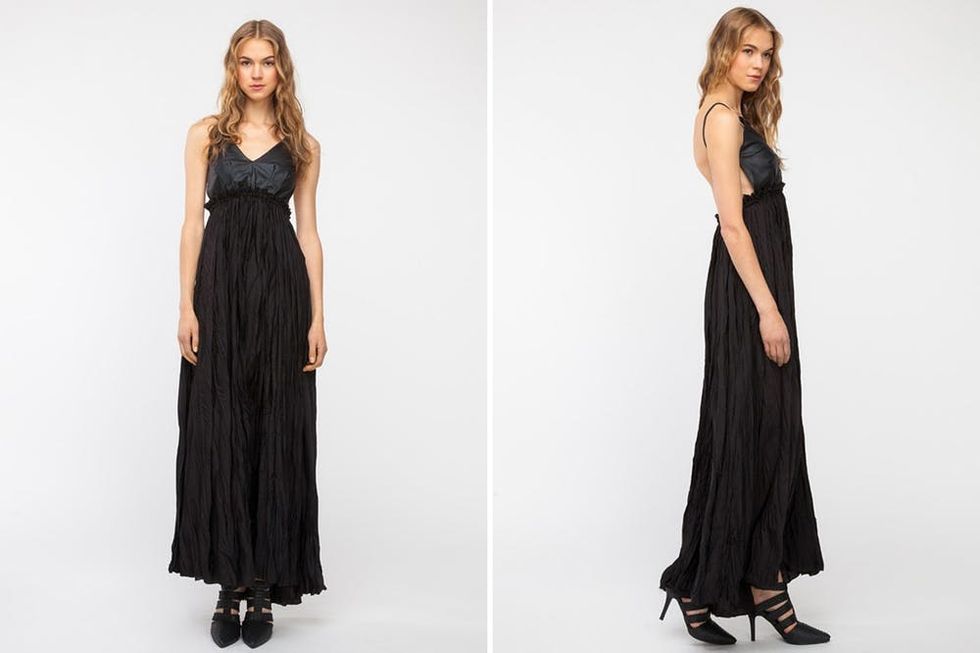 10. Gisele Dress ($130): How dreamy is this crinkled maxi? With a faux leather bust and near backless cut, we declare this dress to be the perfect holiday get up for our fashion-forward readers.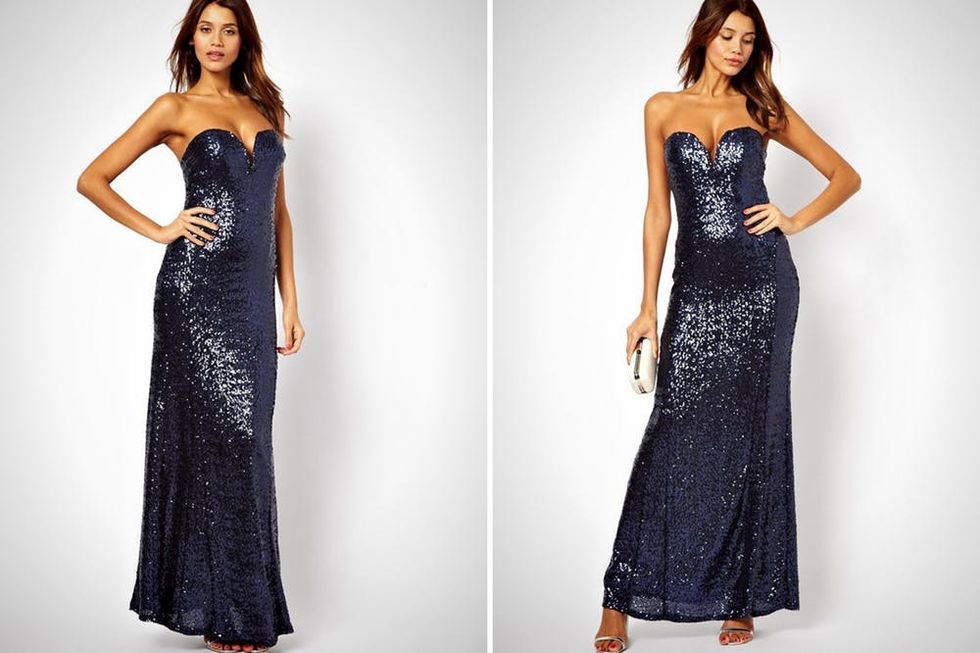 11. TFNC Sequin Maxi Dress Plunge Bustier ($143): Sofia Vergara eat your heart out! Ladies with curves: this sparkler should be your go-to gown.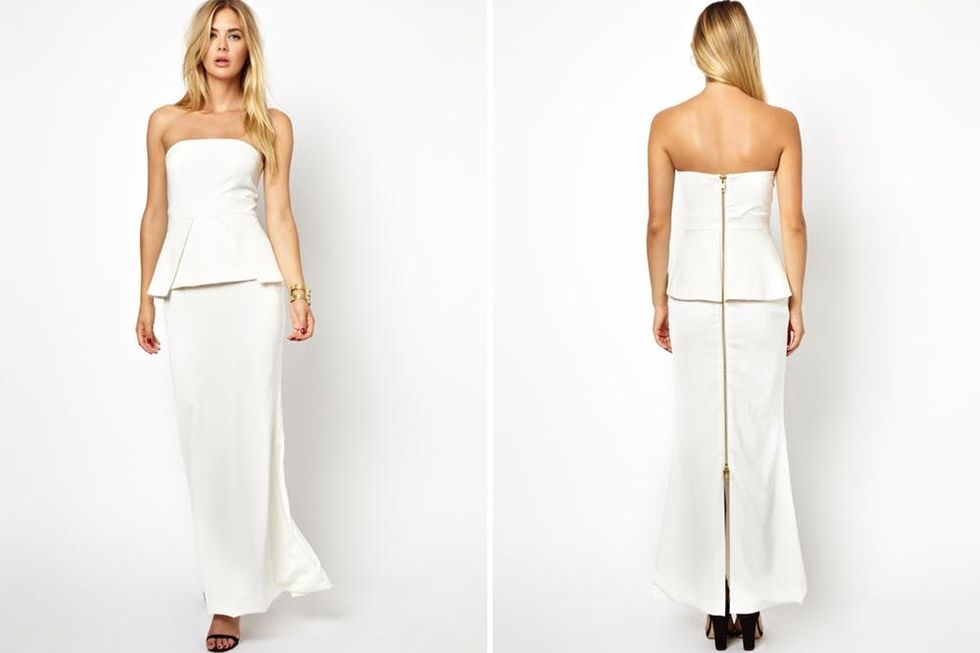 12. AQ AQ Blake Maxi Dress With Peplum ($348): When we scrolled across this stunning white maxi, we knew it was love at first sight. With a figure-flattering peplum and the full back zip from top to bottom, it's almost too good to be true!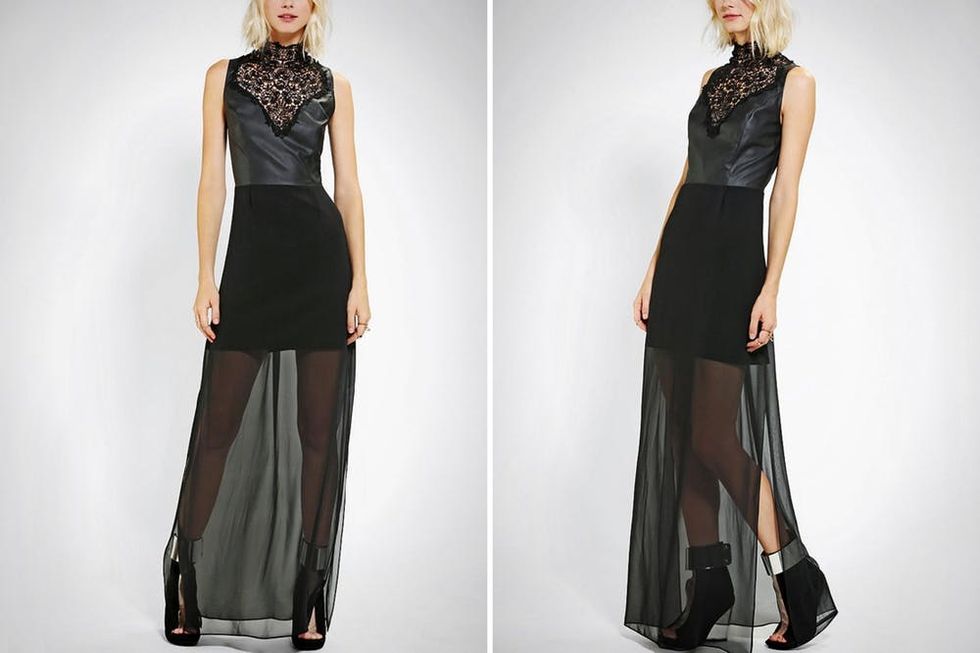 13. Vegan Leather and Lace Maxi Dress ($29): When was the last time you could get seriously glammed out from head to toe (basically) for $30? If you ask is, this isn't a bargain—it's a steal!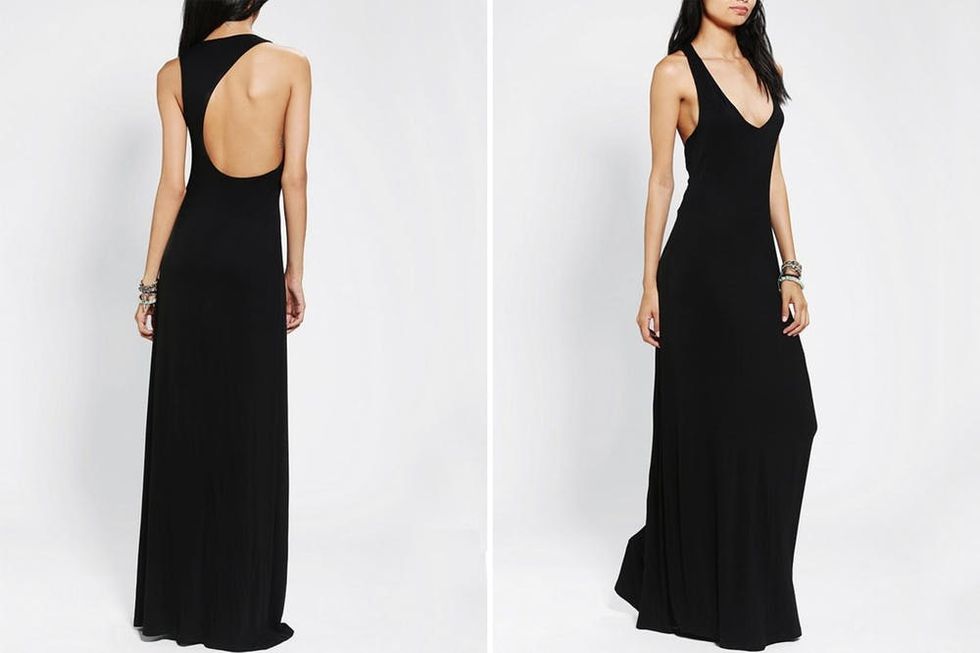 14. Asymmetrical Maxi Dress ($39): Lose the frills with this smokin' maxi that boasts an insanely gorgeous asymmetric back. It's an understatement that you have to be comfortable in your own skin to rock this dress, (and just sayin', the drastic cut seems like it may mean having to be cool with a little side boob) but ladies, if you got it rock it.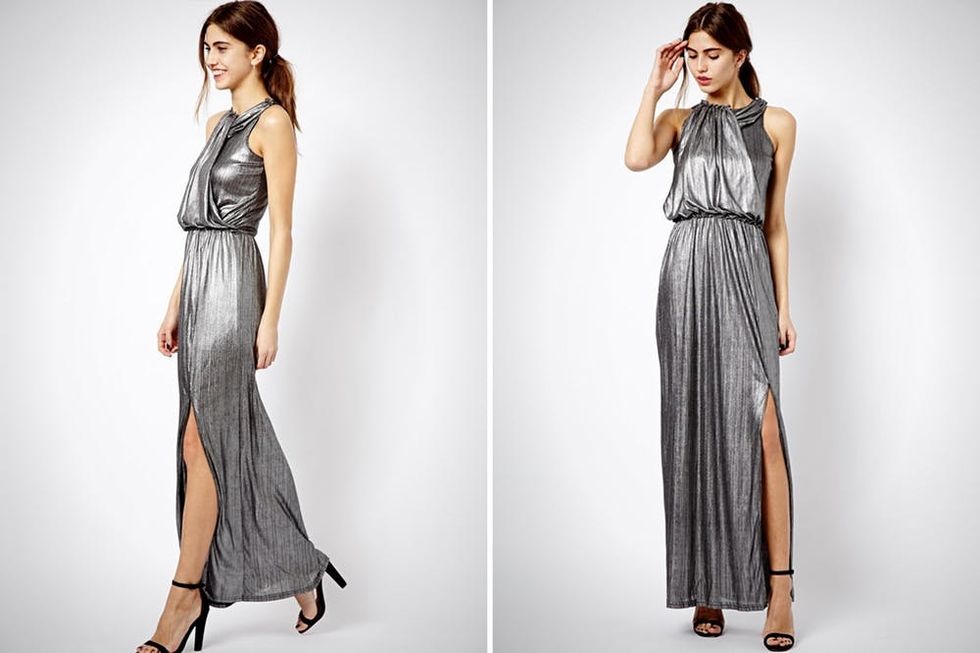 15. River Island Pleat and Drape Maxi Dress ($80): This might be the ultimate holiday maxi. Yes, we did just rave about it—but can you blame us for the repeat? It's feminine, classy, and so effortlessly beautiful that we just wouldn't feel right if you missed this pick!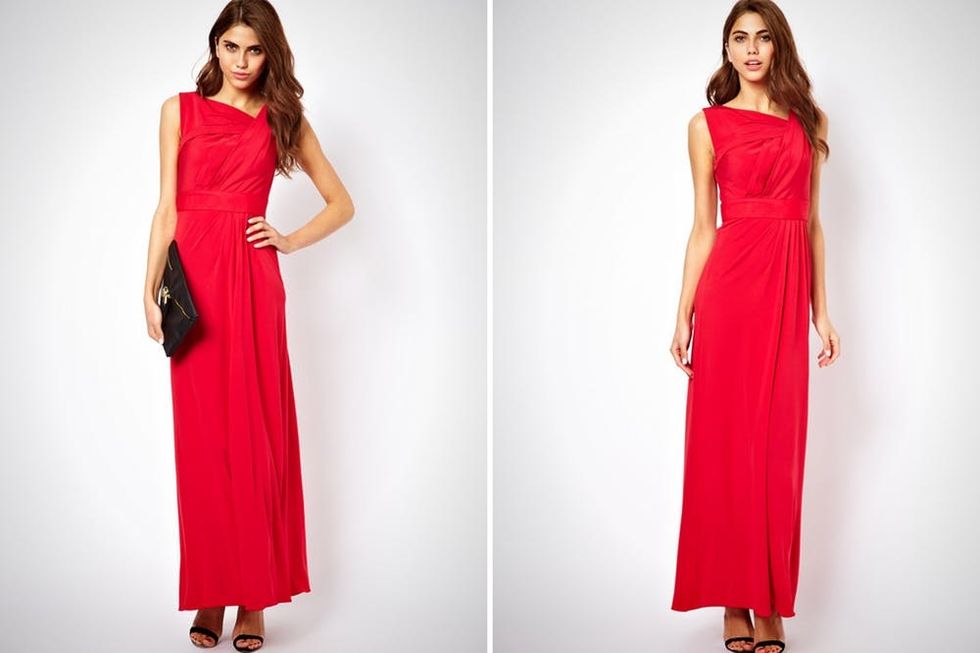 16. Coast Leighton Maxi Dress in Jersey ($187): This maxi is the perfect combination of style and comfort. Its fine jersey fabric not only feels comfortable, but looks so incredibly luxe. Topped with an asymmetric neckline, this red ditty is definitely a favorite.
Have you picked your holiday dress? Is it long or short? Full of color or bling? Talk to us about your style below in the comments!