Hands Down the Best Recipe to Roast a Sweet Potato
Mar 10, 2018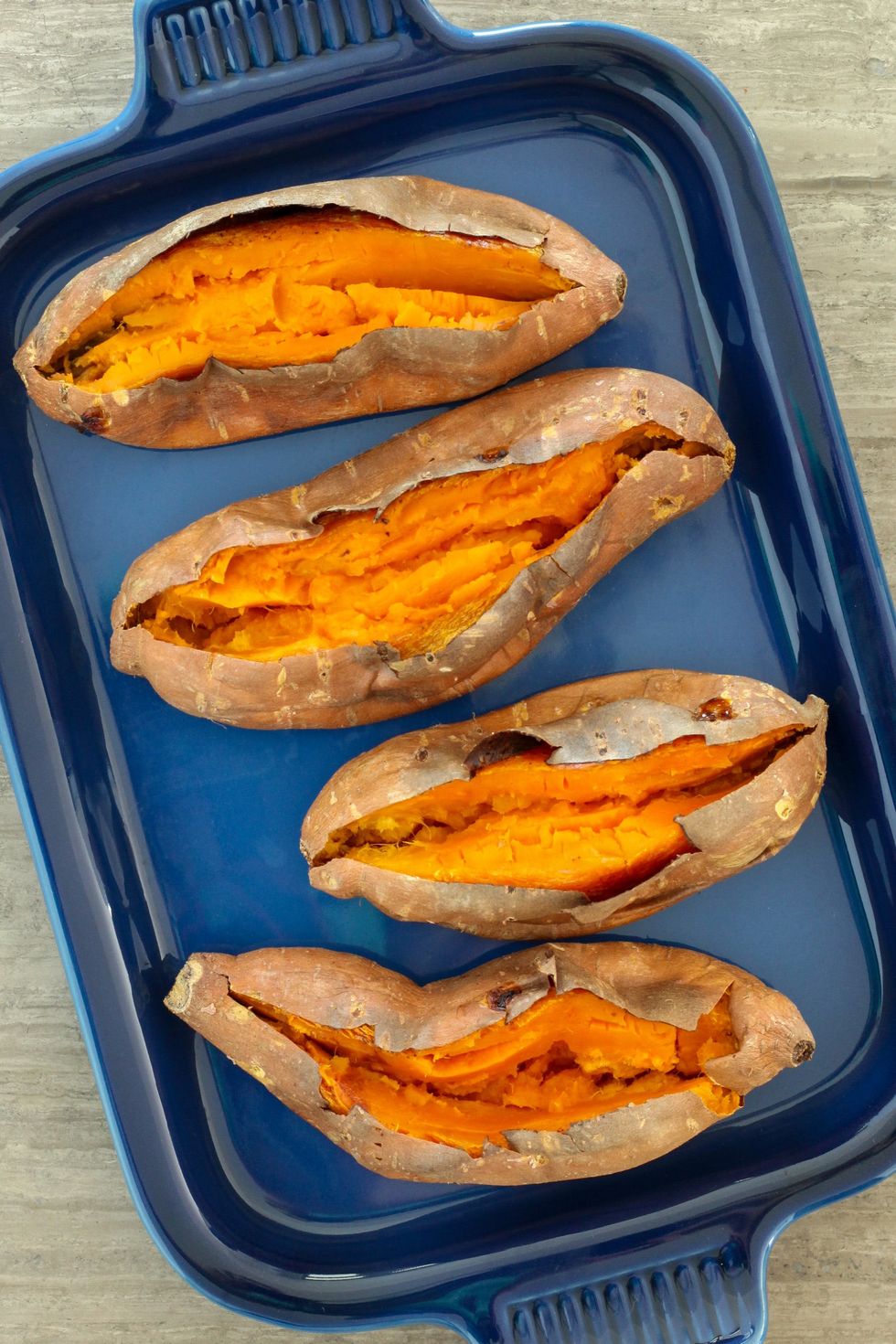 Ingredients
4 small (8-ounce) sweet potatoes, unpeeled, each lightly pricked with fork in 3 places
kosher salt
Directions
Adjust oven rack to middle position and heat oven to 425 degrees Fahrenheit.
Arrange potatoes on a large microwave-safe plate or baking dish and microwave until potatoes yield to gentle pressure and reach an internal temperature of 200 degrees Fahrenheit, 6 to 9 minutes, flipping potatoes every 3 minutes at first, and checking on them every 1 minute after the 6 minute mark.
Line a half-sheet pan with aluminum foil, arrange a wire rack on top of that, and spray the wire rack with nonstick spray. (If you don't have nonstick spray, use a paper towel to rub oil on the rack.) Transfer the potatoes to the prepared rack and bake for 1 hour (exteriors will be lightly browned and potatoes will feel very soft when squeezed).
Slit each potato lengthwise; using clean dish towel, hold ends and squeeze slightly to push flesh up and out. Transfer potatoes to serving dish. Season generously with salt.
DIY Recipes
Whether you want to tap into some holiday nostalgia, or find a fun DIY to do with your kiddos, this simple snow globe craft offers both! Together with Camp by Walmart, we built a customizable crafting journey so you can execute this decor upgrade based on your style preferences and the supplies you have around the house. For this project, you'll need to decide if you want your snow globe to be inside of a mason jar or glass orb, what type of snow you want (hello, glitter!), and what holiday scene should go inside. With 16 possible outcomes, we can't wait to see what you come up with. Check it out by watching the winter wonderland snow globe tutorial now!
Holidays