6 Interview Questions That'll Save You from Taking a Bad Job
Aug 18, 2017

Good news: Weeks of scrolling through open job positions and relentless networking — both online and IRL — have finally paid off. You've got yourself an interview! Chances are, the minute you sit down across from that perky HR rep or hiring manager, your palms will be sweaty and your voice will shake a little as you try to nail each and every question that comes your way. We admire your focus, but there's just one little thing we think you should remember: Interviews are conversations, and conversations are supposed to be a two-way street. While your skills and qualifications are most certainly on display during job interviews, these meetings are also meant to give you a chance to ask questions about the position. After all, taking a new job is a major commitment on your part too!
---
An interview is a great time for you to get a feel for how you might be able to improve your skills and grow your career within the role at hand. Getting answers to a few key questions will go a long way toward helping you figure out if you're about to end up in a dead-end situation (and we know you don't want that). ZipRecruiter career expert Janet Lamwatthananon recommends asking these six questions to avoid a no-growth gig.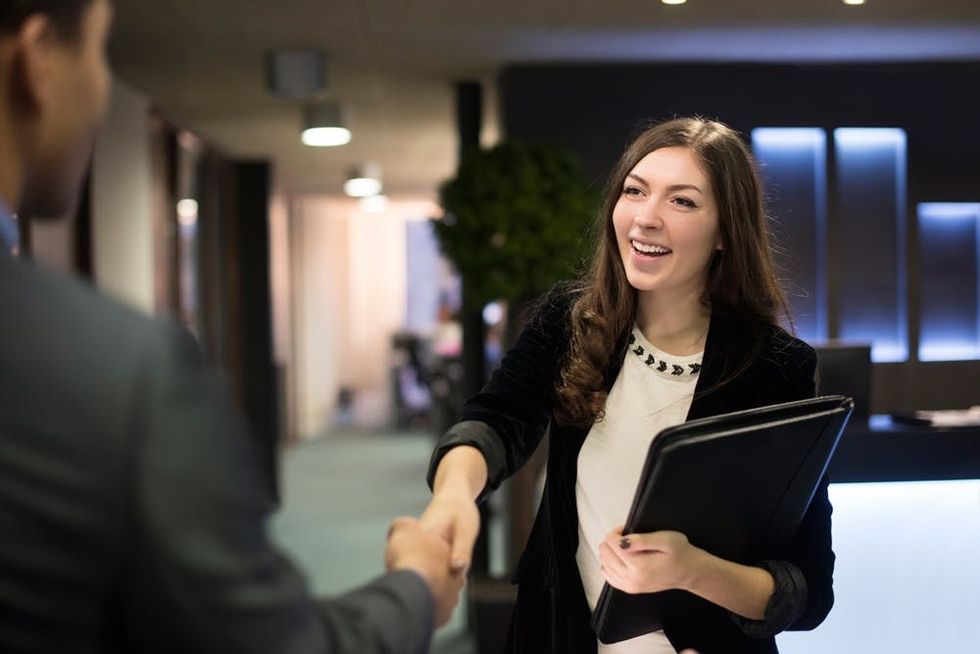 1. What is the promotion cycle like? Some companies make decisions about promotions and raises based on employee performance, while others are more focused on seniority. Learn what you can about how willing your boss would be to reward your good work even if you're a youngster within the organization.
2. What is the growth path for this position? Find out whether there is a clear path for you to move up within the company after your starting position. If the trajectory seems hazy or unclear, chances are that it is. Asking a hiring manager or potential new boss about specific next steps will keep you on a straight path to advancement.
3. How closely will I work with my manager? Make sure your boss will be accessible to you once you're on the job. Managers are key decision-makers when it comes to promotions and raises, so the more face time you have, the more opportunities will open to you.
4. Will my responsibilities change over time? "More responsibility means promotions or raises in the future," Lamwatthananon says. If you're getting the sense that you won't be given the chance to try new and increasingly challenging tasks as you get more comfortable within the company, ultimately, you'll probably find that there will be barriers to ongoing success and development.
5. How is the company expected to grow? It's important to learn whatever you can about how much the organization is projected to grow in both size and spending power. Is the company on the way up or down? Are they taking on new hires? "No one will say their company is doing worse, but they may hesitate or struggle to answer," Lamwatthananon says. "If there is a sense that they aren't growing, the chances of the next promotion may be good, but another raise might be harder to come by."
6. What is the turnover rate? The idea that a high rate of turnover signals low employee satisfaction may seem like a no-brainer, but this is a question that few people think to ask in an interview and a data point that you may not think to research. Avoid being part of the future turnover rate by being proactive about this information!
If you can't get the information you need during a face-to-face interview, don't fret! You should be able to learn more about a company's culture and pay structure online, using sites like Comparably and PayScale. And if the answers you're getting don't feel like they're pointing in the direction of career growth but you really want the job anyway, that's not necessarily a wrong move.
While Lamwatthananon says you should ideally spend at least one year at any one company (unless the job is negatively affecting your life), there's no reason spending time in a position that turns out to be dead-end has to be a total loss. "Consider your skill level," she says. "Is this current position teaching you new or improving existing skills? Leverage this learning lesson, and once you feel you've learned everything you can, it would be a good time to move on."
How else can you tell if a job is going nowhere? Tweet us your tips @BritandCo!
(Photo via Getty)
Alli Hoff Kosik
Alli Hoff Kosik is a freelance writer who is passionate about reading, running, rainbow sprinkles, her lipstick collection, watching embarrassing reality TV, and drinking pink wine. She lives in Brooklyn with her husband and (in her dreams, at least) three golden retriever puppies. Listen to her talk books on
The SSR Podcast
.
Work