See This Maker's 5 Favorite Spots for Creative Inspiration in SF
Mar 09, 2015
We're kicking off a brand new series here at Brit + Co called Creative Walkabouts. Like so many things we do, this is all about makers, their stories and their tips and tricks for staying creative. But this time, we're leaving our 49-item email threads behind and going on an actual walkabout. It's part day-in-the-life, part inspirational treasure hunt and part photo essay — and it begins with Francesca Greggs, the brilliant babe behind Lemonwood Imprints.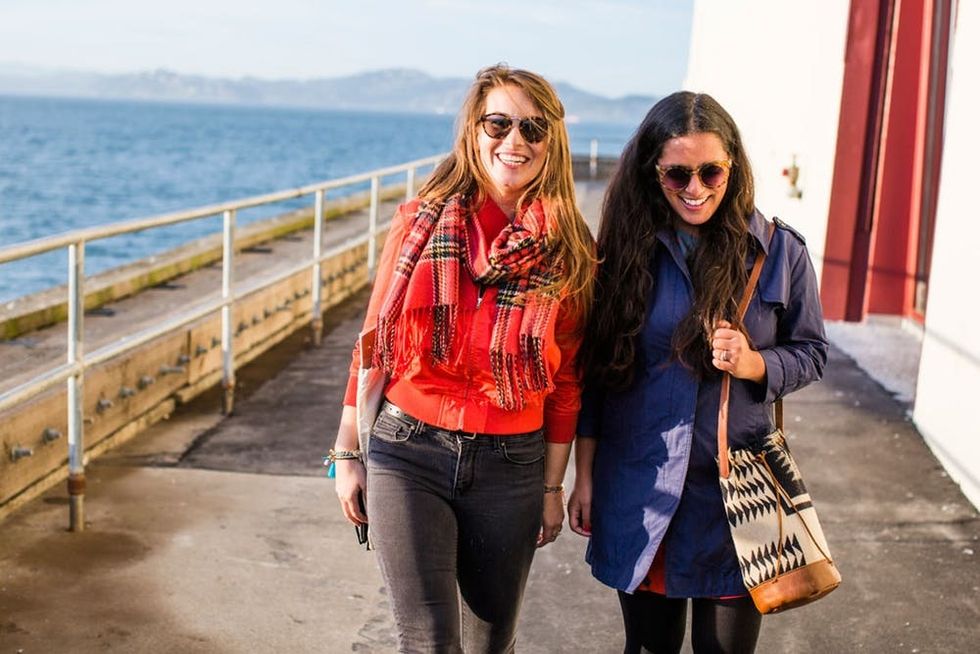 ---
Before we hit up this maker's five favorite spots for inspiration here in San Francisco, a little more about a typical day in the life of Francesca.
6:30am Wake up! Cook up a BIG breakfast. Then tackle the New York Times Crossword Puzzle. Yep, she does this every morning. After Thursday or so, the task extends a little bit beyond the morning ;)
8-11am Spend a few hours making and designing without distraction. This might be on the computer or on paper, depends on the day. Eat lunch around this time as well.
12pm Go for a long bike ride or to a yoga class. This acts as a reset and rejuvenation, right in the middle of the day.
Afternoon Corporate client time! Francesca runs her own business, and part of that means working with about a dozen rotating clients on web design, print design and other graphic design and illustration projects. If it's nice out, she'll set up a work perch outside so she can soak up a little Vitamin D while she works.
Evening Because she works primarily on her own, evenings are for getting out of the house/studio and socializing. This could be a straight up happy hour with friends or a creative storytelling event with complete strangers. When she's in San Francisco, she loves to spend the early hours of the evening at Ocean Beach.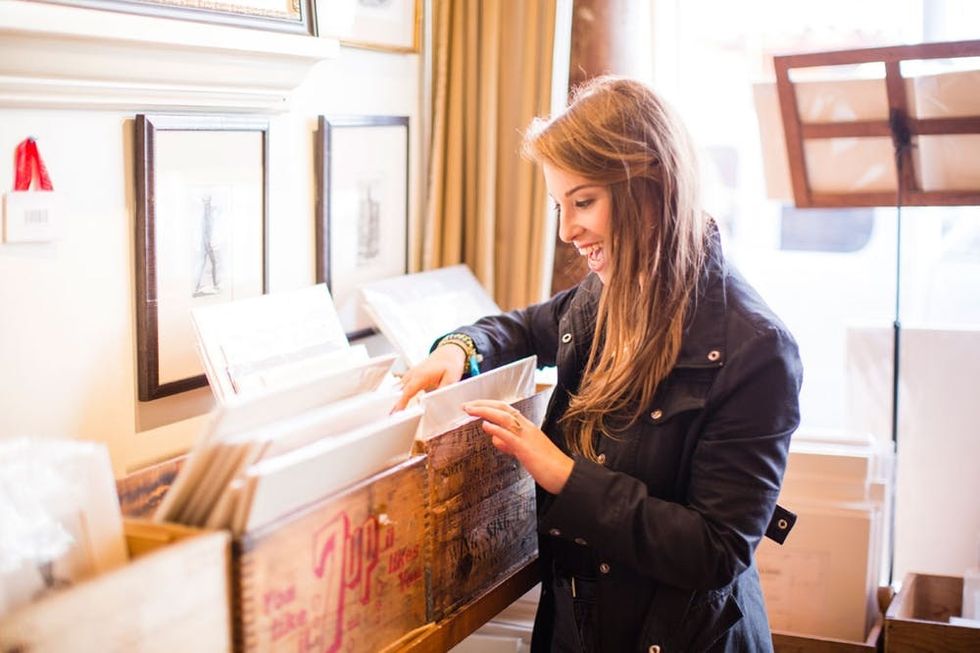 For more on how she got started and why she loves to make, head to her maker profile and be sure to check out her section of the B+C Shop. Now, time to hit the road and go on a walkabout with Francesca, accompanied by our amazing photographer Chris Andre, and me, Anjelika Temple, aka Creative Director here at Brit + Co.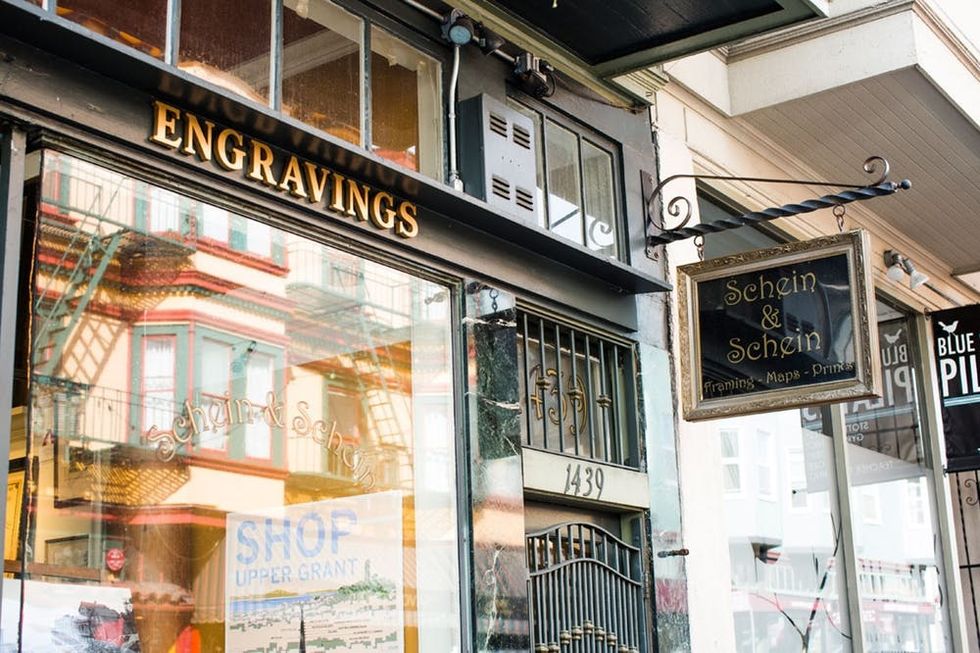 1. Schein & Schein: Located in North Beach, this beautifully curated map shop was started by a husband and wife (Schein & Schein, of course) and it began with their personal collection of about 100 vintage maps. Now they've got over 20,000 vintage maps, historical illustrations and the like. Francesca loves visiting this spot to ogle at old maps, particularly to see the different ways in which information has been illustrated in the past.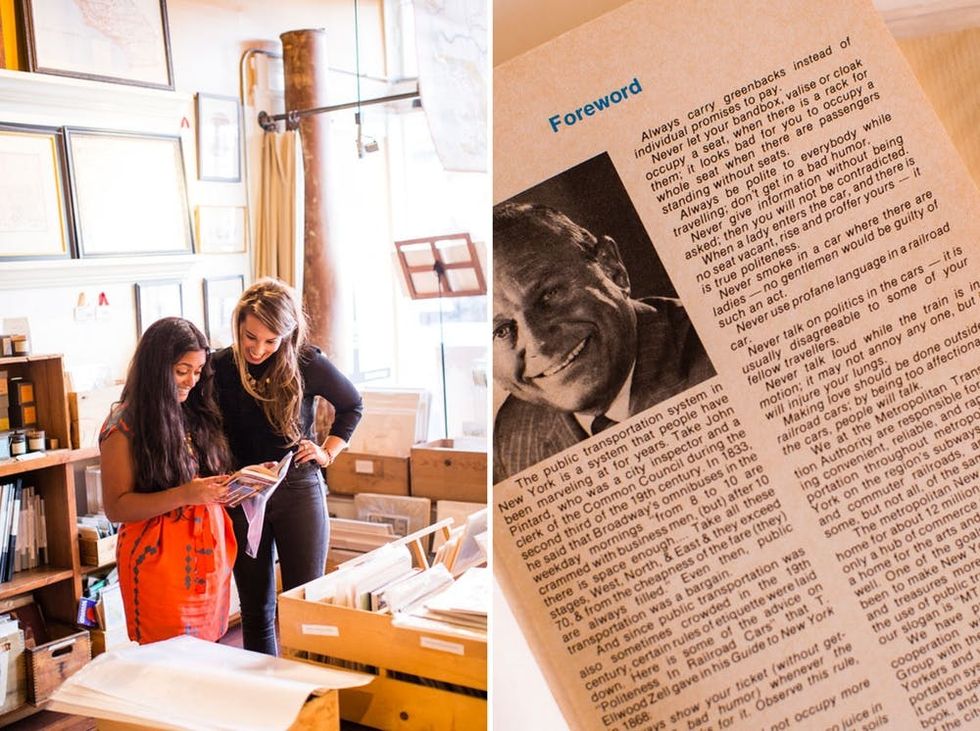 While we were there, we came across a particularly amazing guide to NY published by the New York Metropolitan Transit Authority in 1976, but with content that dates back to 1868, including these words of advice when on a subway or train car: Always be polite to everybody when traveling; don't get in a bad humor. Never talk loud while the train is in motion; it may not annoy anyone, but it will injure your lungs.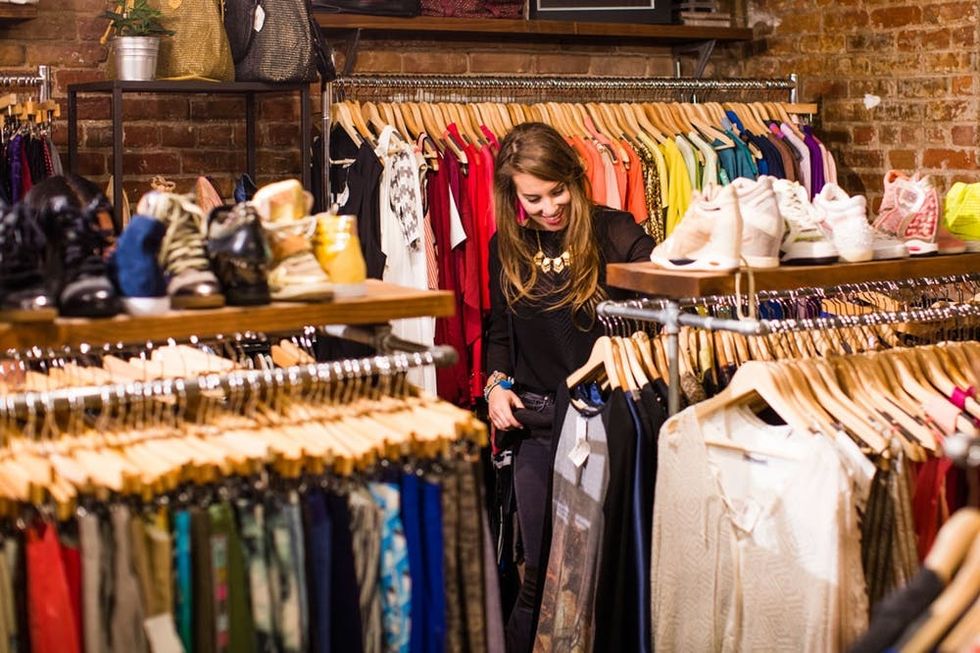 2. Cary Lane: Next up, we hopped over to Hayes Valley to scope out the scene at Cary Lane. Because this shop is a designer sample store, prices are low and items are pretty much always on trend — there's definitely something for everyone.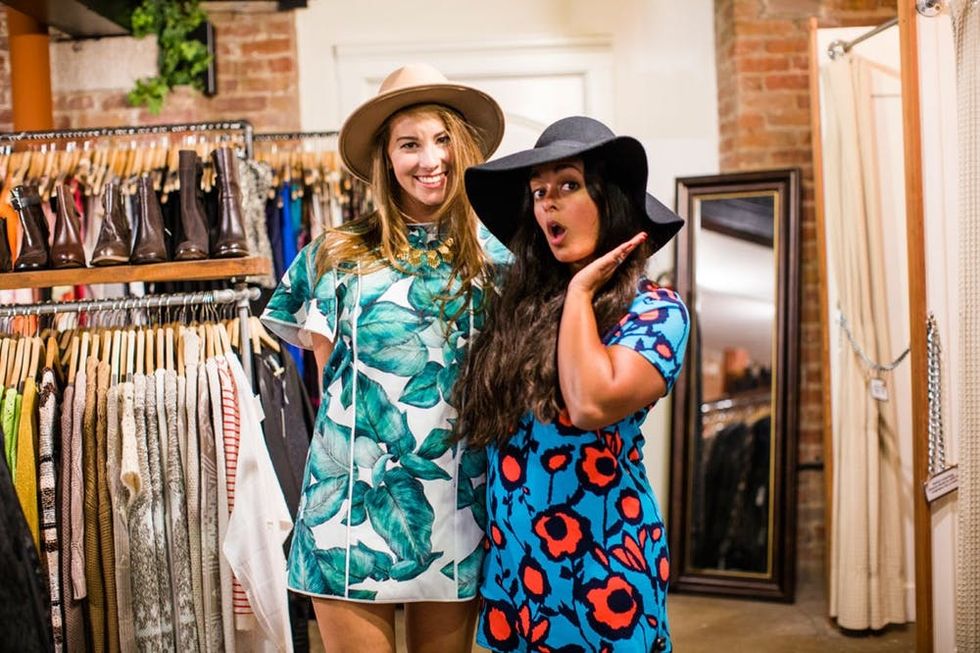 With an ever-changing collection of eclectic and unusual pieces, from boho chic felt hats to sneaker wedges to shift dresses that harken back to '60s-style minis covered in bold prints and patterns, this should definitely be added to your shopping rotation. As you can see from the photos above, we had to try a few of these on… and one of us (me!) had to buy that bright blue shirt dress with neon flowers. How could I not?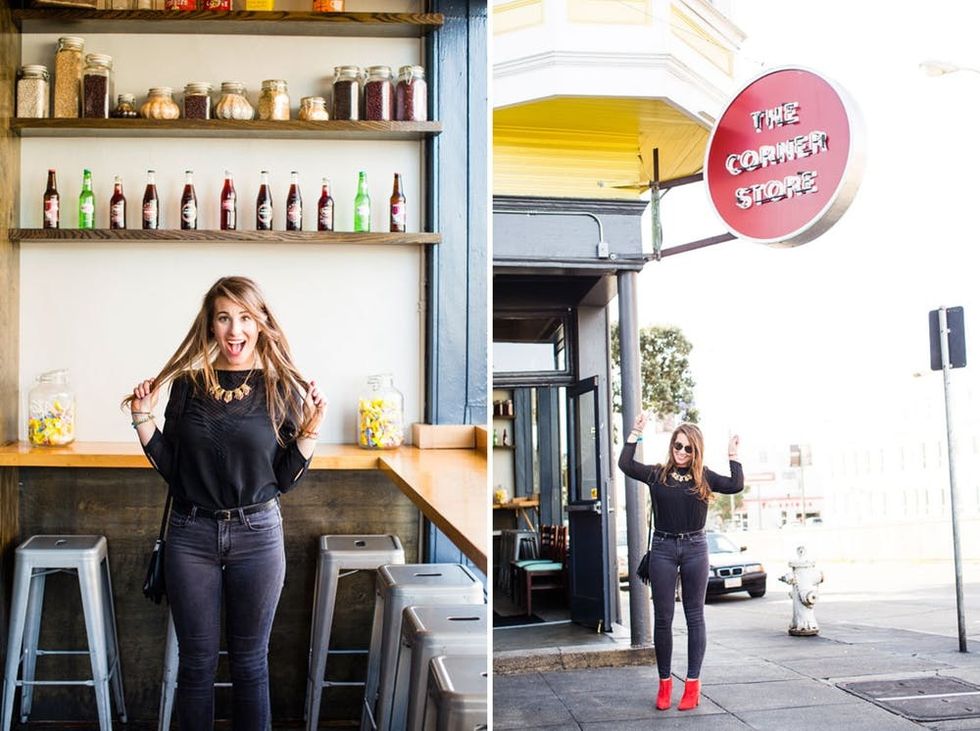 3. The Corner Store: Time for an afternoon aperitif? Of course. If you haven't been to Corner Store, add it to your list. As a resident of NOPA, I've actually been to this spot several times… but I had no idea about the MILKSHAKE component of the menu. That's right. Milkshakes — fancy ones, filled with mouthwatering ingredients and top shelf spirits.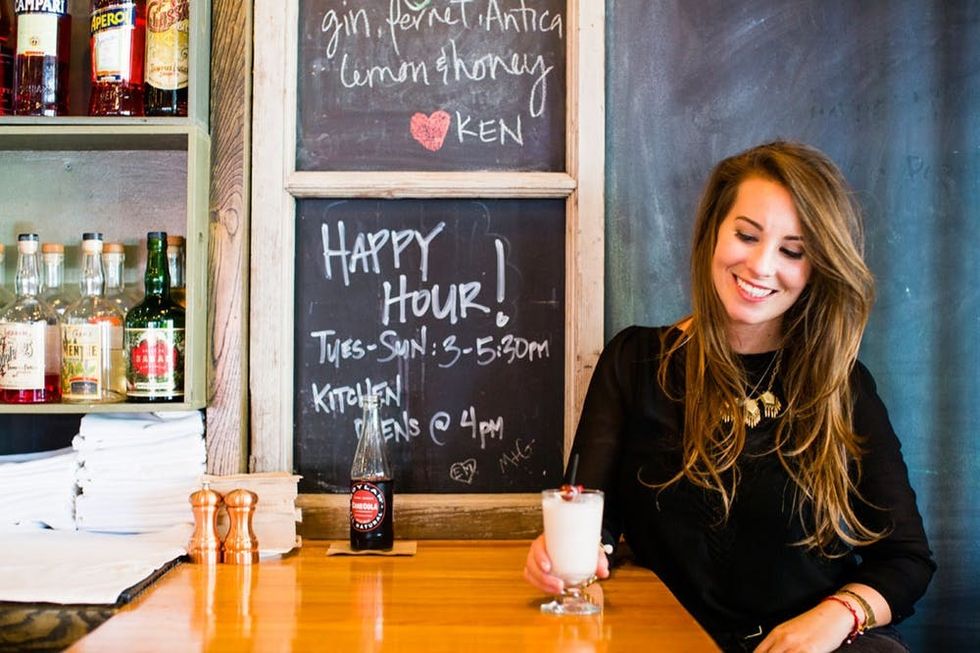 I went with a Coppertone Baby (still dreaming of the beaches from my recent trip to Kauai), Francesca went with the Manhattan Shake and Chris opted for the Grasshopper. I'd say all three of us can wholeheartedly recommend all three, and then some.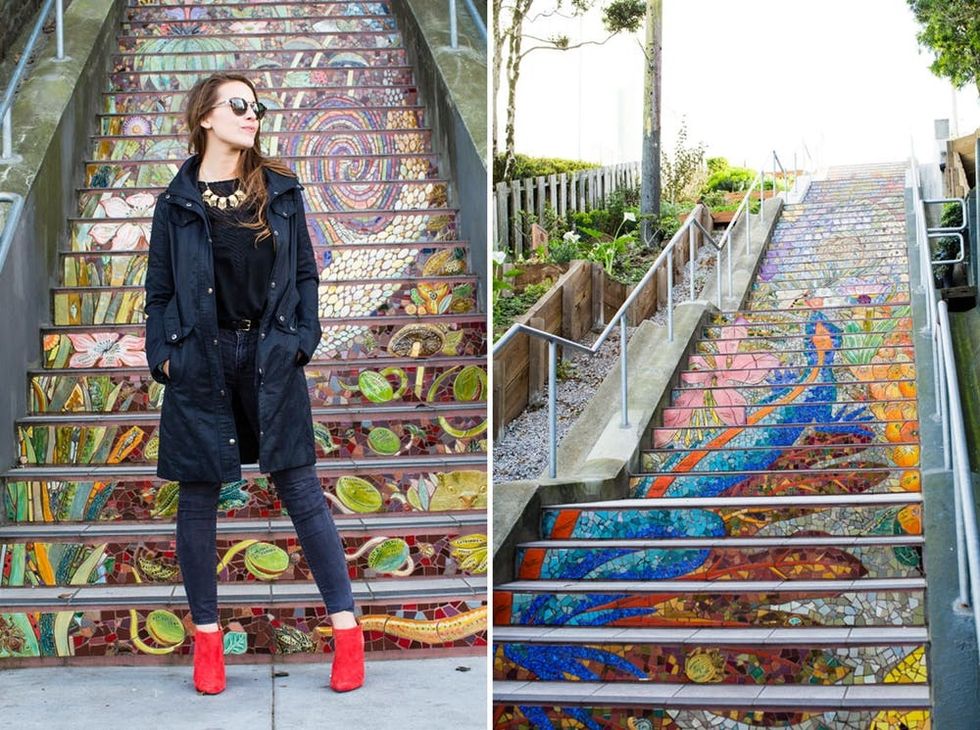 4. The 16th Ave Tiled Steps: Now that we've got a little booze in our bellies, it's time to get seriously inspired. We ventured to 16th and Moraga in the Inner Sunset to gaze at the 16th Avenue Tiled Steps Project. Led by artists Aileen Barr and Colette Crutcher, this project was comprised of 163 mosaic panels applied by hand to the step risers, made in collaboration with over 300 neighbors, including 220 neighbors who sponsored handmade animal, bird and fish name tiles embedded into the mosaic.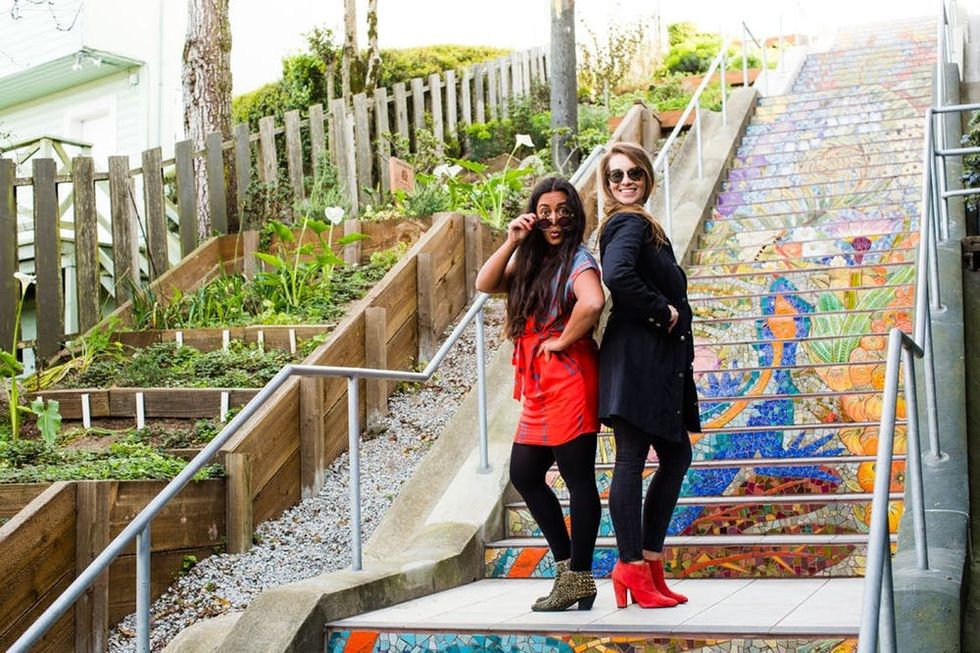 When we made it halfway up the steps, Francesca insisted on recreating Mary Kate and Ashley Olsen's signature back to back pose. I obliged, without any semblance of hesitation ;) After climbing all the way to the top, I've officially added these steps to my must-visit list for out of town guests, newbies to the city and creative folks who need to beat maker's block. The view at the top is amazing, and looking at each and every step on the way is super inspiring.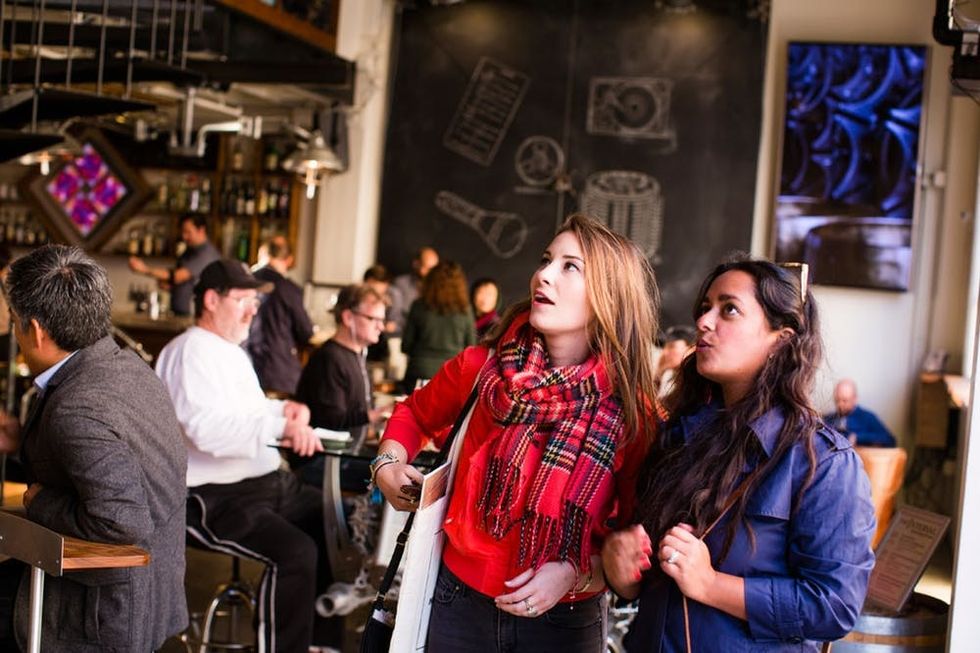 5. The Interval at The Long Now: Our final stop was over at Fort Mason at a rather curious bar / science experiment / art installation called The Interval at The Long Now. The Long Now is a clock engineered to last 10,000 years — in fact, it only ticks ONCE every 10,000 years. The piece and surrounding area at The Interval features music and paintings by Brian Eno, and is a continuously evolving, never-repeating work of art. The idea behind it is to change your perception of time and the concept of long-term thinking, as a counterpoint to today's always-accelerating culture. As you can see, our minds were completely blown by this clock.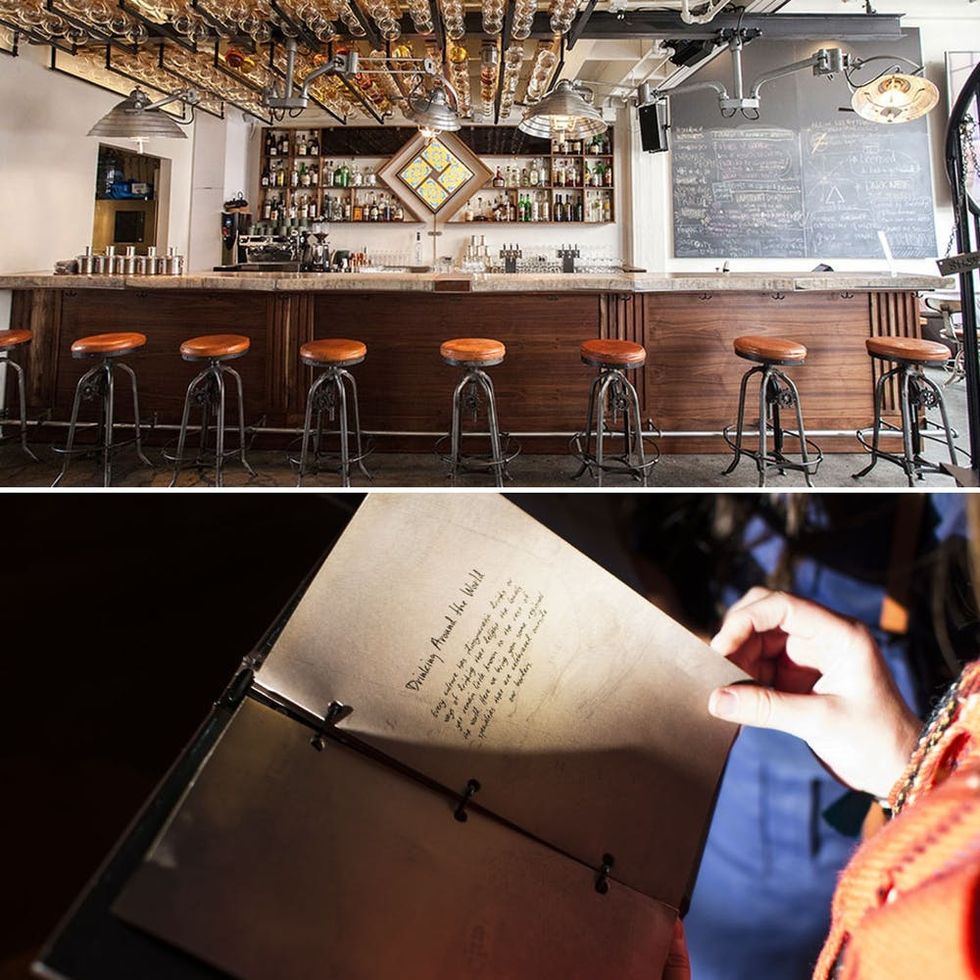 But it's more than just an art piece and meditation on time — it's an artful bar as well. Award-winning bartender Jennifer Colliau has designed an extensive time-inspired drink menu that includes some of the earliest cocktails ever made, drinks from around the world, and time-shifted concoctions that take hours to make but are ready whenever you arrive.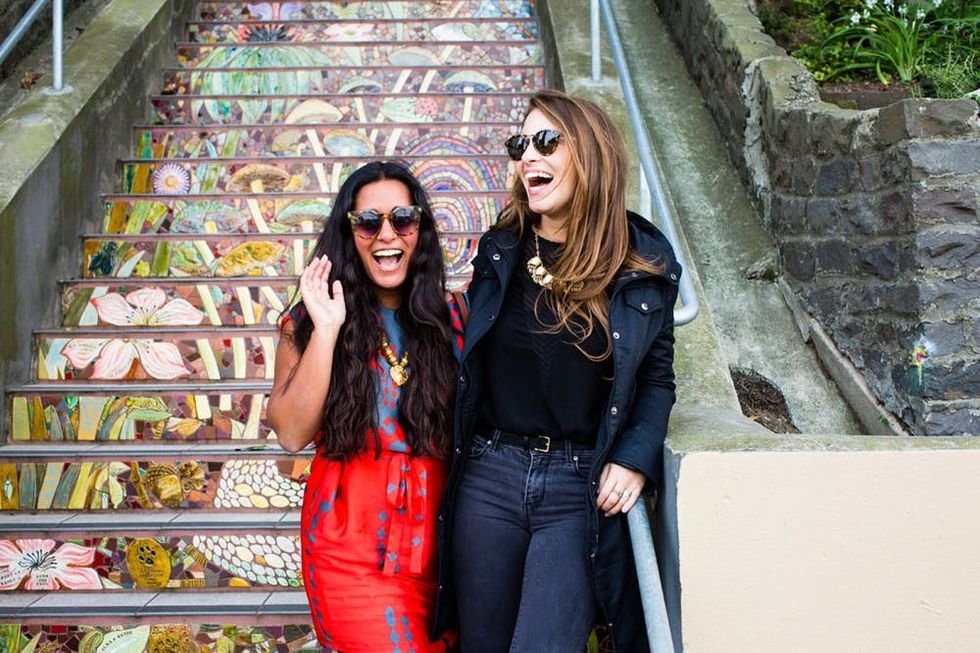 Whew! That was quite a walkabout, and we've got plenty of outtakes to prove it.
Want to learn more about Francesca? Well, we've taken this maker's story to a brand new level. Here are four more ways you can get the 411 on Francesca Greggs and Lemonwood Imprints:
READ: Read her Meet the Maker profile and learn all about how she got started and why she recommends taking advice from Steve Martin's character in The Jerk.
FOLLOW: Follow her on Instagram @lemonwoodimprints, and be sure to check out her Instagram takeover today on @britandco.
SHOP: Check out her section in the B+C Shop and this roundup of our 10 favorite Lemonwood Imprints cards and art prints.
DOWNLOAD: Download her exclusive computer desktop and iPhone wallpapers, made exclusively for Brit + Co!
Are you a maker with a story to tell? Want to go on a Creative Walkabout with me? Send a note my way or leave us a note in the comments below. And remember, makers gonna make.
Anjelika Temple
As Chief Creative Officer and Founding Partner at Brit + Co, Anjelika Temple brings her voracious consumption of all things creative and colorful to DIY projects, geeky gadgetry finds and more. When she's not DIY-ing her heart out, you'll find her throwing dinner parties with friends or adventuring with her husband David, their daughter Anokhi, and their silly dog Turkey.
Budget Friendly Home