How to Get Margot Robbie's Oscars Makeup for Your Next Date Night
Feb 27, 2015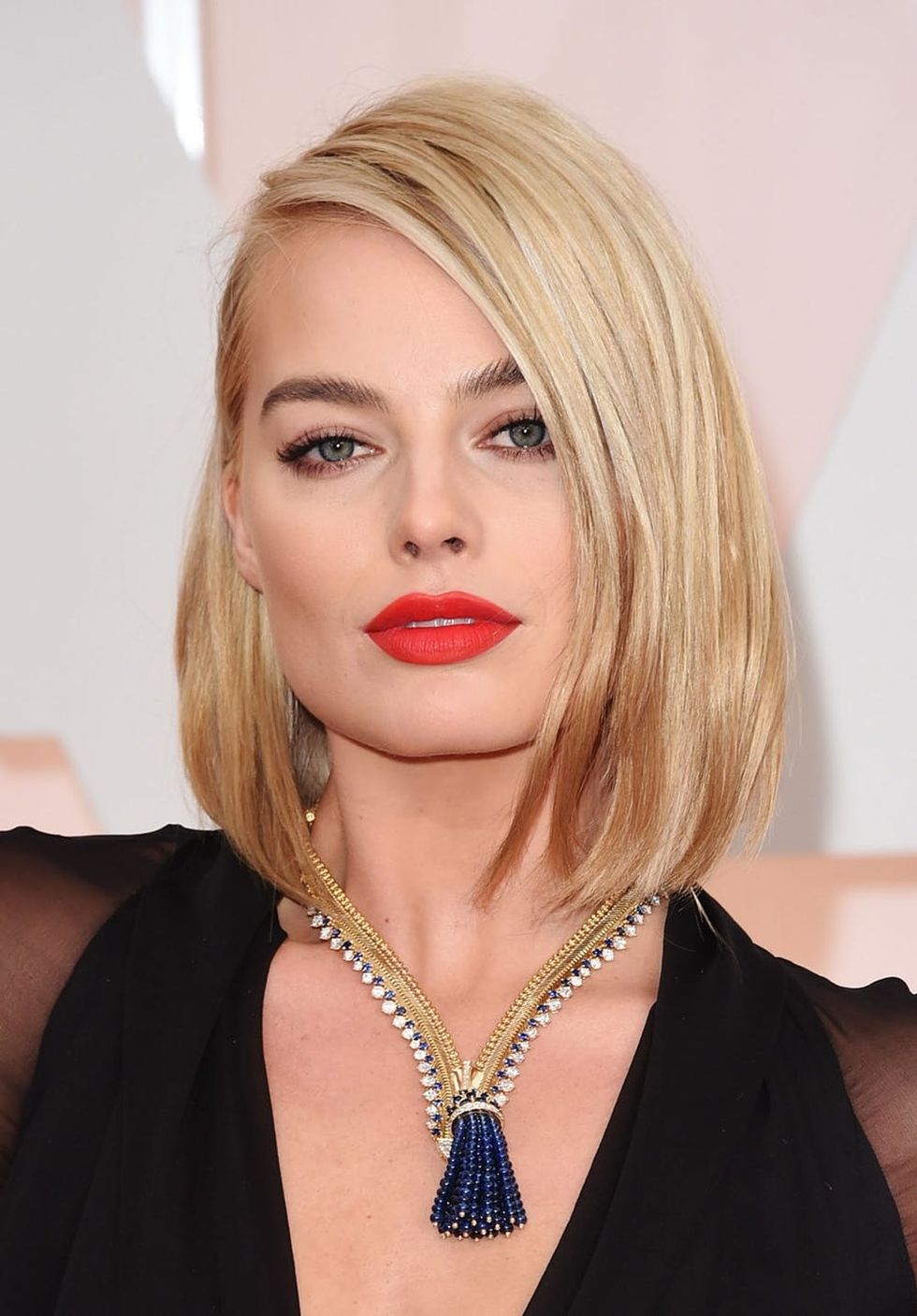 It seems safe to say that there was an overall consensus that Margot Robbie's beauty look hit it out of the park at this year's Academy Awards. Even Lupita's pearl-dotted gown and and Zendaya's elegant dreadlocks — two of the top looks of all of award show season — couldn't compete with her bombshell makeup, which was what got the most "ooohs" and "ahhhs" out of us all night long until now. We mean, just look at her: she's the epitome of modern glam with strong brows, sharp eye makeup and that fiery lip. Naturally, we had to break it down into a DIY-able routine you can do for your next date night or really any time you want to feel extra fab. Scroll through to learn the three tricks to getting Margot's Oscars night look. (Photo via Jason Merritt/Getty)
---
Prep: Base Makeup + Heavy Bronzer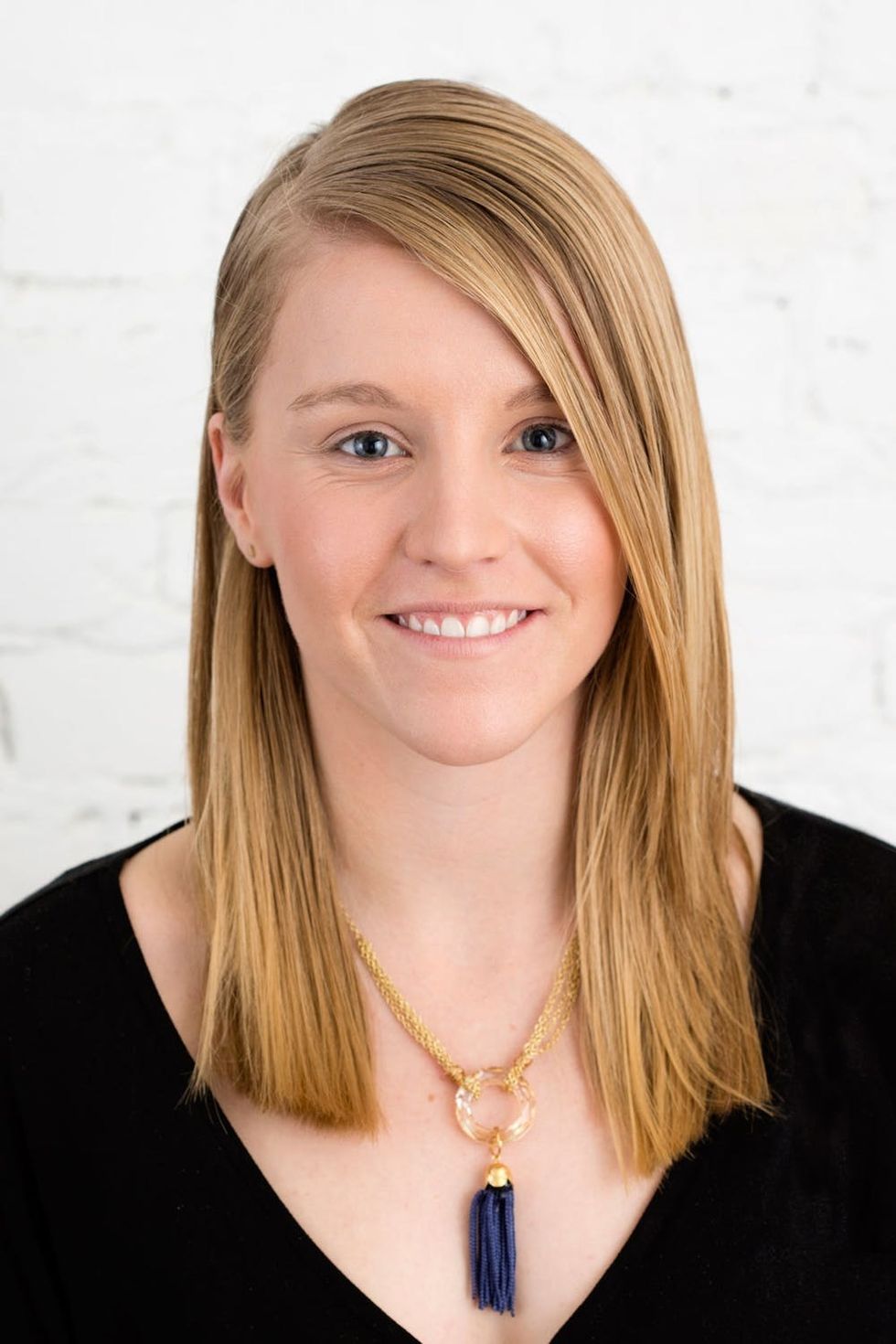 Apply your base makeup using our flawless face tutorial, stopping after Step 3 (so skip the blush). Margot's face has a full-on bronzed goddess glow, so to mimic this particular look, be a little more generous with your bronzer.
Trick 1: Skip the Smokey Eye
Margot proves you don't need a smokey eye to make your eyes look sultry. The new way to create a devastating stare includes sharp tightlining, generous mascara and an unexpected smudge of a coppery color. Consider it a modern twist on the clean, classic eye look.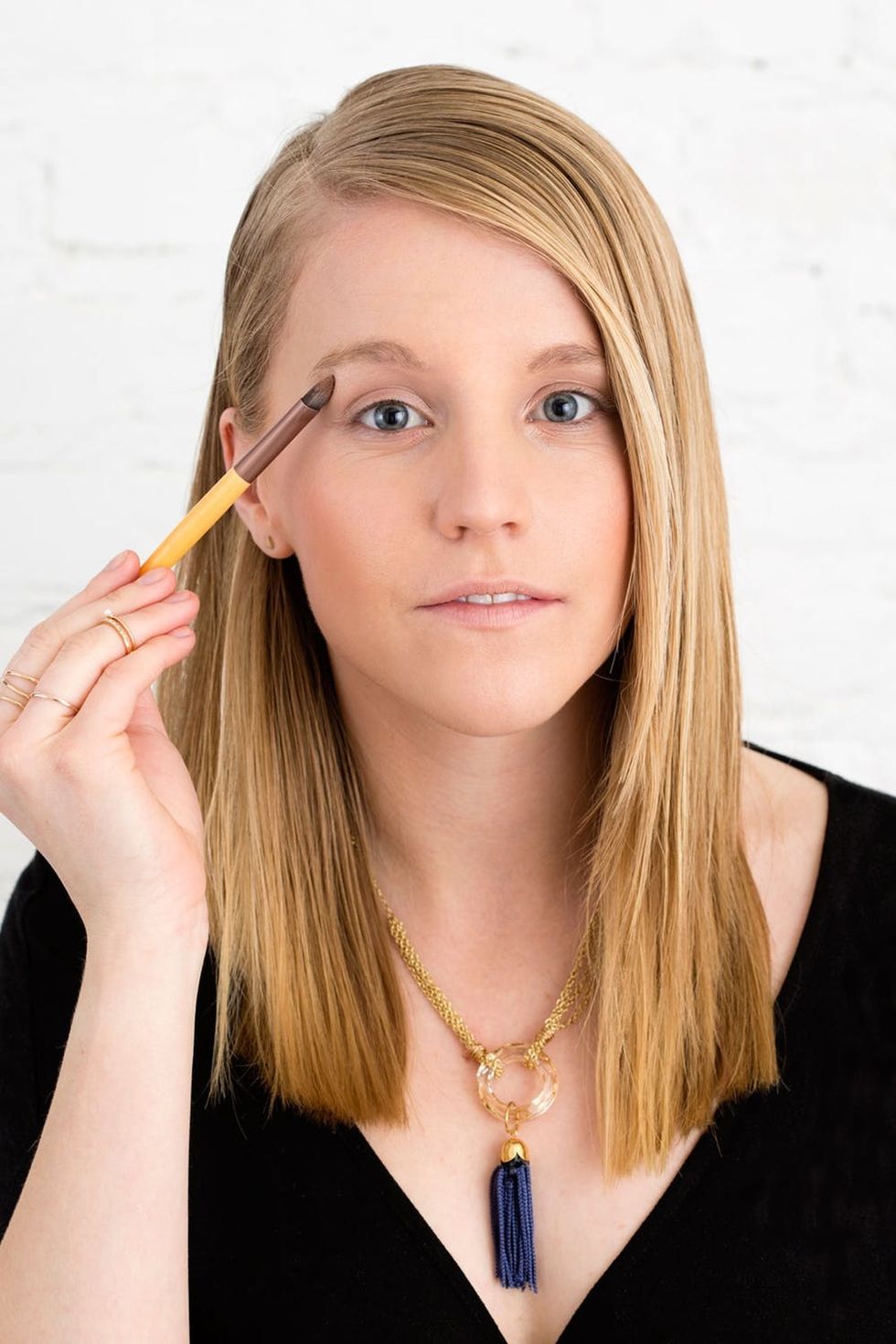 Highlight: Use a cream eyeshadow on your brow bone, crease, lid and inner corners of your eyes to create a clean palette that will make your eyes pop. On Maddie, I used Autumn Blonde from Sephora + Pantone Universe Palette, which has been discontinued, but you could use MAC Velvet Eyeshadow in Vanilla ($27).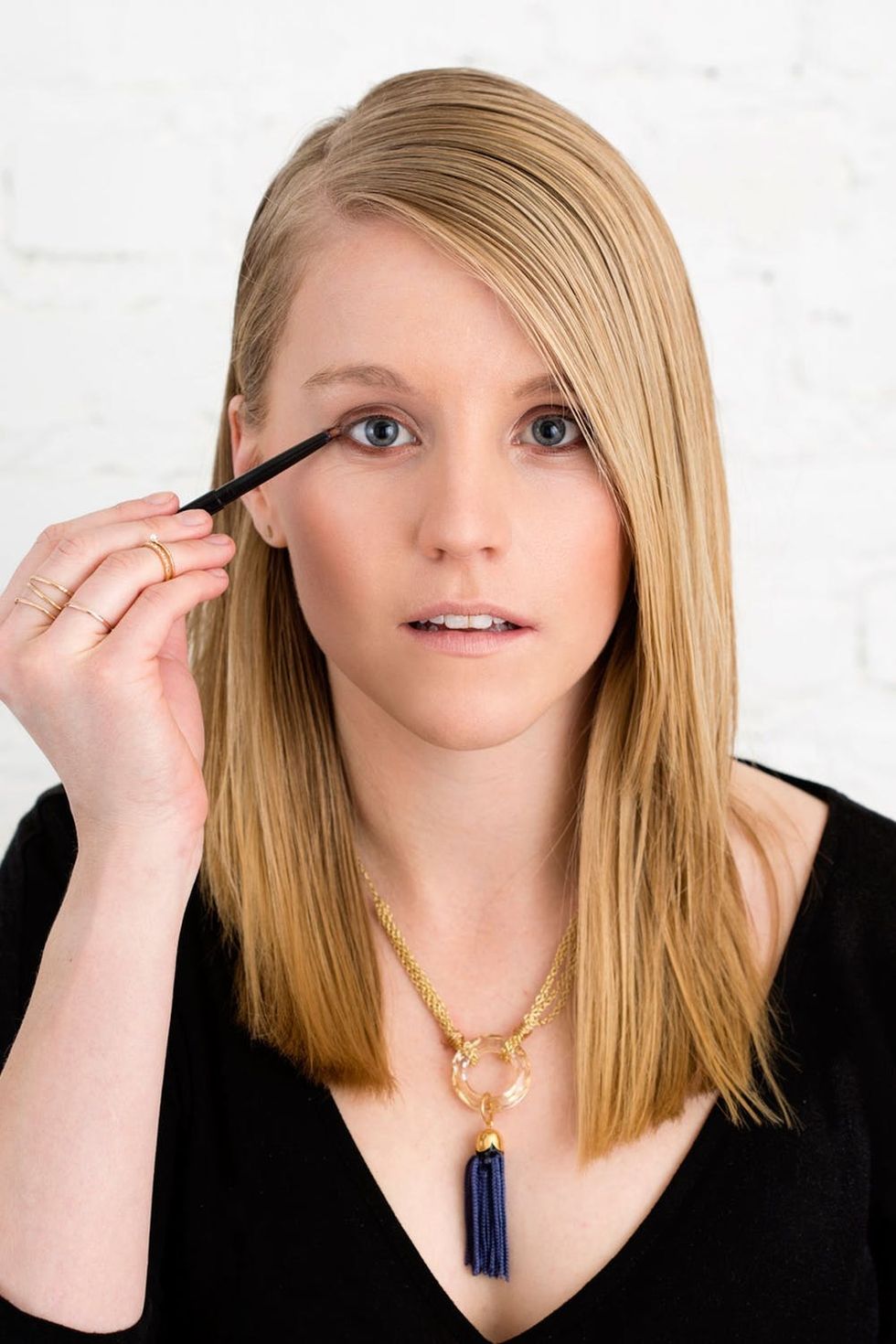 Smudge-y Liner: To get the subtle pop of color around your eye, use a warm bronzey eyeliner like Revlon Colorstay Eyeliner in Topaz ($8) around the rim of your eyes as the base to your eyeshadow. Apply a slightly thicker line toward the outside corners of both your upper and lower lash line to create definition.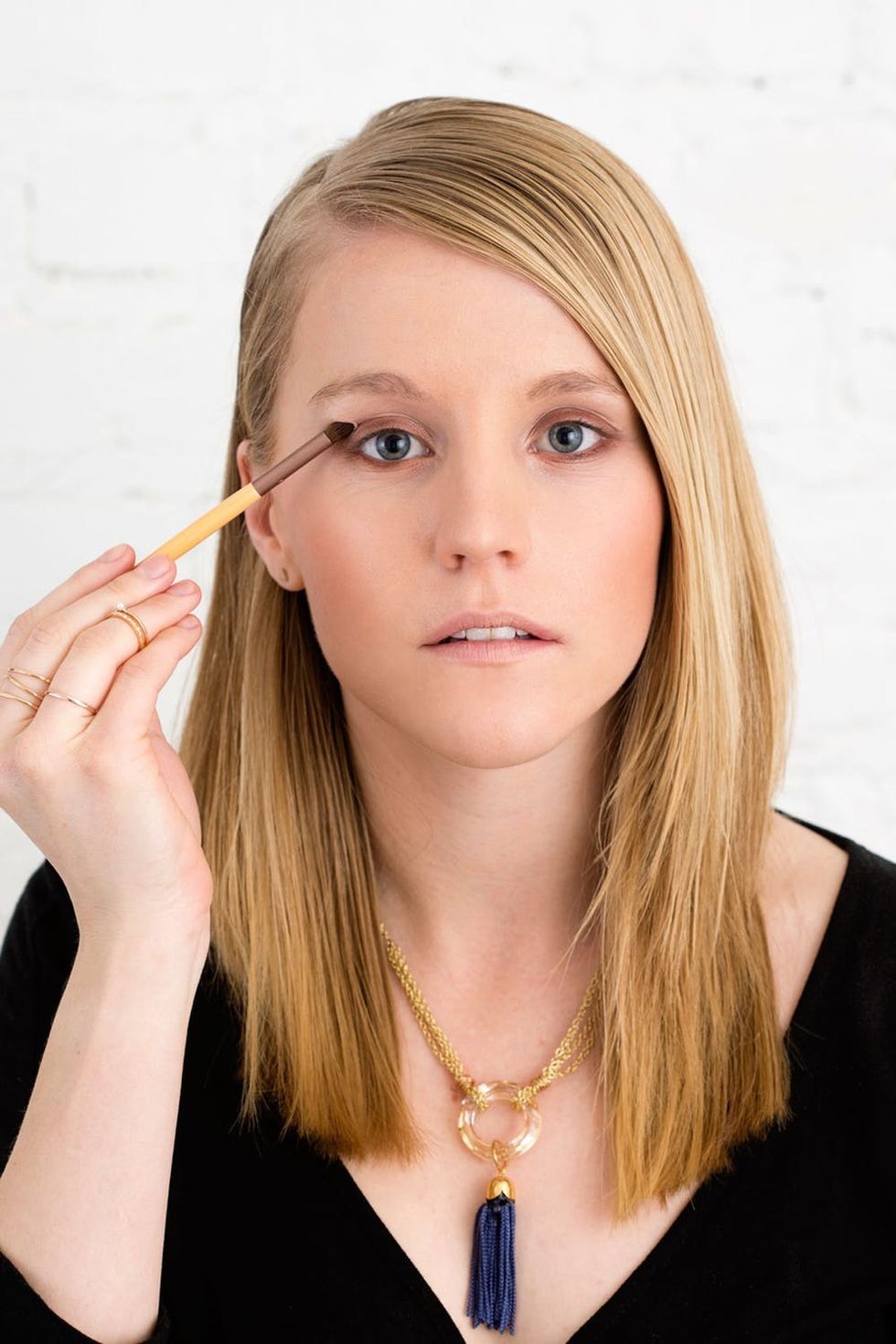 Shadow Set: Use a small fluffy brush to smudge the top and slightly over the top of your eyeliner with a warm mauve shadow. Again, we used Metallic Marsala from the Sephora + Pantone Universe Palette (discontinued, boo). Instead, try Shiro Cosmetics Eyeshadow in Ziggy ($9).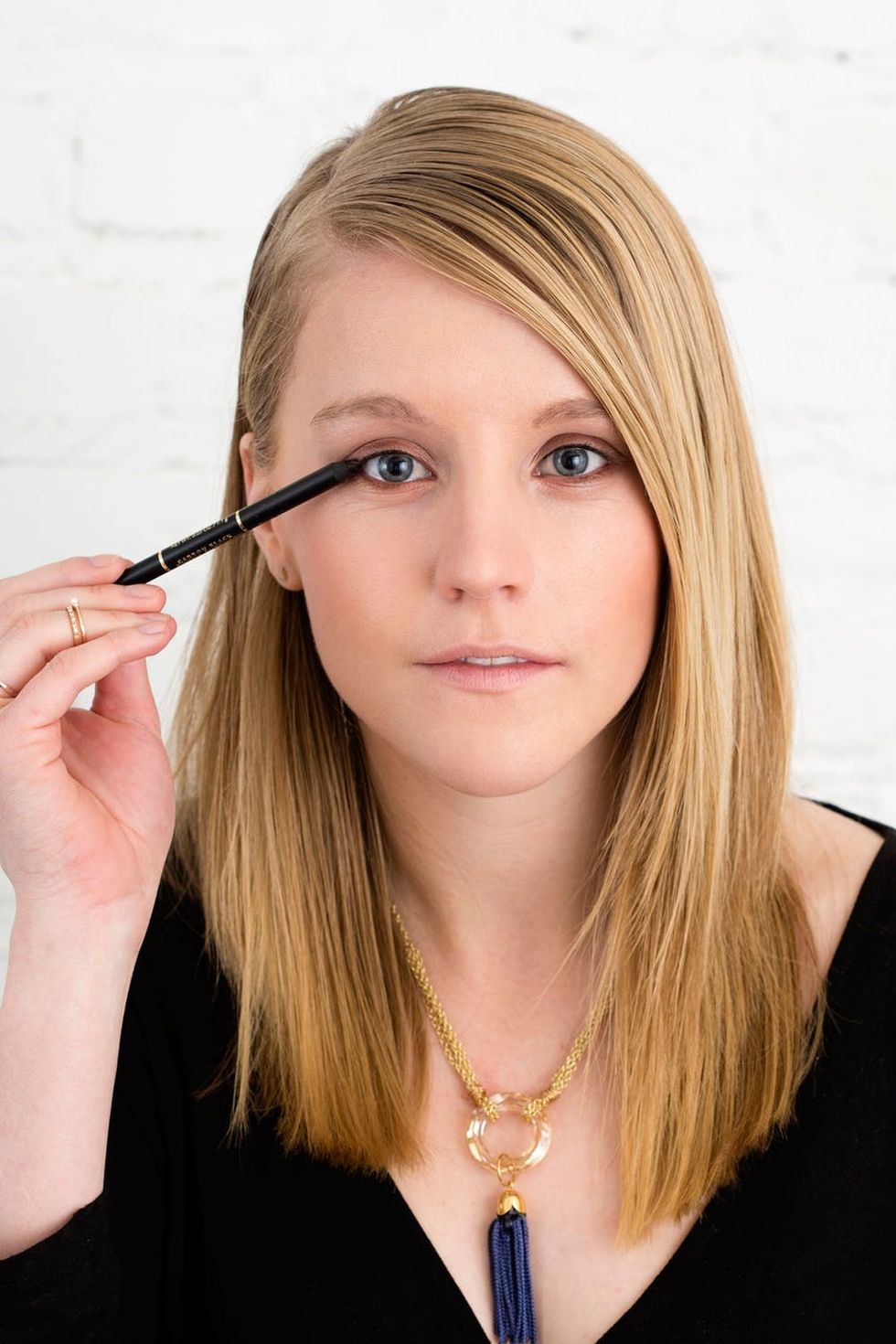 Tightline: To achieve a similar no-eyeliner look, you'll be applying your eyeliner in a very discreet way: by tightlining. To "tightline" means to apply eyeliner into the inside waterline of your eye. In this case, you'll only apply it to your upper waterline. Use a smudge-proof black liner like L'Oreal Extra-Intense Liquid Pencil Eyeliner in Carbon Black ($9) so the liner does not bleed onto the lower lash line — you don't want to lose that slick and sharp vibe.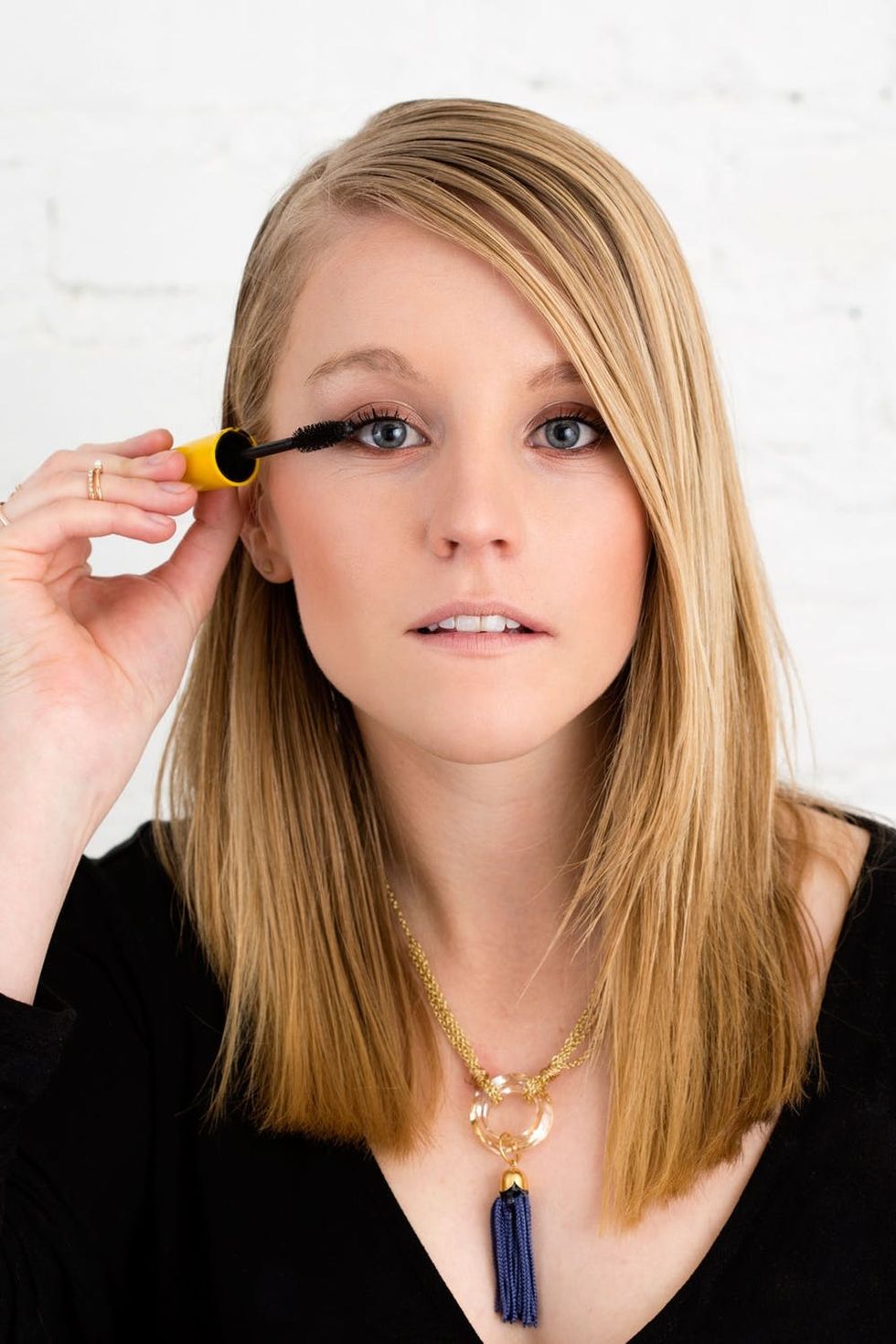 Mascara: Apply a couple coats of mascara to get her full lashes on your top lashes only. Avoid applying to the lower lashes (resist!).
Trick 2: Gel Your Brows
While Margot's eyebrows are without doubt defined, they're still what you would consider natural-looking. The bold brow trend isn't going anywhere anytime soon, but this particular gelled-and-then-some approach is refreshingly elegant.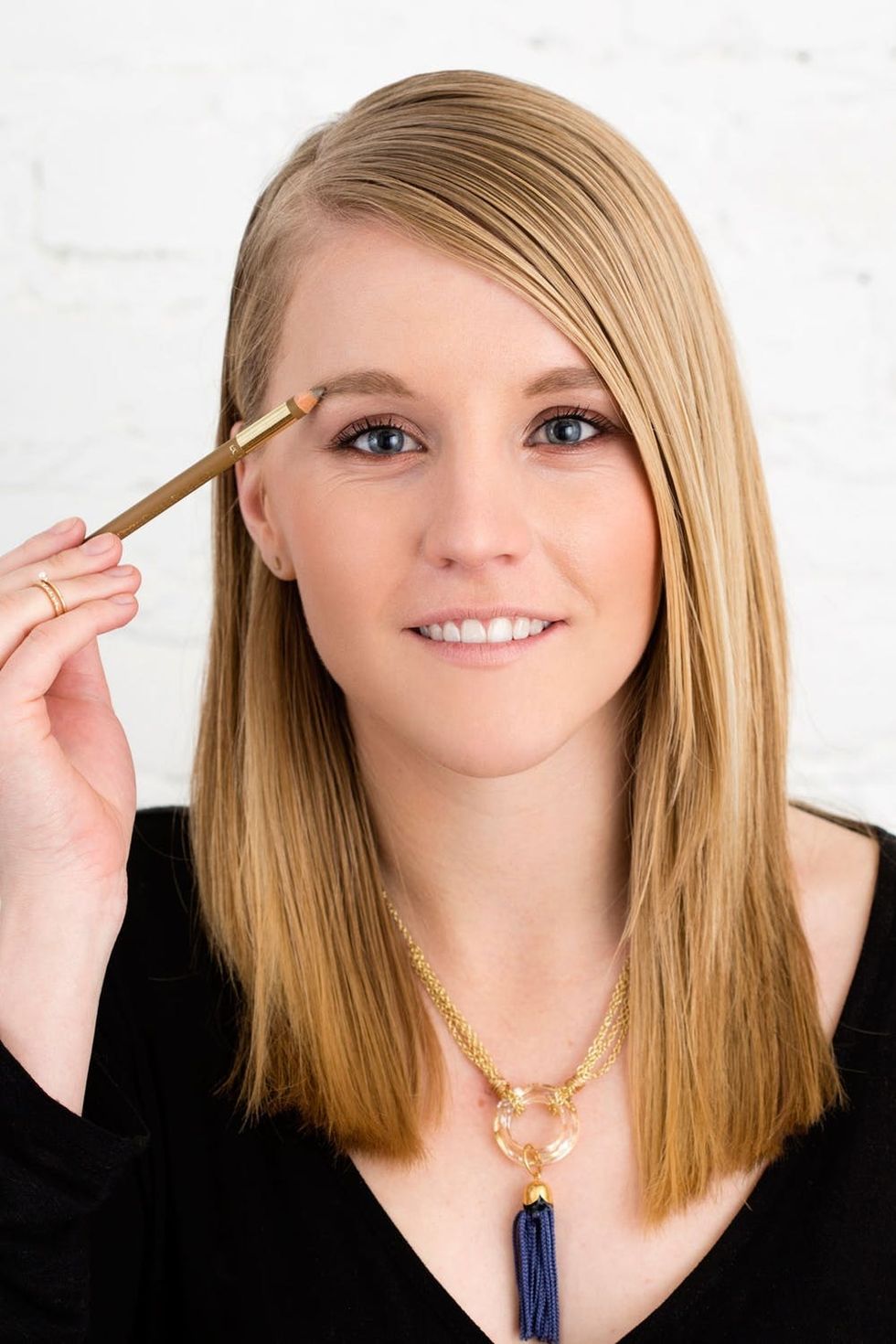 Fill In: On Maddie, we went with a lighter color —L'Oreal Paris Cosmetics Brow Stylist Designer Brow Pencil in Blonde ($7) — to blend in with her natural blonde lashes (match the pencil with your natural brow color here too, whatever that may be). You can opt for a darker brow if you're looking for a more extreme contrast, but we say keep it simple here.

Gel: Use a brow gel like Anastasia Beverly Hills Clear Brow Gel ($22) to refine and polish your eyebrows. Brush your eyebrows in the same direction that the hairs grow in for the most natural look, or brush them slightly upward for the more severe style Margot is wearing.
Trick 3: Ditch Your Go-to Red Lip
Margot redefined the red carpet red lip with a more coral-forward red than the classic true hue, and we love its chic, of-the-moment feel. See what a BIG difference making the smallest color switch can have? In her case, it meant all eyes on her unexpected choice. YOU should do the same.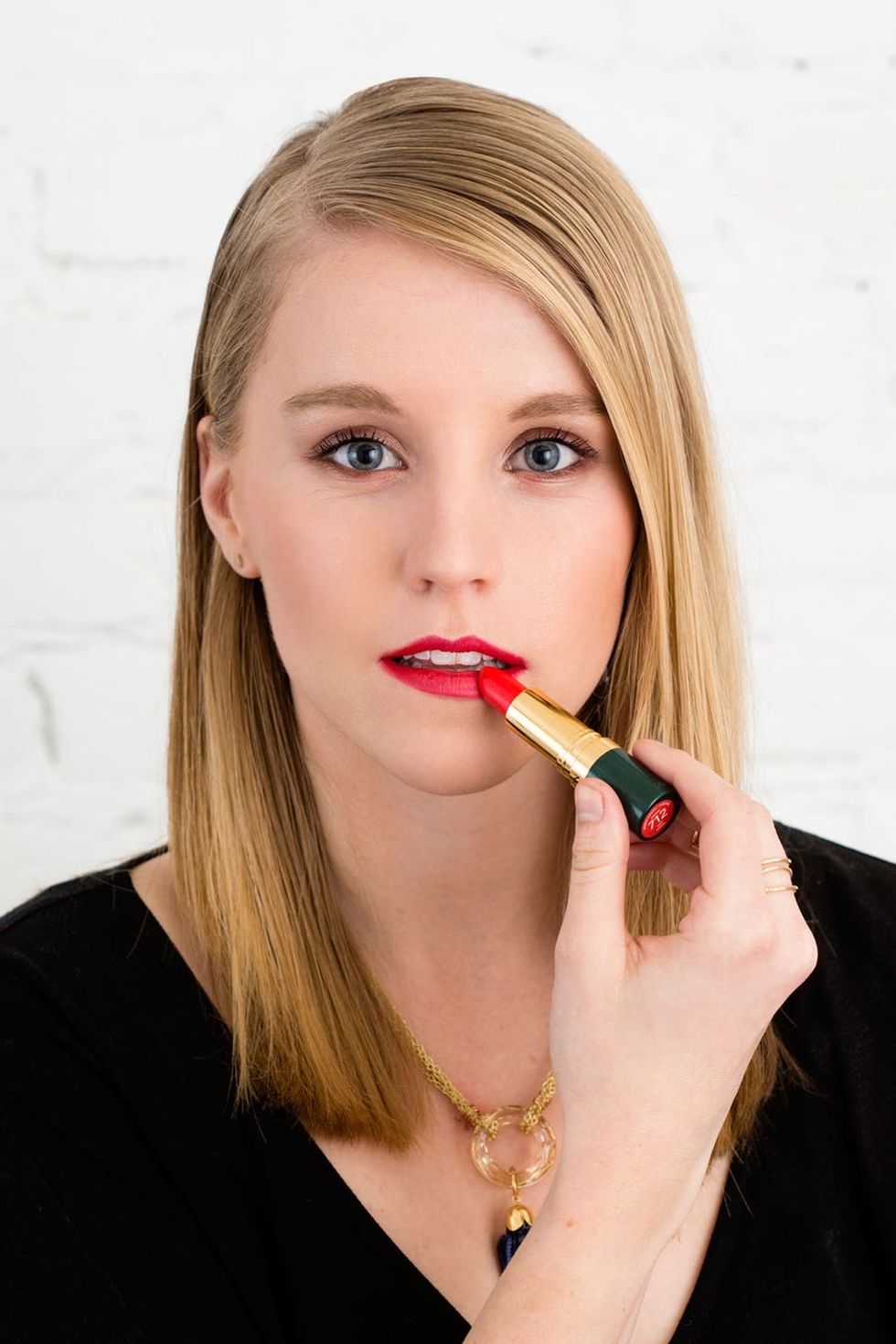 Line + Lipstick: First, line your lips with any cherry red lip liner you have just to keep the application looking sharp and precise. It looks like Margot's lips are enhanced a bit, so if you want to pull a Kylie Jenner on this one, plump up your pout using our faux full lips tutorial here. Or, just fill in what your mama gave ya with a red-orange lipstick like Revlon Moon Drops Lipstick Creme in Hot Coral ($9). Just look at that pucker! *Smack*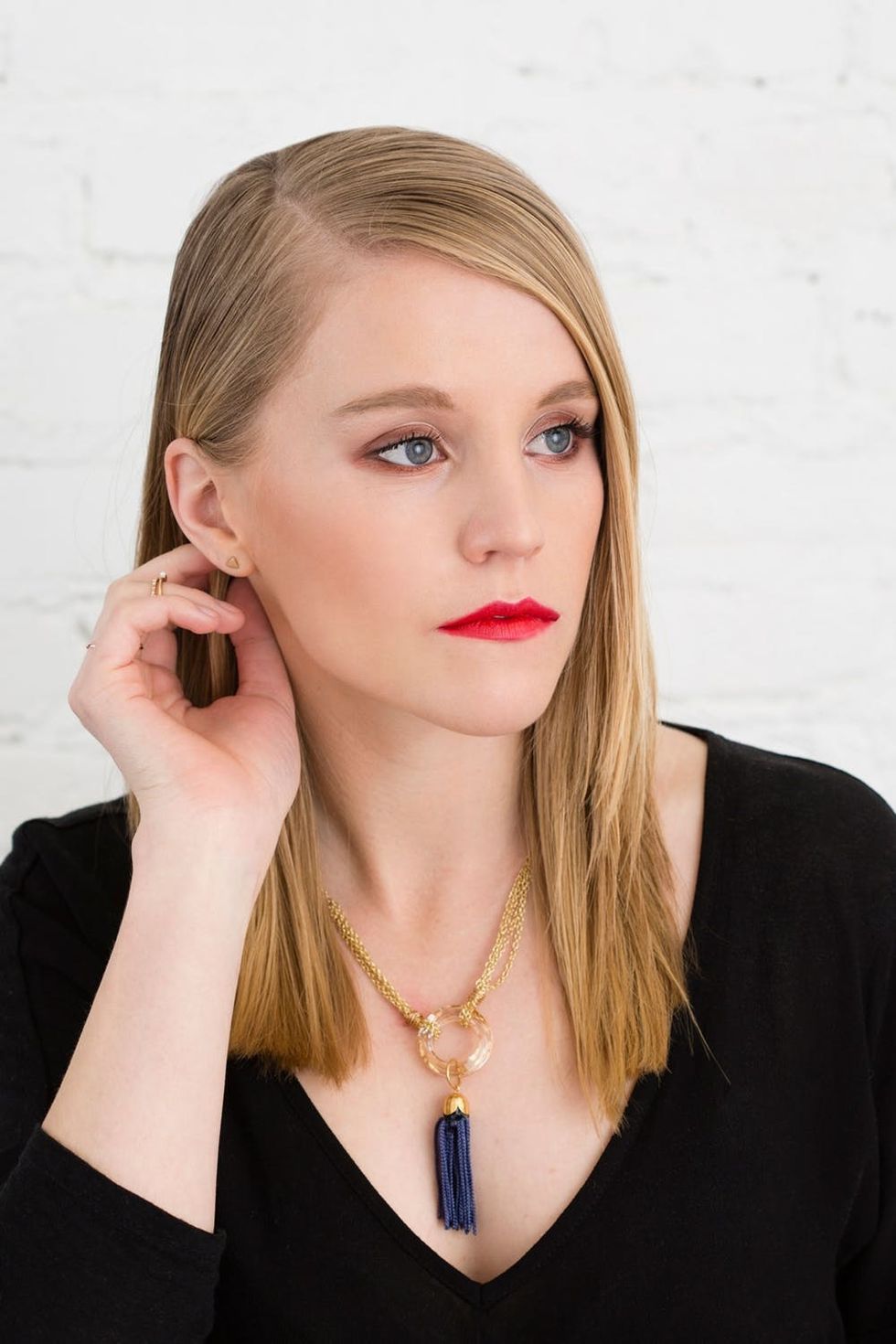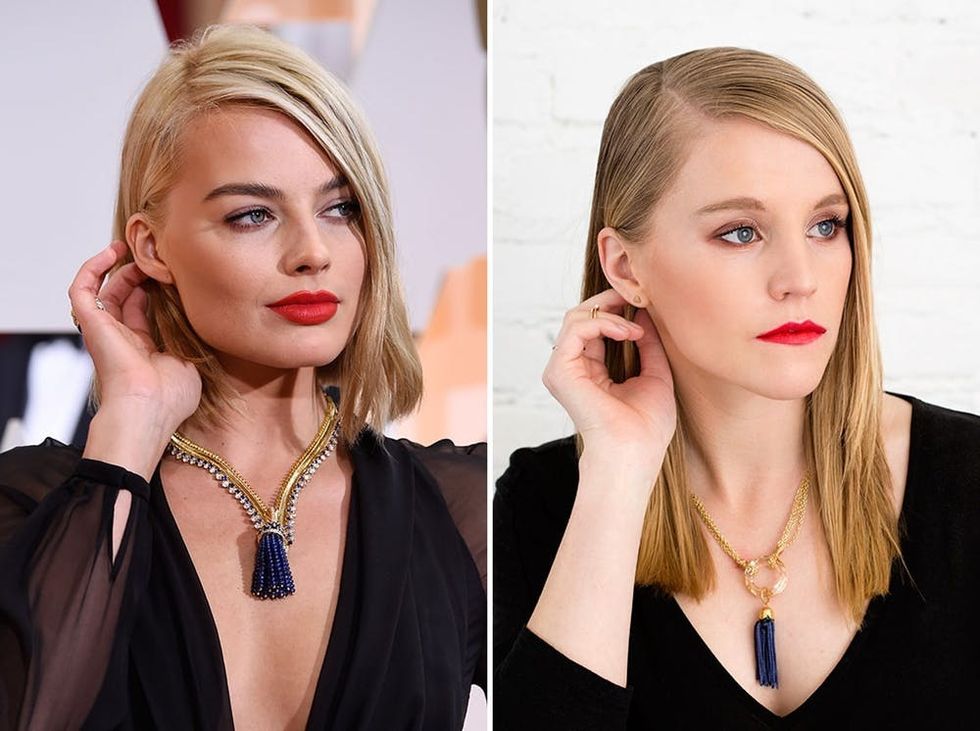 This look is good news for makeup minimalists out there: "less is more" seems to be the most well-received beauty trend right now. Margot proves with her three-step Oscars makeup look that we can use less without losing the wow factor (and yes, our jaws are still dropped).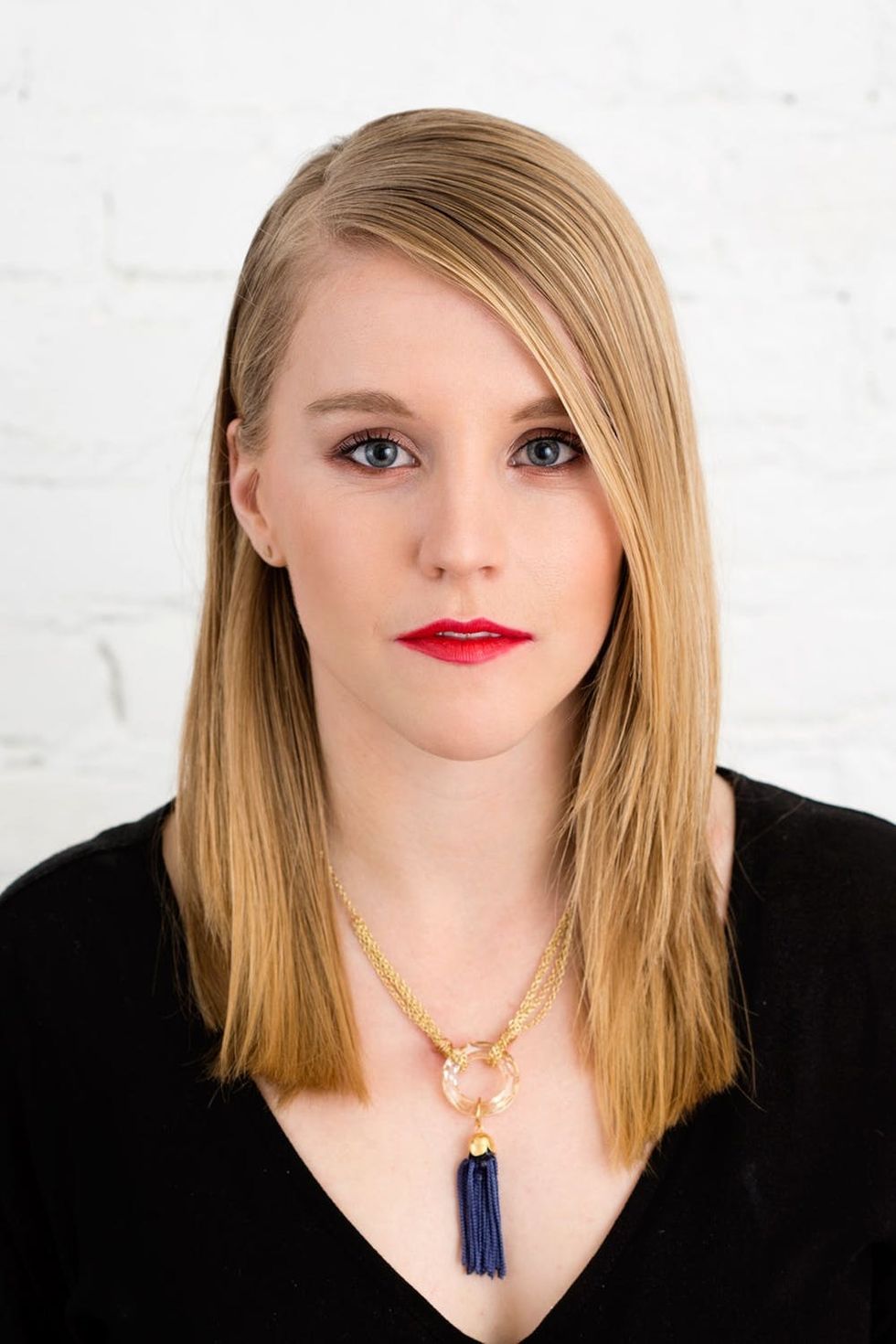 What were your favorite hair and makeup looks from the Oscar that you would DIY? Share in the comments below!
(Photo via Frazer Harrison/Getty)
Misty Spinney
Misty Spinney is a hair stylist, makeup artist, and fashion stylist with a strong background in design and deep passion for creativity.
DIY Style