The Best Dressed Looks From the MTV Movie Awards
Apr 14, 2014
Whether you're a little more prim and proper or feeling like a true pop rocker at heart, there was some seriously enviable style at last night's MTV Movie Awards. Different from other events like it, this brings out star style you can easily mirror at home or use as inspiration for your next non-red carpeted party. Don't believe us?! We'll prove it — with five of our fave looks and affordable outfits to rock offstage.
---
If Anne Hathaway didn't have us filling up our closet with cropped tops and midi skirts already, Jessica Alba seriously sealed the deal last night in a pretty chartreuse skirt, simple white bandeau top and black and white patterned heels.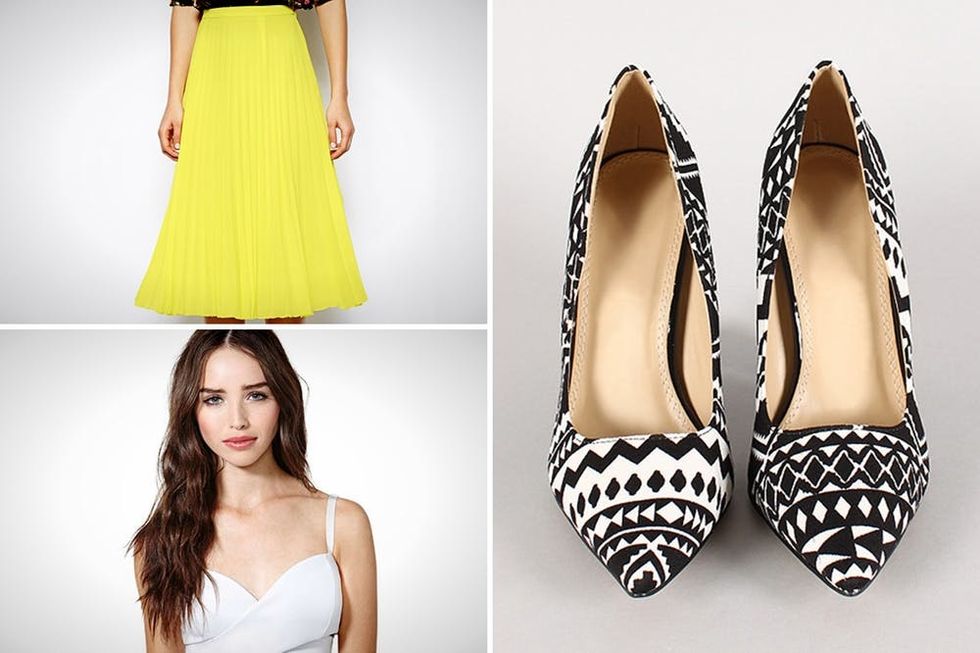 Under Wraps Bustier ($38) + ASOS Pleated Midi Skirt ($66) + Good Girl Tribal Pointy Toe Pump ($35): Sweeten a sexy bustier with a pleated midi — and defy any style genre with tribal print heels as cool as these.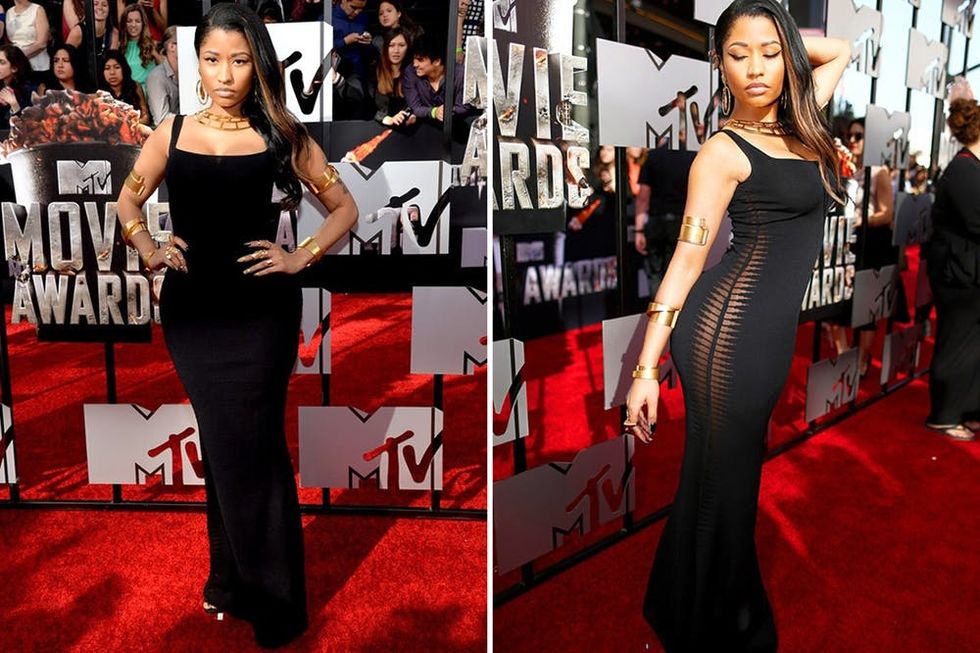 We all became Barbz when we saw Nicki Minaj last night. The "Super Bass" superstar wowed and has our vote for Best Dressed and Best Style to Steal to Every Summer Party We Attend This Year.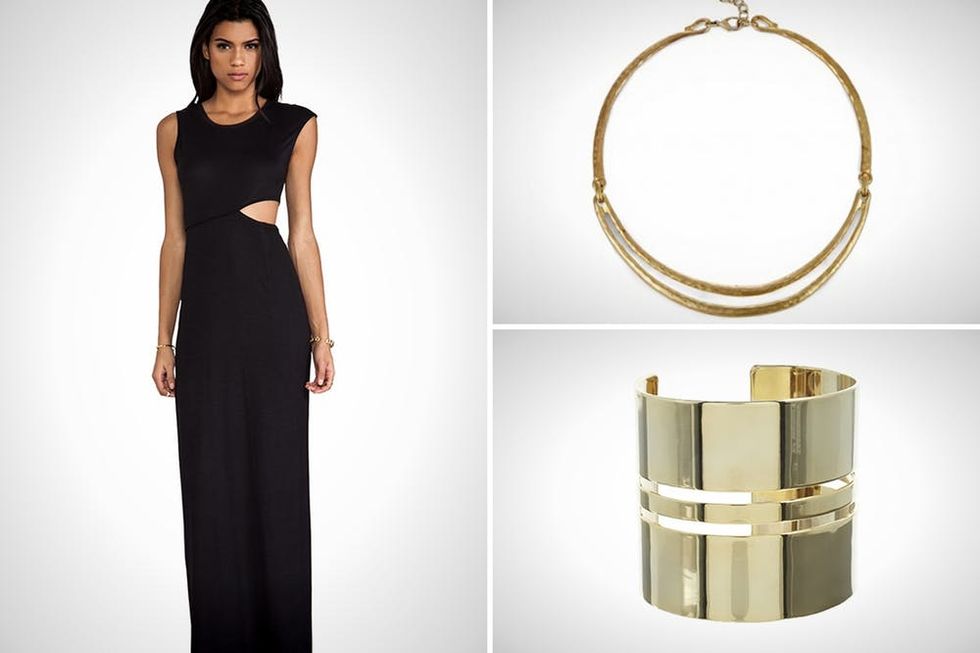 BCBGeneration Side Cutout Maxi Dress ($108) + Hammered Collar ($30) + Whistles Graphic Cut Out Cuff ($85): We're ready to get a little Grecian with a maxi that features cutouts and hardware that's so haute right now.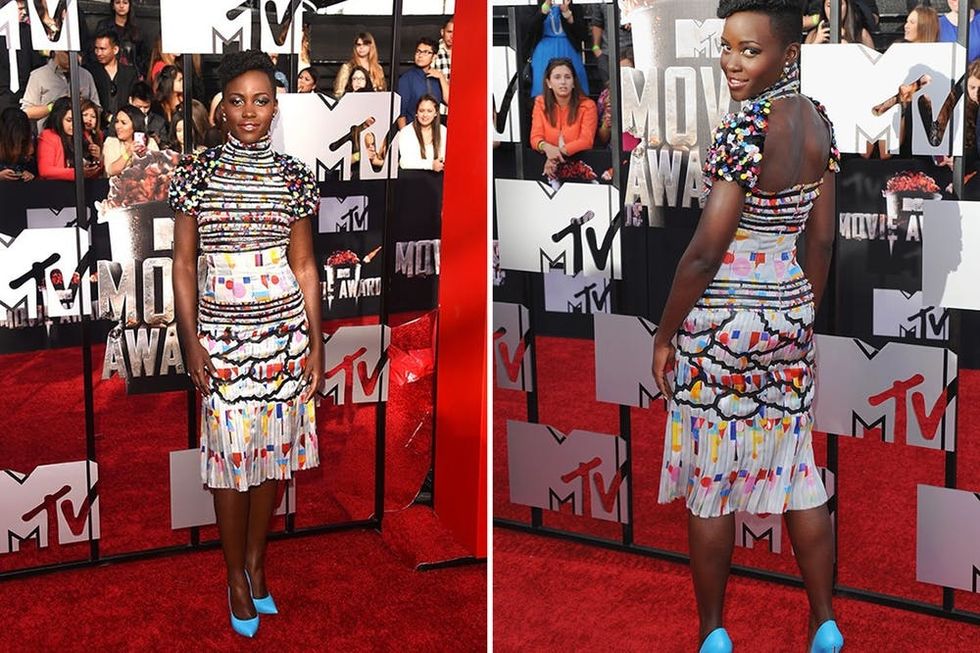 Oops. She did it again. Lupita N'yongo reignited our girl crush and our style envy with the kaleidoscopic look she wore last night. To go effortlessly from winning an Oscar to giving out a gilded popcorn tub is no easy feat, but Lup' is good like that. Dear Ms. N'yongo: Would you like to have brunch with us this weekend, Yes or No?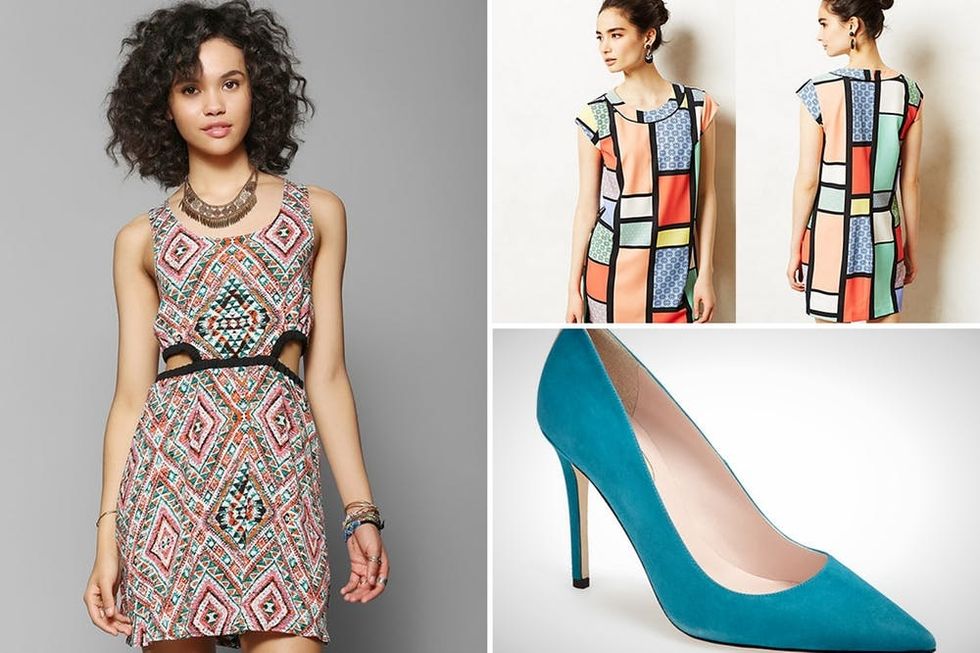 Staring at Stars Savannah Cutout-Waist Dress ($59) + Modernist Shift ($148) + SJP Fawn Pump ($350): We can't find a close-enough knockoff of Lupita's Chanel dress just yet (give it time) but we can try to cop the vibe with mixed materials and patterns, beautiful, bright colors and her signature shade in shoe form!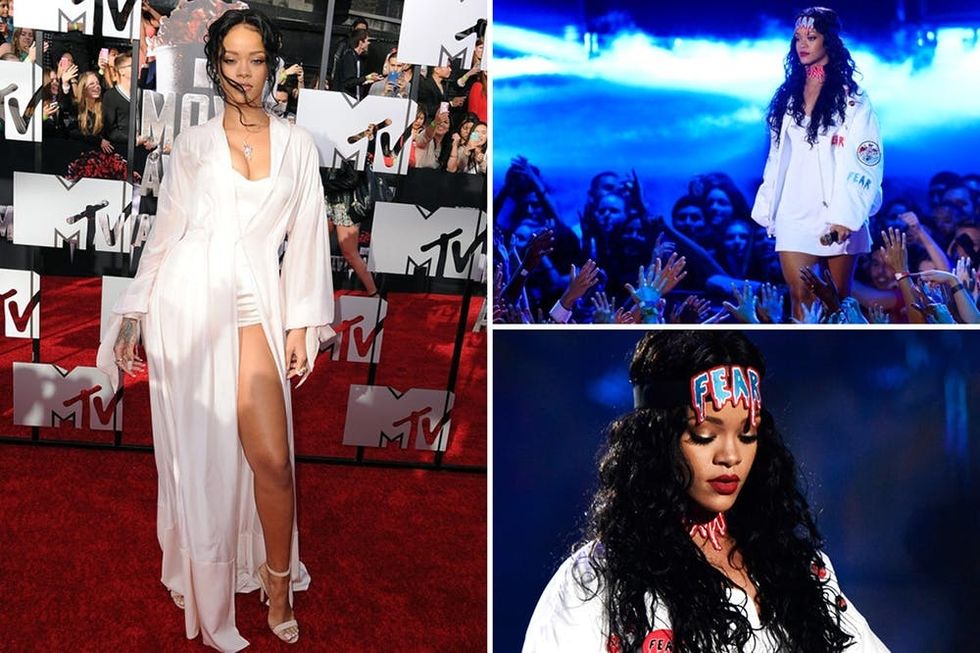 'Twas a nice day for a white red carpet rocking and Rihanna did it off stage and on. Don't think you can pull off Rihanna's look last night? Think again. For starters, you're already wearing that headbanded 'do.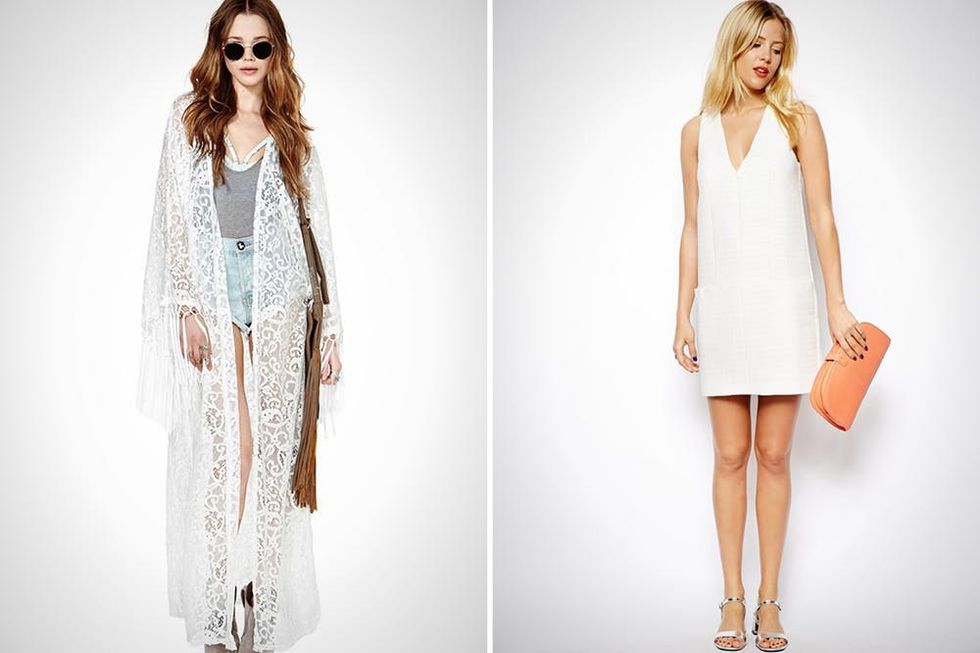 Reverse Stevie Nicks Kimono ($88) + ASOS Shift Dress ($85): See, you can make the kimono happen without a personal stylist telling you how! With a "boho" edge, the whole robe ensemble can be yours at Coachella and beyond. And we'll be rocking the LWD (Little White Dress) at the first fancy BBQ we go to — barbecue sauce be darned!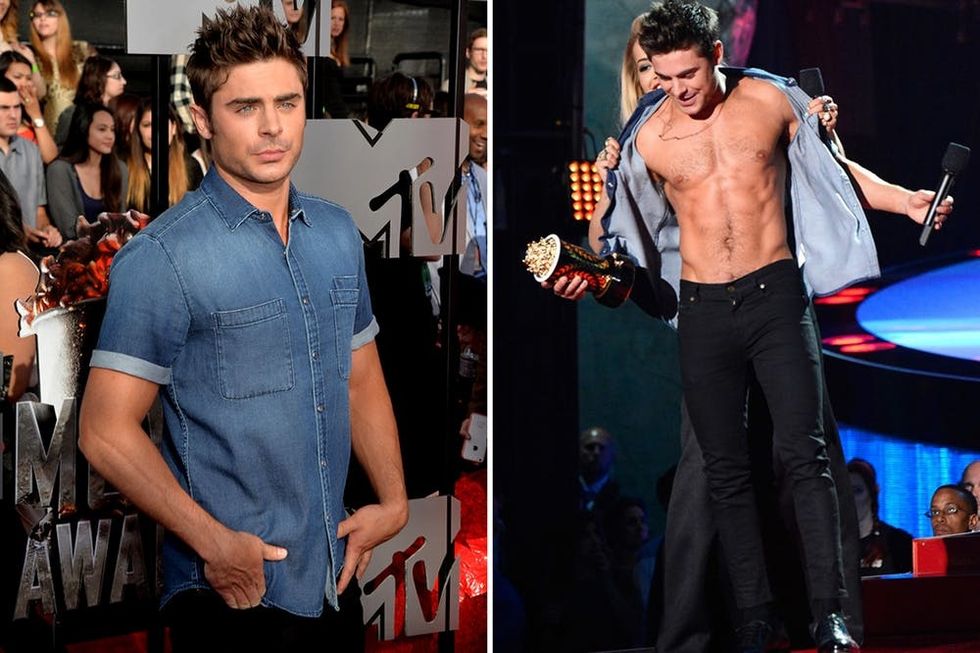 Sigh, Zac Efron — how we love thee. Isn't it ironic that the winner of the highly sought after Best Shirtless Performance award looked so good with his chest clothed in chambray? Oh, no wait, he looked great without, too.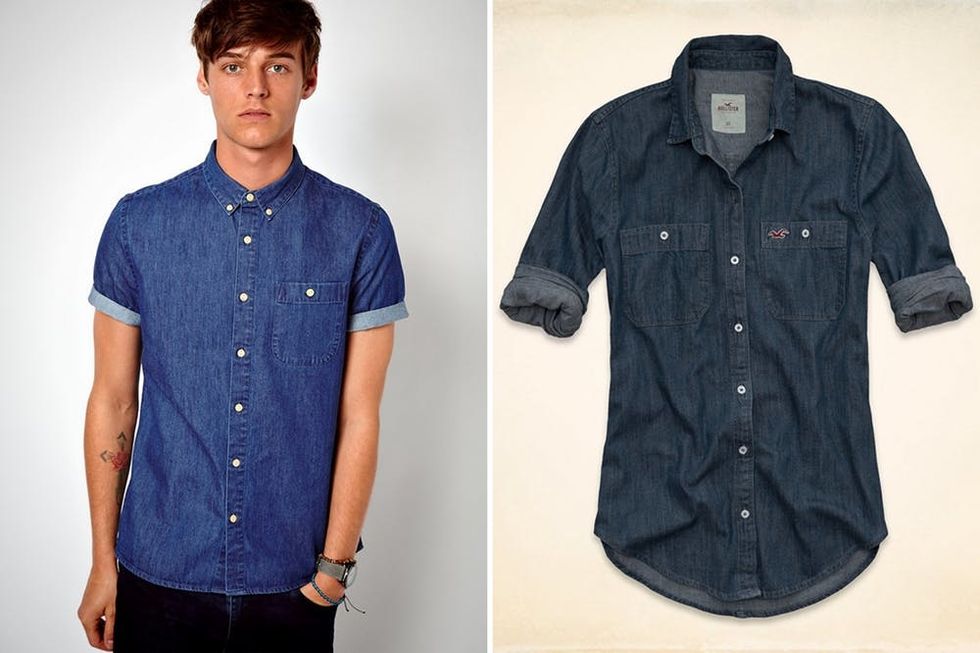 ASOS Denim Shirt in Short Sleeve ($21) + Scripps Pier Denim Shirt ($20): Get the guy in your life dressed in dreamy denim (easy-to-unsnap or not) if he isn't already and pick one up for YOU while you're at it.
What was your favorite look at the MTV Movie Awards? Share below!