How to Create Gorgeous Patterned Scarves in 15 Minutes
Mar 12, 2013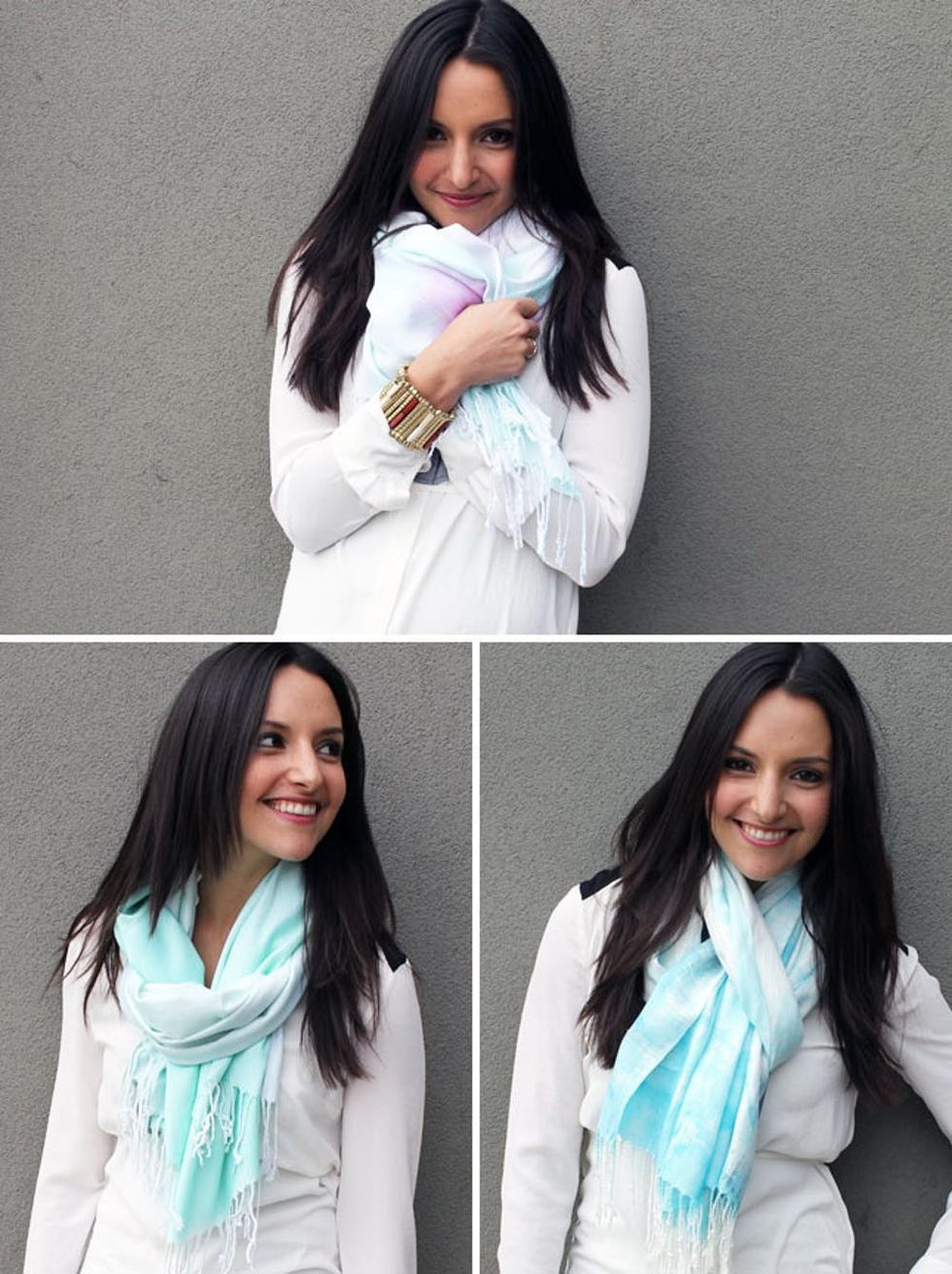 Spring is almost here but it's still a little chilly outside. What better accessory is there than a scarf to get you through these in between months? With that in mind, we decided to create some seriously chic and easy to DIY Ombre-Dyed Scarves using just 4 supplies.
---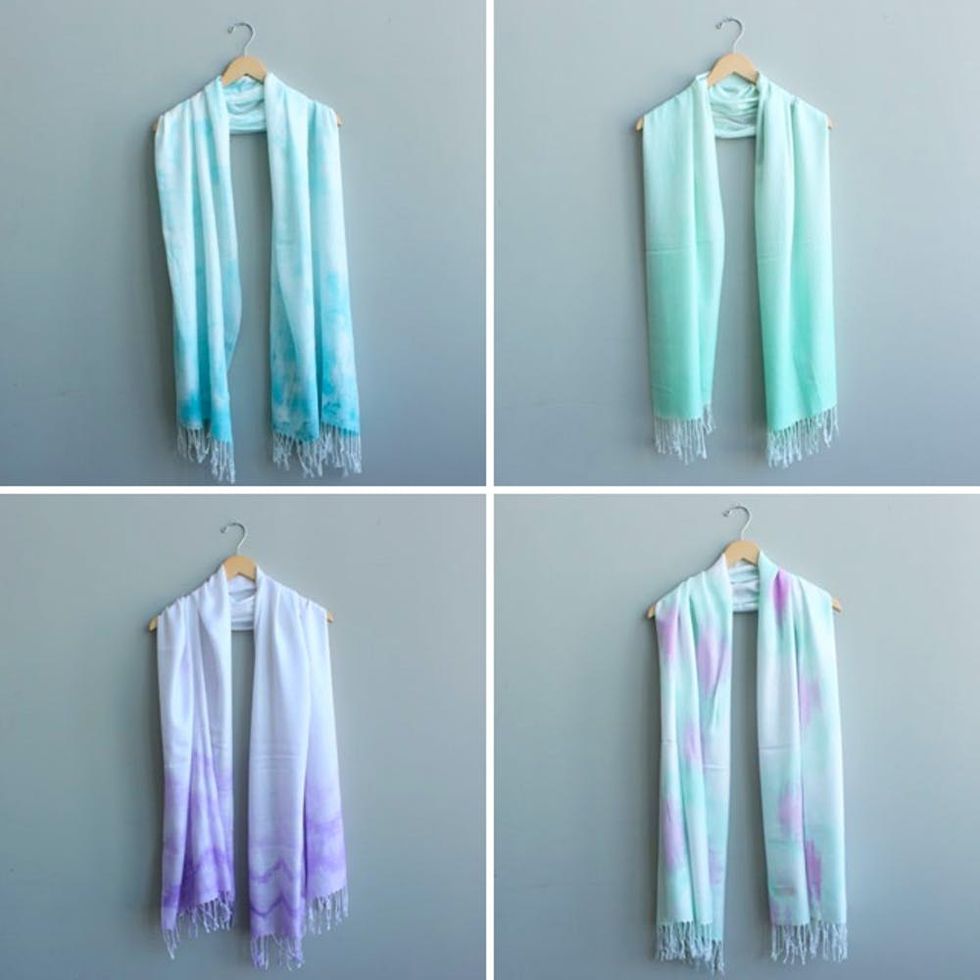 The stars of this project are Tumble Dye and Dye-Na-Flow. Tumble Dye is a spray dye that's non-toxic, water-based, pre-mixed, washable and permanent. Let us tell you, this is not the case with normal stove-top dye. Dye-Na-Flow is an amazing product that you can use to actually paint patterns on fabric. Keep the color intense or dilute with a little water for a more ombre or watercolor effect. Keep reading for full instructions…
Supplies:
– Tumble Dye (1 bottle per scarf/pashmina)
– Dye-Na-Flow (we love the Exciter Pack which comes with 9 beautiful colors)
– Foam brush (we used a 3″ brush)
Turquoise Abstract Scarf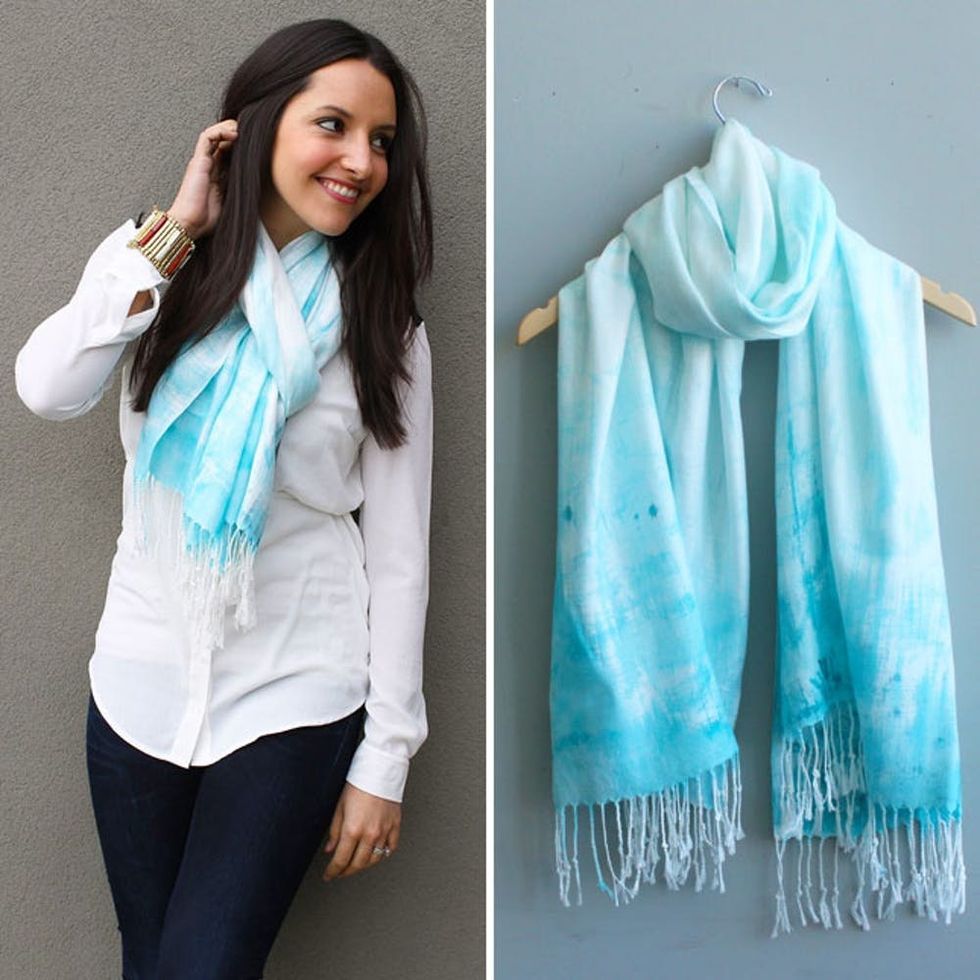 The first scarf we're creating uses Turquoise Dye-Na-Flow. Apply the Dye-Na-Flow to your foam brush. Begin at the bottom of your pashmina and lightly brush using upward strokes. As you move towards the middle of the pashmina, dip your foam brush in a little water after applying the Dye-Na-Flow to lighten the color and create an ombre effect.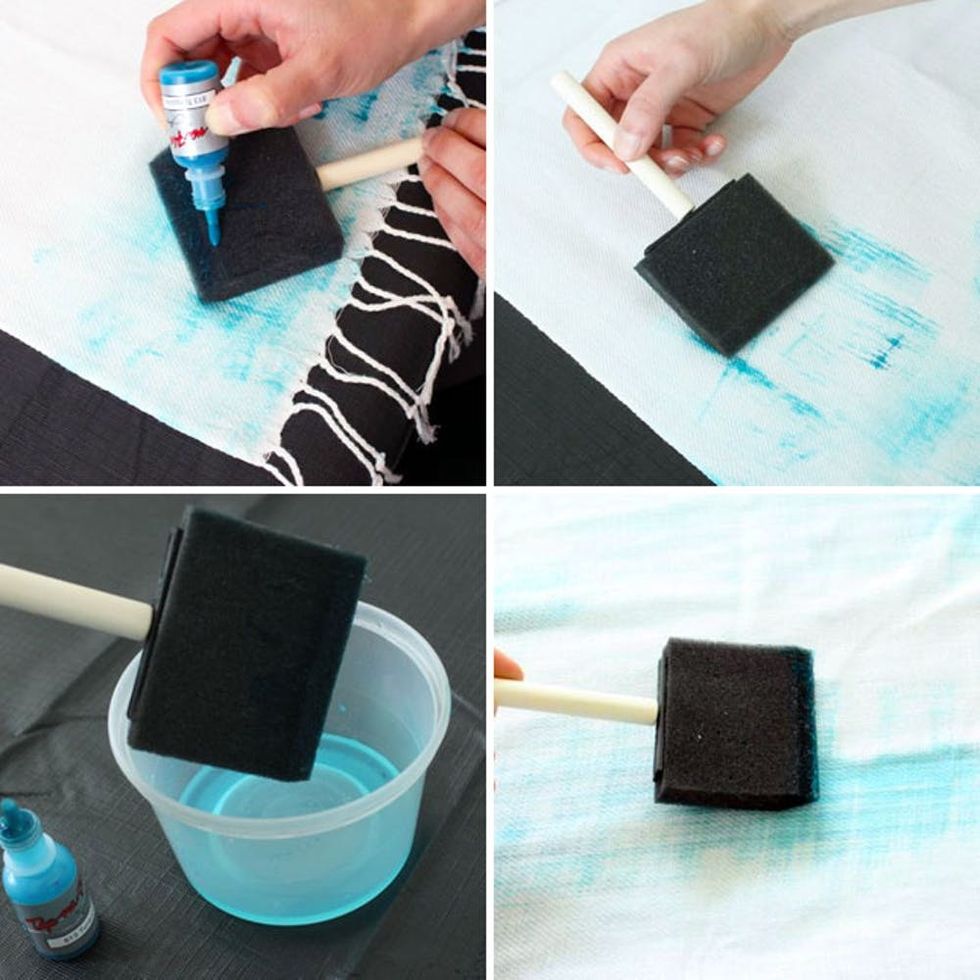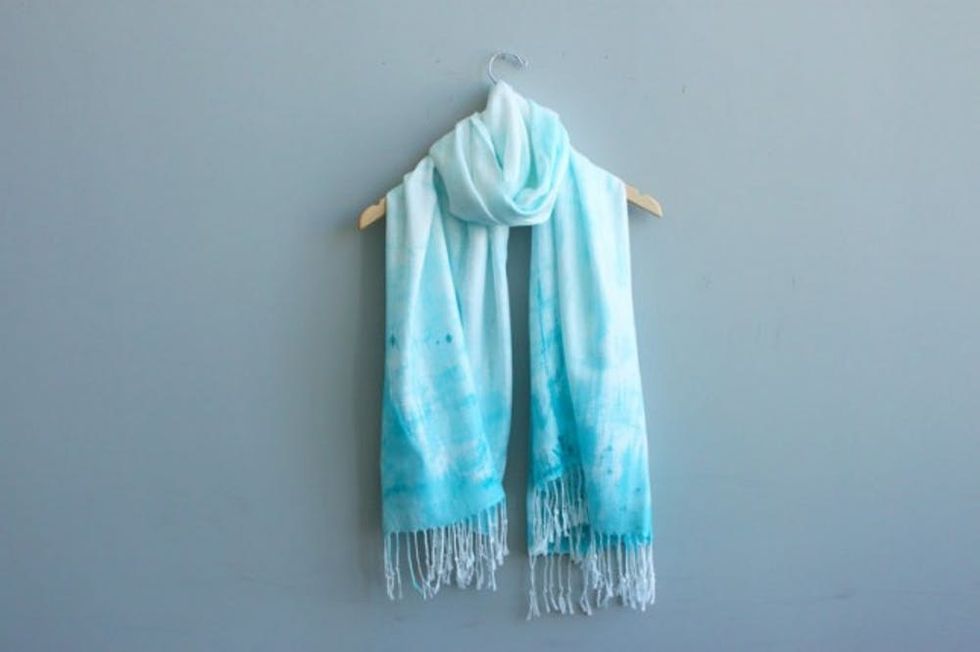 Mint Ombre Scarf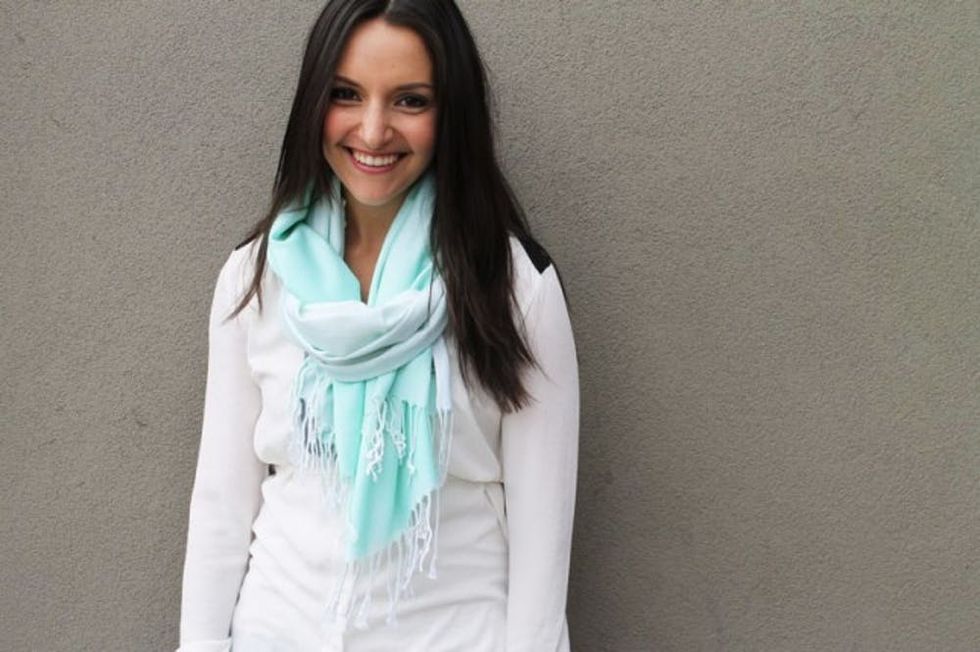 Our next scarf is a super simple ombre. Just take your Mint Green Tumble Dye and start spraying the base of the scarf. Keep the color intense towards the ends and lighten the spray action towards the middle for the ombre effect.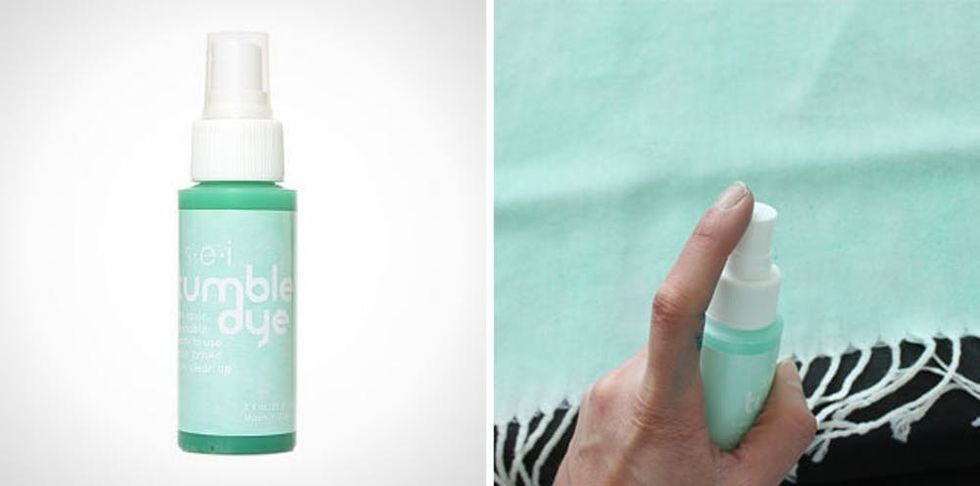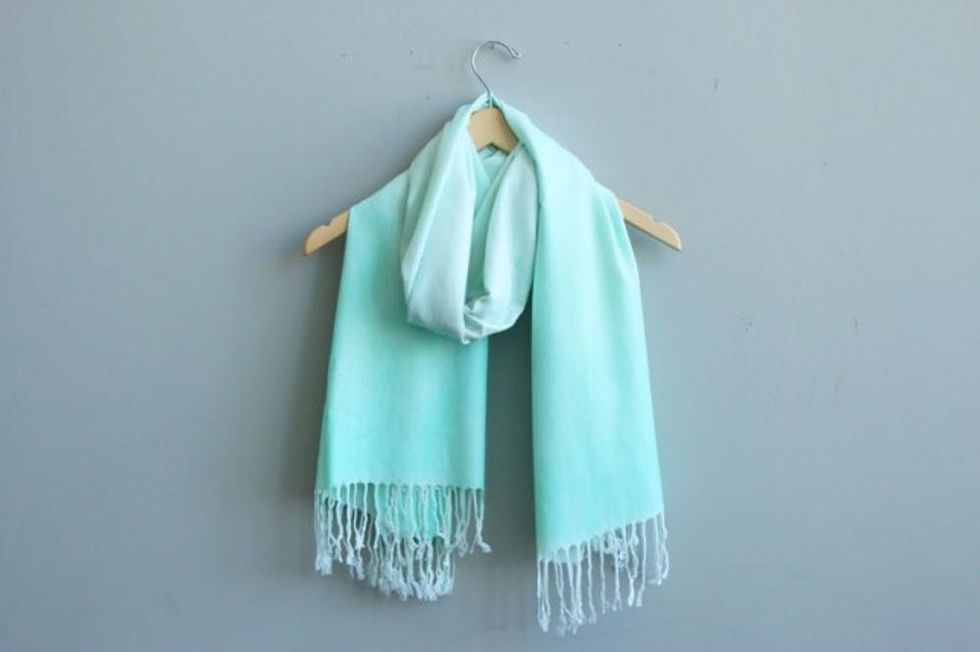 Neon Tie Dye Scarf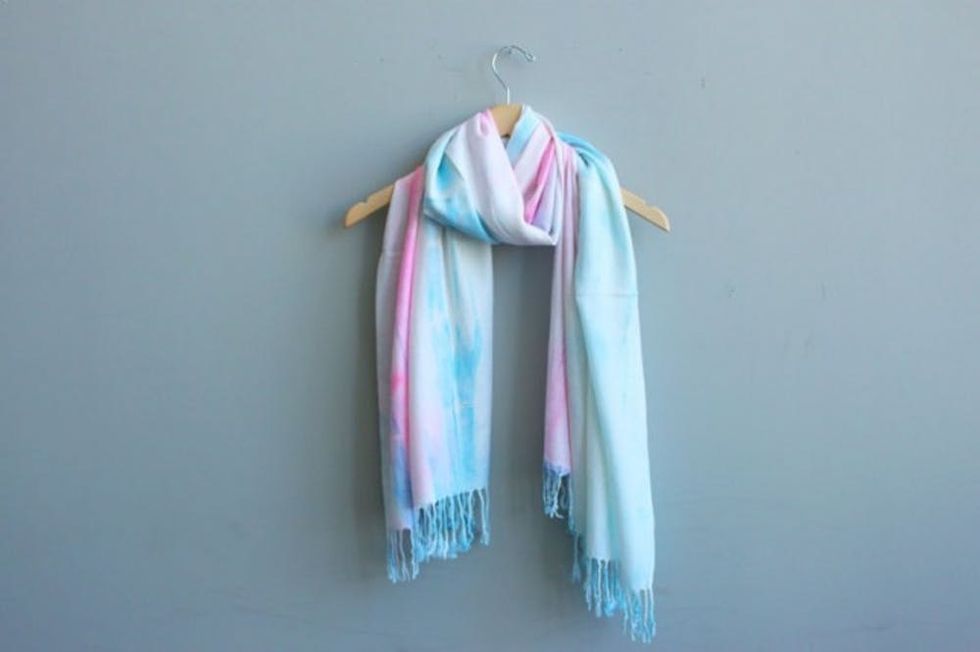 For our next scarf, we went for a little more of a tie dye effect using Sky Blue and Hot Pink tumble dye. Start by folding your scarf in half and then tie off sections using rubber bands. Generously spray with Sky Blue Tumble Dye. Remove bands and repeat on the back of the scarf. Unfold scarf and lay flat. Create an offset stripe with the Hot Pink Tumble Dye.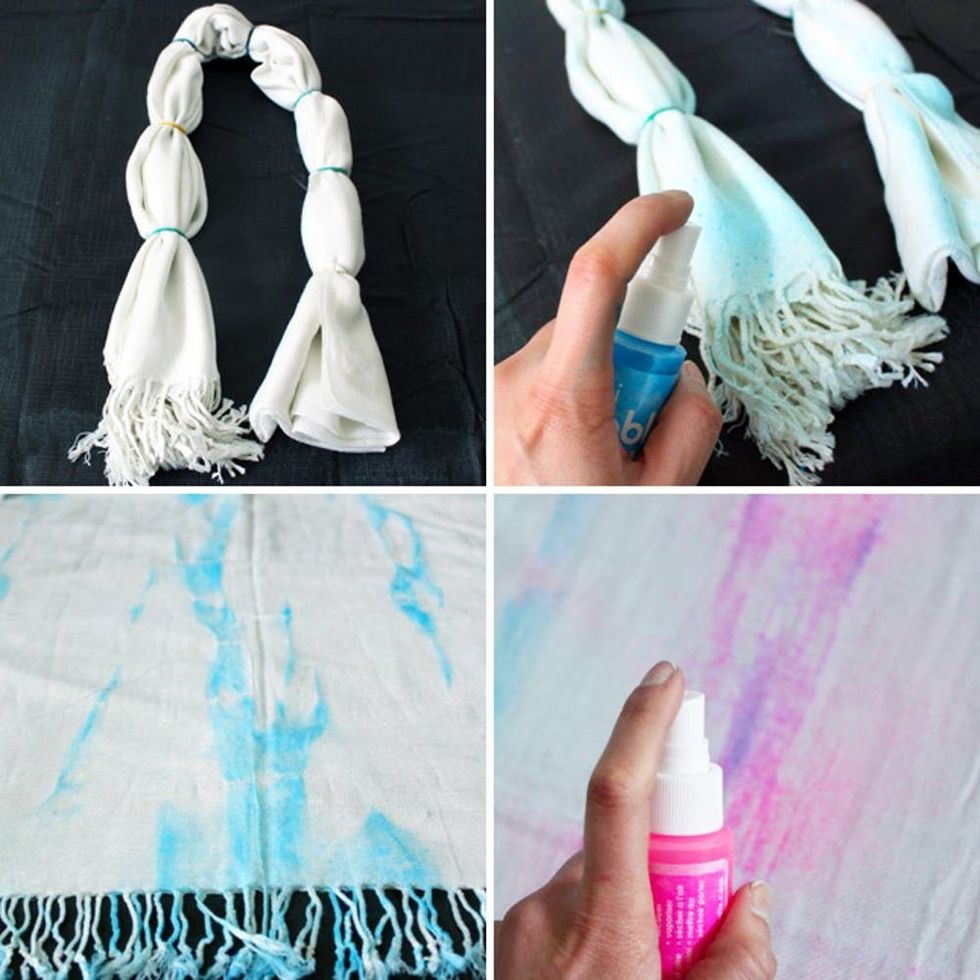 Lavender Chevron Scarf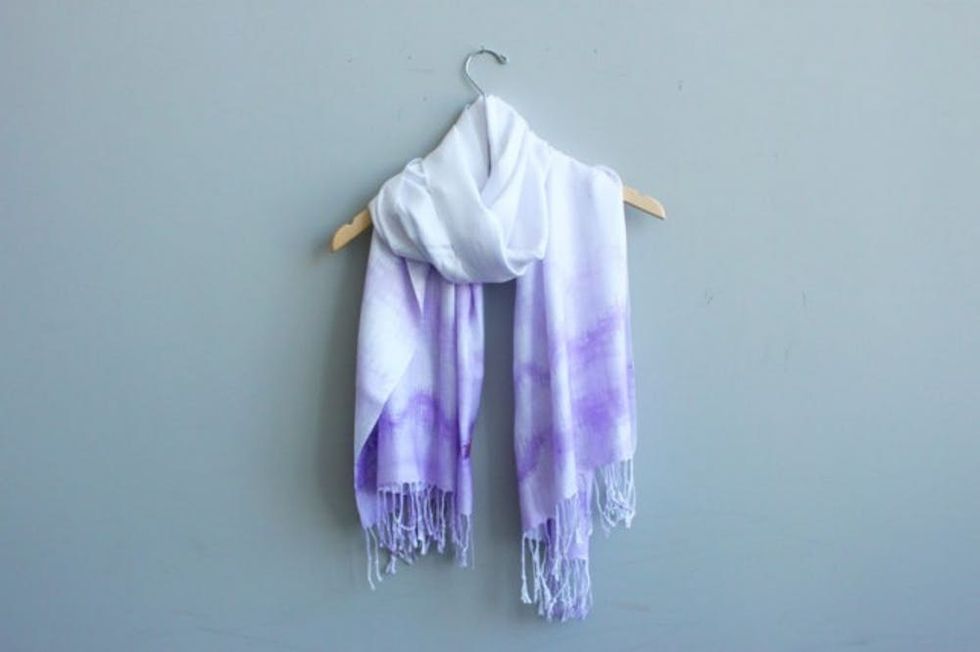 The Lavender Chevron Scarf uses a combo of the Lavender Tumble Dye and Violet Dye-Na-Flow. Apply a heavier layer of Tumble dye at the bottom edges of the scarf and lighten the spray towards the middle. Apply Dye-Na-Flow to the foam brush and create a chevron row at the bottom edge. Apply Dye-Na-Flow to the foam brush again but this time dip in some water to dilute the color. Create another chevron row. Repeat one more time and dilute dye with even more water for the third chevron row. Repeat on the other end.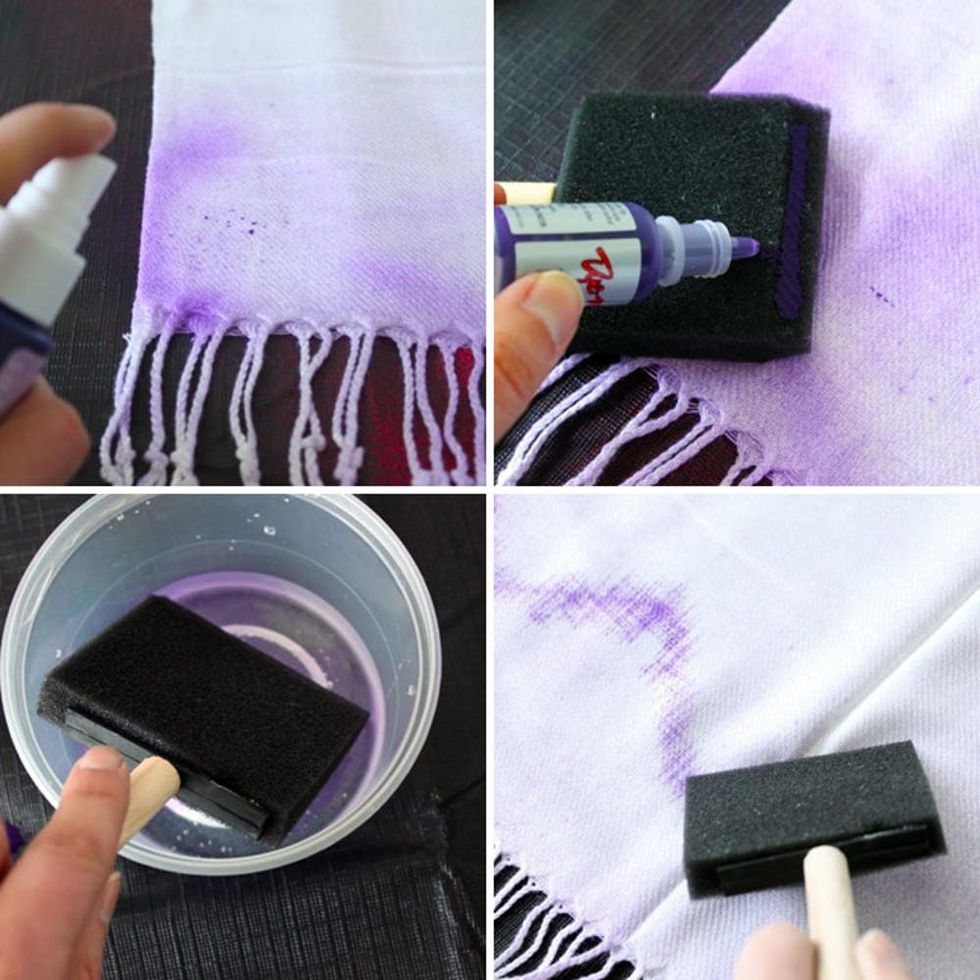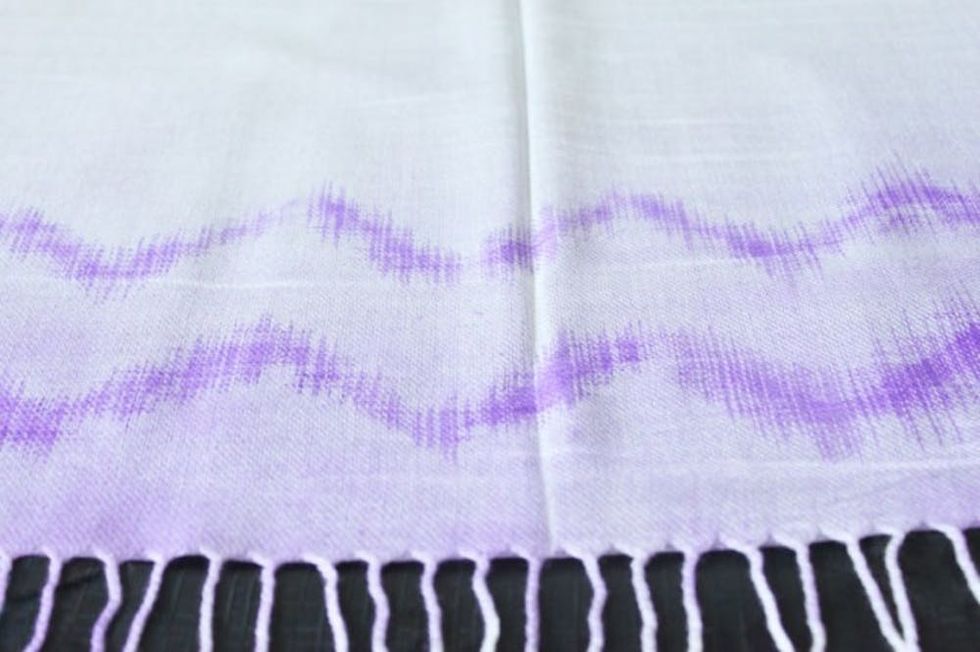 Ikat Print Scarf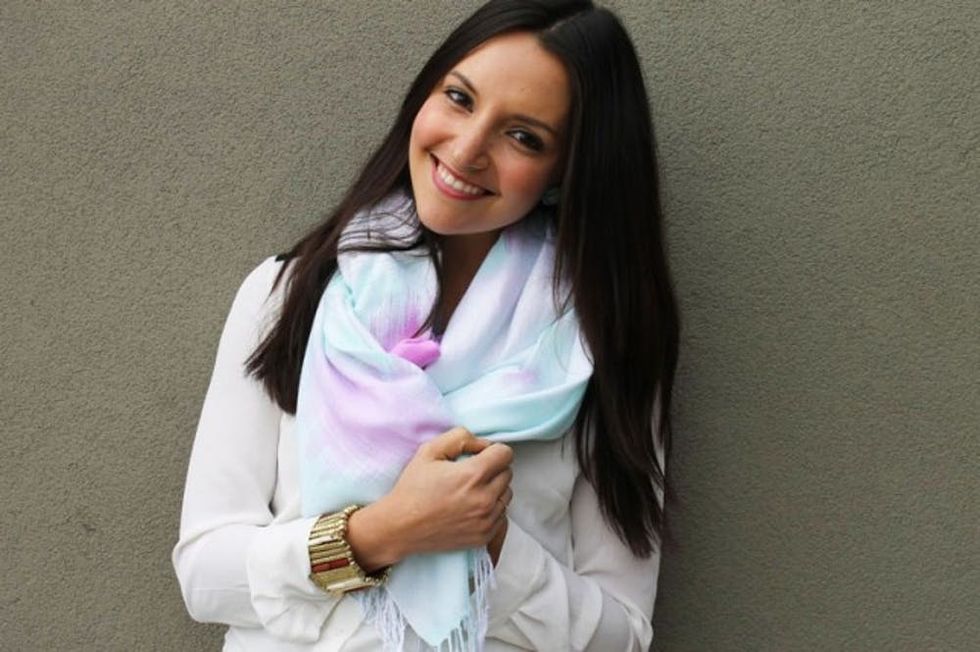 The Ikat Print Scarf also uses the double power of Mint Green Tumble Dye and Magenta Dye-Na-Flow. Apply the Magenta Dye-Na-Flow to the brush and dilute slightly with water. Use the brush to create a large diamond pattern across the entire scarf. Take the Mint Green Tumble Dye and spray around each diamond to create a second layer of color for the ikat effect.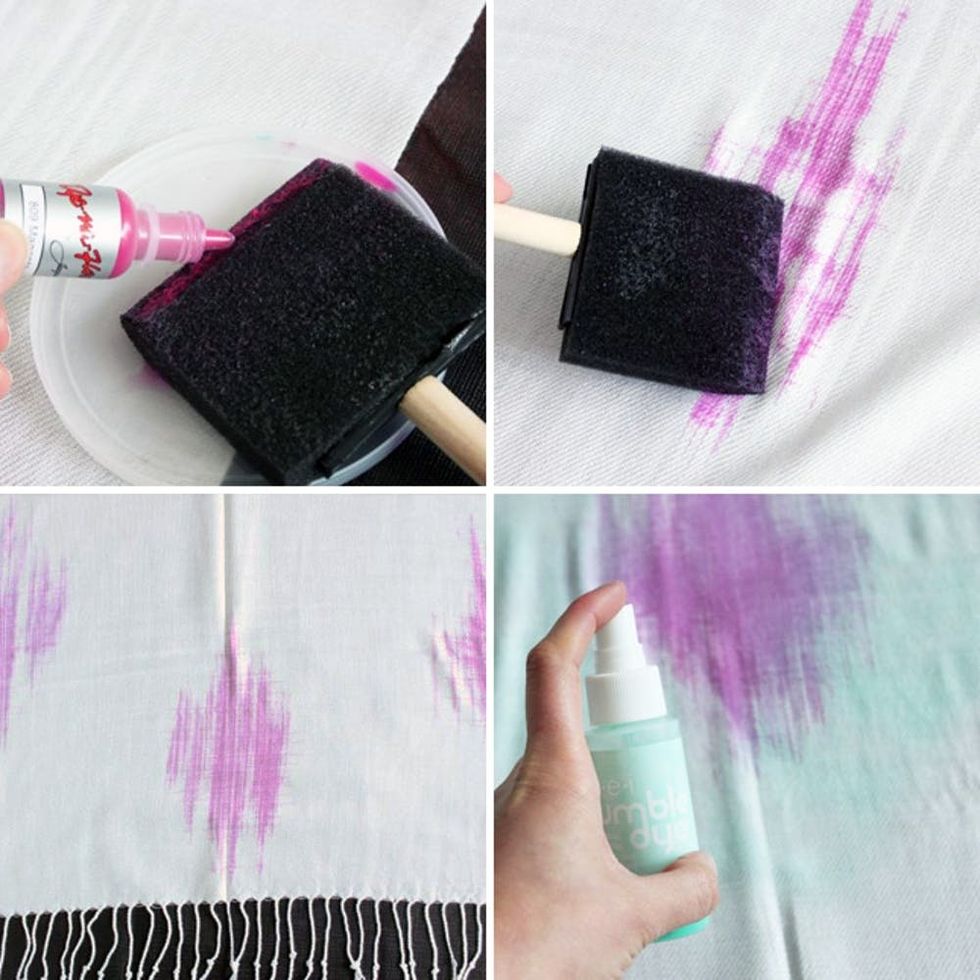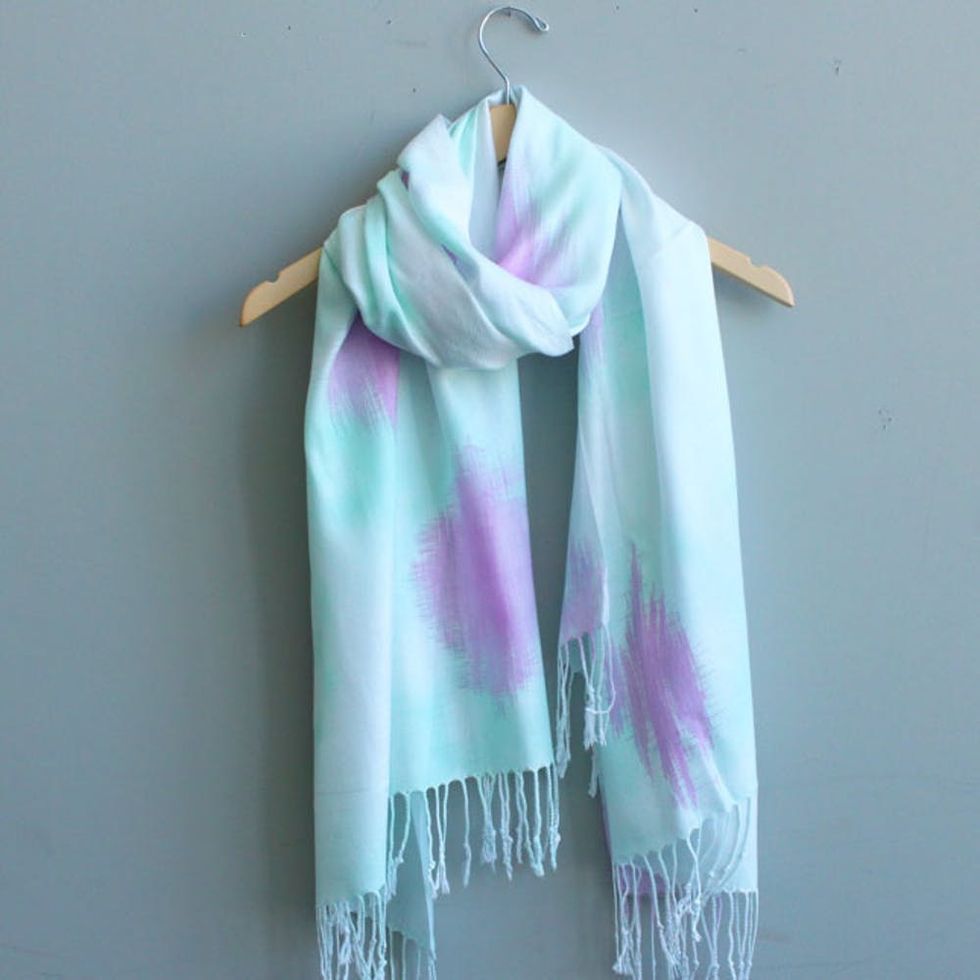 Look at all those lovely spring scarves!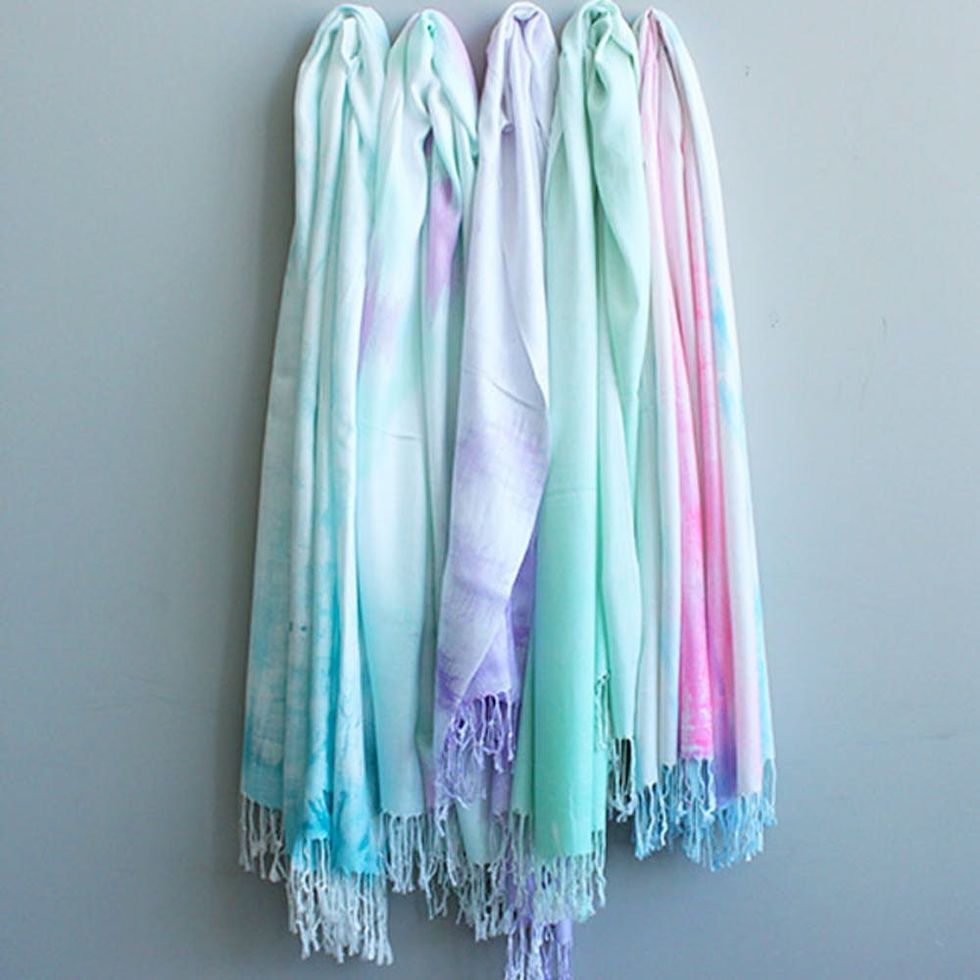 What do you think about our easy DIY Dyed Scarves? Let us know in the comments section below. And if you make our scarves, send us a pic on Facebook or Twitter.
Sarah Jones
Sarah is a former Brit + Co-er who is the woman behind Miss Jones Baking Co., a modern American baking brand and maker of the first-ever organic ready-to-use frostings and complementary line of organic baking mixes.