The (Holiday) Dude Abides: Make This Peppermint Pattie White Russians Recipe
Dec 13, 2012
Did you know that it's holiday cocktail week at Brit HQ? Sure, every week might seem like cocktail week… but this one's the real deal. While watching the Big Lebowski a couple weeks ago, we thought to ourselves, "how can we make the classic White Russian more Christmas-y?" The answer? York Peppermint Patties. Clearly.
---
Presenting our latest tipsy creation: The Peppermint Pattie White Russian.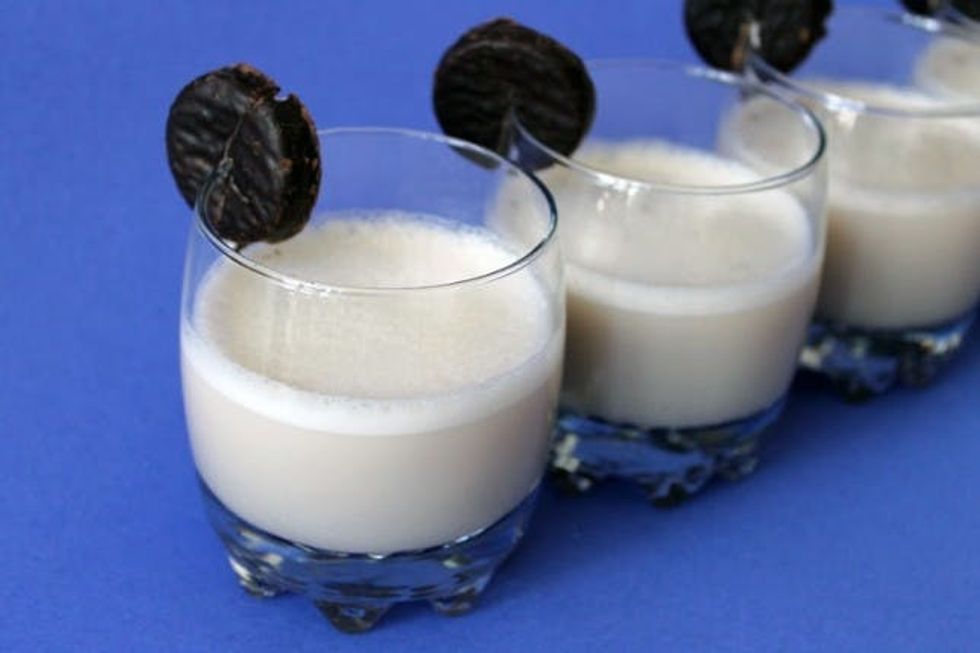 If you're a White Russian purist, you may scoff at the fact that this drink is shaken and strained. But, we still think The Dude would abide :)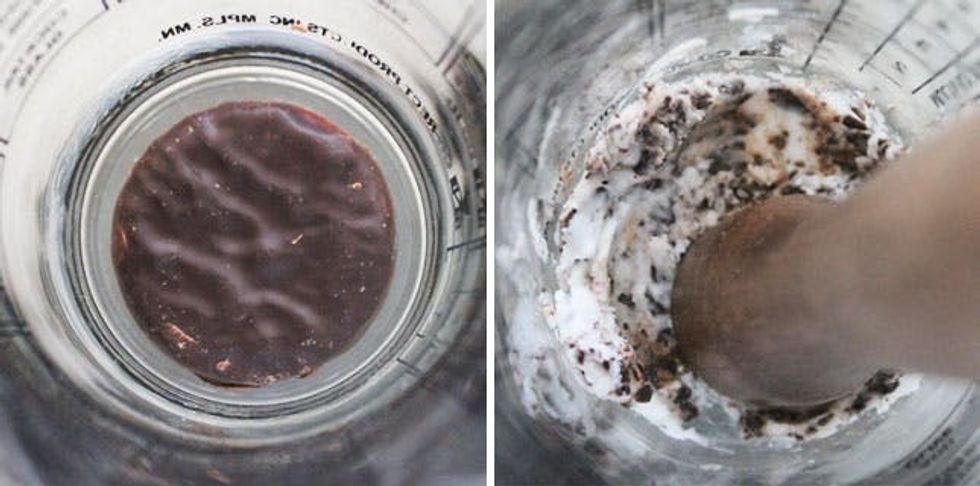 Ingredients (makes 1 drink)
– 2 York peppermint patties
– 1 oz Peppermint Mocha Kahlua
– 2 oz vodka
– 4 oz low fat milk
Take one pattie and place it in a glass. Now, muddle! Muddle, muddle, muddle.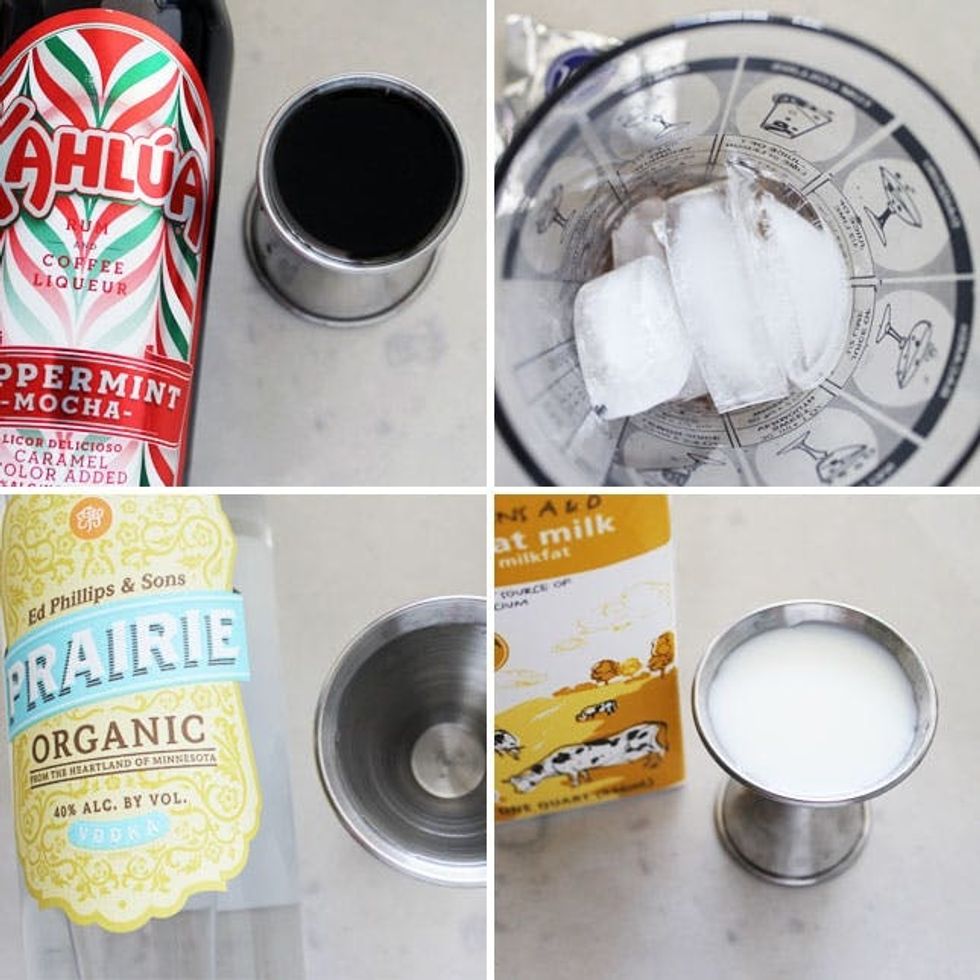 Add 1 oz of Kahlua. Muddle some more. Now add ice, 2 oz of vodka, and 4 oz of milk.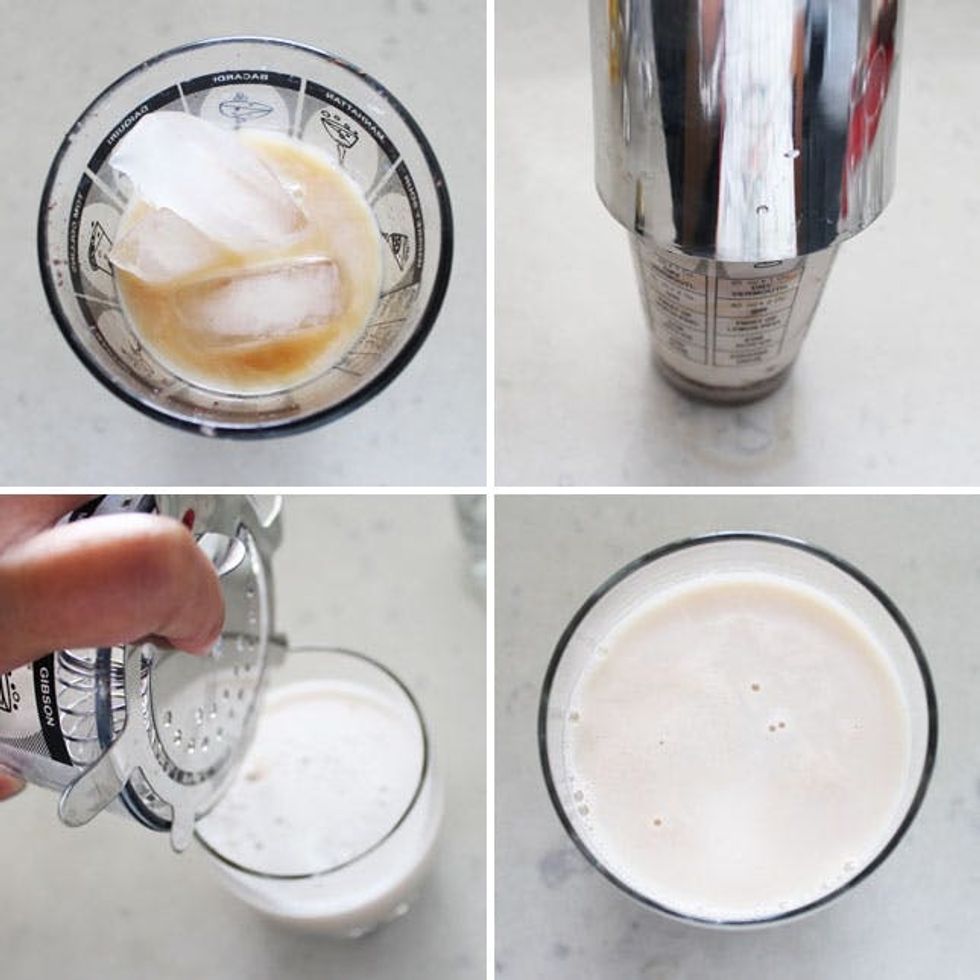 Shake it! Shake, shake, shake, and strain into a tumbler.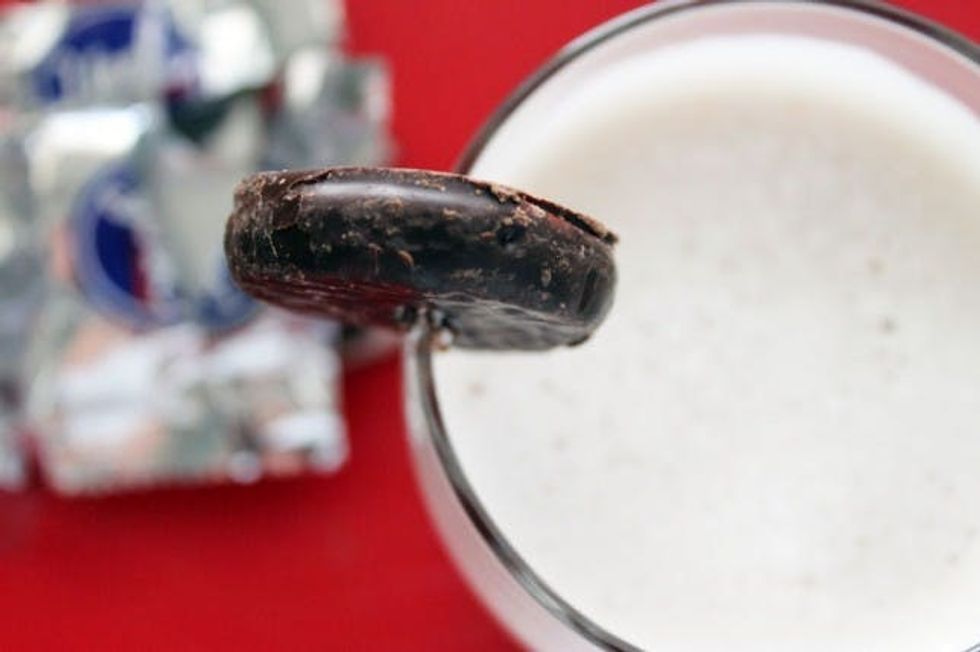 Take your second peppermint pattie and cut it halfway up and use as garnish. Voila!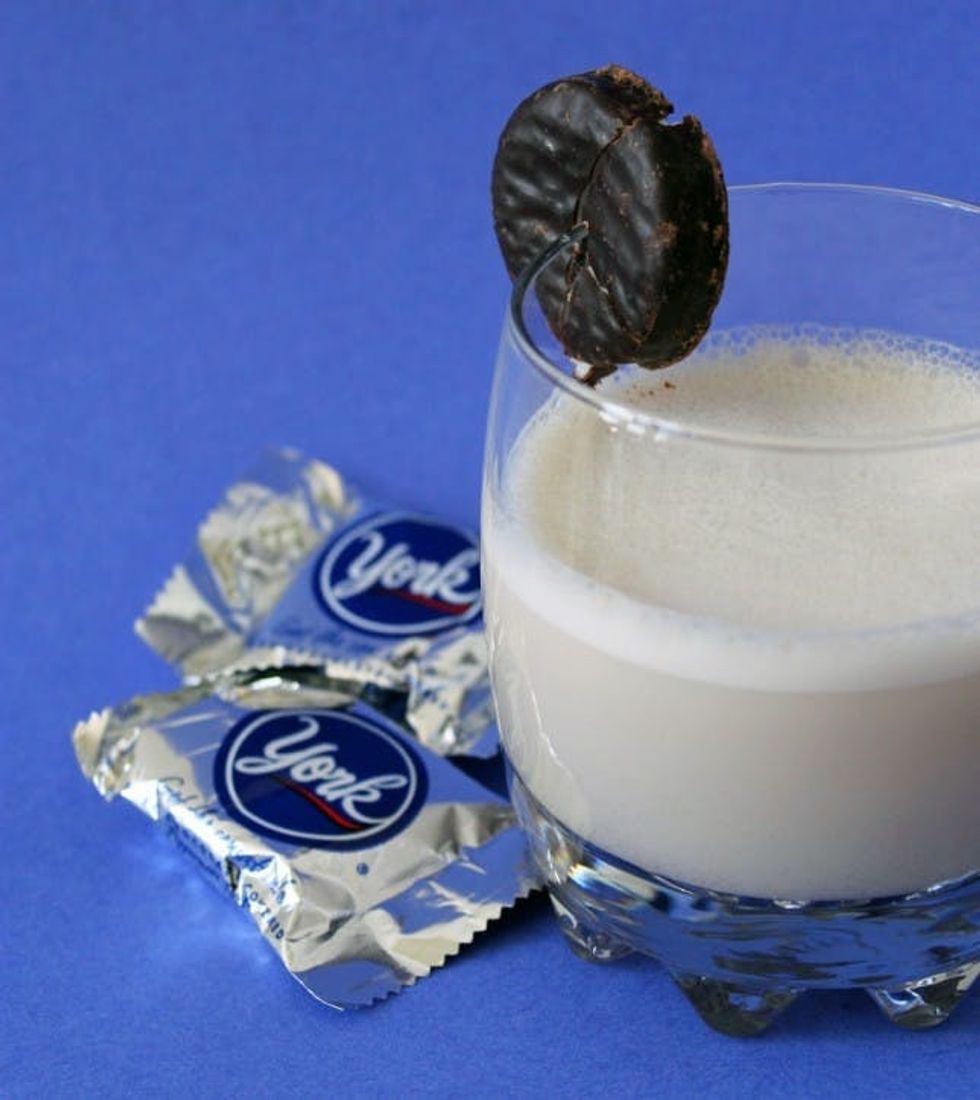 Peppermint Pattie White Russians!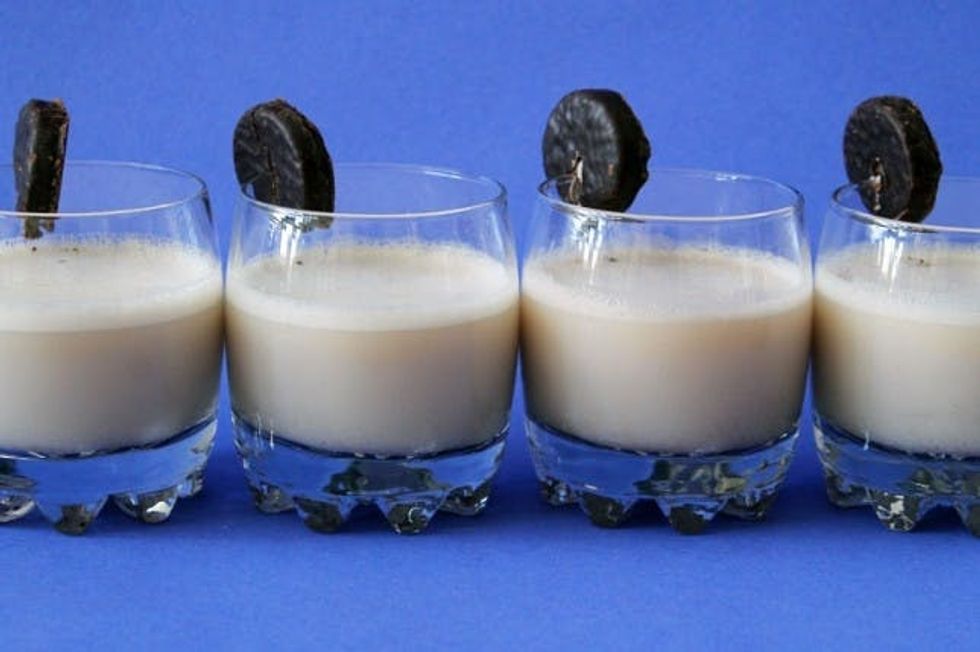 Yum!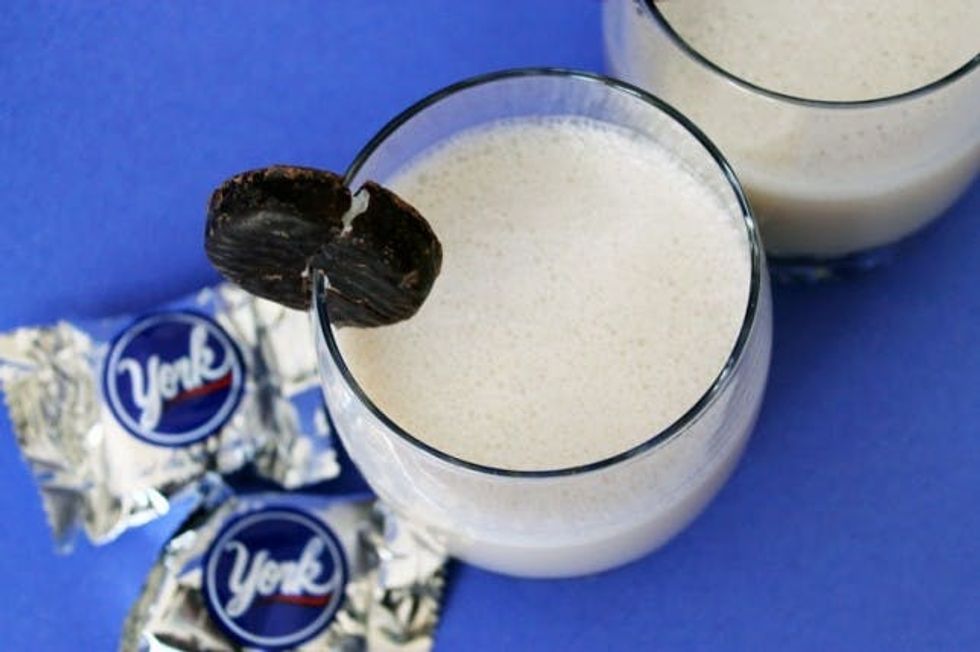 One of these'll get you toasty enough to brave that blind date – we promise ;)
Anjelika Temple
As Co-Founder and Chief Creative Officer of Brit + Co, Anjelika Temple brings her voracious consumption of all things creative and colorful to DIY projects, geeky gadgetry finds and more. When she's not DIY-ing her heart out, you'll find her throwing dinner parties with friends or adventuring with her husband David, their daughters Anokhi and Indira, and their silly dog Turkey.
DIY Recipes
Our undergarments might have taken a backseat in 2020, but with a new year upon us, we're feeling inspired to reprioritize our most intimate clothing layer — especially in time for Valentine's Day. Because hey, what better way to kickstart a season of self-love than by treating yourself to a confidence-boosting set of lingerie?
<p>We turned to trusted intimates brand <a href="https://www.adoreme.com/?utm_source=cj&utm_medium=aff&utm_campaign=Britandco" target="_blank">Adore Me</a> to set us straight on trends for the year ahead, featuring size-inclusive bodysuits, romantic bustiers, lacy babydoll styles, and everything in between. Luxe sets start at $24.95 with free shipping and exchanges, and if you're not sure what style would work best for you, Adore Me has an at-home styling service called the <a href="https://www.adoreme.com/try-adoreme-elite?utm_source=cj&utm_medium=aff&utm_campaign=Britandco" target="_blank">Elite Box</a>. You can try everything on from the comfort and safety of your home, keep what you love, and send back the rest totally hassle-free. Need more to pique your interest? Scroll ahead to see the silky lingerie and loungewear pieces we're adding to our cart. </p>
<img lazy-loadable="true" data-runner-src="https://assets.rebelmouse.io/eyJhbGciOiJIUzI1NiIsInR5cCI6IkpXVCJ9.eyJpbWFnZSI6Imh0dHBzOi8vYXNzZXRzLnJibC5tcy8yNTQ0NTA0NS9vcmlnaW4uanBnIiwiZXhwaXJlc19hdCI6MTY3Mjc1NDk0OX0.T-0iSPRDNmtwJHHzY9Drh3ex4qVdqymsonBRG5mYsYw/img.jpg?width=980" id="750e0" class="rm-shortcode" data-rm-shortcode-id="e23d365d40c606f1dad6f62d9ee43f21" data-rm-shortcode-name="rebelmouse-image" data-width="1256" data-height="1600" /><p><a href="https://www.adoreme.com/early-access/svana-novelty-pink-plus?utm_source=cj&amp;utm_medium=aff&amp;utm_campaign=Britandco" target="_blank">Adore Me</a> Svana Contour Set ($24.95): You can't go wrong with this playful satin cherry print and lace design. </p>
<img lazy-loadable="true" data-runner-src="https://assets.rebelmouse.io/eyJhbGciOiJIUzI1NiIsInR5cCI6IkpXVCJ9.eyJpbWFnZSI6Imh0dHBzOi8vYXNzZXRzLnJibC5tcy8yNTQ0NTA3MC9vcmlnaW4uanBnIiwiZXhwaXJlc19hdCI6MTYyNjg2NzY3NX0.zntWcBFNRKMy2O7HBq8Pnh06tRcefaK9N0EzNAk0OW0/img.jpg?width=980" id="36dd5" class="rm-shortcode" data-rm-shortcode-id="3521a9a05152f1fc16e43f055a643a5c" data-rm-shortcode-name="rebelmouse-image" data-width="1600" data-height="2039" /><p><a href="https://www.adoreme.com/early-access/luana-black-plus?utm_source=cj&amp;utm_medium=aff&amp;utm_campaign=Britandco" target="_blank">Adore Me</a> Luana Camisole &amp; Short Set ($24.95): It was about time for a PJ upgrade, and this silky set is perfect for sweet dreamin' and lounging around the house. </p>
<div class="htl-ad" data-unit="contentbanner" data-sizes="0x0:1x1,1x2,4x4,320x100,300x250|970x0:1x1,1x2,4x4,300x250,728x90" data-prebid="0x0:contentbanner_mobile|970x0:pagebreak_desktop" data-refresh="viewable" data-refresh-secs="30" data-targeting='{"pos":"1","post_id": "{{post.id}}"}' ></div> <div id="teads-ad"></div>
<img lazy-loadable="true" data-runner-src="https://assets.rebelmouse.io/eyJhbGciOiJIUzI1NiIsInR5cCI6IkpXVCJ9.eyJpbWFnZSI6Imh0dHBzOi8vYXNzZXRzLnJibC5tcy8yNTQ0NTA3NC9vcmlnaW4uanBnIiwiZXhwaXJlc19hdCI6MTYxMzcyMzU1Nn0.cx4dl9G_cA3aYUHY1JBfFUDnoBKs65ysv8dy1x48zoQ/img.jpg?width=980" id="e8cf9" class="rm-shortcode" data-rm-shortcode-id="7767ef0fee0623359bcba7514d428ae2" data-rm-shortcode-name="rebelmouse-image" data-width="1600" data-height="2039" /><p><a href="https://www.adoreme.com/early-access/gynger-dark-red?utm_source=cj&amp;utm_medium=aff&amp;utm_campaign=Britandco" target="_blank">Adore Me</a> Gynger Unlined Set ($24.95): Va-va-voom! Hands-down the sexiest piece in the collection, this bra boasts a fiery red bow and skin-showing cups — literally confidence in a bra!</p>
<img lazy-loadable="true" data-runner-src="https://assets.rebelmouse.io/eyJhbGciOiJIUzI1NiIsInR5cCI6IkpXVCJ9.eyJpbWFnZSI6Imh0dHBzOi8vYXNzZXRzLnJibC5tcy8yNTQ0NTA0NC9vcmlnaW4uanBnIiwiZXhwaXJlc19hdCI6MTY0MTAzOTk3OH0.iOySK8TVY4js74a-l_QhdubaoUOIOzg3Z2NbcKwJEr4/img.jpg?width=980" id="c798c" class="rm-shortcode" data-rm-shortcode-id="42f934552d9ca6b7570b6799ce076ba7" data-rm-shortcode-name="rebelmouse-image" data-width="1200" data-height="1597" /><p><a href="https://www.adoreme.com/early-access/evetta-black?utm_source=cj&amp;utm_medium=aff&amp;utm_campaign=Britandco" target="_blank">Adore Me</a> Evetta Unlined Set ($24.95): This barely-there flouncy lace set is for when you'd almost rather wear nothing at all. </p>
<div class="htl-ad" data-unit="contentbanner" data-sizes="0x0:1x1,1x2,4x4,320x100,300x250|970x0:1x1,1x2,4x4,300x250,728x90" data-prebid="0x0:contentbanner_mobile|970x0:pagebreak_desktop" data-refresh="viewable" data-refresh-secs="30" data-targeting='{"pos":"2","post_id": "{{post.id}}"}' ></div>
<img lazy-loadable="true" data-runner-src="https://assets.rebelmouse.io/eyJhbGciOiJIUzI1NiIsInR5cCI6IkpXVCJ9.eyJpbWFnZSI6Imh0dHBzOi8vYXNzZXRzLnJibC5tcy8yNTQ0NTA3NS9vcmlnaW4uanBnIiwiZXhwaXJlc19hdCI6MTYzNzUwNDcxNX0.LUbA9ODzEuis2mTDRHcnE1Tzzzz8Y-XMIDfv78OAM_g/img.jpg?width=980" id="7232e" class="rm-shortcode" data-rm-shortcode-id="85fb6e0488932c371e03f3bcac10429d" data-rm-shortcode-name="rebelmouse-image" data-width="1600" data-height="2039" /><p><a href="https://www.adoreme.com/early-access/desirae-black?utm_source=cj&amp;utm_medium=aff&amp;utm_campaign=Britandco" target="_blank">Adore Me</a> Desirae Robe ($24.95): Take your self-care to the next level with this so-soft robe with subtle lace detailing. </p>
<img lazy-loadable="true" data-runner-src="https://assets.rebelmouse.io/eyJhbGciOiJIUzI1NiIsInR5cCI6IkpXVCJ9.eyJpbWFnZSI6Imh0dHBzOi8vYXNzZXRzLnJibC5tcy8yNTQ0NTA4OC9vcmlnaW4uanBnIiwiZXhwaXJlc19hdCI6MTY2NzMwMjkyOH0.zRjvGB0rLCuIP4gX-jW6oCYvINi4mNzgzR2TJpMNwFo/img.jpg?width=980" id="10f03" class="rm-shortcode" data-rm-shortcode-id="2a0a7dd49981832e2af2b10785ad6885" data-rm-shortcode-name="rebelmouse-image" data-width="1600" data-height="2039" /><p><a href="https://www.adoreme.com/early-access/clarisse-dark-red?utm_source=cj&amp;utm_medium=aff&amp;utm_campaign=Britandco" target="_blank">Adore Me</a> Clarisse Unlined Bodysuit ($24.95): This floral lace bodysuit with adjustable attached garters is straight out of our lingerie fantasy. </p>
<div class="htl-ad" data-unit="contentbanner" data-sizes="0x0:1x1,1x2,4x4,320x100,300x250|970x0:1x1,1x2,4x4,300x250,728x90" data-prebid="0x0:contentbanner_mobile|970x0:pagebreak_desktop" data-refresh="viewable" data-refresh-secs="30" data-targeting='{"pos":"3","post_id": "{{post.id}}"}' ></div>
<img lazy-loadable="true" data-runner-src="https://assets.rebelmouse.io/eyJhbGciOiJIUzI1NiIsInR5cCI6IkpXVCJ9.eyJpbWFnZSI6Imh0dHBzOi8vYXNzZXRzLnJibC5tcy8yNTQ0NTA4NS9vcmlnaW4uanBnIiwiZXhwaXJlc19hdCI6MTY1NjM4ODM1MH0.zH9K2d9SSIP2ufimzS7f0KY0sjczpQM5tjX47VmCGio/img.jpg?width=980" id="e5a6a" class="rm-shortcode" data-rm-shortcode-id="5513f8772e3443227465deab60f83578" data-rm-shortcode-name="rebelmouse-image" data-width="1600" data-height="2038" /><p><a href="https://www.adoreme.com/early-access/charlize-dark-purple?utm_source=cj&amp;utm_medium=aff&amp;utm_campaign=Britandco" target="_blank">Adore Me</a> Charlize Unlined Set ($24.95): If plum is more your power color, you'll love this sheer lace set. </p>
<img lazy-loadable="true" data-runner-src="https://assets.rebelmouse.io/eyJhbGciOiJIUzI1NiIsInR5cCI6IkpXVCJ9.eyJpbWFnZSI6Imh0dHBzOi8vYXNzZXRzLnJibC5tcy8yNTQ0NTI5Ni9vcmlnaW4uanBnIiwiZXhwaXJlc19hdCI6MTY2MTU1NDIxNH0.NxLxWQNSRAqR-CsOtOYv2UkAwMvqcxt3TY_a1fNiYTk/img.jpg?width=980" id="a5daa" class="rm-shortcode" data-rm-shortcode-id="d3b190fb22d9ad2252e6905bf24579c4" data-rm-shortcode-name="rebelmouse-image" data-width="1600" data-height="2039" /><p><a href="https://www.adoreme.com/early-access/helene-cheeky-novelty-pink-plus?utm_source=cj&amp;utm_medium=aff&amp;utm_campaign=Britandco" target="_blank">Adore Me</a> Helene Cheeky Plus (5 for $20): Our underwear drawer needs a little TLC too, and these comfy undies with coverage are the answer.</p>
<div class="htl-ad" data-unit="contentbanner" data-sizes="0x0:1x1,1x2,4x4,320x100,300x250|970x0:1x1,1x2,4x4,300x250,728x90" data-prebid="0x0:contentbanner_mobile|970x0:pagebreak_desktop" data-refresh="viewable" data-refresh-secs="30" data-targeting='{"pos":"4","post_id": "{{post.id}}"}' ></div>
<img lazy-loadable="true" data-runner-src="https://assets.rebelmouse.io/eyJhbGciOiJIUzI1NiIsInR5cCI6IkpXVCJ9.eyJpbWFnZSI6Imh0dHBzOi8vYXNzZXRzLnJibC5tcy8yNTQ0NTA5Ny9vcmlnaW4uanBnIiwiZXhwaXJlc19hdCI6MTY2MjI2Mjc1Nn0.ShdSR_diOzsfuLhyyrVsBjNJkNwWltlfGAaaB79wwJQ/img.jpg?width=980" id="de0ad" class="rm-shortcode" data-rm-shortcode-id="82b02b29ba95d80efe6c17e717da47a9" data-rm-shortcode-name="rebelmouse-image" data-width="1600" data-height="2039" /><p><a href="https://www.adoreme.com/early-access/kaia-black-plus?utm_source=cj&amp;utm_medium=aff&amp;utm_campaign=Britandco" target="_blank">Adore Me</a> Kaia Contour Plus Set ($24.95): Cutouts are all the rage, so why not have them in your underwear too? </p>
<img lazy-loadable="true" data-runner-src="https://assets.rebelmouse.io/eyJhbGciOiJIUzI1NiIsInR5cCI6IkpXVCJ9.eyJpbWFnZSI6Imh0dHBzOi8vYXNzZXRzLnJibC5tcy8yNTQ0NTA5MC9vcmlnaW4uanBnIiwiZXhwaXJlc19hdCI6MTYzMjcyMjc5NX0.sIfxdY7BYmPIg9R32FfNLQ52BIb5DO-Ezv-MQ99I550/img.jpg?width=980" id="59c73" class="rm-shortcode" data-rm-shortcode-id="505ced98850f9745345e811d3fcdb457" data-rm-shortcode-name="rebelmouse-image" data-width="1256" data-height="1600" /><p><a href="https://www.adoreme.com/early-access/kaia-dark-red?utm_source=cj&amp;utm_medium=aff&amp;utm_campaign=Britandco" target="_blank">Adore Me</a> Kaia Contour Set ($24.95): Oh, and it comes in fire engine red — yes, please!</p>
<div class="htl-ad" data-unit="contentbanner" data-sizes="0x0:1x1,1x2,4x4,320x100,300x250|970x0:1x1,1x2,4x4,300x250,728x90" data-prebid="0x0:contentbanner_mobile|970x0:pagebreak_desktop" data-refresh="viewable" data-refresh-secs="30" data-targeting='{"pos":"5","post_id": "{{post.id}}"}' ></div>
<img lazy-loadable="true" data-runner-src="https://assets.rebelmouse.io/eyJhbGciOiJIUzI1NiIsInR5cCI6IkpXVCJ9.eyJpbWFnZSI6Imh0dHBzOi8vYXNzZXRzLnJibC5tcy8yNTQ0NTA3Ny9vcmlnaW4uanBnIiwiZXhwaXJlc19hdCI6MTY2NzM3NjIxMn0.8GUX60PPhaVmQGR1jQEu4oMsCcgBbmJqHlA3d_T3ixQ/img.jpg?width=980" id="7777b" class="rm-shortcode" data-rm-shortcode-id="9d9e69ccdc812754849e5ecd14e8ba0f" data-rm-shortcode-name="rebelmouse-image" data-width="1600" data-height="2039" /><p><a href="https://www.adoreme.com/early-access/clarisse-black?utm_source=cj&amp;utm_medium=aff&amp;utm_campaign=Britandco" target="_blank">Adore Me</a> Clarisse Bodysuit ($24.95): If you weren't sure about bodysuits, let this classic style change your mind. </p>
<img lazy-loadable="true" data-runner-src="https://assets.rebelmouse.io/eyJhbGciOiJIUzI1NiIsInR5cCI6IkpXVCJ9.eyJpbWFnZSI6Imh0dHBzOi8vYXNzZXRzLnJibC5tcy8yNTQ0NTA5OC9vcmlnaW4uanBnIiwiZXhwaXJlc19hdCI6MTY2NzA2ODA1M30.O-uxdovAXLuUes8BqP4MMSdeFbfPe4XHueTzSAahQx0/img.jpg?width=980" id="c3d06" class="rm-shortcode" data-rm-shortcode-id="bd0391d1710d2c5c40e0a55baca41027" data-rm-shortcode-name="rebelmouse-image" data-width="1600" data-height="2039" /><p><a href="https://www.adoreme.com/early-access/corina-dark-red?utm_source=cj&amp;utm_medium=aff&amp;utm_campaign=Britandco" target="_blank">Adore Me</a> Corina Push Up Bustier ($24.95): Like more volume in the cleavage area? This sexy corset situation is for you. </p>
<div class="htl-ad" data-unit="contentbanner" data-sizes="0x0:1x1,1x2,4x4,320x100,300x250|970x0:1x1,1x2,4x4,300x250,728x90" data-prebid="0x0:contentbanner_mobile|970x0:pagebreak_desktop" data-refresh="viewable" data-refresh-secs="30" data-targeting='{"pos":"6","post_id": "{{post.id}}"}' ></div>
Fashion