This DIY Piñata Party Box Is the Ultimate New Year's Eve Party Favor
Dec 27, 2016
Planning a New Year's Eve party? Lucky for you, it's *actually* our job to help you have the best party ever, and we take this task very seriously. Today, we're teaming up with the Paper & Packaging — How Life Unfolds ™ campaign to bring you the latest (and can we say greatest? It's pretty great) DIY to make your last hours of 2016 a little more magical: piñata party favor boxes! Scroll on for a simple tutorial, a nifty photo booth trick *and* a free B+C printable.
---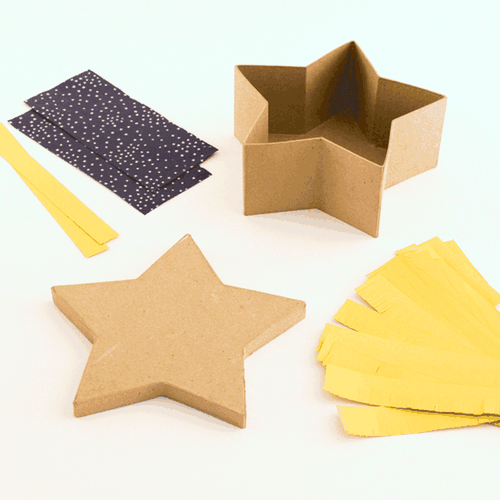 Materials + Tools:
Instructions: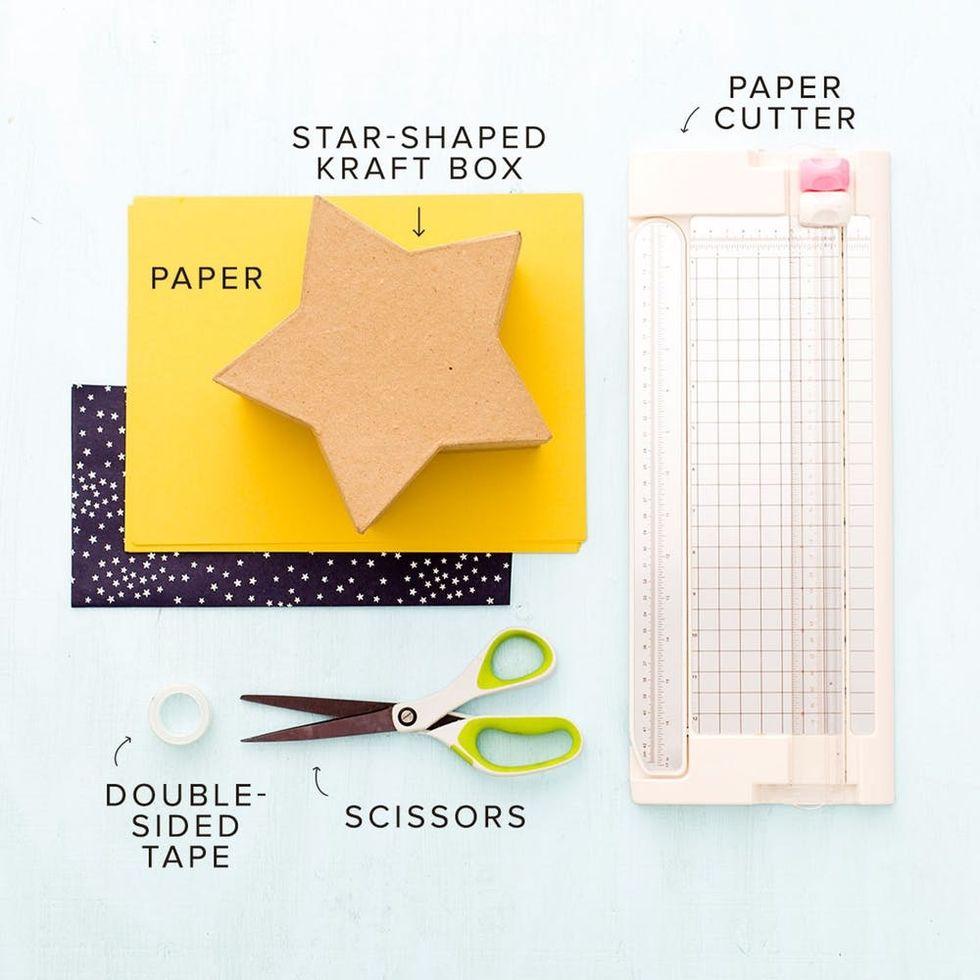 Let's do this!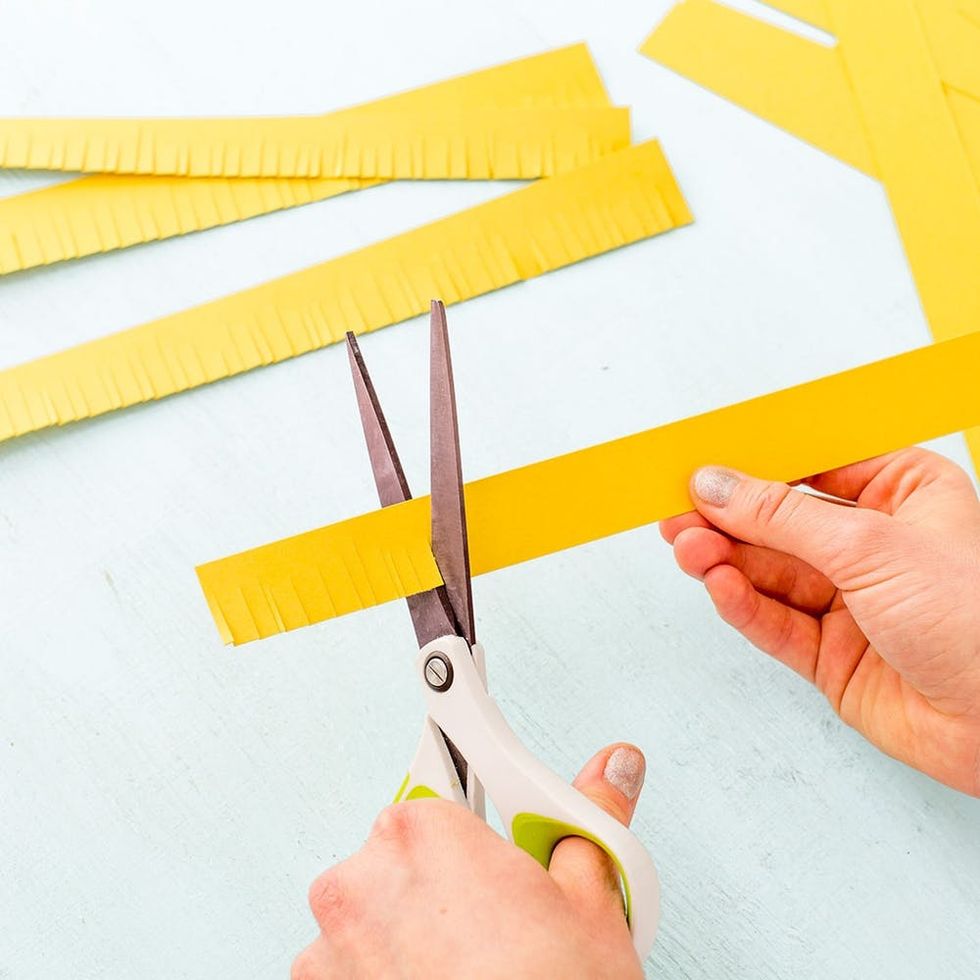 We'll start with construction paper. Using a paper cutter, cut the paper into two-inch wide strips. Then "fringe" the paper to give it a piñata effect. No need to be exact!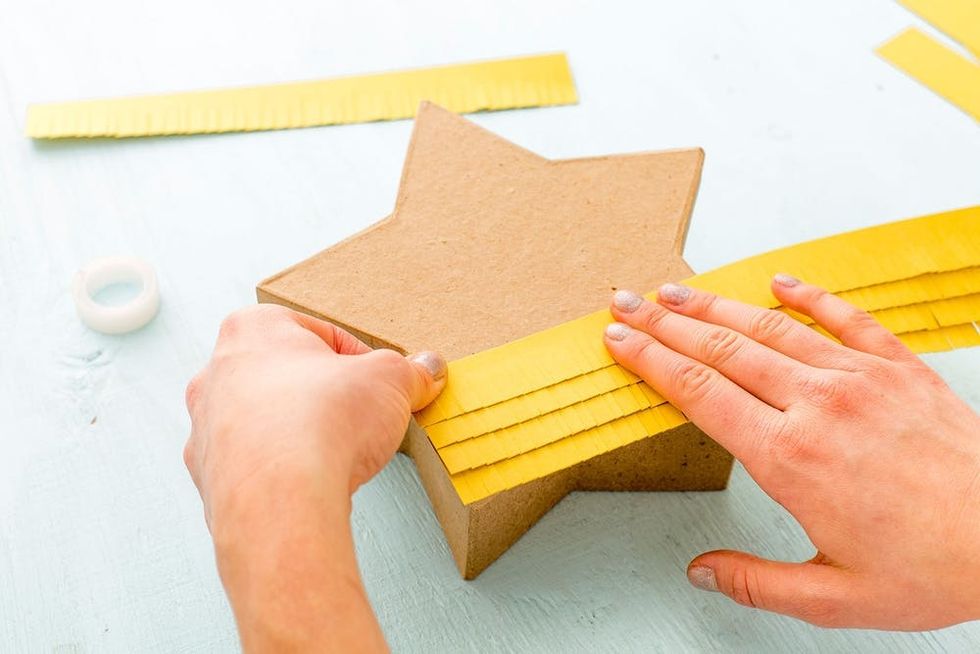 Layer the fringed paper strips, starting at the bottom of the box lid. Affix each strip with double-sided tape. You'll have some excess paper, but we'll show you what to do with that down the road :)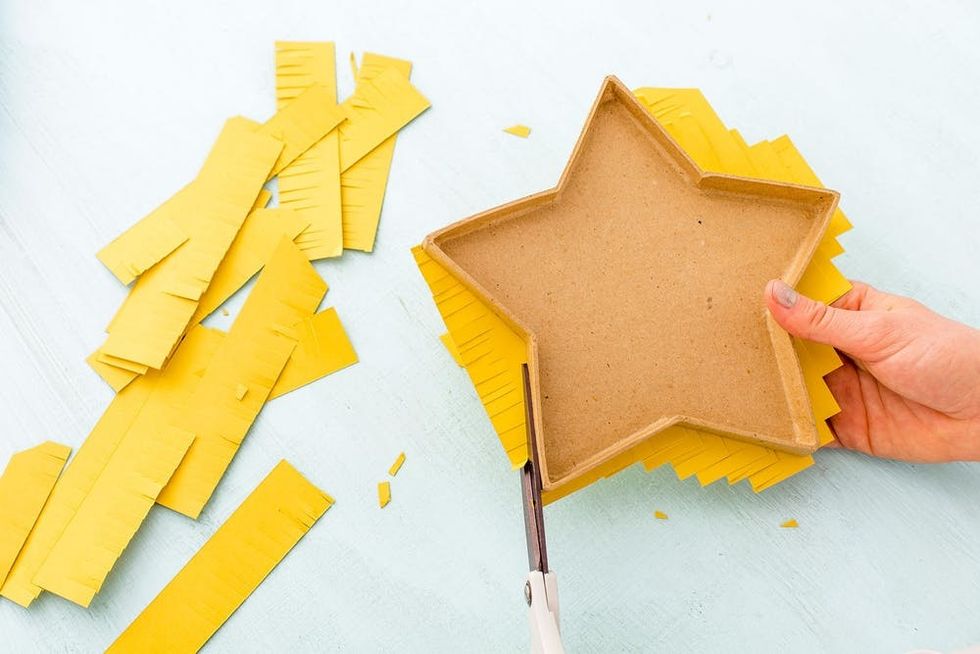 After you've covered the full lid, turn it over and trim the excess paper. If you find this is difficult to do with scissors, try using a utility knife on a cutting mat.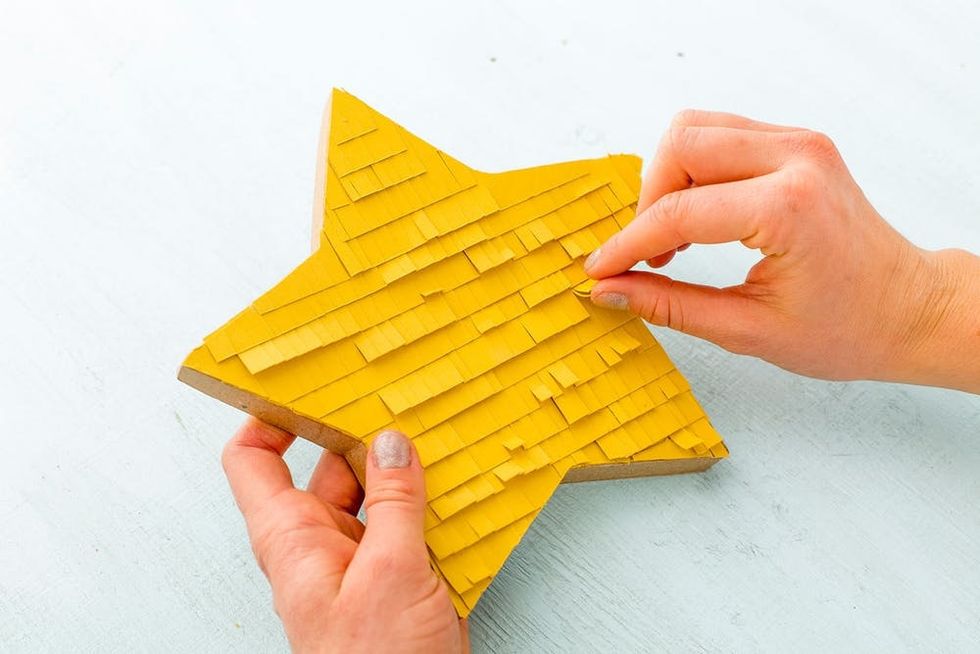 Ruffle up the fringe to give the lid a 3D effect.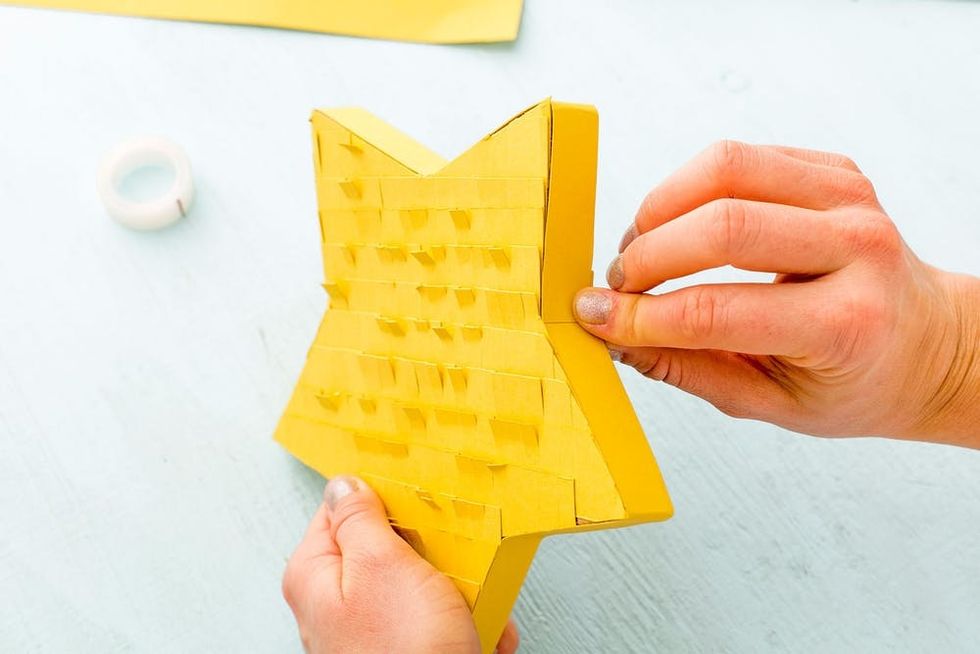 Add more construction paper to the side of the lid using double-stick tape.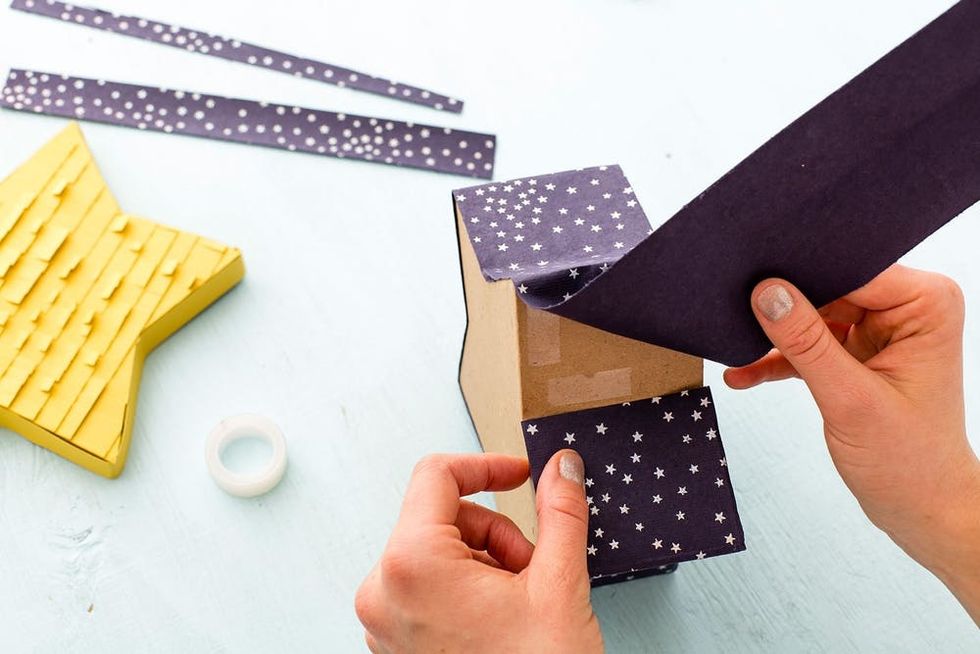 Cover the base of the box with a contrasting paper — we used scrapbook paper here. That's it!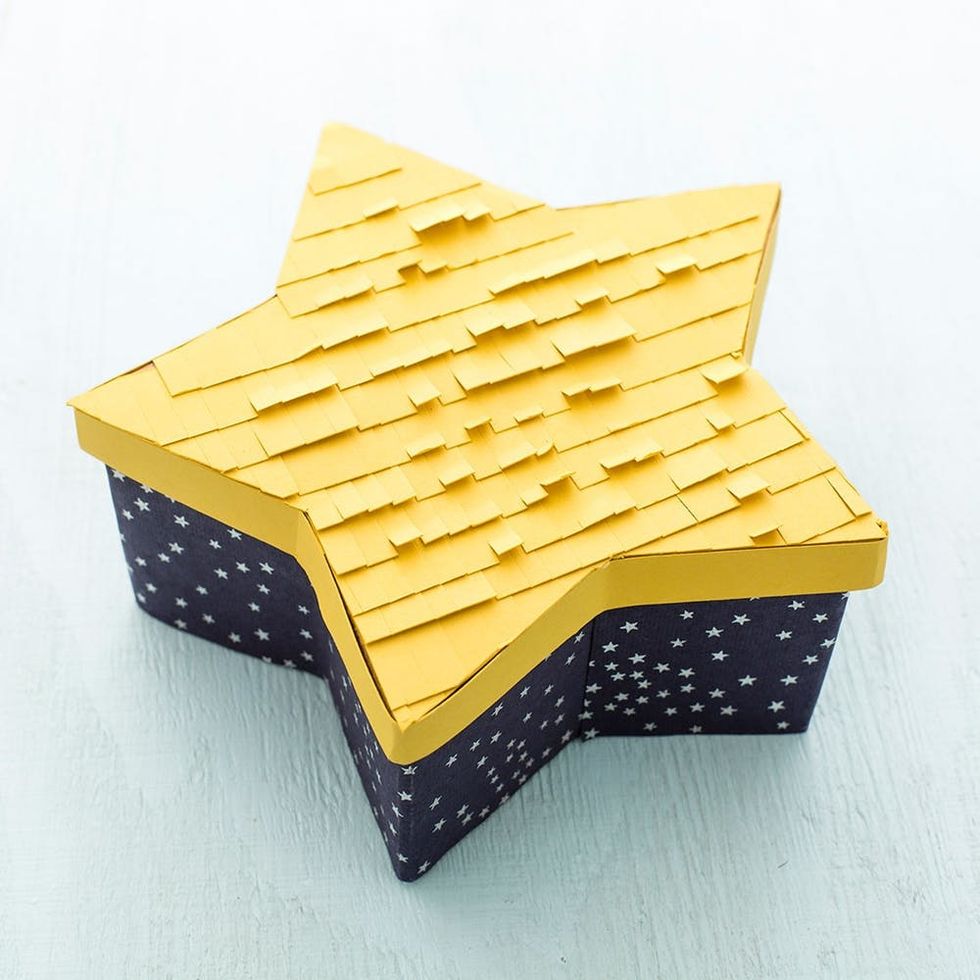 Bam! A star is born. (Forgive the indulgent pun.)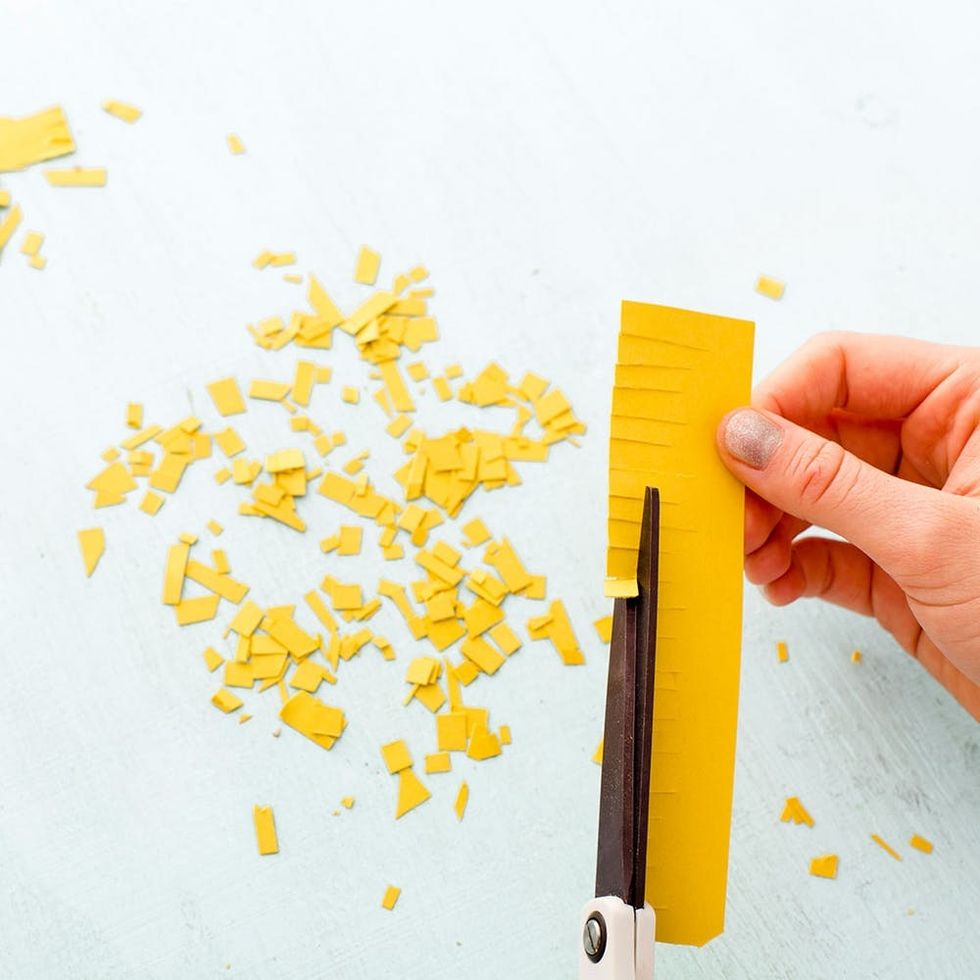 Psst — all that excess fringed paper is just *asking* to be made into confetti. Get to it!
Fill your piñata boxes with NYE fiesta essentials, like… DIY confetti cannons! We made these cuties out of paper towel rolls, bottle caps and springs, of all things! To make your own, affix some thread or fishing line to a bottle cap. Then glue the bottle cap to the base of a spring. Sandwich the spring with another bottle cap, then fit your contraption into the base of the decorated paper towel roll. Fill the cannon with confetti, then pull the string to pop!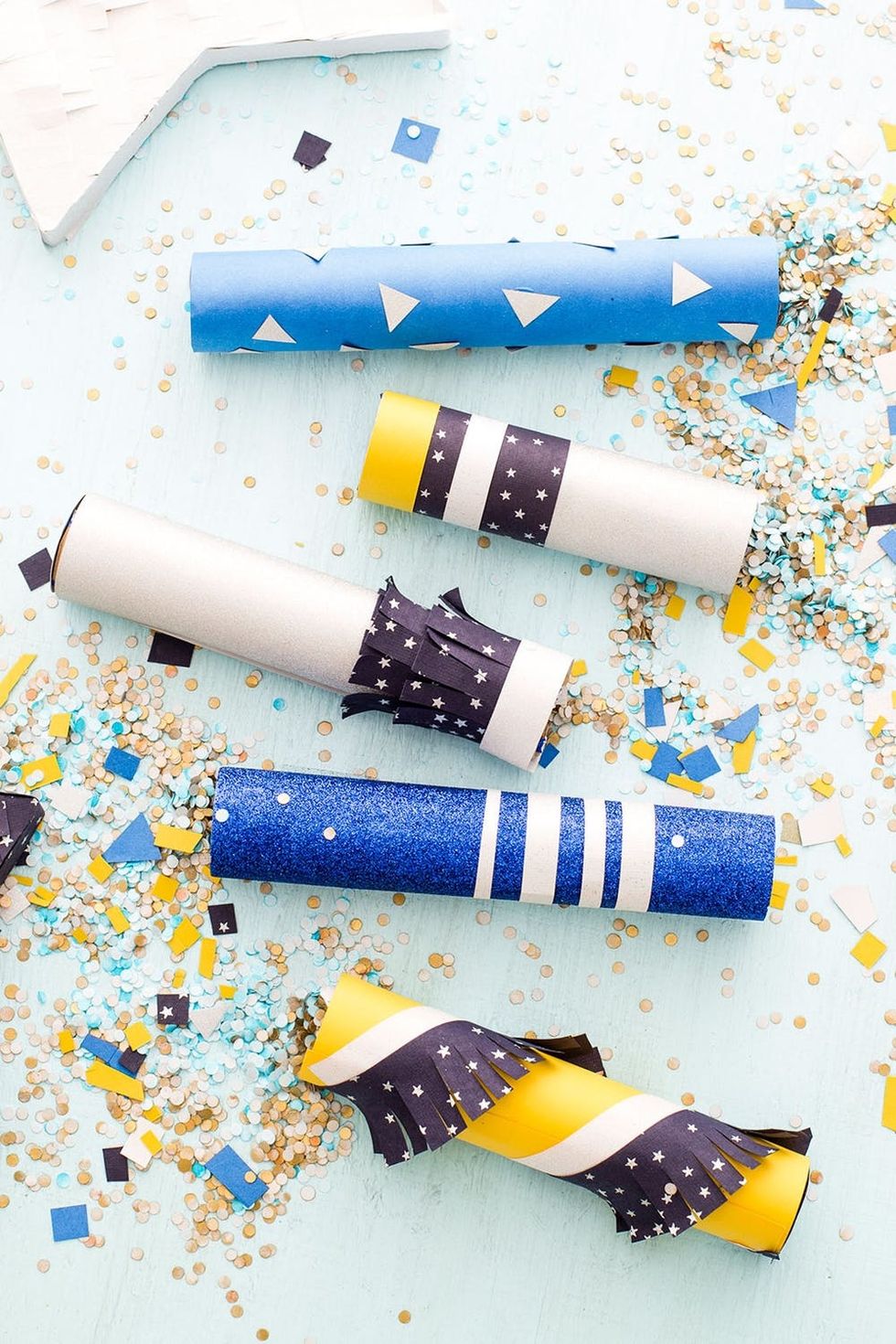 And because every outfit looks better with flair, we designed these adorable paper flair pins for The Big Night. Download the free B+C printable here, then cut 'em out and glue them to pin backs. Easy peasy party-wear!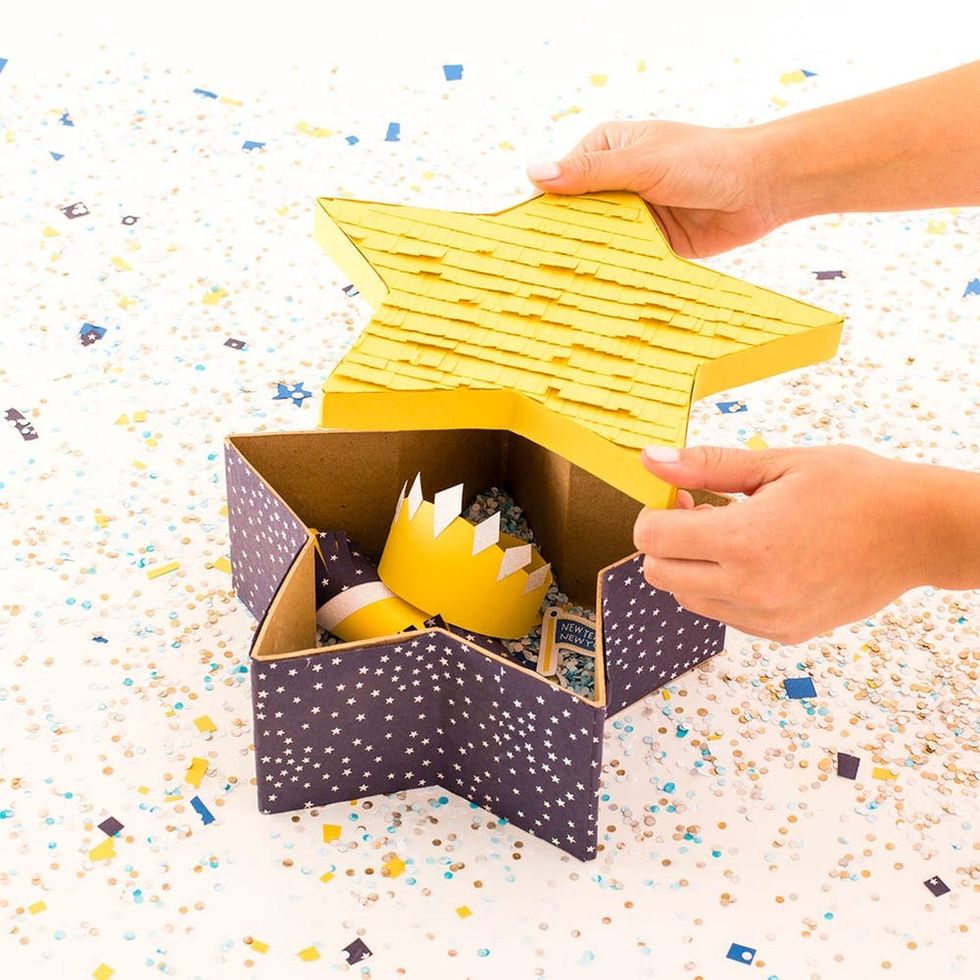 Lastly, whip together some paper crowns with paper and tape, then house all of your surprise treats in the favor box.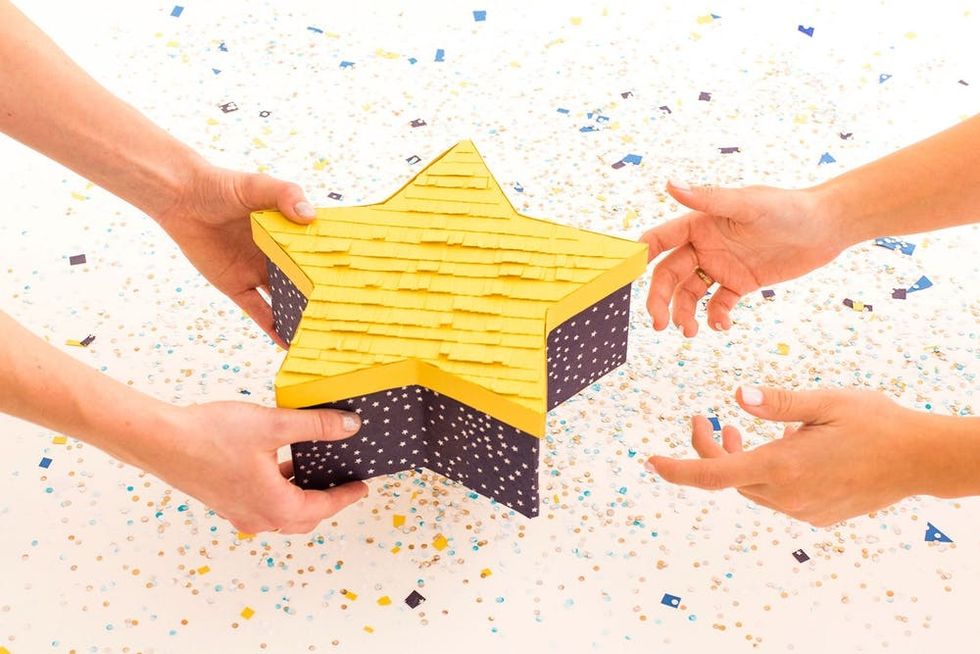 Be sure to gift 'em at the beginning of your party so your pals can have fun with the goodies inside!
BONUS: MAKE A PHOTO BOOTH!
The B+C handbook says EVERY party needs a photo booth! Turns out, those star favor boxes make a pretty rad photo backdrop, too. Once your gals have received their boxes, you can hang them with fishing line in front of a colorful wall for an instant photo op.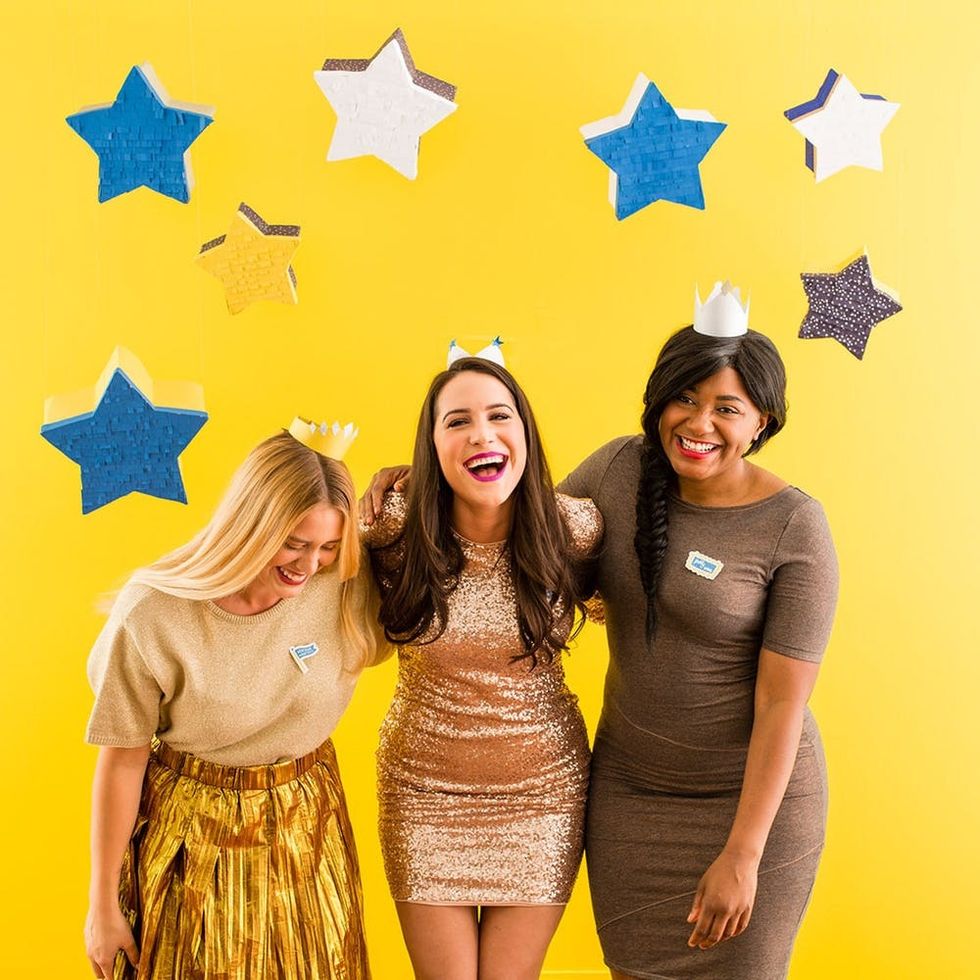 Neat, huh?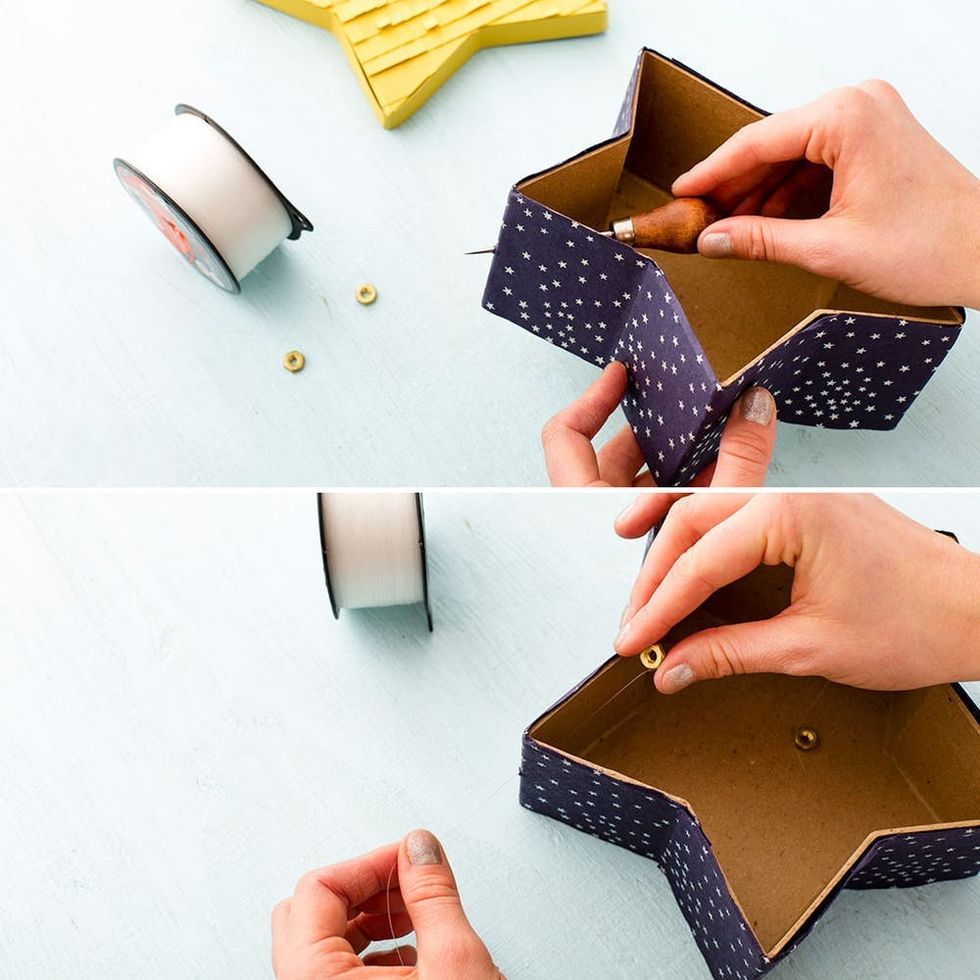 Using an awl (a skewer or nail will work too), poke holes in the center of a star point. Thread a long piece of fishing line through this hole. Then tie a washer to the inside end of fishing line so it stays in place. Repeat this for the opposite star point. Tape the fishing line to the ceiling to hang each box.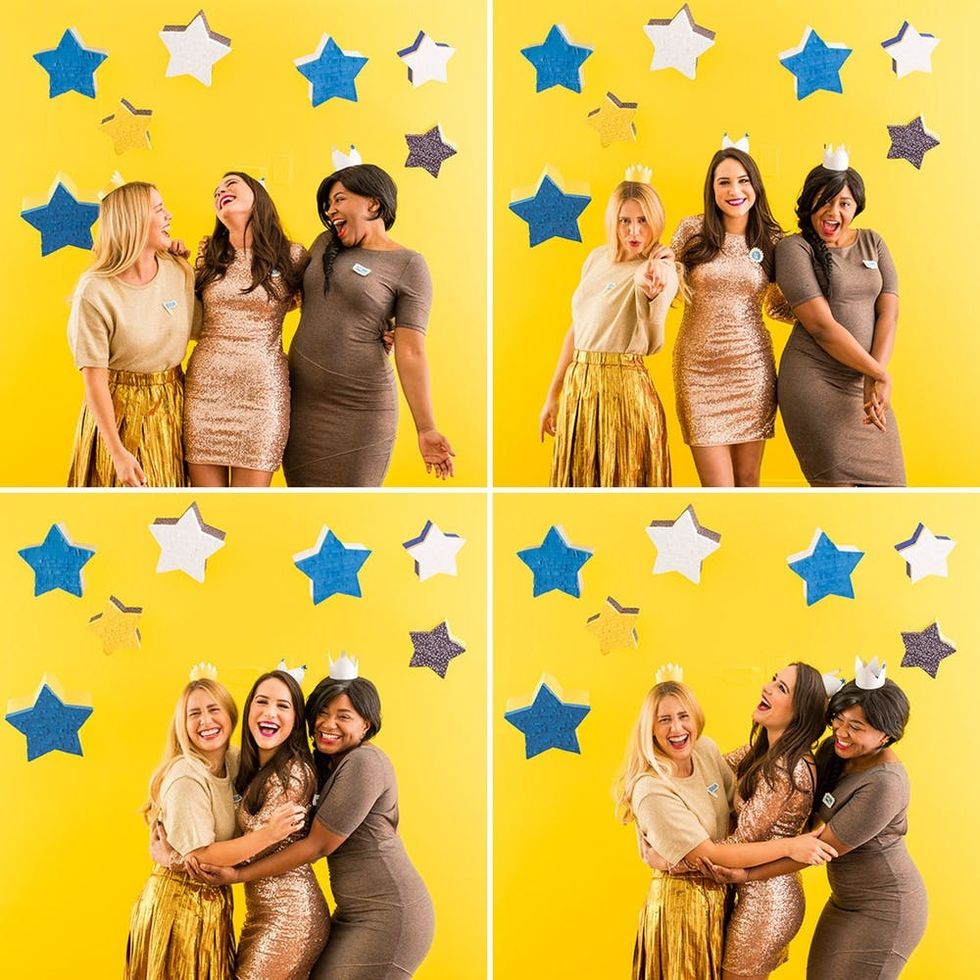 Just like that, you have a photo backdrop!
There you go — a two-for-one party favor box your NYE squad will adore. Happy 2017, friends!
Are you making this box for your NYE soirée? If so, we want to see the results! Share photos on Instagram with the hashtags #iamcreative and #HowLifeUnfolds so we can take a peek!
This post is a collaboration with the Paper & Packaging — How Life Unfolds ™ campaign.
Author + Styling: Maddie Bachelder
Production: Maddie Bachelder, Hayley Bramble, Rosee Canfield + Karen Pham
Photography: Chris Andre