15 Rules Fit Women Always Follow
Aug 04, 2016
A healthy balance is holding a glass of golden milk in one hand and a cute AF cactus sugar cookie in the other, while walking home from a workout worthy of T Swift and her girlsquad, right? To figure out how far off our idea of fitness bliss actually is and what else we can do to kick things up a notch, we talked to 15 admirable, athletic women about how they stay in fit form. Read on for the rules they *always* follow, which you can start using in your own life ASAP.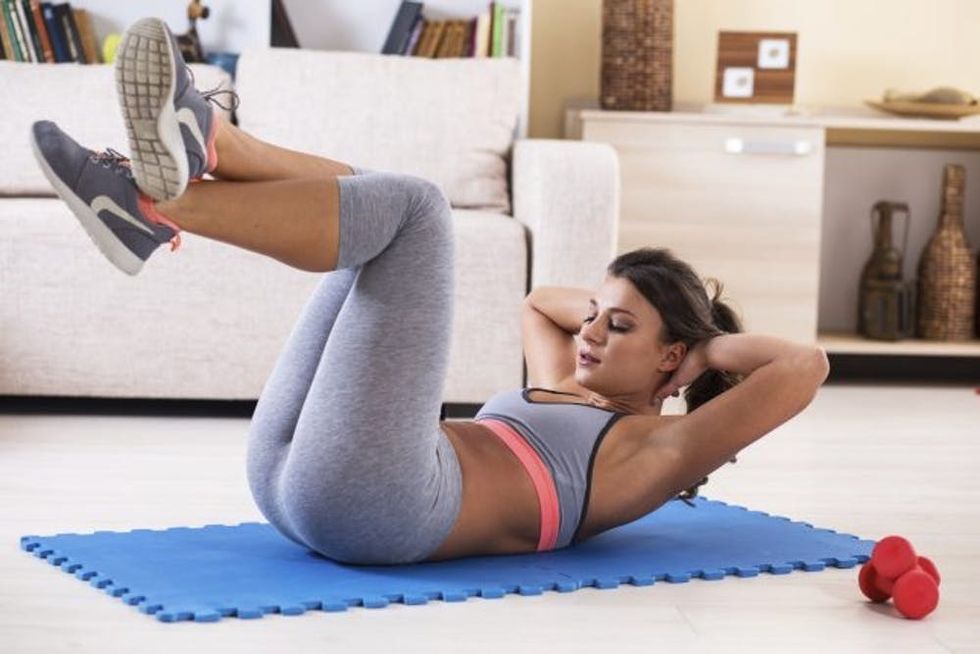 ---
1. Focus on wellness first. Skye McKennon of A Better Way to Wellness tells us that for her, it's all about feeling great and being comfortable in her own skin. "When you feel good and focus on overall health first, you'll be motivated to keep it up." Fit girls know this is the true, effective and super sustainable path to lasting wellness.
2. Set goals and digitally track your progress. According to Joselynne Boschen, a Nike master trainer and fitness expert at Lifesum, fit women stay motivated by setting clear goals and tracking their progress toward meeting them. She stresses the importance of doing this in a super personalized and healthy way, telling us, "Not only are simple calorie counting apps demoralizing, but they can make you feel terrible when you're still making progress." Instead, she says to look for plans that you can tailor to your own unique goals, which might be "muscle and weight gain, building strength, increasing energy levels or controlling mid-afternoon hunger pangs." We're already inspired!
3. Be consistent. "When I travel, I still work out," says travel and fitness blogger Anastasiya Craze. "I travel all over the world and sometimes working out in a gym just isn't an option. Instead, I turn on my YouTube channel and do a workout that doesn't require any special equipment. It's amazing that all we need for a good workout is a positive attitude and determination." We couldn't have said it better ourselves.
4. Take your exercise as seriously as any other commitment on your calendar. Fit women *make* time for exercise, no matter how busy they are. Donna Burke, owner of Forme Studios, says that she goes as far as to schedule a workout as a meeting, which completely blocks it on her calendar as busy. Once you've got it down, schedule around it like you would any other commitment.
5. Be prepared for an impromptu sweat sesh. Can't get a sweat sesh on the calendar during a crazy busy week? A short workout is definitely better than no workout, says Rae Studios cardio dance instructor Allie Gavin. "Keep a pair of sneakers and small free weights at the office. Squeeze in 20-30 minutes on the elliptical or treadmill during your lunch hour or take a brisk afternoon walk if you end up with a small chunk of time to squeeze it in."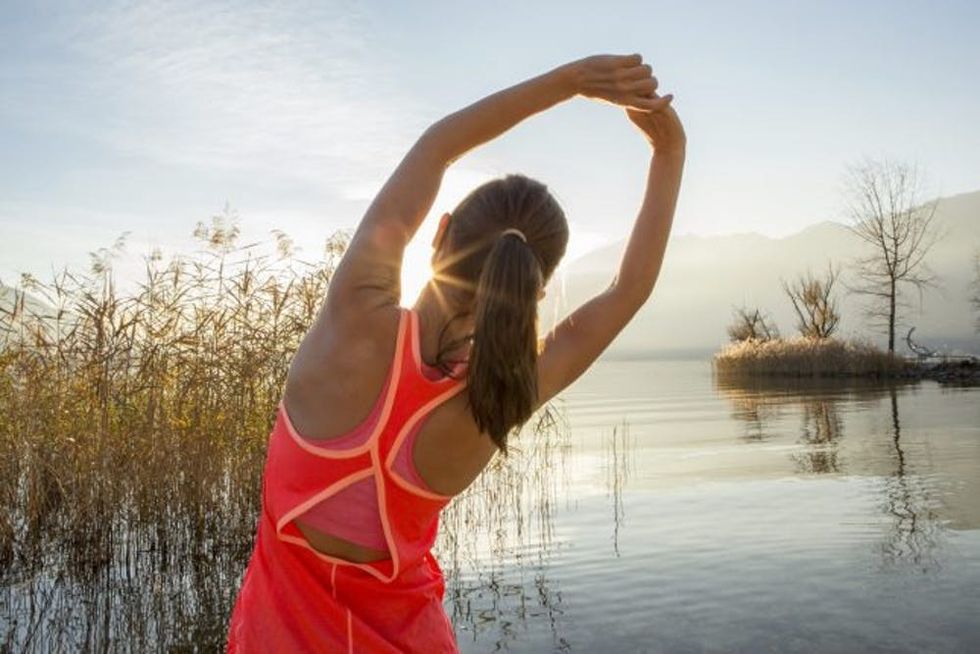 6. Switch it up. Variety is the spice of life — and a magic secret when it comes to fit girl rules. "Whether it's a morning dance session, a lunchtime barre class or a nighttime run, choose something different everyday to get your heart rate up and keep your mind and body engaged," advises Jillian Lorenze, co-founder of The Barre Code. Classpass addicts know first-hand what a major difference mixing it up can make.
7. Save time for stretching. Whether it's five minutes of simple side bends or a power hour of yoga, get your stretches in. "Stretching increases blood flow to relieve muscle stiffness, lengthen muscles and improve flexibility for greater range of motion. Plus, it's important for injury prevention," says personal trainer Isabel Beltran.
8. Don't skip your rest days. Rest days are SUPER important, and fit girls agree. Jenny Harkins, owner at TREADFIT tells us, "Pick one day a week to rest. Sleep in, go for a walk and let your body recover so you can start fresh again."
9. Follow the 80/20 rule in the kitchen. If Jillian Michaels swears by it, it's gotta work. The celebrity trainer and creator of FITFUSION knows that fit women "follow the 80/20 rule with their diet. This means that they make 80 percent of their daily calorie allowance come from healthy foods and 20 percent from treat foods. This helps maintain balance and sanity so you eat well, but never feel deprived."
10. Eat a protein-packed breakfast daily. We know that breakfast jumpstarts your metabolism and sets the tone for the rest of the day, so don't miss a prime opp to kick yours off right. Orangetheory fitness trainer Julie Rogers notes, "Skipping meals can also slow you down — leading to exhaustion and possibly under-performance in your exercise for the day (or worse, skipping your workout altogether)." Yikes!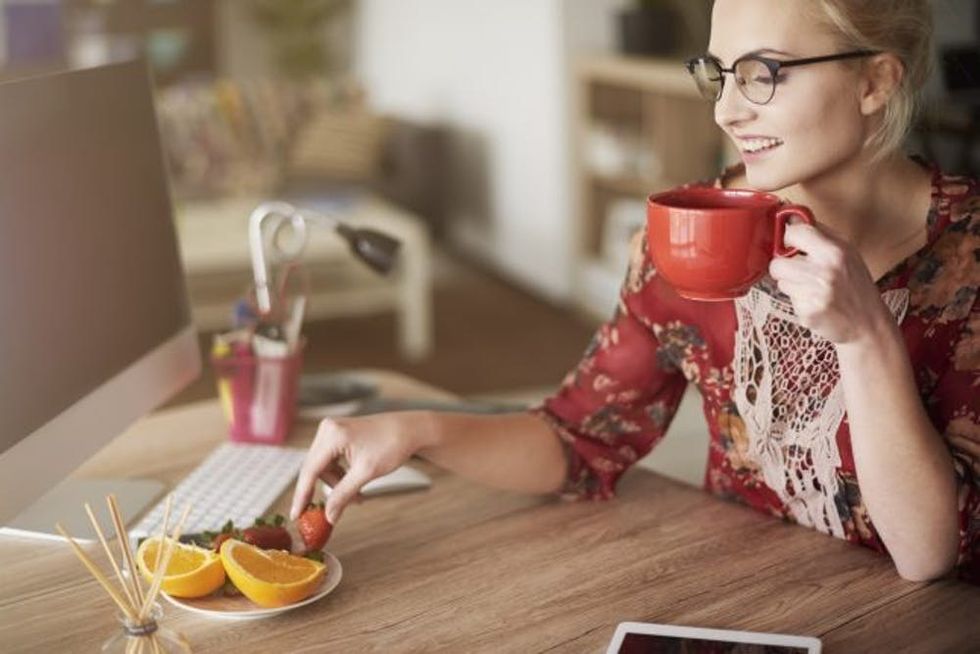 11. Never let your energy levels drop. "Snacks, snacks, everywhere!" says Kate Rowe of B More Toned. "Add healthy snacks to your bags, car and office. It'll set you up for success, even when you're busy."
12. Stay hydrated.Autumn Calabrese, the celeb trainer who created 21 Day Fix, couldn't stress the importance of drinking water enough, telling us, "I ALWAYS make sure that I'm hydrated. This is key for maintaining a healthy weight, fighting cravings and having the most energy possible. Our bodies are made of more than 50 percent water, so imagine what happens in your body if you're dehydrated. You get tired, irritable and weak, and can experience cloudy thinking and dry skin." Not sure how much water you should drink? Autumn tells us that a good rule of thumb is to drink half of your body weight in ounces of water each day.
13. Satisfy your cravings. Karena and Katrina from ToneItUp dished the deets about how much they love treats — and how they refuse to give 'em up. "We love our sweets! Life is meant to enjoy what you love." For healthy options, they rave about the benefits of dark chocolate in moderation or cocoa-dusted almonds. Be sure treat yourself to the real deal of whatever you can't stop thinking about every now and again too.
14. Think about mental health too. It feels pretty great to take care of your body, but remember to consider your mental health too. Fit girls maintain a balance of both, which helps them crush their fitness goals and make amazing progress. Michelle Parker, an official Redbull athlete, swears by meditation. "Active meditation, at least that is what I call it, is when you're using your body physically, but you can find that peace of mind. I personally get this when I'm hiking up mountains, skiing, practicing yoga, climbing, running and so much more. It's amazing to take a moment to clear your mind and be present."
15. Catch enough zzz's. "No matter what, I get at least eight hours of sleep to aid in my recovery, keep me energized and keep my metabolism in check. It benefits my mental and physical state — and I'm unwilling to compromise on it," Trish DaCosta from Love Life Fit confides to us. People vary in terms of how much sleep they need to feel the best, so figure out what works for you and make sure you clock your hours.
What rules have helped you get into fit form and feel your best? Tweet them to us @BritandCo!
(Photos via Getty)
Krista Gray
Krista Gray is a web producer and freelance writer who lives in San Francisco. When she's not working with clients through her company GoldSquare, she loves reading, traveling, and learning new things.