How to Make Healthy Smoothie Bowls With Almond Granola
Jan 22, 2019
PSA: 2019 and it's time to make good on all those resolutions you made a few weeks ago. You know… those resolutions to hit the gym every day, drink more water, go to bed earlier and eat healthier. Well, good news! We've teamed up with our friends at Almond Board of California to bring you an awesome post-workout recipe that will be all the motivation you need to get your sweat on!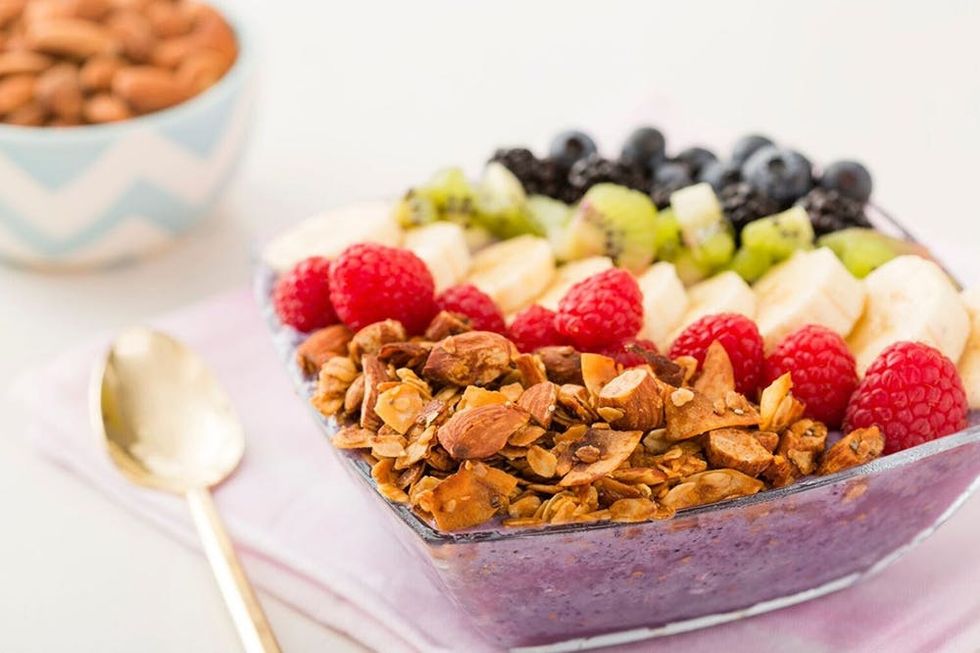 ---
Introducing our Healthy Smoothie Bowls With Almond Granola. These guys are the perfect thing to blend up after a killer gym session. The smoothie base is loaded with fresh fruit and almond milk, and the homemade granola is full of energy-giving protein from almonds and chia seeds. Read on for the recipe… and get ready to power up!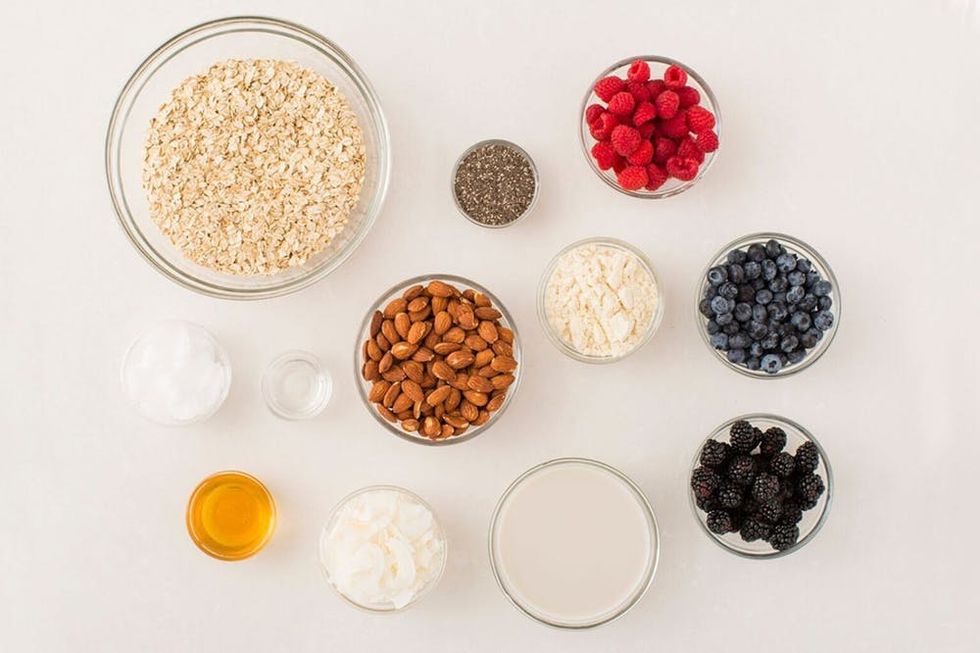 Ingredients:

3 cups oatmeal
2 cups whole natural almonds
1 cup shaved coconut
3 tablespoons chia seeds
1/2 cup honey
1/2 cup coconut oil
1 teaspoon almond extract
raspberries
blackberries
blueberries
1 1/4 cups almond milk
whey protein powder
Instructions:
1. Preheat oven to 350 degrees F. Grease a 9×13 baking sheet. Chop almonds. In a large bowl, combine oatmeal, chopped almonds, coconut, chia seeds, honey, coconut oil and almond extract. Stir to combine. Pour onto your sheet pan and bake for 30-40 minutes, stirring occasionally with a spatula. Remove from the oven and let cool.
2. Combine 3/4 cup ice, 1 handful raspberries, 1 handful blackberries, 1 handful blueberries, almond milk and 2 scoops whey protein powder in a blender. Blend until smooth and pour into 2 bowls.
3. Top your smoothie bowls with granola and fresh fruit of choice. Enjoy!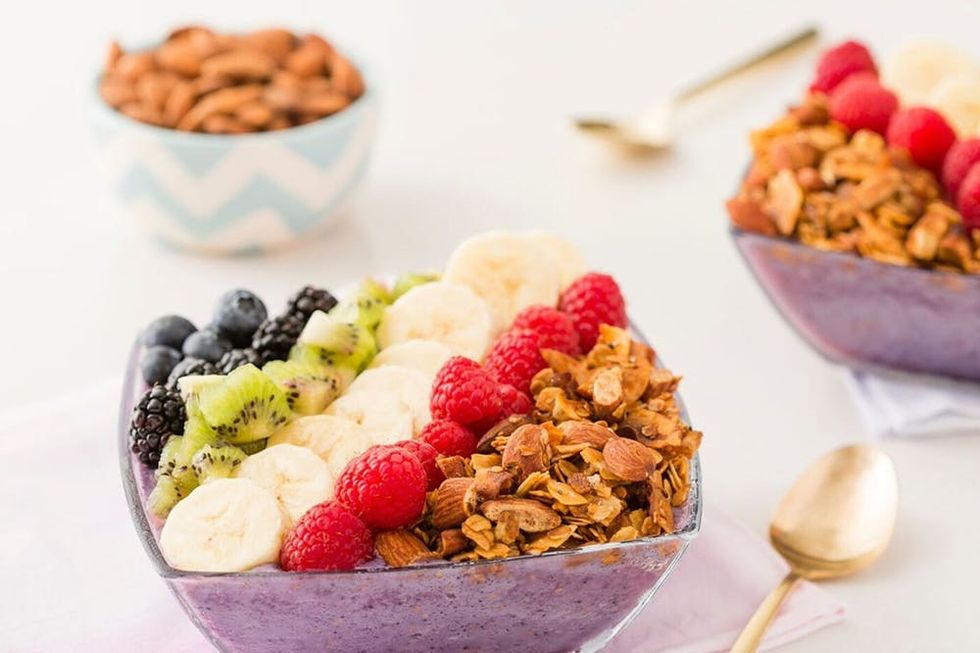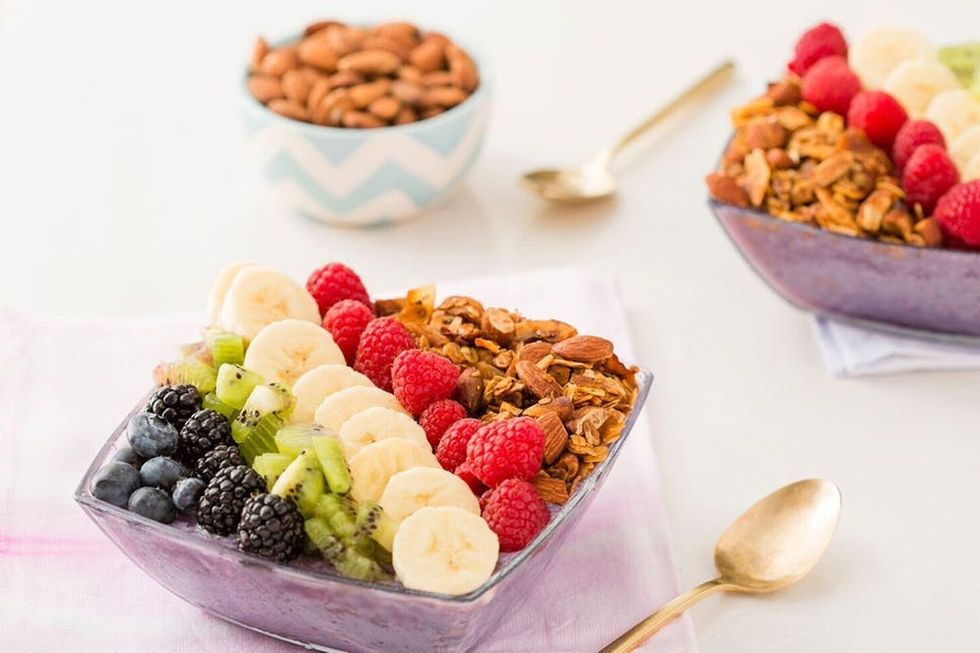 Here's to a healthy 2019!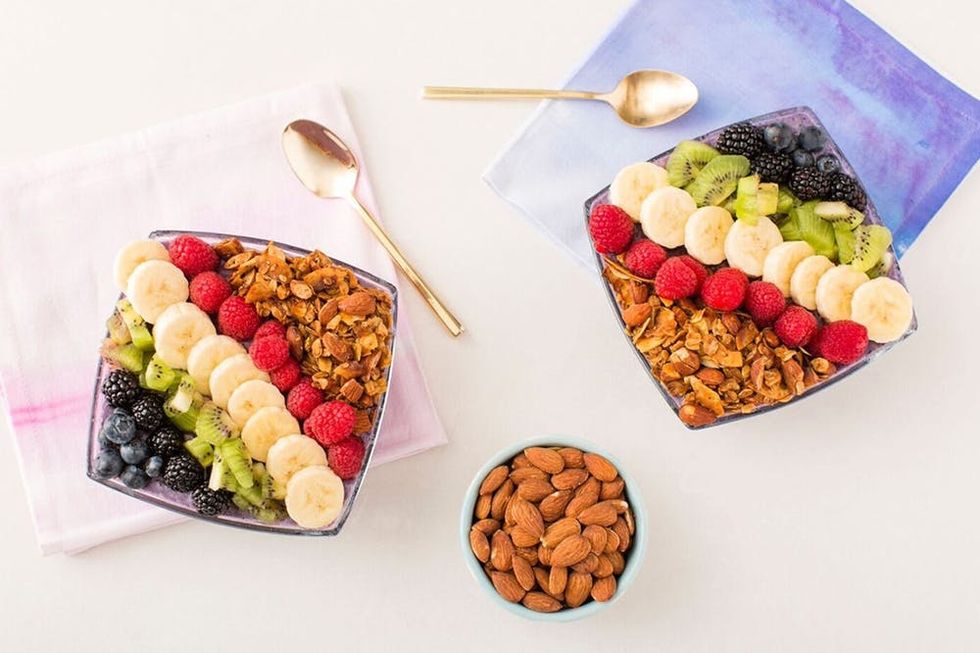 What are your favorite healthy pre- and post-workout recipes? Drop us a line on Twitter!
This post is a collaboration with Almond Board of California.
Food
If you lack a certain way with words, then perhaps you can rely on showing how you feel this holiday season with an artful greeting card you can make at home! Brit dropped by our crafting studio where we teamed with Camp by Walmart to create a choose-your-own-adventure holiday card tutorial. In the interactive video, it's up to you to decide what type of card you want to make — sentimental, or stylish? Three-dimensional, or keep it simple? After you've selected your design vibe, Brit helps you assemble it all together so your last-min card is ready to send. Get ready to pick up a few new DIY tricks when you watch the video now!
Holidays