The Babadook Has Emerged As a Pride Month Icon and We Are SO Here for It
Jun 16, 2017
Pride Month is officially in full, glorious, rainbow-colored swing, and with rollbacks to LGBTQ rights initiated by the Trump administration this year, it feels more important than ever to show up and participate.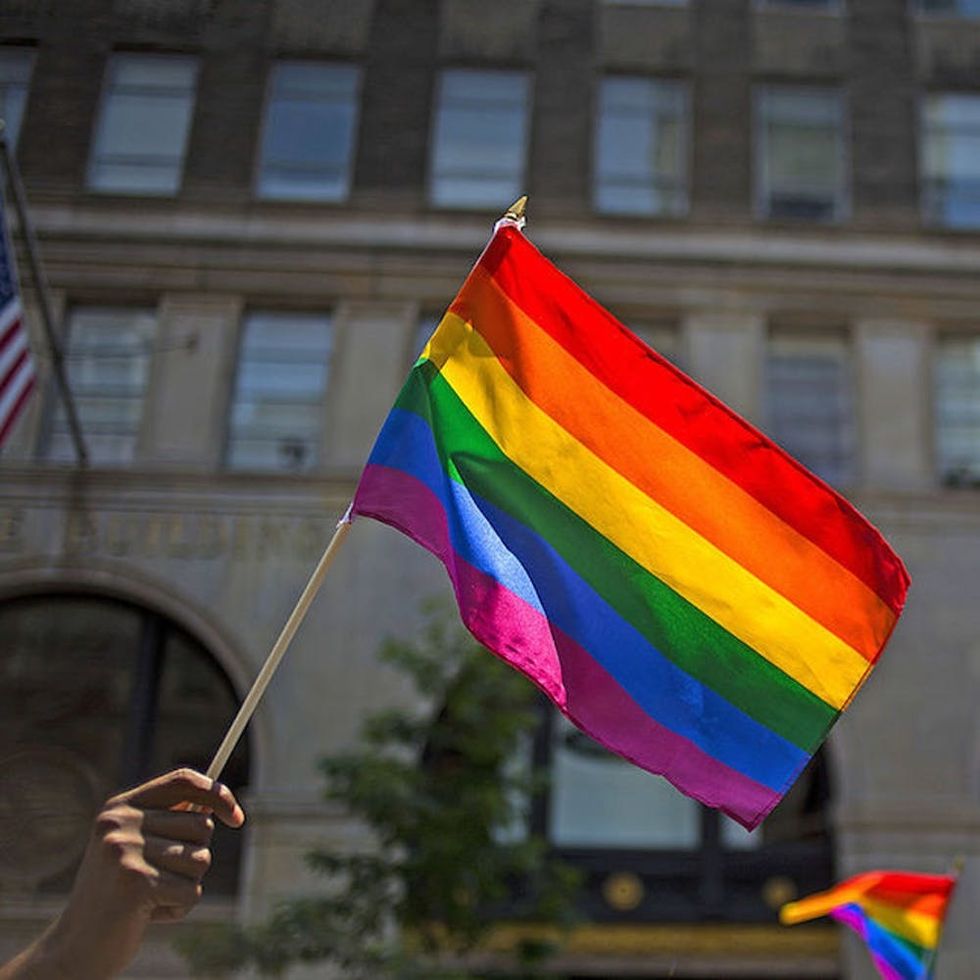 ---
It just so happens that the LGBTQ community has found an unlikely icon this year, so as you head out to your local celebrations in some Pride merch that *actually* gives back to the LGBTQ community, you might want to keep your eyes open for a menacing figure in a tall hat. We're talking, of course, about none other than horror movie monster The Babadook.
happy pride month from queer icon the babadook pic.twitter.com/f2JxwQbRDd

— jacob (@jacobbullards) June 3, 2017
The Babadook, if you're not familiar, is a 2014 horror movie about a single mother and her troubled son who sees imaginary monsters. A book about a ghoulish, menacing figure, the Babadook, mysteriously appears in the kid's room one night, and the Babadook starts haunting their lives. If you've seen the movie, you'll know that the ~deeper meaning~ of the monster — the Babadook — is that he represents the fear, grief, and resentment the mother has built up over the death of her husband and her difficult child (wait, or is it a legit spooky monster?! We dunno. Great movie.).
BABADOOK: I'm a terrifying monster that destroys families that try to suppress me.

GAY PEOPLE: Oh my god, SAME. Drinks later?

— Carlos Maza (@gaywonk) June 7, 2017
But to the LGBTQ community, the Babadook has been a celebrated out gay icon for almost a year now, first showing up in a Tumblr post saying "Whenever someone says the Babadook isn't openly gay it's like?? Did you even watch the movie???"
People were initially confused how it could be interpreted as such, but one commenter was quick to clarify, "It's canon basically. I mean he created a pop-up book of himself for the drama of it all???" Dead.
8. the babadook is my favorite lgbt movie pic.twitter.com/dxCtyf9Kib

— ana (@bakehadley) May 31, 2017
Not long after that, TheBabadook was listed under the LGBTQ category on Netflix, and a screenshot of it consequently got even more Tumblr attention, all but confirming the previous claim. "The B in LGBT stands for Babadook," one commenter pointed out. Duh.
me this month pic.twitter.com/9X3RJAGLli

— Tyler #ChosenFamily (@tyleroakley) June 7, 2017
As Pride Month neared, the Babadook's mug moved from Tumblr to timelines, and now, as Pride celebrations ramp up, more and more people are donning costumes, t-shirts, signs, and more with the monster's mug. The figure has gone somehow from scary to comforting; from something to fear to a celebration.
This Babalewk transitions from day to night fairly well IMHO pic.twitter.com/7D9my72lOt

— Kyle Buchanan (@kylebuchanan) June 11, 2017
Whether you interpret the Babadook as just a scary movie or as a gay icon, it really does say a lot about the difference that shining a light on the dark and scary places can make. Happy Pride, Babadook — and all of you, too!
What do you think of the Babadook as a gay icon? Let us know @BritandCo!
(Featured photo via Eric Thayer/Getty)
Nicole Villeneuve
Nicole is an entertainment and lifestyle writer covering pop culture, news, and cool women doing cool things. She likes yard sales, MTV's Teen Mom, and putting too many memes in the group chat. She lives in Toronto.
Pop Culture