How to Pair Your Lip Color With Your Dress (for All Skin Tones!)
Feb 12, 2015
It's one thing to be a beauty rule shaker and breaker, and it's another to wear a timeless beauty trend well. Take, for instance, red lipstick. The rouge pout is about as classic a look as they get, but it's also one of the trickiest to wear. Shades can easily clash with your skin tone if you don't have an eye for undertones, and try on top of that finding the perfect hue to complement your complexion and your clothing (ugh!). But, once perfectly painted, its sophisticated feel is unparalleled. So, with one of the biggest date nights of the year coming up quickly, we're giving you the lowdown on what red lip color you should be wearing with your go-to date night dress. Scroll down to find your perfect match!
You Want To Wear A Bright Red Dress
---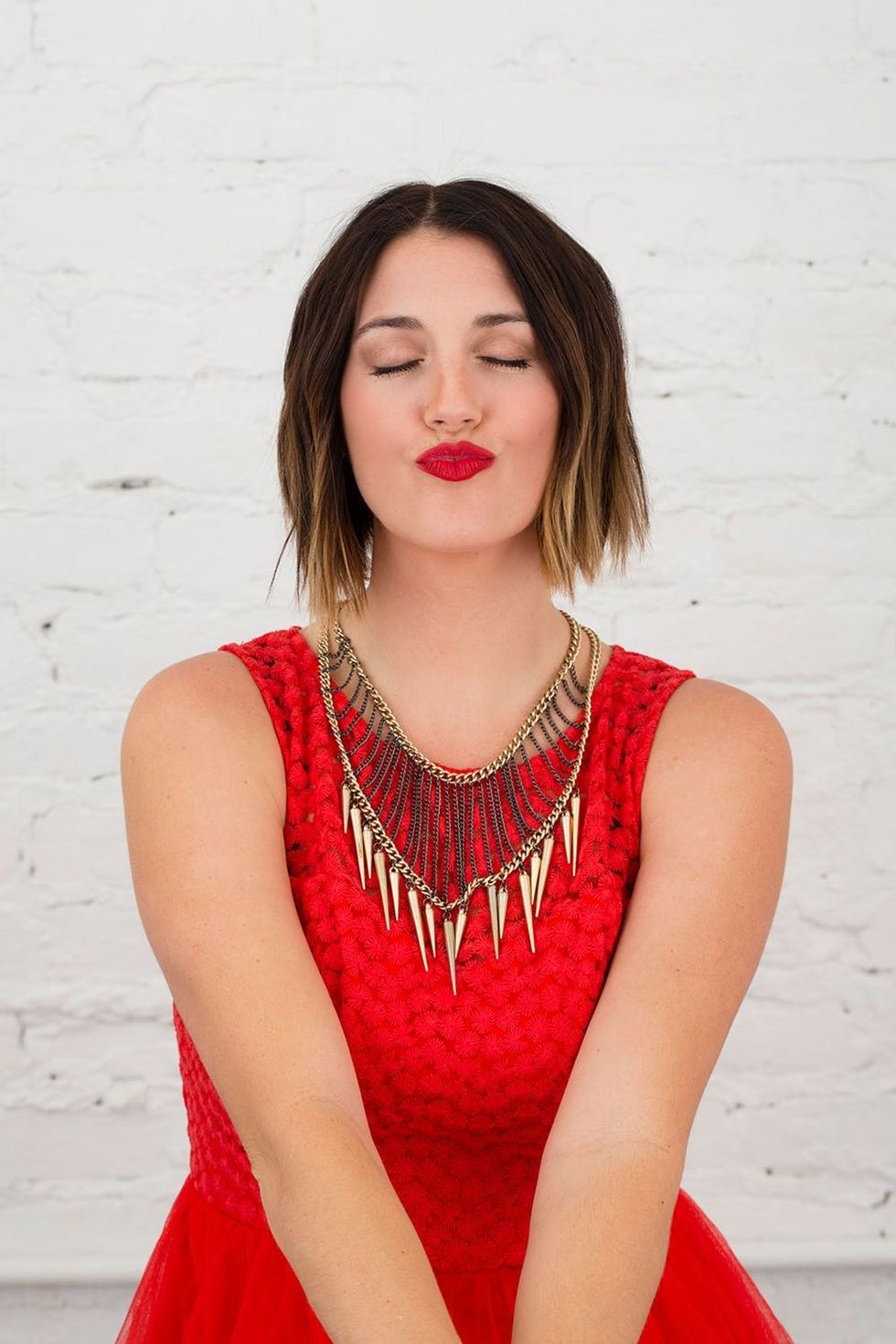 Wearing: ModCloth Scarlet Celebration Dress ($70), Necklace Model's Own.
When wearing red, you'll have to be more cautious of what lip shade of red you'll be wearing. Typically, your lips should match your dress pretty closely so the red undertones don't clash. So, if you're getting down with the holiday and wearing bright, Valentine's Day red, rock the same vibrant hue on your lips.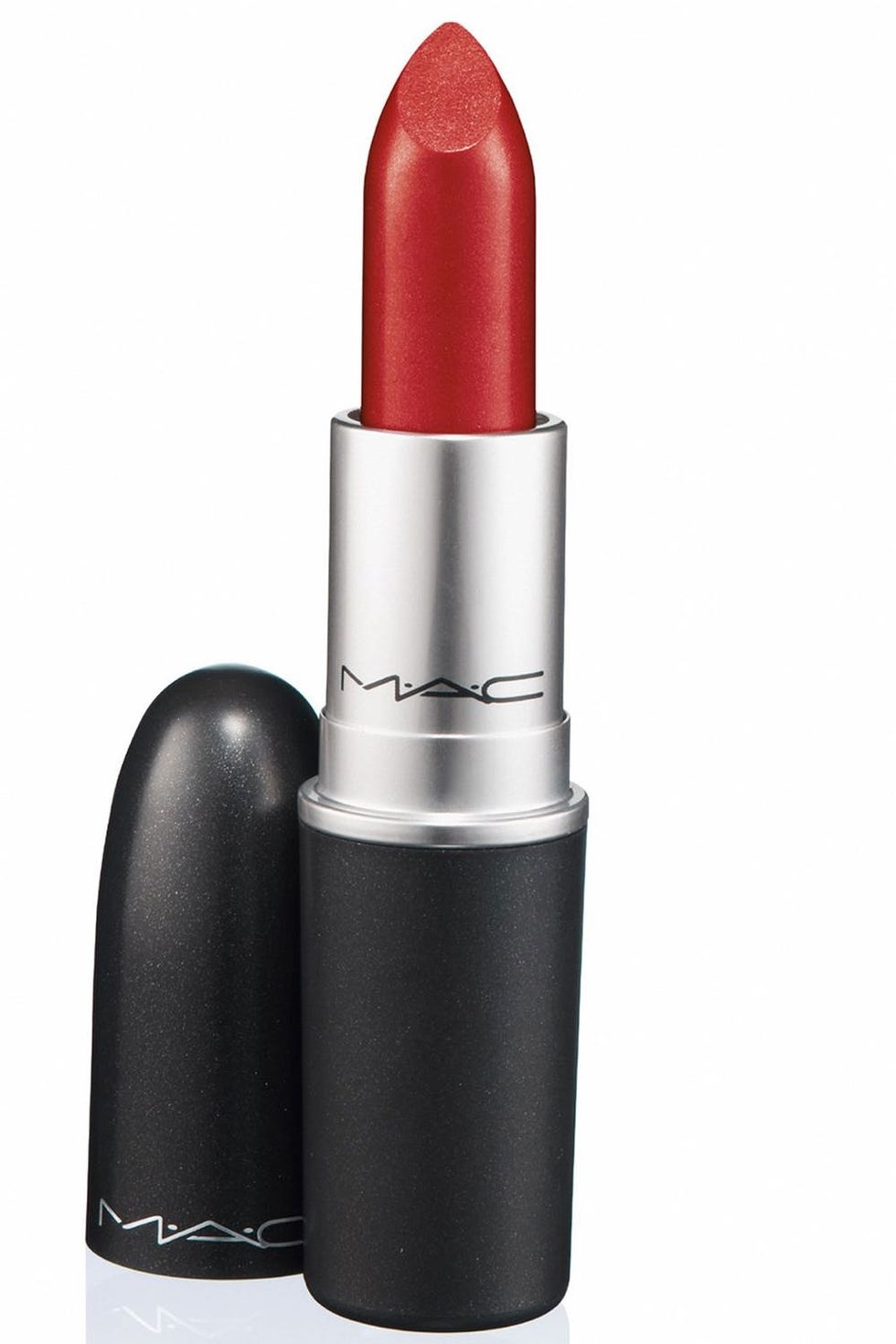 Light Complexion
1. M-A-C Lipstick in Ruby Woo ($16): We intentionally started with this highly acclaimed lipstick makeup lovers often go to because it can actually be worn on just about everyone. It's a true red with a vibrancy that brings out the best in every pucker, and especially those gals with fair skin.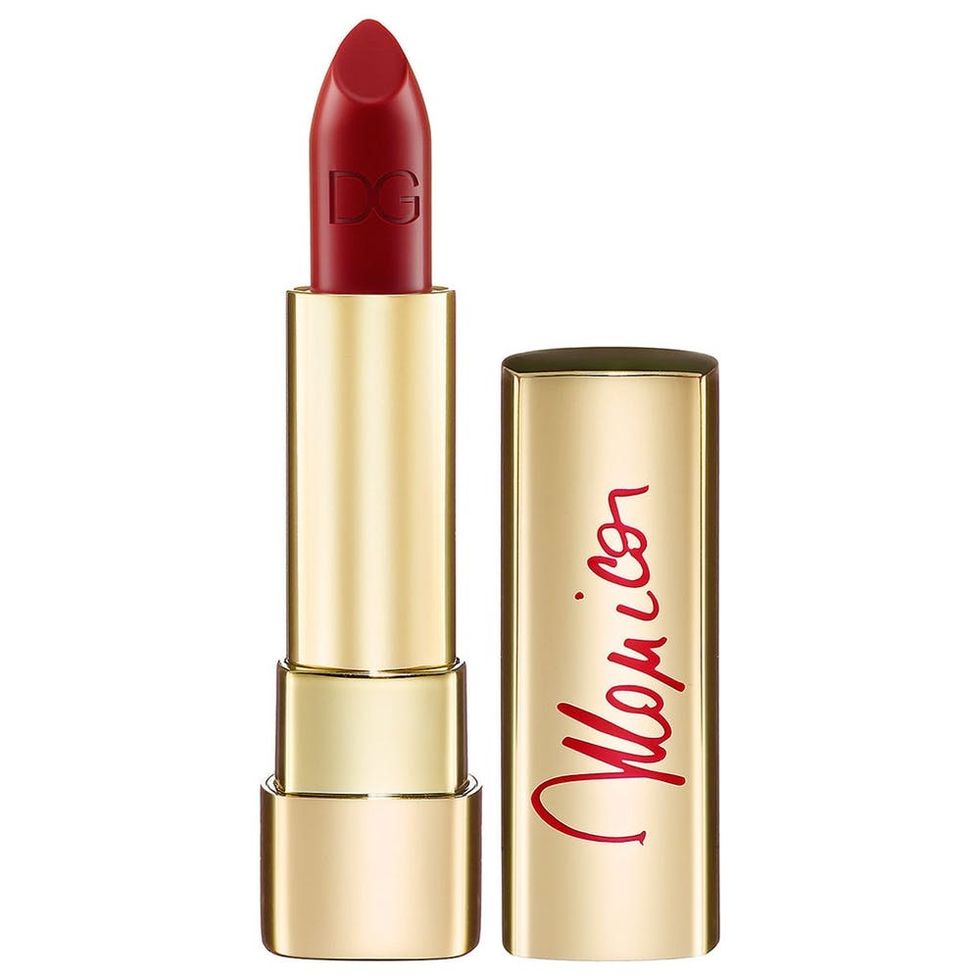 Medium Complexion
2. Dolce & Gabbana Monica Voluptuous Lipstick in Italian Monica Warm Red ($34): With orange-y undertones and also hints of blue, this high-pigmented, full-coverage lipstick will help balance out the finish of your golden skin.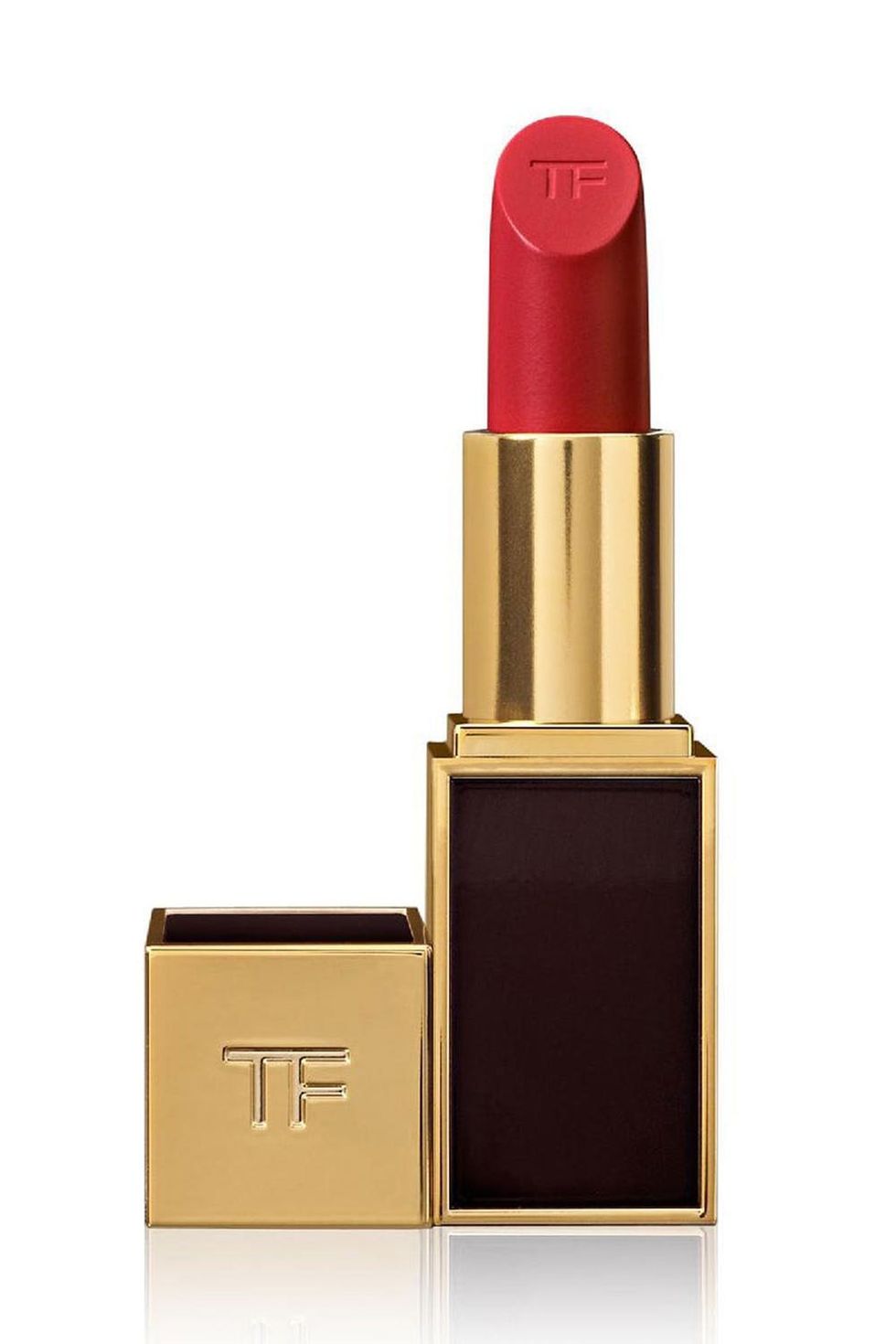 Dark Complexion
3. Tom Ford Beauty Lip Color in Cherry Lush ($54): A beautiful indulgence for girls who have darker skin. This cherry red lipstick is hydrating, fully pigmented, long lasting and will leave your lips with a perfect sheen, rather than an over-glossed finish.
You Want To Wear A Nude Dress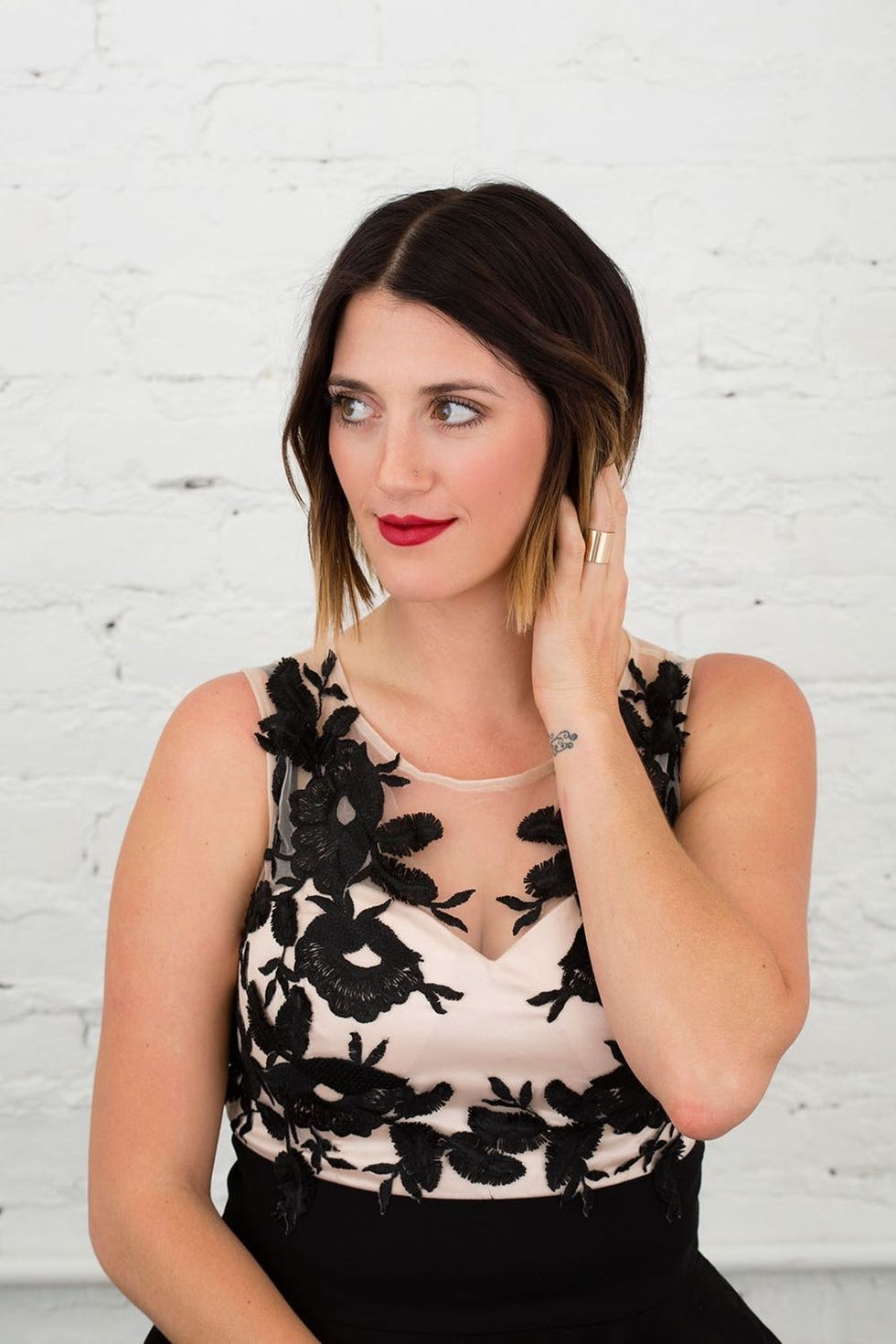 Wearing: ModCloth Blossom and Found Dress ($105), Gigglosophy Wide Band Ring ($12).
With nude garments, your choice of red is a lot more flexible — basically anything goes. So, why not go for it with a red that has deep berry undertones? This is a fun way to still rock that traditional red lip but with a little more sophistication and depth.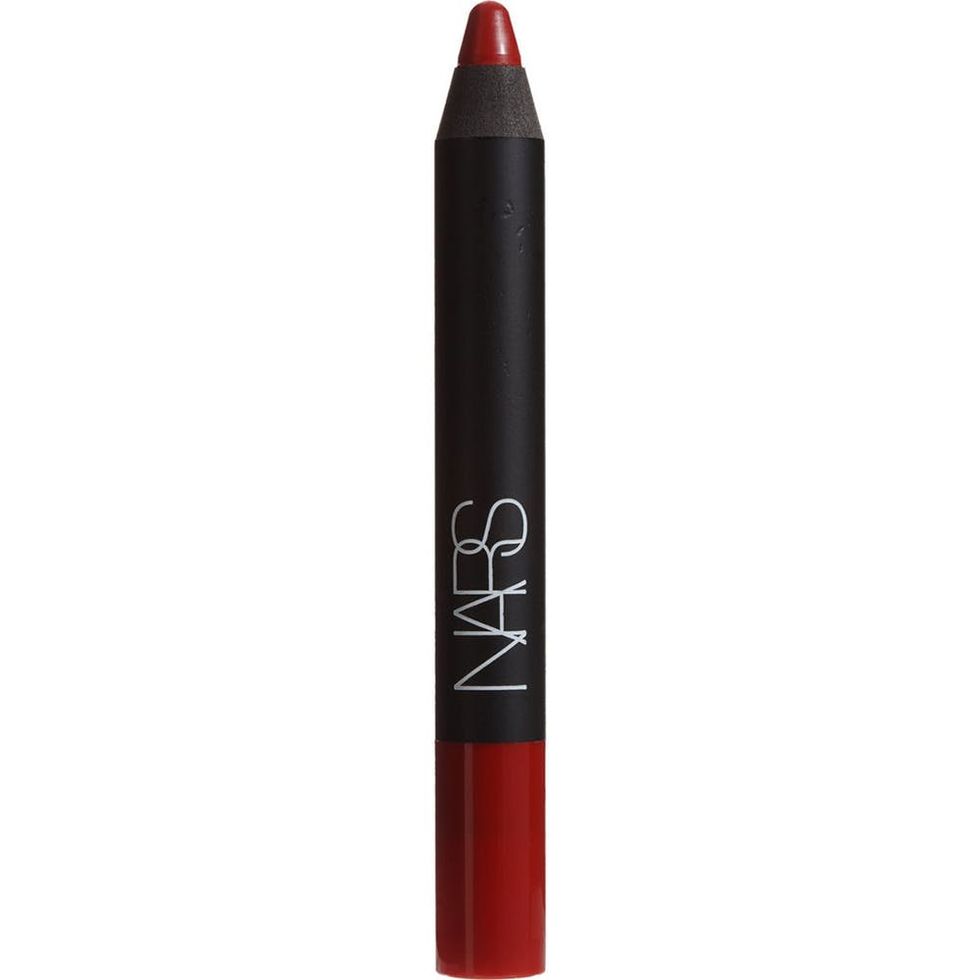 Light Complexion
4. NARS Velvet Matte Lipstick Pencil in Cruella ($26): The blackberry undertones in this lip hue will be locked in place for a kiss-proof pucker with this lipstick pencil. You will have the precision of a lip pencil and the sheen of a lipstick all in one.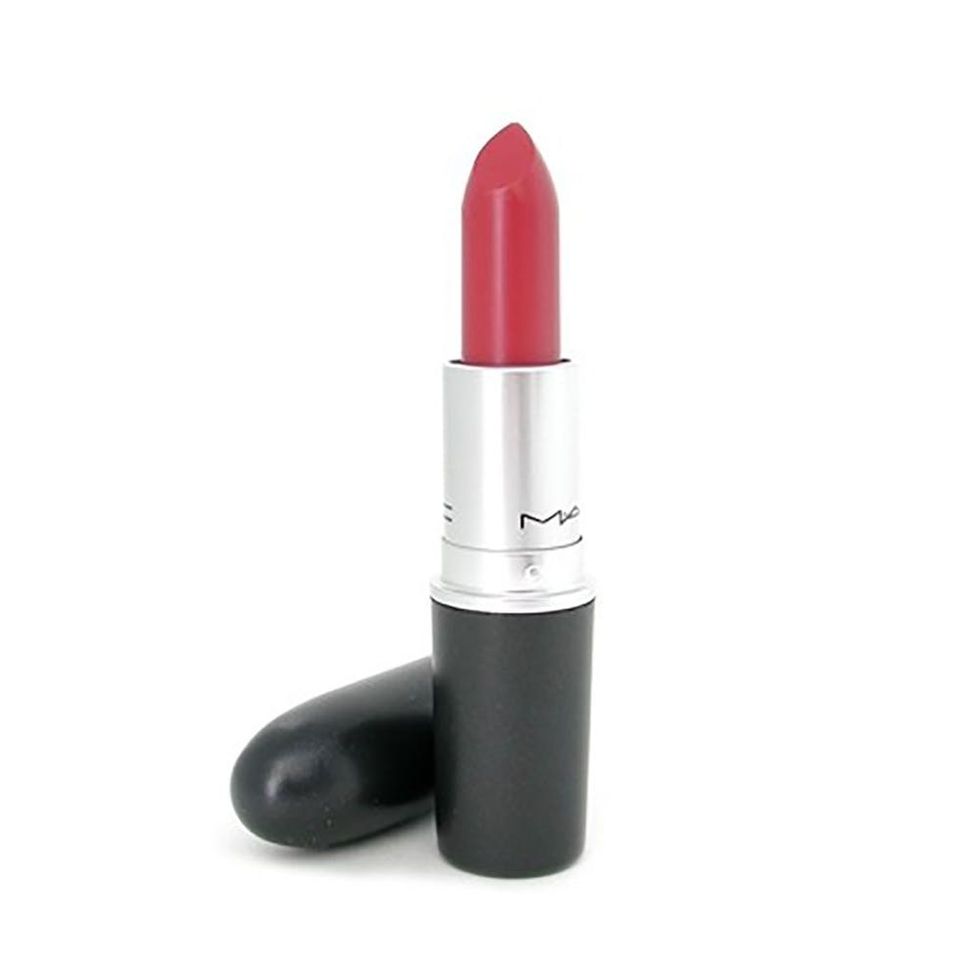 Medium Complexion
5. M-A-C Lipstick in Hot Tahiti ($18): A soft reddish coral satin finish that will stand out beautifully as it transitions seamlessly from day to night.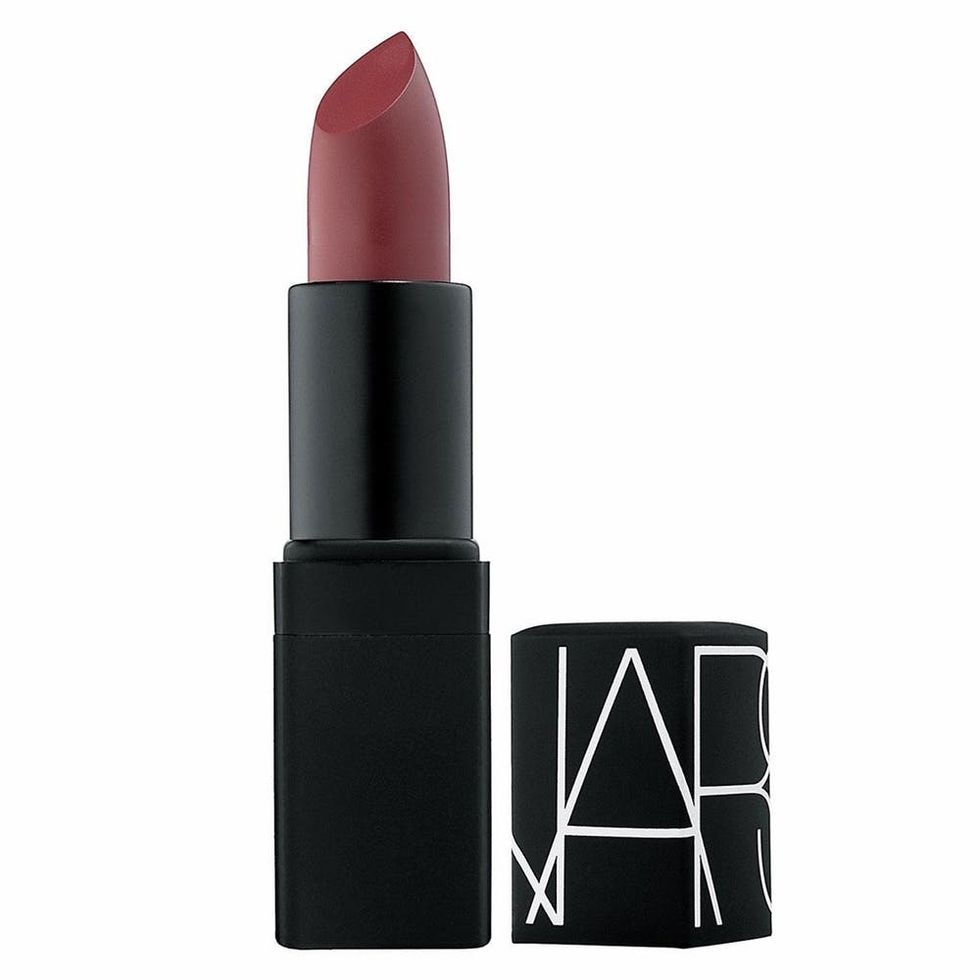 Dark Complexion
6. NARS Lipstick in Afghan Red ($28): This slightly deeper red has a berry finish that looks so pretty paired with nude on gals with a darker complexion.
You Want To Wear A Black Dress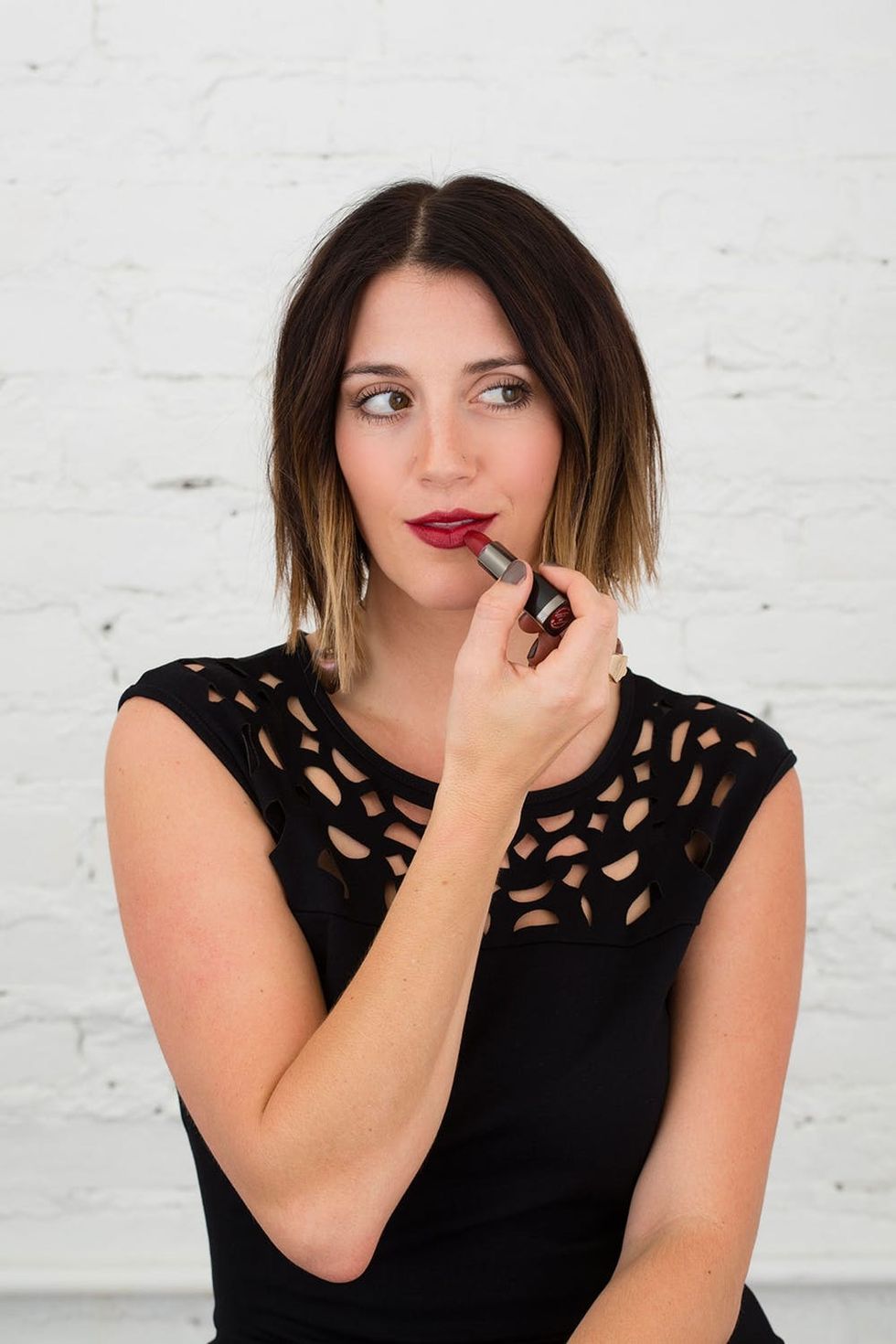 Wearing ModCloth Grand Gallery Dress ($60), Model's Own Ring.
Again, you can wear ANY red with a black dress, but painting on a red lipstick with bold brown undertones is a great way to give that little black dress a sultry, slightly vampy vibe. You really just want to make sure the rest of your makeup is not too overpowering, so to get the look, opt for a darker lip and barely-there eye makeup, like what I did here.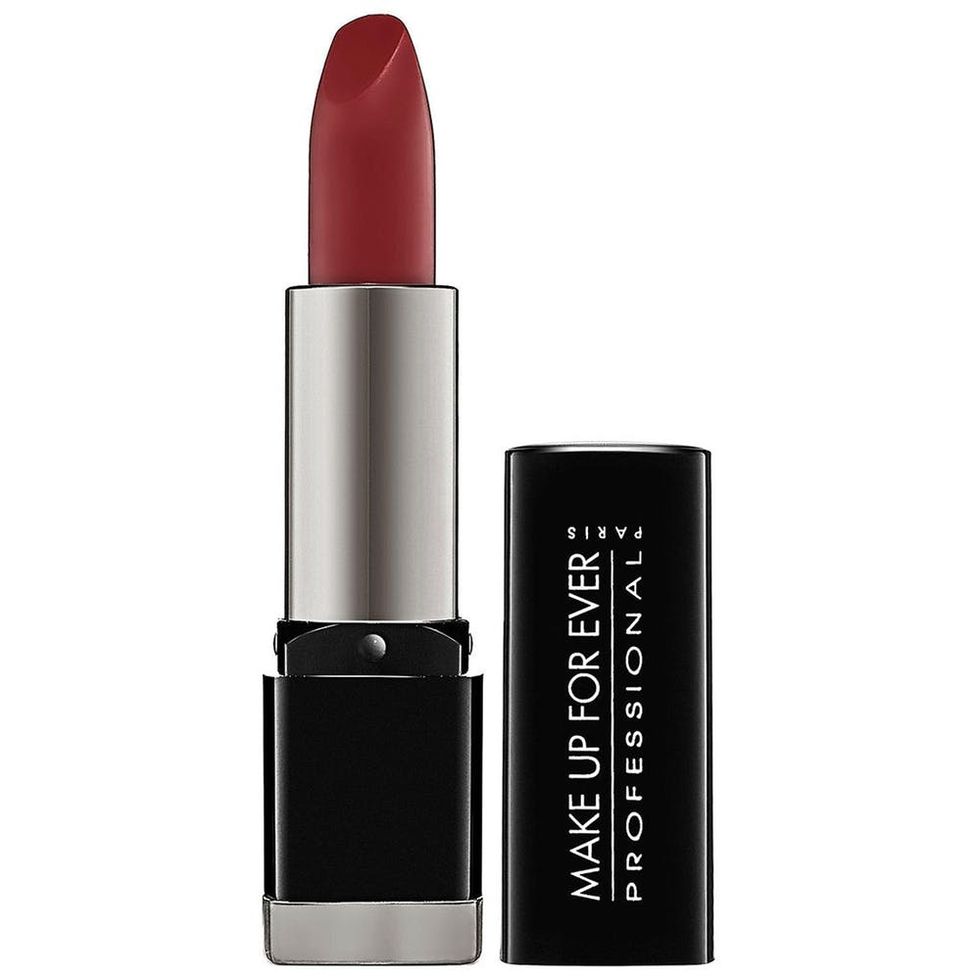 Light Complexion
7. Make Up For Ever Rouge Artist Intense in Satin Brownish Red ($20): The depth in color from the brown undertones in this creamy lipstick makes this the perfect bold statement color to flaunt with your LBD.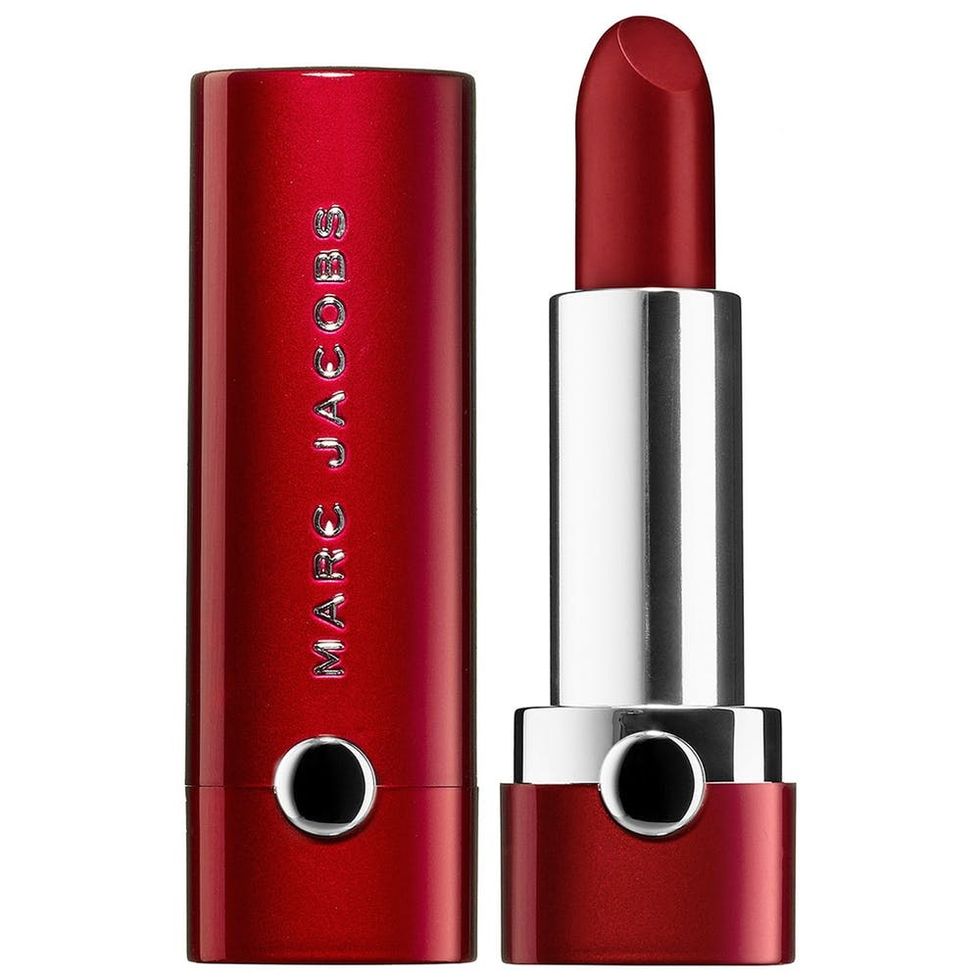 Medium Complexion
8. Marc Jacobs Beauty Le Marc Lip Crème in So Rouge ($30): Besides being the perfect vampy red for medium complexions, this highly hydrating lipstick is packed with antioxidants and cocoa butter and lasts ten hours.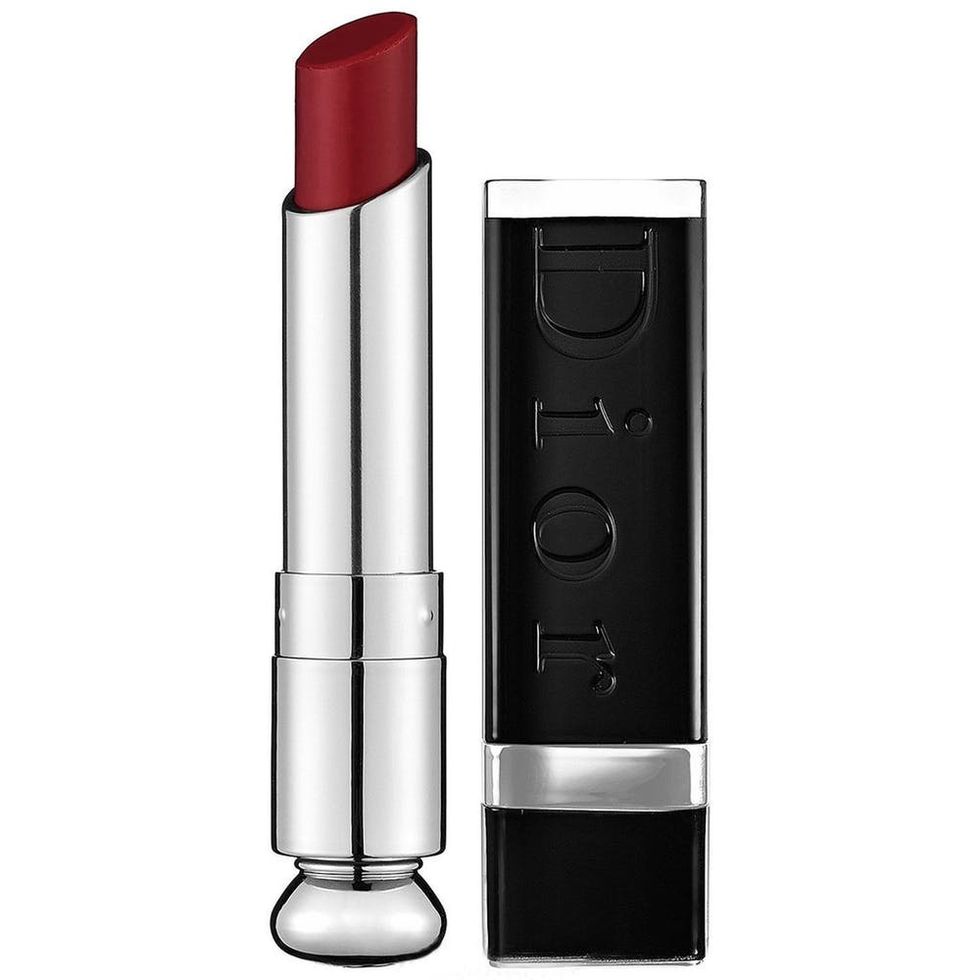 Dark Complexion
9. Dior Addict Extreme Lipstick in Sunset Boulevard ($33): This pick is a deep wine burgundy with brown undertones that will bring just the right amount of drama.
You Want To Wear A Pink Dress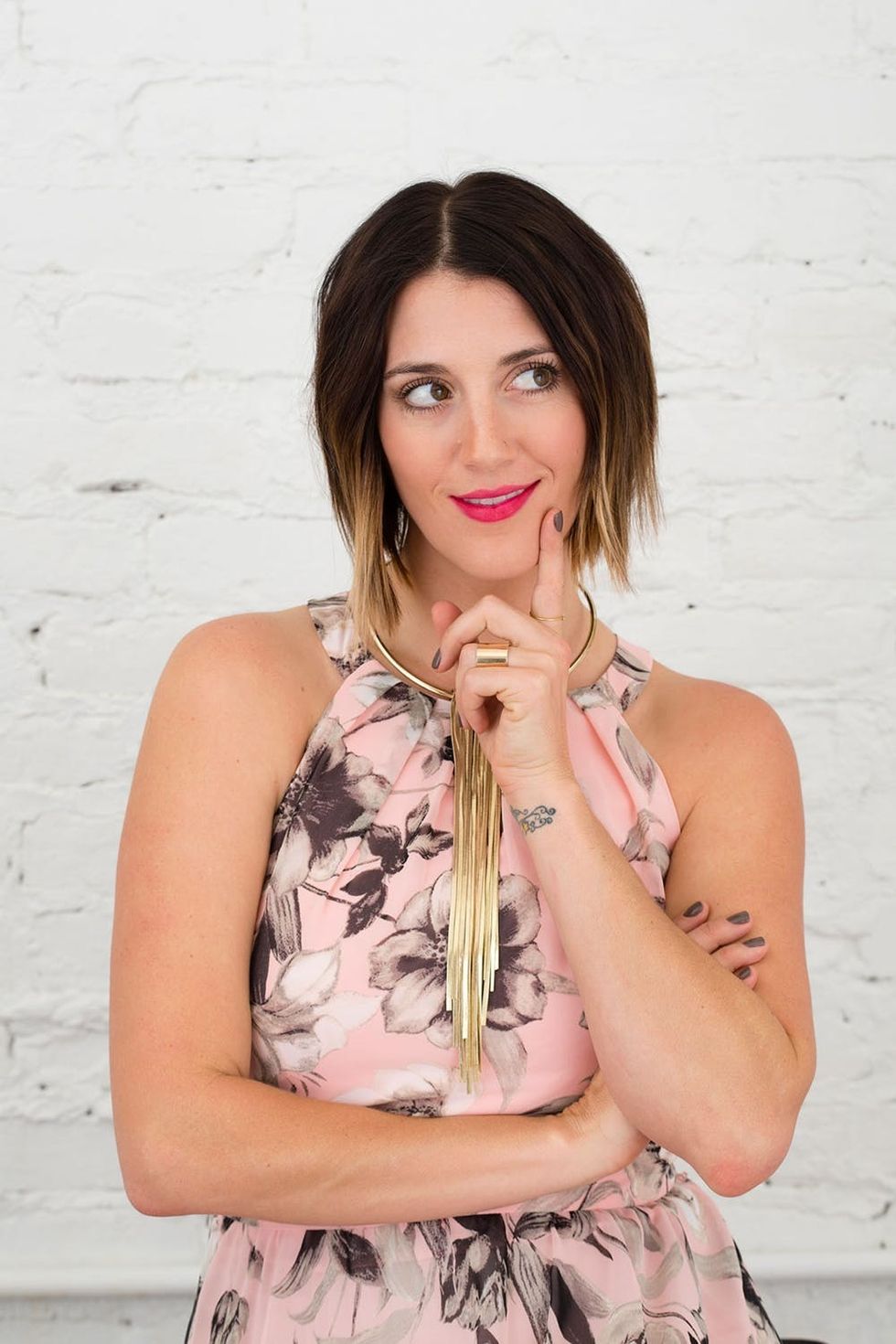 Wearing: ModCloth Fete of Florists Dress ($140), Model's Own Necklace, Gigglosophy Wide Band Ring ($12).
Pink is another shade you want to pay close attention to in terms of making sure your lip color doesn't clash with your garment. Here I'm wearing a light pink, so I opted for a coral-y magenta red color on my lips. This way, you can play up the brightness in the dress but still keep the tone in the red family. (If you're wearing a hot pink dress, a fiery red would work if you're down for a really bold modern look).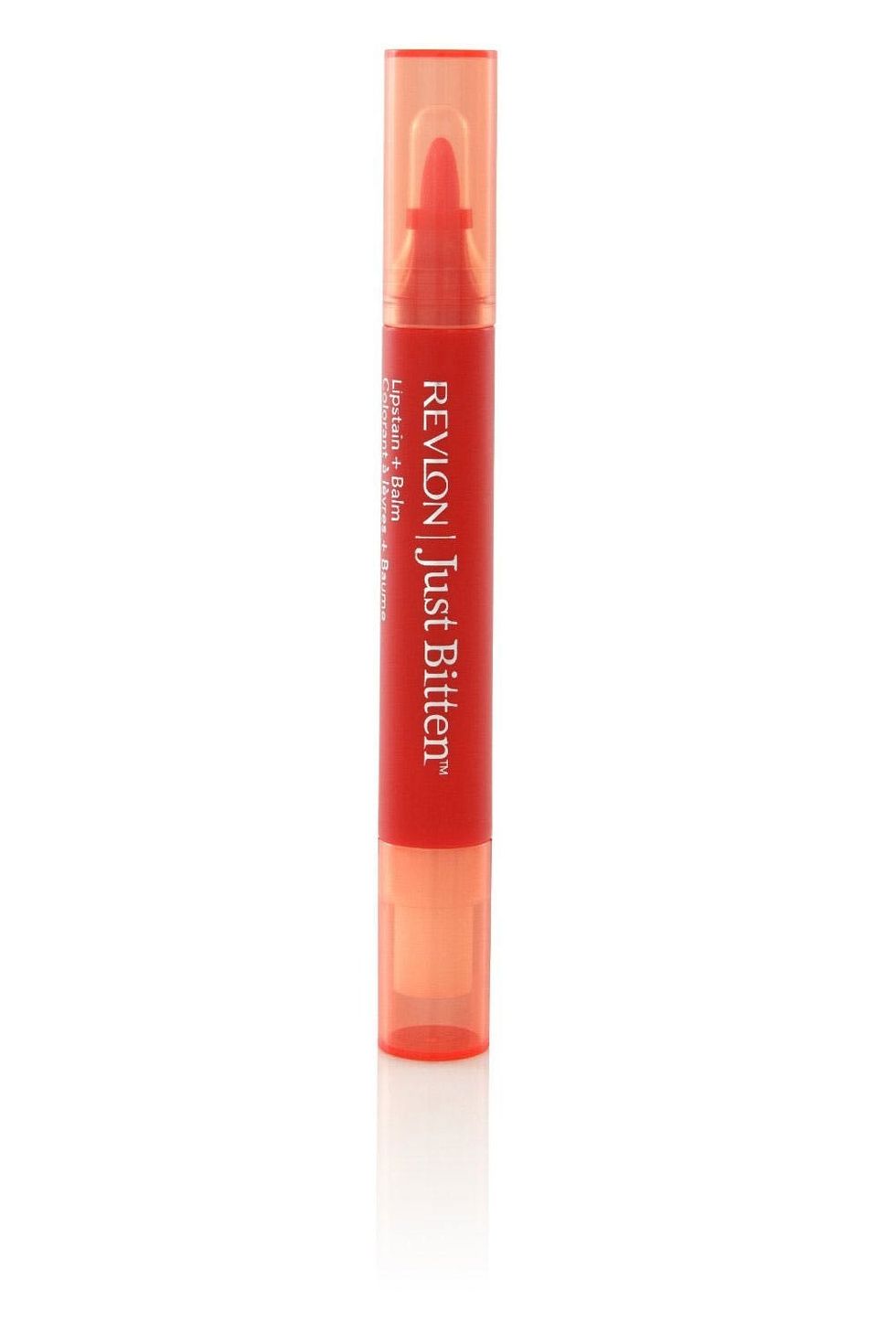 Light Complexion
10. Revlon Just Bitten Lip Stain + Balm in Flame ($7): Aside from the gorgeous coral undertones, this lip stain has a powerful bonus: it's completely smudge proof. I put this on and my lips were stained this color for the entire day no matter how much wiping and washing I did. This is exceptionally good if you are planning on a little innocent PDA on date night ;)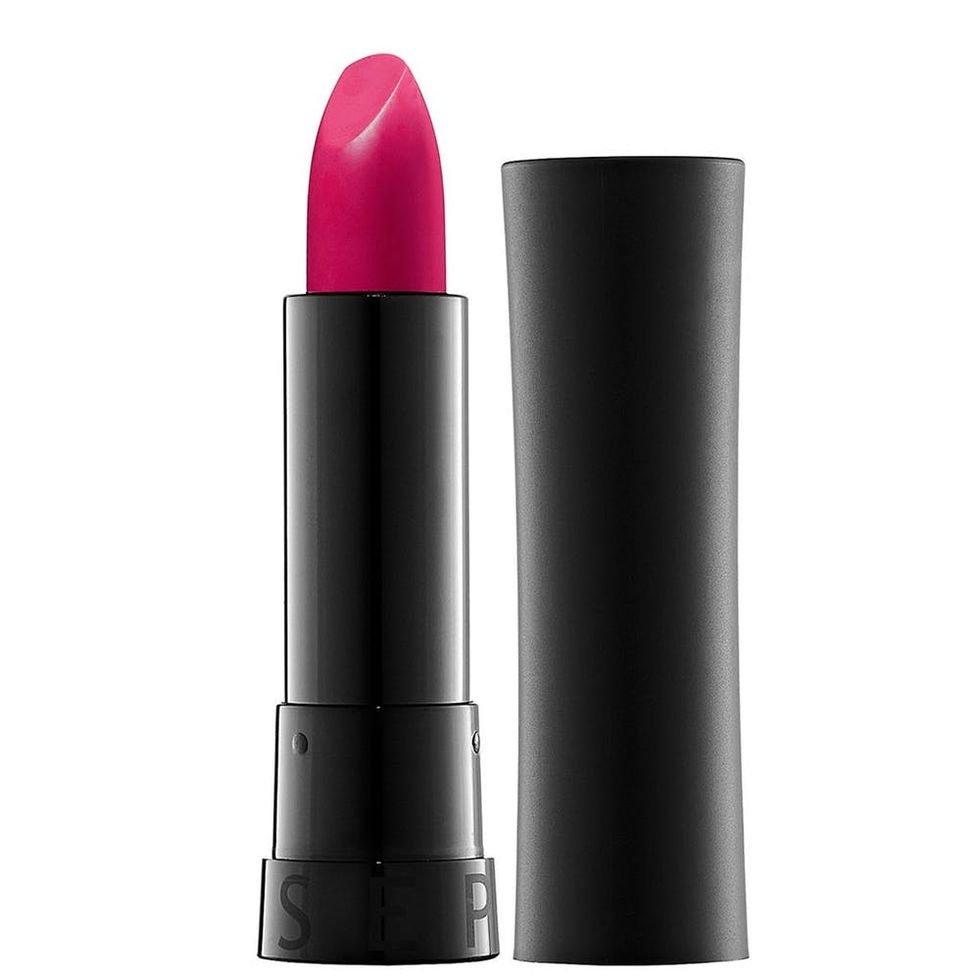 Medium Complexion
11. Sephora Collection Rouge Cream Lipstick in Valentine ($13): This rich magenta nourishing lipstick is definitely at a lower price point, and how cute is the name of the color?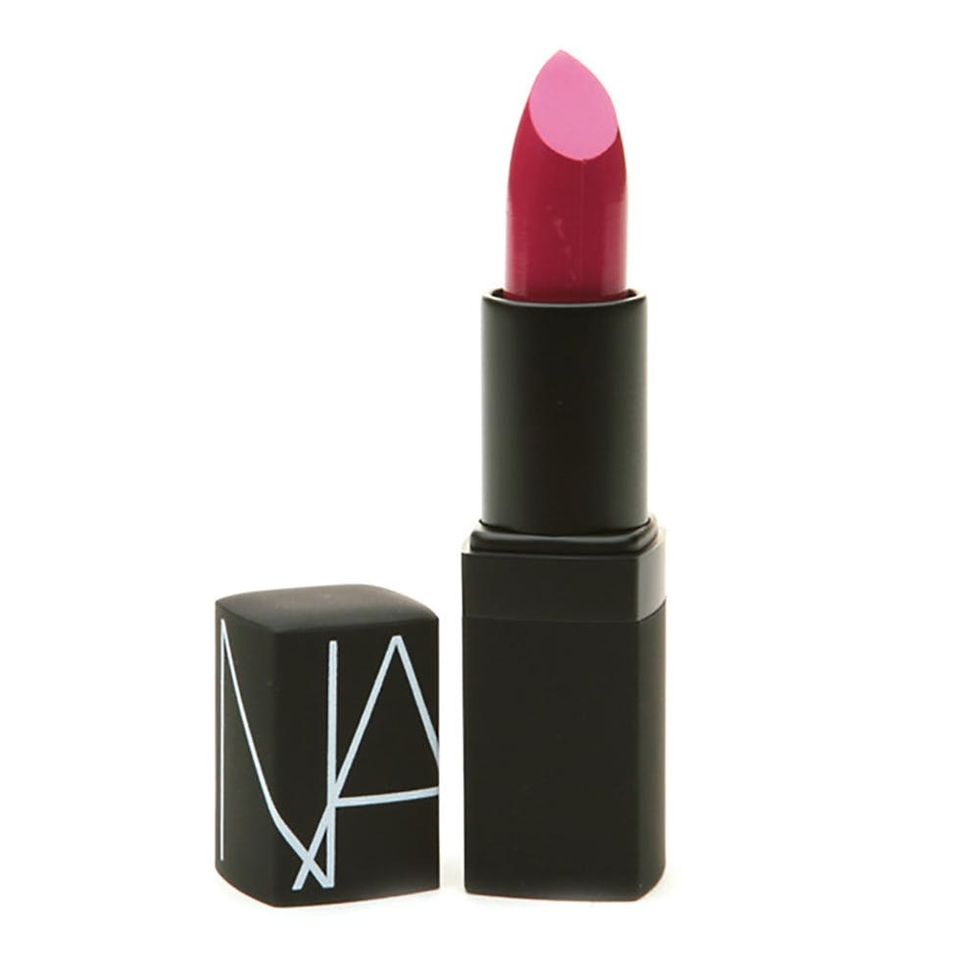 Dark Complexion
12. NARS Lipstick in Funny Face ($27): Even though this lipstick has a fuchsia base, the color will read a bit more coral on a deeper complexion.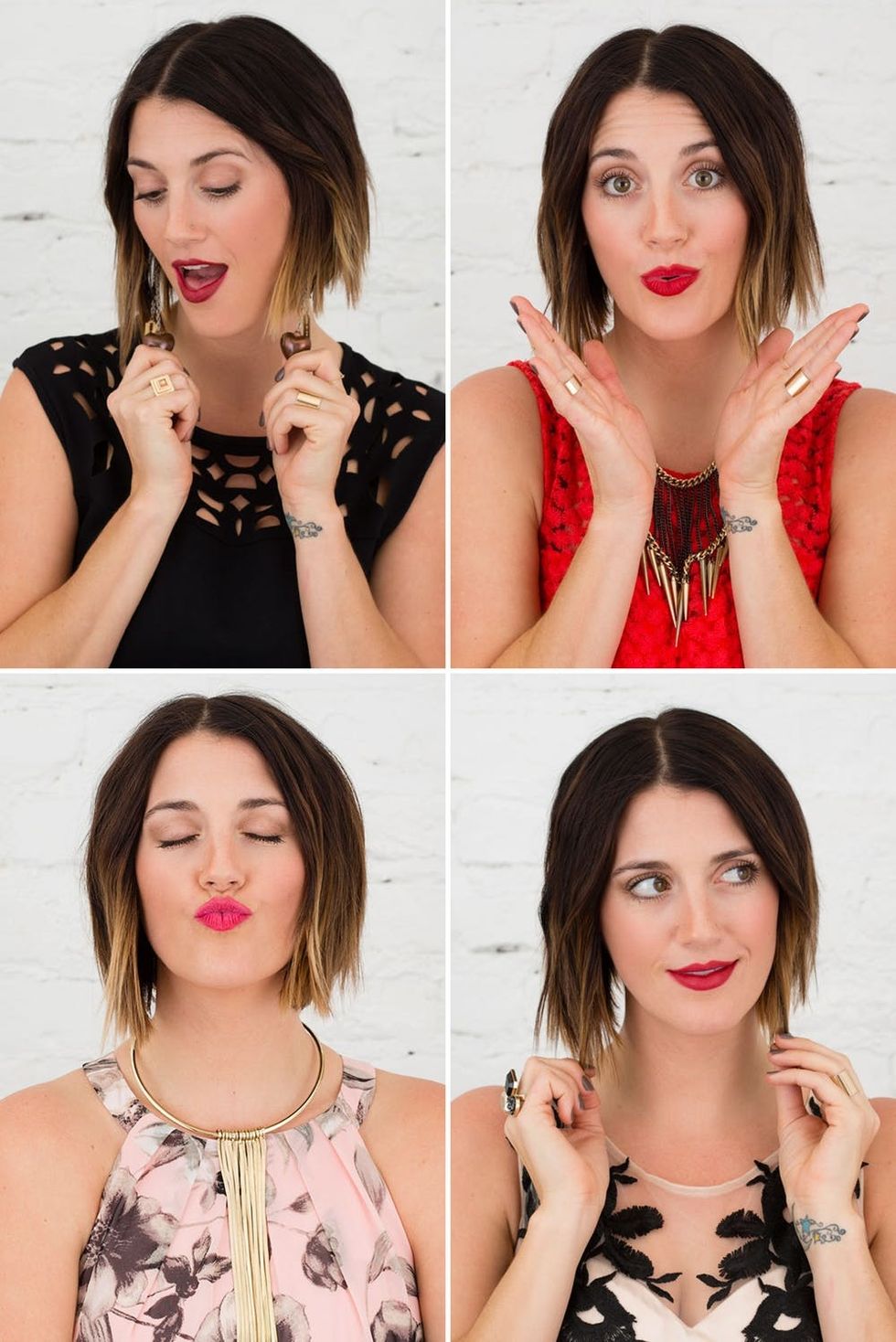 If there is one thing to be said about red lipstick, it's that there IS a perfect shade for every gal out there. Even though these hues are all lined up to match your complexion and your dress, at the end of the day I say a safe rule of thumb is that if the color you put on makes YOU feel pretty and happy. That's how you know it's the best color for you possible.
Which red lip would you rock? Let us know @BritandCo.
Brit + Co may at times use affiliate links to promote products sold by others, but always offers genuine editorial recommendations.
Misty Spinney
Misty Spinney is a hair stylist, makeup artist, and fashion stylist with a strong background in design and deep passion for creativity.
Makeup