Sink Your Whole30 Teeth in This 'Animal-Style' In-N-Out Burger Recipe
Jan 16, 2019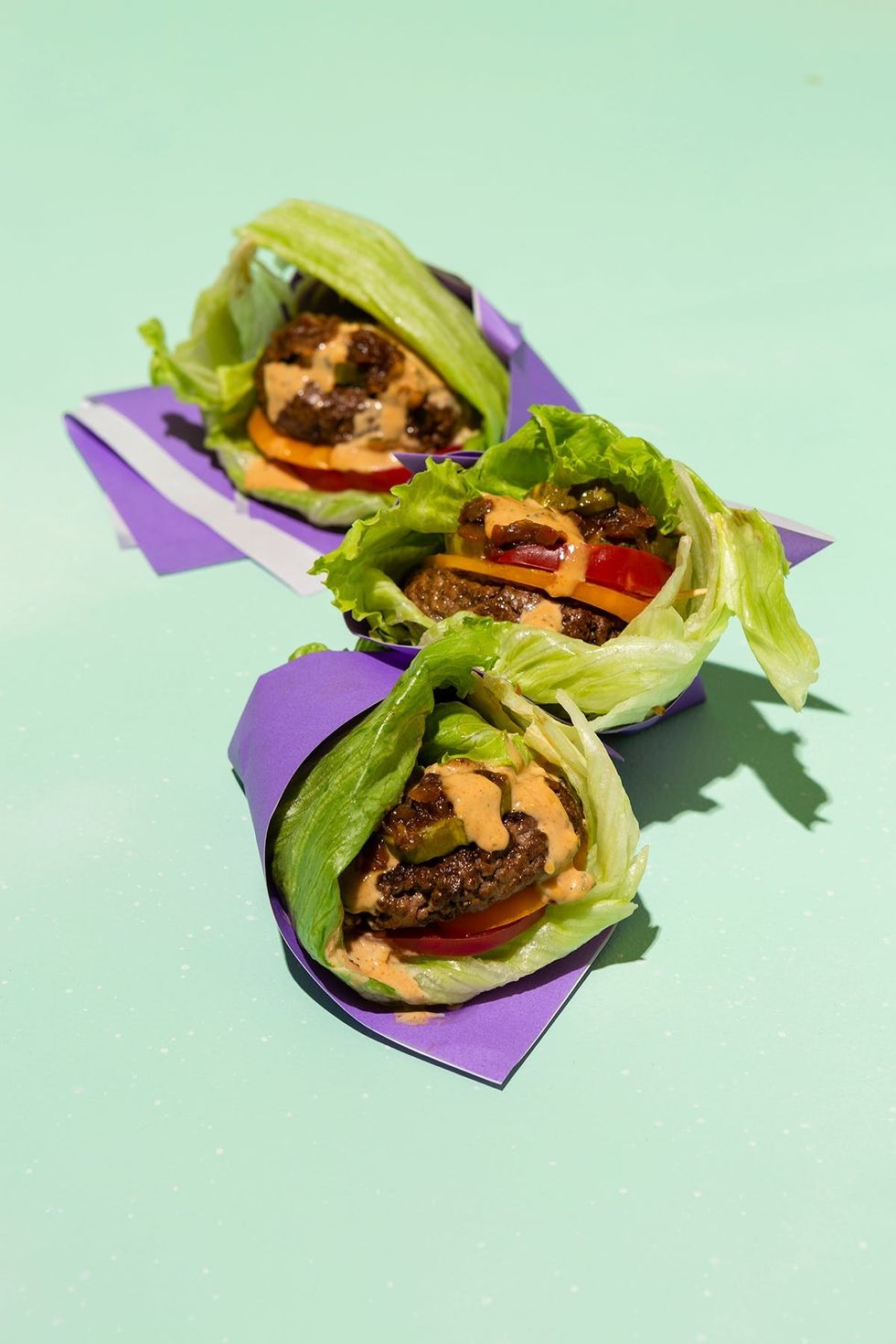 Ingredients
5 cups diced sweet Vidalia onion (about 5 small onions) (for Onions)
3 tablespoons coconut oil (for Onions)
3 tablespoons grapeseed oil (for Onions)
1 teaspoon kosher salt (for Onions)
1 cup paleo mayonnaise, such as Primal Kitchen brand
1/2 cup paleo ketchup, such as Primal Kitchen brand
1 tablespoon of sugar-free Dijon mustard
1 teaspoon chili powder
1 teaspoon garlic powder
1/4 cup sugar-free dill relish
2 tablespoons grated sweet Vidalia onion
1 tablespoon Valentina hot sauce (or to taste), or another sugar-free hot sauce
1 teaspoon kosher salt
freshly ground pepper
2 pounds ground beef, formed into 8 quarter-pound, ultra-thin patties (we used 85 percent lean) (for Burger)
8 teaspoons of sugar-free yellow mustard, such as French's brand (for Burger)
1 head iceberg lettuce, outermost leaves only (2-3 per burger) (for Burger)
1 beefsteak tomato, sliced 1/4-inch thick (for Burger)
1 small white onion, sliced 1/4-inch thick (for Burger)
8 slices sugar-free dill pickles, or more if desired (for Burger)
kosher salt (for Burger)
freshly ground black pepper (for Burger)
Directions
Make the caramelized onions. Heat the coconut oil and the grapeseed oil in a medium saucepan over low heat.
Add the onions and salt; stir to combine. Cook for about 1 hour, maintaining low heat, stirring occasionally. Onions are ready when they have a dark caramel color and have softened significantly. Drain out excess oil, optional. Set aside.
Make the special sauce. Combine all of the ingredients in a small bowl. Refrigerate until ready to use.
Grill the Burgers. Preheat your grill, griddle, or skillet to high heat. While grill heats up, brush one side of each patty with about 1 teaspoon of yellow mustard then generously season both sides of each beef patty with kosher salt and freshly ground black pepper.
No matter which apparatus you use to cook the burgers, cook burgers for about 4 minutes on each side for a medium-well temperature.
Build the burgers. Use the lettuce leaves as more of a wrap instead of a bun and top generously with onion, tomato, pickles, caramelized onions, and special sauce.
Ashley Bare
Ashley primarily works as a nomadic private chef happily serving her international clientele all over the world. She also does freelance recipe R&D, having recently worked with cookbook authors Mads Refslund, James Peterson, Candice Kumai, Tama Matsuoko, and Alison Cayne. In her former NYC life, she was a culinary instructor. Teaching people how to cook with confidence remains her professional passion. She hopes to open a cooking school in the next couple years. In addition to building a food and cooking empire, Ashley also obsesses over travel (see @cendrenue), learning languages, interior design, dance cardio, and amaro liqueurs.
DIY Recipes