20 Zesty, and Some Zany, Zucchini Recipes
Aug 26, 2013
The summer's coming to an end and we're getting ready for fall here at Brit HQ. As the late summer harvest comes in, though, we're still reaping the rewards of summer in the form of some delicious produce. Today's star? Zucchini, that zany fruit-that-seems-like-a-vegetable. We've searched the web for ways to use up our stash and found 20 yummy recipes to celebrate the end of the season.
---
1. Grilled Zucchini Pizza: Pizza is kind of our jam here at Brit + Co. Grilled pizza topped with grilled zucchini? Yes, please. (via Foodess)
2. Zucchini Sandwich Cookies: The term "sandwich cookies" calls to mind Oreos and other deliciousness. This zucchini version takes the concept up a notch by incorporating this delicious piece of produce and some yummy cream cheese frosting. (via Speed Bump Kitchen)
3. Zucchini Rolls with Herbed Goat Cheese: These remind us of sushi in that they're bite-size and adorable. The herbed goat cheese and pine nut combo is making our mouths water. (via Healthful Pursuit)
4. Zucchini Ribbon Pesto Salad: Did you know that zucchini, sliced correctly, can replaced pasta in a lot of recipes for a healthier version? This dish is reminiscent of pasta salad, but way better for you! (via The Frosted Vegan)
5. Zucchini Soup with Thyme Croutons: Soup and salad is an unbeatable combination so pair the zucchini salad above with this gorgeous green soup for a perfect late summer meal. (via Swiss Miss in the Kitchen)
6. Chocolate Orange Zucchini Donuts: Zucchini goes surprisingly well in a lot of sweet dishes, and these donuts covered in chocolate with a hint of orange zest are no exception. (via Pink Patisserie)
7. Salmon Stuffed Zucchini: For an adorable and health-conscious dinner, stuff your zucchini with some salmon! These would be an impressive addition to a dinner party and can serve as an appetizer for a big meal or a main dish if you pair it with some salad. (via Now I'm a Cook!)
8. Zucchini Basil Focaccia: Gluten free and vegan, this focaccia loaf is sure to please just about anyone. The flavor combo of zucchini and basil is pretty killer! (via Vegan Richa)
9. Grilled Cumin-Lime Zucchini Quesadilla: Incredibly easy to make, the secret ingredient of this dish is honey — the sweetness really sets off the cumin and lime flavors. (via Naturally Ella)
10. Zucchini Carpaccio: This light dish, perfect for those warm late summer evening, is crazy simple and really lets the taste of the zucchini speak for itself. (via Framed Cooks)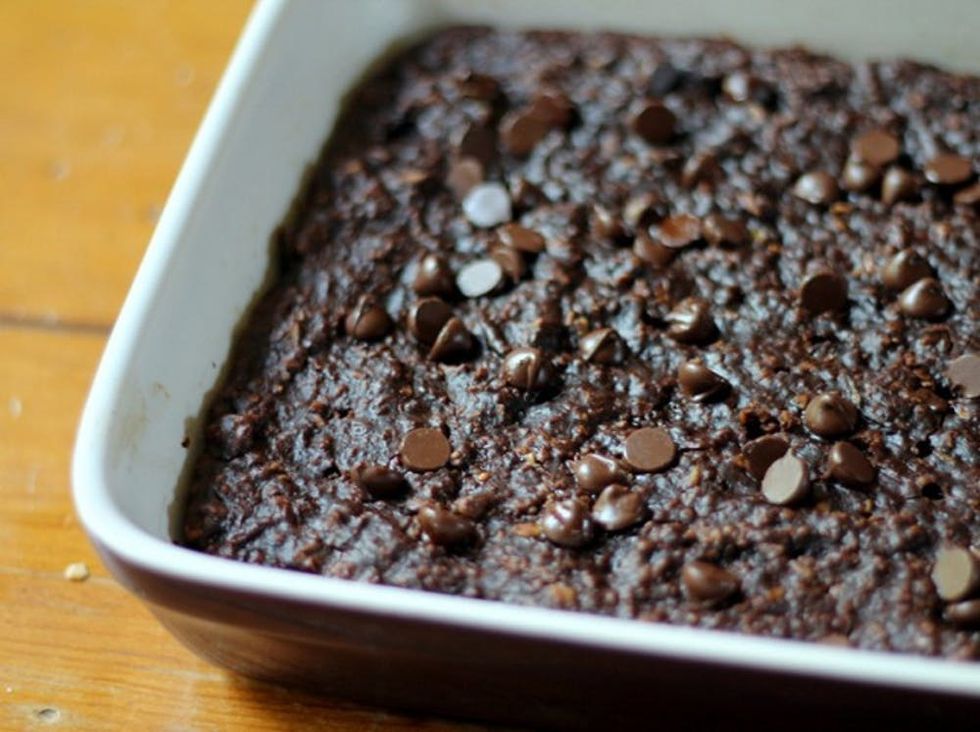 11. Zucchini Oat Brownies: Just look at these brownies. You'd never guess how healthy they are! Chocolatey and moist, these are a must for your baking arsenal. (via Ambitious Kitchen)
12. Taco Stuffed Zucchini: Looking for the taste of tacos with a little less calories? These zucchinis are stuffed with seasoned tempeh, making them vegetarian and delicious. (via Oh My Veggies)
13. Zucchini and Hazelnut Salad: The key to this dish is grilling the zucchinis which really brings out their unique flavor. The addition of hazelnuts is a great finish to a delicious recipe. (via Elra's Cooking)
14. Nutella Stuffed Peanut Butter Banana and Zucchini Muffins: Speaking of hazelnut, where would be without Nutella? A lot worse off, that we know! These moist banana and zucchini muffins are flavored with PB and stuffed with Nutella and the result is incredible. (via Half-Baked Harvest)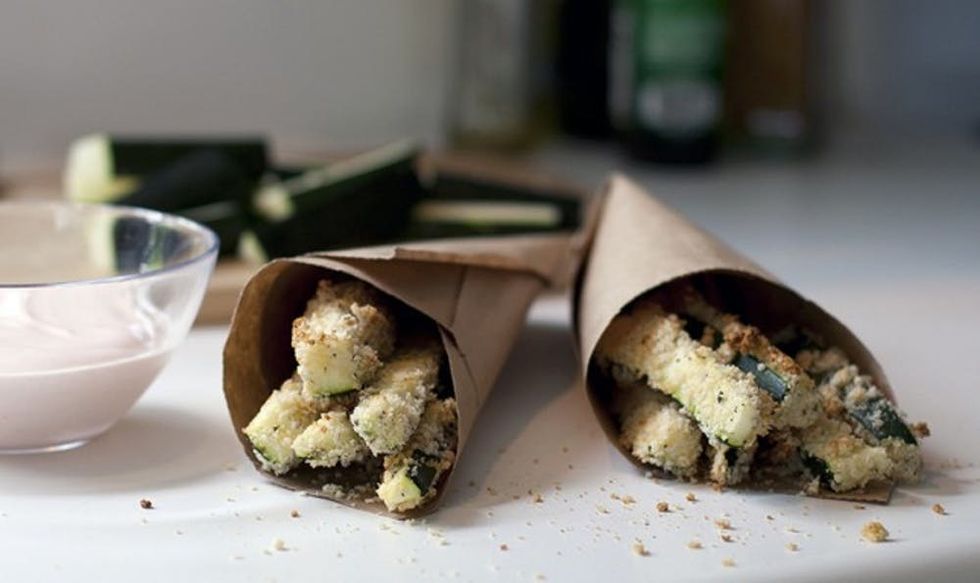 15. Zucchini Fries with Sriracha Dipping Sauce: The sriracha dipping sauce is a perfect complement to this healthier take on french fries. (via Kim's Healthy Eats)
16. Zucchini Faux Lasagna: Another healthy food hack, this lasagna uses zucchini for noodles, lending it a more robust flavor and a lower calorie count. (via Drink Me Eat Me)
17. Zucchini, Pea, and Quinoa Burgers: Not only are these veggie burgers delicious, but they're paired with incredible homemade buns filled with pumpkin and sunflower seeds. Is it time for a barbeque? (via Deliciously Ella)
18. Zucchini and Corn Panini: Zucchini and corn are central components of the late summer harvest and this panini, perfect for lunch, uses them beautifully by pairing them with some pepper jack for a little extra flavor. (via Oh My Veggies)
19. Zucchini and Macadamia Hummus: Macadamia nuts and zucchinis combine to make this awesome take on one of our favorite snacks — hummus! Pair with some veggies or pita bread for an afternoon-pick-me-up. (via Eva Muerde La Manzana)
20. Zucchini Quinoa Fritters with Parmesan: Quinoa is tasty. Zucchini is tasty. Together, you've got a dish that will be gobbled up fast! Top with parmesan for an extra oomph! (via The Scrumptious Pumpkin)

How do you use zucchini to make your meals healthier? Is there any other late summer produce you're swooning over? Talk to us in the comments below.