How to Throw an American Horror Story: Hotel Premiere Party Lady Gaga Would Attend
Oct 06, 2015
Is anyone else a bit too excited for the Season 5 premiere of American Horror Story?! With more terrifying plots, insane getups and a new cast member we're just dying to see (read: Lady Gaga), we just can't even. If you too are obsessed with all things AHS, then throwing a dinner premiere party on October 7 is a definite must. Take inspiration from Mother Monster by channeling this promo pic Gaga snapped for the series.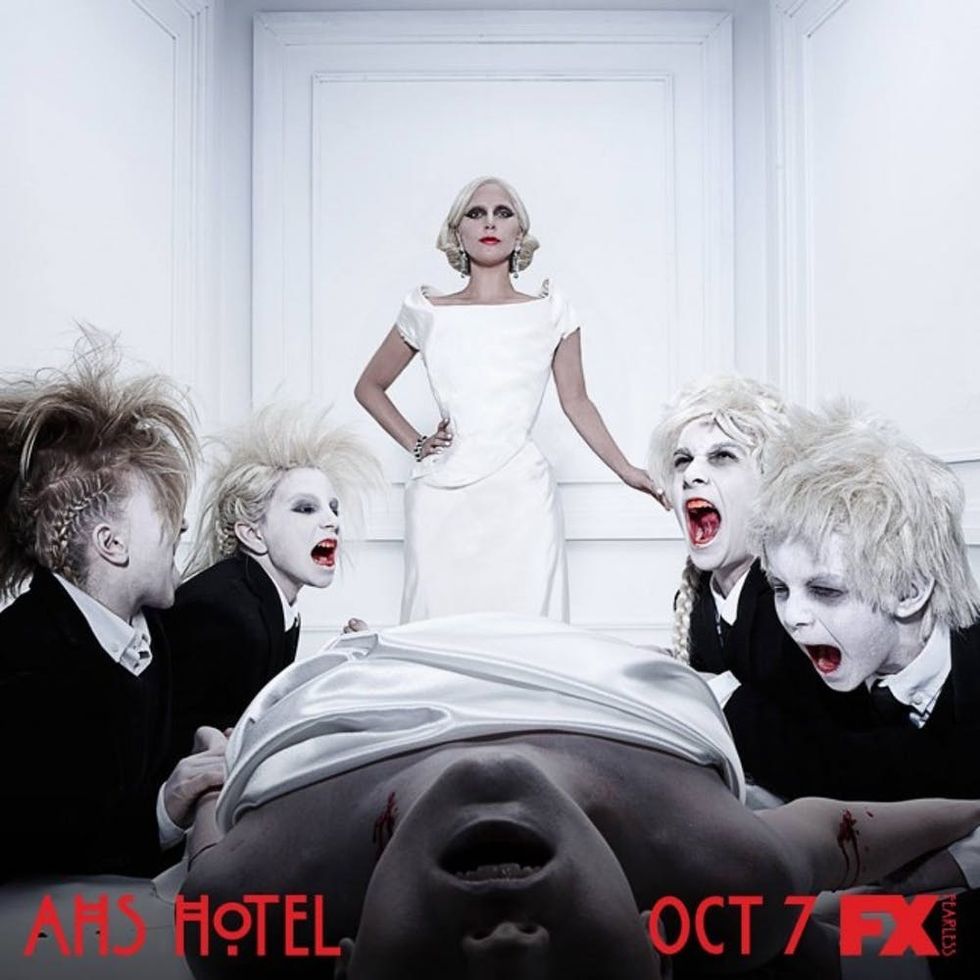 ---
"Nothing like a family dinner," she wrote — eeeeek! With the uber-creepy ideas below, you'll be able to put an AHS spin on the typical Halloween dinner party. These go way beyond spaghetti intestines and peeled grape eyeballs. No kids allowed, because this is one scary-ass event.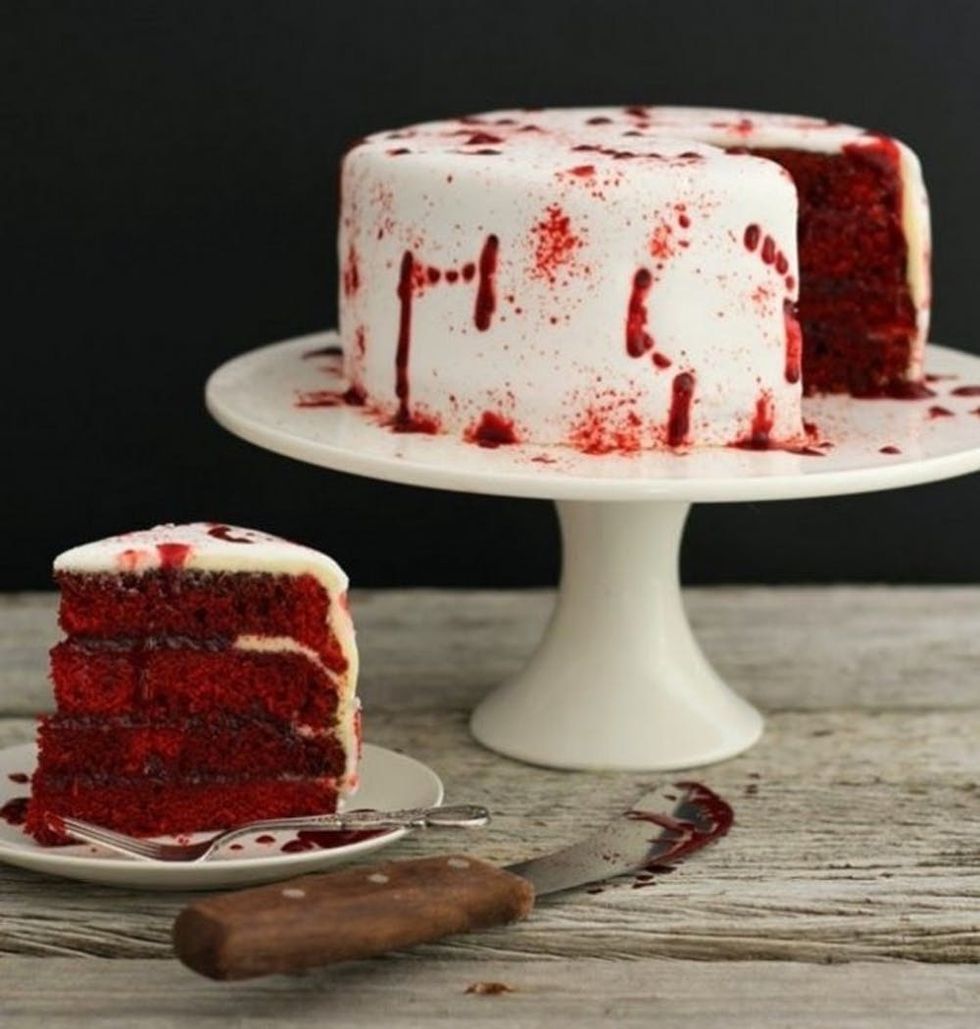 1. Vamp Attack Cake: Your guests will vant to suck the blood-red raspberry chocolate filling right out of this red velvet cake. (via Butter Hearts Sugar)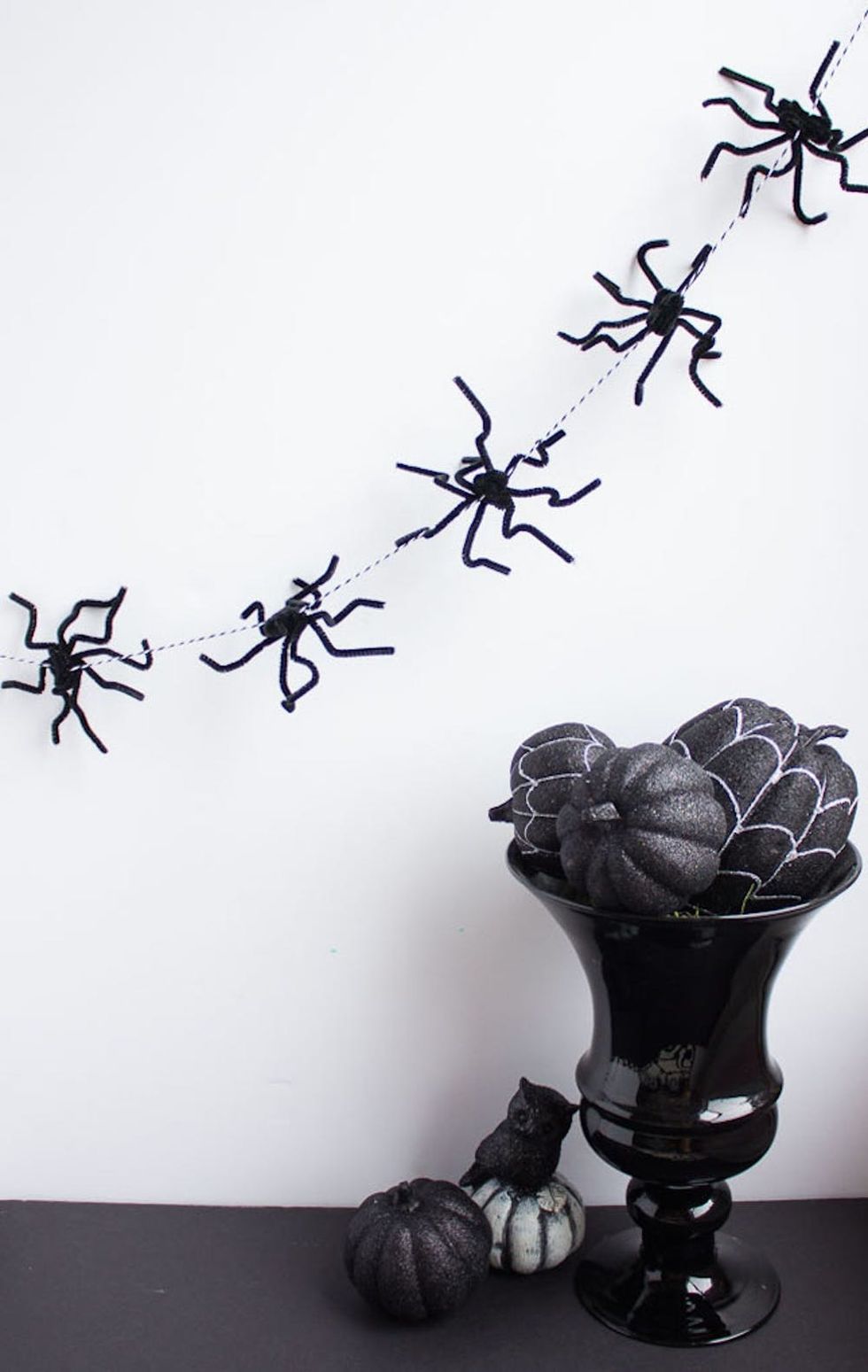 2. Spider Garland: These pipe cleaner arachnids are simple to make and hang, but they'll go the extra eerie mile by casting shadows along the walls. (via Design Improvised)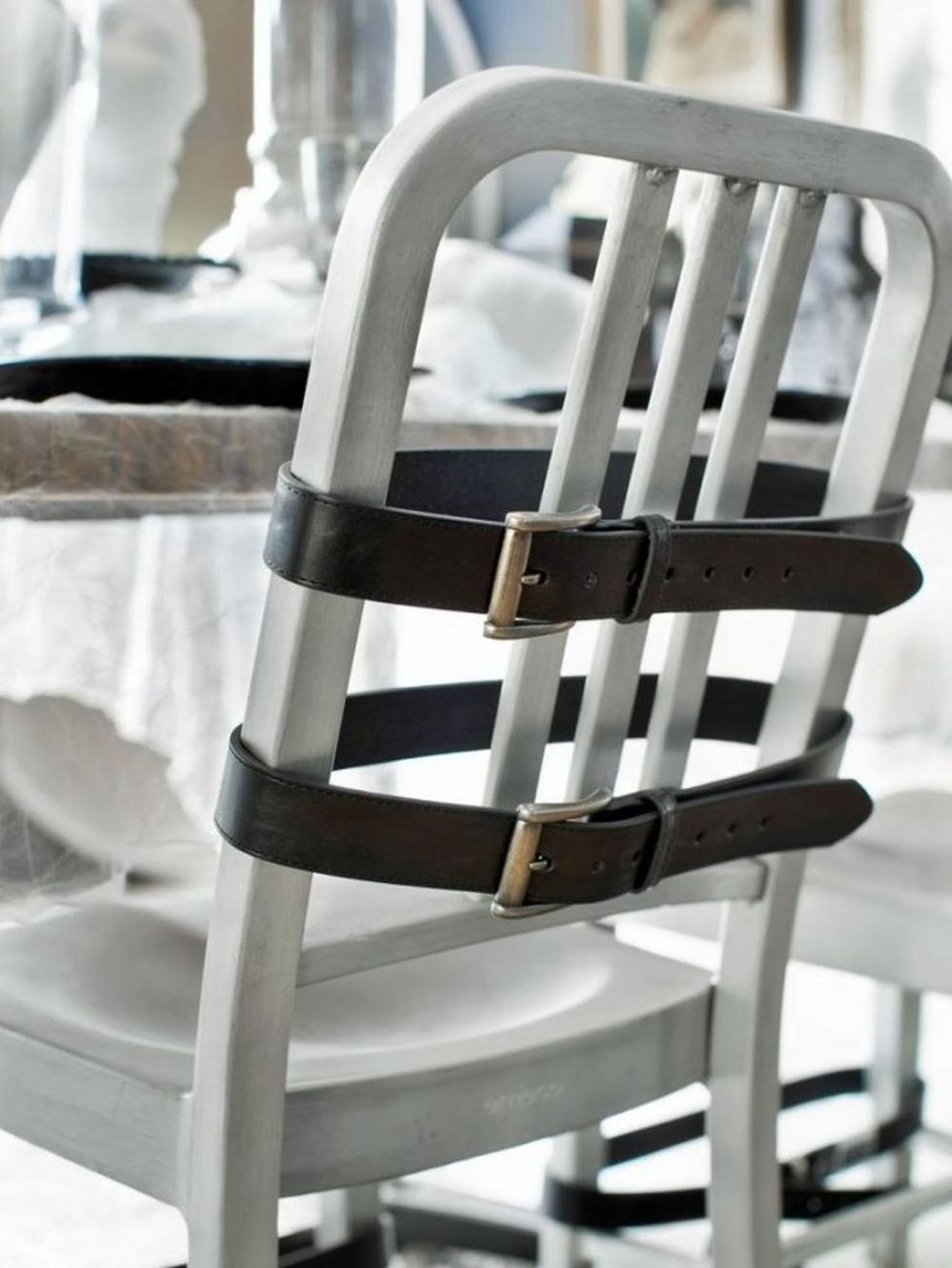 3. Strapped in Seating: Take your coats off and stay a while — a long while — with some AHS: Asylum-inspired belts fastened around the backs and legs of your dining chairs. (via HGTV)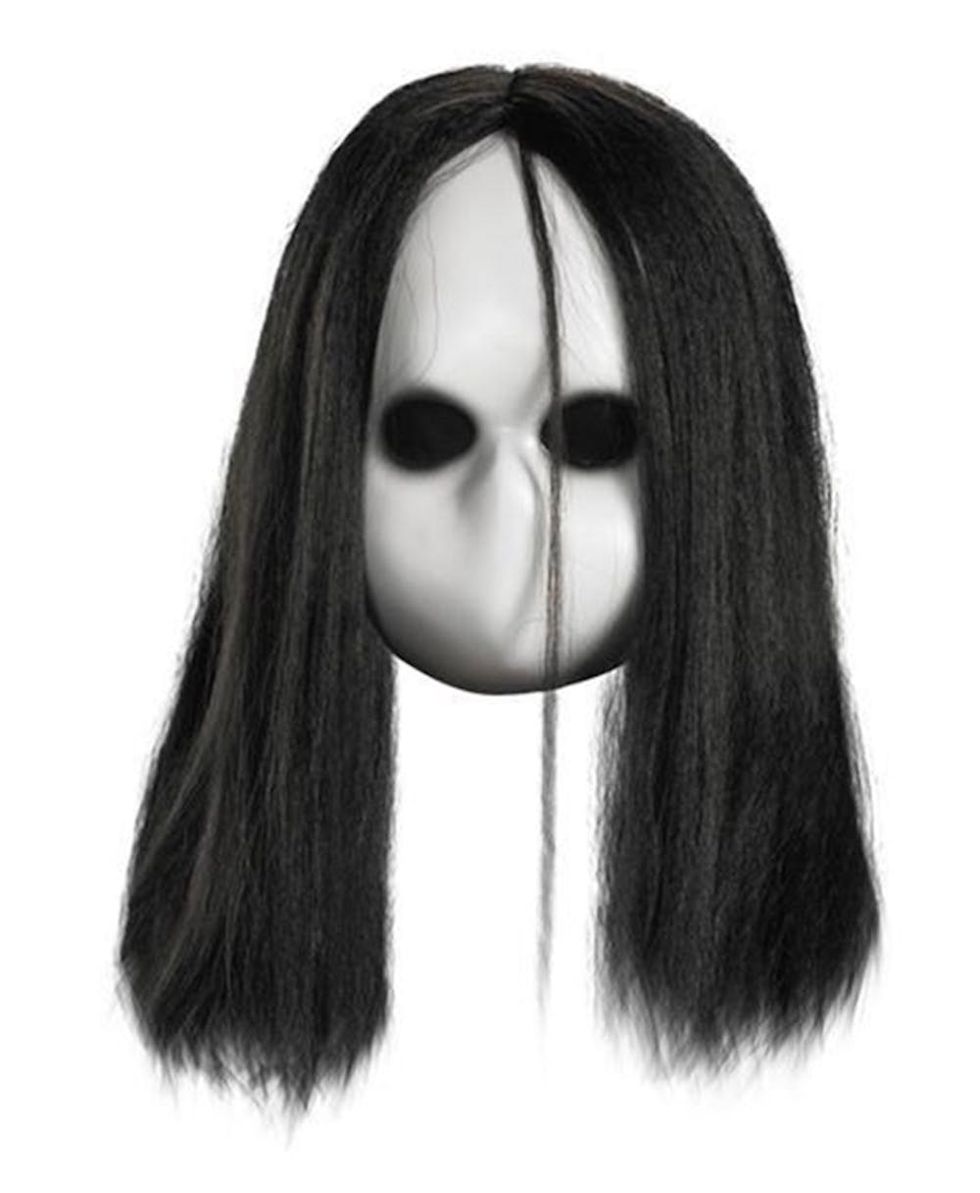 4. Blank Eyes Adult Mask ($6): Pass these around for laughs and scares all night long.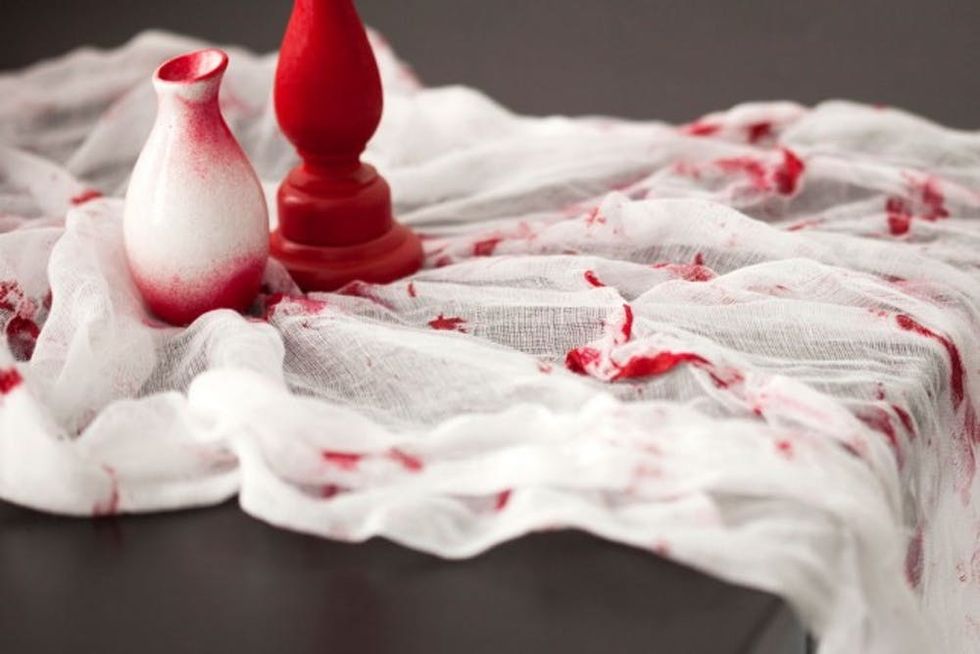 5. Bloodied Tablecloth: What's that on the table, you say? Oh, it's just some red paint, we swear ;) (via Brit + Co)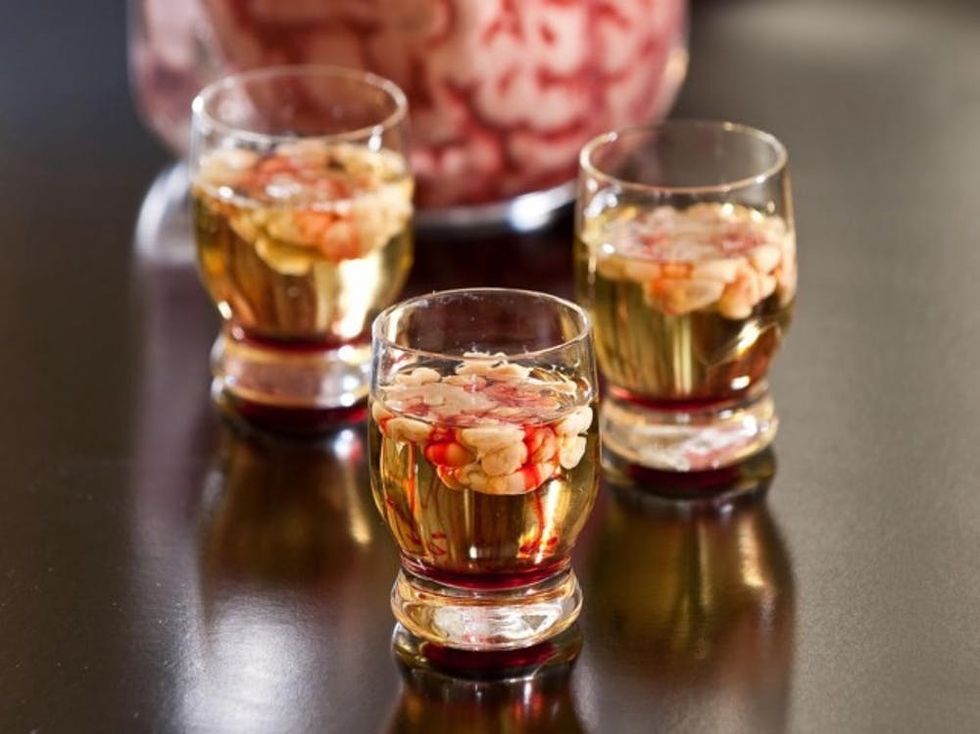 6. Bloody Brain Shooter: This shot is just strawberry vodka, Bailey's, grenadine and lime juice, but pour them just right and they look like braaaaaaaains. Sip if you dare. (via Ministry of Alcohol)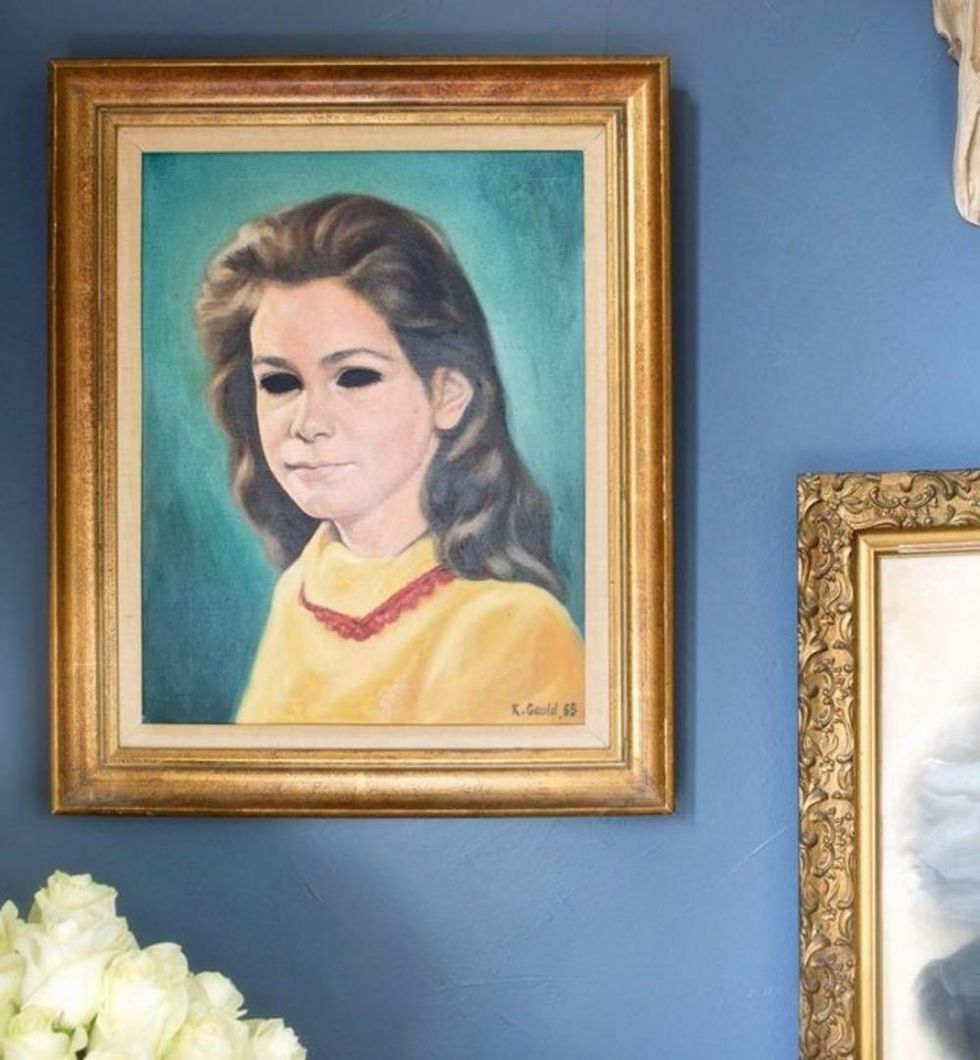 7. Creepy Portraits: Give your family portraits or some cheap thrift store art a terrifying update by blacking out everyone's eyes with construction paper and double-sided tape. (via HGTV)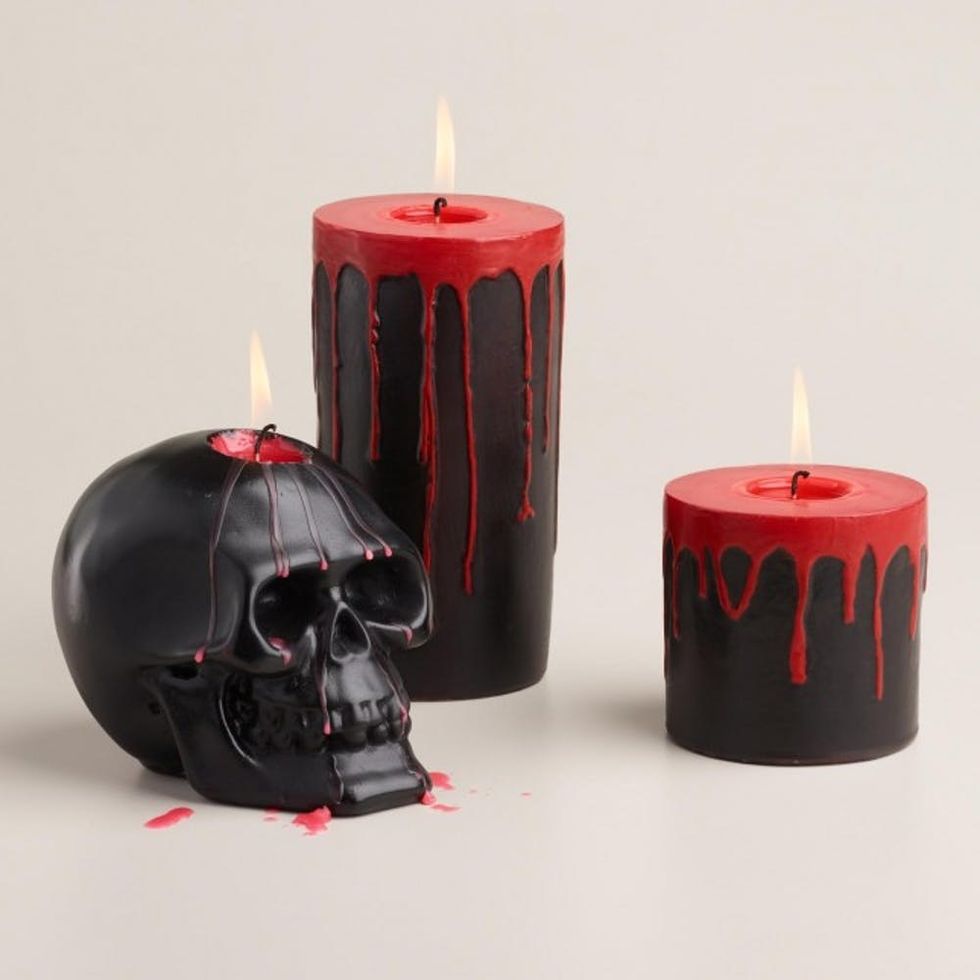 8. Bleeding Candles ($6+): Dining by candlelight is so bloody romantic, isn't it? Here's a tip: Light the skull for at least two hours, and it will start bleeding from its eyes by the time your guests arrive.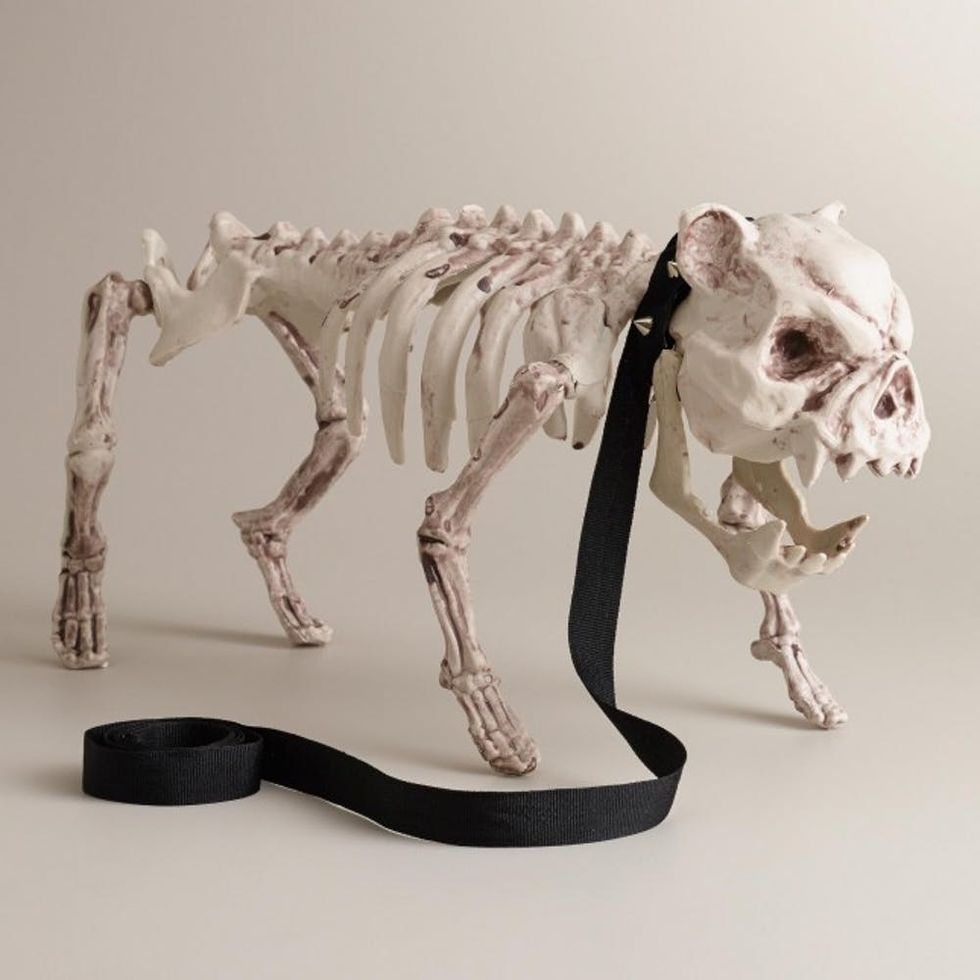 9. Dog Skeleton ($30): A devilish dinner isn't complete without a hellhound or two.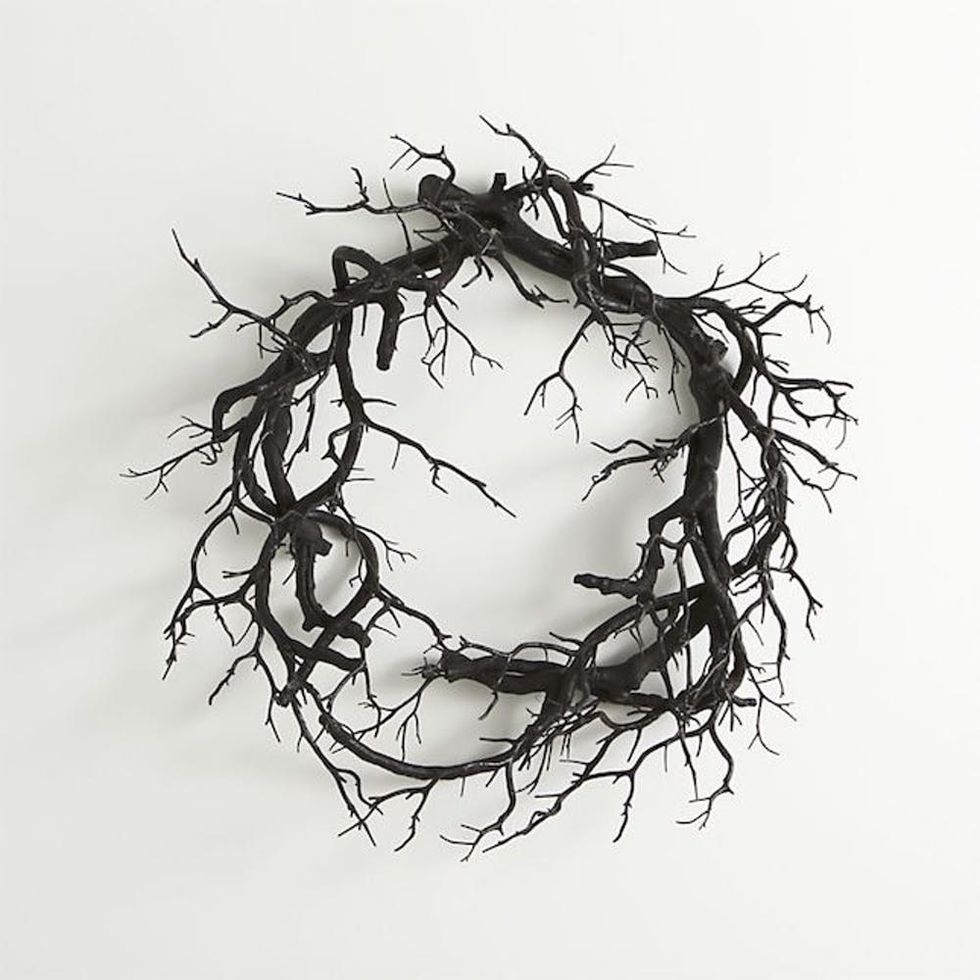 10. Black Branch Wreath ($50): You can buy this solemn wreath, but a much cheaper option is to grab some bare branches from the yard and spray paint them black. Bonus points for creepy doll head accessories.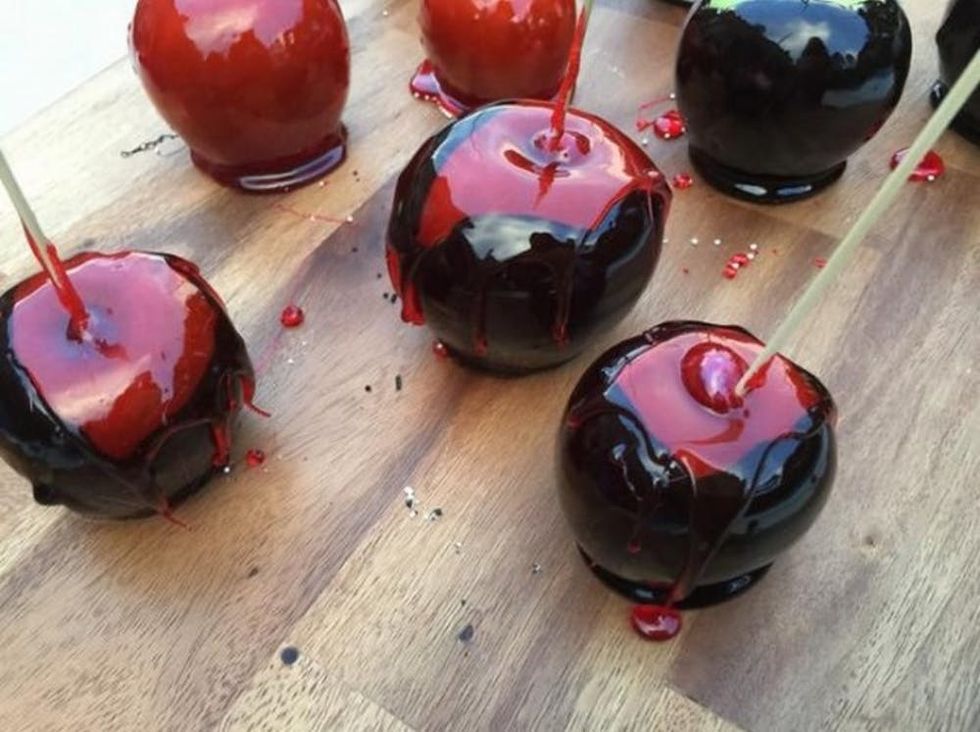 11. Bleeding Candy Apples: Nope, it's not poison. It's just a Halloween fave made with red food coloring and a black gel coloring paste. (via Snapguide)
12. Zombie Window: This easy window design sets the tone for the deadly evening to come. (via Snapguide)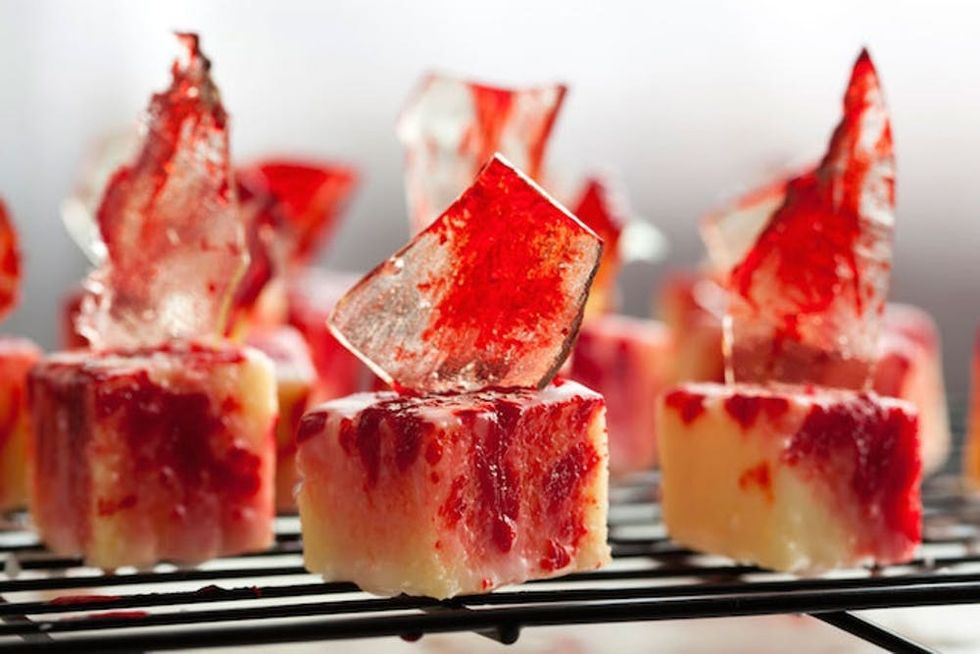 13. Blood-Splattered Petit Fours: It doesn't get more spooky that these bloody treats. The sugar glass adds the perfect finishing touch that will scare your guests. (via Brit + Co)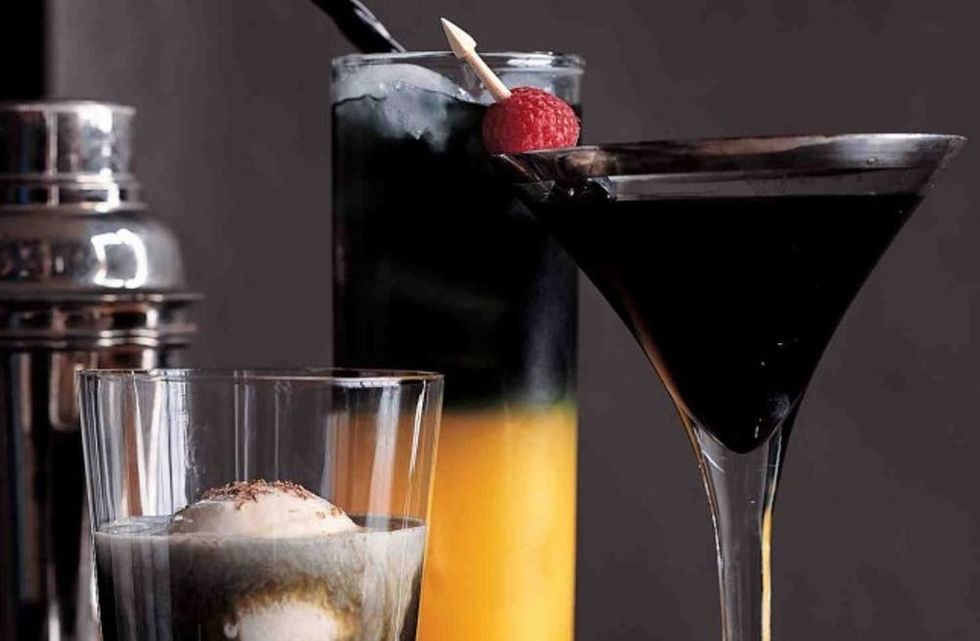 14. Black Vodka: There are so many Halloween cocktails to choose from, but black vodka's the way to go at a scary party. Try one of these three recipes (Ghost in the Graveyard, Screwed-Up Screwdriver and Berry Scary Martini) to show off your monster mixology skills. (via Martha Stewart)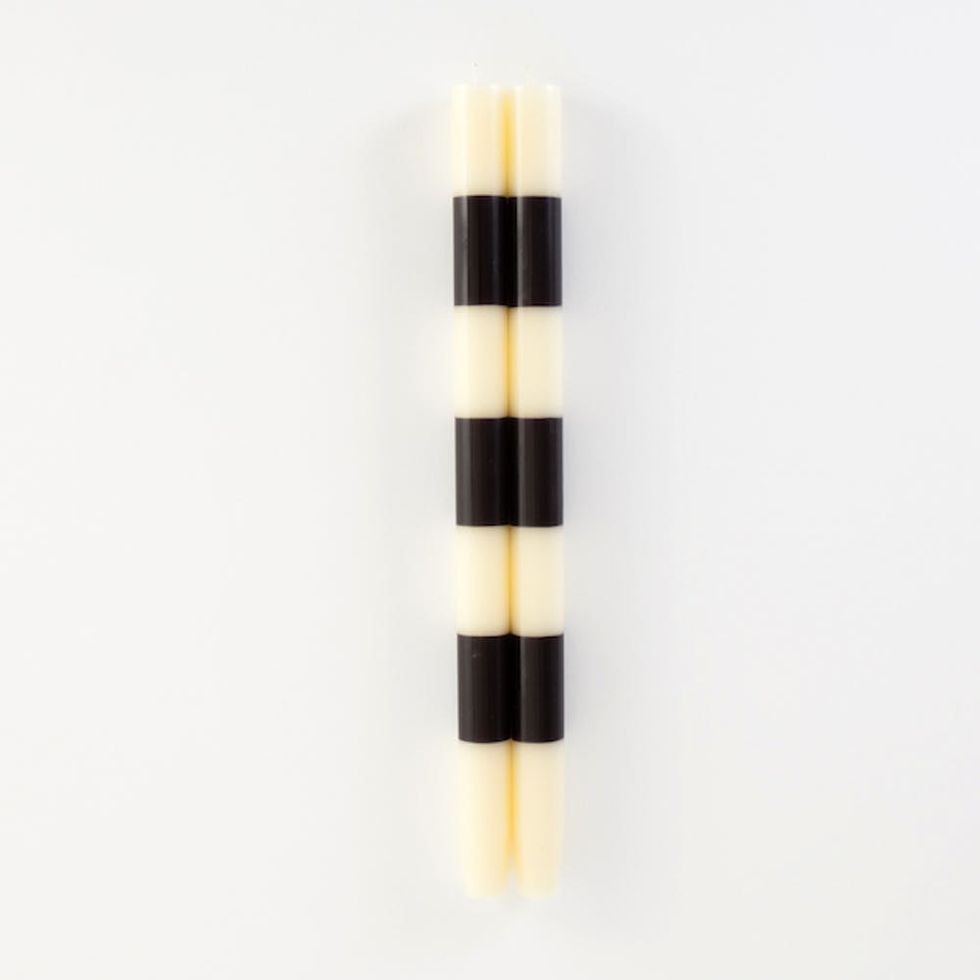 15. Black Striped Candles ($24): What's a dinner party without a little candle action? These will look killer on your tablescape in an old candelabra.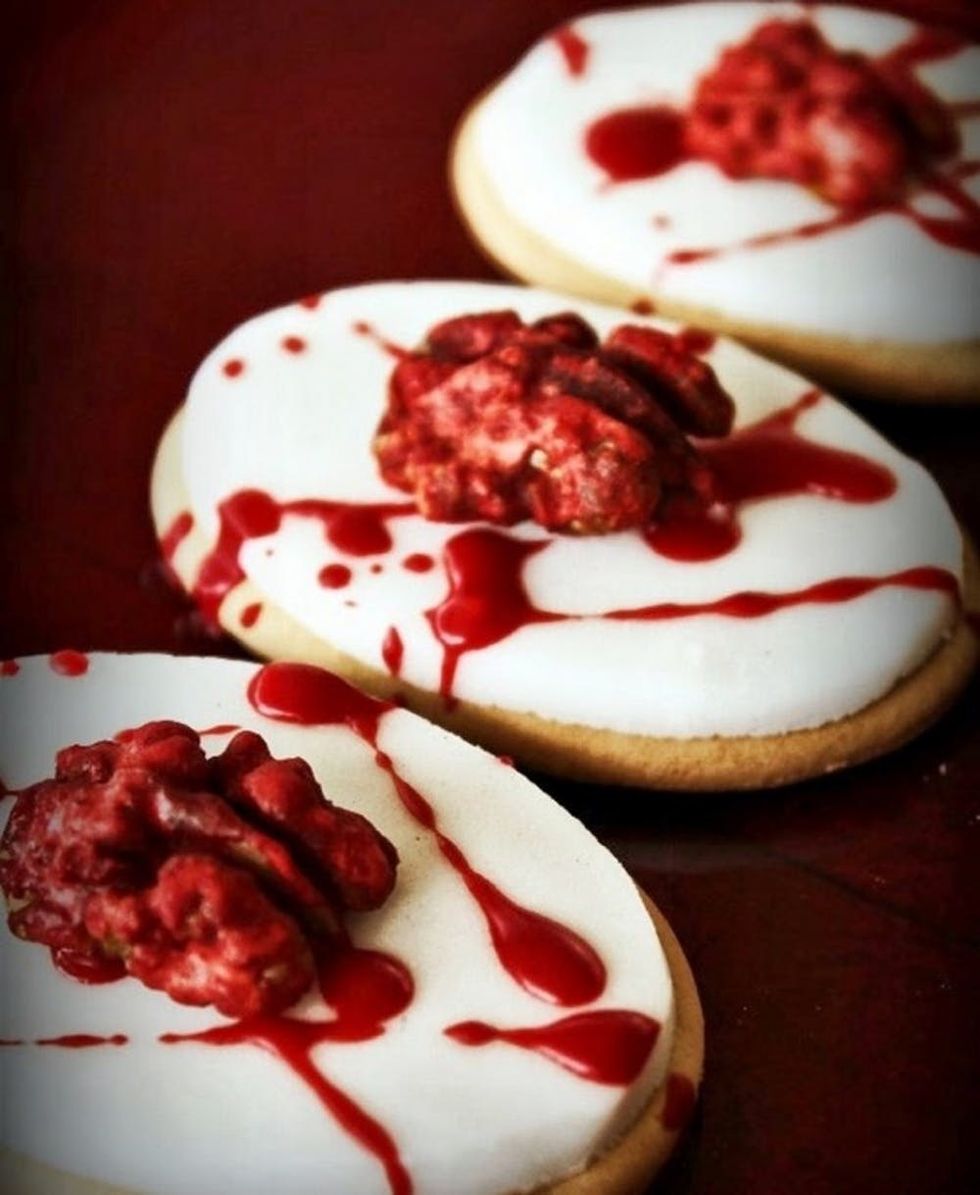 16. Brain Biscuits: Those red clumps are just walnuts. Keep it mum and let your brave guests discover that one for themselves. (via Love That Party)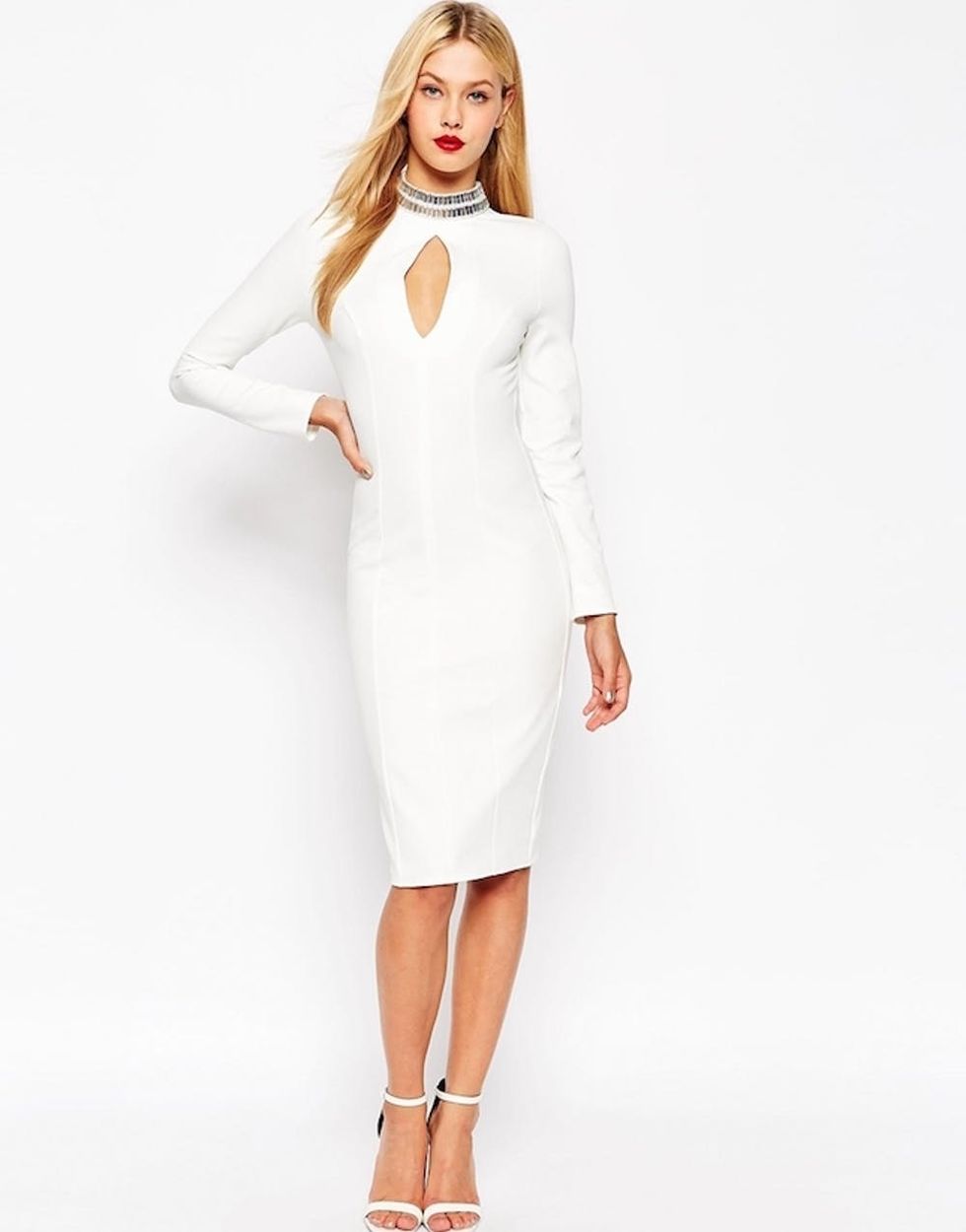 BONUS!Embellished Collar Midi Dress ($94): If you really want to get in character, pick up a Mother Monster-inspired dress to play the part. The peephole neckline and metallic collar here scream horror queen. Red lip required!
How would you set the scene for a grisly Halloween soiree? Share your scariest ideas in the comments!
Molly Griffin
Molly is a writer and editor from Boston who loves traveling, eating and occasionally being a little too candid. She lived in Dublin, Ireland for the last four years but recently moved to San Francisco to escape the rain. Now, she's on the lookout for a good proper pub.
Party