Autumn Enchiladas: Acorn Squash, Savory Shrimp & Poblano Peppers
Sep 06, 2012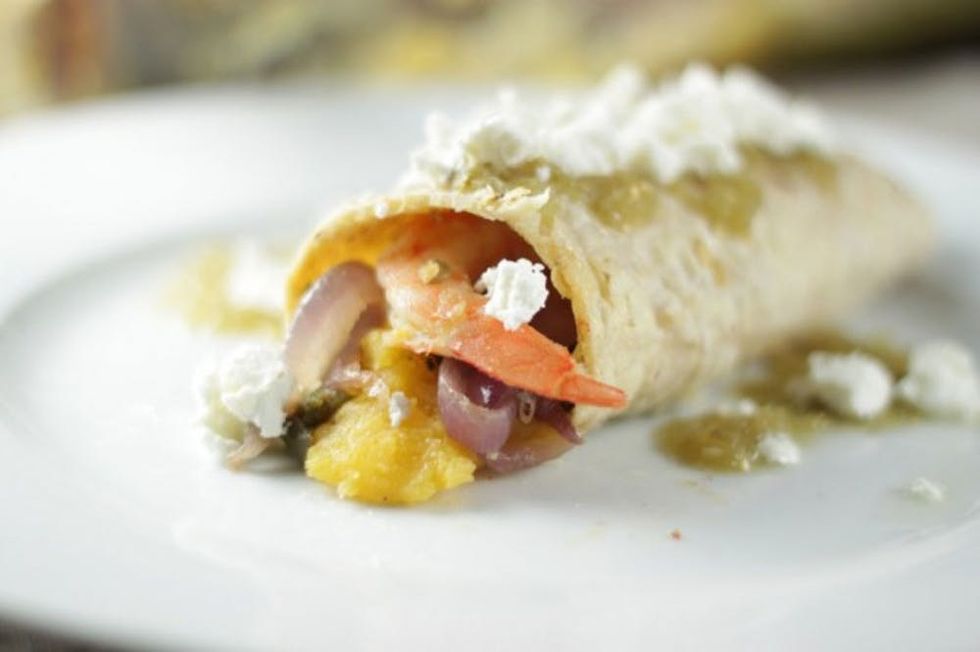 Our next make-ahead meal for this week is a bit more autumnal. We pair sweet acorn squash with spicy poblano peppers, savory, shrimp, and tangy goat cheese to make easy and healthy enchiladas that are deeelicious! Assemble at the beginning of the week and pop in the oven for 20 minutes when you get hungry.
---
Ingredients (serves 4)
– 1 red onion
– 1 tablespoon olive oil
– 1 acorn squash, cut in half
– 2 poblano peppers
– 1 teaspoon cumin
– 1/2 teaspoon paprika
– 1 pound shrimp, pre-cooked and peeled
– 2 cups tomatillo salsa
– 8 ounces goat cheese
– 8 corn tortillas
– Salt and pepper to season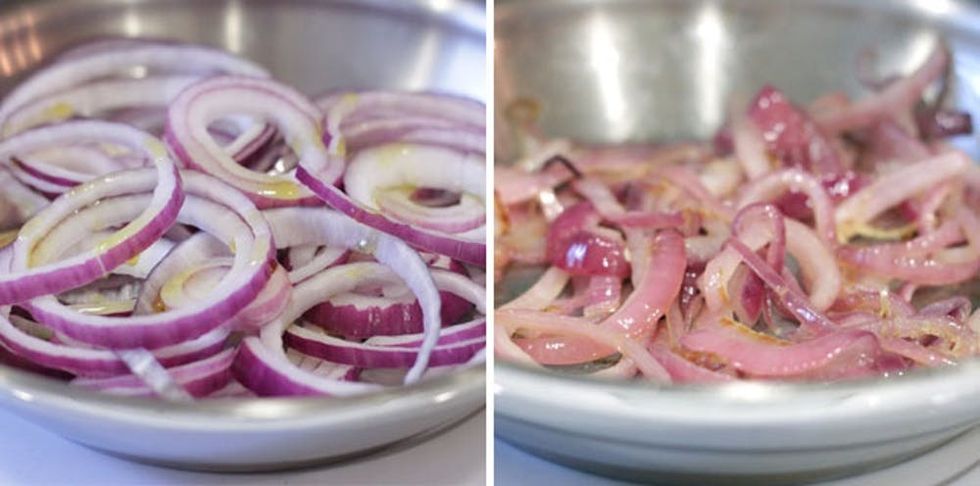 Preheat oven to 400 degrees F. Cut onion into thin horizontal slices and place in a medium-sized saute pan. Add one tablespoon olive oil and cook over low to medium-low heat for about 30 to 40 minutes, or until onions are translucent and begin to caramelize. Set aside to cool.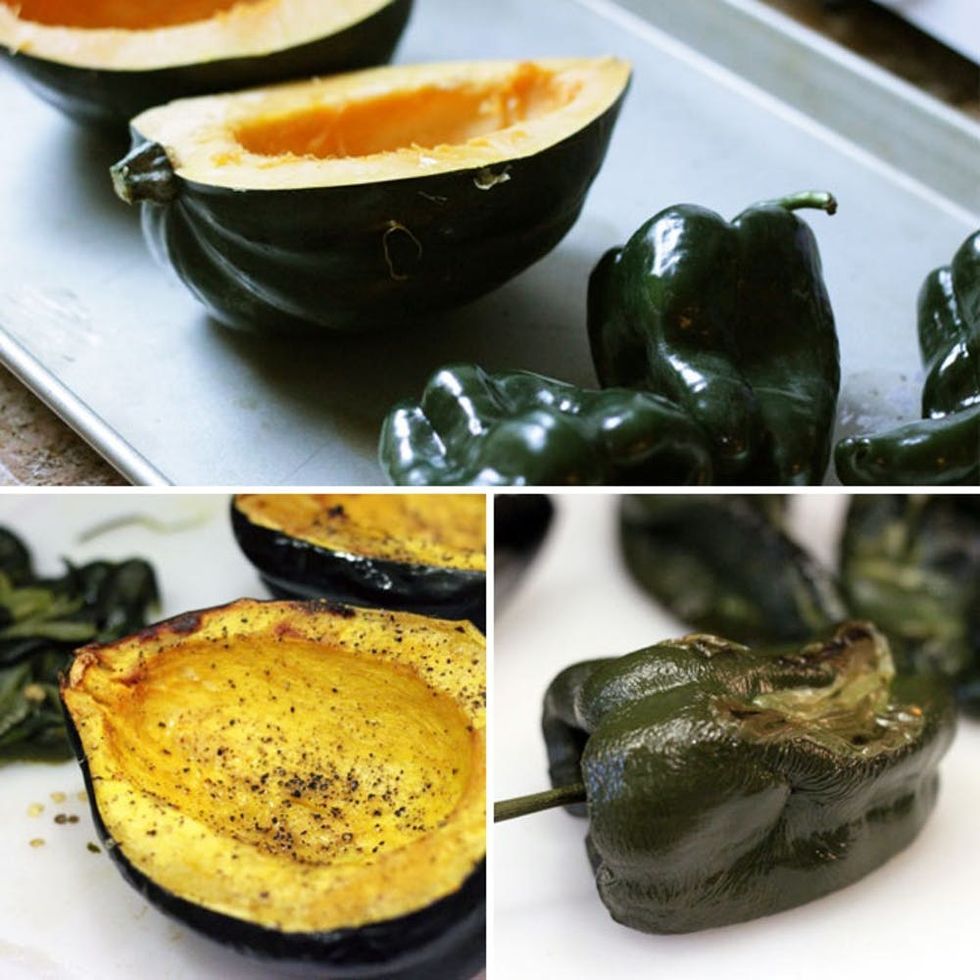 Meanwhile, place acorn squash halves and poblano peppers on a baking sheet. Roast for 10 minutes, turn poblano peppers over, and roast for another 10 to 20 minutes until peppers are burned in spots. Remove peppers from oven and set aside to cool. Continue to roast acorn squash for a total of 40 to 50 minutes, or until tender when pierced with a fork. Set aside to cool.
Once peppers have cooled, peel away thin layer of skin covering the pepper and slice lengthwise into strips. Remove skin of squash as well and dice into cubes. Season squash with 1/2 teaspoon cumin, salt, and pepper.
Season shrimp with remaining cumin and paprika. Make an assembly line for your enchiladas by lining up your filling ingredients: acorn squash, onions, poblano peppers, and shrimp.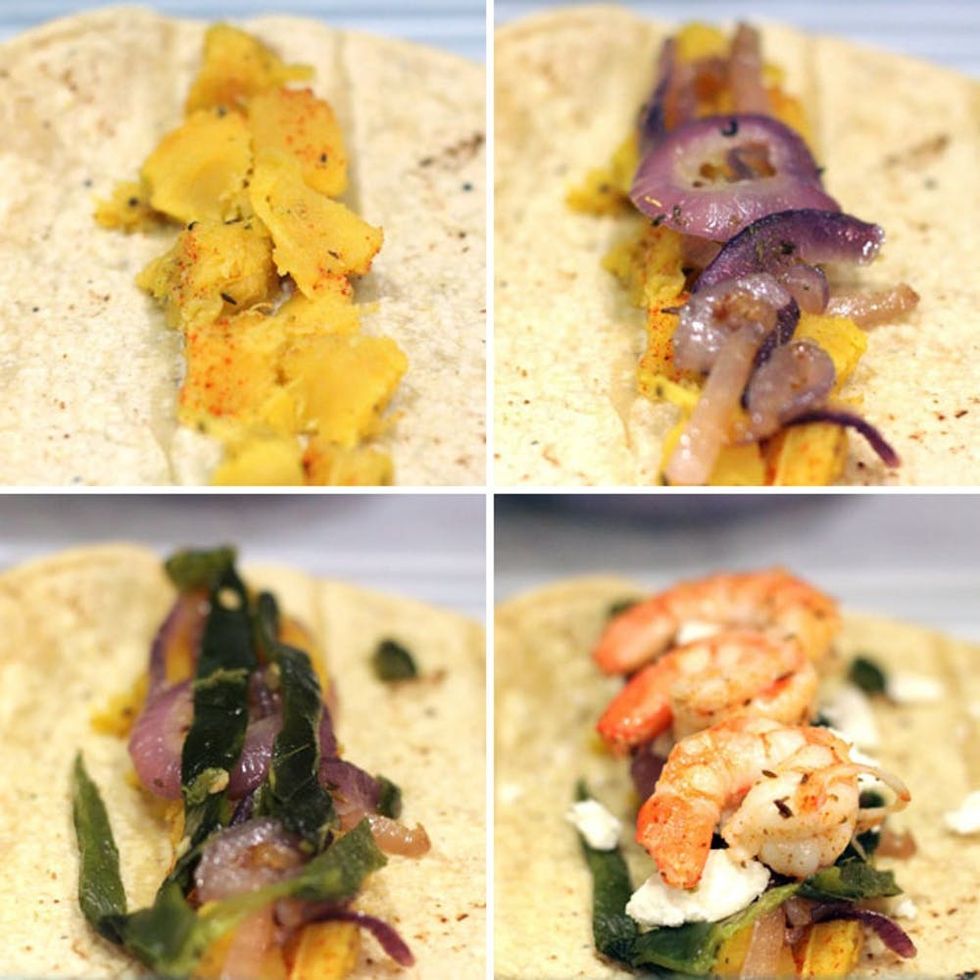 Place 2 tortillas in microwave and cover with a damp paper towel; heat for 10 to 20 seconds until tortillas are moistened and warm (this keeps them from cracking during assembly). Place one tortilla inside a 9×13-inch casserole dish. Fill with squash, followed by onions, peppers, and shrimp. Gently fold the sides of the tortilla over filling and turn seam side down in the dish. Repeat with remaining tortillas. At this point, the dish can be refrigerated for up to 2 days.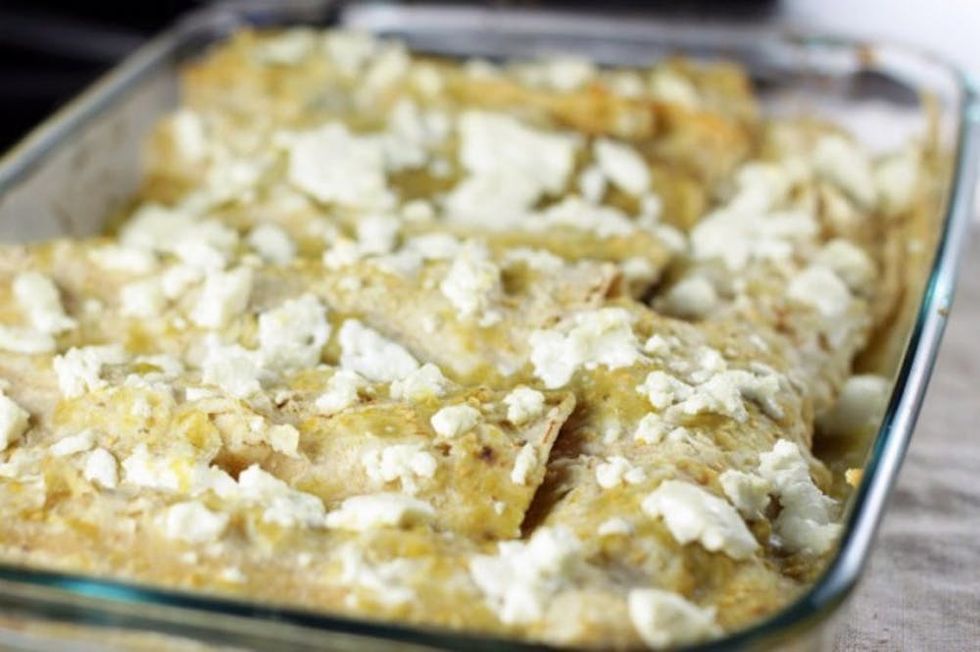 When ready to serve, heat oven to 350°F. Cover enchiladas with tomatillo salsa and top with goat cheese. Bake for 20 minutes until heated through.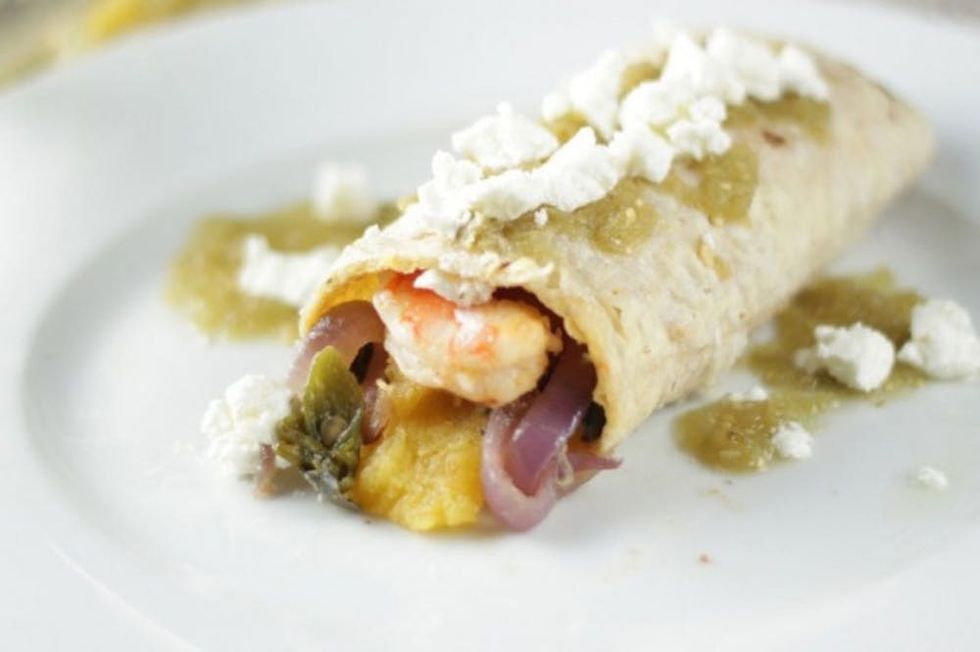 Have you cooked up any make-ahead goodness this week? Let us know your go-to freezer/fridge meals for the busy weeks ahead in the comments below, or over on Twitter.
Sarah Jones is a native (and proud!) Texan currently living in sunny Palo Alto. Check out Sarah's baking and cooking recipes at The Purple Mixer.
Sarah Jones
Sarah is a former Brit + Co-er who is the woman behind Miss Jones Baking Co., a modern American baking brand and maker of the first-ever organic ready-to-use frostings and complementary line of organic baking mixes.
DIY Recipes