Braids That Are Pretty and Easy to Pull Off
Mar 11, 2016
—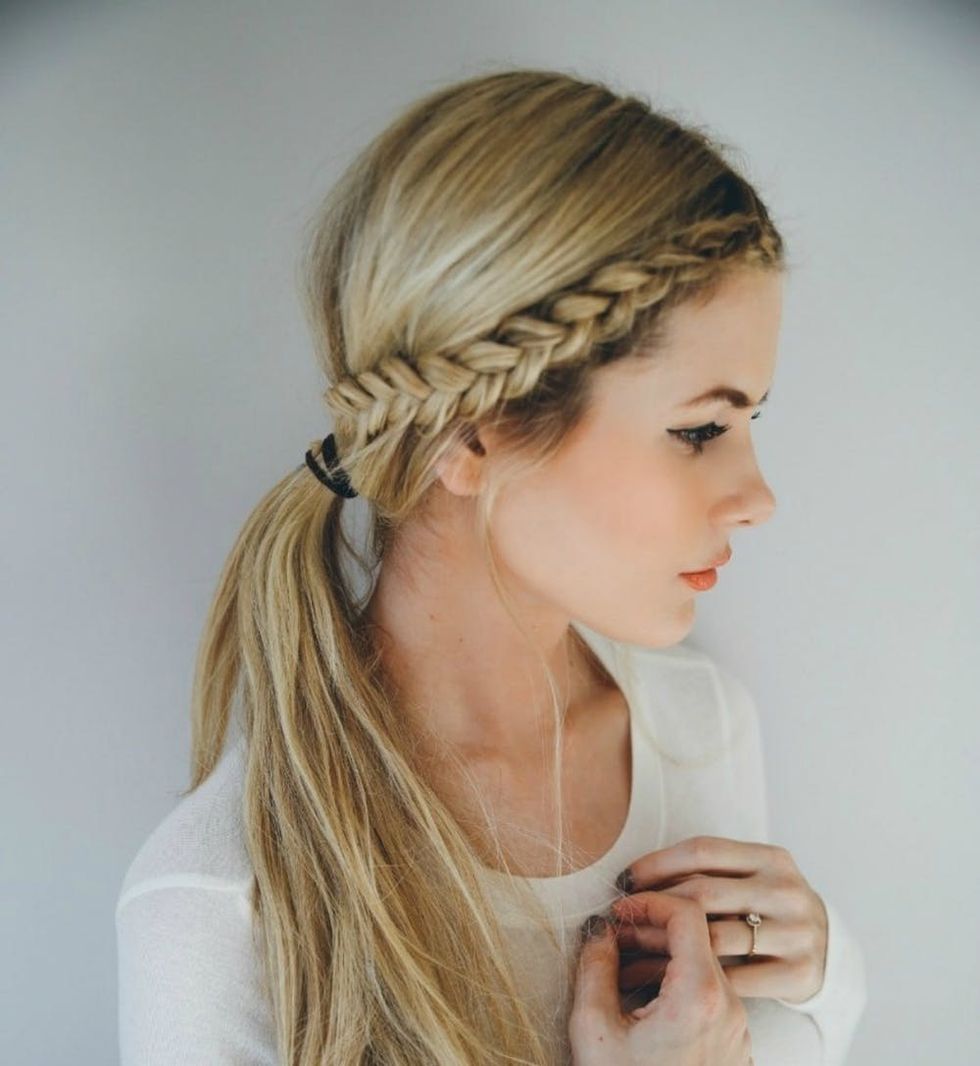 ---
We love braids. When we're looking for a style that's both elegant and casual, plus easy to pull off, we look to braids. Not only do they always look great, but they're also a perfect second-day 'do for those days when you're in a hurry and want to skip a shampoo. Like most hairstyles, braids come together better when your hair has built up a bit of natural oil. There's also so much variety in braided hairstyles. From French braids to front-row braids to mermaids to braided buns, you could find a pretty plait for every day of the week. Here are 100 braided hairstyles for inspiration.
It's easy to be intimidated by all the Pinterest-perfect plaits out there — braids inside of braids, faux hawks with braids, and even cool Celtic knots — but braiding can be easier than you think. Here are 14 ridiculously easy 5-minute braids. One really pretty braid that's semi-easy to pull off is the front-row braid. It incorporates some of the aspects of the dutch braid, with the side plaits going underneath. When doing a front-row braid you want to be sure to angle your head downward as you braid. Do both sides for a very symmetrical and elegant effect, or just one side for an asymmetrical front-row braid. The trick is to get the braids in front to look nice and thick, like a crown.
Over at Barefoot Blonde, Amber has a trick for getting the braids to look thick, and it's not just by separation. Check out her tutorial for an asymmetrical front-row braid that you can pull together in just minutes. So pretty!
Do you have a pretty braided hair hack to share? Tag us on Instagram @britandco.
(Photo via Barefoot Blonde)
Sally Jones
Sally Jones is a writer and editor living in New York City. She has worked at many websites including iVillage, Ladies Home Journal, More, Parenting, Cosmopolitan, The Knot and YourTango, in jobs ranging from editor to COO. Renovation and interior design are her
unhealthy obsessions
hobbies. She has renovated every home she's lived in, including the rentals, and like... whoa, who does that? You can catch her at her blog
Renov8or
.
Home News