DIY Mardi Gras Accessories You'll Actually Wear
Feb 16, 2012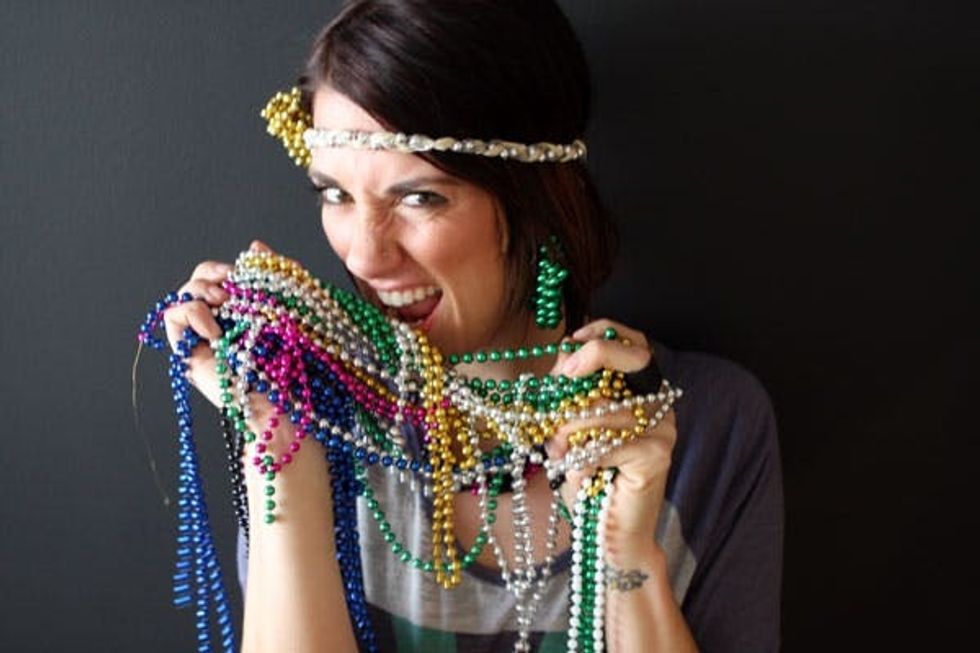 ---
Mardi Gras is about a lot of things. Carnival, eating and drinking the all day and night in preparation for Lent, and beads, beads, beads! Now, we don't need to know how you get those beads of yours, but we are happy to share a few easy ways for refashioning them into wearables all year round.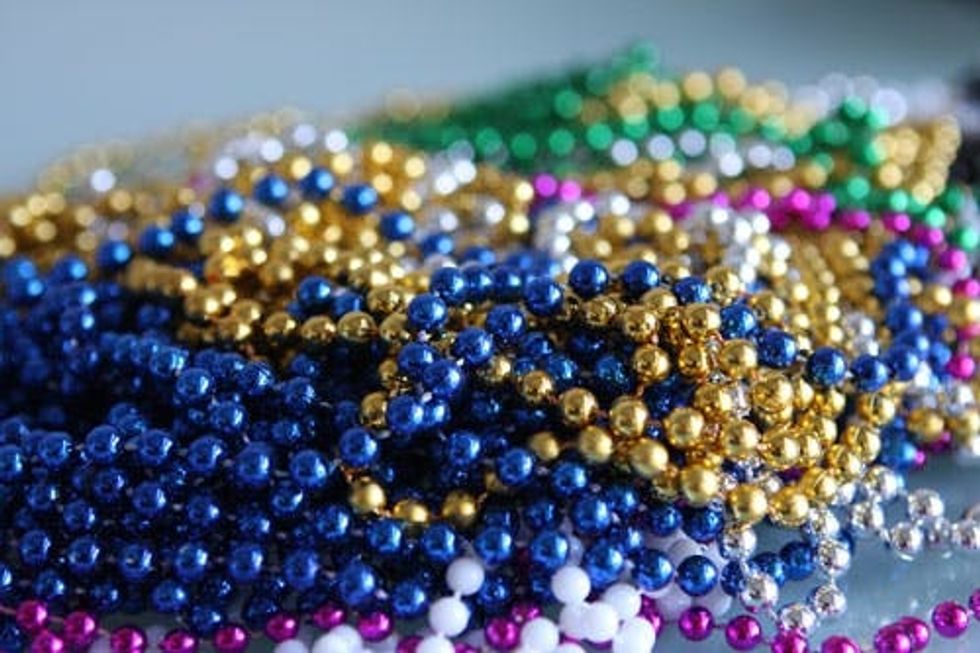 Materials: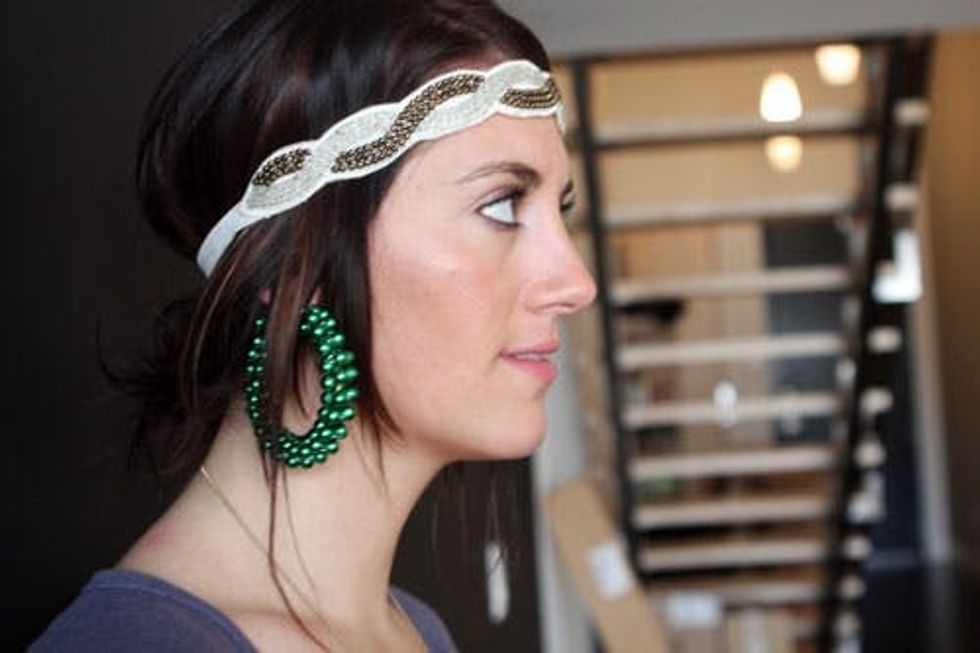 – Mardi Gras beads (available on Bourbon Street, Amazon and Oriental Trading)
– thread
– string: shoelaces, ribbon, t-shirt strips, etc
– scissors
– hot glue
– old hoops or bangles
– chopsticks or dowels
Green Bauble Hoops
For these festive beauts, perfect for St. Patrick's Day, we simply updated a pair of cheap old hoops. You'll use one necklace for each hoop, cut so that each necklace is one long strip.
Glue one end of the necklace to one end of the hoop. Wrap around the hoop tightly and keep wrapping until the end. Glue on the second end and you're done!
Next up, the Chunky Blue Bangle.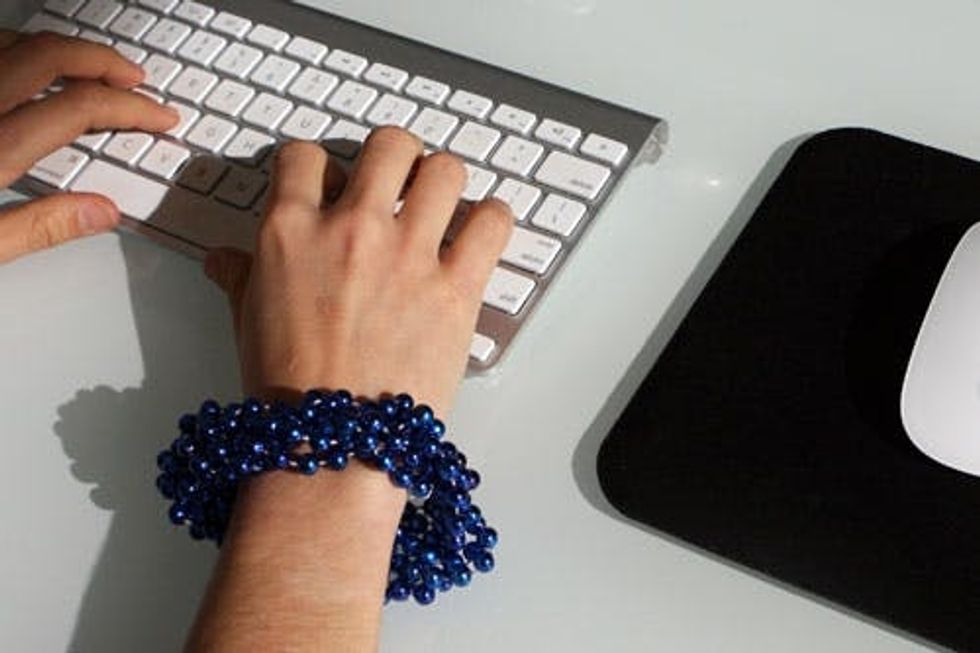 This couldn't be easier. Take three blue necklaces. Use blue thread to tie them together at one end (no need to cut). Braid using 1 necklace (2 strands) for each section. Tie at the second end using thread again, then tie the two ends together. Cut off any excess beads and that's it!
Black & Fuchsia Statement Necklace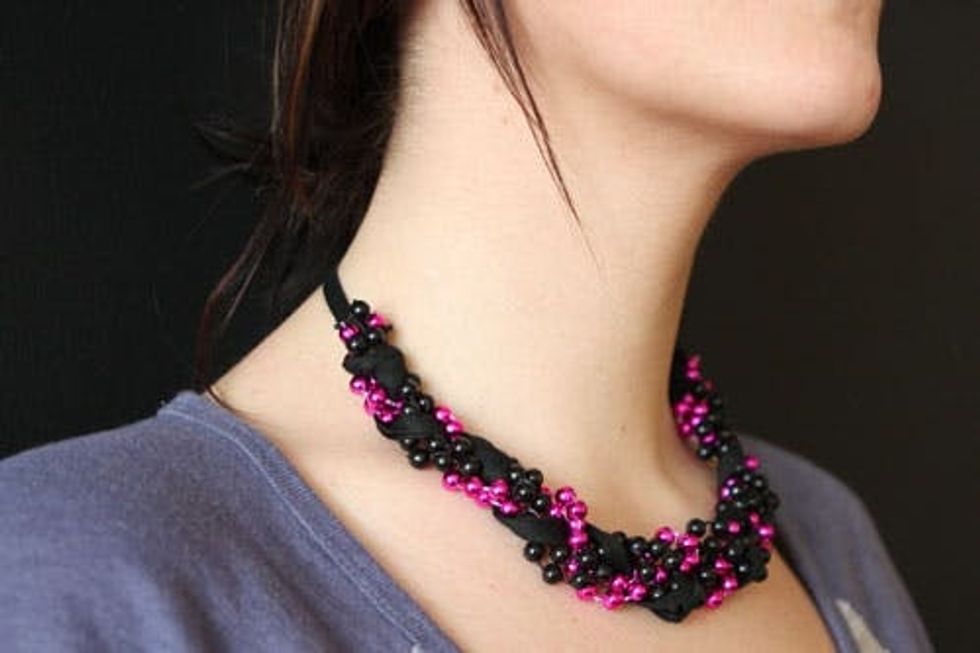 For this little black number, we employed an old pair of black shoelaces. Take one black necklace, one pink necklace, and 2-4 strands of shoelace. Braid together and tie off each end. Cut excess shoelace and bead from each end, and add a remaining piece of shoelace to tie around your neck. Lovely!
Golden Chopsticks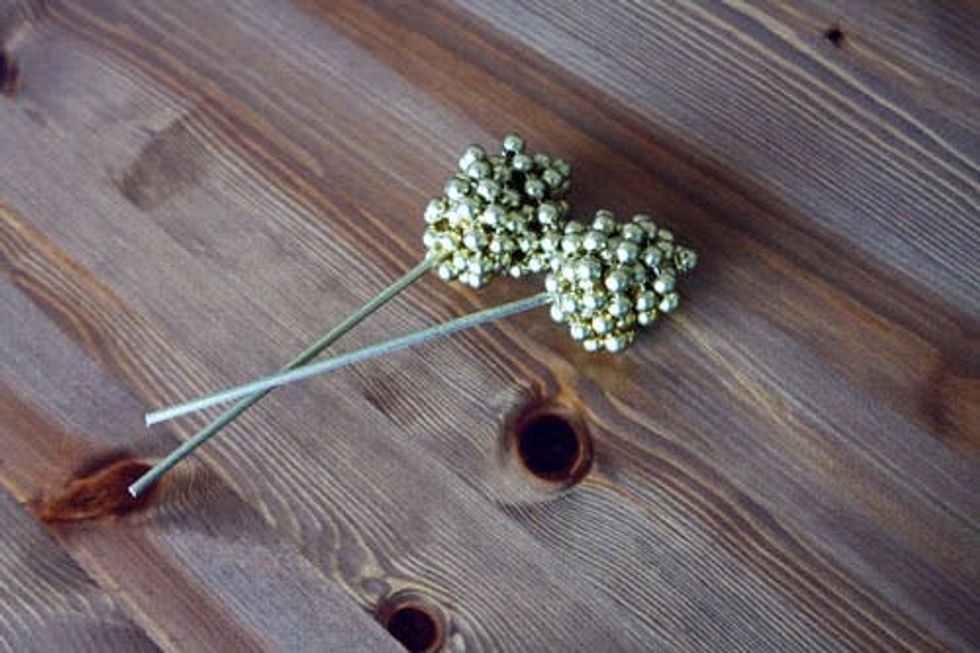 Remember in the 90s when french twists were awesome and we all improvised them using mechanical pencils, paintbrushes, and chopsticks? Oh, you don't remember that? Well… moving on.
We created these using dowels, hot glue, beads and spray paint (optional). Cut one strand of beads and glue the end to the top of the dowel. Keep wrapping around and gluing every so often until you form a little bauble. Spray paint to make the color uniform, stick in a bun or braid, and you've officially blinged it up, bead-style.
These would also make super cute additions to a centerpiece, dried flower bouquet, or as part of a cake pop display!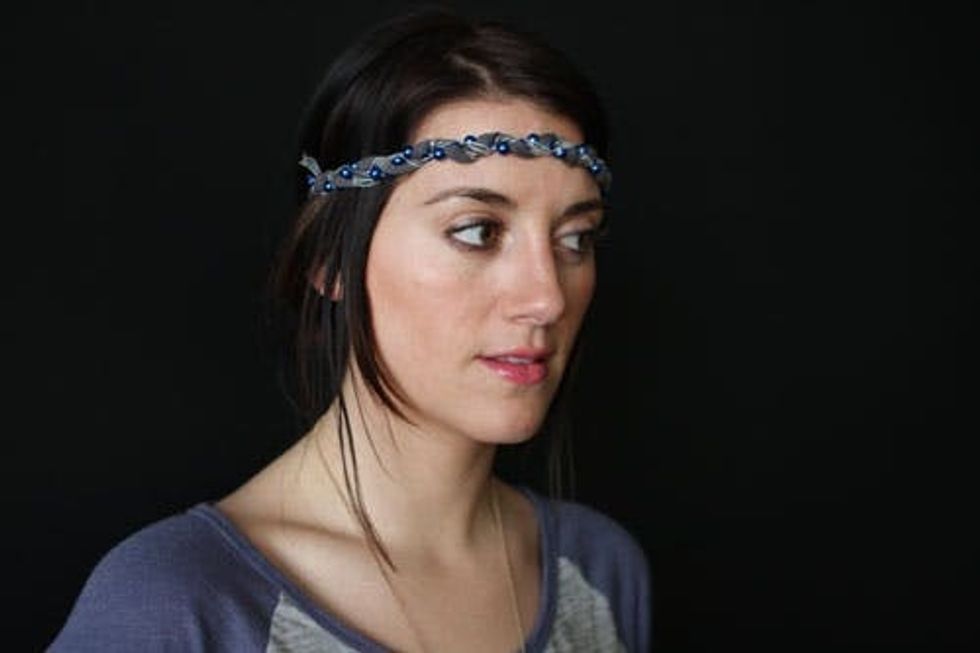 Bohemian Beaded Headbands
As you can see, we're really into braiding. These headbands are so simple, and the shininess from the Mardi Gras beads gives your headband a touch of glitz perfect for taking a summery daytime look into night.
We used a strip of t-shirt, ribbon and one string of beads for each headband. Use the ribbon to tie off the top. Leave about 5 inches of t-shirt for when you need to tie it on. Braid, and tie off again with ribbon. Leave a few inches of t-shirt once again, and you should have enough to tie around your head! We love the look of two in a more traditional headband fashion as well.
How do you make Mardi Gras beads fashionable? Send tips and tricks our way by saying hello in the comments below.
Anjelika Temple
As Co-Founder and Chief Creative Officer of Brit + Co, Anjelika Temple brings her voracious consumption of all things creative and colorful to DIY projects, geeky gadgetry finds and more. When she's not DIY-ing her heart out, you'll find her throwing dinner parties with friends or adventuring with her husband David, their daughters Anokhi and Indira, and their silly dog Turkey.
DIY Style
Still haven't taken up that new creative skills you swore you'd learn this year? Or ready to take your design skills to the next level? Let's say so long to the weirdest year ever by checking those big learn-something-new goals off our perpetual to-do lists.
We've teamed up with Clorox to give you the gift of unlimited creativity now through the end of the year. Once you sign up, you can take as many of our 120+ classes as you want for FREE for one whole month!
Here's how it works:

Head to brit.co/learn and sign up for the "All Access Pass."
Use the code "CLOROXCARES" at checkout to redeem your free month of classes.
You will be automagically signed up for Clorox's email list once you redeem your free all access pass. (It's the #1 Choice for Disinfection!)
Your pass lasts one month from when you checkout. This means you have unlimited access to all the classes during that month.
This offer is valid now through December 27, 2020.
Browse our catalog to find the right class for you, tell a friend and take the class together over Zoom, or organize a 'cocktails + crafts' night with a friend in your bubble so you can learn something new together.
What are you waiting for? Time to start learning all the things!

Thanks to Clorox for making this happen! When it counts, trust Clorox.
Lifestyle