How to Make Reese Witherspoon's "Hi Y'all Bye Y'all" Winter Mittens
Dec 21, 2015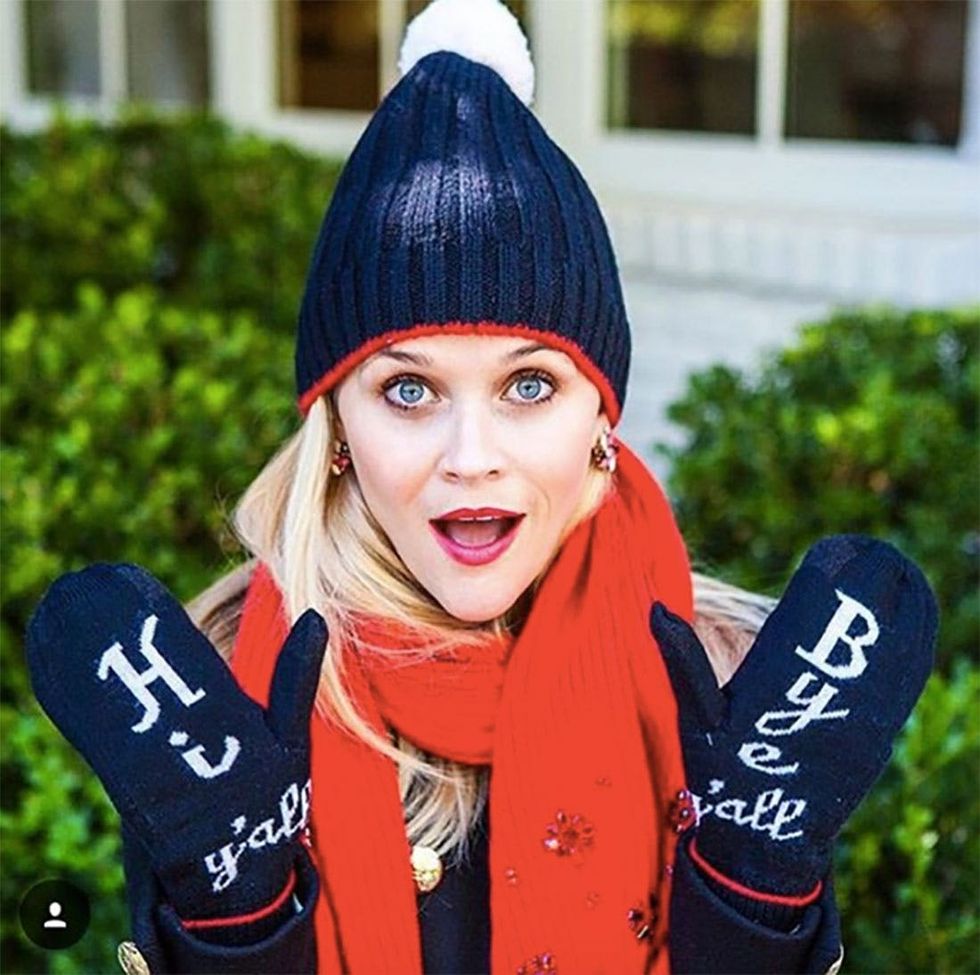 ---
Hi ya'll! We are counting down the hours until we can snuggle up by the fire instead of the stove in the Brit HQ kitchen. 'Til then, consider us your li'l elves, looking for inspo for our next DIY gift everywhere — including Instagram. We recently came across these mittens that our dream gal pal Reese Witherspoon was rocking and we had a these-are-the-cutest-mittens-ever heart attack. Of course we had to create a DIY so that you can rock your own in the colder months ahead. These cute little gloves will make the perfect gift for a co-worker, assistant, teacher or even your mail carrier. Anyone who could use a little extra warmth this season <3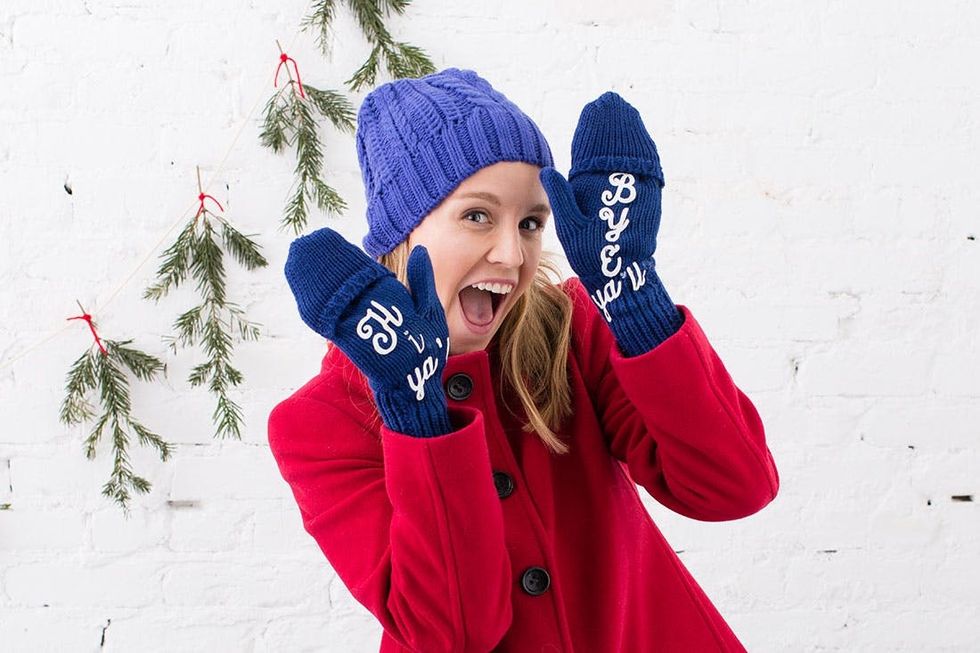 Materials and Tools: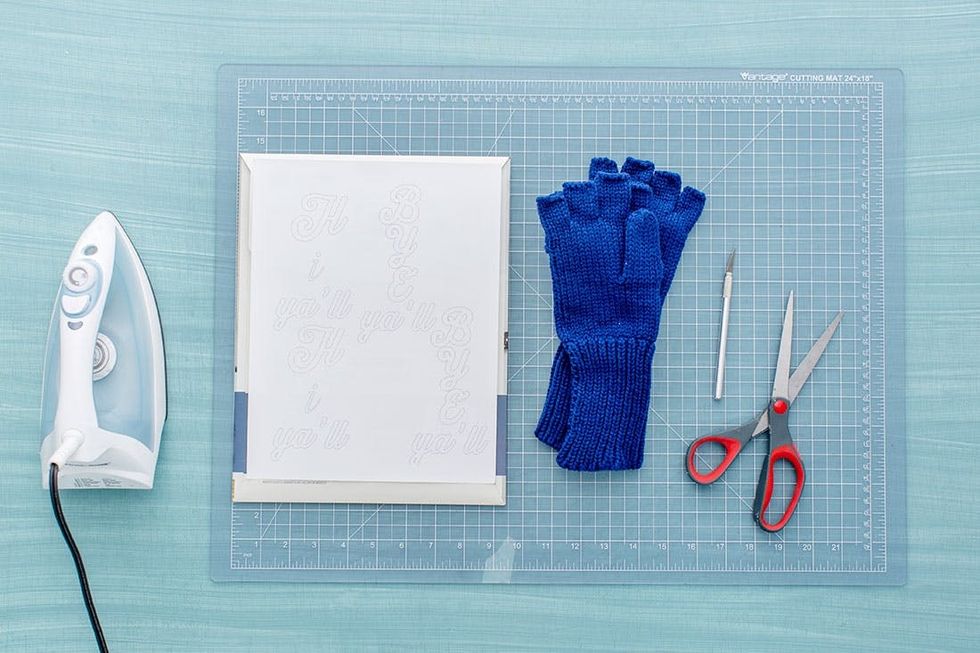 — gloves
— iron-on transfer paper
— "Hi Ya'll Bye Ya'll" print out
— iron
— scissors and/or X-ACTO knife
Instructions: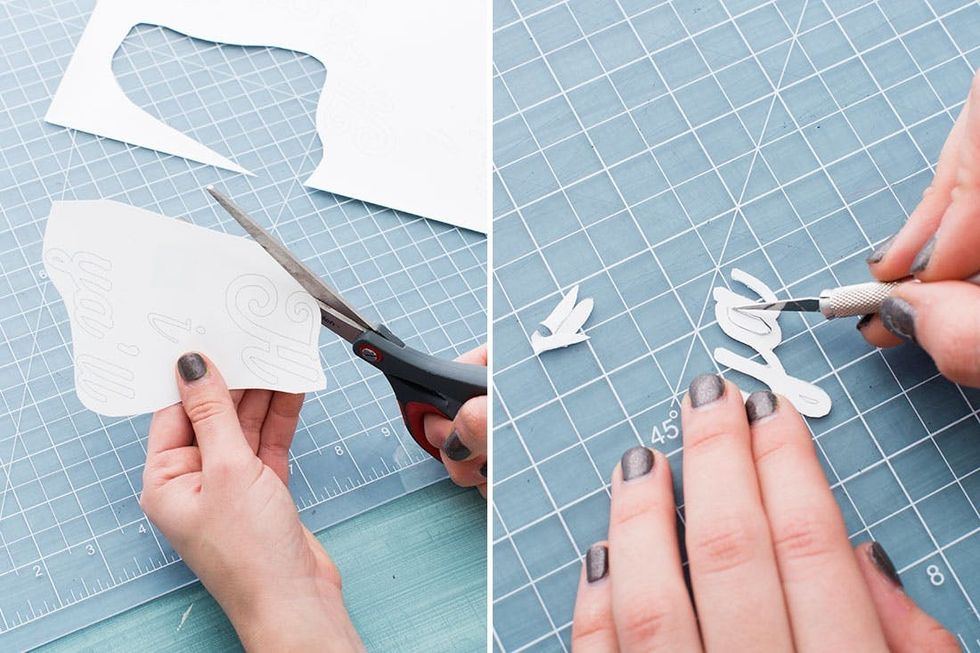 1. Print your "Hi Ya'll Bye Ya'll" decal onto iron-on transfer paper, then cut it out. Use an X-ACTO knife for those tight corners.
2. Peel off the backs of the letters and place onto your gloves.
3. Iron away!
Our gloves were navy just like Reese's, so we used iron-on paper for dark-colored garments. Print out the decals and then cut out the letters. Use an X-ACTO knife to get into those hard-to-reach places.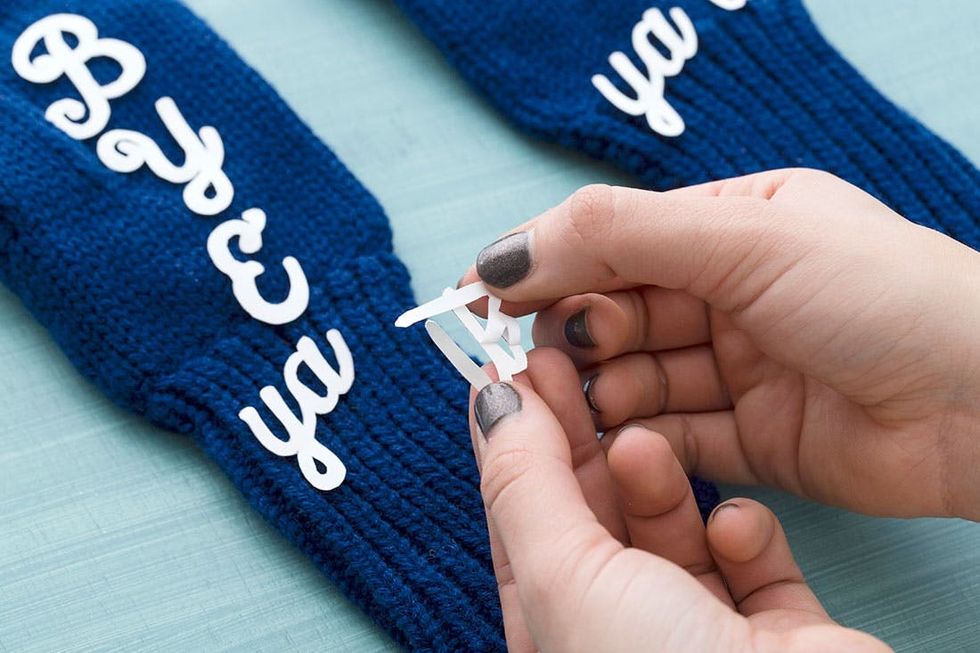 Peel off the backs and place onto the mittens.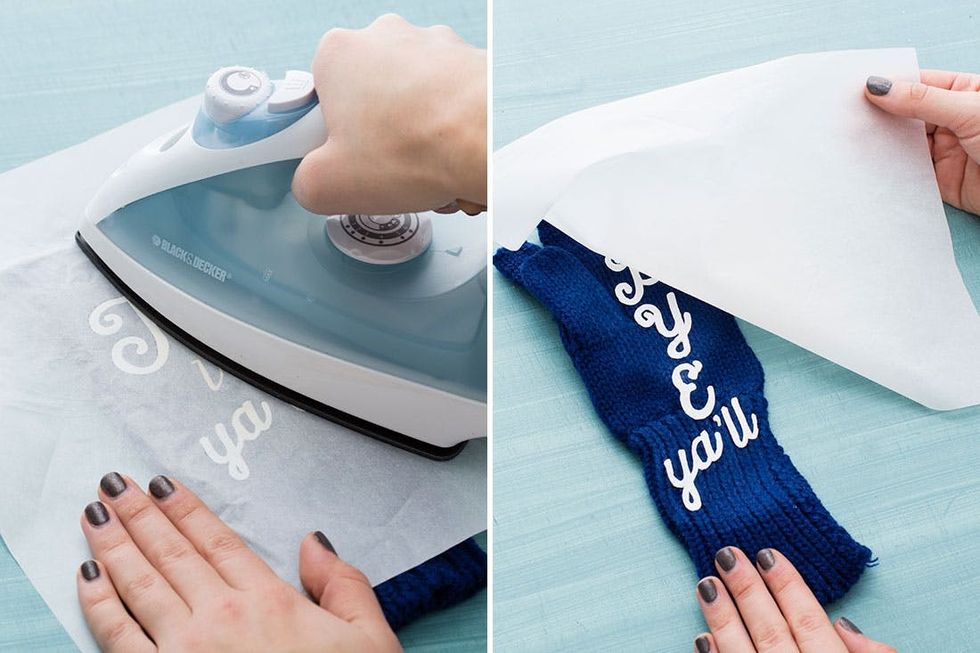 Follow the instructions for your iron-on paper to get the perfect results.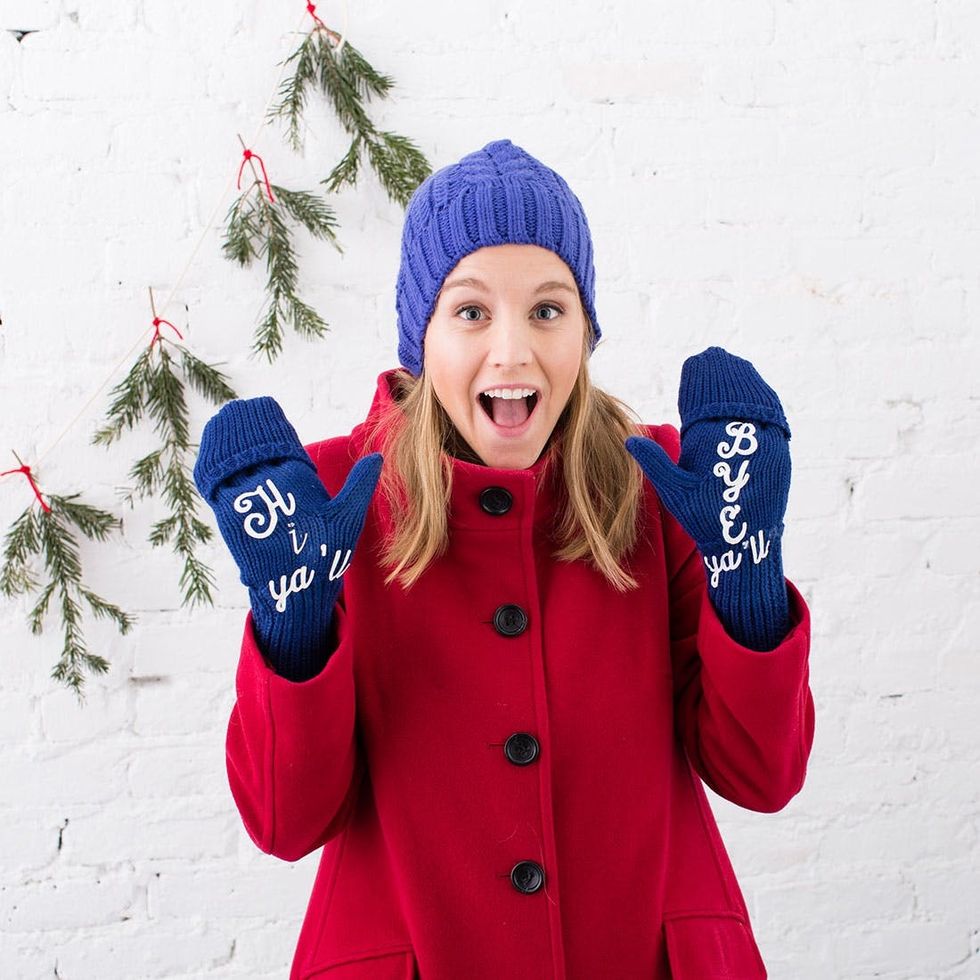 Maddie stepped in to play Reese and did a phenomenal job :)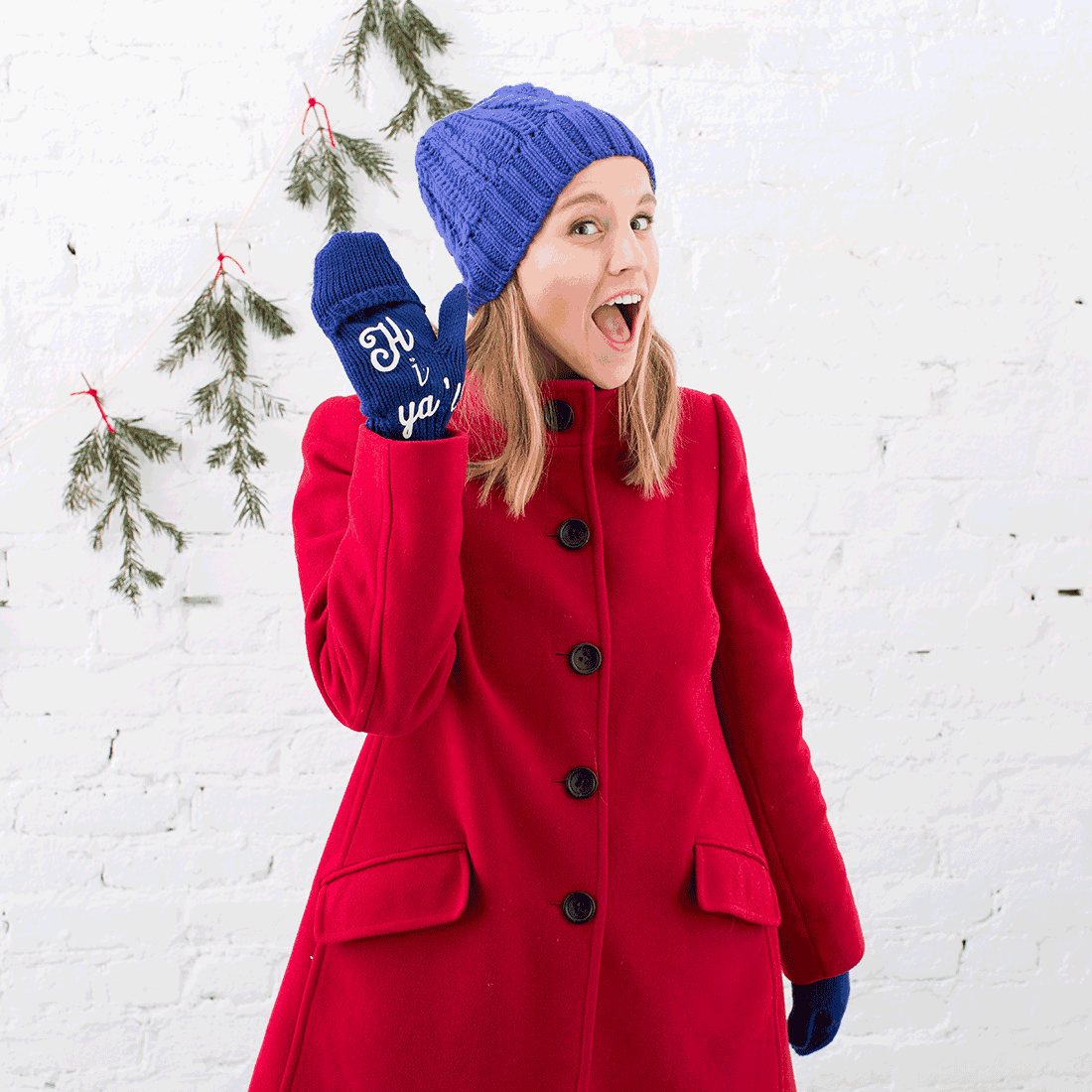 It isn't a B+C holiday article without a fun gif! Hi ya'll! Okay, now bye ya'll!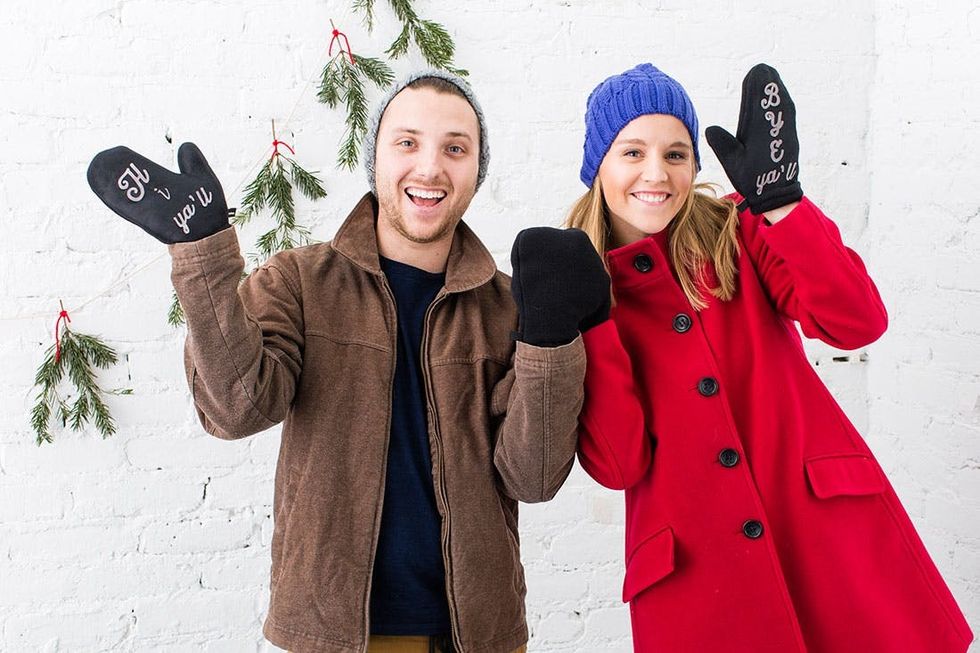 So guess what? Couples mittens is a thing. The center mitten allows you to hold hands with your special someone. So of course we needed to make a Reese version of this too.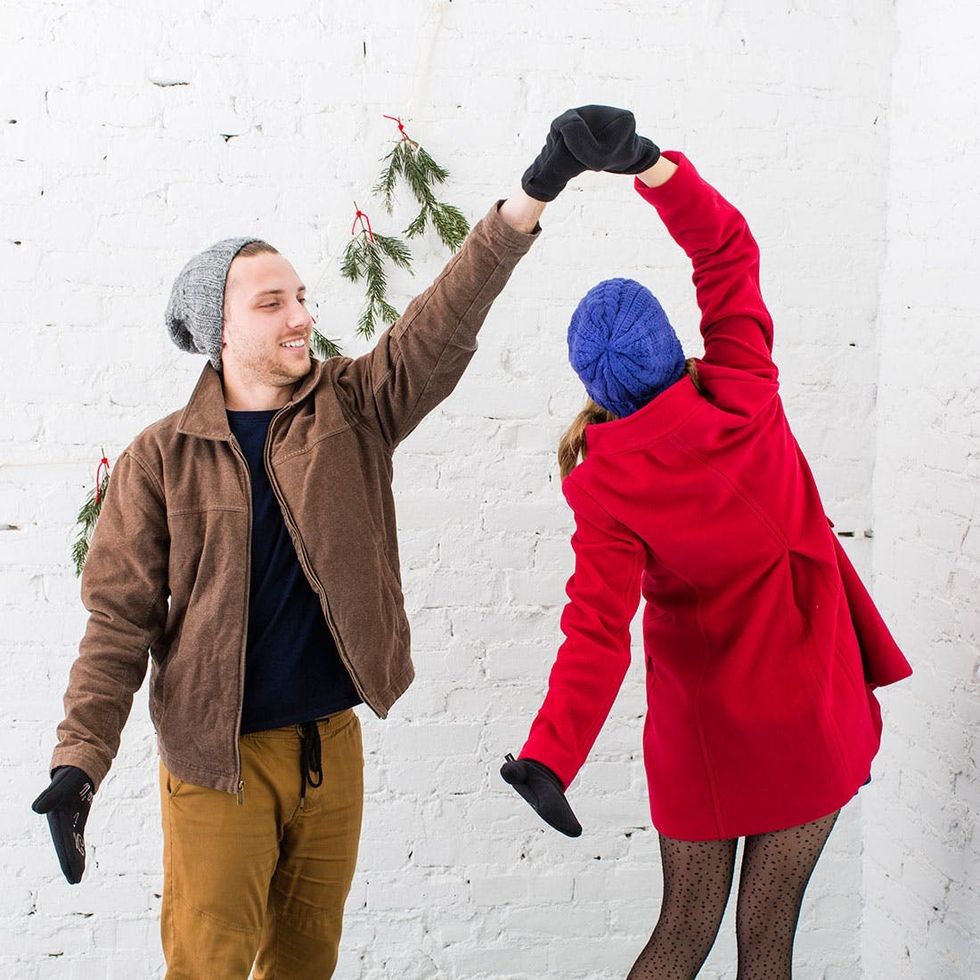 Christmas music + these two = dance party.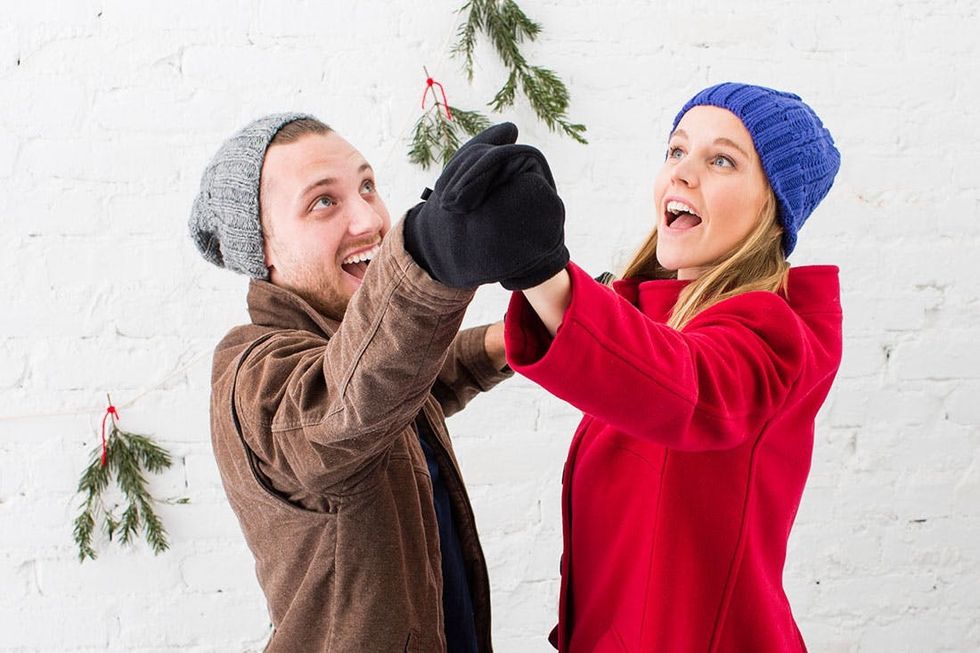 Happy HoliDIYS, everyone!
Kelly Bryden
Kelly Bryden, an east coast native, is stoked to be a part of the Brit + Co team. Design, DIY, and fashion are her passions. If she isn't crafting you can catch her on the dance floor or wrapped up in aerial silks.
DIY Style
No matter what your holiday plans look like this year, we know you want to feel present and able to embrace the warm and festive spirit to the fullest — not be bogged down by errands, stressful hosting duties, and last-minute shopping disasters. We wouldn't be surprised if one look at your December to-do list sent you into a full-on panic.
<p>Thankfully, there are tried and true ways to relinquish all your stressful tasks this year, or at least make them a touch easier. One such solution is as simple as booking a Tasker on <a href="https://www.taskrabbit.com/?utm_source=org_soc&amp;utm_medium=media&amp;utm_campaign=pulse&amp;utm_content=britco&amp;utm_term=homepage" target="_blank">TaskRabbit</a>. Skilled Taskers can handle everything from <a href="https://www.taskrabbit.com/services/winter-tasks?utm_source=org_soc&amp;utm_medium=media&amp;utm_campaign=pulse&amp;utm_content=britco&amp;utm_term=wintertasks" target="_blank">everyday home to-dos</a> like furniture assembly and sidewalk snow removal to your seemingly endless, <a href="https://www.taskrabbit.com/services/holidays?utm_source=org_soc&amp;utm_medium=media&amp;utm_campaign=pulse&amp;utm_content=britco&amp;utm_term=holidaytasks" target="_blank">holiday-specific needs</a>, such as wrapping or shipping presents. Not only is it kind of like having a personal assistant (for much less!), but it's our go-to tip for avoiding any holiday blunders. </p><p>Ahead, we'll share all of our favorite holiday shortcuts, in addition to TaskRabbit, that will come to the rescue and save you this season.</p><p><div class="htl-ad" data-unit="contentbanner" data-sizes="0x0:1x1,1x2,4x4,320x100,300x250|970x0:1x1,1x2,4x4,300x250,728x90" data-prebid="0x0:contentbanner_mobile|970x0:pagebreak_desktop" data-refresh="viewable" data-refresh-secs="30" data-targeting='{"pos":"1","post_id": "2648853502"}'></div> <div id="teads-ad"></div></p><p class="shortcode-media shortcode-media-rebelmouse-image"> <img type="lazy-image" data-runner-src="https://www.brit.co/media-library/eyJhbGciOiJIUzI1NiIsInR5cCI6IkpXVCJ9.eyJpbWFnZSI6Imh0dHBzOi8vYXNzZXRzLnJibC5tcy8yNDc4MDI4OS9vcmlnaW4uanBnIiwiZXhwaXJlc19hdCI6MTY0NjI1NjYyOH0.GrDeOAa3zgzHcawGDSv8yT_qWowpIdReDA5xYJFeYBY/image.jpg?width=980" id="20814" class="rm-shortcode" data-rm-shortcode-id="7e635898fef312904e77adf744cd28d9" data-rm-shortcode-name="rebelmouse-image"> </p><p><strong>The scenario:</strong> You have what feels like a million holiday gifts to wrap this year and little to no time to do it.<br><strong>The solution: </strong>This is the perfect op to book a Tasker from TaskRabbit who can step in as Santa's little helper and take care of your gift wrapping needs. Taskers can even go the extra mile and ship presents to any out of town friends and family. If you want your gifts to have more of a custom touch, give your kids a roll of paper and let them go to town creating something original and heartfelt. </p><p><strong>The scenario:</strong> Grandma and Grandpa made a surprise visit and you don't have enough supplies for a last-minute meal.<br><strong>The solution:</strong> Voice memo your grocery list needs and connect with a Tasker to go on a grocery run for you. With cashless payment through the TaskRabbit app, and safe contactless drop-off, grocery shopping can be a breeze! Or take a look at our <a href="https://www.brit.co/pantry-staple-recipes/" target="_self">go-to pantry meals</a> that rely on all the staples you probably already have at home. </p><p><div class="htl-ad" data-unit="contentbanner" data-sizes="0x0:1x1,1x2,4x4,320x100,300x250|970x0:1x1,1x2,4x4,300x250,728x90" data-prebid="0x0:contentbanner_mobile|970x0:pagebreak_desktop" data-refresh="viewable" data-refresh-secs="30" data-targeting='{"pos":"2","post_id": "2648853502"}'></div></p><p><strong><span></span>The scenario:</strong> You want to put up a Christmas tree but have a small space that won't accommodate one. <br><strong>The solution:</strong> First, ask your local tree supplier if they have any small ones that could fit on a side table. If you can't find a real one that's small enough, grab a Christmas-scented candle to set the ambiance and <a href="https://www.brit.co/non-traditional-christmas-trees/" target="_blank">DIY your own non-traditional holiday tree</a>. </p><p class="shortcode-media shortcode-media-rebelmouse-image"> <img type="lazy-image" data-runner-src="https://www.brit.co/media-library/eyJhbGciOiJIUzI1NiIsInR5cCI6IkpXVCJ9.eyJpbWFnZSI6Imh0dHBzOi8vYXNzZXRzLnJibC5tcy8yNDc4MDMwMi9vcmlnaW4uanBnIiwiZXhwaXJlc19hdCI6MTYzODY2MDgzM30.0ztKe4zgGYyoAQJ4n5_rvAD5SInitVw488hwmCBPCIc/image.jpg?width=980" id="0e0c3" class="rm-shortcode" data-rm-shortcode-id="ed6e7d0a60e1193ca87ac815f0fd0b1f" data-rm-shortcode-name="rebelmouse-image"> </p><p><strong>The scenario:</strong> Your quarantine pod nominated you to host and prepare a holiday feast. <br><strong>The solution: </strong><strong></strong>Take a page out of Brit's Thanksgiving dinner hacks and pull out your favorite serving bowls a few days before the celebration to make sure you have everything you need. You can also tape all of your recipes to the cabinets at eye-level so you can clearly see all the steps and don't have to wash your hands a million times in between mixing ingredients and getting things ready. </p><p><div class="htl-ad" data-unit="contentbanner" data-sizes="0x0:1x1,1x2,4x4,320x100,300x250|970x0:1x1,1x2,4x4,300x250,728x90" data-prebid="0x0:contentbanner_mobile|970x0:pagebreak_desktop" data-refresh="viewable" data-refresh-secs="30" data-targeting='{"pos":"3","post_id": "2648853502"}'></div></p><p><strong>The scenario:</strong> Your little ones are getting restless during the holiday time off. <br><strong>The solution:</strong> Organize a bake-off with the whole family to keep kids engaged and occupied with these <a href="https://www.brit.co/christmas-cookie-guide/" target="_self">delicious, Instagrammable cookie designs</a>. We love this two-birds-one-stone move because it also means you'll have dessert ready for your next meal. </p><p><strong>The scenario:</strong> You have a trunk full of presents that need to be shipped to far-away family but don't have time to go to the post.<br><strong>The solution:</strong> Not only can Taskers wait in line for you at the post office, but they can also help with your gift wrapping, packing, and shipping needs.</p><p><div class="htl-ad" data-unit="contentbanner" data-sizes="0x0:1x1,1x2,4x4,320x100,300x250|970x0:1x1,1x2,4x4,300x250,728x90" data-prebid="0x0:contentbanner_mobile|970x0:pagebreak_desktop" data-refresh="viewable" data-refresh-secs="30" data-targeting='{"pos":"4","post_id": "2648853502"}'></div></p><p>PS. If you've got it all covered and don't need the extra help this December, you can also give the gift of time with <a href="https://www.taskrabbit.com/account/gift-cards?utm_source=org_soc&amp;utm_medium=media&amp;utm_campaign=pulse&amp;utm_content=britco&amp;utm_term=giftcard" target="_blank">TaskRabbit</a> so your friends and loved ones can focus on what matters most this holiday season. </p><p>What are your go-to holiday hacks? Give us a holler on social <a href="https://www.instagram.com/britandco/" target="_blank">@britandco</a> and let us know!</p>
Home