5 Ways to Decorate the Best Gingerbread House EVER
Dec 12, 2014
Nothing says the holidays like gingerbread house decorations. But, sometimes we'd rather skip the making-the-house part. Lucky for us, the folks at Dylan's Candy Bar have a pre-assembled gingerbread house just waiting to be decorated like the dickens. Each gingerbread house comes with a bunch of festive candies, but we hit up Dylan's Candy Bar in person to stock up on even more gummy candies, candy canes and a whole collection of colorful candy accoutrements.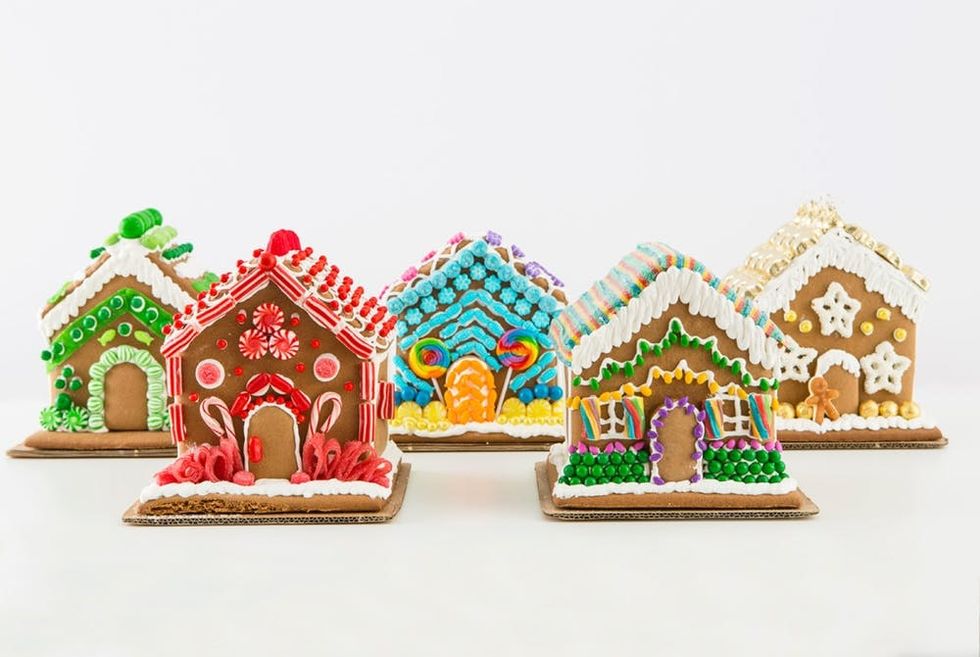 ---
Armed with more candy than you've even seen in person before, we created five gorgeous gingerbread houses: Candy Cane, Emerald City, Stripes + Lights, Color Blocked Craziness and Gold Rush.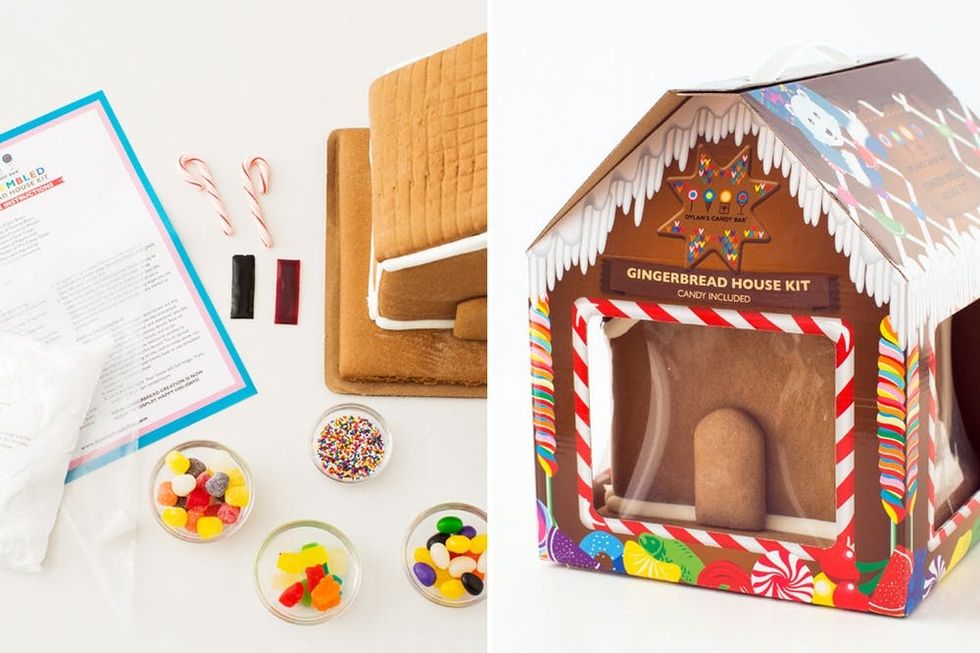 First thing's first: get yourself a gingerbread house and mix up a batch of royal icing.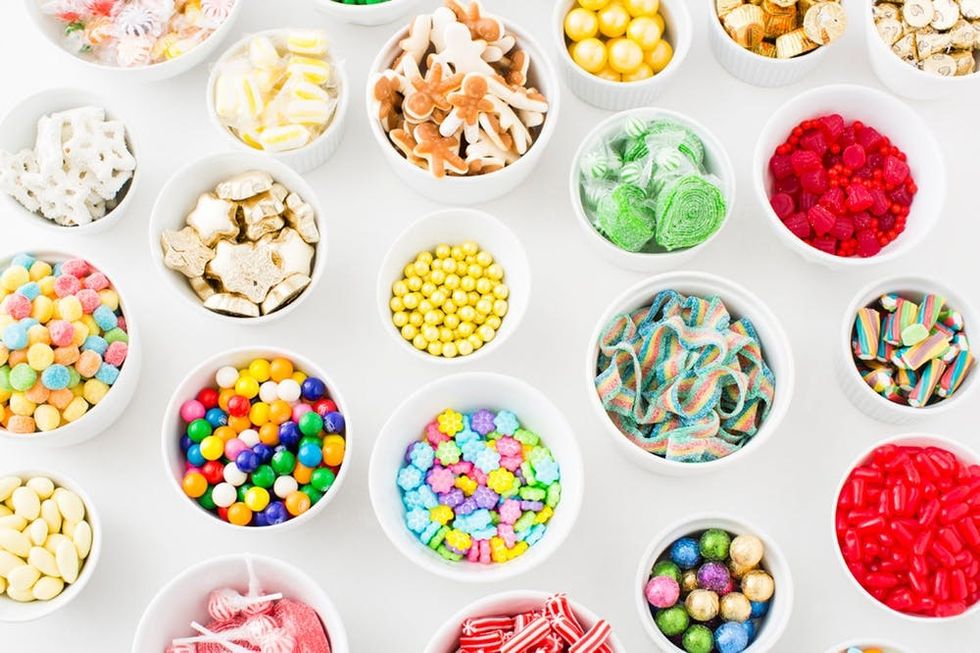 Then, it's time for CANDY. Seriously.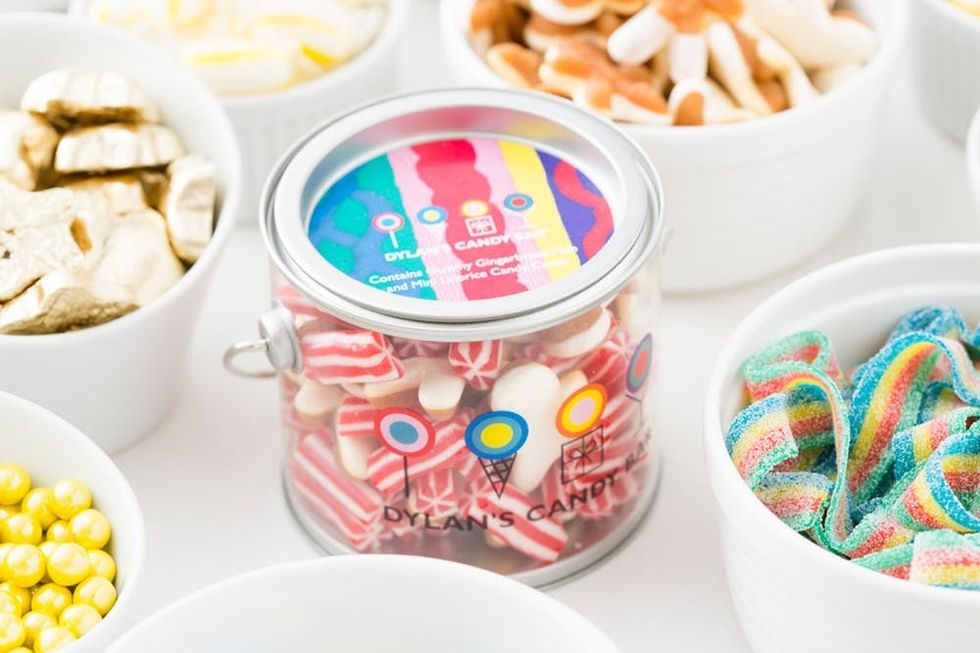 Talk about a sugar rush.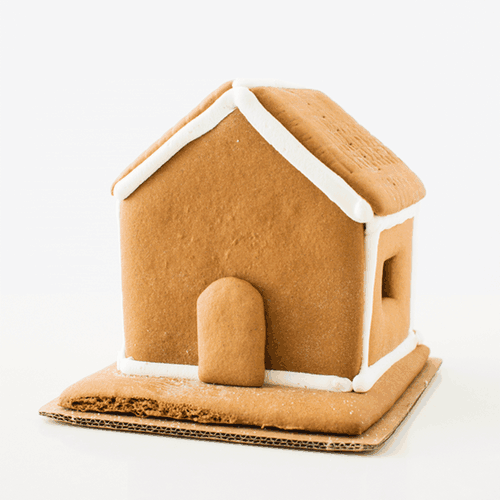 Now, let's start tricking out these houses!
CANDY CANE Gingerbread House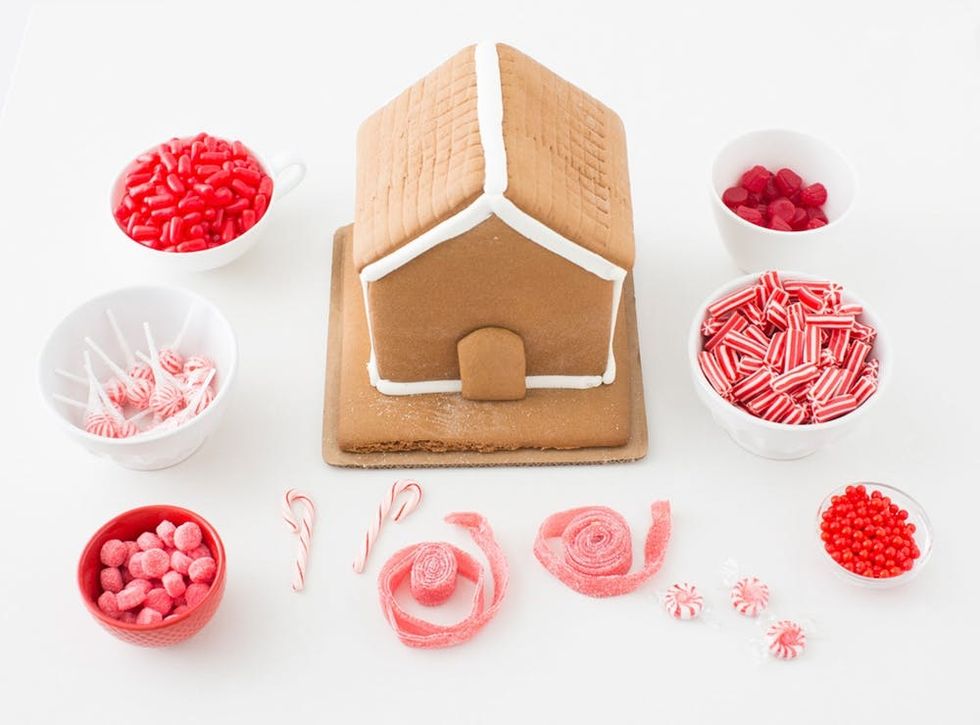 The key to decorating any gingerbread house is to make sure you plan your design. For this candy cane house, we used Assorted Christmas Candies ($32 for a gift box), Dylan's Candy Bar Signature Holiday Paint Can ($30), as well as gumdrops, peppermints and candy canes.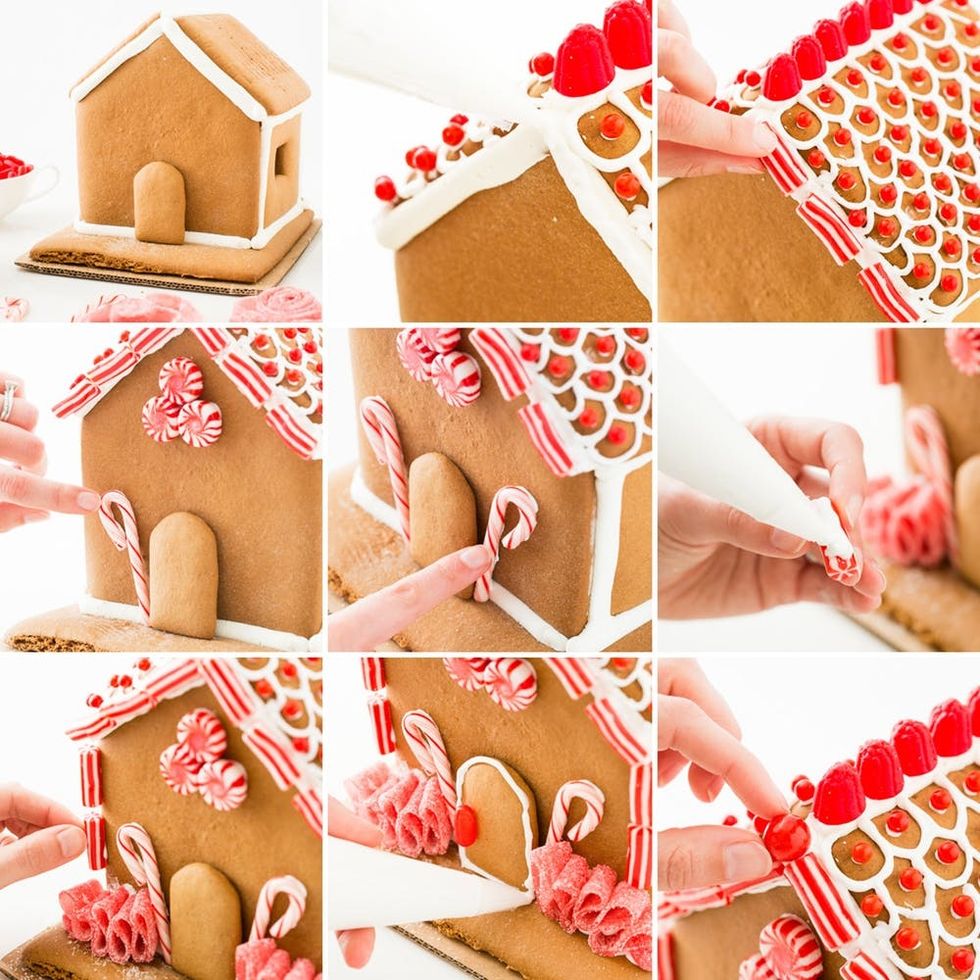 You're going to need a LOT of royal icing to stick on all the little candies! Make sure you've got two piping bags per house, just in case. We created a scalloped roof complete with red polka dots. Candy canes flank the door, welcoming you in, and we're particularly in love with the sour gummy hedges in the front.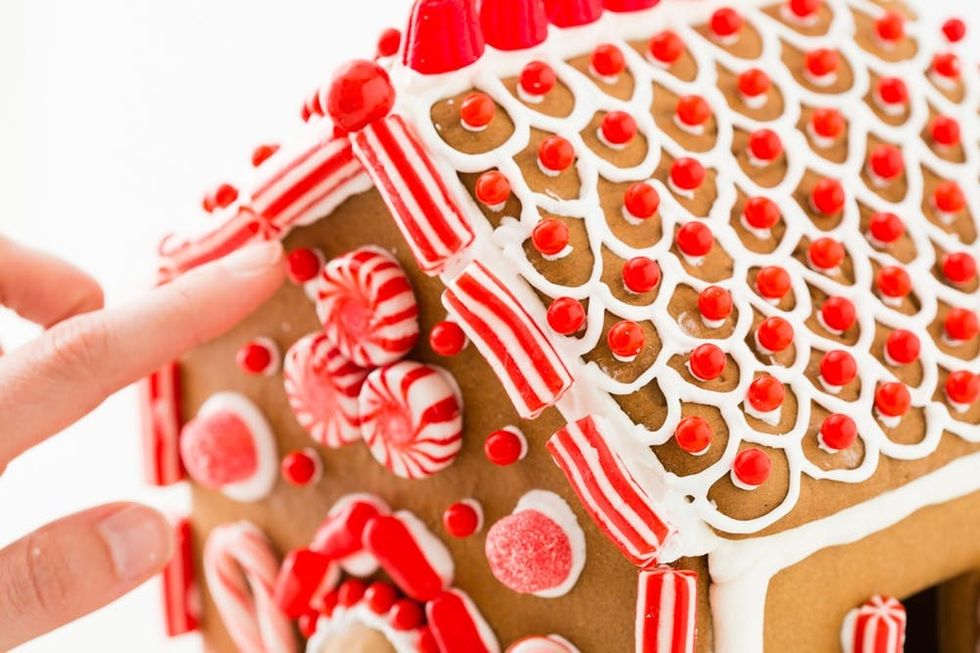 Add your finishing touches.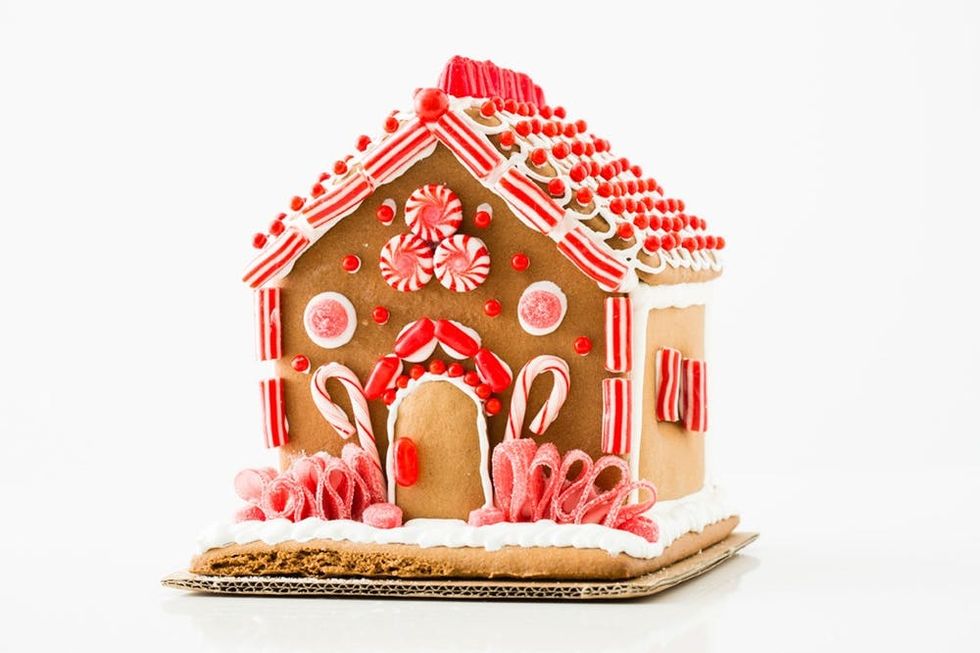 Voila!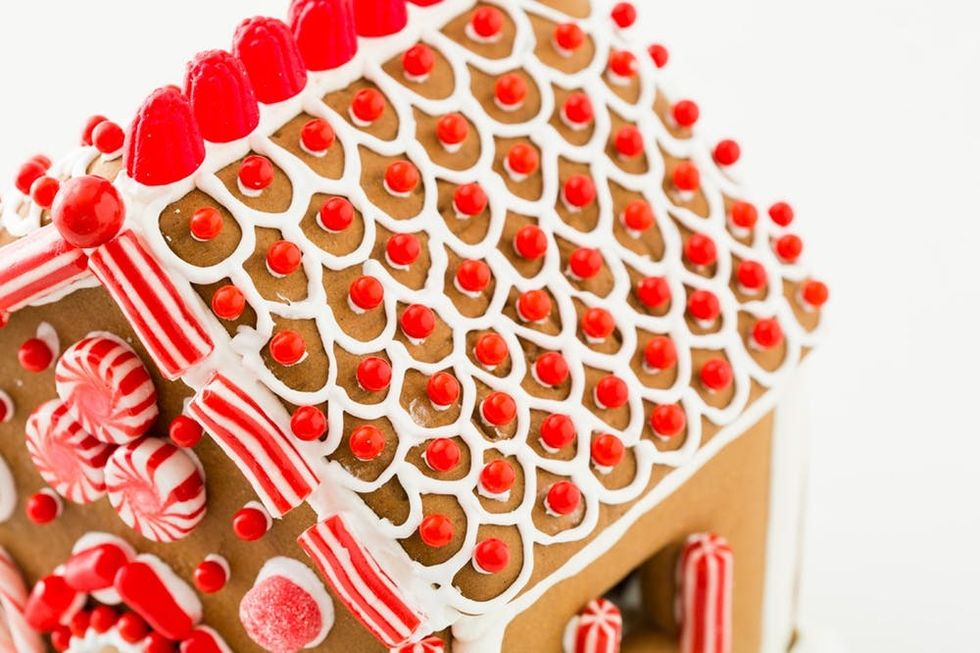 So obsessed with this roof.
EMERALD CITY GingerBread House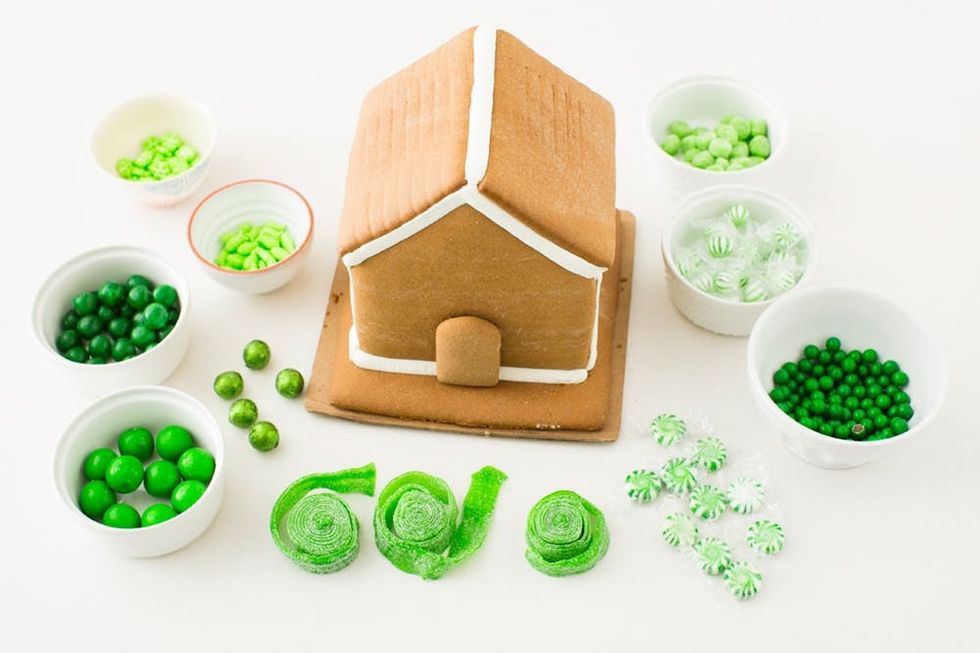 We took inspiration from the land of Oz for this lean green holiday machine of a house. We dug into the Dylan's Candy Bar Tackle Box ($24) and Mini Bin Filled with Mini Gumballs ($16) to pull out tons of green goodies.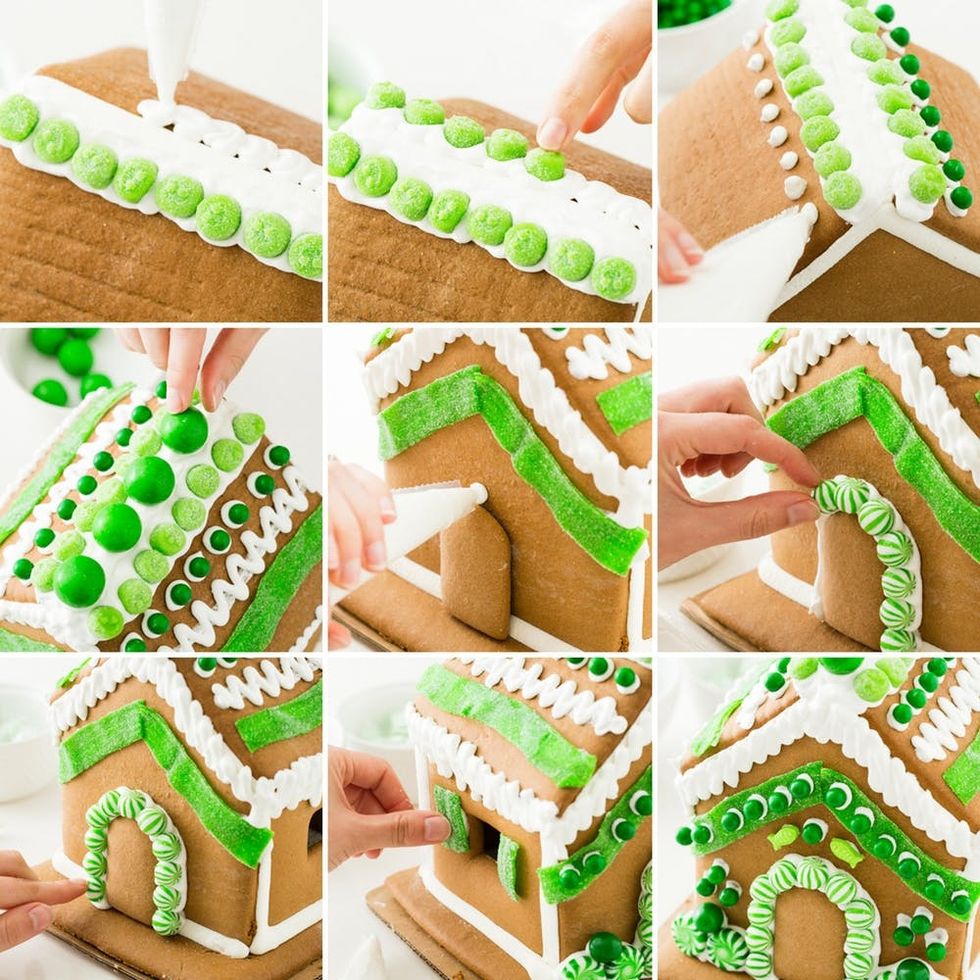 The roof of your gingerbread house is definitely the best canvas for creativity. We created polka dot and squiggly stripes on this green roof. And sour gummy shutters? Yes please.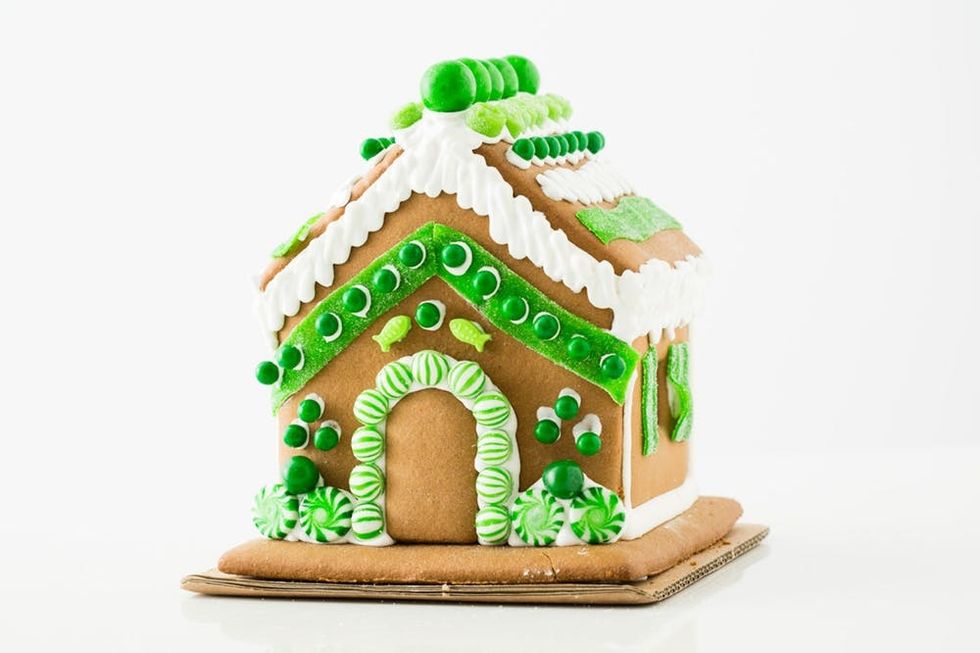 How fun are those fish at the top of the door? Sort of remind us of Eureeka's castle.
STRIPES + LIGHTS GingerBread House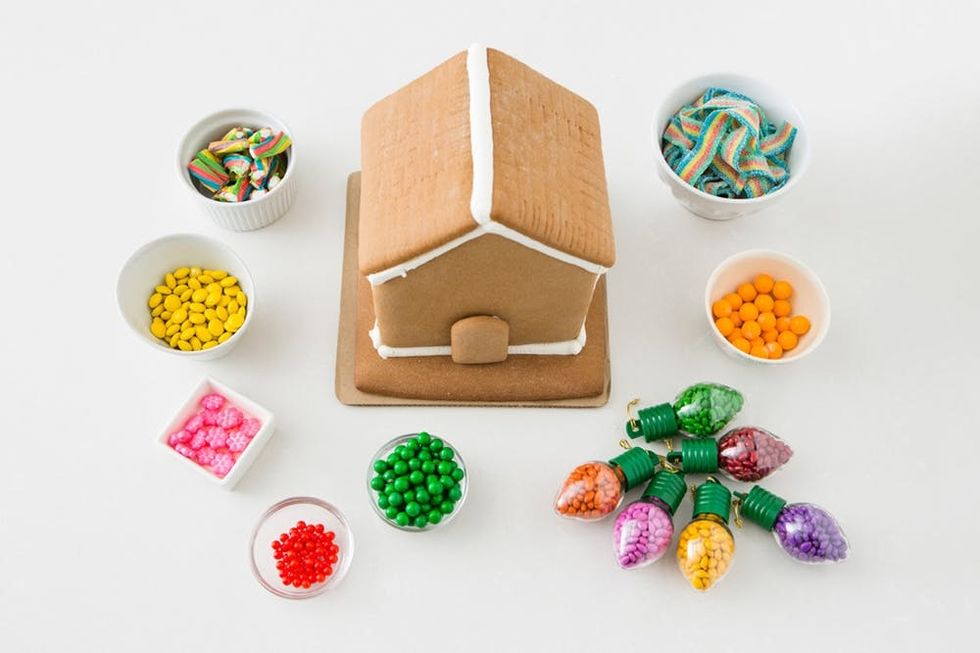 Next up, stripes and lights. What do we mean by lights? Why, Holiday Lights Chocolate Covered Sunflower Seeds ($22), of course! We also added in Dylan's Candy Bar Wizard of Oz "Over the Rainbow" Paint Can ($16) to create our striped roof.
Cut up gummy stripes to be the same length as your roof. Use royal icing to attach. Create icing windows and adorn with rainbow shutters.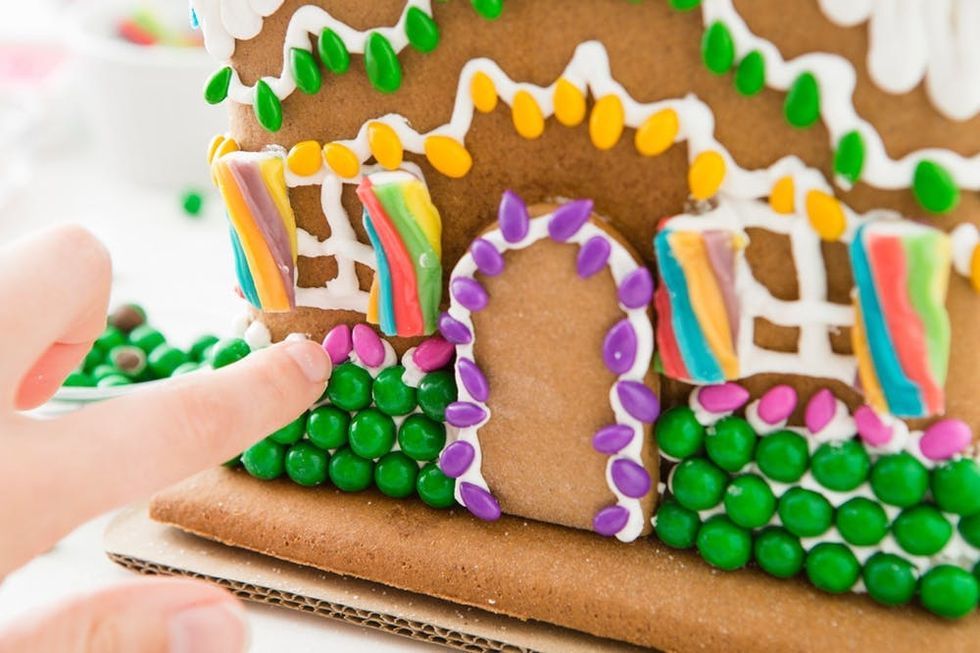 Then use royal icing to create a string for your "lights" to hang on.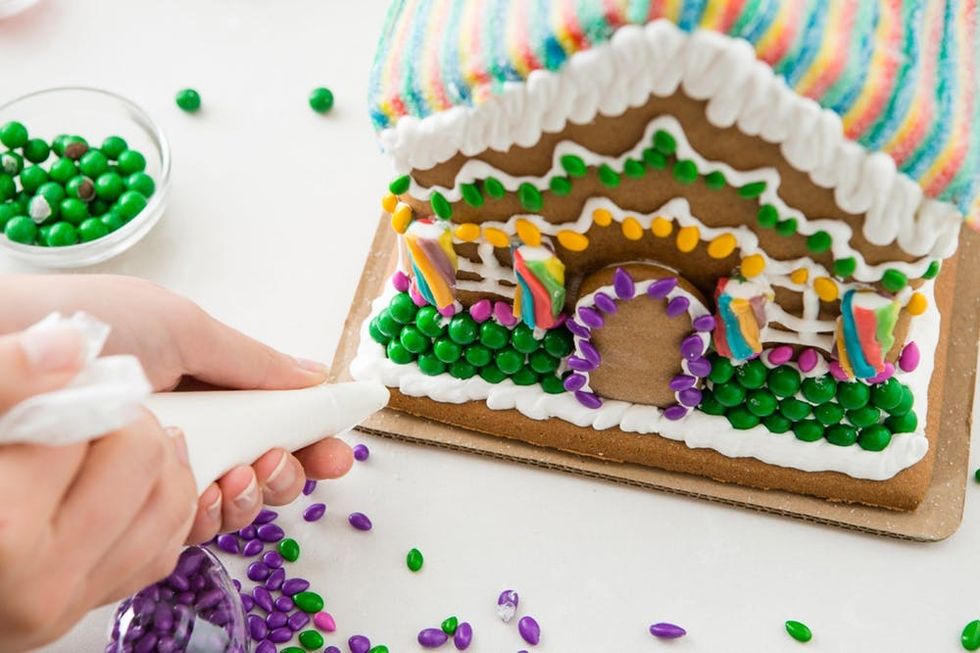 We couldn't resist creating a few Christmasy hedges in the front of the house, complete with bright pink lights on top.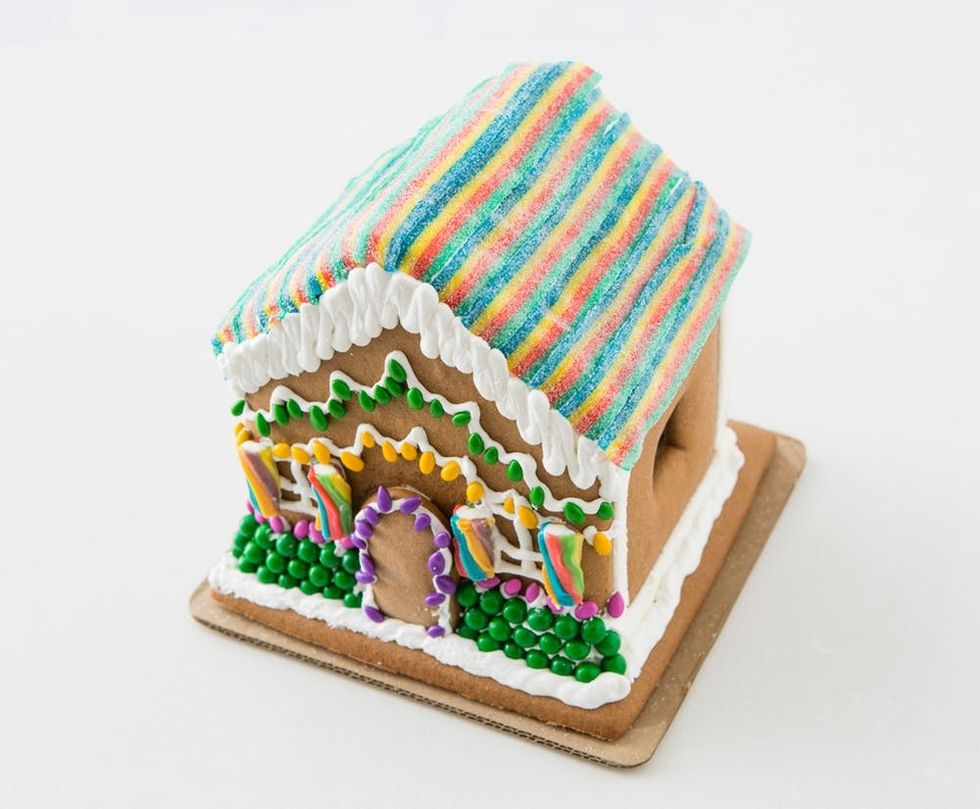 It almost looks too good to eat.
COLOR BLOCKED Gingerbread House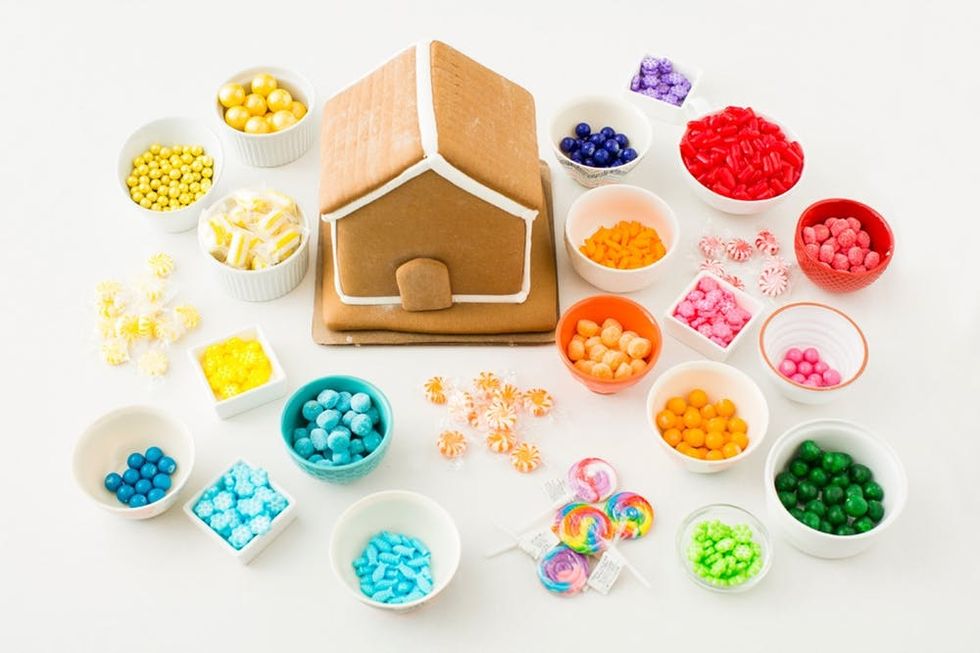 The more colors, the better. This house is all about letting your decorating imagination run wild. You can order pretty much any box of candy to bring this color block craziness to life. We used a mix of Dylan's Candy Bar Signature Holiday Tackle Box ($24), Dylan's Candy Bar Tackle Box ($24), Dylan's Candy Bar Everything Under the Sun Paint Can ($16) and Dylan's Candy Bar Whirly Pops ($3.25 each).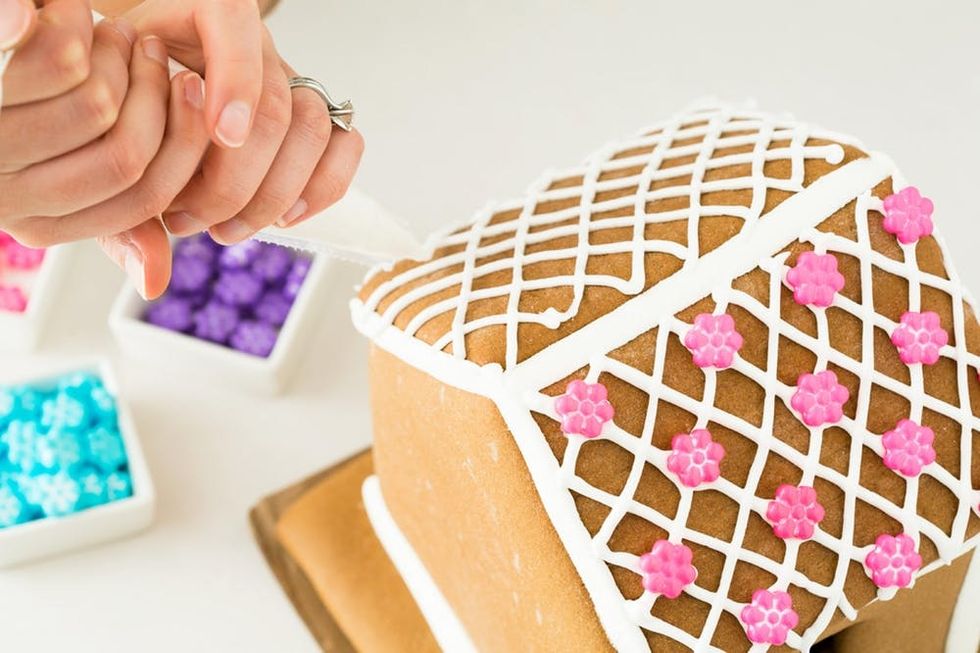 We started with a criss-cross roof and embellished with floral candies.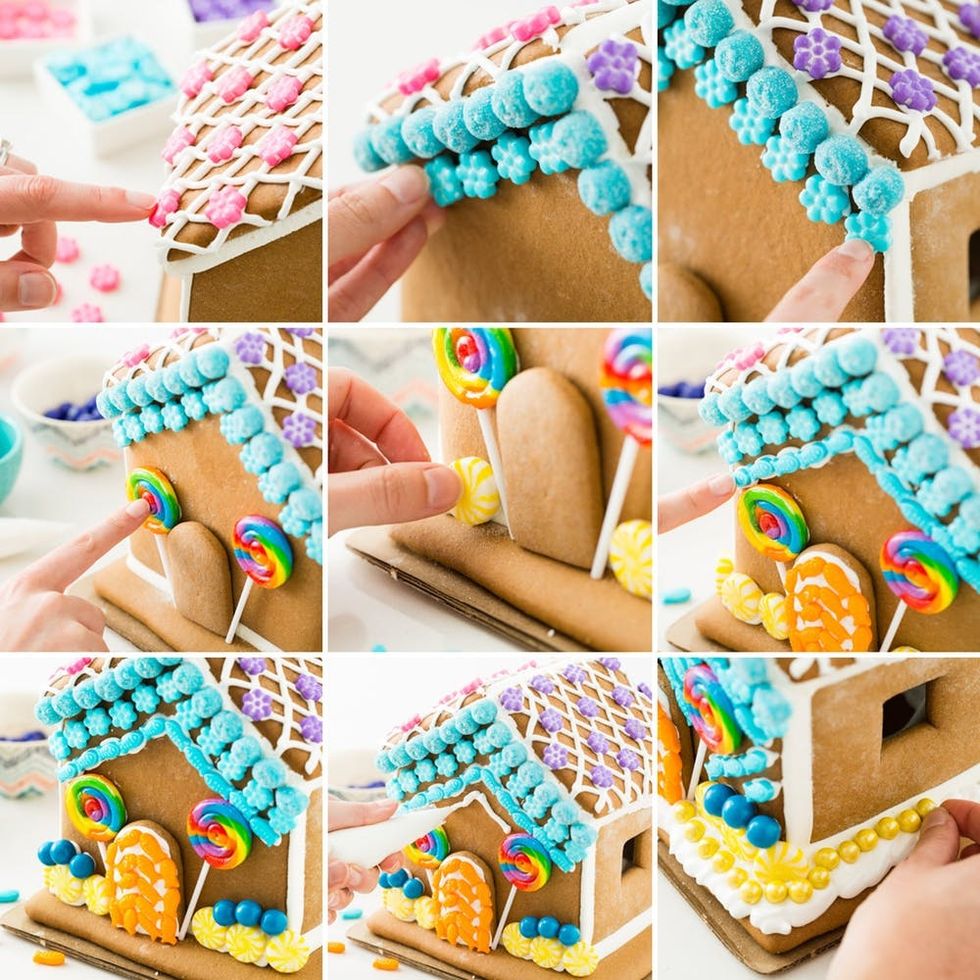 Then, it's time to add color everywhere you possibly can.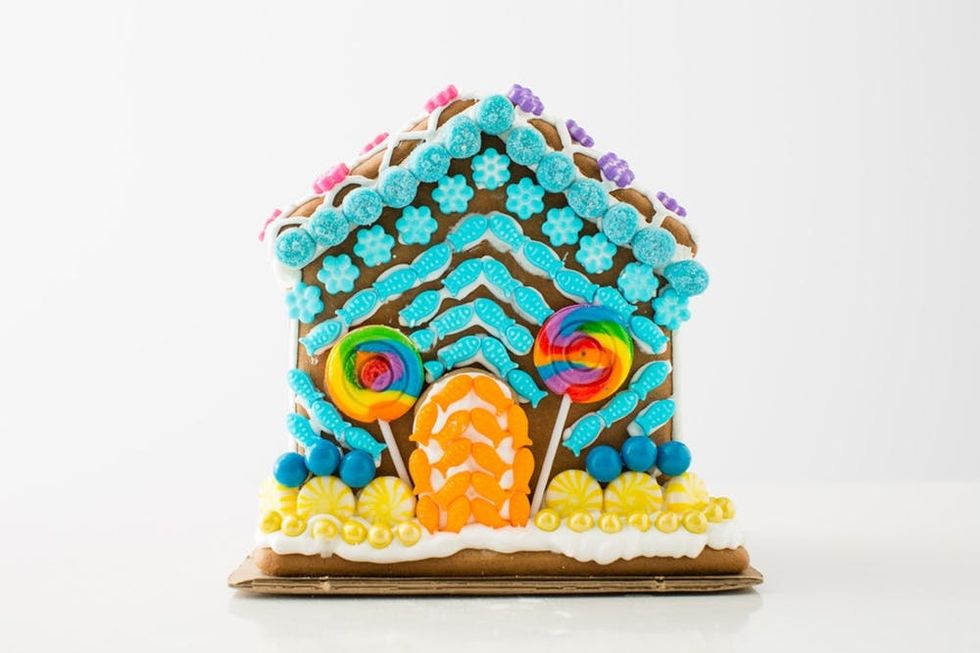 One fish, two fish, blue fish, blue fish!
GOLD RUSH Gingerbread House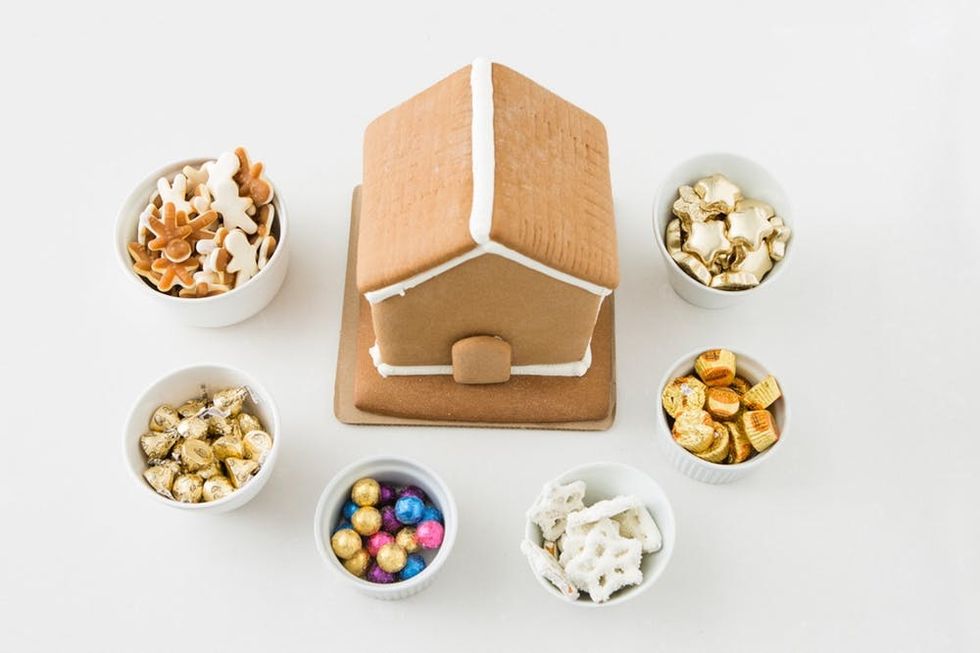 Finally, we're bringing the gold rush back with this minimalist design. The gingerbread dudes from Dylan's Signature Holiday Paint Can ($17) are what really take this sleek look to the next level.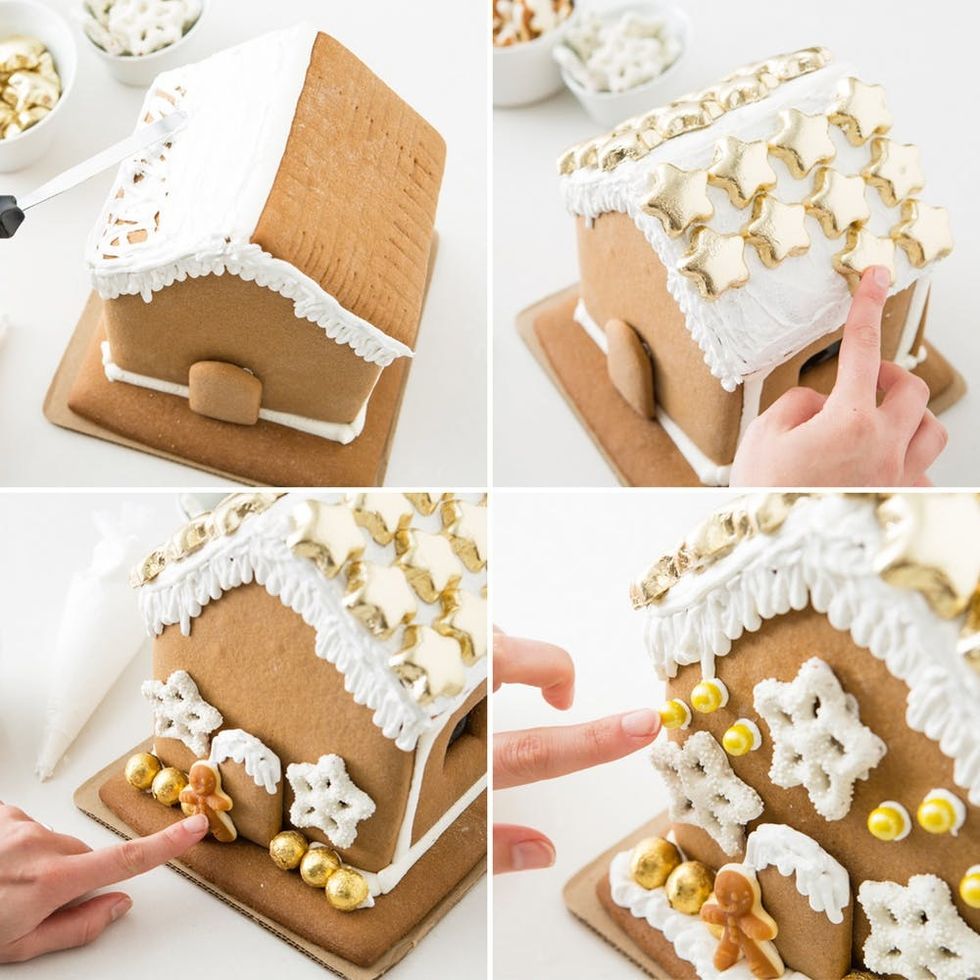 First cover the roof with icing, then add in gold stars. Use white chocolate-covered pretzels on the front of the house, and make sure to make dripping icicles out of your icing.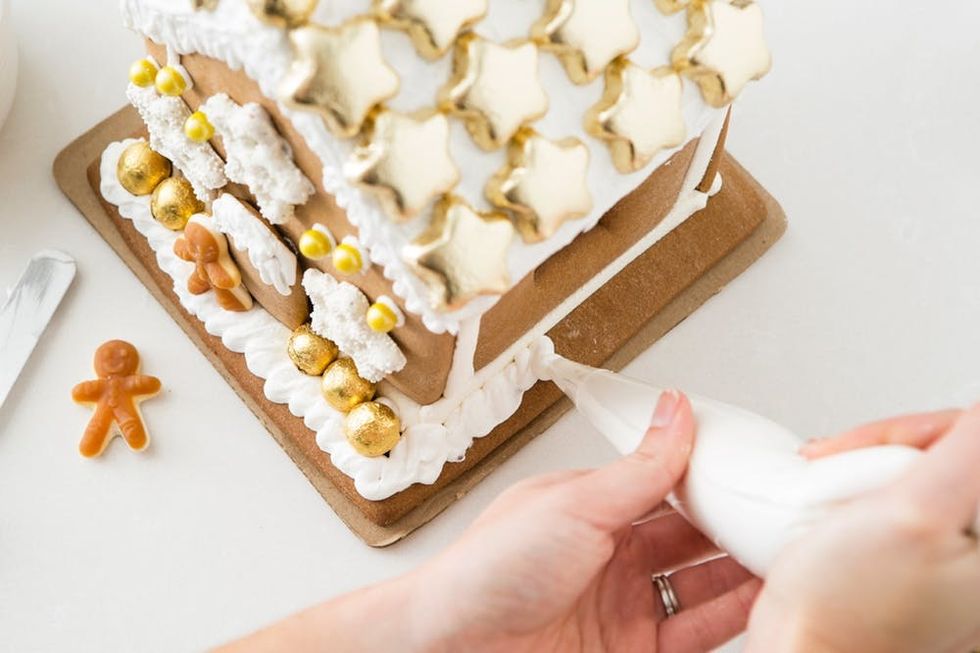 To finish it off, add snow piles around the house to give it a truly wintery vibe.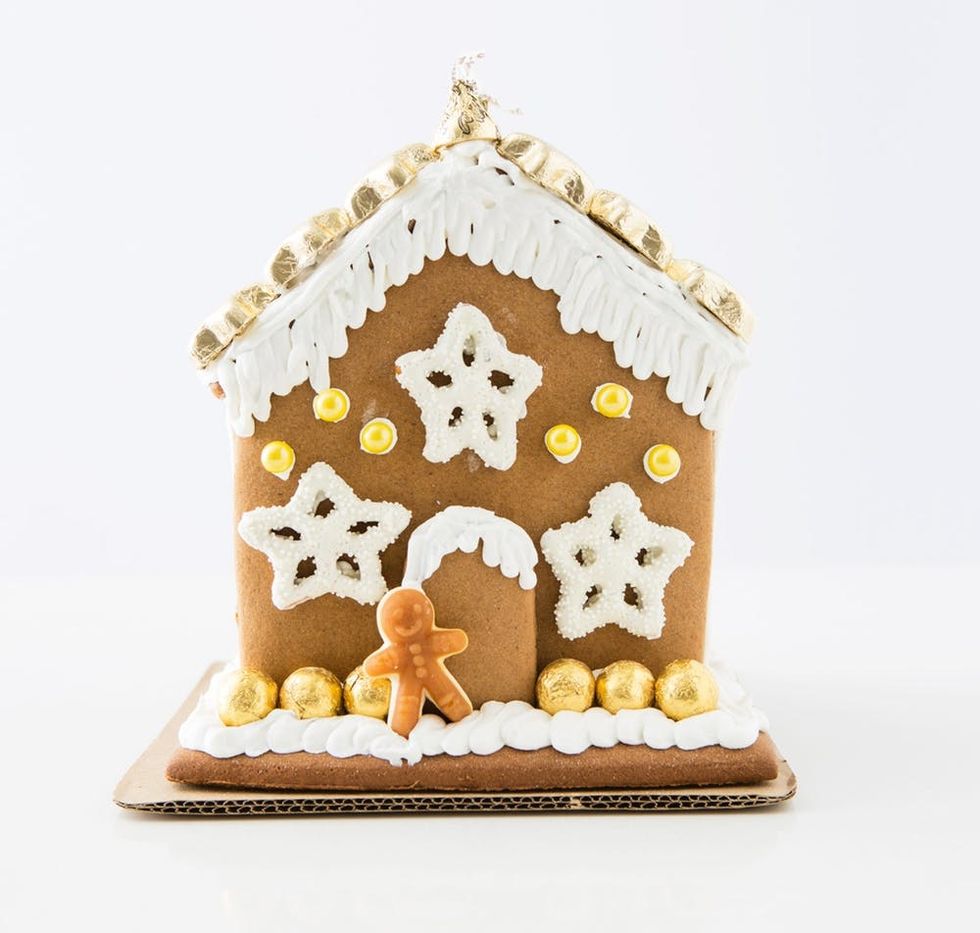 Done and done. And complete with a gummy gingerbread dude welcoming you in. Go ahead and pop a kiss off the top — we won't tell.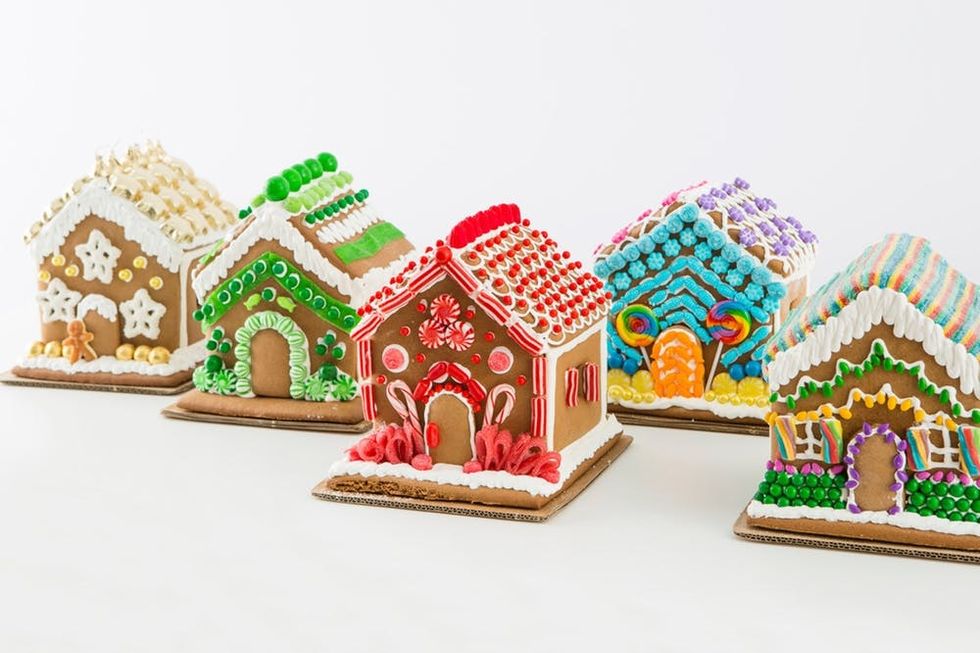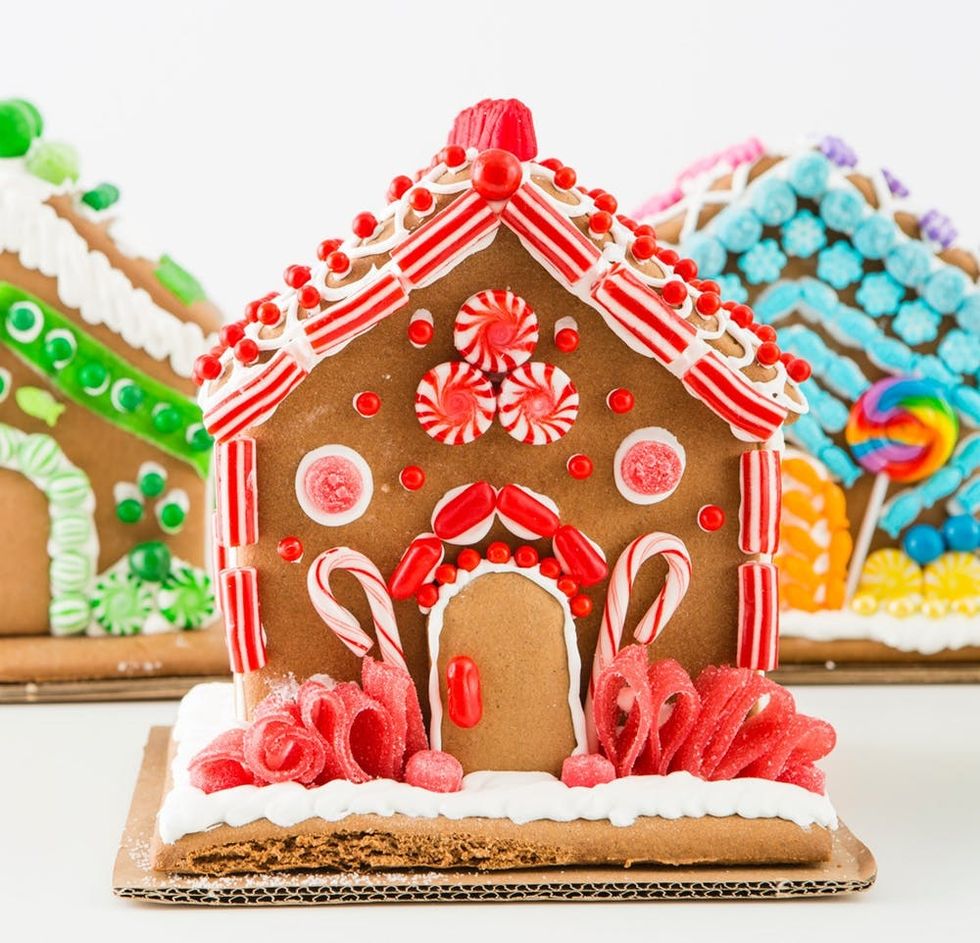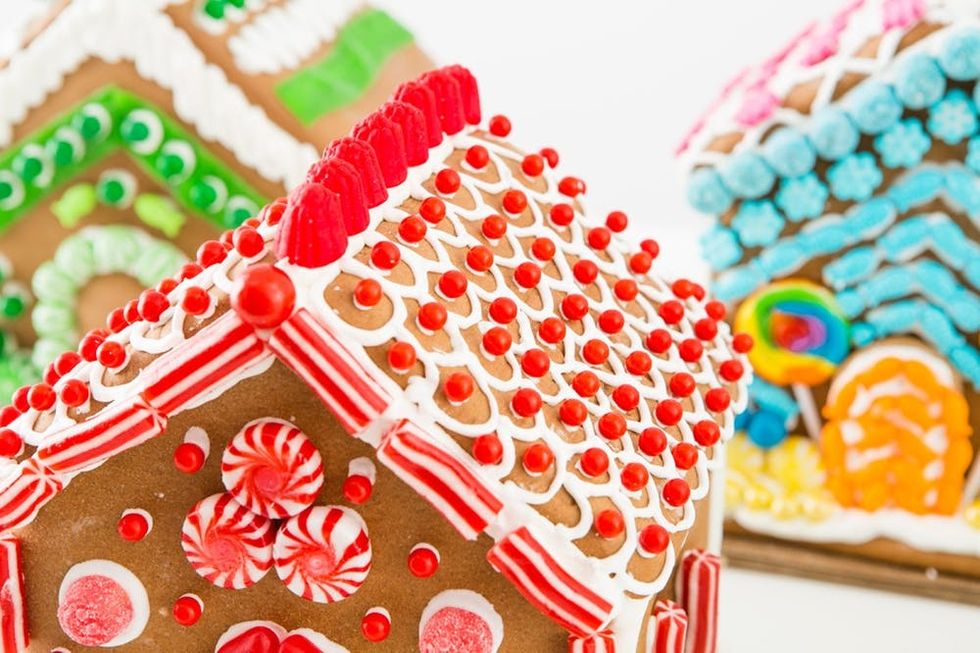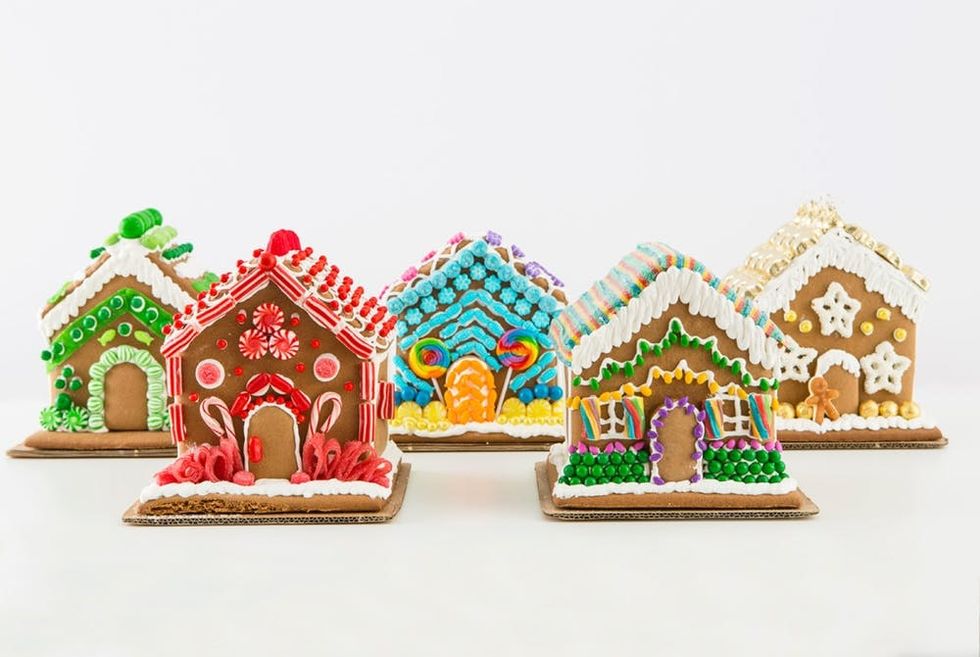 And there you have it. Five ways to decorate the best gingerbread house ever.
Happy holidays!
This post is a collaboration with Dylan's Candy Bar.
Anjelika Temple
As Chief Creative Officer and Founding Partner at Brit + Co, Anjelika Temple brings her voracious consumption of all things creative and colorful to DIY projects, geeky gadgetry finds and more. When she's not DIY-ing her heart out, you'll find her throwing dinner parties with friends or adventuring with her husband David, their daughter Anokhi, and their silly dog Turkey.