21 Photos from the 'Grey's Anatomy' Firefighter Spinoff
Jan 15, 2018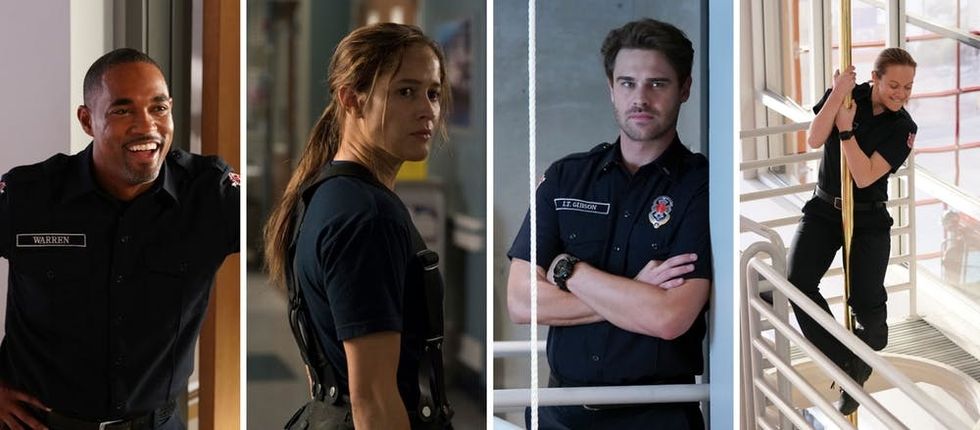 After months of buildup, we finally have our first official look at the still-untitled Grey's Anatomy firefighter spinoff. Click through to see 21 photos from the series, which premieres March 22 on ABC. (Photos via ABC/Mitch Haaseth)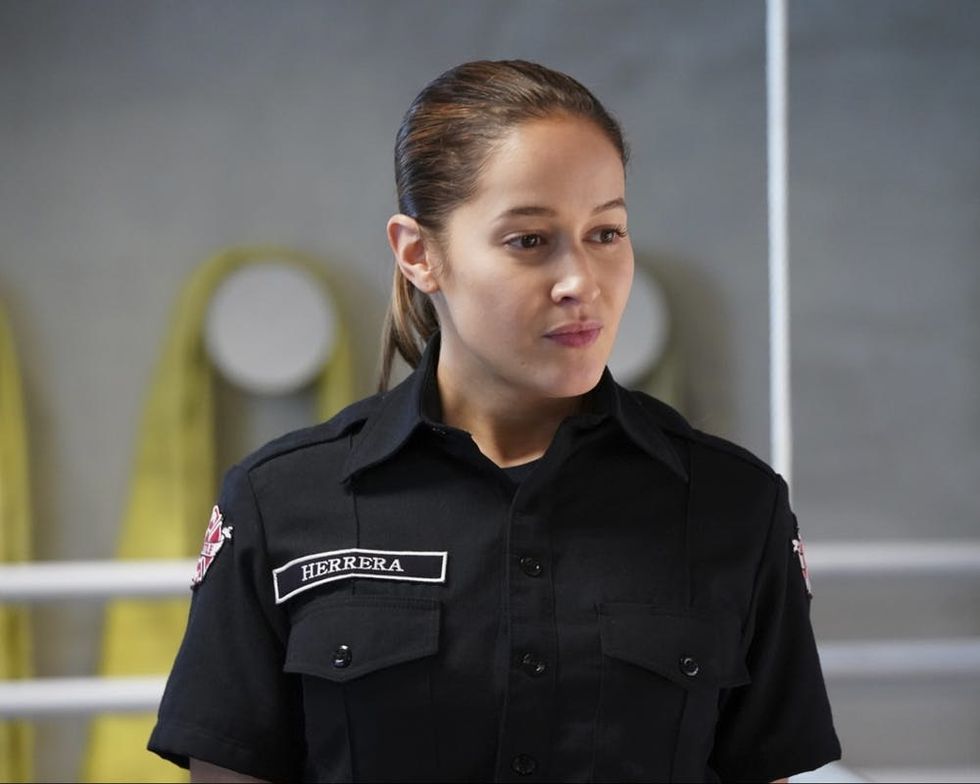 Jaina Lee Ortiz plays Andy Herrera, a "confident, badass firefighter" and daughter of the station's captain. (Photo via ABC/Mitch Haaseth)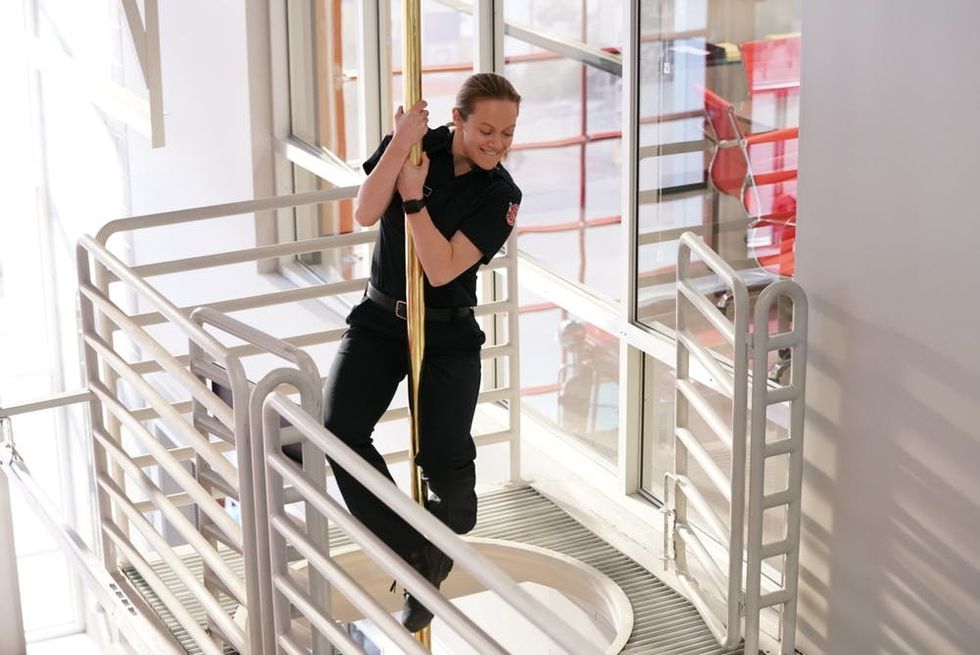 Danielle Savre plays Andy's BFF Maya Bishop. Savre used her sister, a real-life member of the Los Angeles Fire Department, as inspiration for the character. "I was calling her during filming to give me tips about how she did things," the actress told The New York Daily News. "She is my idol and I hope this role makes her as proud of me as I am of her." (Photo via ABC/Mitch Haaseth)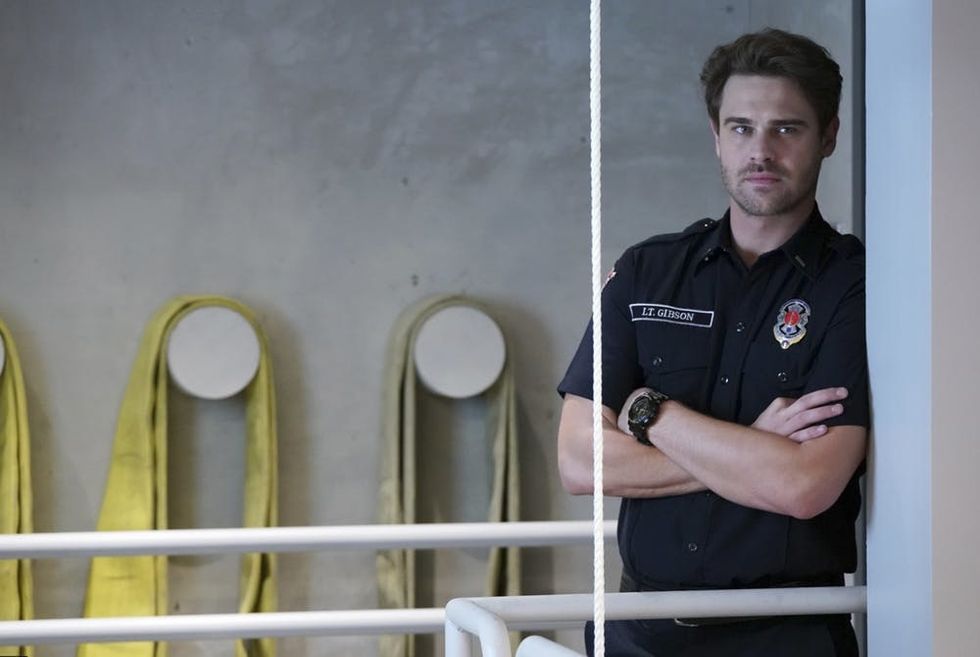 Grey Damon plays Jack Gibson, a lieutenant who has some sort of romantic involvement with Andy. A press release about the show describes him as "passionate" and "fearless — just the kind of guy you want coming to your rescue." (Photo via ABC/Mitch Haaseth)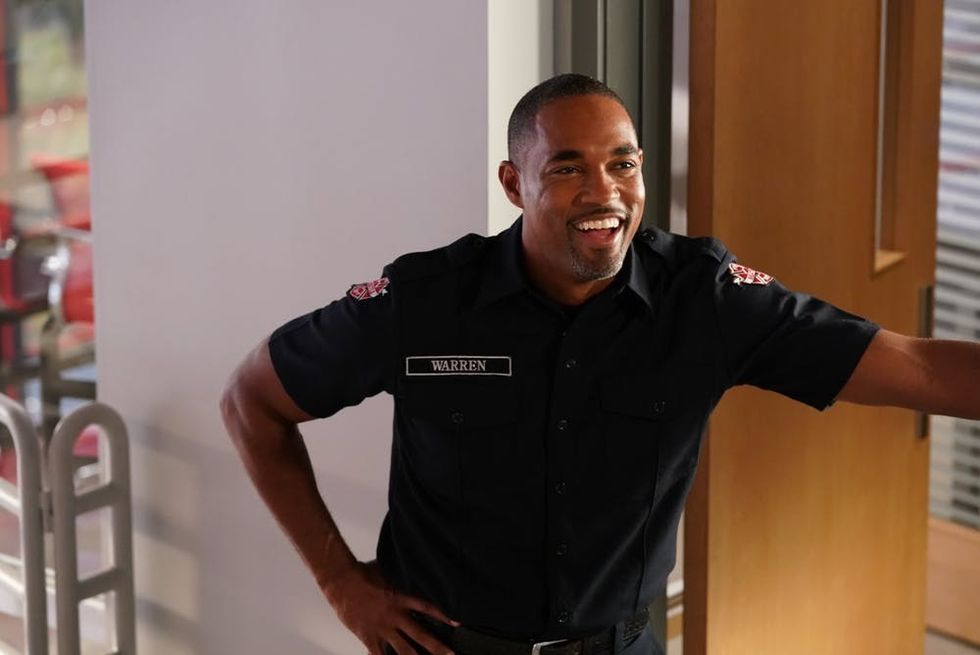 Jason George's Grey's Anatomy character is making the transition from doctor to firefighter. "We've already established that Ben is a little bit of an adrenaline junkie," George previously said of moving to the spinoff. "He likes his action. He's calm under pressure. I'm looking forward to seeing how they make this transition." (Photo via ABC/Mitch Haaseth)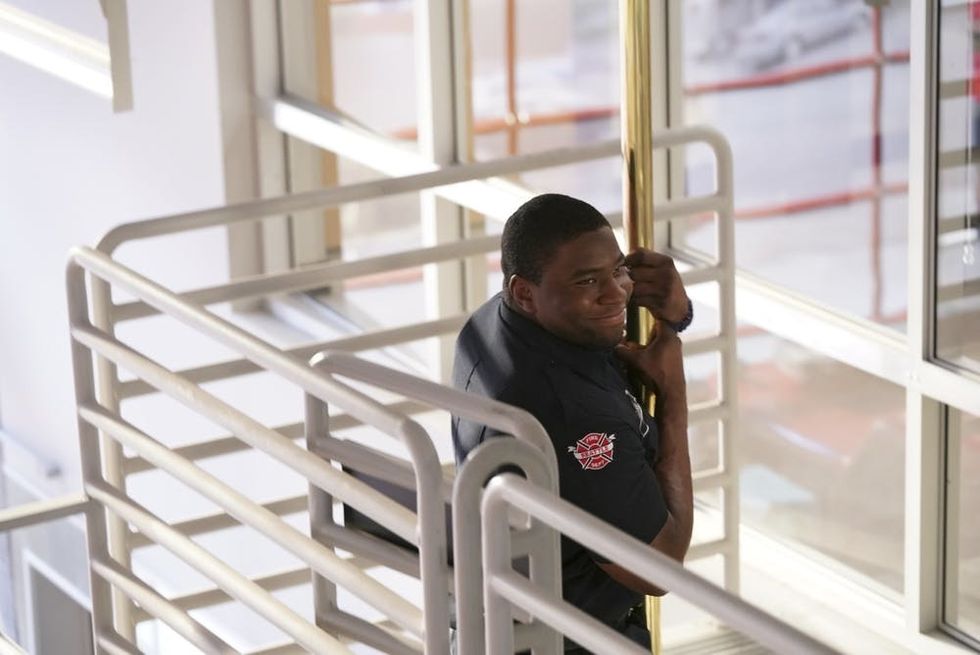 Okieriete Onaodowan, who played Hercules Mulligan and James Madison in Broadway's Hamilton, stars on the spinoff as firefighter Dean Miller. He looks pretty stoked, but we'd be pretty thrilled, too, if we got to try out the firehouse pole. (Photo via ABC/Mitch Haaseth)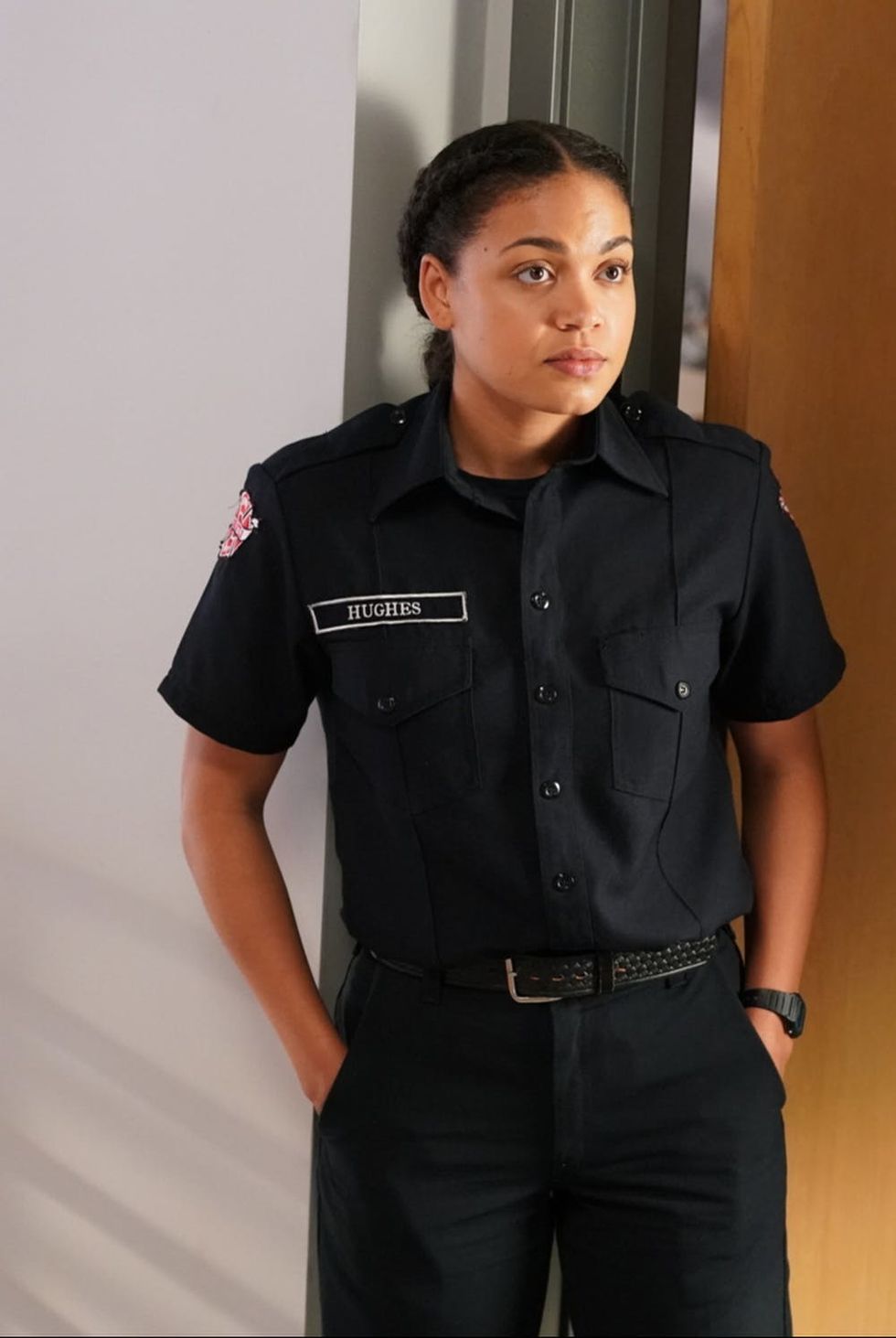 We love Barrett Doss (of Iron Fist and Broadway's Groundhog Day) and can't wait to see what her character, Victoria Hughes, is up to. According to the press release, Victoria is the youngest member of the team and "eager to prove herself." (Photo via ABC/Mitch Haaseth)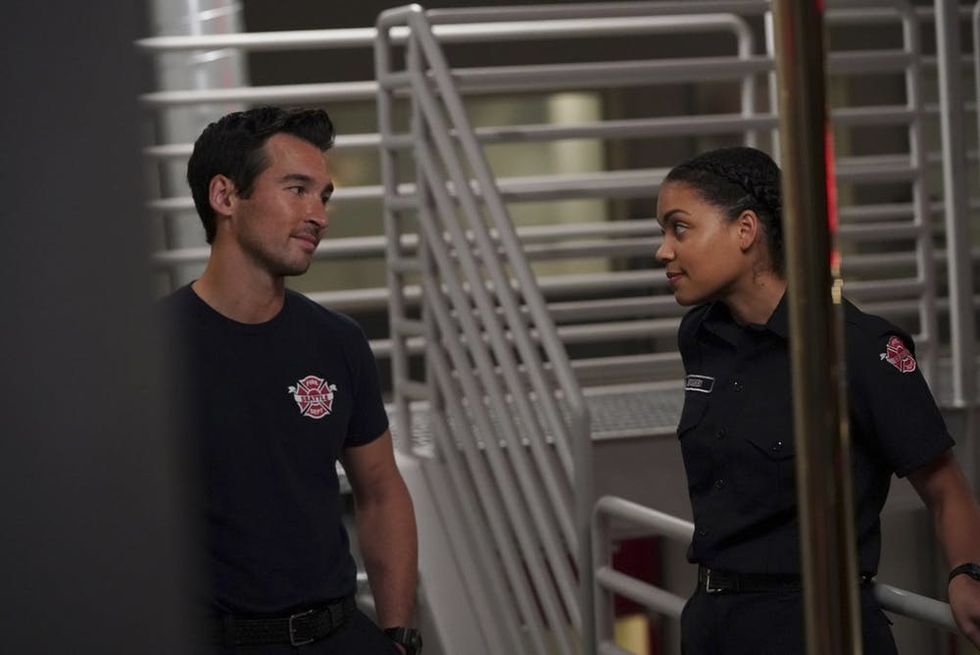 Though we already got one peek of Jay Hayden and Barrett Doss in character as Travis Montgomery and Victoria Hughes, it looks like we'll be seeing a lot more of them together on the spinoff. (Photo via ABC/Mitch Haaseth)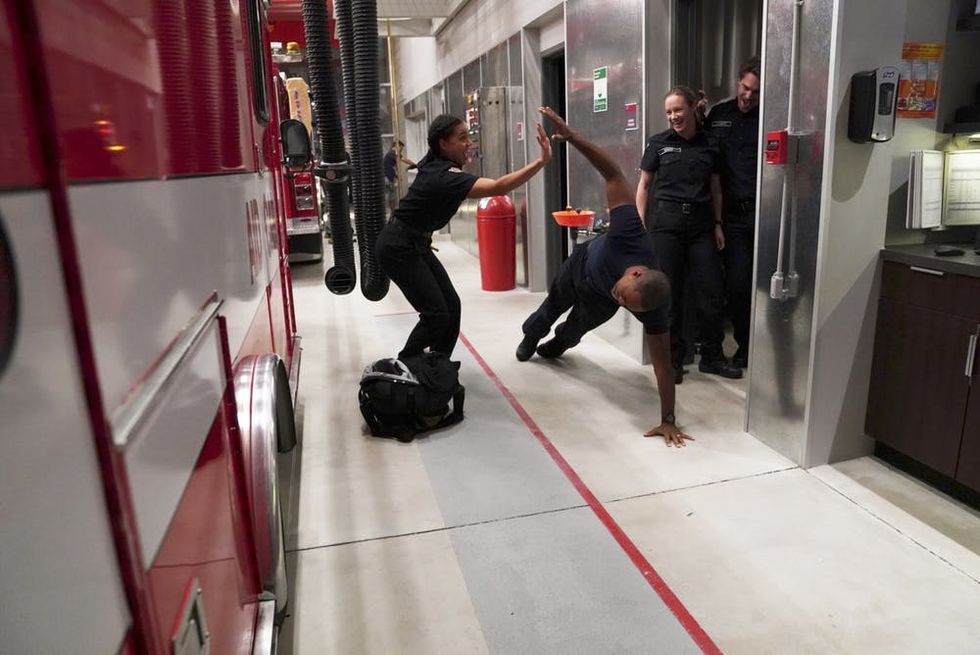 The firehouse seems like a pretty fun place to be. That is, when the crew isn't busy fighting to save people's lives. (Photo via ABC/Mitch Haaseth)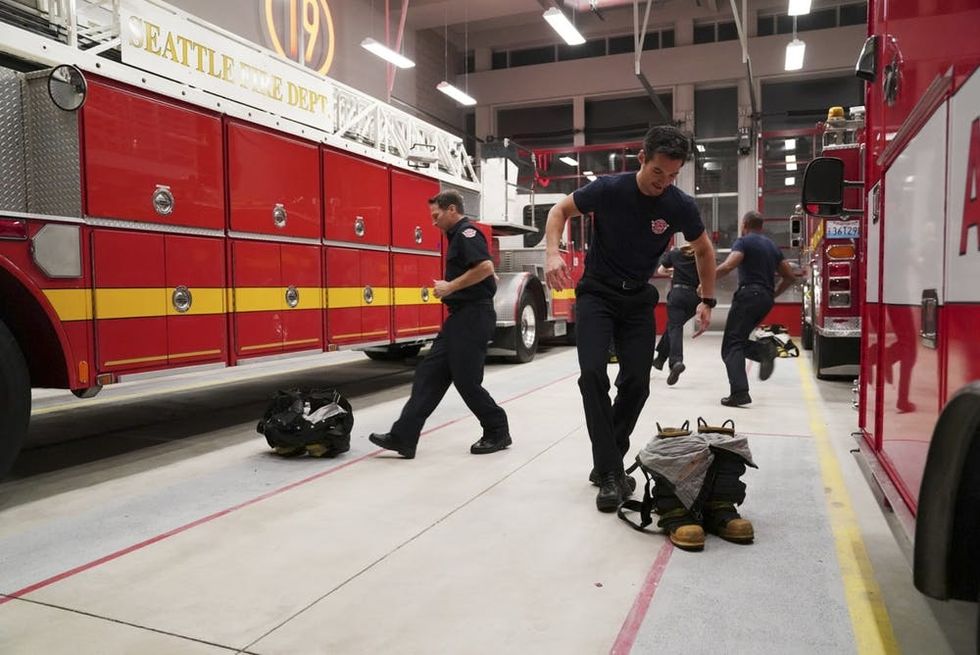 When an emergency call comes in and the alarms go off, this team is ready to jump into action. (Photo via ABC/Mitch Haaseth)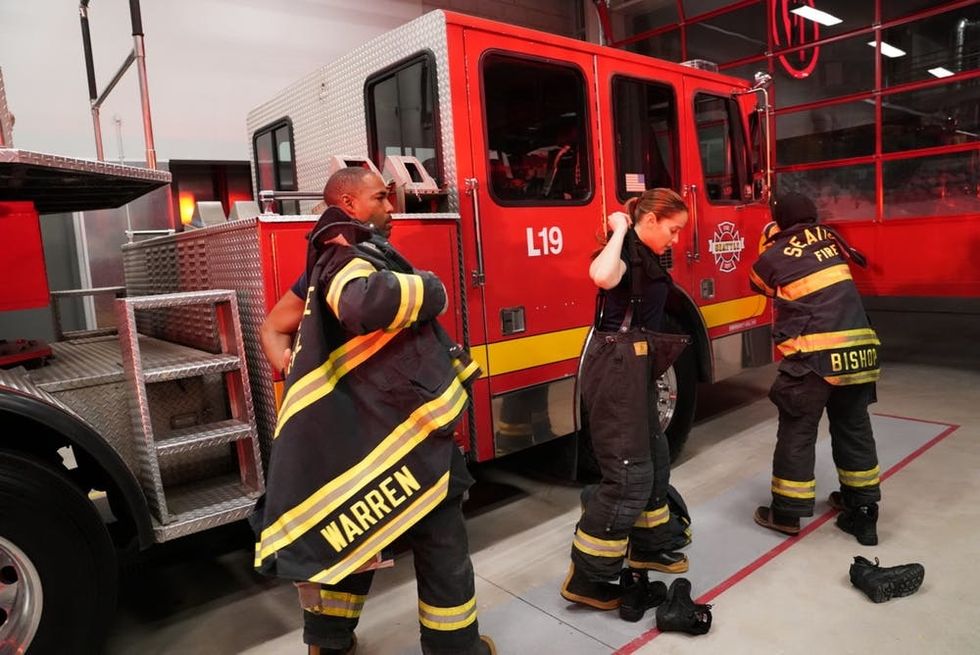 And we can't wait to see them pull on their gear and step right into the fiery drama! (Photo via ABC/Mitch Haaseth)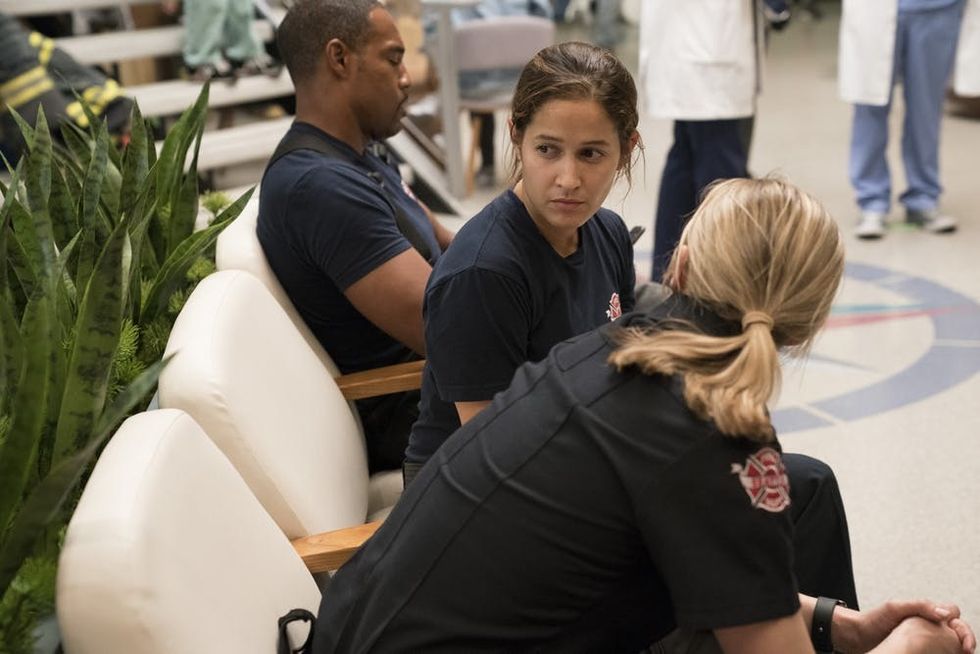 Andy's job isn't necessarily done when the fire is put out. Here we see her anxiously waiting in what looks like Grey Sloan Memorial Hospital. (Photo via ABC/Mitch Haaseth)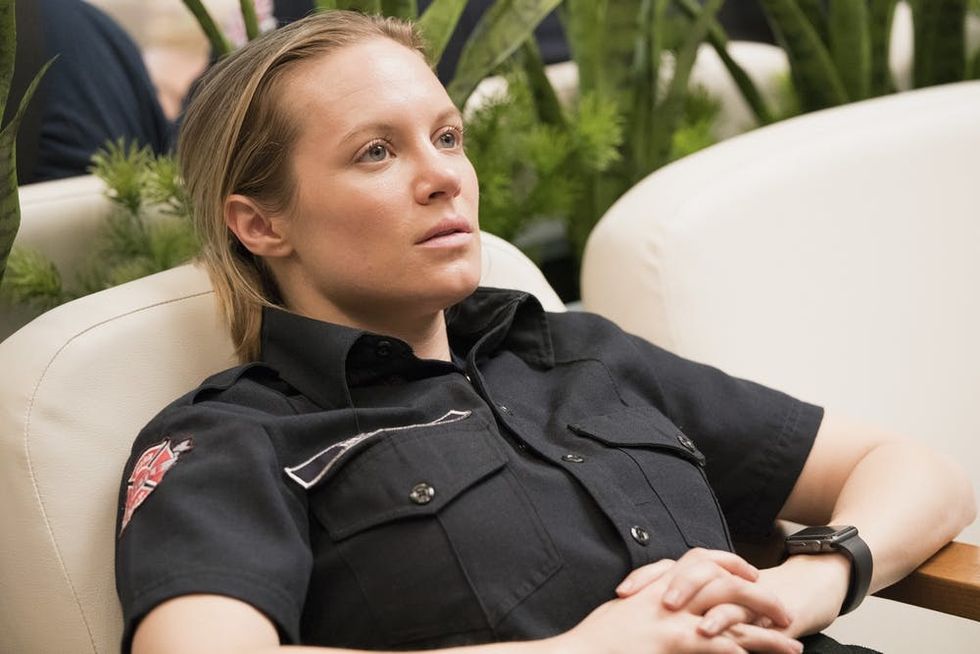 Maya, a former Olympic athlete, looks similarly spooked. (Photo via ABC/Mitch Haaseth)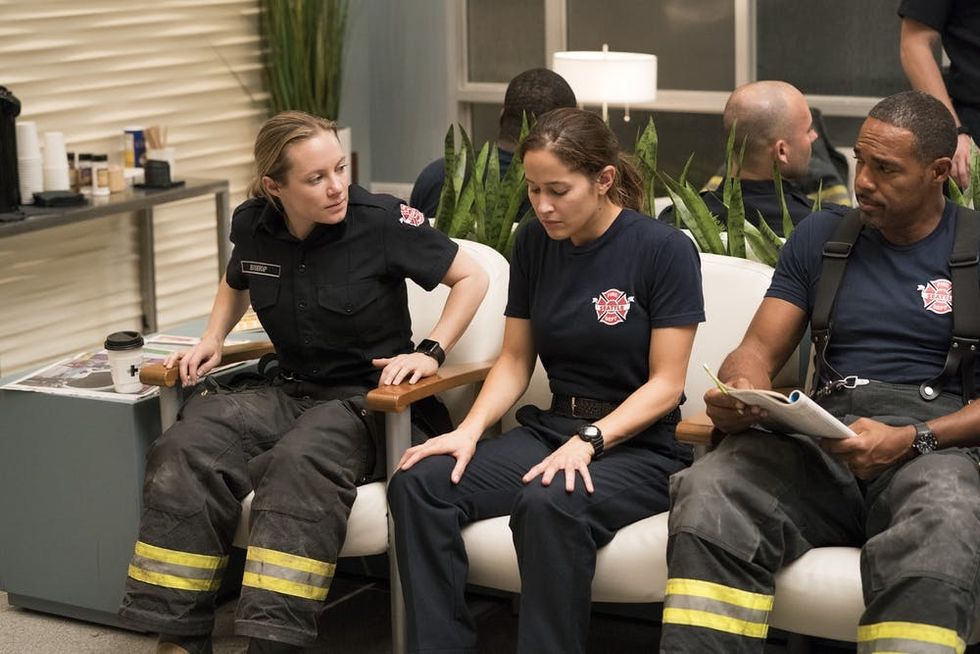 Things look tense, but Andy has Maya and Ben by her side. (Photo via ABC/Mitch Haaseth)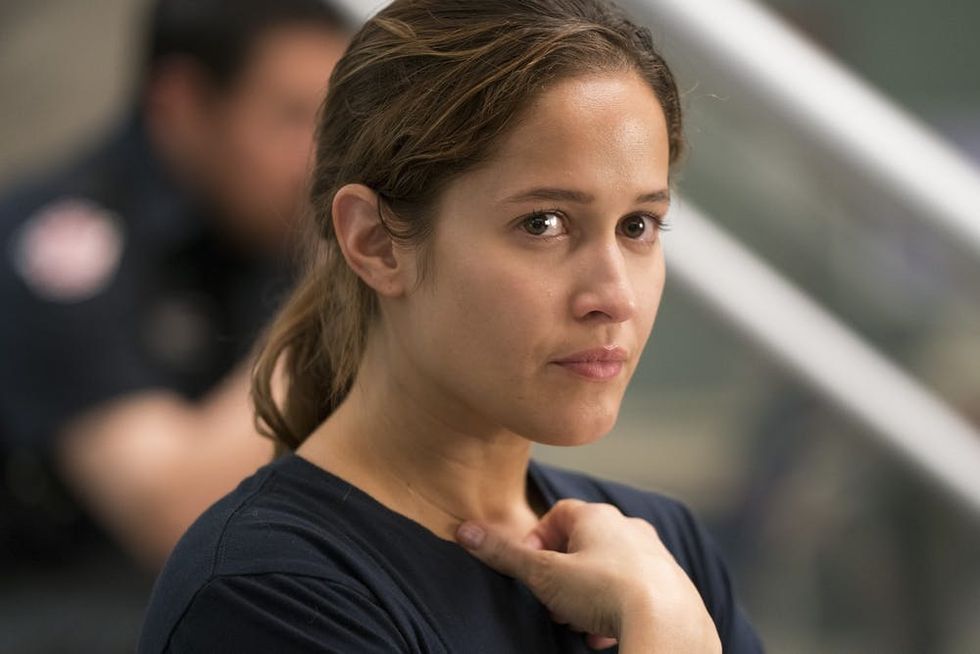 Judging by the look on Andy's face, we have a feeling this spinoff will be just as gripping as its predecessor. (Photo via ABC/Mitch Haaseth)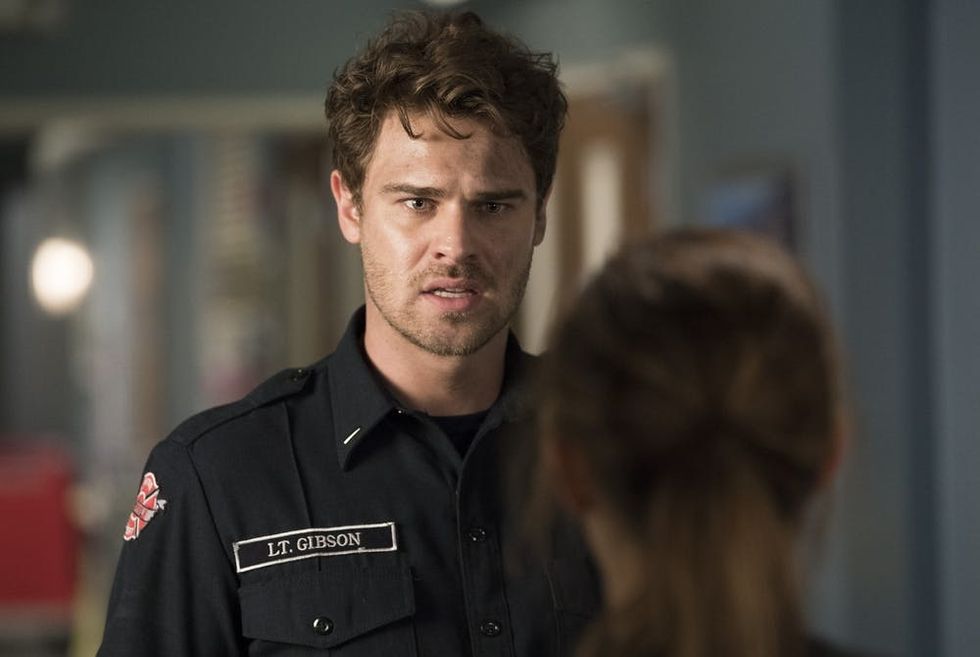 Whatever is going on between Andy and Jack looks pretty intense. (Photo via ABC/Mitch Haaseth)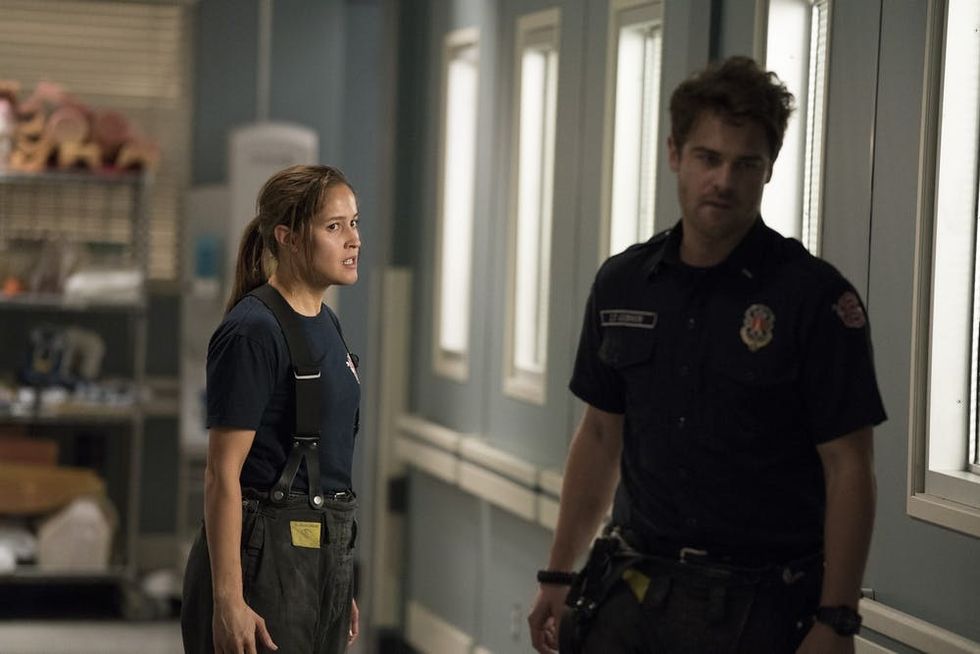 And it doesn't seem to end well for either of them. (Photo via ABC/Mitch Haaseth)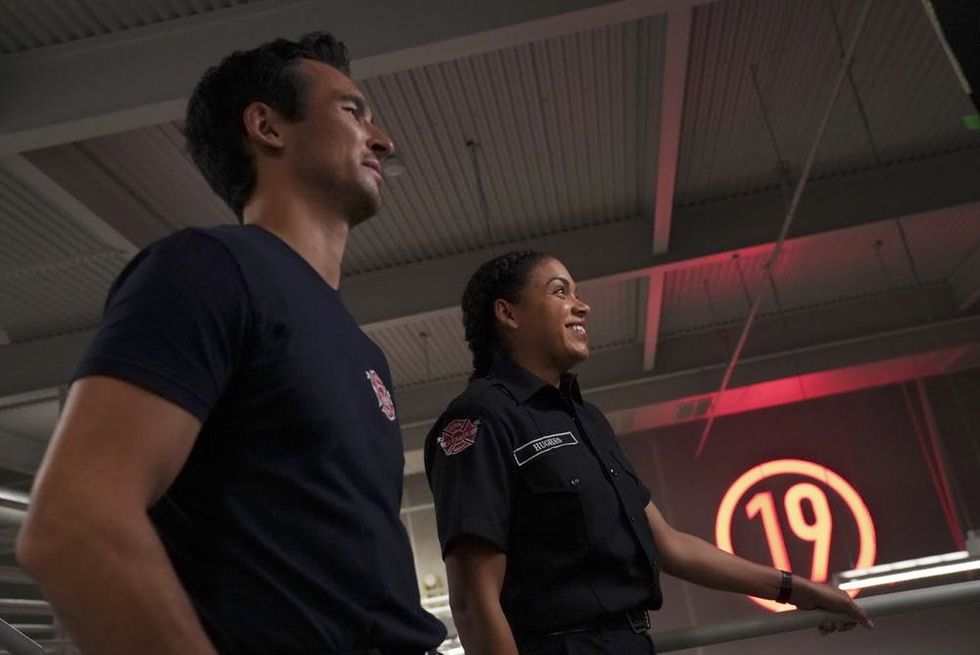 Hayden's character is described as "the heart of the station" and a "stickler for following the rules" — in part because of some as-yet-unspecified "traumatic event." (Photo via ABC/Mitch Haaseth)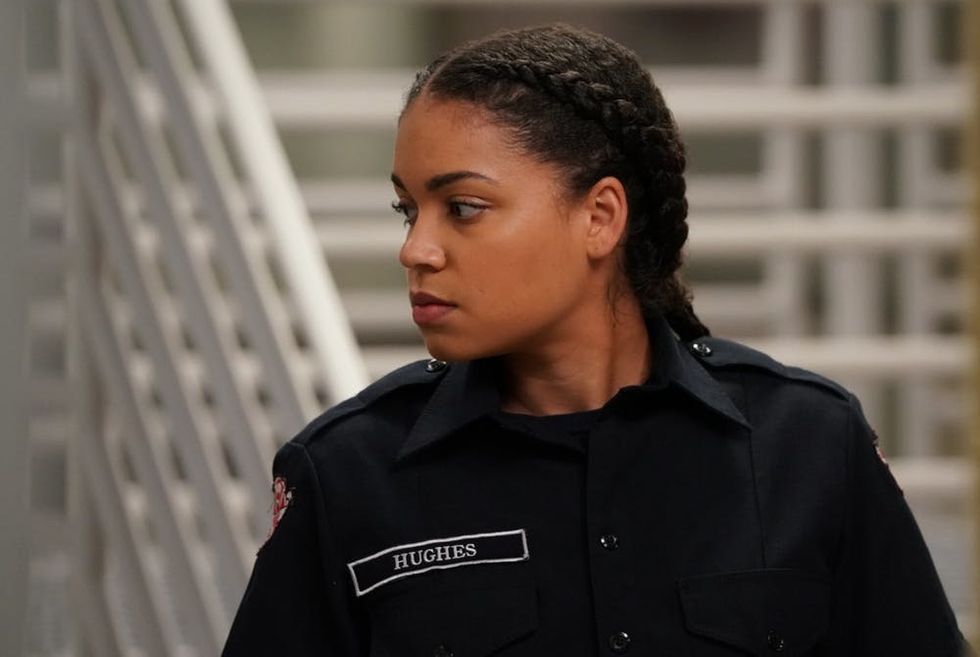 According to ABC, Victoria "tends to meddle where she doesn't belong but rarely allows others insight into her personal life." (Photo via ABC/Mitch Haasseth)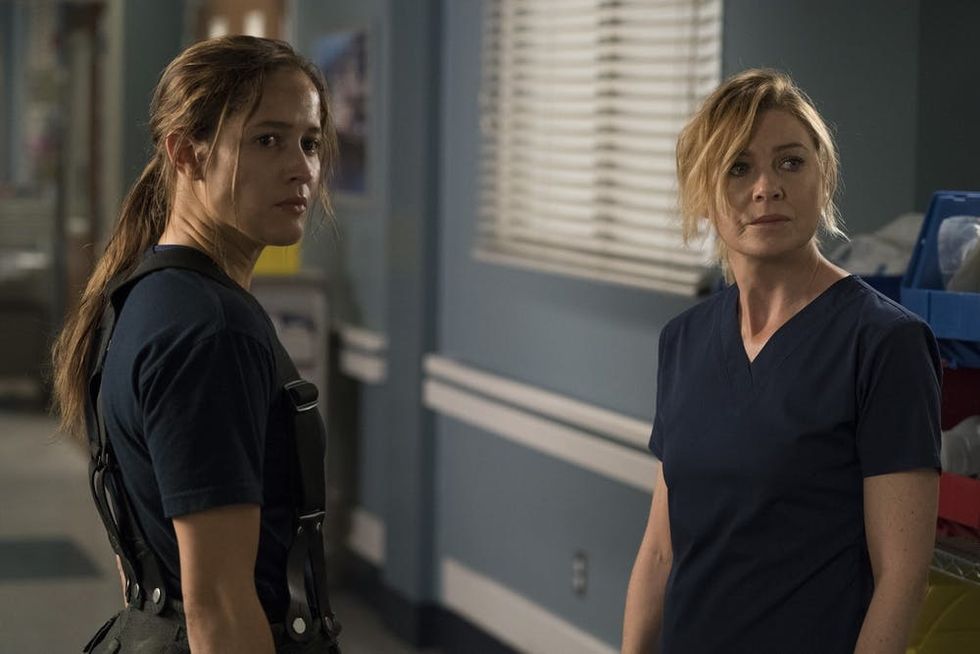 Expect some crossover between Grey's Anatomy and the new spinoff, like this scene with Andy and Meredith Grey (Ellen Pompeo).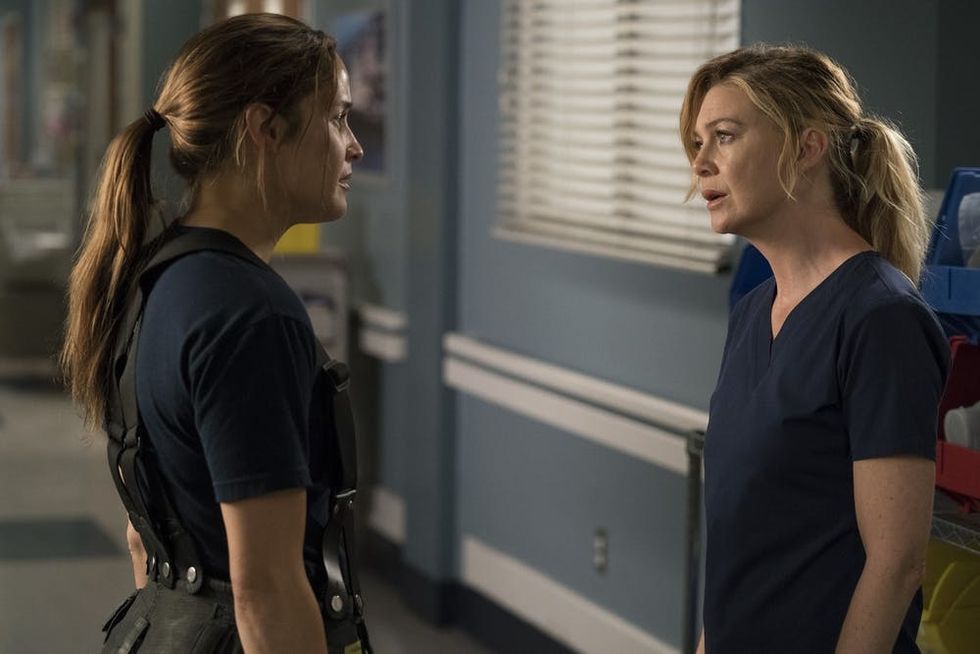 "We exist in the same universe. The show is Grey's Anatomy adjacent," executive producer Stacy McKee told reporters at the 2018 Television Critics Association winter press tour. "The world takes place in Seattle, the same place that Grey's does, so there's a lot of potential for cross-pollination. We hope that comes to fruition." (Photo via ABC/Mitch Haaseth)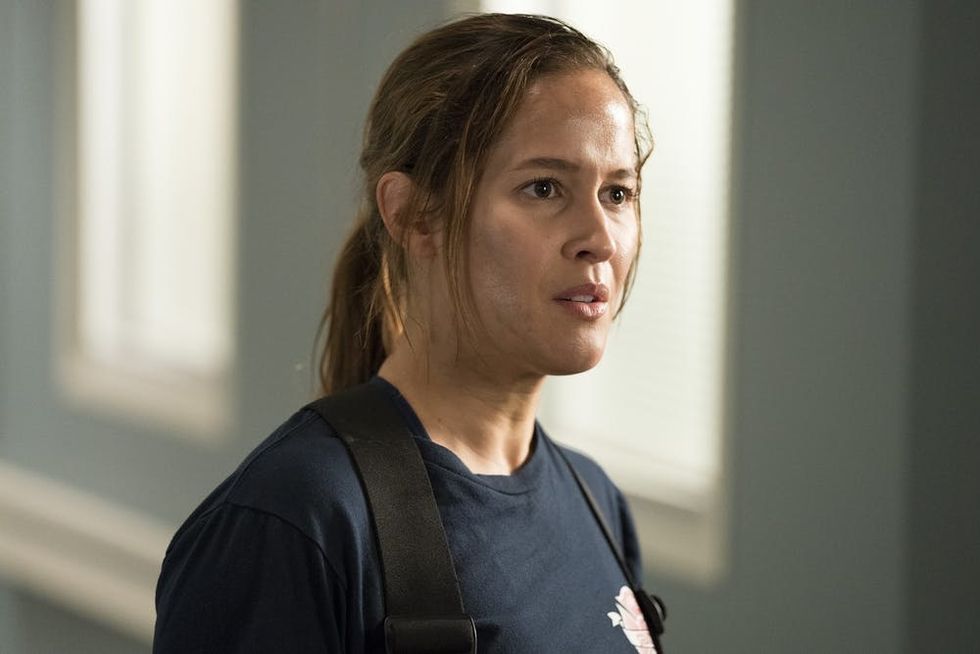 We'll be able to see Ortiz and her costars kick things off when the 10-episode spinoff premieres with a two-hour special on March 22 before moving to its regular slot on Thursdays at 9pm EST, starting March 29. (Photo via ABC/Mitch Haaseth)
Desiree O
Desirée O is a 'Professional Bohemian' who loves anything and everything related to the arts, entertainment, and pop culture. She ADORES being a 'Newsy' for Brit + Co, covering all of the latest tidbits of awesomeness that you want to read about. When she's not writing, she's either making messy art, going on long adventurous walks with her camera, or poking around over at bohemianizm (http://www.bohemianizm.com/). You can find out about Desirée O and her work at http://DesireeO.com/ or follow her on Twitter @DesireeO.