3 New Ways to Add Hair Bows to Your 'Do
Jun 26, 2013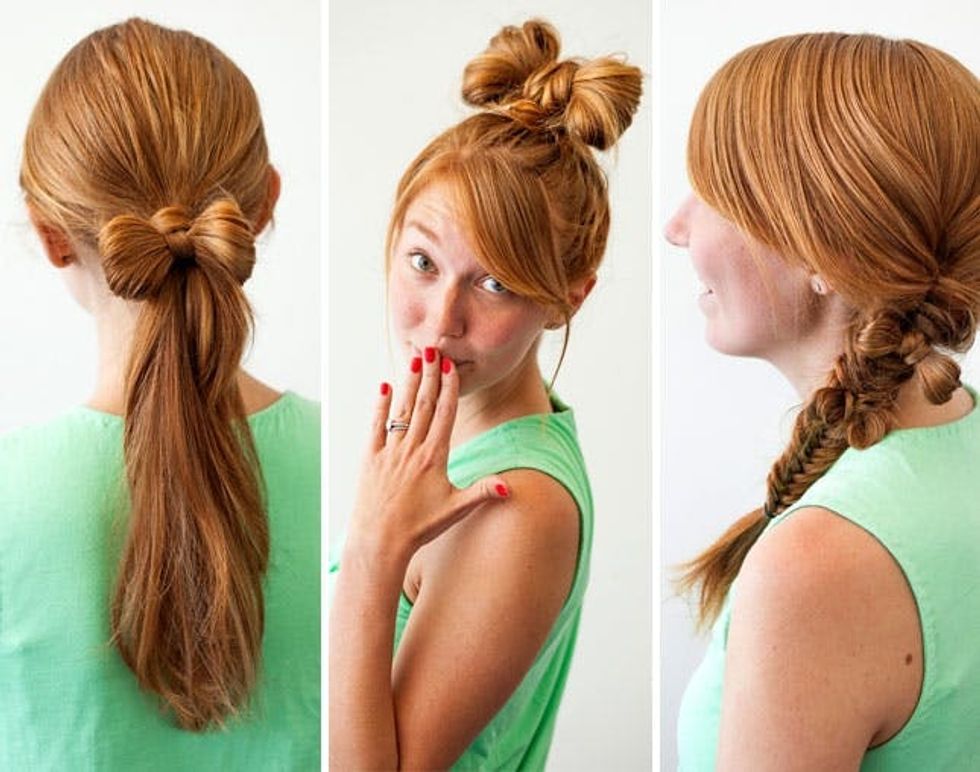 ---
First of all, what is a hair bow? It's exactly what it sounds like. It's a bow made out of your hair… in your hair! You've likely seen totally outrageous hair bows on folks like Lady Gaga and Nicki Minaj, but we're here to show you 3 clever ways to create your own hair bows when you feel like mixing it up in the hair department.

We'll start with the most basic one – adding a bow to the top of your ponytail. The photos correspond to the following steps starting with the upper left photo.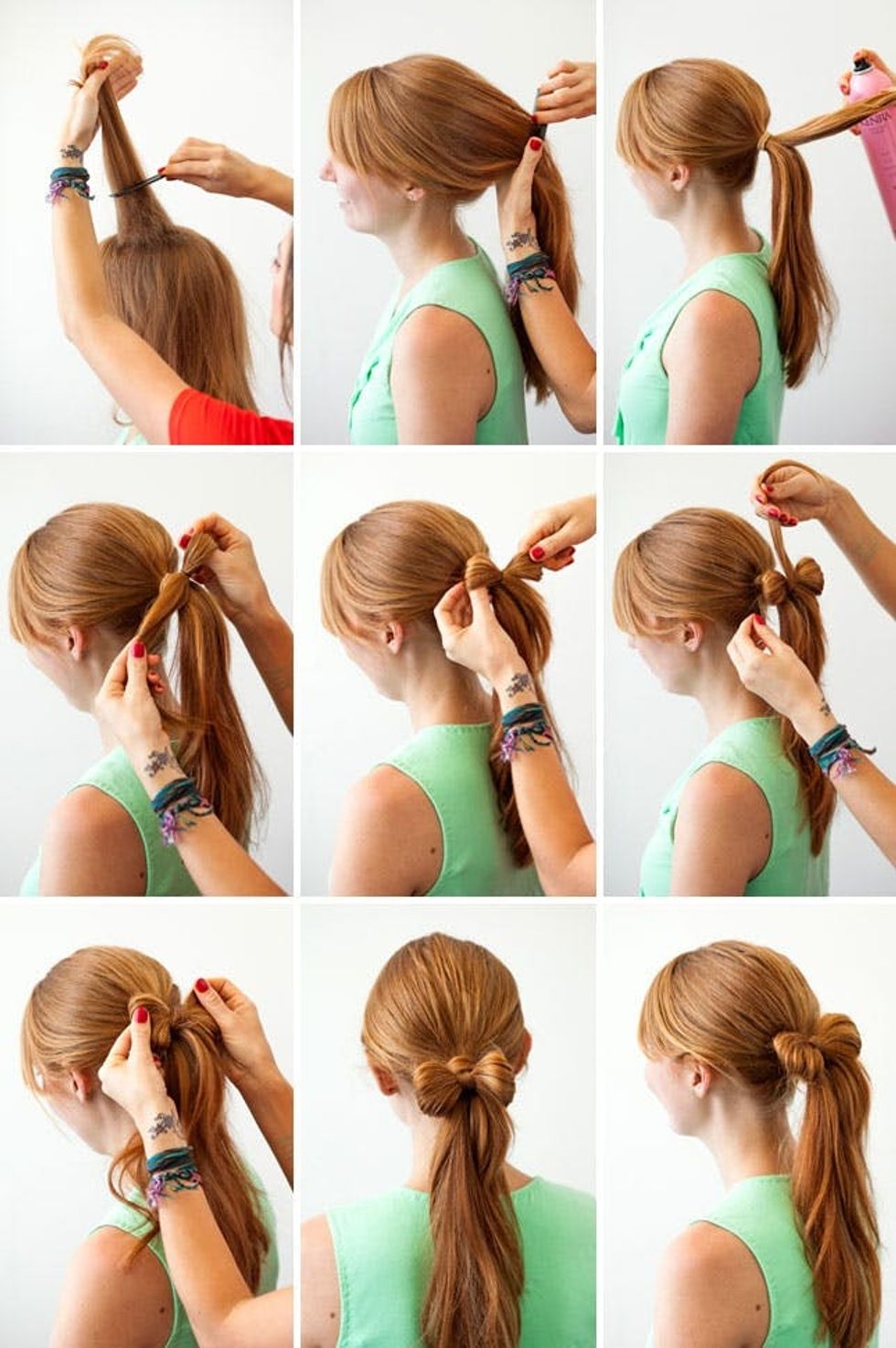 1. Back comb around the crown of your head to take your ponytail into a more sophisticated style zone.

2. Pull into an elastic in the upper mid section of your head.
3. Pull out a piece of hair that is thick enough to create a bow and spray it with hair spray. This will ensure no fly- aways.
4. Using a small elastic, pull the section of hair you just sprayed through the elastic to create the first loop.
5. Tighten the elastic and then add the other end of the same piece of hair to create the second loop.
6. There should be a small section of hair still remaining – this is what you'll use to cover your elastic.
7. Fluff the bow loops to create a little more body.
8. Adorable from the back.
9. And from the side!
Next up, we'll add a pair of mini bows to a standard fishtail braid.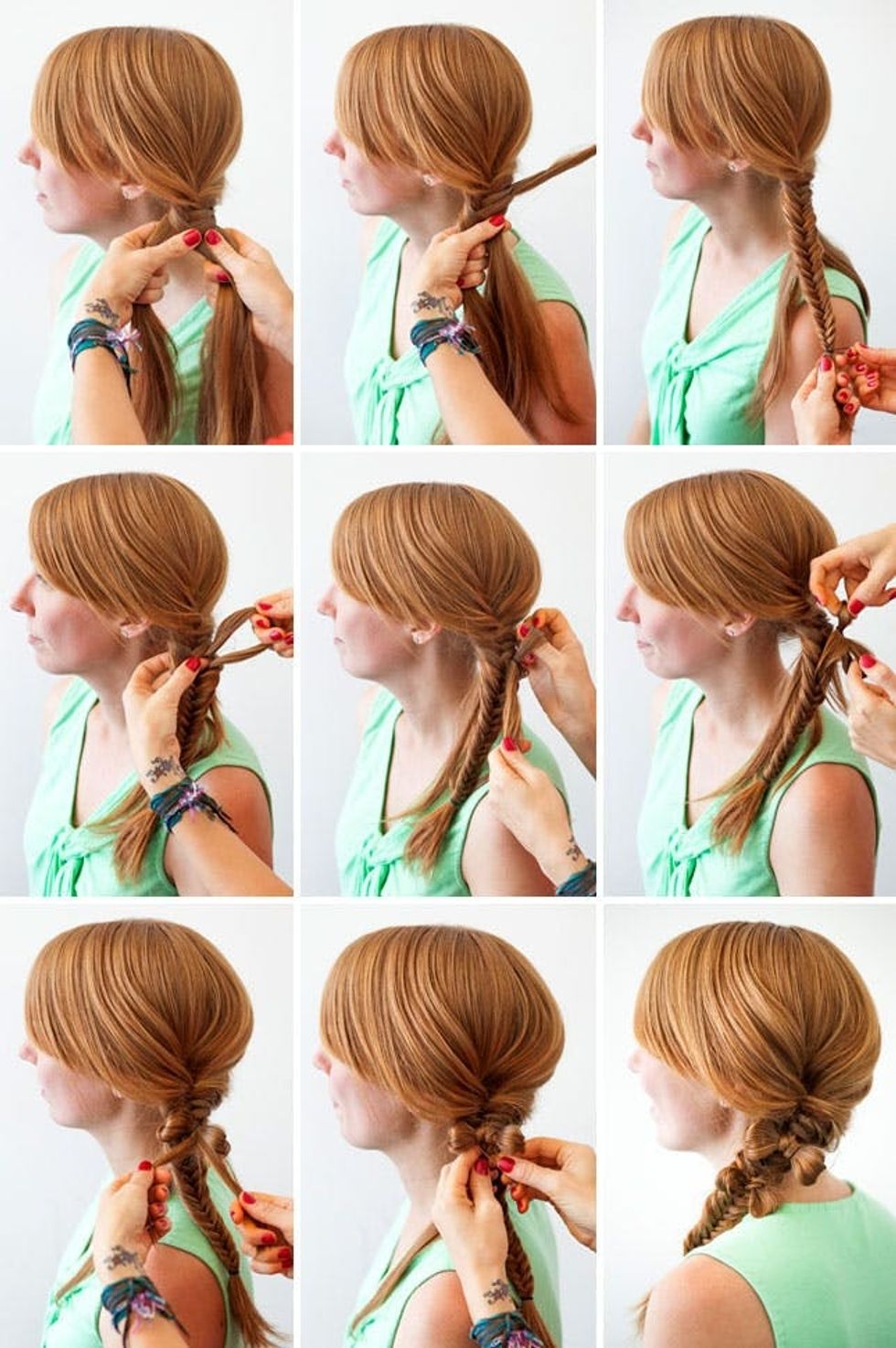 1. Pull hair to the side of your head and begin your fishtail braid.

2. Once you get about 2 inches of braid, it's time to pull out a small piece of hair – this will later turn into a bow.
3. Keep braiding and pull out another piece of hair before you reach the end – this is for the second bow!
4. Take the first strand of hair you pulled out and loop it through the braid.
5. Use an elastic to secure the loop.
6. Separate the loop into two loops.
7. Use the remaining hair to tighten and wrap around the elastic.
8. Secure in the fishtail braid using a bobby pin.
9. Repeat with the second strand of hair to create another bow. So cute!
Last, we have the most dramatic look of the bunch. We have to admit, this one might not be the most wearable but it is definitely our favorite.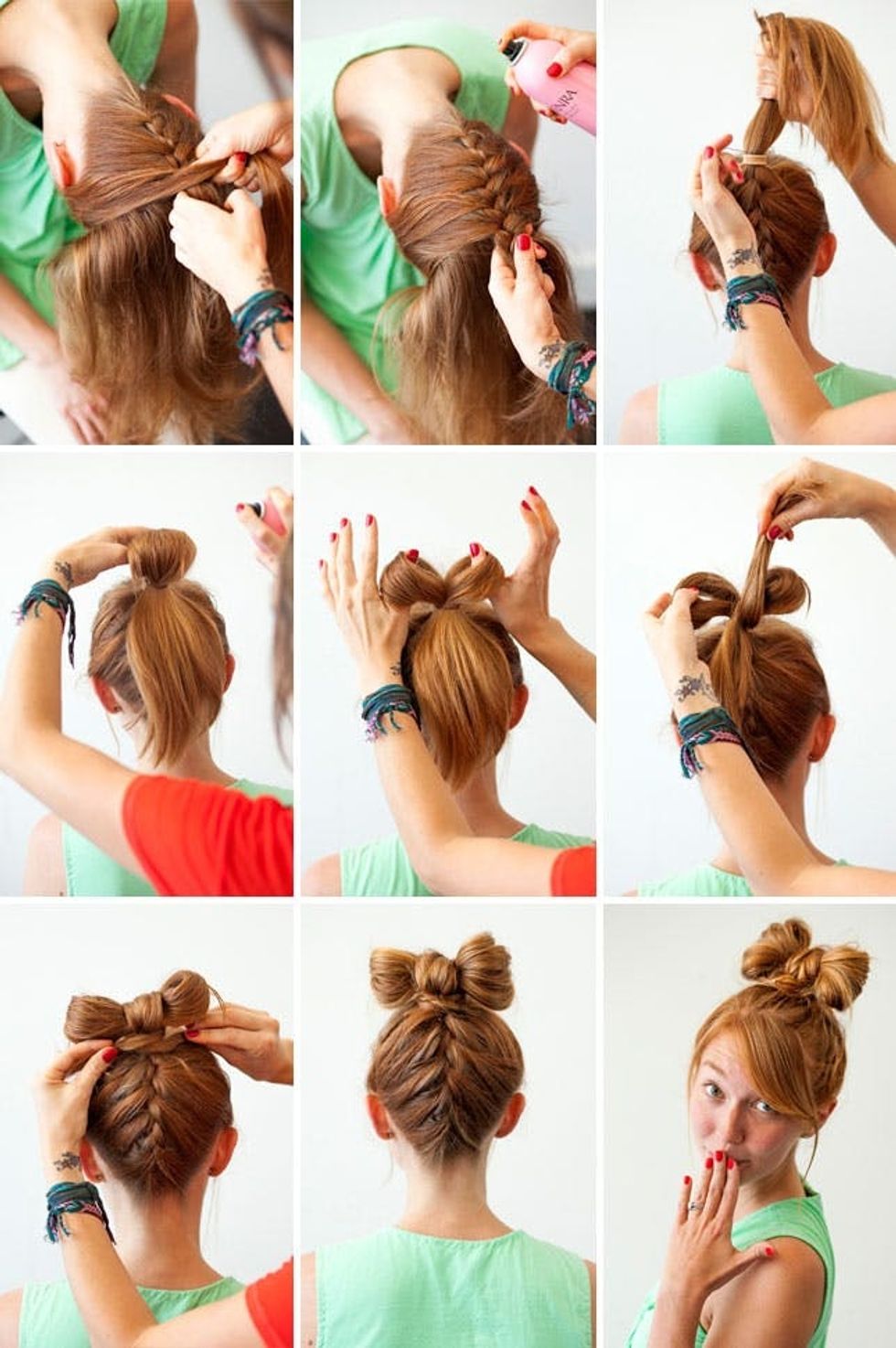 1. Flip your head upside down and french braid up the back of your head, starting at the top of your neck and ending close to the crown of your head.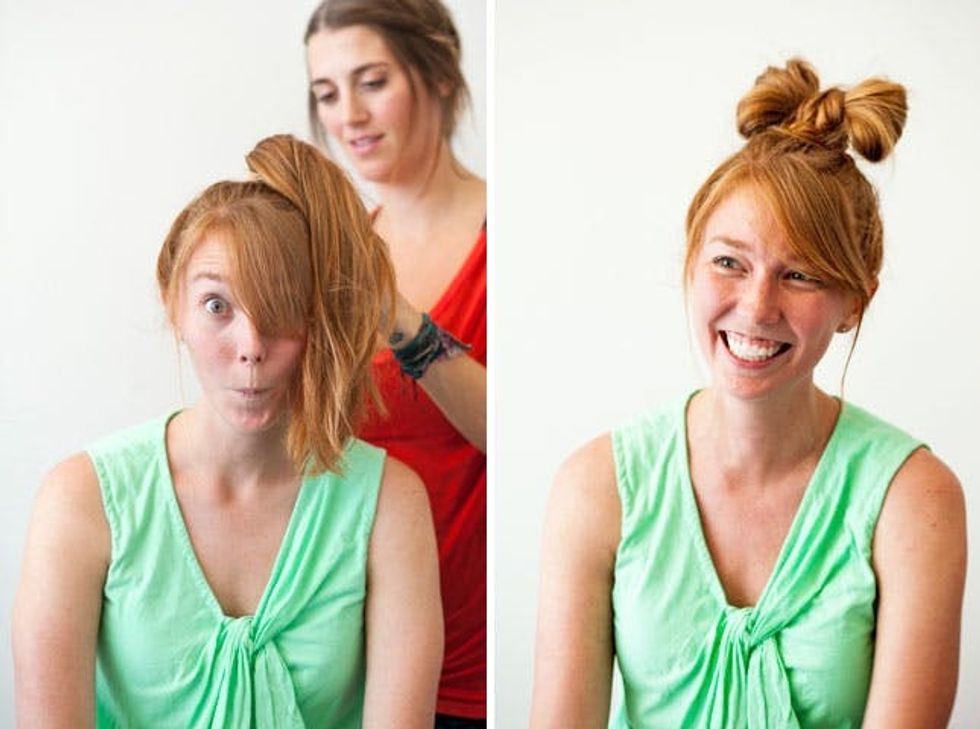 2. Use hair spray to secure the braid.
3. Pull the rest of the unbraided hair into a high ponytail.
4. Use an elastic to create one large loop – be sure to leave hair at the end to secure your bow.
5. Separate the loop into two loops.
6. Wrap part of the remaining hair around the center of the bow.
7. Use bobby pins to secure remaining hair around the center of the bow.
8. The french braid looks great from the back.
9. And the bun bow is pretty awesome from the front as well!
Special thanks to our marketing maven Cecelia for letting us put her gorgeous red locks on display! :)
Misty Spinney
Misty Spinney is a hair stylist, makeup artist, and fashion stylist with a strong background in design and deep passion for creativity.
Home
Still haven't taken up that new creative skills you swore you'd learn this year? Or ready to take your design skills to the next level? Let's say so long to the weirdest year ever by checking those big learn-something-new goals off our perpetual to-do lists.
We've teamed up with Clorox to give you the gift of unlimited creativity now through the end of the year. Once you sign up, you can take as many of our 120+ classes as you want for FREE for one whole month!
Here's how it works:

Head to brit.co/learn and sign up for the "All Access Pass."
Use the code "CLOROXCARES" at checkout to redeem your free month of classes.
You will be automagically signed up for Clorox's email list once you redeem your free all access pass. (It's the #1 Choice for Disinfection!)
Your pass lasts one month from when you checkout. This means you have unlimited access to all the classes during that month.
This offer is valid now through December 27, 2020.
Browse our catalog to find the right class for you, tell a friend and take the class together over Zoom, or organize a 'cocktails + crafts' night with a friend in your bubble so you can learn something new together.
What are you waiting for? Time to start learning all the things!

Thanks to Clorox for making this happen! When it counts, trust Clorox.
Lifestyle