Sing and Laugh This Halloween With Our Carpool Karaoke Costume
Aug 26, 2017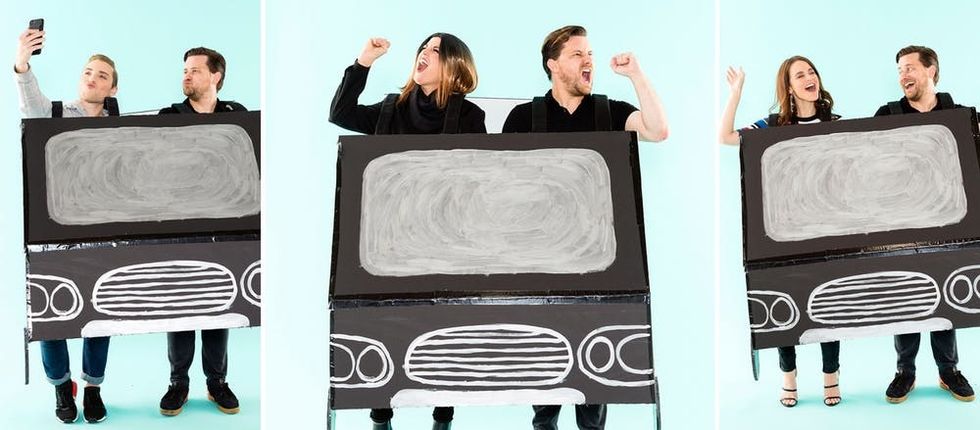 IMO, it's never too early to start thinking about Halloween costumes. If you need to come up with the perfect costume for you and your S.O. (or BFF), you're in luck, because we've got the most fun couples costume idea ever: Carpool Karaoke. Is it just me, or is James Corden's Carpool Karaoke series one of the greatest gems of the internet? I love how jolly and goofy James and his celebrity passengers are. My personal faves are both Justin Bieber's and Steph Curry's rides.

This Halloween costume is both easy to put together AND cost-effective! What else do you need?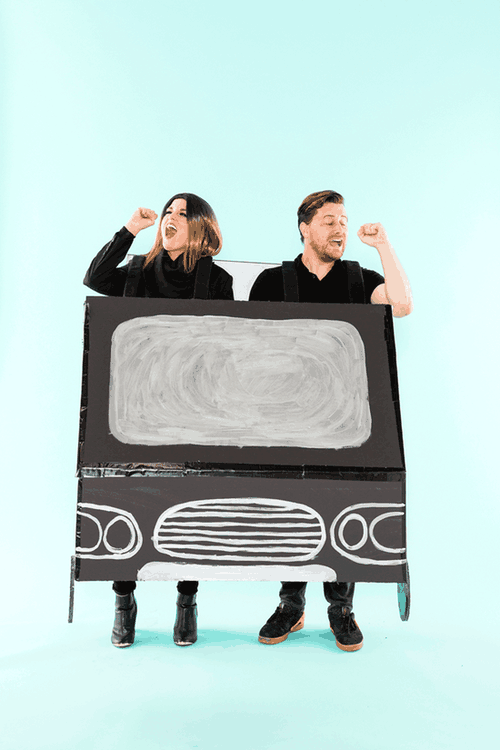 Adele: Adele and James' Carpool Karaoke was what got me hooked on this series. For Adele, I dressed Buying and Planning Manager Alicia in a black sweater, jacket, and scarf. She brought her own black jeans and boots. I found this eNilecor Brown Bob Wig ($17) from Amazon. Hair and makeup artist Misty Spinney straightened the wig a little and gave Alicia fake lashes, a thick winged eyeliner, a strong brow, and a dark lip.

James is a simple man, so Shooter/Editor Ryan just brought his own black polo, dark jeans, dark sneakers, and cheery smile to the set.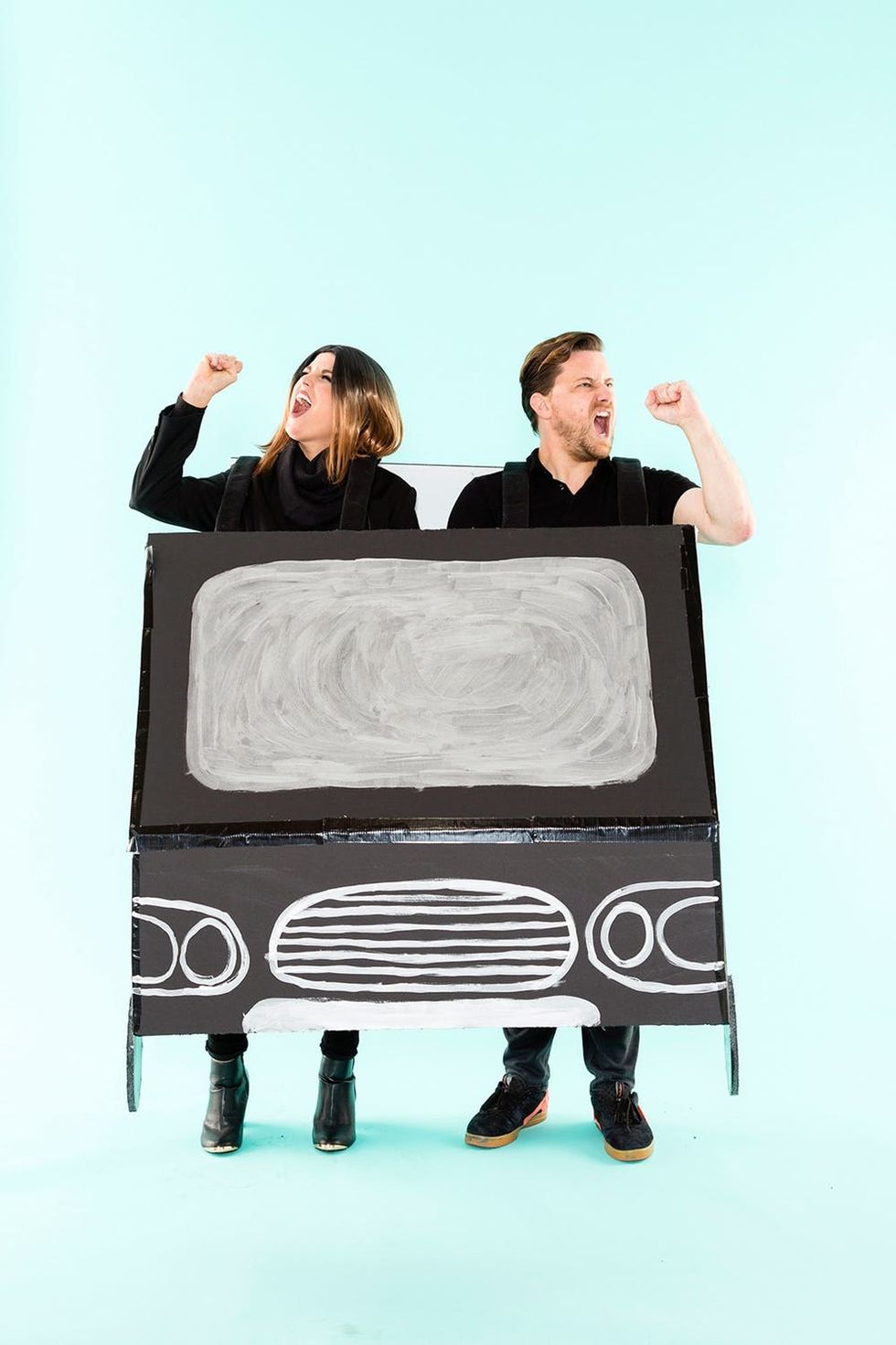 Now let's talk about this car! I made this car 3-D in the front, but you can choose to go simpler and make the front just a flat piece. Here is a guide on how I cut the shapes to form a 3D. Just make sure you make the car large enough to fit two people. After cutting out the shapes, I taped everything together with black duct tape, painted the window and lights on it, and then glued foam core circles on the side as wheels.

I then made straps out of black felt and cardboard. I cut four strips of cardboard and wrapped them with black felt, then glued the ends of the strips to the front and back car pieces to form shoulder straps.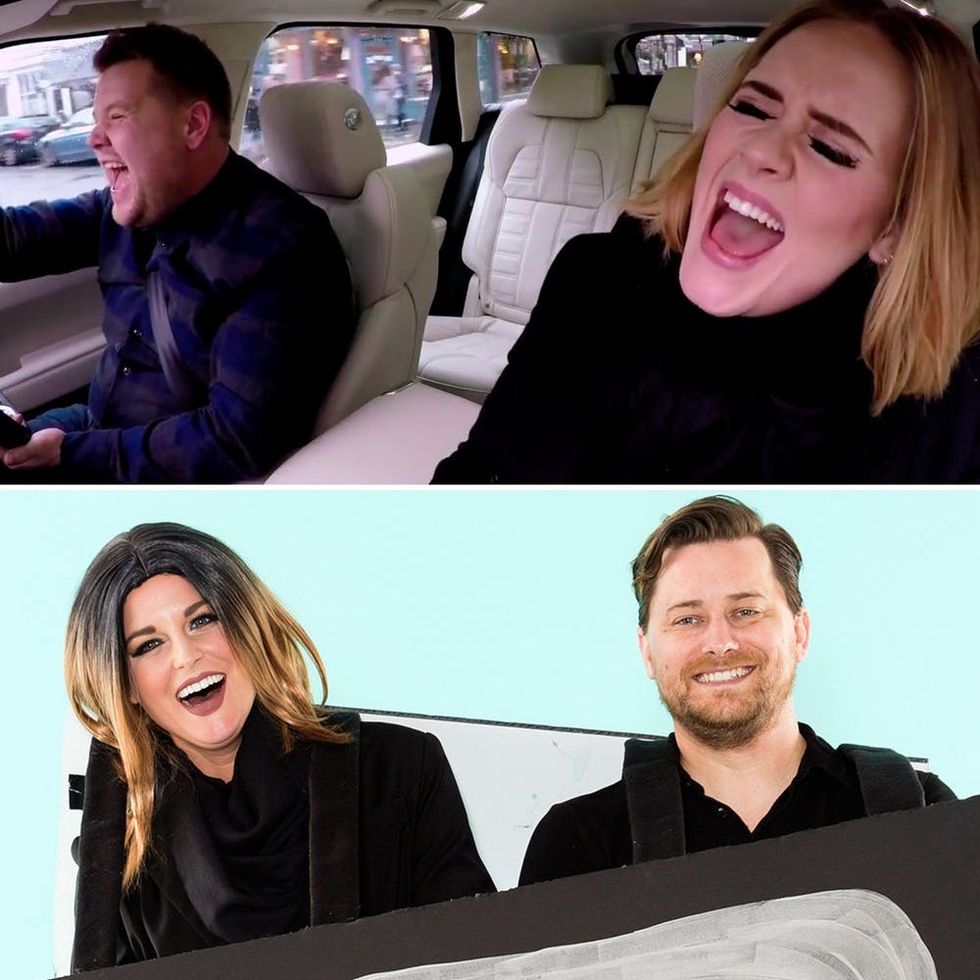 Nevermind I'll find… someone like YOUUUUU!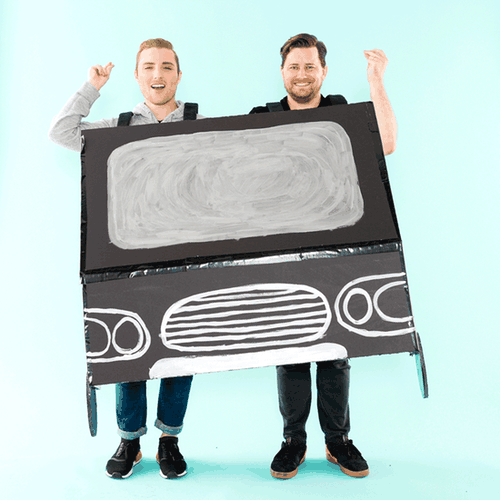 Justin Bieber: Now, I'm going to say something very personal: I am a Belieber. Justin Bieber definitely made mistakes in the past, but he's so talented and I truly believe/beliebe that he is a good guy. Our Senior Channel Marketing Associate, Sean, brought his own plain gray hoodie, jeans, and sneakers to model as Justin Bieber.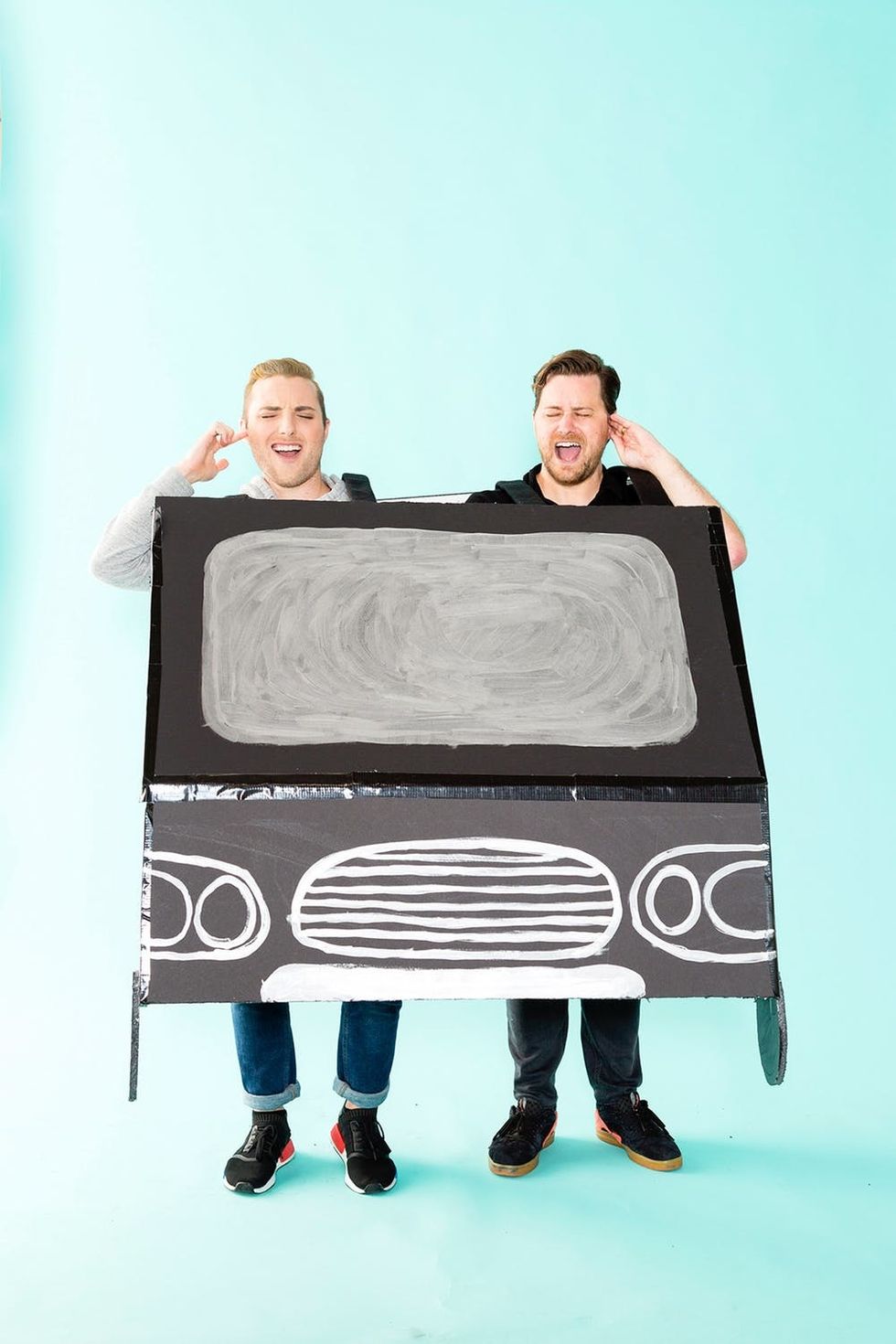 Finding the perfect platinum blond wig is hard, so Misty gave Sean the same slicked-back silhouette 'do that Justin sports in this video. She also filled in Sean's brows to seal in the Bieber look.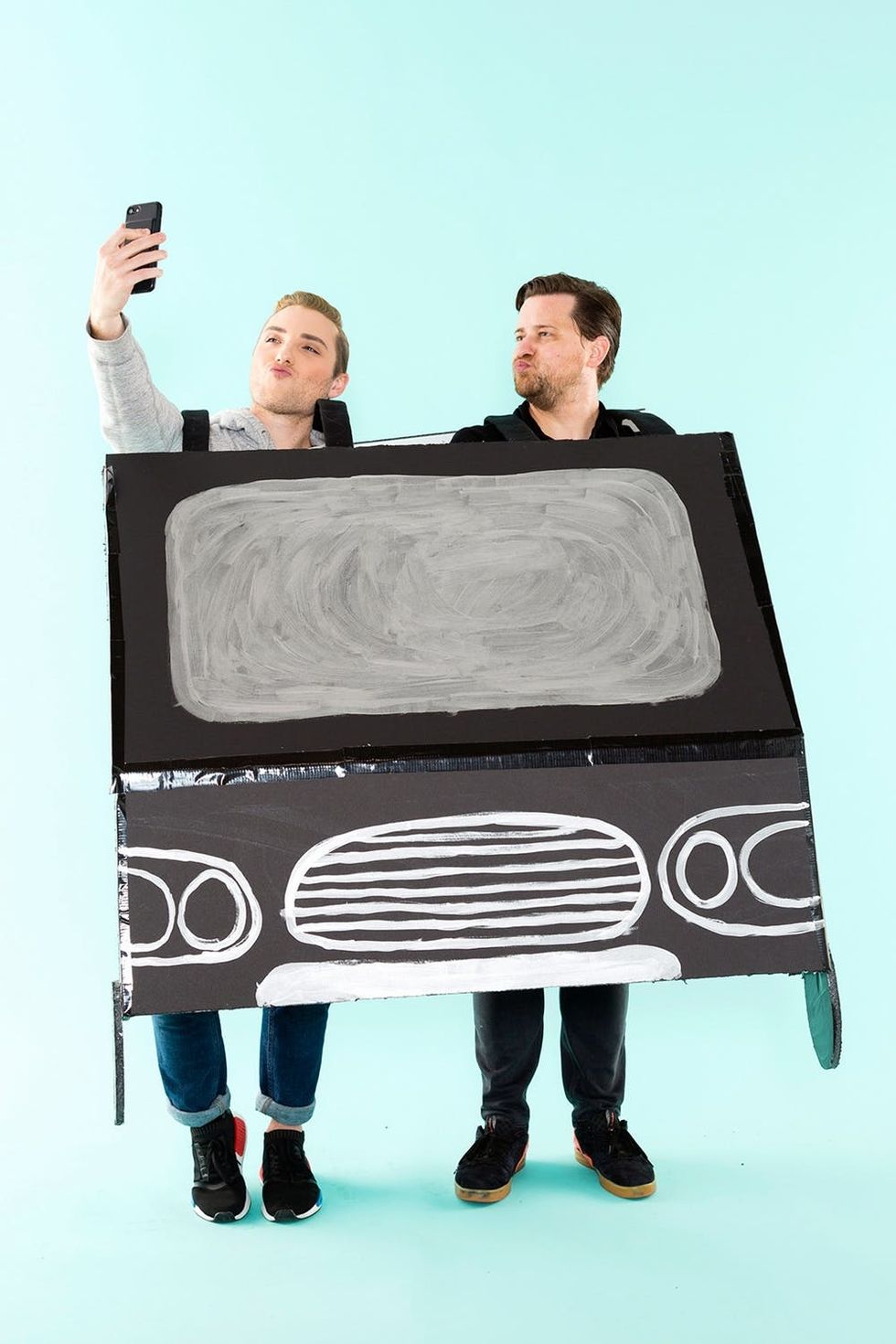 Time to take a selfie!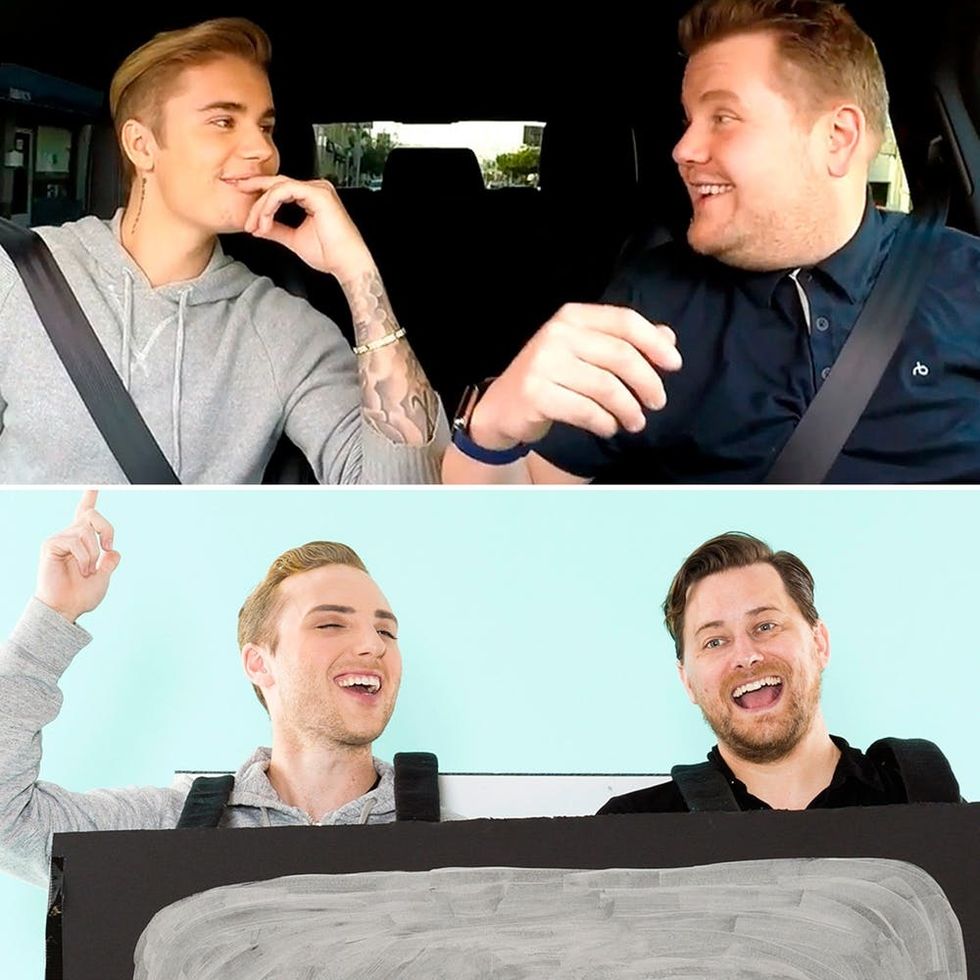 Baby, baby, baby OHHH!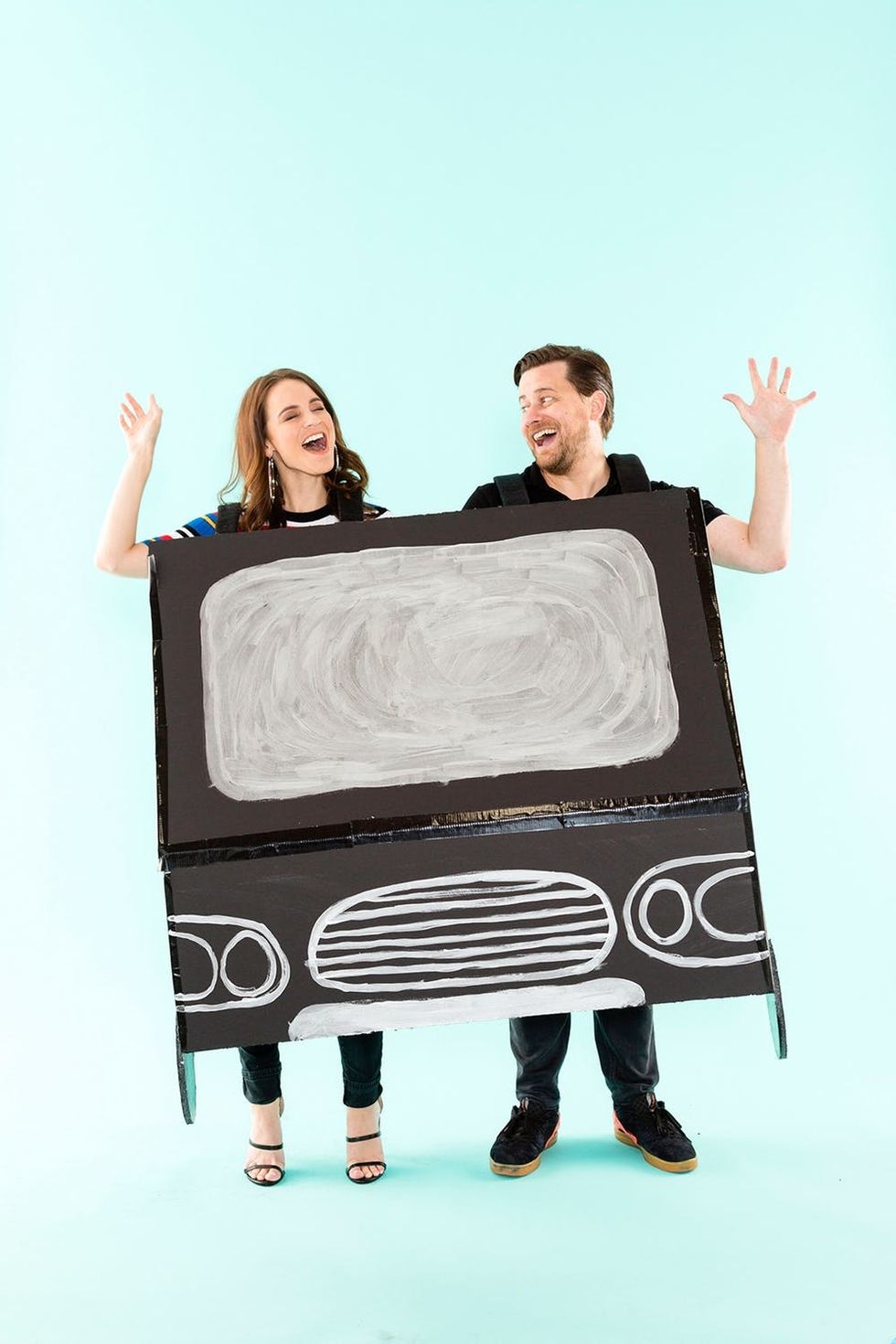 Selena Gomez: Oh Selena, she's just such a star. Can you imagine being Selena and having 125 million Instagram followers?? That's a lot of pressure! Anyway, I loved her Carpool Karaoke a lot and I knew I had to include her in the mix.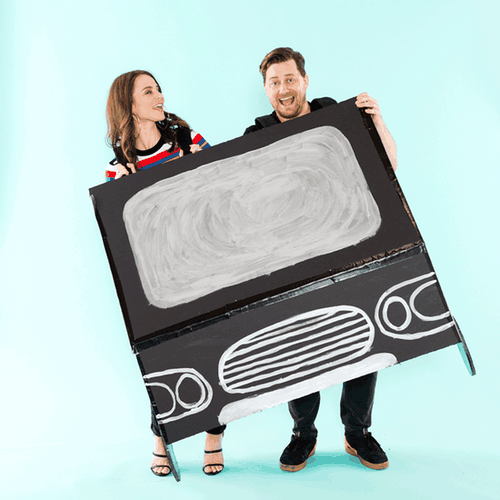 I dressed Brand Partnership Planner, Sydney, in a Forever 21 Multi-Stripe Top ($16) and large silver hoop earrings. She brought her own black jeans, black heels, and lip-syncing chops. Misty gave Sydney a sexy smokey eye and a volumized wavy 'do.
When you're ready, come and get it!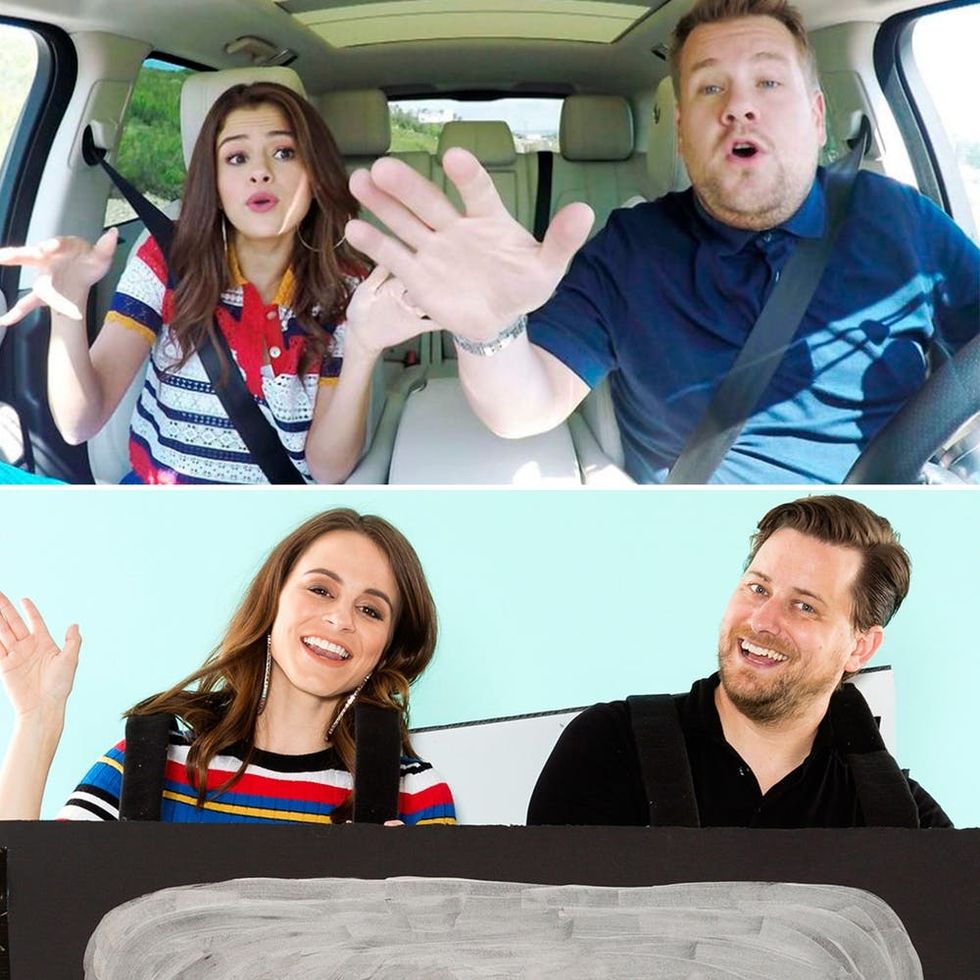 Can't keep my hands to myself!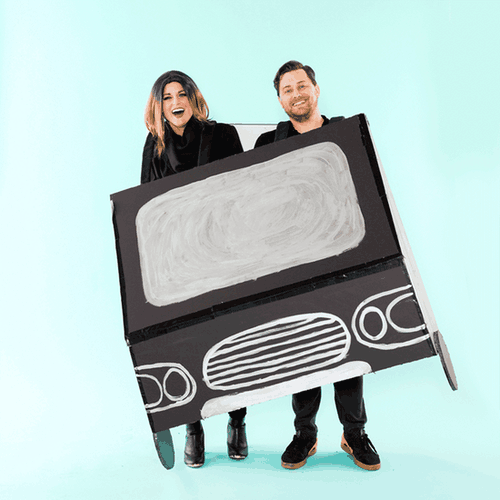 Picking up and dropping off!

What will you and your S.O. dress as for Halloween? Share your photos on Instagram using #britstagram, and check out our Pinterest for more DIY costume inspo.
DIY Production and Styling: Irene Lee
 Model: Ryan Shelley, Alicia Cox, Sean Griffis, Sydney Smith
 Hair + Makeup: Misty Spinney
Photography: Kurt Andre
Brit + Co may at times use affiliate links to promote products sold by others, but always offers genuine editorial recommendations.
Irene Lee
Irene loves all things DIY, especially if the project involves confetti. She strives to make beautiful things that anyone can enjoy. If she's not immersed in crafting she's probably giggling over an insta-famous corgi or frolicking around Disneyland.