How to Master a "Smoothout," a Blowout You Can Actually Do at Home
Nov 11, 2015
With blowdry bars sprouting up on street corners near you, it's too tempting to pop in and have a pro give you the best blowout you have ever had — like, weekly. The thing is, it isn't feasible for you to go that often, both time- and budget-wise. But on the flipside, DIY-ing a legit blowout at home can be tricky.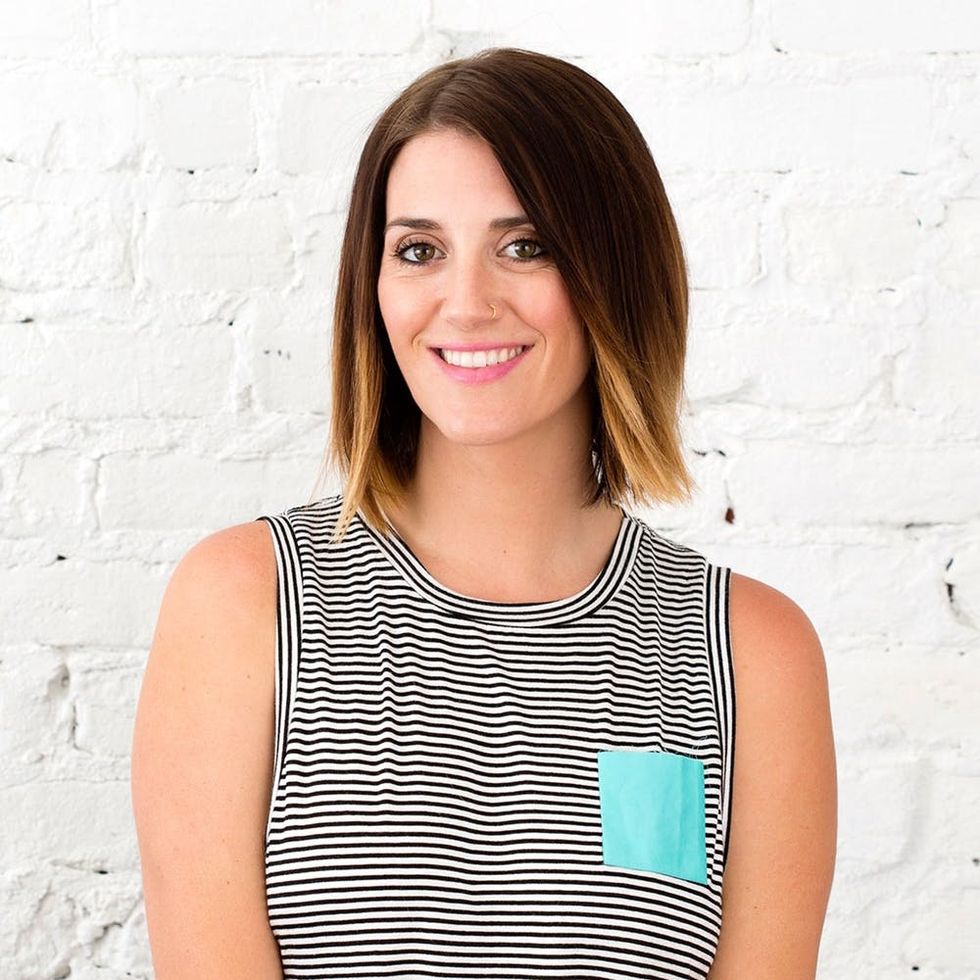 ---
Here's a little confession: I'm a hairstylist and I HATE doing blowouts! They take forever and, to be honest, it hurts my arms to do them. But I, like all of you, LOVE the results of a solid blowout, which is how I became determined to hack it. And here's what I found: If you skip the curls — and the tedious styling that goes along with it — on your at-home blowout, the results will look a lot more pro, faster. Introducing the Smooth Out, a totally do-able blowout that gives you that covetable volume and smooth finish all on your own and in half the time that you would spend in the salon. Here's how to do this 15-20 minute style to get gorgeous hair for up to three whole days.
Prep: Shampoo + Styling Tips
In the Shower: The first thing you should know is that a good blowout starts in the shower! You want to prep your hair by using the proper shampoo and conditioner. If you have thicker, fuller hair, use a heavier conditioner that will help to tame any frizz. If your hair is fine and thin, apply conditioner to the ends of your hair only, avoiding your roots to help keep the texture at your roots.

Styling Products: It is important to use a heat protector prior to using a blow dryer on your locks to help keep the integrity of your hair. I am using Evolvh Smart Volume Volumizing Leave-in Conditioner ($27) to hydrate my hair and to give it some protection and volume all at the same time.

Build Body + Begin Shaping

Step 1: Use your blow drier with the attachment that has the flat tip. This will help the air flow be more accurate and give you more control to shape your hair. Lift your roots straight up and power dry them to begin to build the volume.

Step 2: Starting on one side of your head, use a round brush to lift up thin sections of your hair, working your way from the bottom layer to the top. You can use a clip to keep the hair you're not working with out of your way unless you have short hair that's easier to work around like I do. The idea here is to over-direct your hair. This means lifting it up and away from the direction that it will fall naturally to give it volume.

Step 3: Once you get the root-to-mid-shaft of your hair dry, flip the same section in the opposite direction and blow dry from the mid shaft to the ends. This will smooth out the ends, giving them a little shape and movement. If you want your hair to flip out, then round up with your brush. If you want your hair to flip under, round down with your brush.

Step 4: Continue this process on both sides of your hair and in the back lower sections of your hair.

Smooth Down + Finish Shaping

Here, we're basically reinforcing what we did in the previous steps:

Step 5: Continue taking small, thin sections of hair and brush the roots up, over and down to create more volume.

Step 6: Use the round brush to flip the same section of hair and smooth down the ends in the direction you want them to bend. I like them to flip slightly out so I round the brush upward.

Step 7: I always save the back section to really get thin pieces to over-direct up and over my head because I like having a more piece-y look that has movement in the back of my hair.

Step 8: Finish off by using your round brush and the tip of your dryer on the hair to shape any sections of hair.

You can use a beach spray on your locks to get a more playful, messy look or you can add a little serum to the ends of your hair to keep the look smooth and chic.
See how much movement you can have with just a few extra minutes spent with your blowdryer?! Ahhh! Long-haired gals, this process will totally work for you as well, just be sure to clip any parts of your hair you're not working on out of your way. Feel free to try different size brushes and directions while doing this. You'll get different results every time. The thing to remember is to use styling products to prep and to work with very thin sections of hair for more control.
What are your beauty challenges? Share in the comments below so we can break through and hack them for you!
Misty Spinney
Misty Spinney is a hair stylist, makeup artist, and fashion stylist with a strong background in design and deep passion for creativity.