Style Resolution: How to Rock a Pinafore Like a Boss
Jun 18, 2015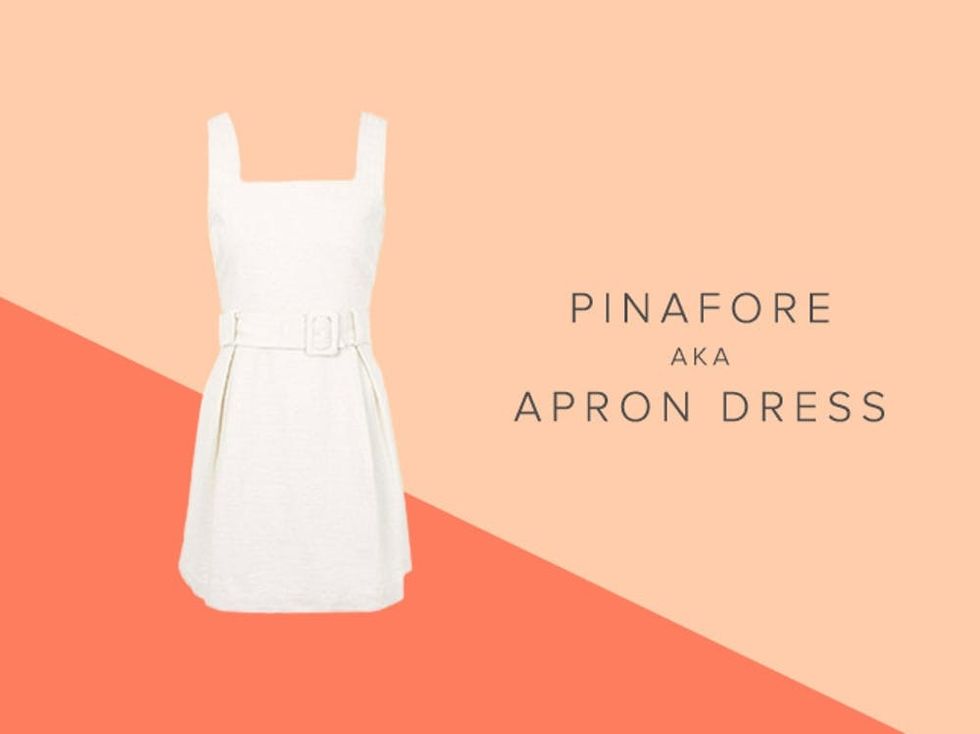 Pinafores are one of those blast-from-the-past pieces that are having a serious resurgence. If you've had one kicking around in your closet for years, or you recently invested in one of these super sweet frocks, it's time to bust it out. Pinafores have an innate flirty, feminine flair, but if that doesn't jibe with your everyday style, don't let it stop you from rockin' one of these bad boys on the regular. From sleek work-week staple to off-duty essential, here are three ways to make the most out of this throwback style.
---
On-Duty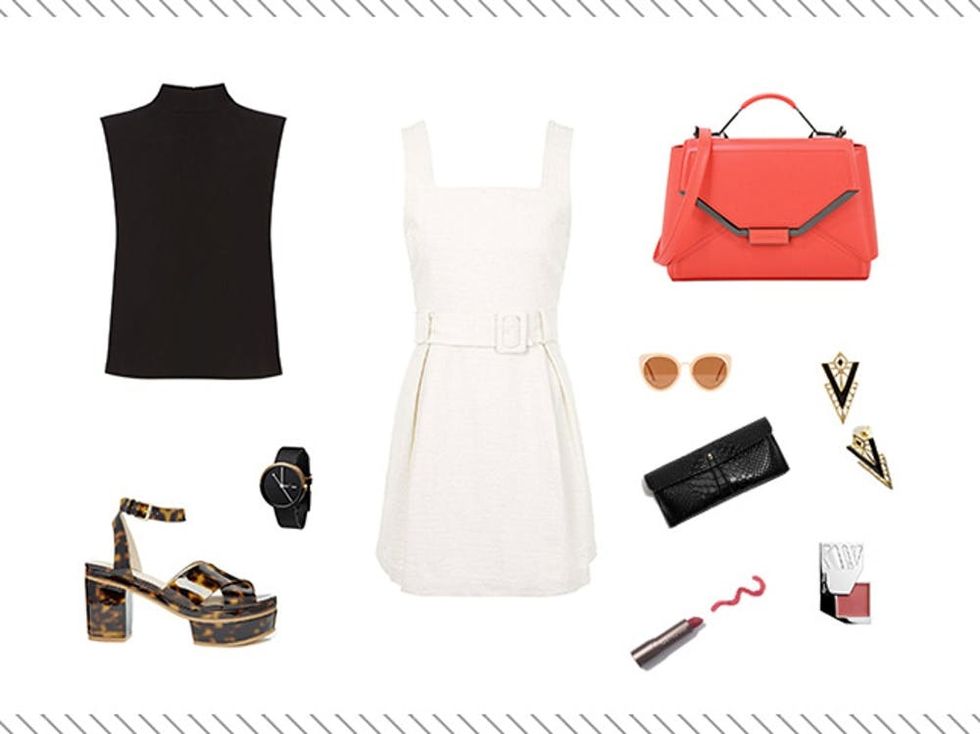 When you step into the office, you want to have your #girlboss game on, and that means stepping out in an ensemble that says, "Yo — I got this." A mix of sleek, fashion-forward accessories will do just that, like a structured bag in an eye-catching color and platform heels in a refined tortoiseshell print.
Topshop Textured Belted Pinafore Dress ($110) + Warehouse Crepe Roll Neck Shell Top ($62), ASOS Here and Now Sandals ($81), Charles Keith Structured Handbag ($93), V to Be Me Earrings ($12), & Other Stories Snakeskin Eyewear Case ($39), Sosie Lucia Sunglasses ($10), AARK Eclipse Black and Gold Watch ($199), Alima Pure Velvet Lipstick in Stella ($26), Kjaer Weis Cream Blush Compact ($56)
Party On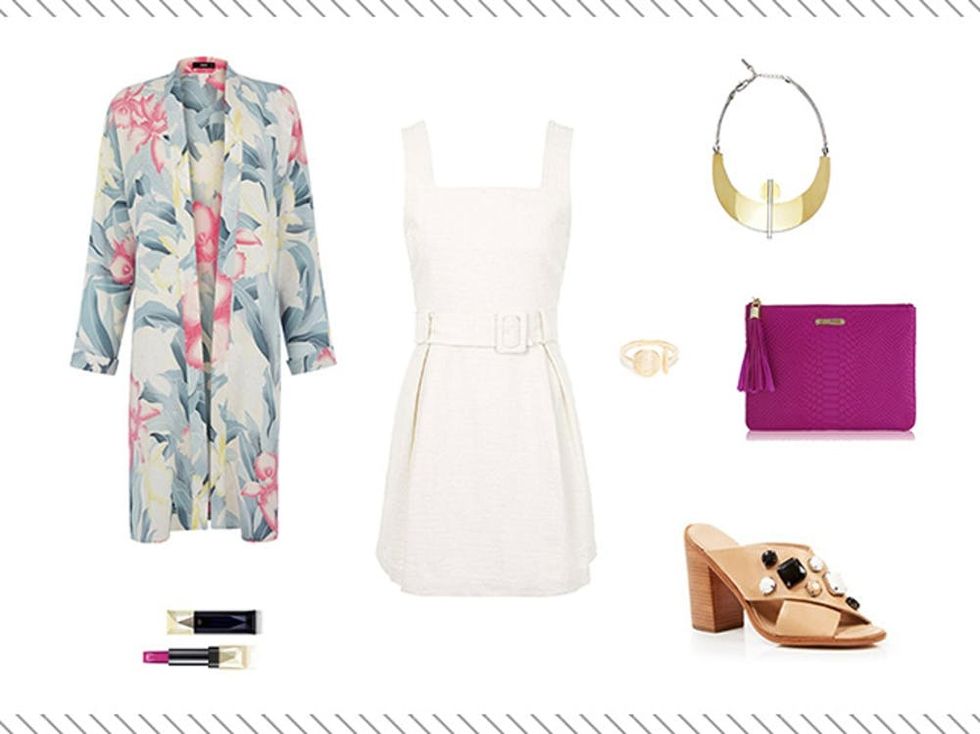 While pinafores make for prime layering pieces, they can definitely hold their own. For a night out on the town, rock that frock solo and pair it up with of-the-moment mules (decked out with a little bling, of course) and a polished gold collar. Look to playful fuchsia accents, like a carry-all pouch and lipstick, to infuse the outfit with energy, and then pull it all together with a bright graphic topper.
Topshop Textured Belted Pinafore Dress ($110) + Whistles Brushed Statement Necklace ($95), Gigi New York All in One Bag ($125), Loeffler Randall Jeweled Sandals ($245), Oasis Kimono Orchid Duster ($90), Need Supply Co. Artist Ring ($18), Cle de Peau Beauté Extra-Rich Lipstick in Shade 112 ($40)
Off-Duty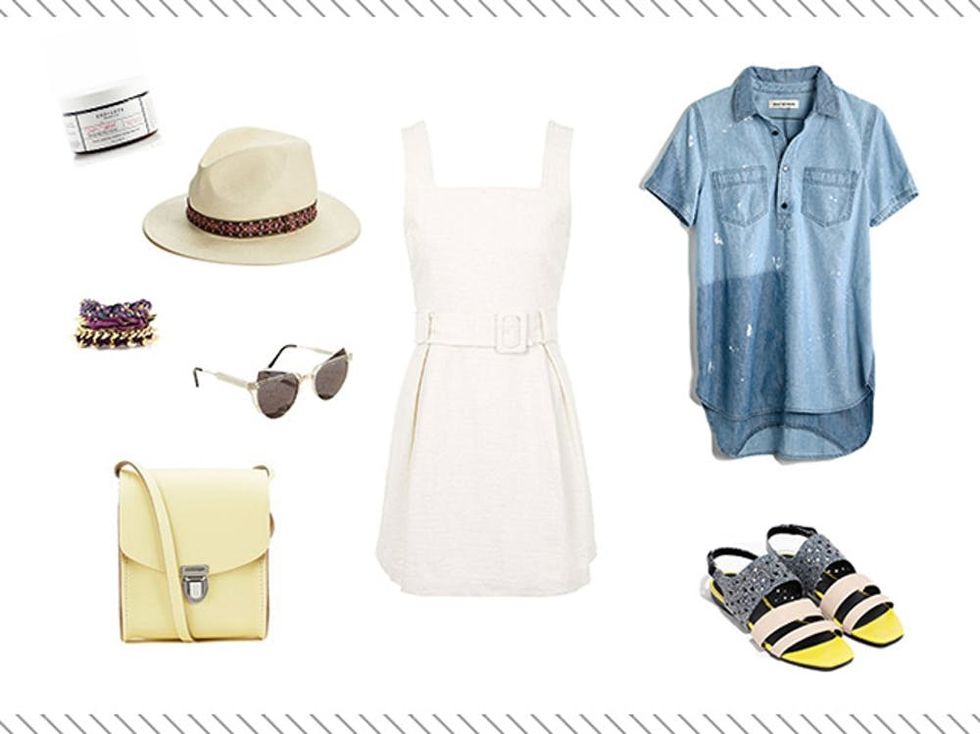 Off-duty is one of the easiest times to don this tried-and-true piece. Collared shirts and pinafores are basically a match made in sartorial heaven. They just work, so it's not a bad place to start when piecing together your weekend getup. Denim ensures an on-trend, yet laid-back look, while a pair of contemporary steppers and funky shades keep things feeling fresh.
Topshop Textured Belted Pinafore Dress ($110) + Madewell Rivet & Thread Popover Work Shirt ($98), & Other Stories Printed Leather Sandals ($100), Cambridge Satchel Company Mini Plush Lock Bag ($101), One Love Organics Skin Saver ($68), Spitfire Chelsea Mod Sunglasses ($39), Sole Society Straw Panama Hat ($60), Ettika Anna Wii Stack ($128)
What pieces in your closet deserve more attention, but stump your style game? Tell us about your trickiest wear-again garments in the comments below and we might feature them in our next Style Resolutions post!
Libby MacCarthy
Libby MacCarthy is an urban planner turned writer with a love (bordering on unhealthy obsession) of all things fashion and beauty related. She lives for perfectly brewed coffee, farmer's markets, dinner parties and perusing impeccably designed boutiques. When she's not on the hunt for the latest trends, you'll likely find her plotting her next adventure or nose deep in a book. Libby currently splits her time between the East Coast and her adopted home of France. Follow her daily adventures on
Instagram
.