Style Resolutions: How to Pull Off an Off-the-Shoulder Top
Feb 12, 2015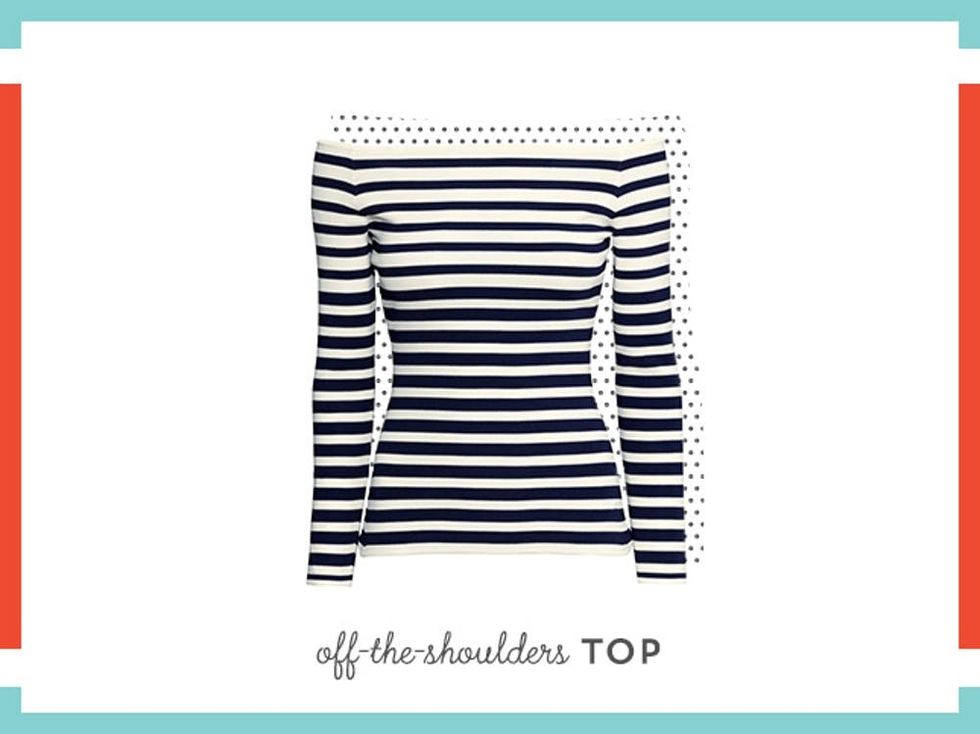 ---
The shoulder-less silhouette has such an inherently strong bohemian feel to it that when you're in it, it's almost too hard to resist dressing the part of a Coachella-bound babe. But that doesn't make the top a one-trick pony. Shoulder-baring pieces that are less overtly free-spirited can easily fit into your everyday look while adding just the right amount of breezy charm (save the fringe and ruffle embellishments for the festival grounds, folks). We've made a style resolution to get the most out of our wardrobes in 2015, so here we're showing you three ways to style an off-the-shoulders top ($35) the anti-Boho way. Scroll through to see how we'd wear the shirt to the office, on a night out and on a lazy weekend.
ON DUTY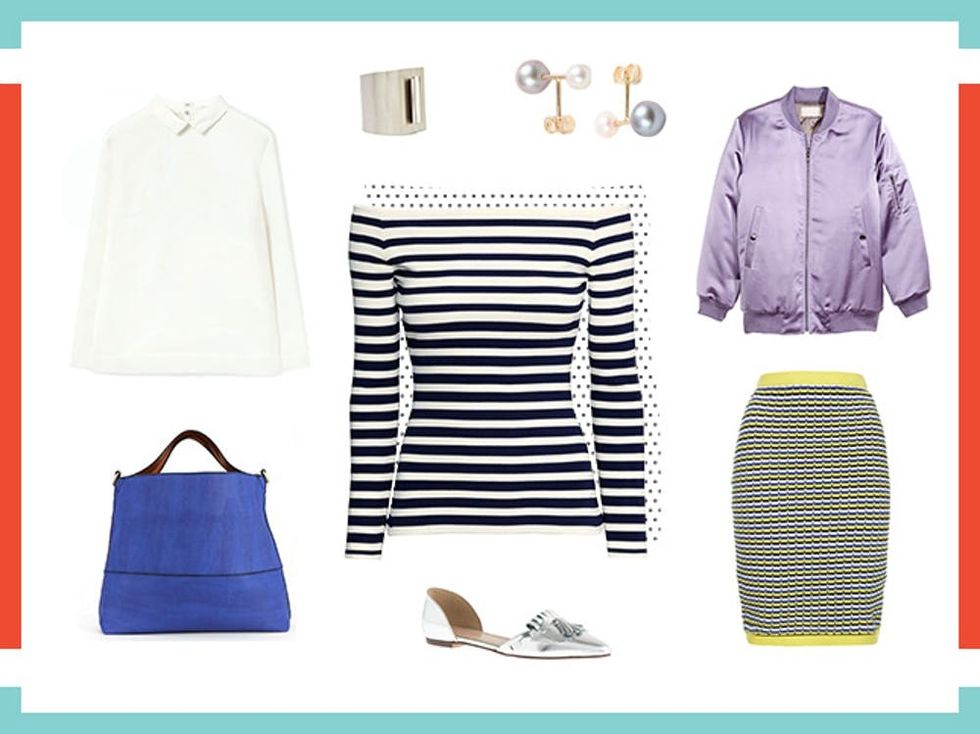 The trick to wearing this flirty top from 9-to-5 is to layer it over your office wardrobe staple: your white button-up. But even though you're styling to win HR's approval doesn't mean the rest of your outfit has to be boring — not in the slightest. A clashing patterned pencil skirt shows you've still got spunk (even when the 3 o'clock slump hits), plus metallic loafers and minimal jewels give the whole look an instantly modern feel. Save the beiges and blacks for your laundry day and hit the pavement with two pops of color pieces — your statement jacket and laptop-sized tote — that are guaranteed to turn heads during your commute.
H&M Off-the-Shoulder Top ($35) + COS Clean Front Shirt ($89), Topshop Geo Textured Skirt ($68), Nasty Gal Motor City Metal Cuff ($25), Hortense Majorette Pearl Earrings ($184), Amanda Oversized Vegan Leather Hobo Bag ($59) J.Crew Mirror Metallic D'Orsay Loafer Flats ($158), H&M Padded Pilot Jacket ($70)
PARTY ON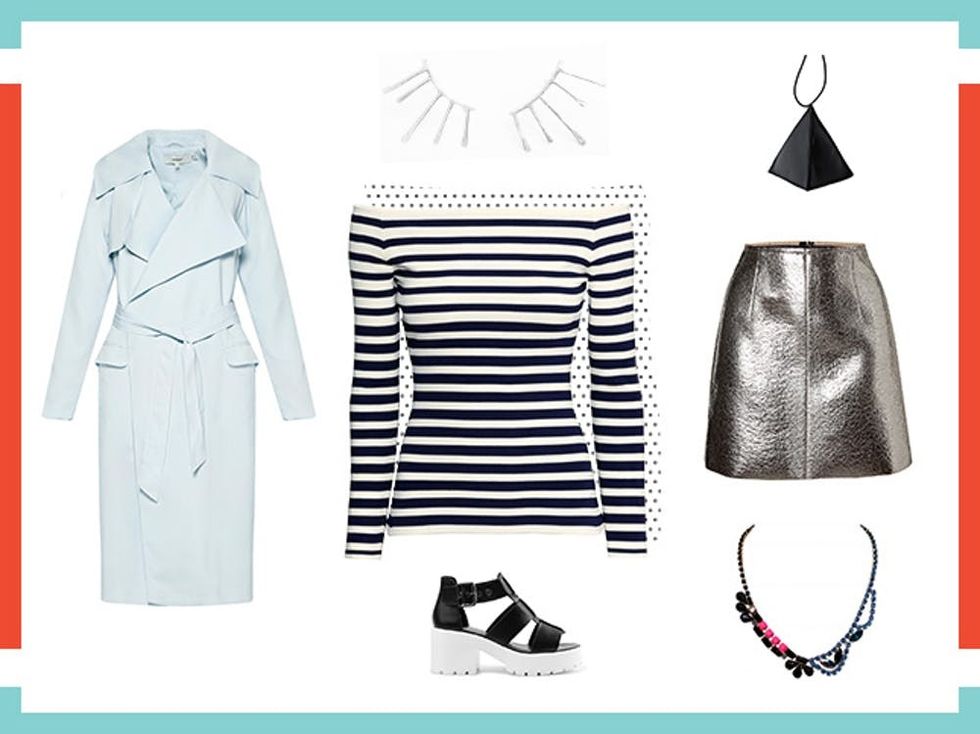 Sure, the off-the-shoulders cut is very sweet, but you're nobody's sweetheart. Add some edge to the flirty top with a faux leather skirt and chunky platform sandals that will turn you into a '90s It girl just like that. Cover up with a classic trench in a very of-the-moment color, and round out the look with unexpected accessories like sprawling ear cuffs, a geometric clutch and an asymmetric statement necklace that will set all eyes on your flirty neckline.
H&M Off-the-Shoulder Top ($35) + MSGM Coated Wool Metallic Mini Skirt ($210), five and two Juniper Earrings ($90), Tom Binns Design Small Asymmetric Black and Blue Necklace With Pink Neon Stones ($625), Boticca Bermuda Black Triangular Leather Clutch Bag ($97), Charles & Keith Cleated Sole Block Heels ($63), Pixie Market Cameo Real Talk Trench Coat ($209)
WEEKEND RETREAT