Jennifer Lawrence Reveals She Auditioned for Emma Stone's "Easy A" Role
Nov 15, 2017
Jennifer Lawrence and Emma Stone may be two of today's hottest (and highest paid) A-list stars, but that wasn't always the case. Back in the day, they were young actresses battling it out for the same roles. One of those roles was in the movie Easy A, a part that ultimately went to Stone but that Lawrence auditioned for and desperately wanted.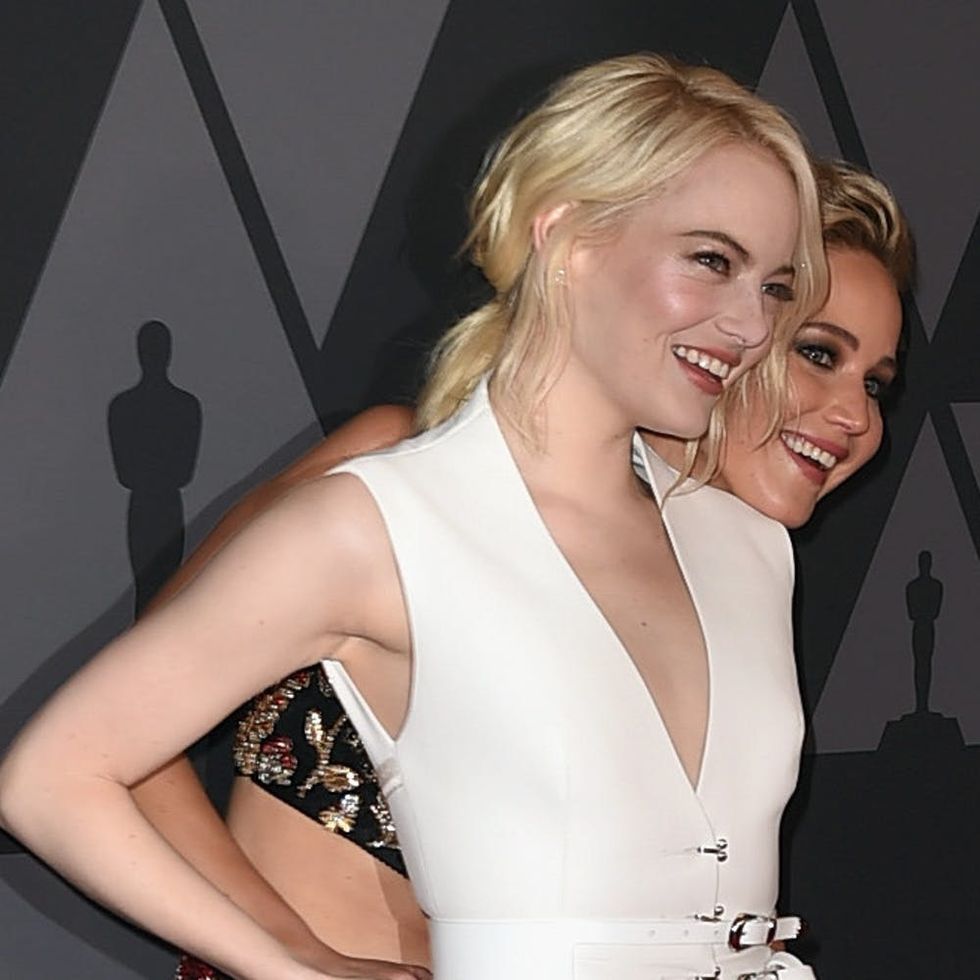 ---
Stone's portrayal of Olive Penderghast in the movie, a modern take on The Scarlet Letter, earned her a lot of fans. And while it's difficult now to imagine anyone else as the teen who attempts to use her high school's rumor-mill to her stealthy advantage, the casting process could have gone very differently.
The revelation came about when Stone and Lawrence sat down together for The Hollywood Reporter's annual actress roundtable with Jessica Chastain, Saoirse Ronan, Mary J. Blige, and Allison Janney. As part of the conversation, the stars shared their favorite lines from their former characters, with Lawrence picking "You are not a stand-up guy" from Silver Linings Playbook and Stone opting for "Piss off, Quiznos" from Easy A. Classic.
This prompted a confession from Lawrence, who admitted, "I auditioned for Easy A. I wanted it so bad."
The La La Land actress could have offered a reassurance at that point, but instead replied with a laugh, joking, "Well, guess what? You didn't get it. You didn't get it because you suck!" Lawrence hit right back, jokingly challenging her friend to a fight, saying, "Outside."
This is pretty typical of the Oscar winners' playful relationship. They first connected thanks to Woody Harrelson, who costarred with Lawrence in The Hunger Games and with Stone in Zombieland. The veteran actor thought the two would get along, so he gave Lawrence's number to Stone. "She texted me that she got my number from Woody," the Mother! star told Vanity Fair last year. "I replied, 'F*ck off!' And we've been really good friends ever since." Naturally.
However, that doesn't mean that competition has never cropped up between the ladies. In fact, Stone told Vanity Fair, "She may not even know this, but there was definitely a time early on where I was like, 'OH HEY MY EGO IS GOING NUTS SHE'S SO GREAT AND VIBRANT AND TALENTED I'M SCREWED I'LL NEVER WORK AGAIN GOODBYE YELLOW BRICK ROAD.' Then I chilled the f*ck out — and remembered we're completely different and there is room for everyone, even if it's an industry that doesn't really seem to support that idea up front."
We're just glad that that turned out to be true and we get to see both ladies on screen.
Can you picture Jennifer Lawrence in Easy A? Let us know @BritandCo!
(Photo via Kevin Winter/Getty)
Desiree O
Desirée O is a 'Professional Bohemian' who loves anything and everything related to the arts, entertainment, and pop culture. She ADORES being a 'Newsy' for Brit + Co, covering all of the latest tidbits of awesomeness that you want to read about. When she's not writing, she's either making messy art, going on long adventurous walks with her camera, or poking around over at bohemianizm (http://www.bohemianizm.com/). You can find out about Desirée O and her work at http://DesireeO.com/ or follow her on Twitter @DesireeO.
Celebrity News
If you lack a certain way with words, then perhaps you can rely on showing how you feel this holiday season with an artful greeting card you can make at home! Brit dropped by our crafting studio where we teamed with Camp by Walmart to create a choose-your-own-adventure holiday card tutorial. In the interactive video, it's up to you to decide what type of card you want to make — sentimental, or stylish? Three-dimensional, or keep it simple? After you've selected your design vibe, Brit helps you assemble it all together so your last-min card is ready to send. Get ready to pick up a few new DIY tricks when you watch the video now!
Holidays