'The Marvelous Mrs. Maisel' Episode 2 Recap: Meet the In-Laws
Nov 30, 2017
The second episode of The Marvelous Mrs. Maisel slows things down a bit from the slam-bang finish of the pilot, which involved topless comedy and an arrest. But it's a necessary pause because Midge (Rachel Brosnahan) has to take the time to come around to her new life. Naturally, she is freaking out about her life, and her parents and in-laws are not helping matters.
---
Part of her wants to pursue stand-up comedy, and she has Susie (Alex Borstein) on her side, but the rest of her has been so conditioned as to what her life should be that she throws herself into that — keeping her life perfect, going to her ladies' exercise class, maybe even considering putting her marriage back together (though that one doesn't last long).
Midge has "help" in this department from her parents, who are also kind of freaking out about their daughter's future, and her in-laws, Moishe and Shirley, who are played by the delightful Kevin Pollak and Caroline Aaron. They orchestrate a dinner for the whole family, which Rose (Marin Hinkle) is convinced will help Joel (Michael Zegen) and Midge reconcile.
Meanwhile, Moishe is doing his part by getting Joel's secretary, Penny Pan (Holly Curran), transferred to the billing department at his company so that Joel's secretary is now the matronly Mrs. Moskowitz (Cynthia Darlow), who knew Joel as a little boy. Well done, Moishe.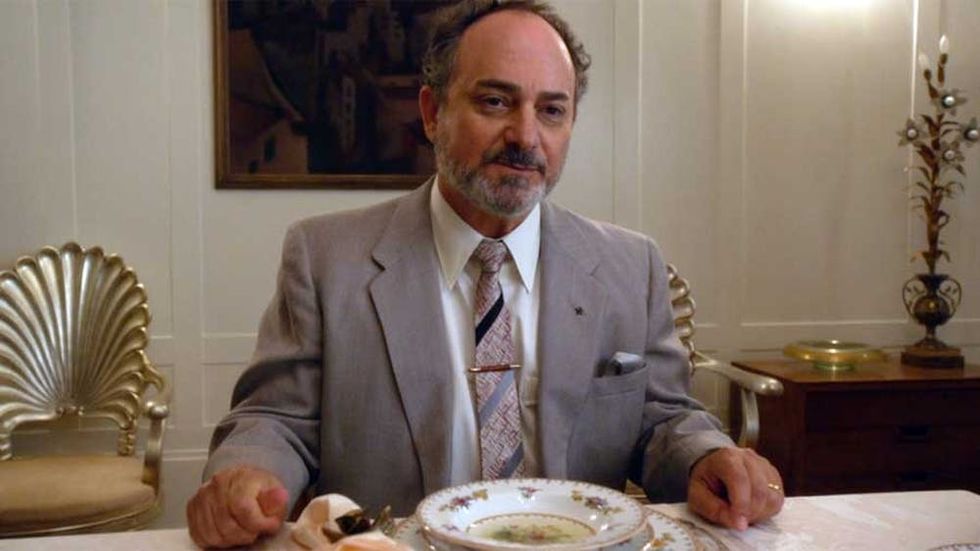 Of course, all that goodwill is lost when Moishe throws a tantrum at the dinner table that would make Emily Gilmore's hair stand on end. He goes on and on about poor Midge, who he says is probably going to sit around all day crying, eating bonbons, and watching Queen for a Day. Then her father, Abe (Tony Shalhoub), piles on, demanding that Midge fix her face and get her husband back. Let's give Midge a little credit, guys. Seriously.
But then Moishe adds insult to injury by revealing that he owns Midge and Joel's apartment and that Joel is so bad with money that they're living paycheck to paycheck. And since Joel is being such an awful human being right now, Moishe is taking the apartment back. Well, that ought to help things. Turn your daughter-in-law and her children out of their home. (Obviously, they are not going to become destitute and homeless, but still — not a nice move, Moishe.)
At this, Midge storms out and goes back to the comedy club to work out her issues. It's not quite the killer set from her first appearance, but it's still pretty great. Until the police show up again, at least.
(photos via Amazon Studios)
Andrea Reiher
TV critic by way of law school, Andrea Reiher enjoys everything from highbrow drama to clever comedy to the best reality TV has to offer. Her TV heroes include CJ Cregg, Spencer Hastings, Diane Lockhart, Juliet O'Hara, and Buffy Summers. TV words to live by: "I'm a slayer, ask me how."