12 Bits of Sparkle to Add to Your Wardrobe
Nov 21, 2013
Have you noticed a theme in our holiday wardrobe choices? We'll give you a hint: it's shiny, it's sparkly, it's sequins! In our eyes, all that glitters is gold, so we couldn't resist rounding up or favorite glitzy finds with a twist: these picks here will last you way beyond the holiday (we've had this conversation with you before). Check out our 12 favorite ways to work sequins into your wardrobe all year round.
---
1. Jarlo Shift Dress With Sequined Collar ($63): Did you know that every wardrobe needs two little black dresses? That includes your standard smokin' LBD and one that's got a bit more glitz, like the gold sequined collar on this flowy black dress.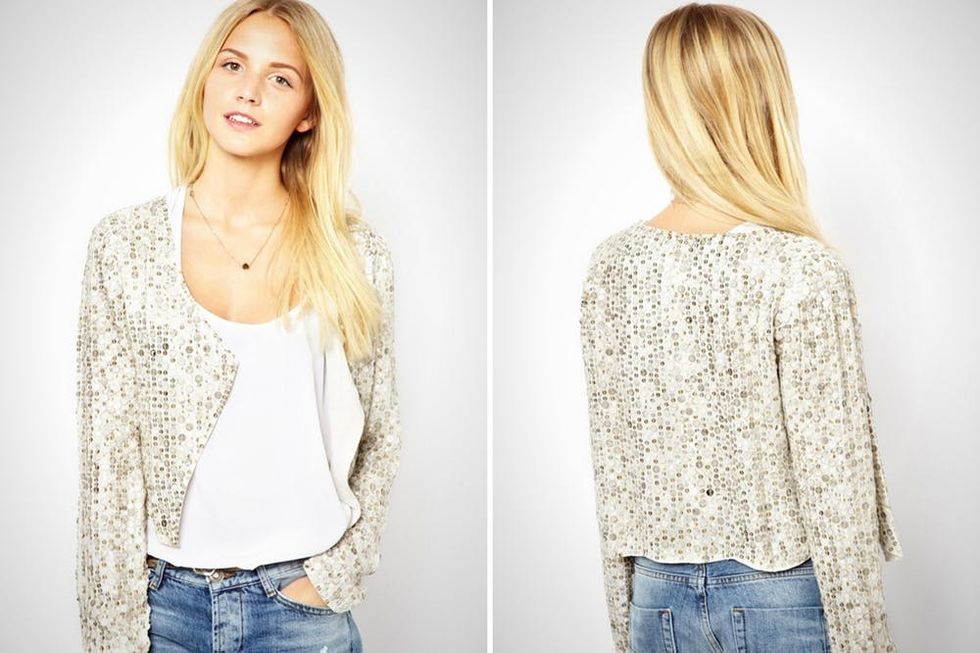 2. Aryn K Sequin Drape Front Jacket ($330): If you're going to splurge on a sequin-adorned piece that you can wear any time of year, here's the ditty for you. Varying sizes of silver sequin take any disco ball references out of the equation, while a cropped fit makes this cover up super chic.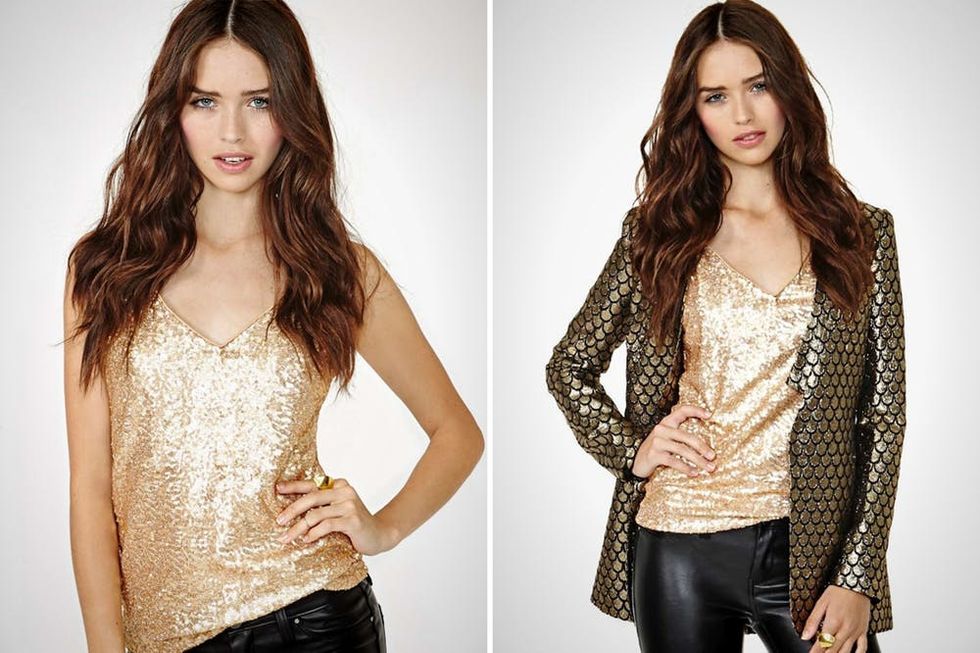 3. Shine On Sequin Tank ($38): You can't go wrong with having a sequin tank within arms reach. It's the perfect way to add a flash of sparkle to any outfit: layer on a cozy cardigan during the day and slip on a structured (or sparkly!) blazer over it at night.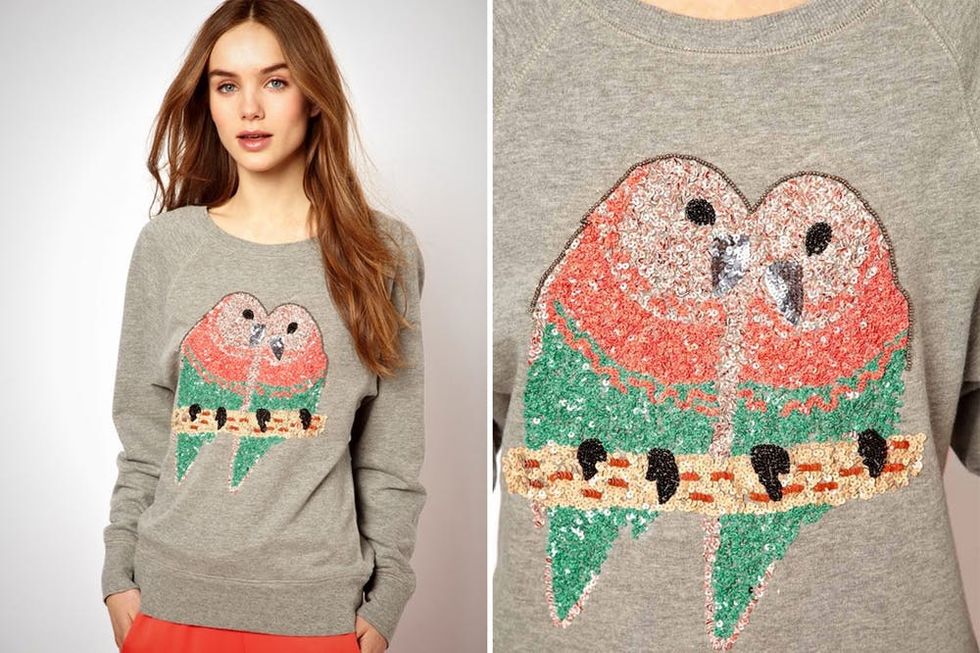 4. French Connection Sequin Bird Sweat Top ($84): Graphic sweats are all the rage this season, and given that they're just so darn comfy, they'll surely be on-trend for some time. In need of a chic sweatshirt? Try this lovely top on for size. The bird's ombre "feathers" are simply stunning.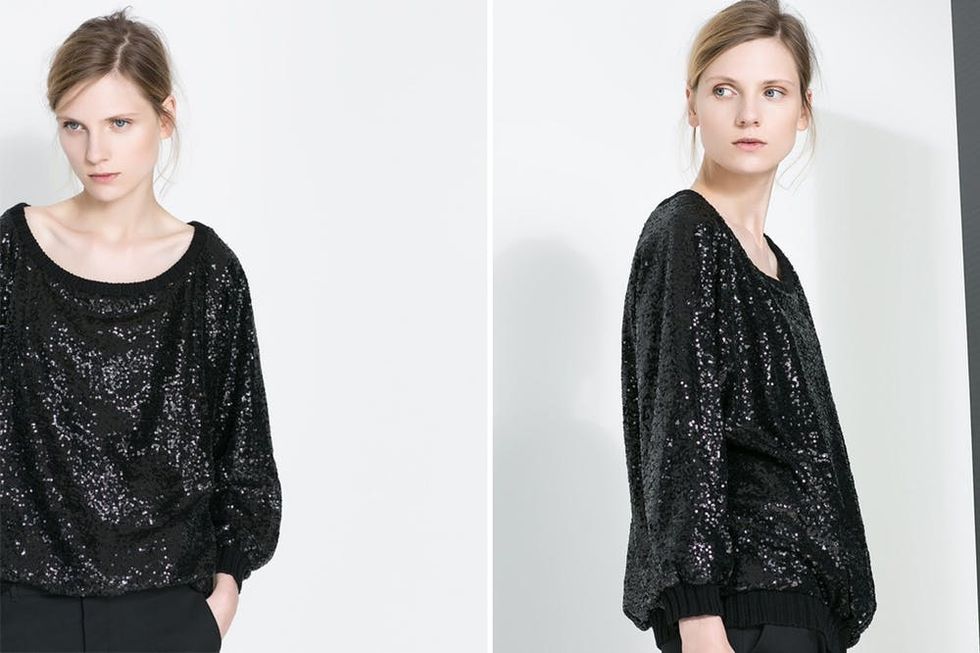 5. Sequined Sweater ($100): Here's another way to wear beautiful sequined sweats, but this time, turned up to 11. This is the perfect top to toss on for post-work cocktails.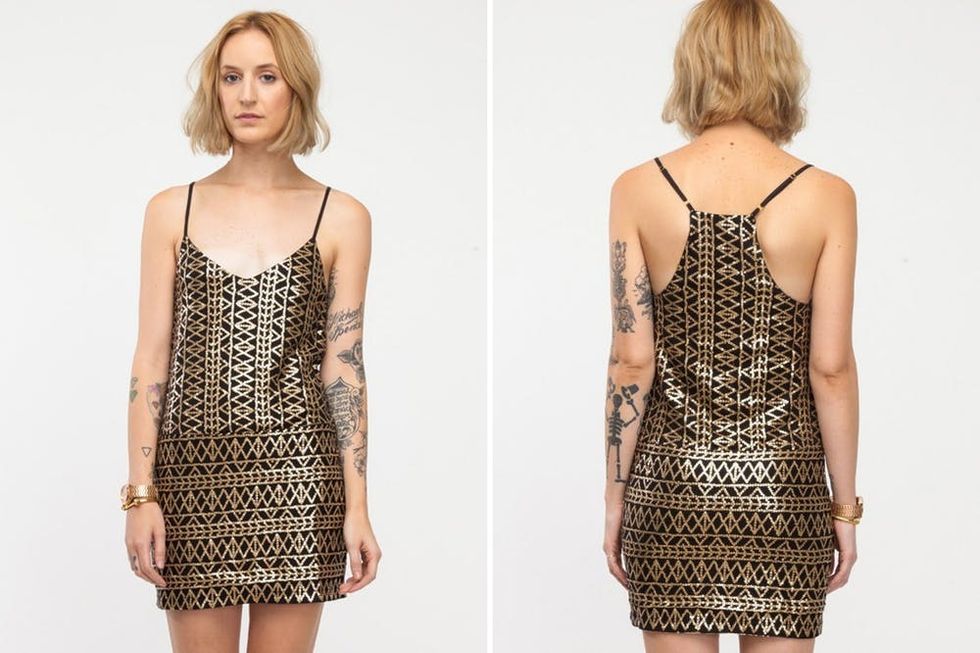 6. Tibi Dress ($128): We're obsessed with how meticulously placed sequins creates the gilded pattern on this tank dress. Lined in super soft jersey, this dress is sure to go on heavy rotation.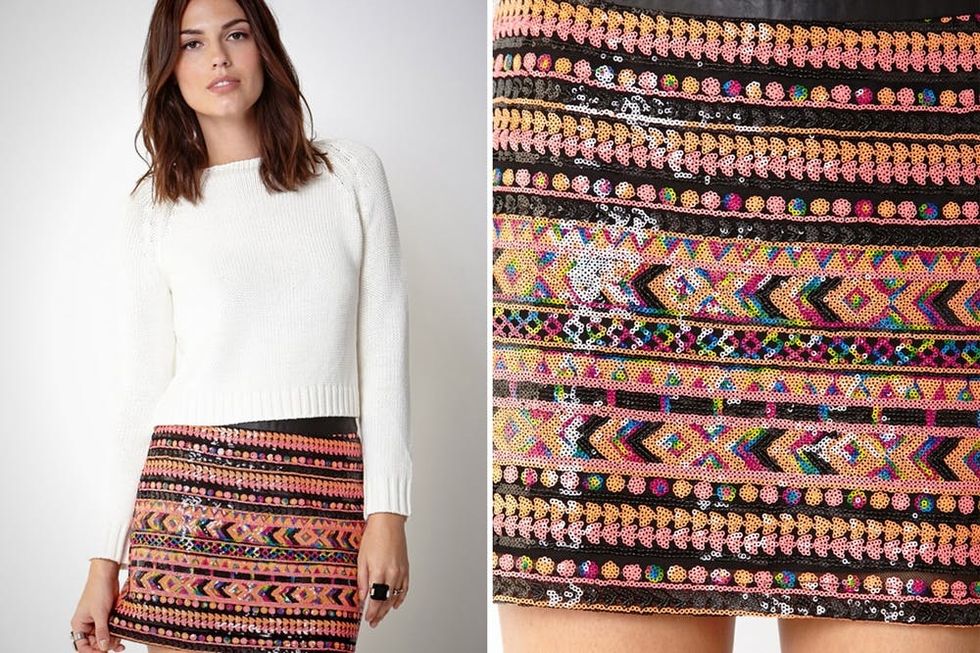 7. Neon Pop Sequined Skirt ($23): Speaking of cool sequined patterns, check out this amazing technicolor sequined skirt. While you gotta be bold to rock this jazzy piece, it can easily be toned down with a slouchy sweater or fitted chambray shirt.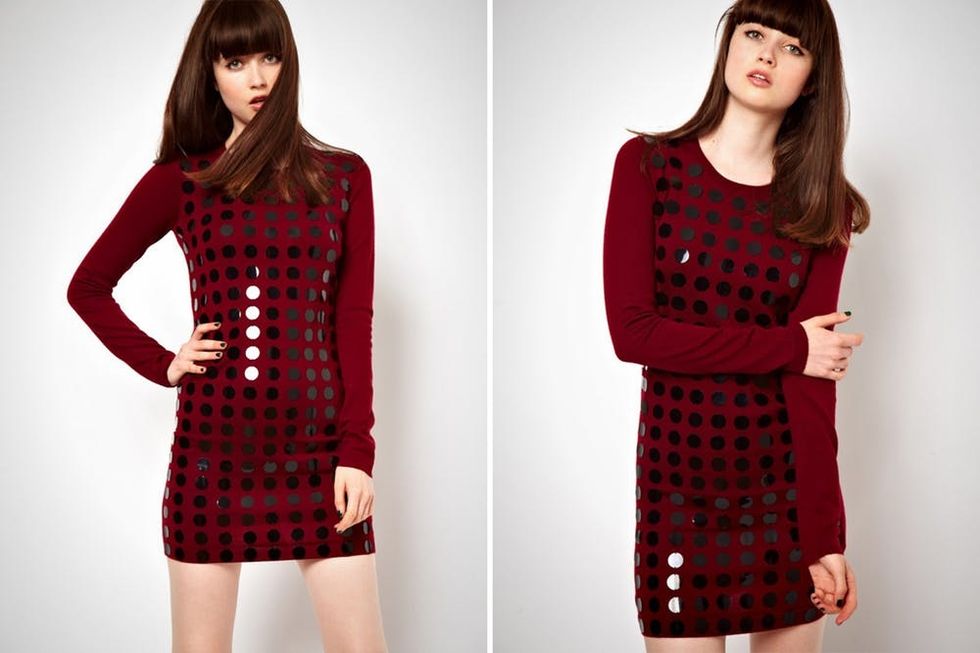 8. Markus Lupfer Oversized Sequins Knit Dress ($445): We can't find one fault with this modern dotted knit dress, well, except maybe the price tag. (Psst…use our sequin tee tutorial to embellish a dress inspired by this number for much, much less!)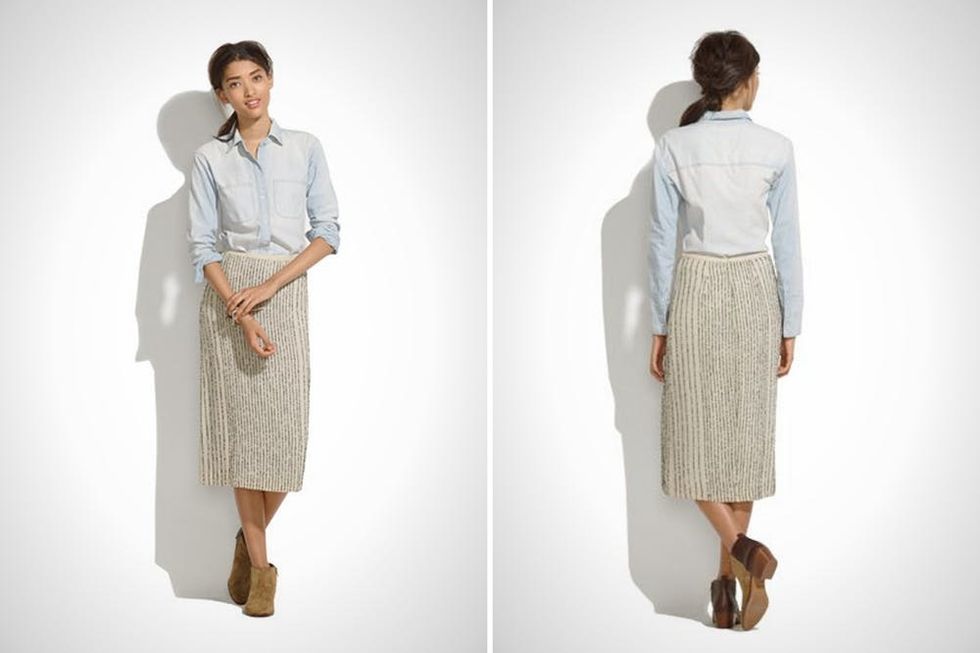 9. Sequin Line Skirt ($298): There's something so effortlessly beautiful about this shimmering pencil skirt. Maybe it's the flattering, relaxed fit or maybe it's the elongating lines of sequined trim. Whatever it is, it's winning us over big time!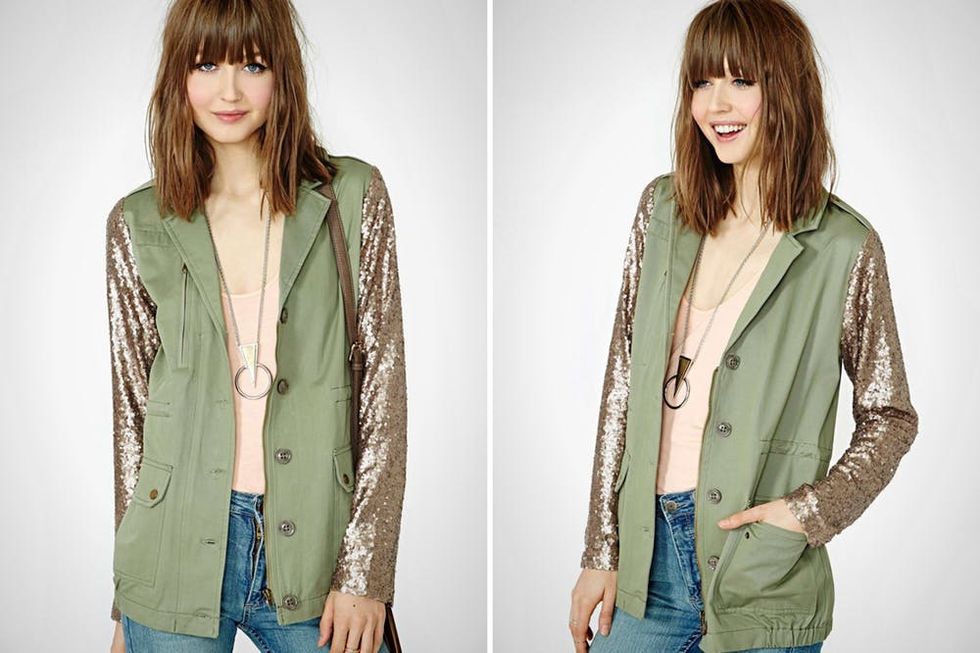 10. Weekend Warrior Anorak ($62): How adorable is this glitter sleeved anorak? It's the perfect mix of dressy and casual—we may just get a head start on our spring wardrobe and pick up this cotton coat now!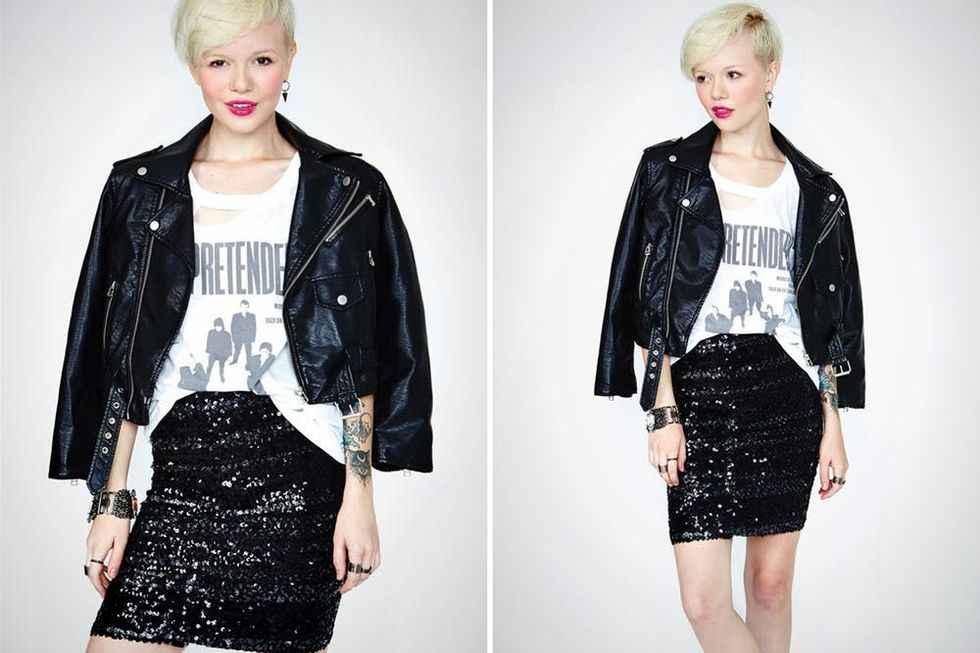 11. Oil Slick Sequin Skirt ($78): Channel Debbie Harry in this awesomely edgy vintage sequin skirt. Sub this in for your regular black stretch skirt when you're looking to really rock the party.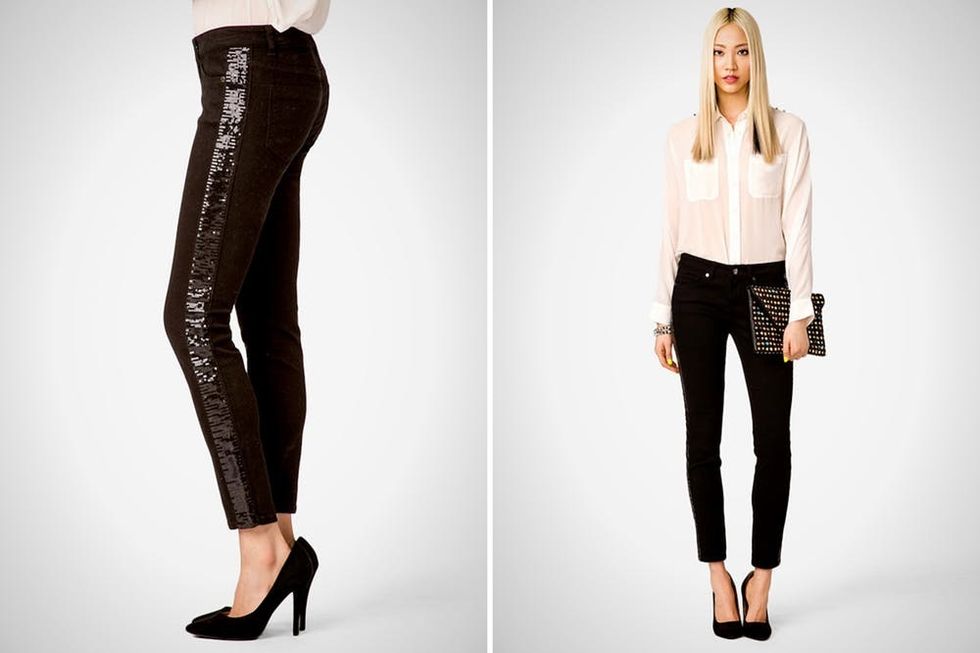 12. Sequined Stripe Skinny Jeans ($16): From the front, they're a perfect fitting pair of skinny jeans. But from the sides, they're serious statement slacks. Wear with a chiffon blouse to play up the glamour, or dress 'em down for daytime with a loose-fitting crew neck tee.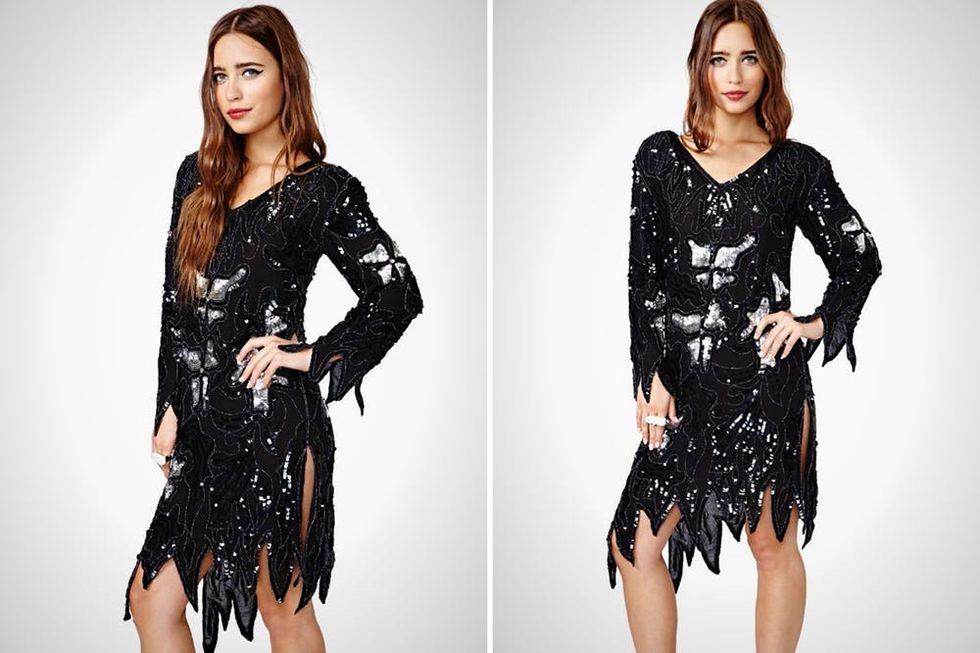 BONUS:Waiting for the Night Dress ($178): As a cheeky bonus, we go from everyday wear to where in the world would you wear that? And by that, we mean this Elvira-inspired sequin dress. The 80s-era vintage piece is the craziest sequined garment we found while we we're creepin' on sequins styles and we just had to share!
Do you wear sequins on the regular? What ways are you most confident rocking it? Talk to us about your style in the comments below.