Single-Serve This King Ranch Chicken Casserole for a Party of One
Jun 06, 2018

Welcome to Single Serving, our new video series showcasing colorful, easily re-createable, and highly Instagrammable recipes for one like a mermaid rice bowl or a bright pink hummus plate. Today, we're going south and taking inspiration from Texas with this king ranch chicken casserole for one. We're not skimping on the homemade element either by resorting to cream of mushroom soup for the flavor. The best part is that despite its rich flavor, it's sneaking in hella veggies and protein.
---
King Ranch chicken Casserole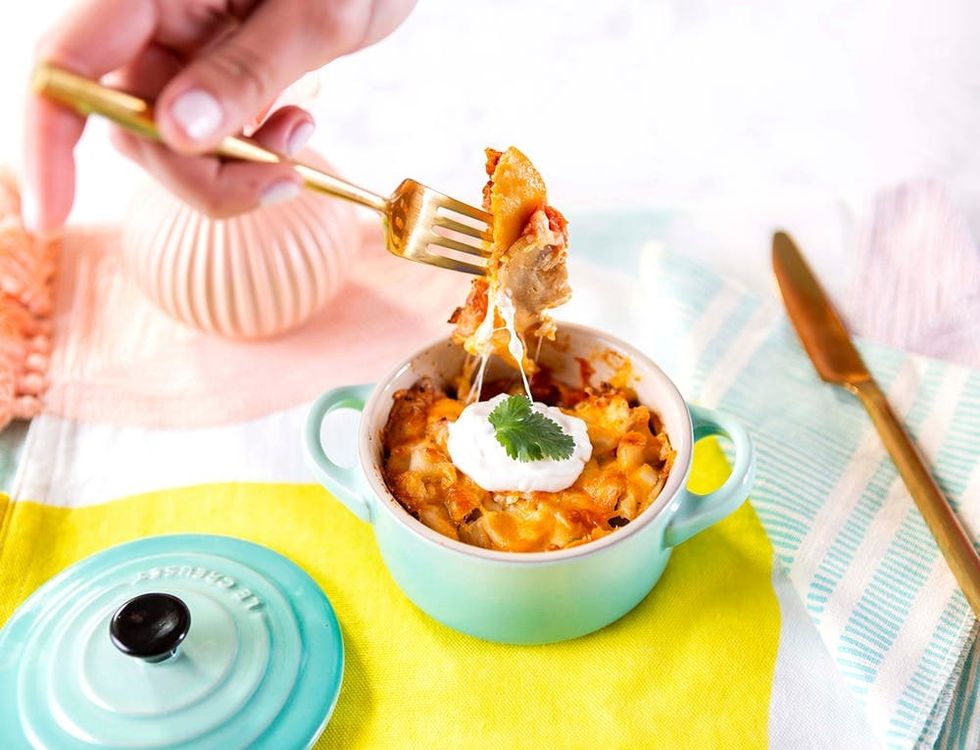 (Serves 1)
Recipe Time: 45 minutes
Note: This recipe fits inside one 8-inch square casserole dish or three small Le Creuset Mini Cocottes, as seen in the video.
Ingredients:
1 tablespoon butter, plus more for greasing casserole
3/4 cup (2 large button) mushrooms, chopped finely
1 small shallot, diced
1 clove garlic, minced
1 tablespoon flour
1/2 teaspoon chili powder
1/2 can diced tomatoes with green chilies, like Rotel
1/4 cup chicken broth
1/2 cup bell pepper, chopped
1 tablespoon jalapeño, chopped
1 heaping cup rotisserie chicken, shredded
1 heaping cup shredded cheddar-mozzarella cheese blend
parsley or cilantro, to garnish
1 heaping tablespoon sour cream
Directions:
Preheat oven to 375ºF. Grease a small square casserole dish with butter.
Heat large skillet over medium-high heat. Melt butter, then add mushrooms. Cook until softened, about 2 minutes. Add shallot and cook until caramelized, about 2 minutes. Stir in garlic and flour and cook for about 1-2 minutes, stirring constantly. Add chili powder and cook for another 30 seconds to a minute, until fragrant. Whisk in diced tomatoes and chicken broth and cook until moisture reduces in half, about 2-3 minutes. Remove from heat.
Add 1 tortilla to the bottom of the casserole dish then spread a third of the tomato mixture. Sprinkle half of the chopped bell pepper and jalapeñ0, 1/2 cup chicken, and 1/3 cup cheese on top. Repeat process once. Top casserole with 1 tortilla, remaining sauce, and cheese.
Bake until bubbly and audibly sizzling, about 12 minutes. Set on broil until cheesy top begins to caramelize, about 1-2 minutes.
Allow to cool slightly before garnishing with a dollop of sour cream and diced herbs and diving in, preferably holding it with an oven mitt.
For more recipes that see you through it all, find Brit + Co on Pinterest.
(Recipe via Anna Monette Roberts / Brit + Co)
Anna Monette Roberts
As Brit + Co's Food Editor, Anna Monette Roberts has an insatiable appetite for developing tasty dishes. When she's not dreaming about her next meal, she's . . . well, probably cooking up her creations. Her favorite foods include chewy chocolate chip cookies, Rosé Champagne, and gooey French cheeses — in no particular order.
DIY Recipes