Feast Like a Mermaid With This Veg Bowl
Apr 25, 2018

Welcome to Single Serving, our new video series showcasing colorful, easily re-creatable, and highly Instagrammable recipes for one like sweet potato egg boats, hummus bowl, and a molten chocolate ramekin cookie. On this episode, we're serving up a mermaid-approved feast: a veggie sushi bowl. Like a poke bowl, it's easily customizable with whatever chopped veggies you want or stick to our suggestions.
---
Mermaid Bowl
(Serves 1)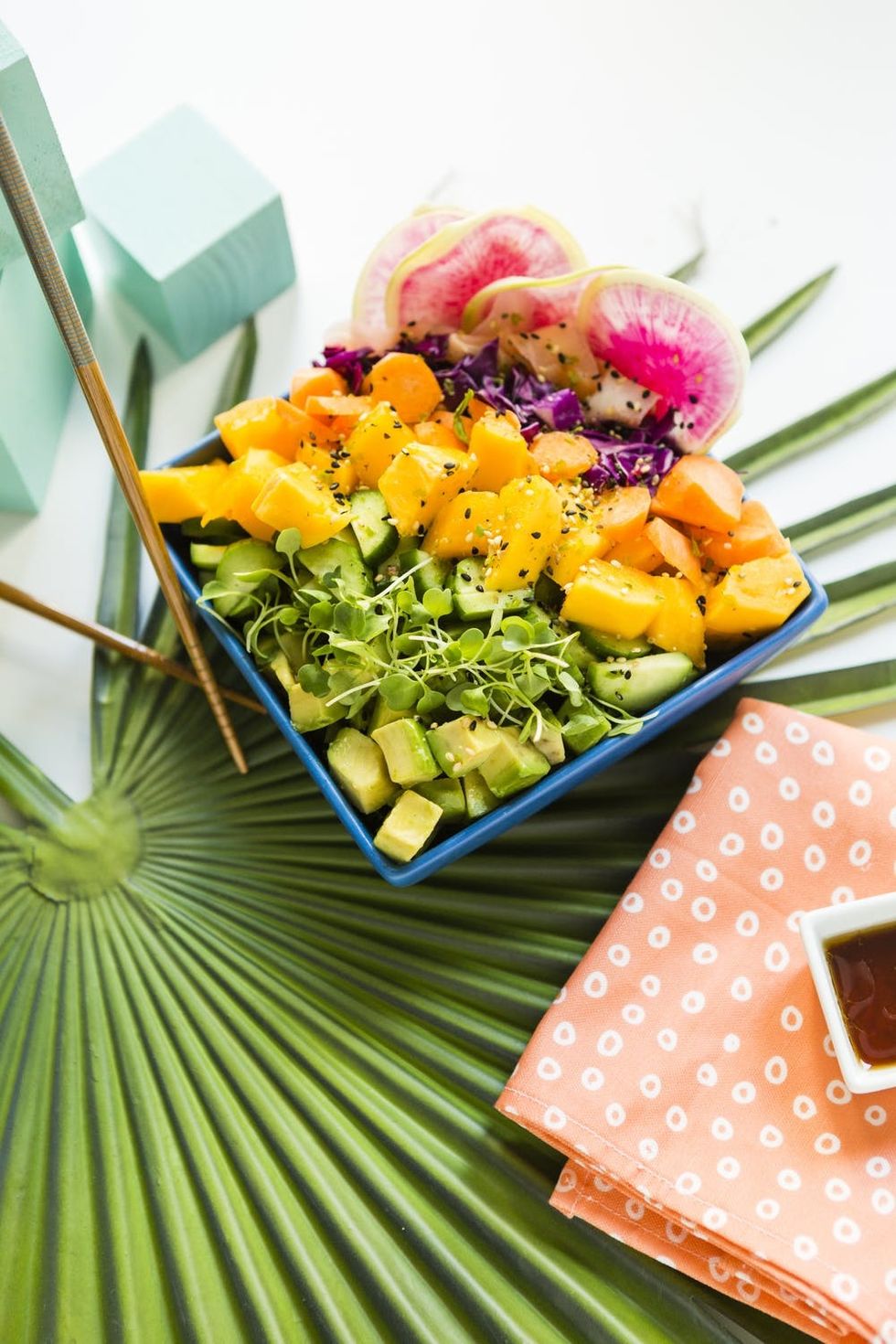 Ingredients:
1 tablespoon toasted sesame oil
1 teaspoon rice vinegar
1 teaspoon soy sauce
1 teaspoon honey
1 cup cooked brown rice, still warm
1/4 heaping cup seasoned tofu, chopped
1 tablespoon mango and/or papaya, chopped
1 tablespoon carrot, grated
1 tablespoon purple cabbage, grated or sauerkraut
1 tablespoon pickled ginger
1/3 avocado, sliced
1 tablespoon sprouts
1 tablespoon cucumber, cut into 2-inch sticks
1 tablespoon watermelon radish, sliced thin
furikake or seaweed gomasio, to garnish
Instructions:
1. Whisk together sesame oil, vinegar, soy sauce, and honey. Pour over warm rice and stir to combine.
2. Place rice at the bottom of a bowl or plate. Top with remaining toppings in a rainbow pattern. Garnish with furikake or seaweed gomasio.
(Recipe by Anna Monette Roberts, Brit + Co)
Anna Monette Roberts
As Brit + Co's Food Editor, Anna Monette Roberts has an insatiable appetite for developing tasty dishes. When she's not dreaming about her next meal, she's . . . well, probably cooking up her creations. Her favorite foods include chewy chocolate chip cookies, Rosé Champagne, and gooey French cheeses — in no particular order.