Serve This Chocolatey Slow-Cooker Candy for Every Festivity
Jul 30, 2018

Beyond slow-cooker cobblers, fudge, or fondue, one of our favorite confections to create is old-fashioned slow-cooker candy. With a rich chocolate base and fun candy mix-ins, these sweet dollops make for crowd-pleasing party fare and edible gifting. Here's how it's done.
---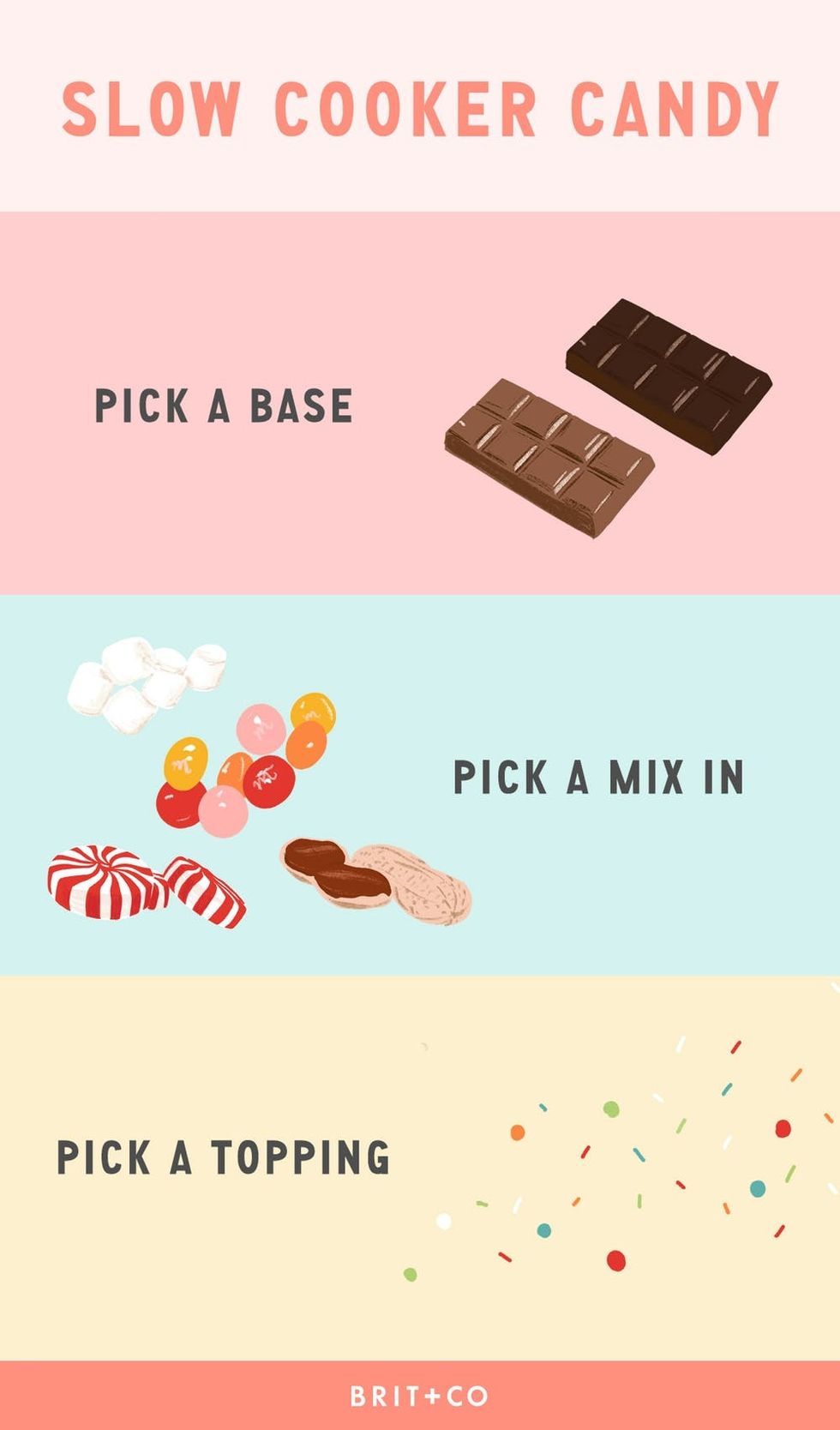 Basic Slow-Cooker Candy
(Makes 45 pieces of chocolate)
Ingredients:
5-6 cups chocolate base (like dark chocolate, semi-sweet chocolate chips, milk chocolate, white chocolate, and/or white almond bark)
10 cups mix-ins (like toasted nuts (peanuts, cashews, walnuts, and pecans), M&M's, Reese's Pieces, toffee pieces, crushed peppermint, Oreos, marshmallows, pretzels, gummy worms, and/or Andes Candies)
Toppings, for drizzling and sprinkling (like caramel drizzle, peanut butter drizzle, sea salt, and/or sprinkles)
Instructions:
1. Place your chocolate base in the slow cooker.
2. Cover and cook on low for 3 hours.
3. Then uncover and stir until smooth. Stir in mix-ins until fully coated.
4. Drop 1 to 2 tablespoons of the candy mixture into either a lined cupcake tin or parchment-paper-covered cookie sheet.
5. Sprinkle or drizzle toppings of your choice.
6. Place in refrigerator or freezer until completely hardened.
7. Remove from liner/parchment and serve (or store in an air-tight container).
For more slow-cooker recipes, follow Brit + Co on Pinterest.
(Recipe via Rachel Bshero / Brit + Co and illustrations via Yising Chou / Brit + Co)
Rachel Bshero
Rachel Bshero is a freelance writer, food stylist, and content strategist living in Nashville, Tennessee. She is also a self-proclaimed Walt Disney World expert, dog mom, and cheese plate aficionado.
DIY Recipes
If you lack a certain way with words, then perhaps you can rely on showing how you feel this holiday season with an artful greeting card you can make at home! Brit dropped by our crafting studio where we teamed with Camp by Walmart to create a choose-your-own-adventure holiday card tutorial. In the interactive video, it's up to you to decide what type of card you want to make — sentimental, or stylish? Three-dimensional, or keep it simple? After you've selected your design vibe, Brit helps you assemble it all together so your last-min card is ready to send. Get ready to pick up a few new DIY tricks when you watch the video now!
Holidays