No-Cook Tapas Recipes That Are Little Bites of Heaven
Feb 29, 2016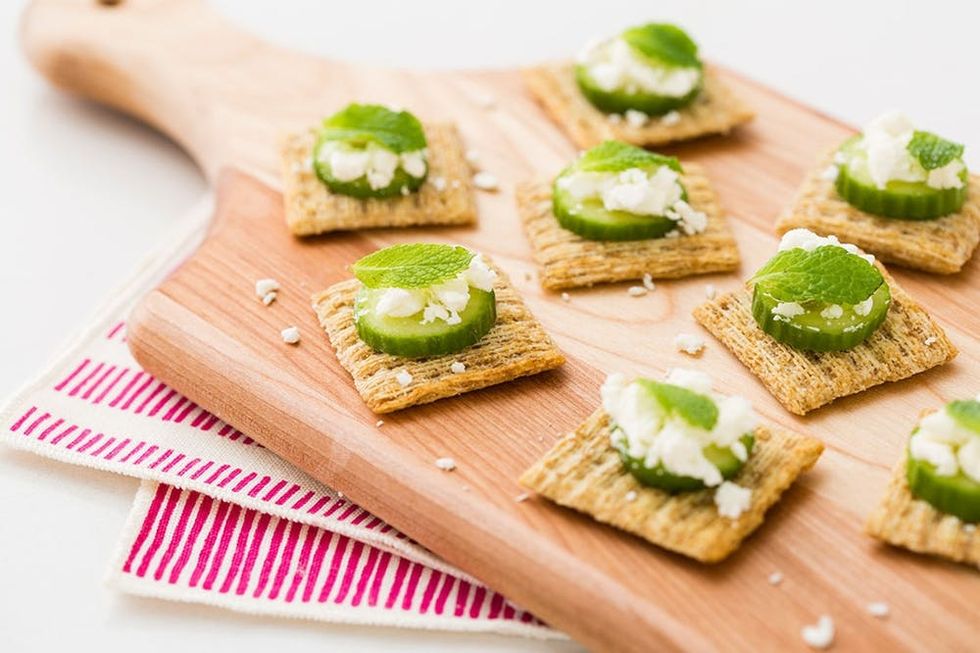 Who doesn't love small plates? They're great for entertaining, an easy way to try out everything on the menu, plus: portion control! These tapas recipes take our passion for this Spanish-inspired tradition to the next level: they all require no cooking, but are super impressive regardless. Do I smell a tapas party brewing??
---
1. Triscuits with Cucumber, Mint, and Feta
Feta cheese is strong on flavor, so the refreshing bite of mint is a fierce competitor in this bite-sized tapas recipe. Cucumber tones down the flavor and adds an oh-so satisfying crunch factor, as do the Triscuits that provide a sog-proof base for these divine finger foods.
There's no cooking involved here, but you do have to pull off a little make-ahead magic. Don't you dare go the store-bought route, because this Spanish staple is way too easy to make yourself. Just marinate with orange peel, garlic, red onion, herbs and extra virgin olive oil. (Via Dance of Saucepans)
3. Cheese-Stuffed Caperberries
First thing's first: caperberries are not capers. Though caperberries come from the same plant as capers, but they're actually small, green, stemmed fruits that resemble peppers. They do share a similarly acidic, salty flavor to capers, which we find pretty tasty. Combined with a soft cheese, sherry vinegar, and lemon juice, these savory bites are guaranteed to disappear fast — so make a lot! (Via La Tienda)
4. Olive Tapenade on Melba Toast
If you've got a food processor, you can DIY a delicious tapenade that's restaurant-worthy. If you're down to slice and toast some bread, have at it — but if you're truly looking to go the no-cook route, pre-made toasts, like Melba toast, provide that crunch your homemade spread is seeking. (Via Costco Diva)
5. Manchego Cheese with Quince
The mild, savory flavor of manchego cheese layered beneath a slice of quince — the sweet gel-like preserve made from the fruit of same name — offers satisfyingly soft textures and a complementary flavor combo. (If you haven't noticed yet, we like cheese.) (Via The Best Spanish Recipes)
Got a brilliant, no-cook tapas recipe to share? We want to try it! Tag us on Instagram.
Kristine Solomon
Kristine Solomon is a New York-based editor, writer, and digital content strategist. She's worked for major women's lifestyle brands including Martha Stewart Living, The Nest, and YourTango. She's a proud animal lover, word nerd, and obsessive decorator. She once hopped into a canoe in Kenya and sailed into a lake packed with (actual, deadly) rhinos, then rowed back to shore underneath a double rainbow. She just wanted you to know that.