What Is Ivanka Trump Up to These Days?
Mar 21, 2017
It's well-known that Ivanka Trump and her dad, who happens to be president now, are a close pair. Now, Ivanka will be able to work side-by-side with Donald Trump: News broke Monday evening that the first daughter is getting an office in the West Wing of the White House.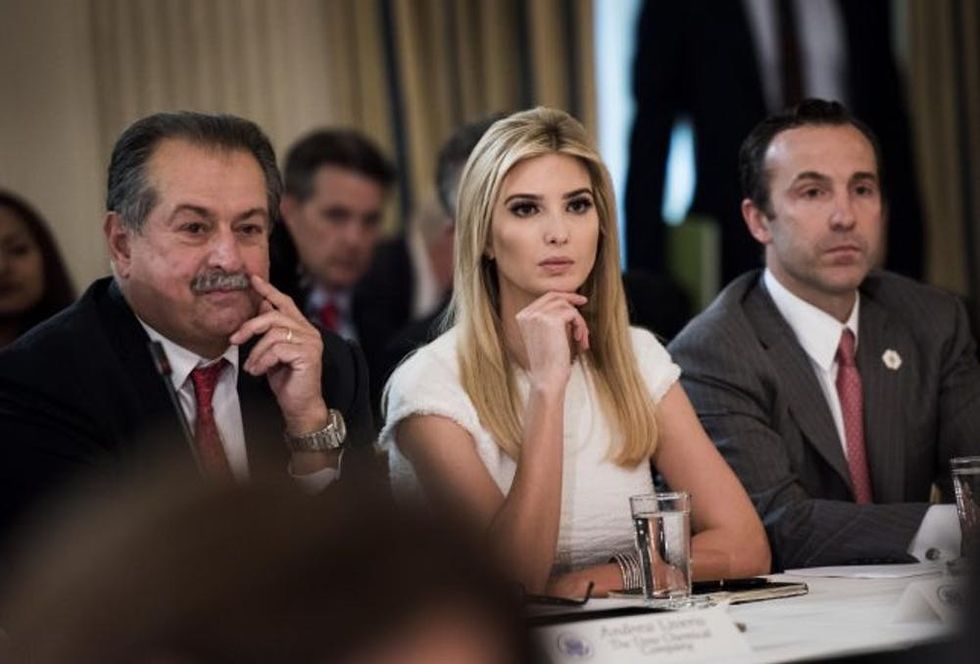 ---
Not only will Ivanka get an office on the working side of the White House, but will be given a government-issued communications device, and is also seeking security clearance which, according to POLITICO, means she'll begin receiving government communications this week. However, Ms. Trump will not be working in an official government capacity, which has some observers worried about just what she'll be up to in the White House, and why.
While having the first daughter working in an unofficial capacity in one of the most important government buildings in the country makes sense in the Trump universe (the president has had Ivanka at his side from the start of his presidential campaign), it's a totally unprecedented move. No other president has had one of their children unofficially working in the White House.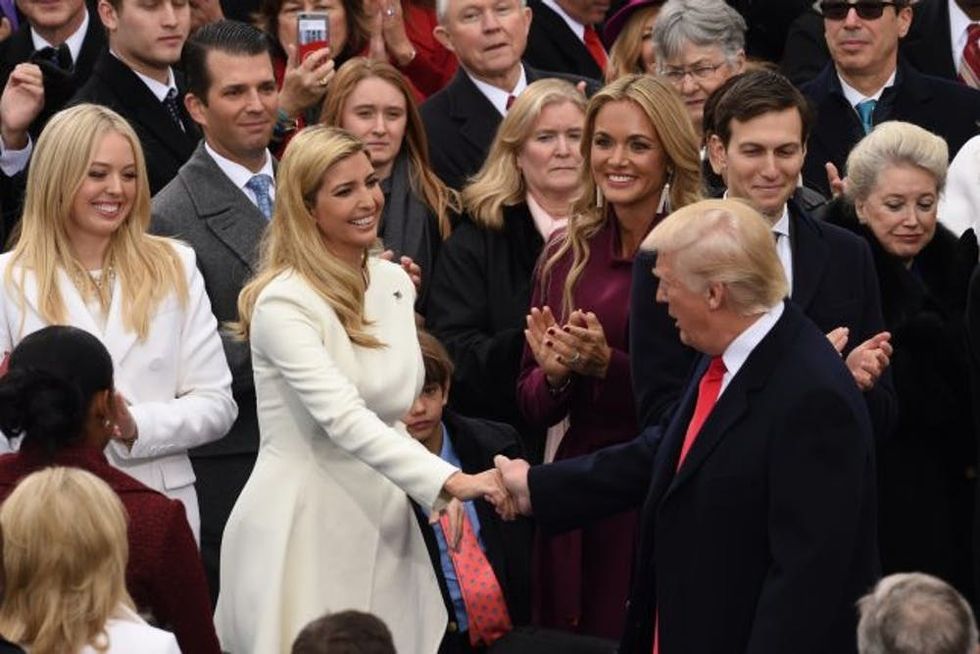 Ivanka acknowledged concerns about potential conflicts of interest that her White House office and pending security clearance would pose. In a statement quoted by POLITICO, she said: "While there is no modern precedent for an adult child of the president, I will voluntarily follow all of the ethics rules placed on government employees."
POLITICO notes that Trump's husband, Jared Kushner, has an official job on Donald Trump's staff as a senior adviser, so why can't Ivanka do the same? Only the Trumps know for sure, but in the meantime, Ivanka has had a full plate both tagging along during presidential events and being ensnared in controversies surrounding her struggling fashion brand.
Ivanka has been present in meetings with world leaders who have visited Washington DC to meet with president Trump, including Canadian prime minister Justin Trudeau and German chancellor Angela Merkel; in both cases she was seated next to the world leaders.
When Trudeau came to Washington in February, photos of Ivanka seeming to gaze dreamily at Trudeau went viral. Swoony though the first daughter may have seemed, she was sitting in with top-ranking politicians about women in the workforce.
Get you someone that looks at you the way Ivanka Trump looks at Justin Trudeau pic.twitter.com/sxTAlpi4av

— Philip Lewis (@Phil_Lewis_) February 13, 2017
Then last week, Ivanka attended a Broadway play with Trudeau and United States ambassador to the United Nations (and former South Carolina governor) Nikki Haley, CNN reports. Trudeau invited the US pair to attend the play with him.
Honored to join @realDonaldTrump, Chancellor Merkel and CEOs of US and German companies in a robust discussion on #WorkforceDevelopment pic.twitter.com/dJnrLpqcYF

— Ivanka Trump (@IvankaTrump) March 17, 2017
When German chancellor Angela Merkel met with the president last week, Ivanka also sat in on a roundtable discussion about workforce development, later tweeting a photo of herself sitting right next to Merkel.
As for her role as a businesswoman, Ivanka resigned from her role in the Trump Organization and placed her fashion brand in a trust in January. However, as the New York Times reports this week, Ms. Trump still maintains some control in her business.
Ivanka's clothing brand took a nosedive in sales following her dad's election to the presidency, which led to Nordstrom to drop her line. Soon thereafter, the president (in)famously tweeted that Nordstrom treated her "so unfairly," adding that Ivanka always pushes him to "do the right thing."
My daughter Ivanka has been treated so unfairly by @Nordstrom. She is a great person — always pushing me to do the right thing! Terrible!

— Donald J. Trump (@realDonaldTrump) February 8, 2017
Last week, a class-action lawsuit was filed against Ivanka Trump's company, claiming that the brand has an unfair advantage due to her father's position as president, according to Fortune.
It's still unclear why exactly Ivanka needs a work space in the White House, or how her tasks performed there will impact the administration, but it's evident that the president wants her close at hand.
What do you think of Ivanka's role in the Trump administration? Tell us on Twitter @BritandCo.
(Photos The Washington Post/Getty, Mark Wilson/ Getty, Timothy A. Clary/Getty)
Elizabeth King
Elizabeth King is a politics, history, and culture writer based in the Twin Cities. She is generally pretty cranky but still enjoys traveling, music from the early 2000's, and plotting the resistance. Feel free to say hi on Twitter at @ekingc or check out some of her work at www.elizabethcking.com.
Politics
Still haven't taken up that new creative skills you swore you'd learn this year? Or ready to take your design skills to the next level? Let's say so long to the weirdest year ever by checking those big learn-something-new goals off our perpetual to-do lists.
We've teamed up with Clorox to give you the gift of unlimited creativity now through the end of the year. Once you sign up, you can take as many of our 120+ classes as you want for FREE for one whole month!
Here's how it works:

Head to brit.co/learn and sign up for the "All Access Pass."
Use the code "CLOROXCARES" at checkout to redeem your free month of classes.
You will be automagically signed up for Clorox's email list once you redeem your free all access pass. (It's the #1 Choice for Disinfection!)
Your pass lasts one month from when you checkout. This means you have unlimited access to all the classes during that month.
This offer is valid now through December 27, 2020.
Browse our catalog to find the right class for you, tell a friend and take the class together over Zoom, or organize a 'cocktails + crafts' night with a friend in your bubble so you can learn something new together.
What are you waiting for? Time to start learning all the things!

Thanks to Clorox for making this happen! When it counts, trust Clorox.
Lifestyle