12 Reasons Why "The Last Jedi" Star Kelly Marie Tran Is the IRL Hero We All Need
Dec 18, 2017
There are many things we love about Star Wars: The Last Jedi. We love the narrative, we love the look, we love the hairstyles, and we love all the feels… so many feels! We also fell in love with Rose Tico — a gusty maintenance worker turned resistance fighter — and her IRL counterpart, the relatable 28-year-old actress, Kelly Marie Tran. We adore her so much that we are asking, nay, begging for her to be our BFF (Kelly… call us!). In addition to being the first Asian-American woman to play a major Star Wars character, here are 12 reasons why she's the IRL hero we all need right now.
1. She has the same reaction to being near R2-D2 as we would. Being in the same general area as R2-D2 would pretty much blow anyone's mind, but if you're working, it makes it hard to, like, focus. "[I had] that feeling of just being totally silent and just wanting to be completely present and to experience every feeling to its fullest," Tran said. "I felt like I was about to play the Super Bowl. I knew all the plays. I knew exactly what was going to happen. And then you see R2-D2, and you're like, 'I'm thrown off.'" Thankfully, Tran got it together and delivered.
---
2. She's crafty. For Halloween, Tran and her pal made their own Porg costumes, because of course she would. It only took her three hours, and she proved all the doubters wrong ("'You'll end up looking like two sad birds!!', they said."). And it was adorable to boot.
Kelly Marie Tran is how all of us would be if we were cast in a star wars film pic.twitter.com/9s0LTT4TQT

— Dani Fernandez (@msdanifernandez) December 10, 2017
3. She has no chill about being in Star Wars (but neither would we). How excited would you be if you were suddenly cast in a Star Wars movie? Her emotional red carpet experience — crying when she saw a cosplayer dressed as her character, crying when hugging director Rian Johnson, crying when, well, breathing. As she has wisely declared, "I'm living my best life and I regret nothing." #Goals.
4. She's committed to being herself. Tran gave us a perfect manifesto for being true to yourself both online and off, writing on Instagram: "Guys, can I tell you a secret? I avoided public social media for a long time purely because I was afraid. I was terrified of being picked apart, of being scrutinized, of being seen. It took me a year of self-work — and some really amazing, supportive friends — to make me realize that it's none of my business if people like me or not. It doesn't change my goals, my dreams, what I want to do with the opportunities I've been given. We live in a world that profits off our insecurities. We need the most expensive makeup to be beautiful, the newest clothes to be desired, the most likes on social media to be validated … the list goes on and on. Well, here's a photo of me — hair up, no makeup, no filter. I'm an incomplete, imperfect, broken mess and I'm here to say that IT'S OKAY to be imperfect. Actually, our imperfections are what make us special, as cliché as that sounds. Don't let the masses make you believe that you're not enough. YOU ARE ENOUGH. Love yourself, and embrace your messiness. That's where your power lies! (I honestly just wrote this in my journal as a reminder to myself, because hey, I'm mostly a strong person, but life happens, and I'm still figuring it out as I go. 💁🏻"
5. And when she got Star Wars merch including a doll of herself, she freaked out. Wouldn't you?
6. There is no shame in her fanny pack game. No shame at all. And her fanny pack isn't one of those chic and stylish examples of the genre; her fanny pack is straight-up '80s, including multiple pockets and the neon colors. Let us all be brave enough to fly our fanny pack love so boldly. Other accessories of choice include Pikachu backpacks and Harry Potter socks.
7. She's not afraid to admit when she is totally clueless. Most celebrities take themselves far too seriously to admit when they don't know the ins and outs of being thrust into a new life of stardom. But Tran calls herself out. She 'grammed: "Spent all morning wondering WHAT THE HECK this cloth on this lemon was about. Sent this video to some friends….. They explained it does serve a purpose…. "KELLY, IT KEEPS THE SEEDS IN!" (Of course, that was AFTER I finally got the lemon out!!!! 😂😂😂) And now I am left laughing at myself and knowing that I am very ill-equipped for this life change. Are there classes for this? Someone plz help!! 🍋🍋🍋🍋😂😂😂😂" Never change, Kelly; never change.
8. She is totally grateful, humble, and real. "Here's a discrepancy my mind can't make sense of," Tran writes in her Instagram post. "I never thought I'd be in a world where someone would pay for people to dress me, do my hair, do my makeup. We spend our whole lives trying to hold ourselves up to a standard that is truly unattainable. This chick on the left is who I am 1% of the time. That girl on the right is who I am 99% of the time. And you know what? They're both worthy of love. Whether you're dressed up or in sweats, make sure you love all sides of yourself, because you deserve that! And be sure whoever you surround yourself with does the same. Woof. It's hard though. This is a lesson I'm still trying to learn. We're all just trying to figure it out, right?" Yes, yes, we are.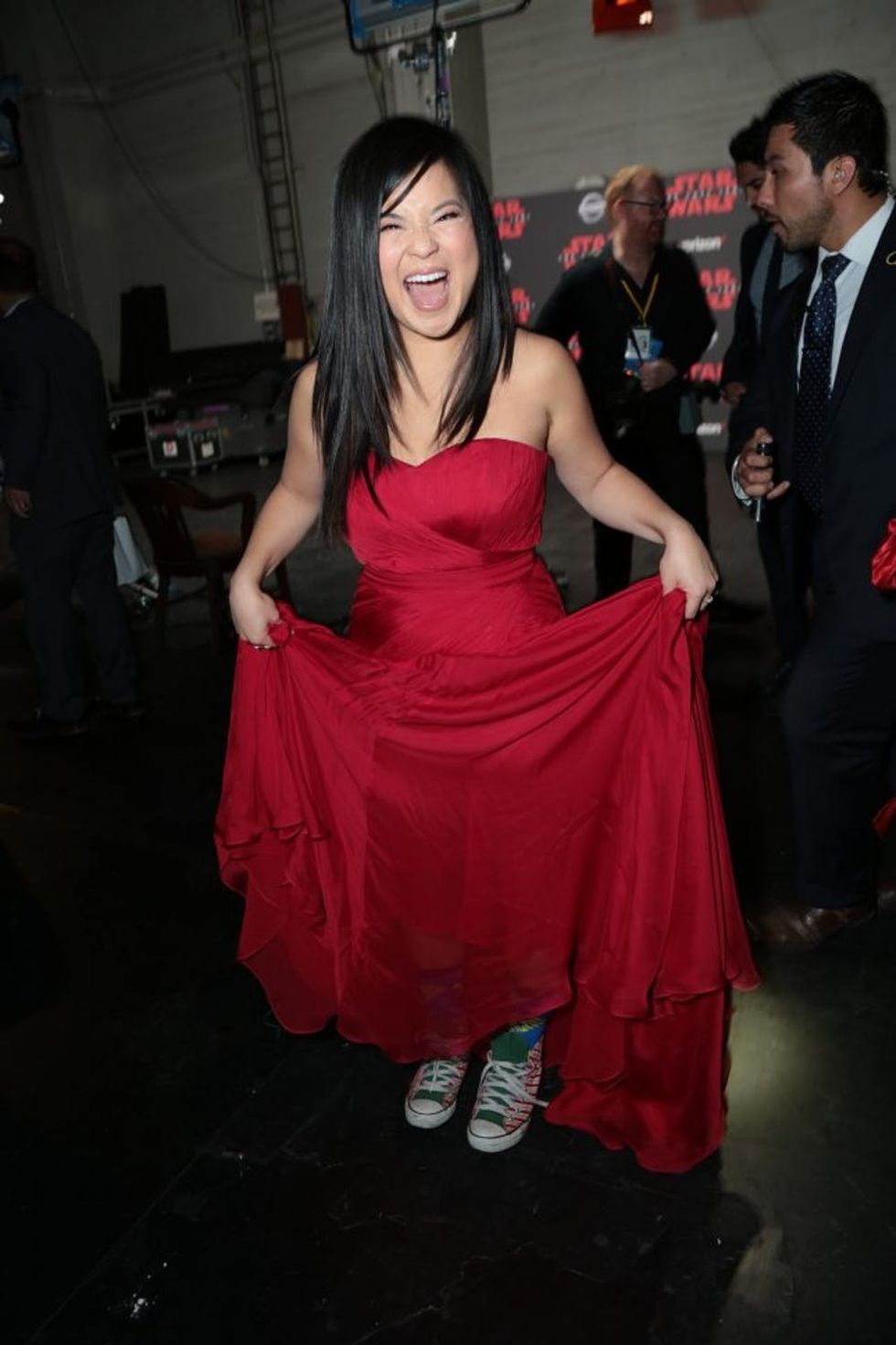 9. And when she dresses up, she does it right. There's a lot of pressure for those dressing for the red carpet; Tran went with a choice that was not only aesthetically awesome (that hue of red OMG) but one that had meaning. Both of Tran's parents are from Vietnam, so she opted to wear a custom red silk gown with a sweeping train by the Vietnamese designer Thai Nguyen. It was a great way to honor her ancestral homeland. Plus, she gets mad bonus points for wearing comfy kicks backstage.
10. When she goes to Disney Studios, she geeks out. And then goes one step further. "WORE MY MONSTERS INC SWEATER YESTERDAY," Kelly all capped. "AND HAD TO BORROW ANOTHER HAIR TIE WHEN I FOUND OUT THERE WAS A LIFE-SIZE SULLY & MIKE THERE. Obviously, I had to pretend I was Boo 😂😂😂)."
11. She brings a loud, supportive group of friends with her to events. When she hits the red carpet, she has support. "PRO TIP: Bring your amazing, loud friends with you EVERYWHERE!" Tran advises. "When I get to that carpet and nobody knows who I am (I've already tested this theory, refer to previous posts 😂), my friends will be loud enough to make it seem like I'm a somebody!!! LOVE TO MY LADIES!!" We don't think this actually goes for Stormtrooper pals, but this photo was just too cute to not include.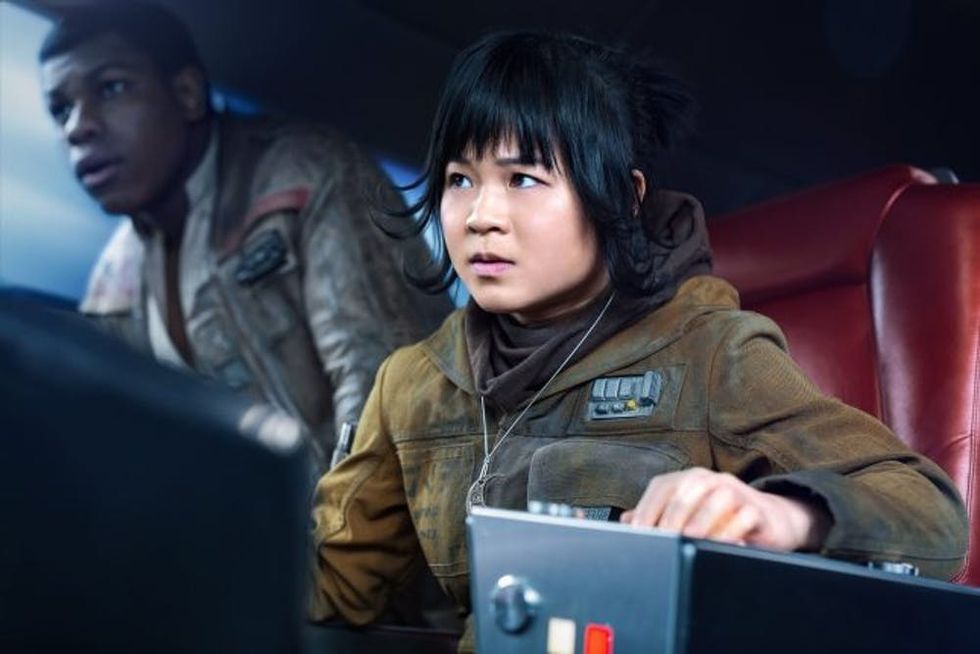 12. She's the star we can all relate to. There are lots of picture-perfect celebs that few (if any) people can relate to. But for those who don't fit into the standard mold, we have Tran. And that makes us so happy. And that's just why director Rian Johnson put her in the film. He said Tran "really jumped out at me as someone who I was looking for in the character. I wanted someone who — thinking back to me as a kid being a genuine nerd you could relate to — someone who didn't feel like they belong; someone you wouldn't necessarily imagine as a big Star Wars hero. Let's throw them in the mix and see the world through their eyes." And it's a world full of potential, hope, and promise, especially with the likes of Kelly Marie Tran in it.
Have you seen Star Wars: The Last Jedi yet? Tell us about it @BritandCo!
(Photos via Walt Disney Studios, featured photo via Getty)
Sunny Chanel
Sunny Chanel is a freelance writer as well as the founder of the whimsical site Wonder and Company. When this proud San Franciscan isn't writing, working on her fixer-upper or doing crafts, she is playing dress up with daughter and planning her next trip to Disneyland.
Movies
Pocket doors are so delightful in and of themselves. They appear when you need them, get tucked away when you don't, and make it easy to define rooms while keeping an open floor plan. Add to the pocket door a joyful patterned wallpaper surprise, and you will be sent right into fits of visual jubilation! Or something ;) Today we're sharing two simple and impactful pocket door makeovers that zhuzh up your space in a jiffy.
Anjelika Temple here, co-founder of Brit + Co and proud owner of several pocket doors! When I moved into my first real grown-up house a couple years ago, I knew I wanted to incorporate wallpaper so reached out to our friends at Chasing Paper to see how we might collaborate. It felt like a total lightbulb moment when I realized I could create a surprise pop of pattern on a couple sets of pocket doors.
Not only is it a whimsical way to bring color into a space, but the doors double as picture-perfect backdrops for all your SFH (selfies from home, obvs).
A few pro tips about install:

Removable wallpaper is miraculously forgiving! You can take it on and off multiple times without it losing integrity (or mucking up your surface).
I ordered this adhesive wallpaper installation kit with a squeegee and xacto knife and it worked super well. I also recommend a sharp pair of scissors for cutting longer lines.
This is a two-person job! Get a friend, put on a playlist, and get ready to bond.
Wild, organic patterns like Tally are great because it's challenging to spot any imperfections in pattern alignment; keep pattern choice in mind if you've got a lot of corners to match up. More geometric patterns and larger shapes leave less room for error (but are awesome in their own right!).
BATHROOM POCKET DOORS
In our primary bathroom, we chose the wallpaper pattern Tally, designed by Kelly Ventura, in White and Navy. In our space, the navy reads as a soft black, which is perfect for the space. It's easy to combine an ever-rotating collection of linens with the Tally pattern.
I love how the white trim becomes the perfect frame around this pocket door piece of art.
My favorite moment in this space is the fact that you actually get a third pop of pattern thanks to our serendipitously placed mirror!
And yes, this one works pretty darn well as a backdrop too ;)
LIVING ROOM DOUBLE DOORS
This set of doors is definitely a focal point of our home. It separates our living room from our primary bedroom which opens onto our backyard. The doors are pretty much always open, but when they're closed we wanted to evoke a fun, nature-inspired vibe. With that in mind, we selected the Lines and Moons pattern by Thimblepress in Green and Brown.
Earth mama vibes up in here! I love how the shapes and colors echo the ferns you see through the windows and the acorn wood details throughout the house.
Love this pattern moment, and xacto-ing out the door handle is def on the oddly satisfying DIY list.
For a pattern lover like me, I love that now I have this instant photo backdrop!
Thanks to Chasing Paper for providing these rolls of pure pattern amazingness. Head to chasingpaper.com to find our own favorites and start adding patterns to your home!
Share your wallpaper wins with us on Instagram @britandco and find me @anjelikatemple.
(Wallpaper wingwoman: Kayla Haykin; Photography: Kurt Andre)
Home