Your Favorite "Girls" Star Had the Most Goth-y Wedding Dress Ever
Nov 29, 2016
Let's all just go ahead and admit it: Shosanna is the only character on Girls that's actually likable. Her bubbly personality matched by her relatable post-grad realness make her a much more viable candidate for a hypothetical BFF than Marni, Jessa or Hannah. And while Shosanna's wedding is likely to be packed full of pink, sparkles and Kawaii-inspired details, the actress who plays her (Zosia Mamet) just released the first photos of her wedding, and they're basically definitive proof that she is the polar opposite of her HBO character.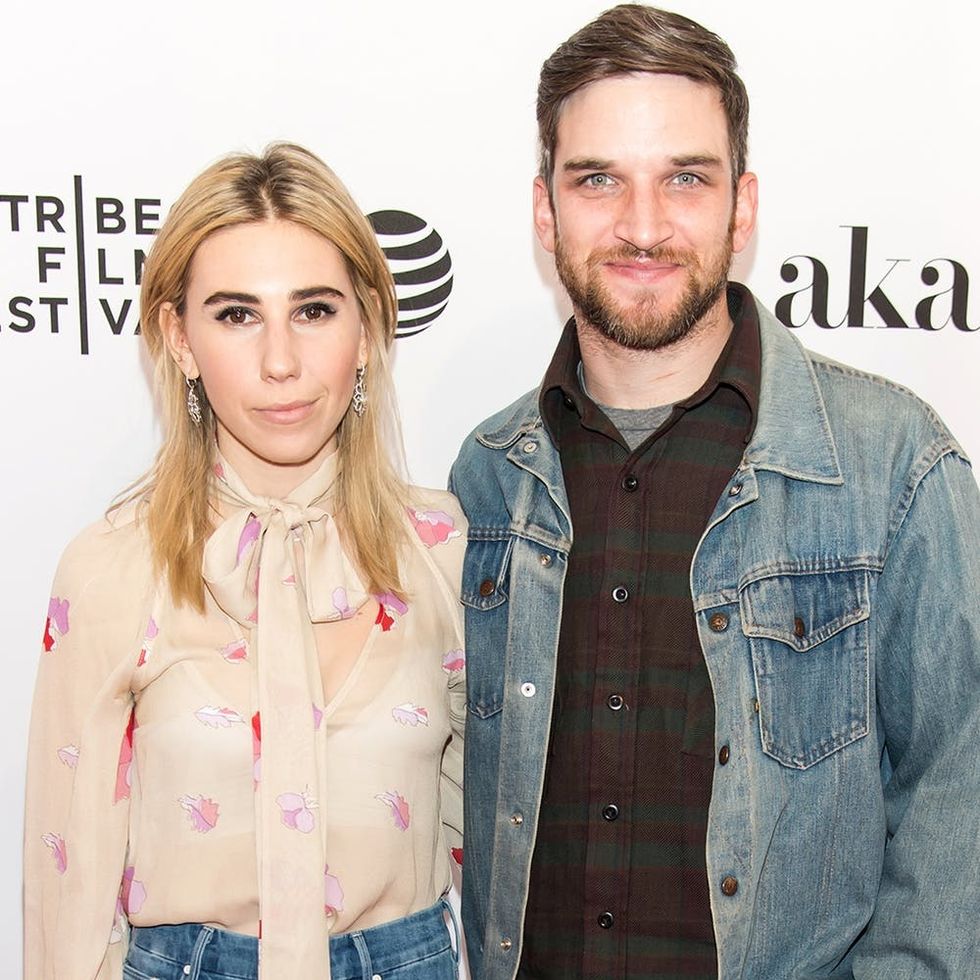 ---
Zosia and actor Evan Jonigkeit tied the knot in upstate New York back in October. But just yesterday, Vogue debuted an exclusive look into the artsy couple's special day. The whole thing was stunning, perfectly curated and a total Pinterest-approved event, but what caught us by surprise was one key detail: her alternative wedding dress.
Straying far from the bridal norm, Zosia decided to walk down the aisle not in white, but in a sleek black Givenchy dress with a plunging neckline. The gothic look was accompanied by a tousled half-up 'do accented with black flowers. The dress actually managed to match the slightly spooky mood of the day. It never rained on the couple's special day, but a thick blanket of fog cloaked the ceremony.
Inside the wedding of @girlshbo actress @zosiarmamet to actor Evan Jonigkeit: https://t.co/i2qgc3DBEp

— Vogue Magazine (@voguemagazine) November 29, 2016
Mamet tells Vogue, "The dress I ultimately chose was by Givenchy, and it was the last one I tried on — the minute it went over my head, both my friends gasped. It definitely wasn't the most epic in terms of the dress's power on its own, but it fit me like a glove in every way, and I knew, without a doubt, that it was my dress. That was it, I bought it off the rack."
Additionally, Vogue revealed a few other swoon-worthy details about the day. The ceremony was held in an old theater that was partially enclosed and complete with a roaring fire. The reception was held in a bungalow called "The Treehouse." The evening's cuisine consisted of: moonshine, s'mores and a funfetti wedding cake. Oh, and naturally, one of her guests created temporary tattoos for everyone to rock while dancing or chilling by the multiple fire pits.
The FOMO we are feeling right now is so very real. Head over to Vogue to see all the photos from the couple's wedding day.
What is your favorite element of Zosia and Evan's wedding day? Share with us on Twitter @BritandCo.
(Photo via Gilbert Carrasquillo/Getty)
Cortney Clift
Cortney is the senior writer and special projects editor at Brit + Co. She typically covers topics related to women's issues, politics, and lifestyle. When she's not buried behind her computer you'll find her exploring New York City or planning her next big adventure.