These 14 Balcony Gardens Have Us Ready for Spring
Apr 10, 2017
Apartment dwellers know how tricky it can be to flex that green thumb. With minimal space and sunlight, an edible garden or flower wall can seem like a far-fetched dream. But if you've got a balcony — no matter how tiny — the botanical possibilities are endless. The 14 gorg urban gardens below are here to prove it to you, one pretty pot at a time. So get that soil prepped, because you're about to be basking in lush #jungalow bliss.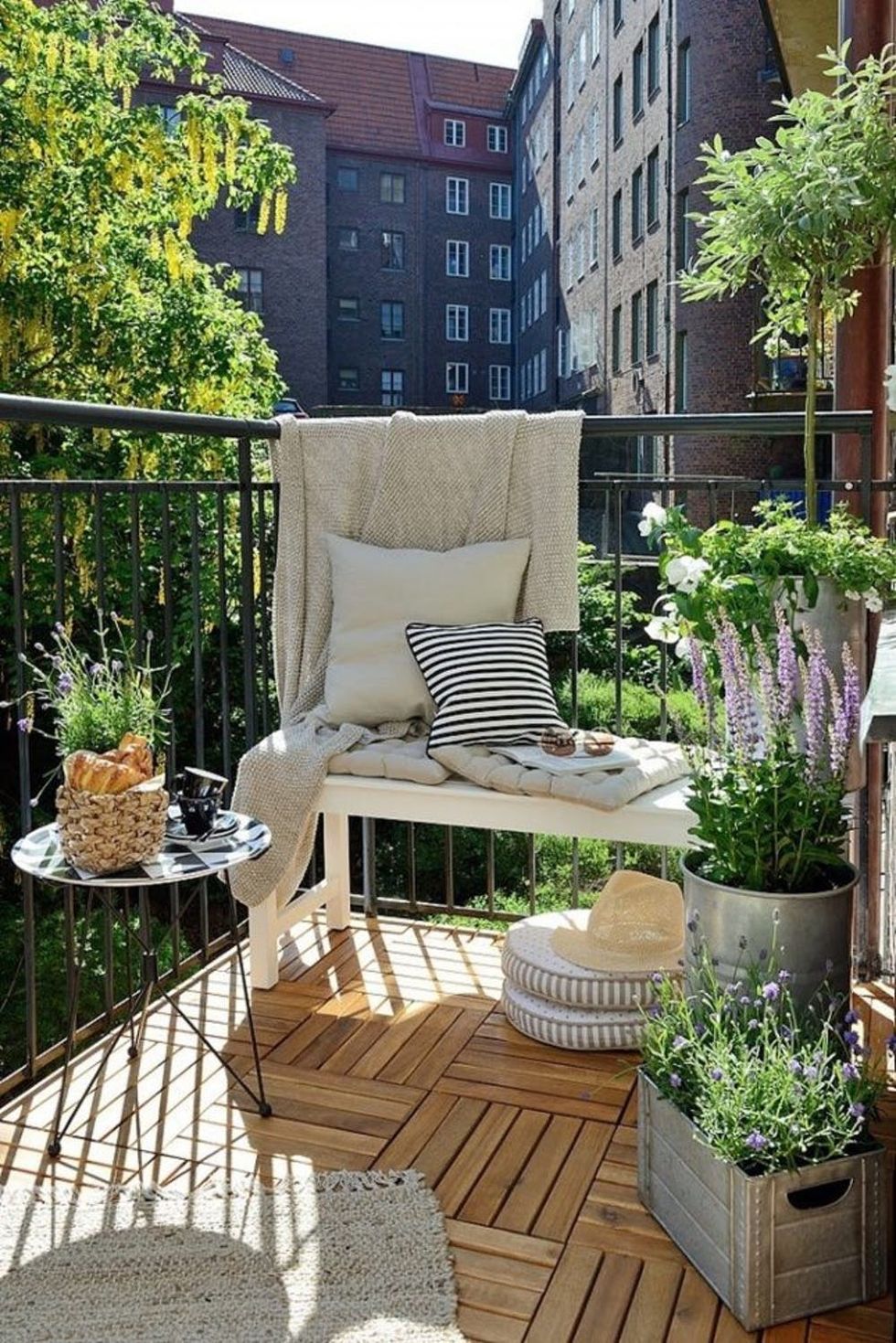 ---
1. Pull Up a Bench: Keep things interesting by pairing a little bench and seat cushions with an outdoor rug and a handy side table. The bench and table will allow you to display plants at different levels. That way, you can be totally surrounded in your green oasis. (via Apartment Therapy)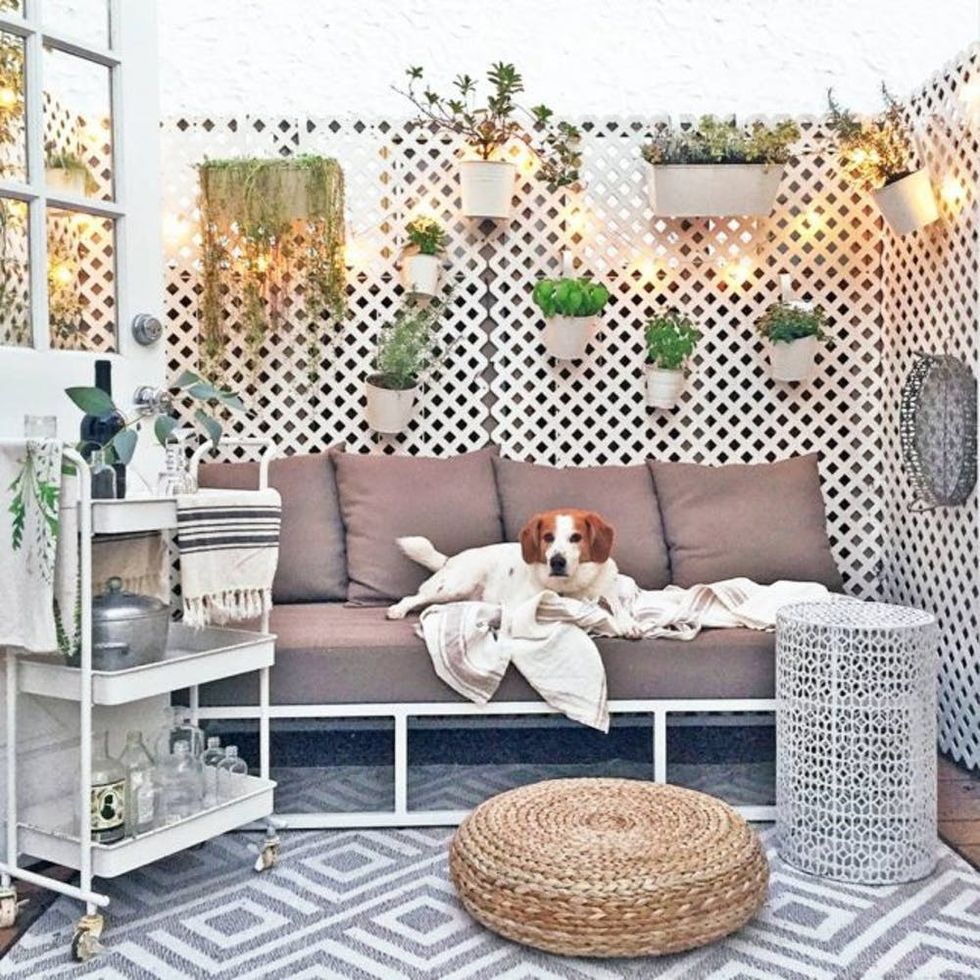 2. Vertical Wall Planters: Bar carts — they're not just for your living room anymore! Use yours to mobilize indoor/outdoor plants and change up the jungle vibes of your balcony on a whim. Then cover a wall in a slotted fence and deck it out with potted herbs. We're thinking bar cart + herbs = mojitos all afternoon. (via Domino)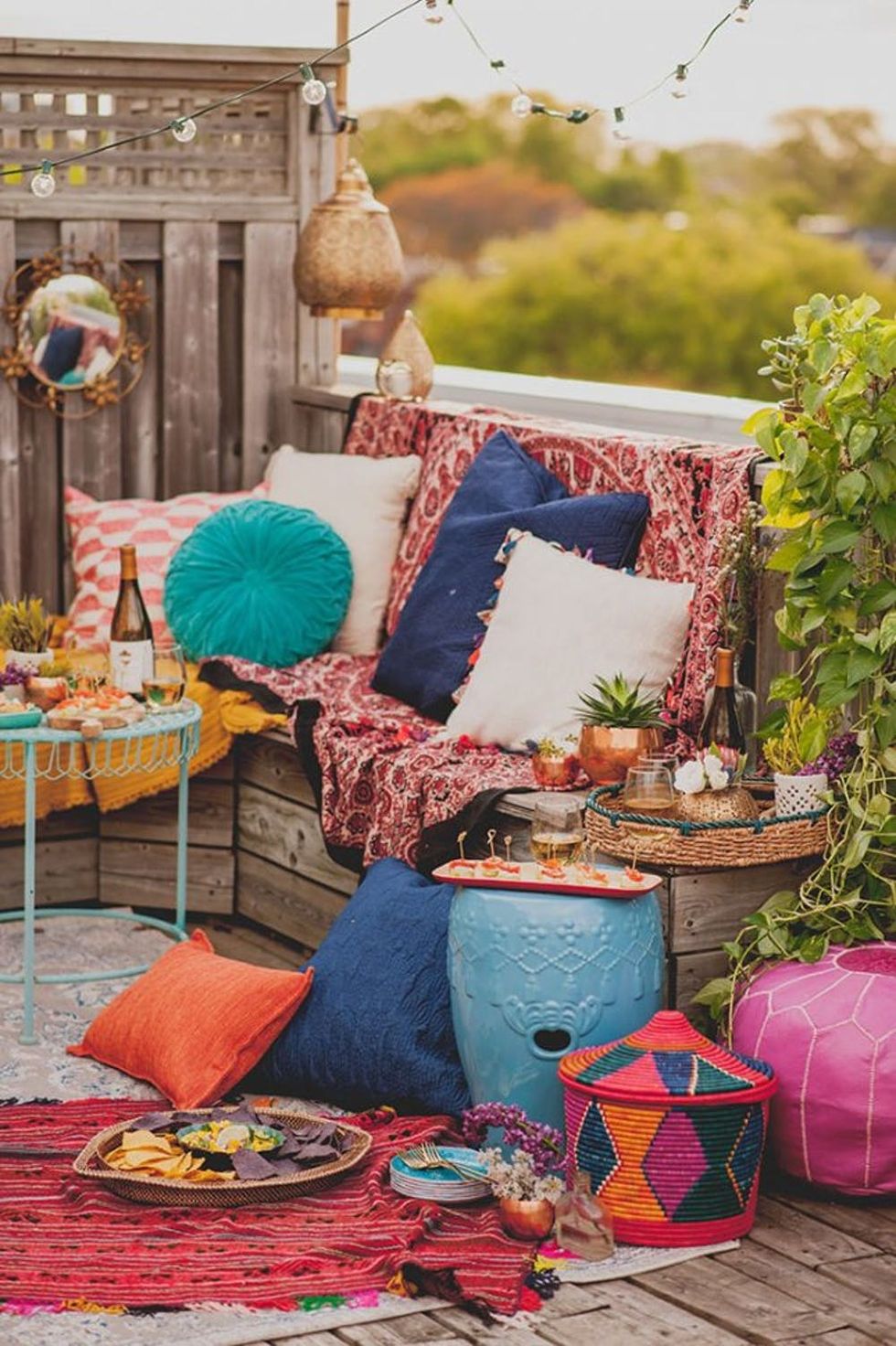 3. Boho-Chic Vibin': Pull off a playful bohemian look with all of the bright colors, cascading vines, and succulents in copper planters. Add some string lights and lanterns and you'll have yourself a relaxation paradise. (via Kendall Jackson)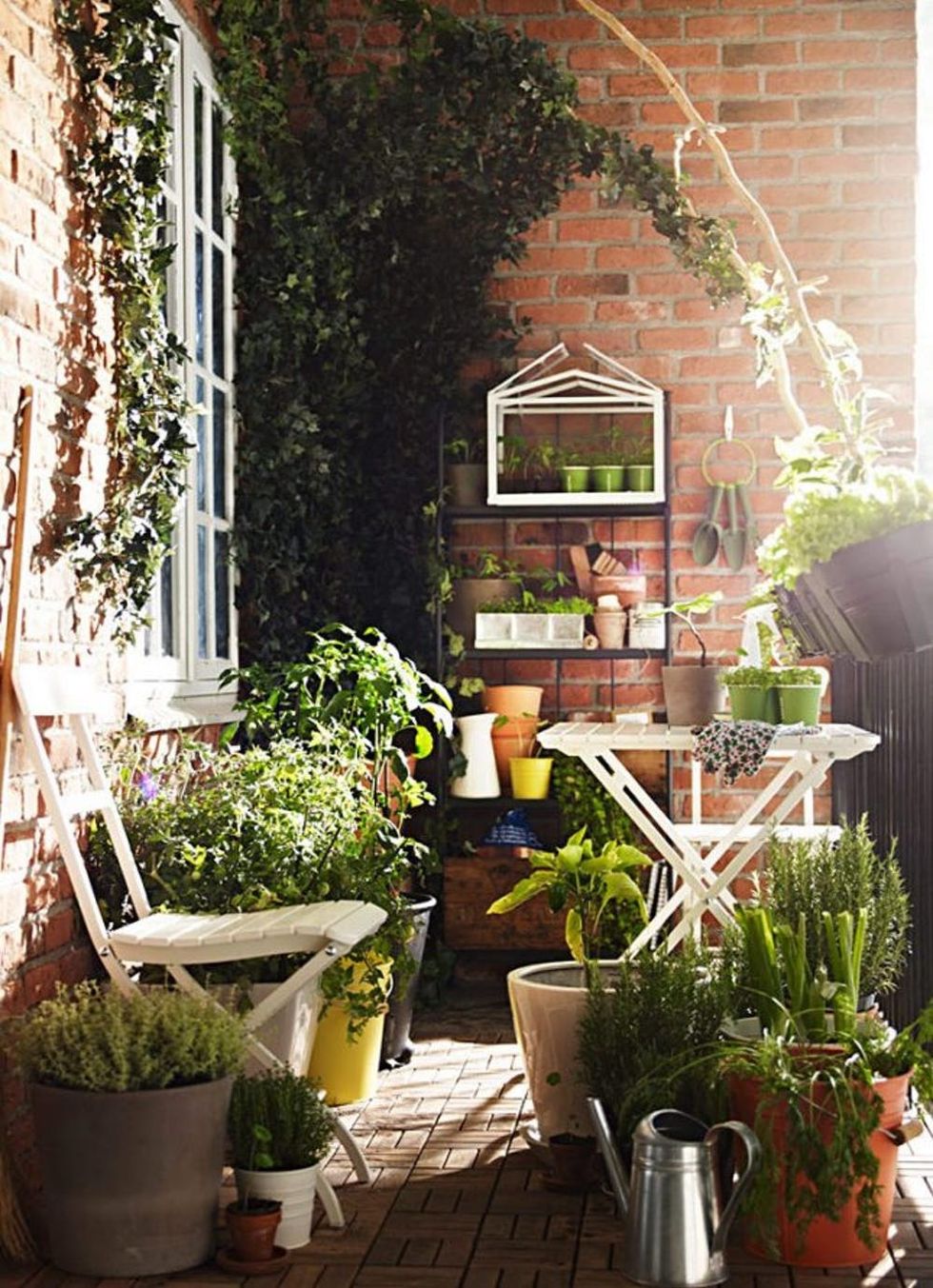 4. Jungalow Living: If you're a garden guru, go all out! Fill your balcony with tons of flowing and sprouting low-maintenance plants. Just leave enough room between the crawling ivy and mismatched pots for a chair so you can escape to your *happy place* anytime. (via Livet Hemma)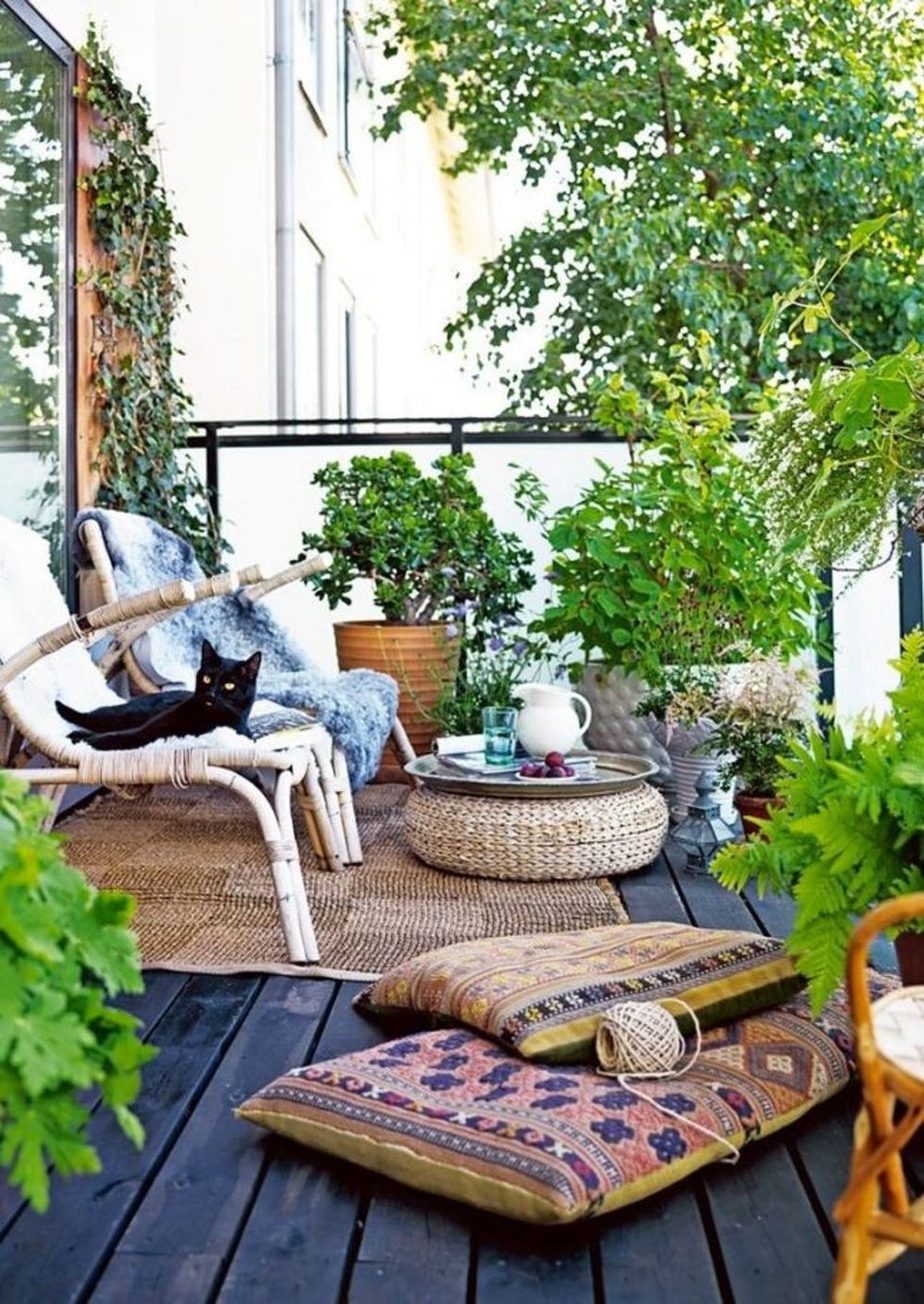 5. Outdoor Sanctuary: This setup has all of the chill vibes. Keeping textures and tones earthy allows all that greenery to seriously pop! Let things get a bit overgrown and enjoy how it makes your patio a private, uber-relaxing getaway. (via Elle Decoration)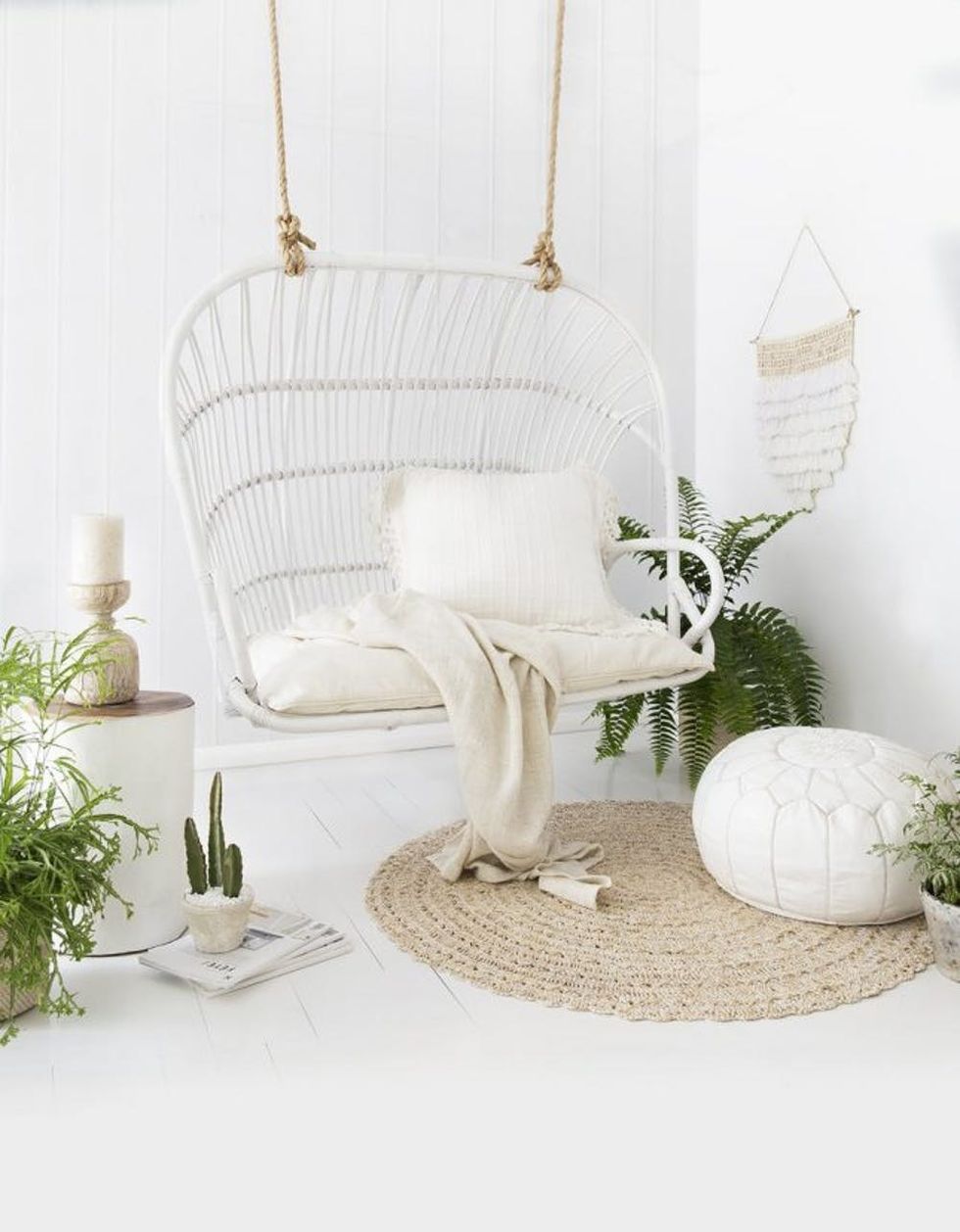 6. Porch Swing and Chill: Doesn't this all-white setup look dreamy AF? Pair low-maintenance (AKA minimal mess) plants, like cacti and ferns, with a jute rug and a hanging porch bench to get your veg on in a serious way. (via Adore Magazine)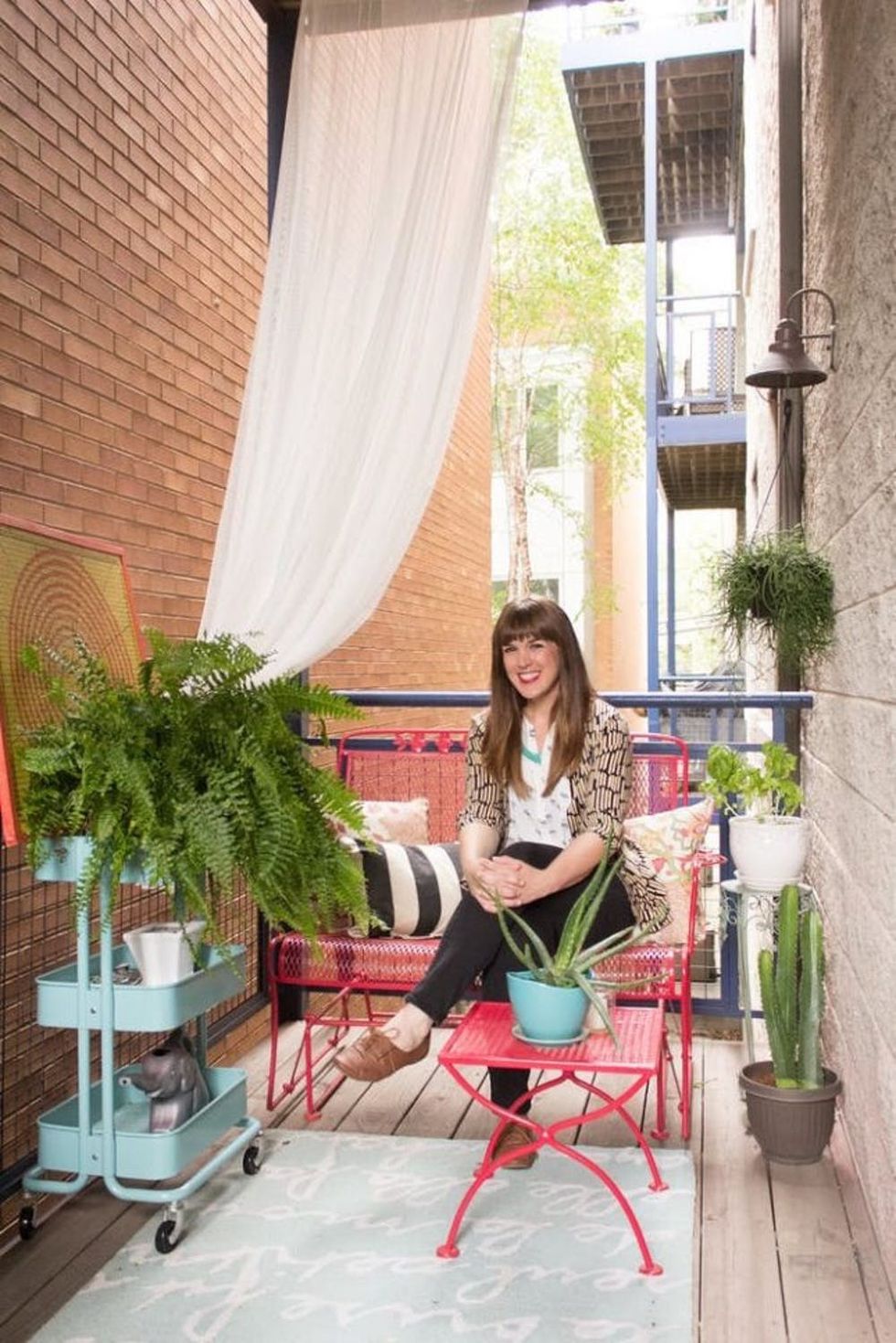 7. IKEA Hacks FTW: This little balcony is barely bigger than a hallway, but totally works, especially with that sheer privacy curtain. Make use of everyone's favorite rolling cart from IKEA to store plants and keep watering cans neatly displayed. (via Apartment Therapy)
8. Succulent Heaven: This little balcony is proof that you can never have too many succulents. Get creative with your potting by embracing tiered planters and putting these little beauties in every available corner.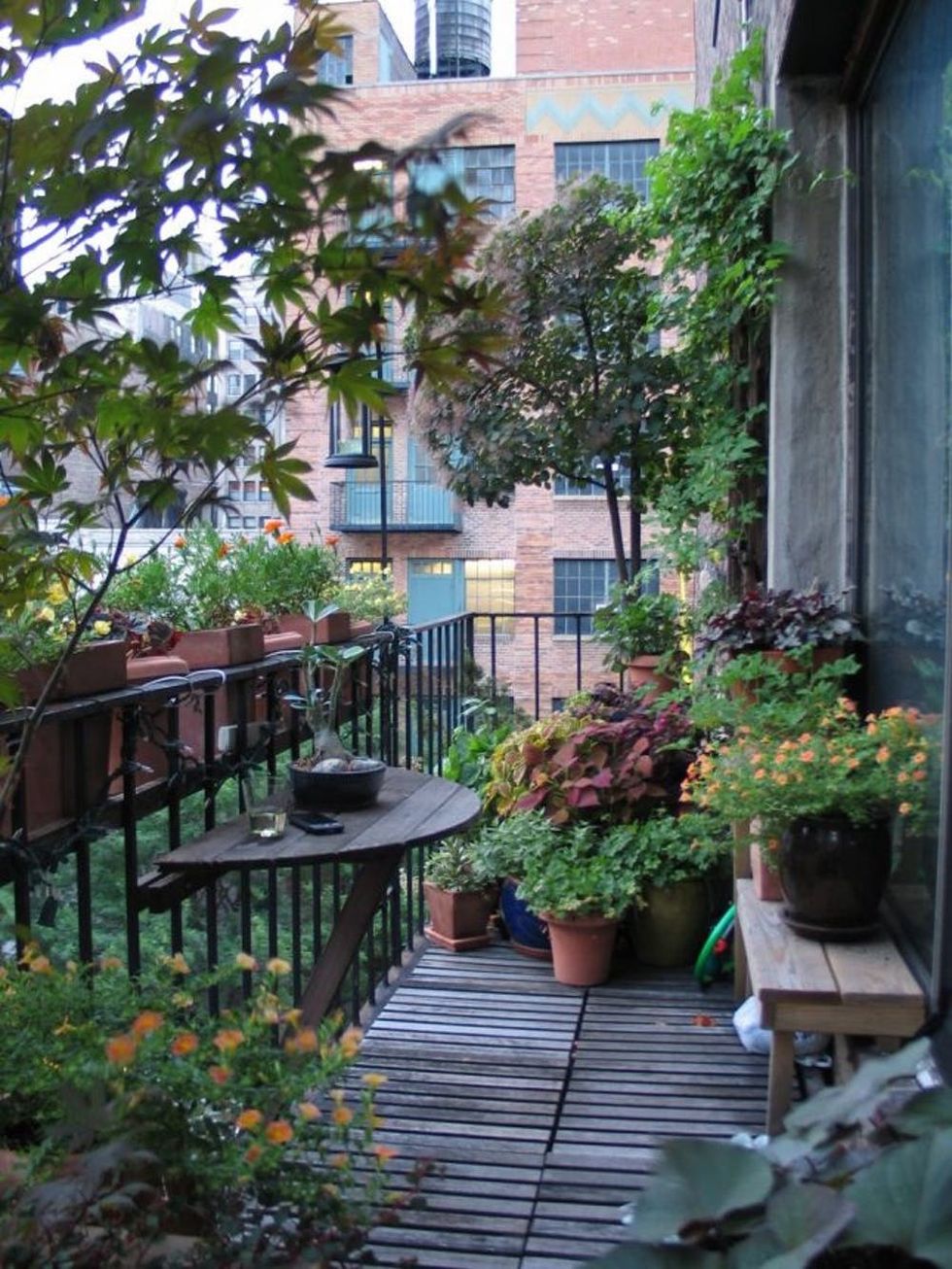 9. Escape to the Country: It's almost unbelievable that this impressive garden is built on a fire escape. It's proof that even a patio without much light can make a little green magic happen, especially when you bring tall trees into the mix. (via Katie's Folly)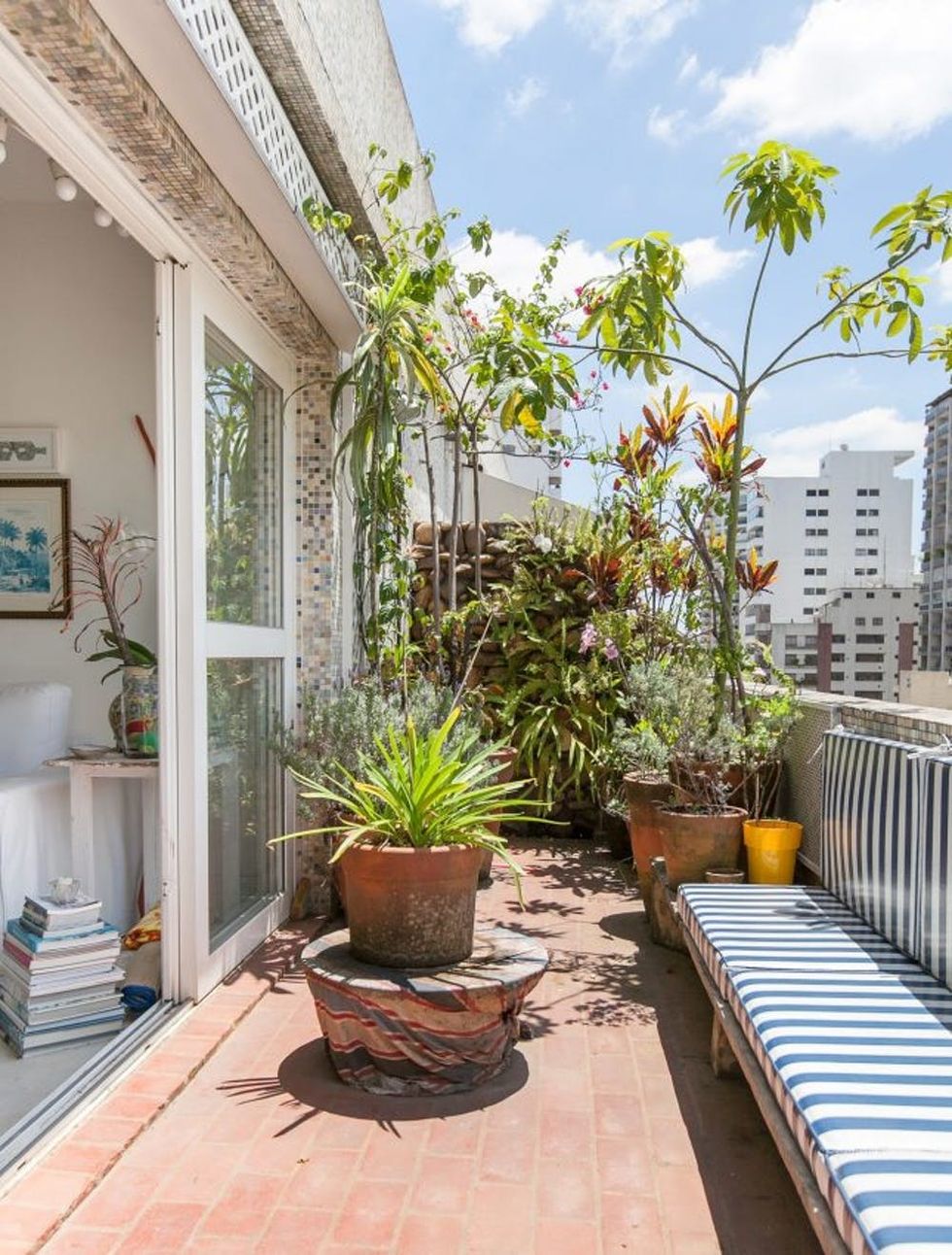 10. Comfy Seating for Days: Wouldn't you just love to find this hidden corner tucked away on your patio? Make it happen with huge, potted palms and bursts of blue, striped cushions. Now the only thing missing is a good book and a big glass of wine. (via Historias de Casa)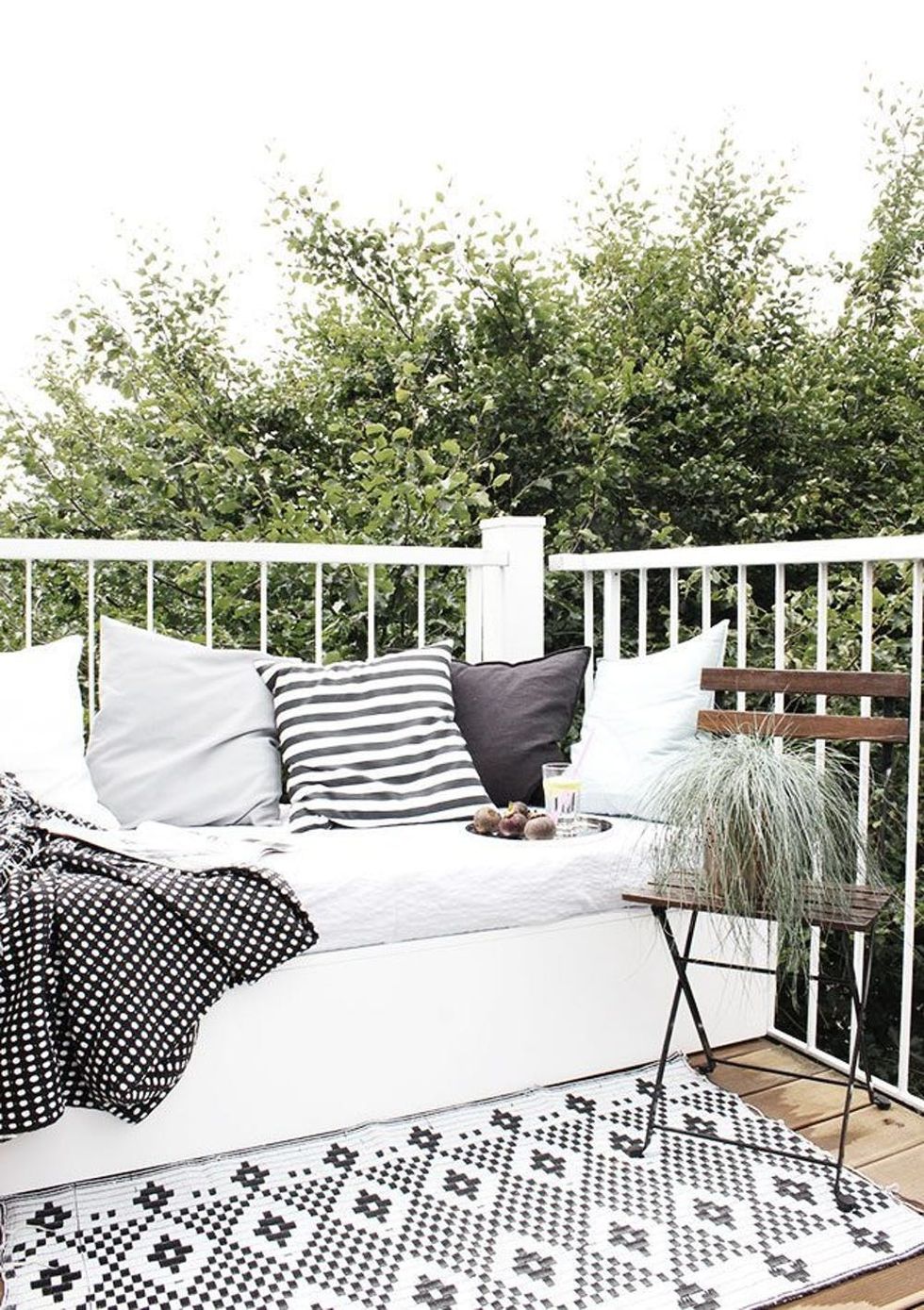 11. Light and Refreshing: You can brighten up any balcony — even a teeny, tiny one — with pretty cushions and a patterned rug. Some wispy greenery will give the sleek look just the touch of whimsy needed for a totally down-to-earth reading nook. (via Oh What a Room)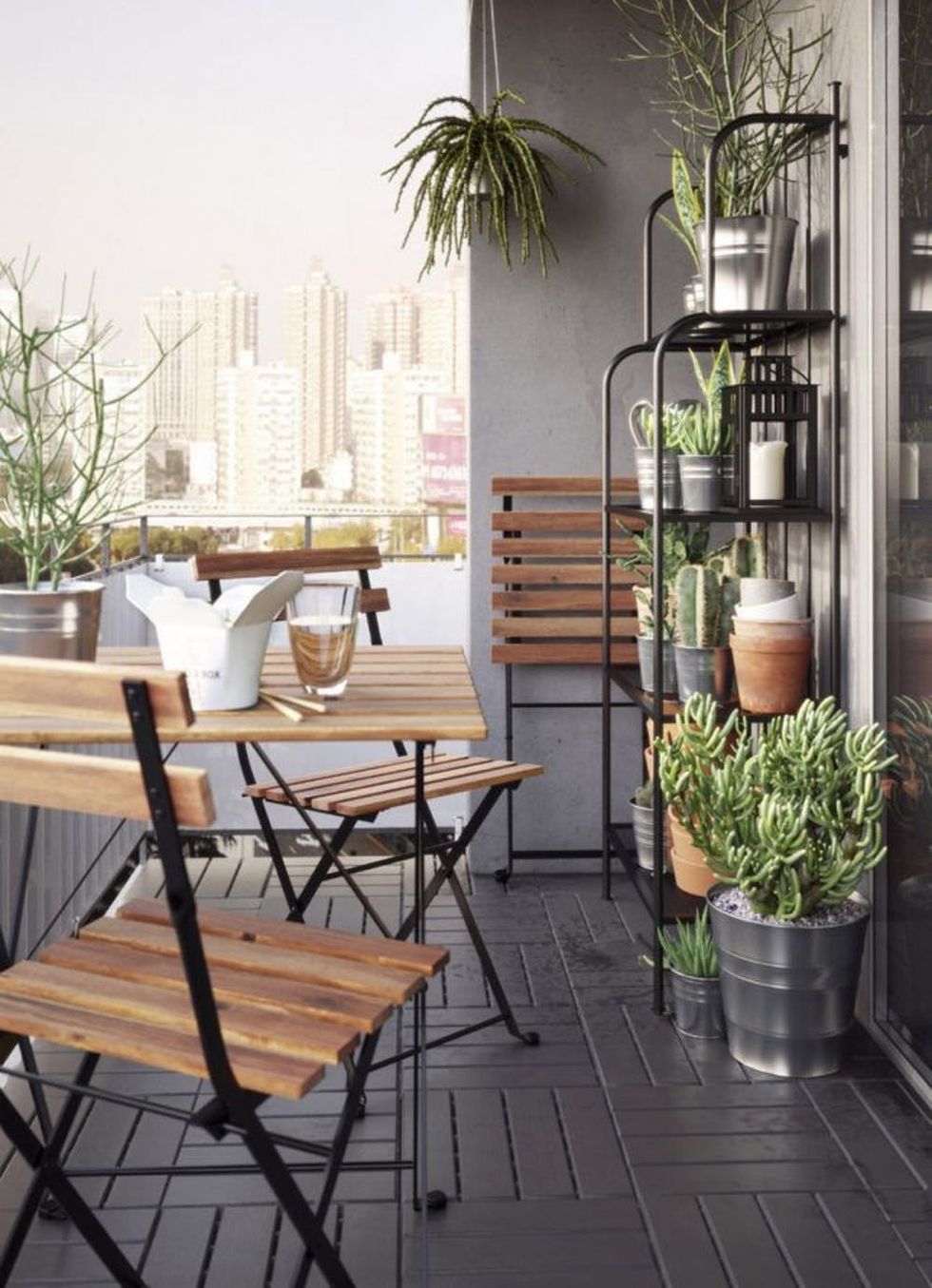 12. Neat and Tidy: Keep your balcony versatile with simple folding furniture and an inexpensive shelving unit that can house all of your sprawling foliage in a snap. (via IKEA)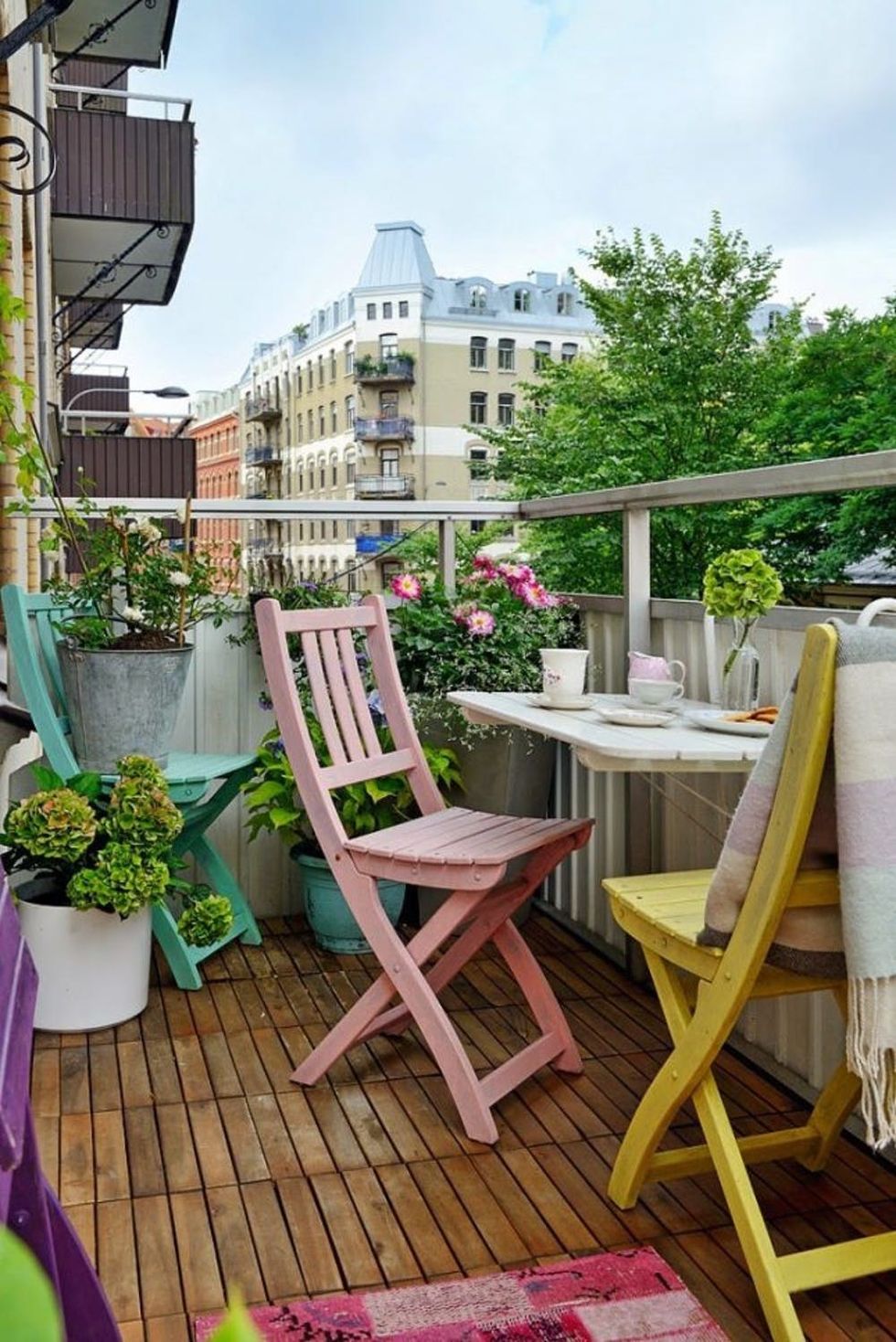 13. Rainbow Chairs: Colorful chairs will brighten up your life in an instant. Rather than fill up the whole space with a table, use a wall-mounted shelf instead. Because the more room there is for bright pink flowers and leafy clusters, the better. (via Antic & Chic)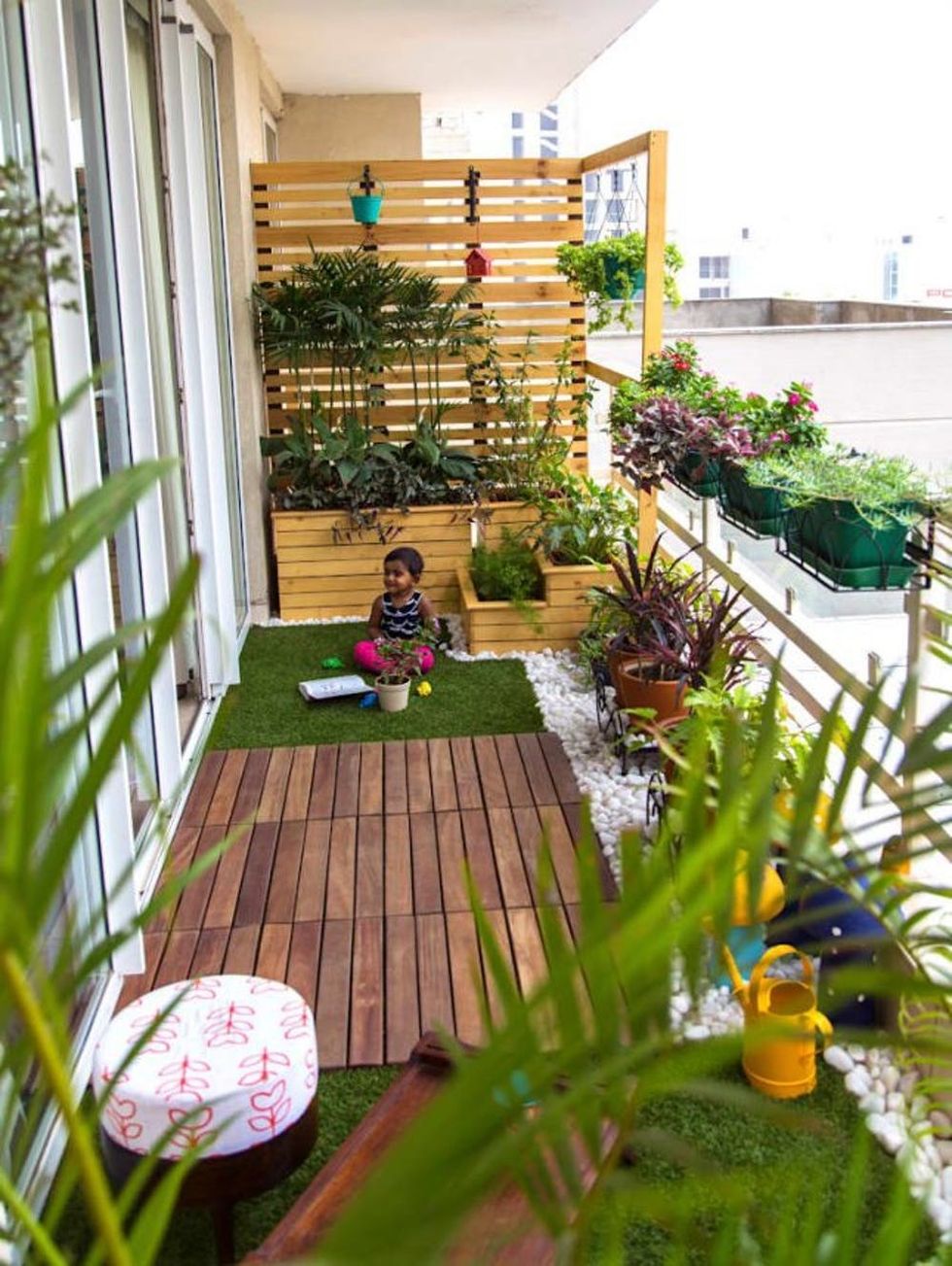 14. Pallet Wall: You don't need a ton of space to make your balcony into a full backyard. Just think outside the box with faux grass patches, wood decking, and white pebbles for water drainage. Surround it with vertical pallets and you're ready to grow the garden of your dreams. (via Homify)
Looking for more easy ways to transform your tiny outdoor space? Follow us on Pinterest for tons of gardening ideas and DIY tips!
Kate Thorn
Kate Thorn is an illustrator, foodie, photographer, and blogger at Create & Kate. She loves creating art, traveling, and all things chocolate. A native to the Great Northwest, she is currently living in London and pretending to be a mature grad student.
Home Decor Inspo