The 21 Most Unusual Drinking Gadgets
Aug 02, 2013
For whatever reason, alcohol inspires the craziest ideas: look no further than glazed donut vodka for proof. But combine tech and alcohol and what do you get? A couple of the most insane, and a lot of the most rad, ideas in the history of drinking. We've rounded up 21 gadgets for all your boozing needs (and yes, that 21 was on purpose — this article is for all you 21+ readers!). Some of these we've featured before, some are new finds, some are slightly out-there, but all are awesome. Is it happy hour yet?

 1. Air Cork ($25): We've all been there: you open a bottle of wine, but you know you're not going to finish it. You can try to stick the cork back in, but the liquid is still being exposed to air and that can really mess with the taste. This gadget will let you totally seal off your leftovers by inflating a little balloon until your wine is covered. The gadget's grape-shaped pump is fun and functional!
---

 2. Remote Control Beverage Cooler ($80): This beverage cooler can deliver up to 12 ice-cold brews to people around your kitchen, patio, or, um, office! Count us in!

 3. Electric Amphibious Vehicle ($99): Want your beer delivered to you on a little bit more rugged terrain? Like say, poolside? (Hey, we didn't say it was that rugged.) Up to 4 bottles or cans can reach you by land or by sea, guaranteeing you'll never be without a beer when you need it.

 4. Cardboard Cooler Boxes ($15): We know you're already recycling your bottles and cans after you're finished, but why stop there when you can recycle your cooler? These are great for occasional drinkers who don't want to invest in a full-on cooler but who do want an impromptu session of drinking in the park.

 5. Vodka Zinger ($39): Remember earlier when we were talking about crazy liquor flavors, like PB&J vodka? Here's your chance to get in on the game. This little gadget lets you infuse 830 mL of liquid (as its name suggests, especially vodka!) with your choice of fruit. How impressive would it be to serve your guests cocktails with home-infused tropical fruit or mixed berry vodka? If you're into less boozy beverages, holla at its sober sister, the Aqua Zinger.

 6. Porthole: ($99): Looking for a little more pretty with your infusion? This gadget lets you infuse up to 380 mL of liquid in an incredibly easy and beautiful way. It doubles as a gorgeous addition to your kitchen or bar decor, reminiscent of timelapse photography.

 7. Road Popper ($39): You didn't think we could resist including a 3D-printed gadget, did you? This bike-mounted bottle opener makes popping open a cold one crazy easy and convenient. Just don't drink and ride!

 8. Roll 'n Pour ($16): We still can't get over this gadget. Maybe a bit on the ridiculous side, this could also be a cool way to let guests make their own cocktails by setting up mixers in these easy-pour holders.
9. KegMate (not available for purchase): Gotta love engineers. The ones over at Yelp created this iPad controlled keg that keeps track of everyone's boozing and shows the beer's info + rating so you know exactly what (and how much) you're drinking. We just wish they would sell it, although now we're dying to hack it ourselves!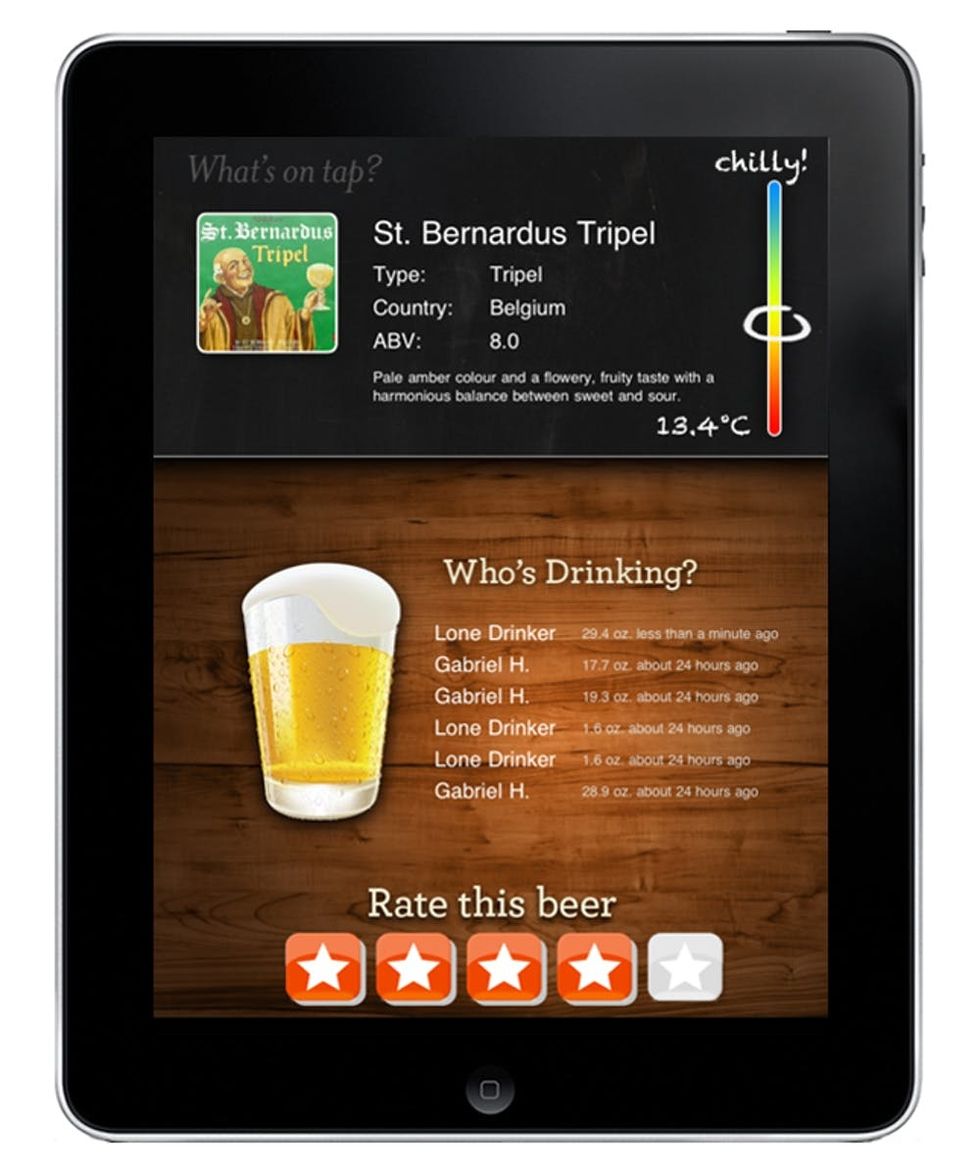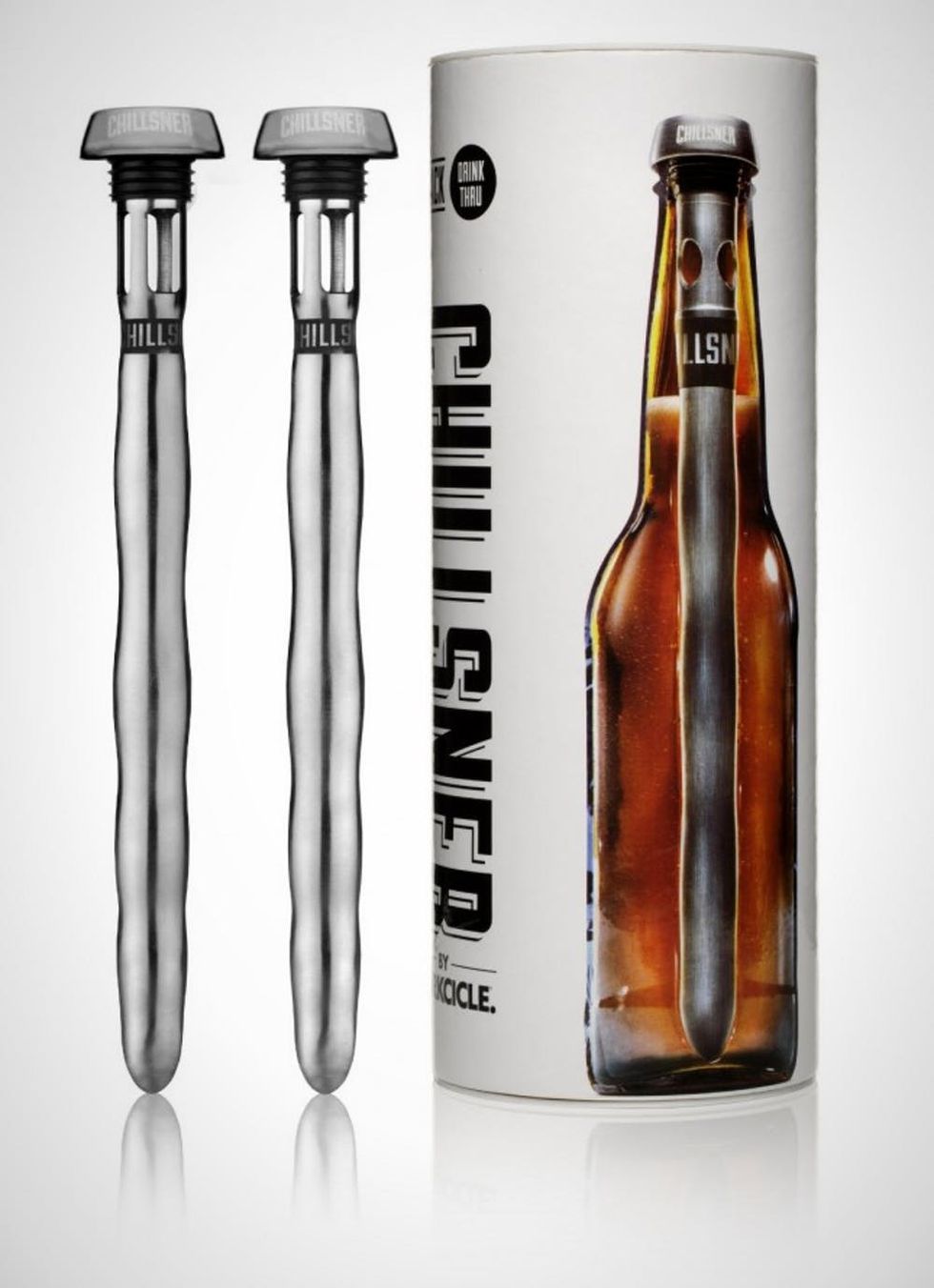 10. Corksicle ($30 for 2): We're obsessed with this handy product this summer. Keep your beer cool wherever you are with these fun little devices.

 11. Drink Dispensing Driver ($90): The only kind of drinking and driving we condone is on the golf course. This is basically a huge flask in the shape of a golf club, with the added convenience of a spout that dispenses 1 oz per second. It's connected to a cooler that fits easily in your golf bag so that you can keep up to 54 oz of whatever-your-poison-is cold while you're hitting the links. Pro tip: pair one of these with a golf tee/shot glass combo and you'll be the envy of all on the course. We take no responsibility for any sand traps that may result ;)

 12. Intoxicase ($35): We wrote about this back in January, but we're bringing it back. This is an iPhone case that doubles as a bottle opener so you'll definitely never be caught with no way to open that beer you just bought. On top of that, it corresponds to an app that tracks the number of drinks you've had — it'll even pop up with a notification if it thinks it's time for you to call it a night. Nice!

 13. Le Whaf ($172): Remember that episode of Parks and Rec when Tom takes the guys to an uber-trendy bar and he ends up wafting the aromasphere of his drink? That's basically this in a nutshell: Le Whaf claims to turn your drink into a "drinkable cloud." Ron Swanson may not like it, but we're definitely intrigued, if not totally sold.

 14. Milk Frother ($70): Want to create the most awesome after dinner cocktails ever? Hook yourself up with this automatic milk frother to create some seriously professional tasting coffee cocktails that will warm you right up.

 15. Margaritaville Frozen Concoction Maker ($479): On the other end of the thermometer, transport yourself to a tropical paradise (or an old spring break) with some delicious frozen cocktails. You can create three 24-oz portions of any of the following: margarita, daiquiri, colada, mudslide, mojito, or smoothie. Anyone else now have this song stuck in their head?

 16. Bartendro (available for pre-order): This open-source project, which we discovered back when it was on Kickstarter, is basically a robotic bartender. You can preorder the dispenser for a base cost of $129, but each sensor will cost you $20 and you'll definitely have to do some setup once it arrives. Definitely a gadget for the techie drinker!

 17. Bar10der: Become an epic mixologist with this little but powerful gadget. It contains a corkscrew, muddler, stirrer, jigger, strainer, reamer, knife, channel knife, zester, and of course, a bottle opener. You might want to carry this around with you for any spontaneous cocktail parties you wind up at.

 18. Isi Whip ($130): Infuse flavor into your whipped cream, creamy cheeses, buttercream, and, you guessed it, booze! We're loving that you can create a totally personal cocktail with this gadget: from the liquor to the whipped cream to top it off, it's all yours. Our minds have been spinning with the dessert cocktail possibilities since we found this guy!

 19. Turn Juice to Alcohol ($30): Ok, so Prohibition is over, but there is something about brewing your own booze that seems like fun and a little bit crazy. This kit will let you turn any fruit juice into a refreshing alcoholic beverage. We admit we're intrigued but we're not sure we'll be switching from wine just yet.

 20. Crown Capper ($17): We used this to create our own bottled cocktails not too long ago, and we fell in love. We highly recommend trying the same technique for housewarming presents or for bringing interesting, homemade drinks to a BYOB event.

 21. Beertender ($99): This is an oldie but a goodie, and a must if your place is party-central for your friends. This punny gadget serves up a 5L Heineken keg and keeps beer fresh for up to 30 days.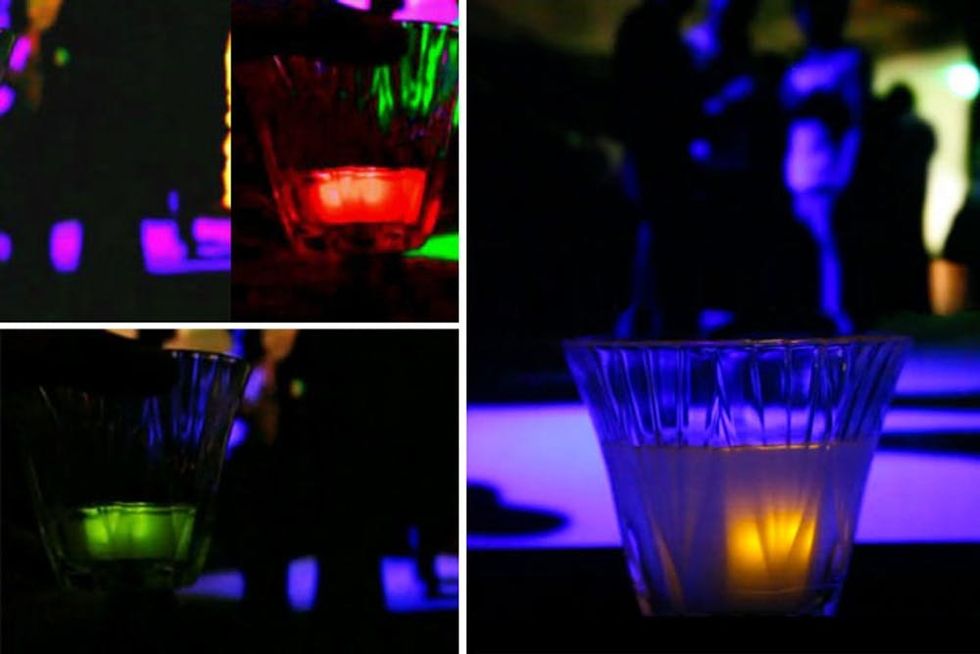 Bonus!Cheers: Not for sale, these ice cubes were created as a project at MIT (and featured on the BritList!). They can determine how much you've had to drink, turning from green to orange and finally red when you've had a bit too much. If things get too crazy, they'll text a friend from your smartphone telling them what the deal is.
Did we miss any crazy and/or cool drinking gadgets? Would you use any of these at your next party? Let us know what you think in the comments below.