Your Favorite Mall Store Is Finally Adding Extended Sizing
May 16, 2018
As more and more consumers go online for convenient ways to buy, our favorite mall brands are searching high and low for ways to bring foot traffic back to brick-and-mortar stores. Express, our go-to destination for work-to-weekend styles, has finally seen the light and will now offer extended sizing on location in order to create a "more inclusive shopping experience" for body types that are typically underserved by large retailers, according to the brand.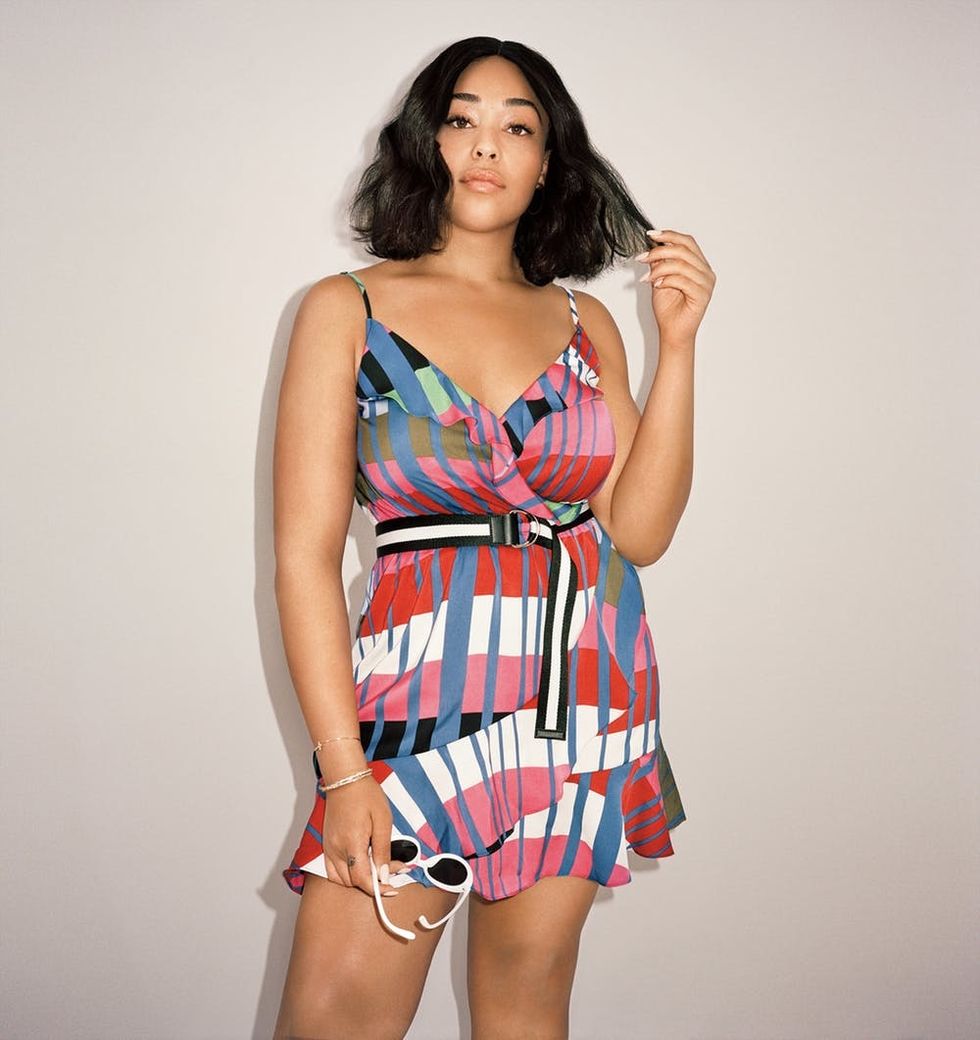 ---
The label tapped curve models Jordyn Woods and Candice Huffine for their latest campaign called "Express. Your Rules," which celebrates "fashion on your terms." The more inclusive selection (available in both women's and men's) was previously only online, so shoppers can now try items on without worrying about online exchanges and returns.
As of this month, all new arrivals will be available in women's sizes 00-18 (tops in XS – XL) in and in men's XS-2XL, with new waist measurements 28-40 inches and jackets in 46 and 48. These new options will be featured in 130 stores across 44 cities in the US, but if you prefer to shop online, don't worry: Express will continue to carry all styles on Express.com, along with specialty petite, waist, and extended lengths that are online exclusives.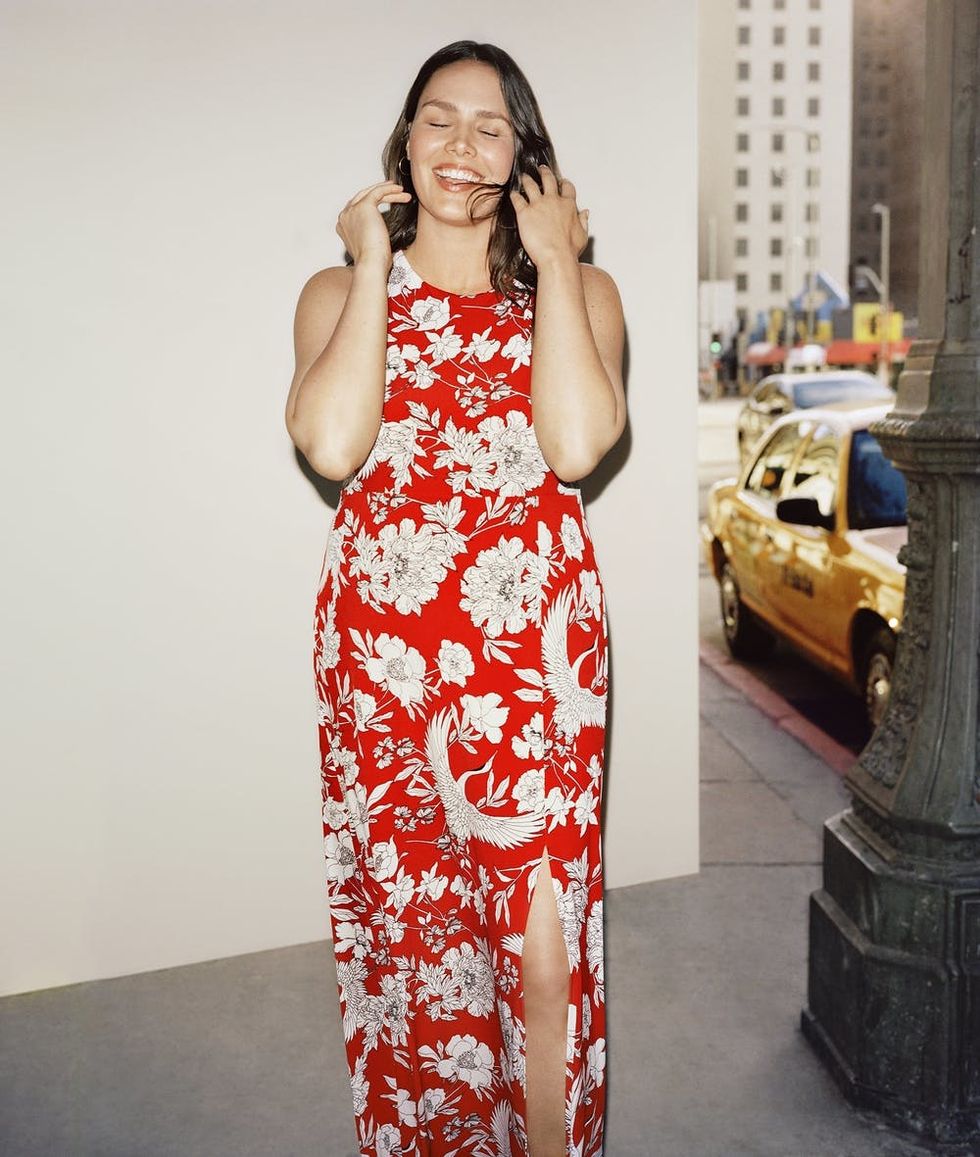 David Kornberg, Express President and CEO, explained the decision in a press release, saying, "What we hear consistently from consumers is the lack of fashion styles in the sizes they need and the ability to try on those sizes in store. We value customer feedback and are excited to make this first step in the journey toward a more inclusive shopping experience."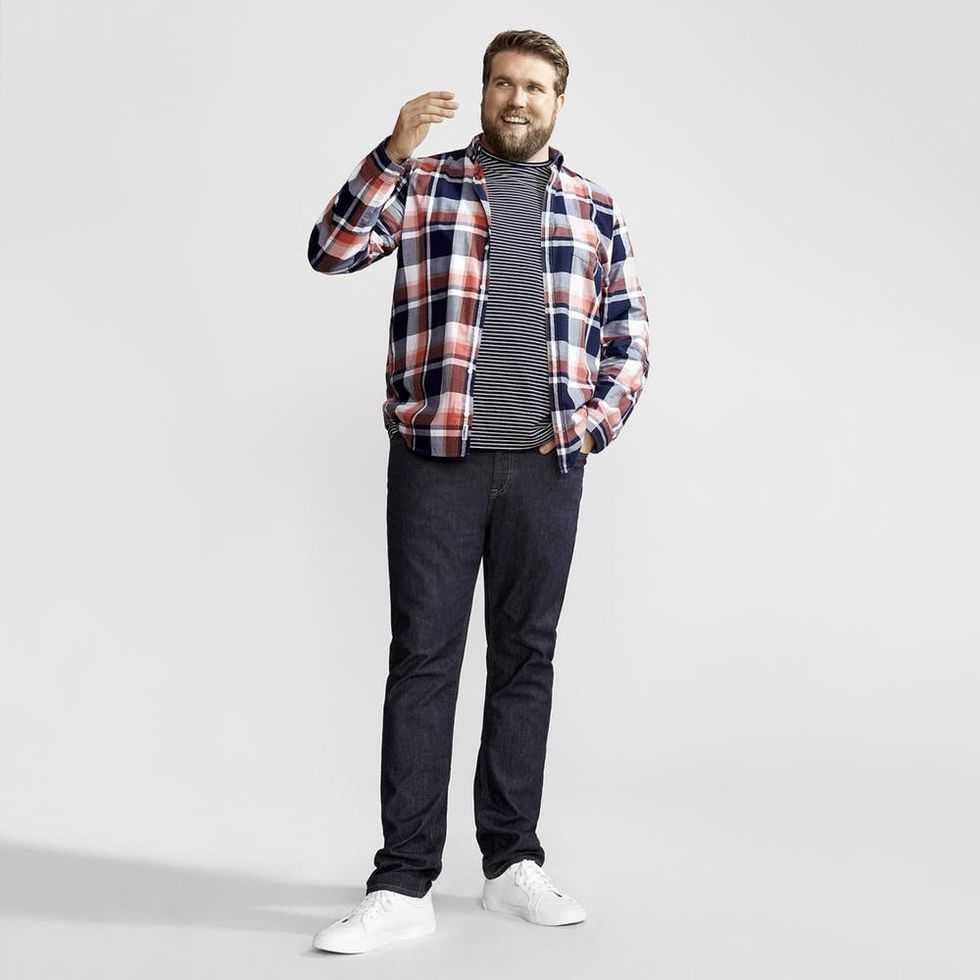 Looking for more style inspo? Check out our Pinterest!
Brit + Co may at times use affiliate links to promote products sold by others, but always offers genuine editorial recommendations.
(Photos via Express)
Arielle Tschinkel
Arielle Tschinkel is a pop culture junkie who went to NYU because the Olsen twins went to NYU (really). She is a freelance writer whose work has also been featured on HelloGiggles, Refinery29, SheKnows, Bustle, Hollywood.com, and many others; and she's living her dream one Britney Spears GIF at a time. Follow her on Twitter @mrstschinkel or visit her website at arielletschinkel.com.
Style News
We all have a million dollar business idea (or 2...or 3…) that we think *someone* should do. Why not you? Part of the motivation for Brit + Co's new interactive business course Selfmade is to help women develop their business idea into an actual living/breathing/thriving business. But it's also a way to figure out what that idea is. Maybe you have a few ideas, or need to refine a really good one, or maybe you have something with potential but just need to brush up on the business side of things. Well you're in luck. Thanks to Office Depot, we're here to share a quick recap on how we're helping our students figure out how to pick an idea and run with it. Feeling a little Selfmade fomo? Check out these tips for knowing if your idea is fully baked.
<p><strong>Know your audience:</strong> Who are they? Where are they? And what pain point are you trying to solve for them? "How would you define who that audience is?," said Brit Morin during this week's session. She goes on to suggest you develop a persona of your core customer: What's her name? Does she have children? Have visuals of who she is and what her day looks like and what she thinks about every day. "A lot of times I see businesses fail to scale because they're just trying to serve everybody and are very generic," adds Brit.</p><p><strong>Understand your market:</strong> How big is the market you're targeting? Is it growing? You can find market reports online for anything from weddings to babies. Does your business have potential for repeat business? For example, a wedding client will likely (hopefully!) only need you one time so how do you plan to grow? Will you target the same client or will you evolve your services to cater to that changing demographic? Martha Stewart is a business that evolved with her audience while most fashion mags stay focused specifically on 20- and 30-somethings for the long haul.</p><p><strong>Level up your business idea:</strong> What's your twist? Think about what differentiates you from your competitors. For example, if you're a photographer, maybe you focus on newborns and hook up with a maternity ward or sell seasonal packages. Brit talks about <a href="https://punkpost.com/stories/about-us" target="_blank">Punkpost</a>, created by Alexis Monson, a Brit + Co alumni who, instead of selling greeting cards in a dying snail mail market, she created an online marketplace for greeting card designers. How does your business stand out in your market's crowd?</p><p>Committing to an idea is hard, and SO exciting. Once you've figured out your direction, Office Depot OfficeMax can help turn your idea into a reality with a full suite of<a href="https://www.officedepot.com/cm/services/office-depot-services?cm_mmc=bl-_-aq-_-url-_-bc&amp;cm_mmca1=internal&amp;cm_mmca2=uf&amp;utm_source=blog&amp;utm_medium=social&amp;utm_campaign=bc_na_url_internal_uf_aq&amp;utm_content=tea_na&amp;utm_term=tea" target="_blank"> business services</a> &amp; solutions to help you &amp; your business succeed. From<a href="https://www.officedepot.com/cm/print-and-copy/print-services?cm_mmc=bl-_-aq-_-url-_-bc&amp;cm_mmca1=internal&amp;cm_mmca2=uf&amp;utm_source=blog&amp;utm_medium=social&amp;utm_campaign=bc_na_url_internal_uf_aq&amp;utm_content=tea_na&amp;utm_term=tea" target="_blank"> print &amp; copy services</a> to help build your brand to products to help you<a href="https://www.officedepot.com/cm/multi-category/work-from-home?cm_mmc=bl-_-aq-_-url-_-bc&amp;cm_mmca1=internal&amp;cm_mmca2=uf&amp;utm_source=blog&amp;utm_medium=social&amp;utm_campaign=bc_na_url_internal_uf_aq&amp;utm_content=tea_na&amp;utm_term=tea" target="_blank"> work from anywhere</a>, learn about all the ways they can help<a href="https://www.officedepot.com/cm/marketing/small-business?cm_mmc=bl-_-aq-_-url-_-bc&amp;cm_mmca1=internal&amp;cm_mmca2=uf&amp;utm_source=blog&amp;utm_medium=social&amp;utm_campaign=bc_na_url_internal_uf_aq&amp;utm_content=tea_na&amp;utm_term=tea" target="_blank"> businesses</a> like yours, accomplish more.</p>
Lifestyle