Fairy Bread — Because Everything Tastes Better With Sprinkles on Top
Feb 11, 2016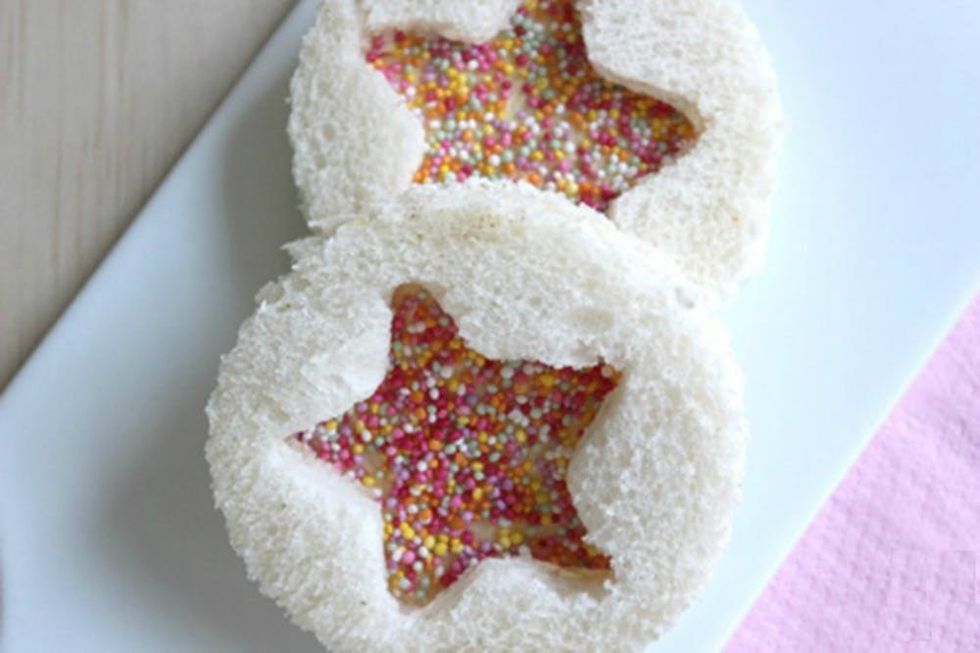 We'd heard of monkey bread — yum! — but what was fairy bread? We were intrigued. Turns out this dutch treat, that's made it's way to America by way of Australia, is simply butter bread with sprinkles on top. Can you imagine anything more delish? In the Netherlands fairy bread is known as hagelslag, their word for sprinkles or jimmies (as our friends from the south say). The Aussie's call it fairy bread, and here's how you make it. Get yourself a piece of the softest white bread available and cut off the ends. Smear your bread thick with butter (some say unsalted, but I like salty sweet things). Sprinkle on some jimmies, and bam, you've got it. Here are 16 variations of Fairy Bread, one is sure to appeal to your inner child.
---
You can dress up fairy bread by adding chocolate icing or cream cheese in place of butter. Some people even make fairy-bread cookies. My favorite version is blogger Eliza Ellis's way, because she cuts her Classic Fairy Bread into fancy shapes with peekaboo cutouts. Pretty!
In the Netherlands, the sprinkles or shavings are almost always chocolate, very good-quality chocolate. Dutch sprinkles are not just for kids. Adults eat them as treats, and there are strict labeling standards for what can be called hagelslag. They must be at least 35% cocoa with 100% cocoa butter — more like chocolate truffles than the hard shell candies we are accustomed to. In Australia, where Fairy Bread is the centerpiece of birthday parties, multi-colored sprinkles are preferred.
We pronounce both versions *to die for*. Hey, someone has to do the research! Would I like more Fairy Bread? Pretty please, with sprinkles on top.
Got a fairy bread recipe share? Tag us on Instagram @britandco. Come on — share the love!
(Photo via Eliza Ellis)
Sally Jones
Sally Jones is a writer and editor living in New York City. She has worked at many websites including iVillage, Ladies Home Journal, More, Parenting, Cosmopolitan, The Knot and YourTango, in jobs ranging from editor to COO. Renovation and interior design are her
unhealthy obsessions
hobbies. She has renovated every home she's lived in, including the rentals, and like... whoa, who does that? You can catch her at her blog
Renov8or
.
Home News
Still haven't taken up that new creative skills you swore you'd learn this year? Or ready to take your design skills to the next level? Let's say so long to the weirdest year ever by checking those big learn-something-new goals off our perpetual to-do lists.
We've teamed up with Clorox to give you the gift of unlimited creativity now through the end of the year. Once you sign up, you can take as many of our 120+ classes as you want for FREE for one whole month!
Here's how it works:

Head to brit.co/learn and sign up for the "All Access Pass."
Use the code "CLOROXCARES" at checkout to redeem your free month of classes.
You will be automagically signed up for Clorox's email list once you redeem your free all access pass. (It's the #1 Choice for Disinfection!)
Your pass lasts one month from when you checkout. This means you have unlimited access to all the classes during that month.
This offer is valid now through December 27, 2020.
Browse our catalog to find the right class for you, tell a friend and take the class together over Zoom, or organize a 'cocktails + crafts' night with a friend in your bubble so you can learn something new together.
What are you waiting for? Time to start learning all the things!

Thanks to Clorox for making this happen! When it counts, trust Clorox.
Lifestyle