Everything You Need to Know About the New GF Impossible Burger
Jan 08, 2019

After years of success at more than 5,000 U.S. restaurants, the Impossible Burger is unveiling its first major product change: a juicier, "meatier" recipe that replaces wheat with soy for a burger that can be devoured by carnivores and gluten-free vegans alike. The next-generation, GF Impossible Burger will first be available at select Las Vegas White Castle restaurants on January 8. Eventually, the meatless patties will be sold at White Castles nationwide — and, later in 2019, at grocery stores near you.
---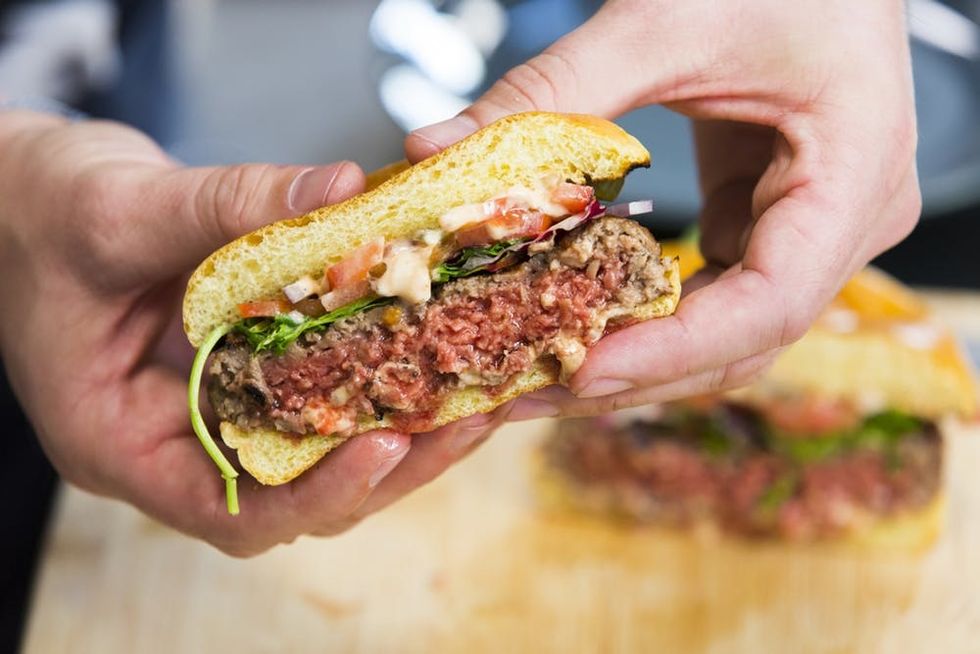 The updated Impossible Burger is a simple mixture of water, potato protein, coconut and sunflower oils, and a gluten-free soy protein concentrate that replaces the textured wheat formerly used by the company. Like the original recipe, the key to the new burger's juiciness is heme (the molecule naturally found in meat that makes it so, well, meaty) and has no animal hormones or antibiotics. The quarter-pound patties each have 14 grams of fat and 240 calories, but they sizzle and satisfy just like beef patties do — and they have just as much protein and iron. Even third-party taste testers who self-identify as heavy meat eaters have attested to its beefiness, according to a press release.
Most excitingly, the team at Impossible Foods said the next-gen patty is more versatile than ever. Once you're able to buy the beef substitute in grocery stores, you won't just be able to shape and grill it into vegan burgers. You'll also be able to braise, simmer, steam, and pan-sear the mixture for anything from dumplings to casseroles — just like you would with ground beef. The brand hasn't released an exact date for its grocery-store debut, but we'll let you know when they do.
Like Brit + Co on Facebook for plant-based food news.
(Photos via Impossible Foods)
Sara Cagle
Sara is a food and lifestyle freelance writer in Los Angeles. She writes a weekly events column for the Los Angeles Times and loves writing food content for Brit + Co. After all, the English language's most fun adjectives are best applied to delicious foods. In her free time, she's a hip hop dancer, avid moviegoer, and thorough face-mask user.
Food News
Still haven't taken up that new creative skills you swore you'd learn this year? Or ready to take your design skills to the next level? Let's say so long to the weirdest year ever by checking those big learn-something-new goals off our perpetual to-do lists.
We've teamed up with Clorox to give you the gift of unlimited creativity now through the end of the year. Once you sign up, you can take as many of our 120+ classes as you want for FREE for one whole month!
Here's how it works:

Head to brit.co/learn and sign up for the "All Access Pass."
Use the code "CLOROXCARES" at checkout to redeem your free month of classes.
You will be automagically signed up for Clorox's email list once you redeem your free all access pass. (It's the #1 Choice for Disinfection!)
Your pass lasts one month from when you checkout. This means you have unlimited access to all the classes during that month.
This offer is valid now through December 27, 2020.
Browse our catalog to find the right class for you, tell a friend and take the class together over Zoom, or organize a 'cocktails + crafts' night with a friend in your bubble so you can learn something new together.
What are you waiting for? Time to start learning all the things!

Thanks to Clorox for making this happen! When it counts, trust Clorox.
Lifestyle