Half Baked Harvest's Cookbook Is Equal Parts Healthy and Indulgent
Dec 11, 2018

Cookbookmarked! is our new series where we review the latest cookbooks from the foodie influencers you follow. Check back often to find out which new releases are worth your hard-earned cash and the recipes you should try first from each.
---
We've always been a fan of Tieghan Gerard's Half Baked Harvest blog. She's somehow able to create incredibly indulgent meals as well as colorful vegan-friendly dishes. Growing up in a family of nine, Gerard started helping out in the kitchen and then eventually fixed meals for everyone full time. So it only makes sense that her book, Half Baked Harvest Cookbook: Recipes from My Barn in the Mountains ($20), has something for all.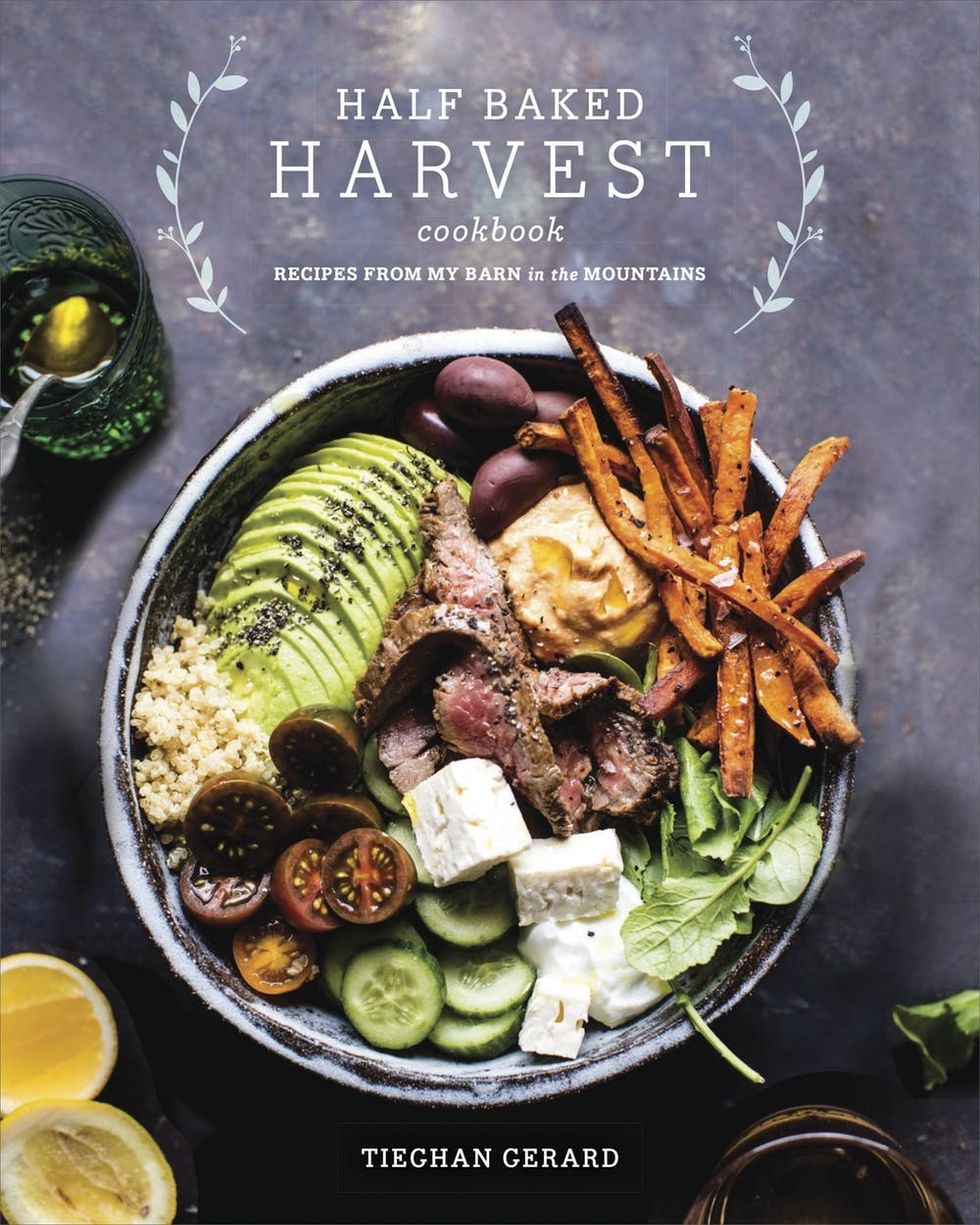 The book contains a mix of healthy and comfort food recipes, both brand-new and updated versions from her blog. Whip up dishes like vegan chipotle-roasted sweet potato and quinoa tacos on busy weeknights. Or, treat yourself on the weekend to items like her rich soufflé omelet with spinach artichokes and brie.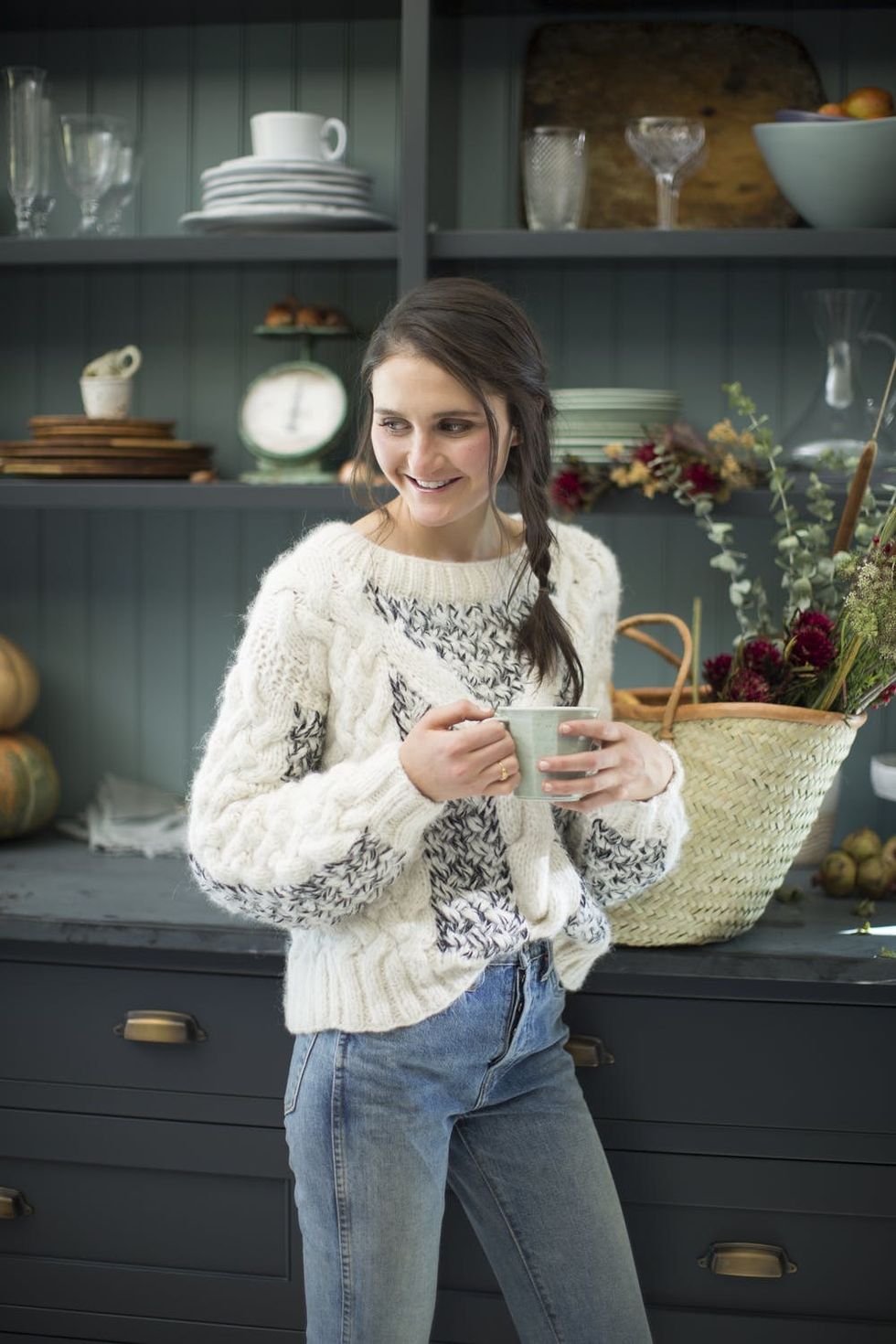 We honestly had a difficult time choosing which of her recipes to try first, so we picked two. For a lighter option, we went with her root vegetable and sage pesto baked salmon. On a more lavish route, we picked the PB&J grilled cheese. The salmon is incredibly delicious and easy to make; the whole thing takes about 30 minutes. The cleanup is also breezy, since all you need is a sheet pan, cutting board, and blender. Though it turned out well, next time we might add more oil and seasoning to the vegetables.
The PB&J grilled cheese is a little more unexpected. The key to not making the cheddar and peanut butter combo taste weird is to use a peanut butter without any sugar, so we grounded ours fresh at Whole Foods. While Gerard says you can use store-bought jam, we made ours from scratch (also in the recipe). We cannot recommend this enough. It's incredibly easy to make blueberry jam (it only takes 15 minutes), but you'll also really impress yourself that you can make jam. The taste is savory, sweet, nutty, and crunchy — definitely different than anything we've tried before. Here's how you can make both at home.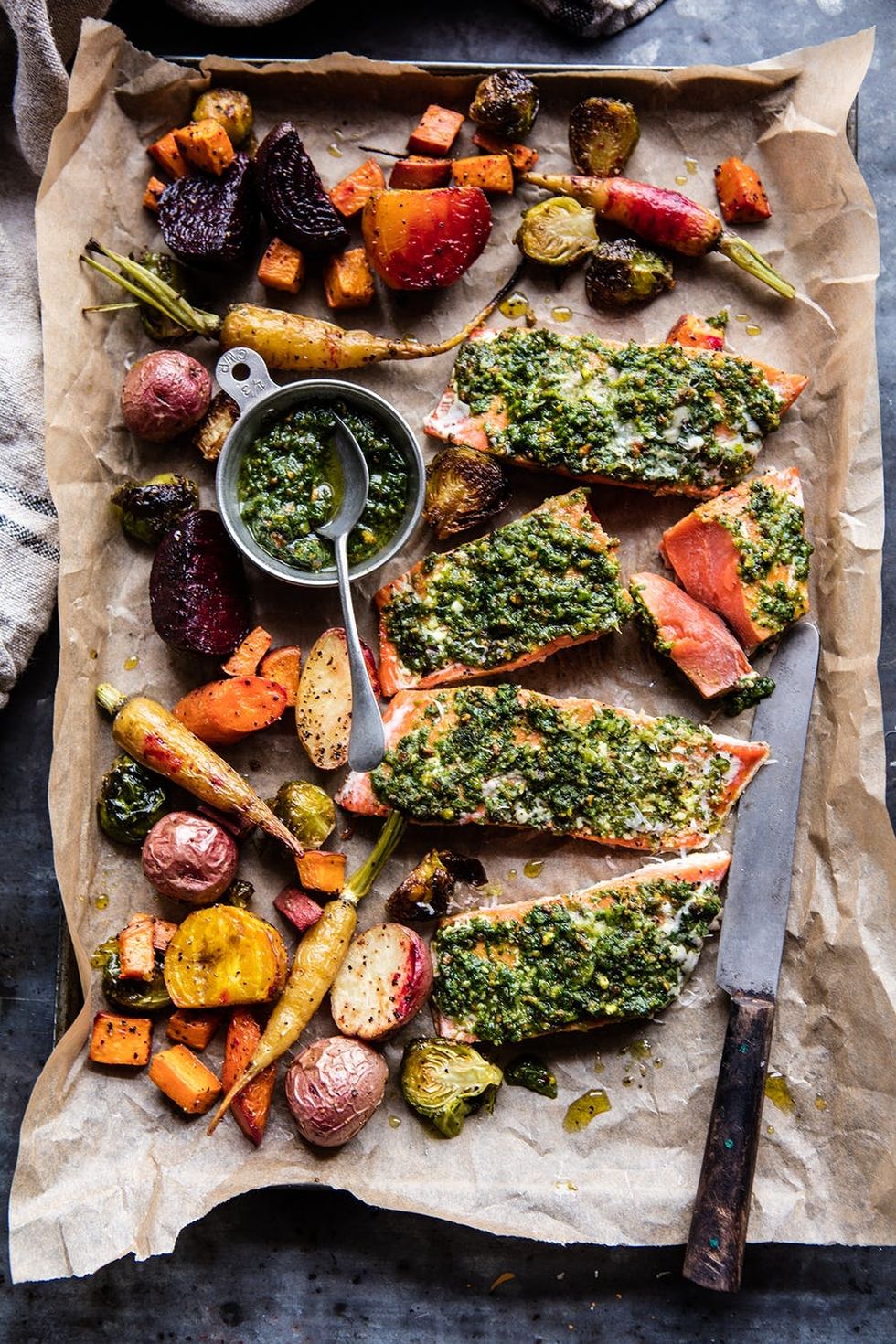 Root Vegetable and Sage Pesto Baked Salmon
(Serves 4)
What I love about this recipe (other than the fact that cleanup is as easy as possible) is how versatile it is. In the summer, you can use fresh zucchini, bell peppers, and corn; in the fall and winter, root vegetables; and in the spring, asparagus, peas, and artichokes. The sage pesto is an awesome switch-up from the classic basil version, and I love how it pairs with the heartier root vegetables, but feel free to use basil in the warmer seasons. If you don't love fish, use chicken breasts and bake for 25 to 30 minutes.
Ingredients:
Sage Pesto:
Directions:
1. Preheat the oven to 425ºF.
2. On a rimmed baking sheet, toss the beets, carrots, sweet potatoes, baby potatoes, and Brussels sprouts with the olive oil. Season with salt and black pepper. Roast for about 20 minutes or until the veggies are slightly tender.
3. While that's cooking, make the pesto. In a food processor, combine the sage, kale, and pistachios and pulse until finely chopped. Add the Parmesan and pulse again. With the motor running, drizzle in the olive oil. Season with salt and red pepper flakes.
4. Remove the veggies from the oven and push them to one side of the pan. Put the salmon on the other side. Rub a few tablespoons of the sage pesto over each fillet.
5. Return the pan to the oven and roast for 10 to 20 minutes more, until the salmon reaches your desired doneness and the veggies are soft. Remove the pan from the oven and top each fillet with some of the Manchego to melt.
6. If desired, squeeze a drop of lemon juice over the salmon. Serve with the roasted veggies and extra sage pesto alongside.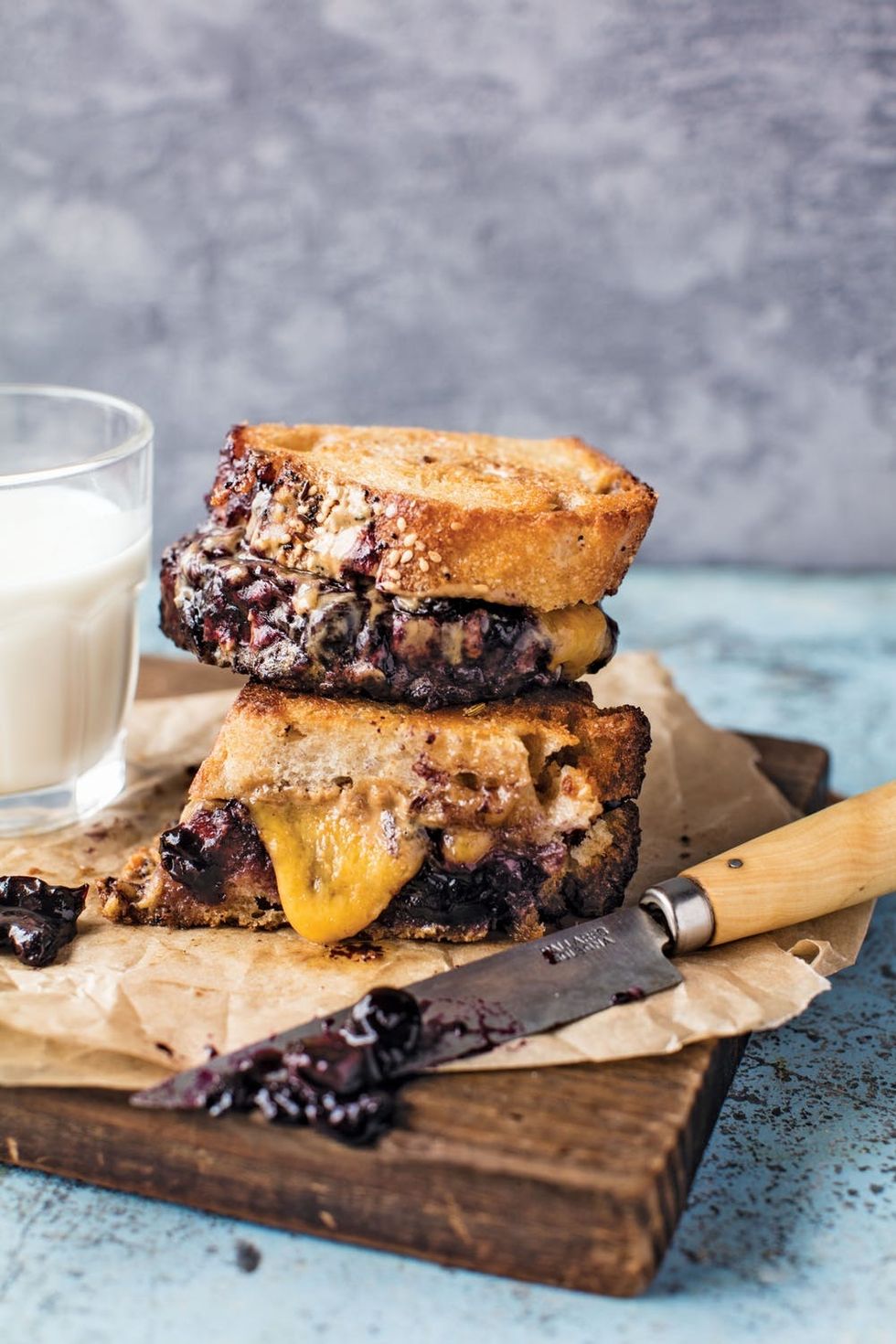 pB&J Grilled cheese
(Serves 2)
There are three essentials. Essential 1: Real peanut butter, meaning no sugar added. There is a time and a place for the creamy peanut butter we all ate as kids (most baking recipes), but this is not it. All you need here are ground-up peanuts (with some salt). Essential 2: Sharp cheddar. Nothing fake and no slices wrapped in plastic. Use real cheddar. Essential 3: A glass of ice-cold milk for washing it all down. Mmmm.
Ingredients:
Quick Blueberry Jam:
Sandwich:
1. If you're making the jam, read this; if not, skip to step 2. In a medium saucepan, combine the blueberries, sugar, vinegar, lemon juice, and salt. Cook over high heat, mashing the fruit with a potato masher or fork until the berries have released their juices. Reduce the heat to medium-high and cook, stirring occasionally, for 15 to 20 minutes, until the mixture has thickened. Let cool and then transfer the jam to a clean glass jar. Store in the refrigerator for up to 1 month.
2. Using 3 tablespoons of the butter, coat one side of each bread slice. Spread the non-buttered side of two pieces with jam. Spread the non-buttered side of the other two pieces with peanut butter. Place a slice of cheddar on the peanut butter sides and close up the halves to make sandwiches.
3. Melt the remaining tablespoon of butter in a medium skillet over medium heat. Add the sandwiches and cook for 2 to 3 minutes per side, or until the bread is golden brown and the cheese has melted. Serve immediately.
Please share your version of this recipe by tagging Brit + Co on Instagram! 
(Reprinted from Half Baked Harvest. Copyright © 2017 by Tieghan Gerard. Photographs copyright © 2017 by Tieghan Gerard. Published by Clarkson Potter, an imprint of Penguin Random House, LLC.)